The birds have not allowed any dust to collect on this blog.  It is, of course, hard to collect dust when the bird clutter is accumulating at an alarming rate.  Lest I be featured on some blogger hoarding show, it's time to start shoveling.  This post ties up a lot of loose birding ends.  In truth I haven't been too excited about writing it since it does not coalesce around a single bird or birding locale.  Despite that, there are a lot of good nuggets in here–hopefully something for everybody.
Tommy Trip–The Rest of Wisconsin
Let's get started with wrapping up the Tommy trip.  Not making the cut for the Wisconsin posts was the locally common Eastern Towhee.  Before this trip, this bird was still very novel to me as I had only ever seen just one male and one female.  I got my fill after this trip. This bird, which was a lifer for Tommy, was everywhere.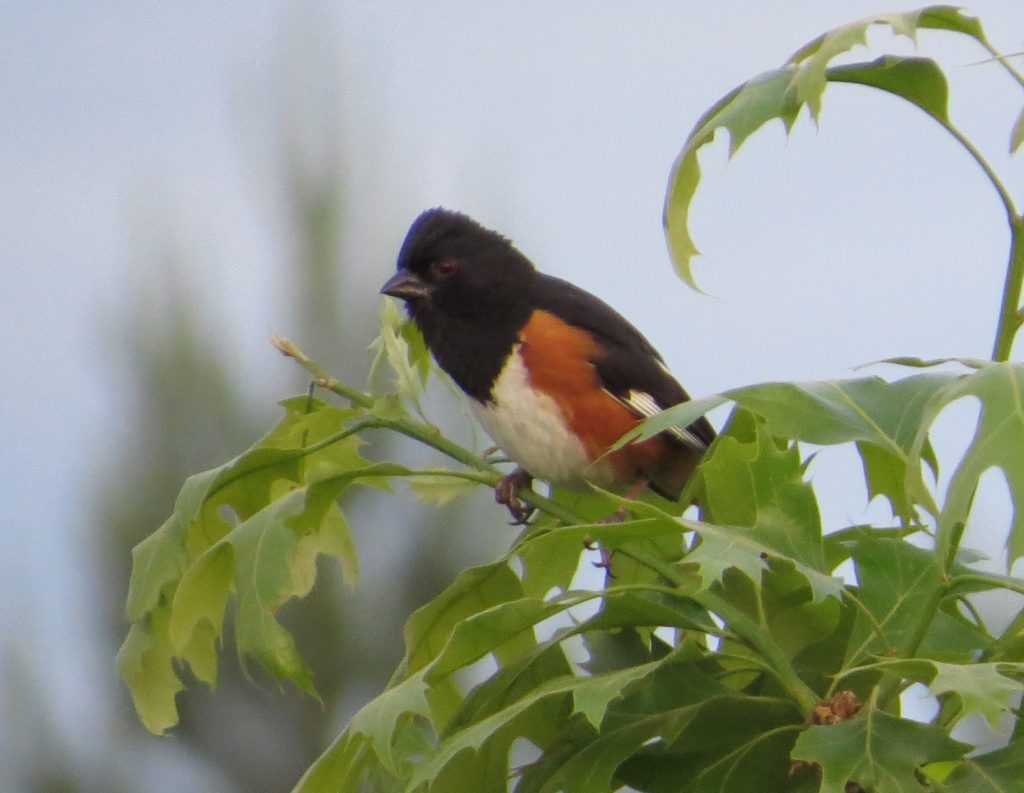 Birders like to say EATOs sound like they are saying "Drink your tea!" when they sing.  This has been true in my very limited experience in Minnesota with this bird.  But well-traveled birders know that birds in different geographical regions often have different dialects of the same song.  I don't know, maybe it's just me, but in Wisconsin the Eastern Towhee sounded more like it was singing "Drink your beer!" Given how commonplace this bird was, it explains so much.
Another lifer for Tommy in Wisconsin that was surprisingly hard to track down was the Ruby-throated Hummingbird.  Also surprising was that I had never before taken the time to photograph a male of our only, fairly common Hummingbird species. Luckily they had a feeder at Necedah National Wildlife Refuge with one lonely male showing up, allowing Tommy and me to rectify our respective deficits.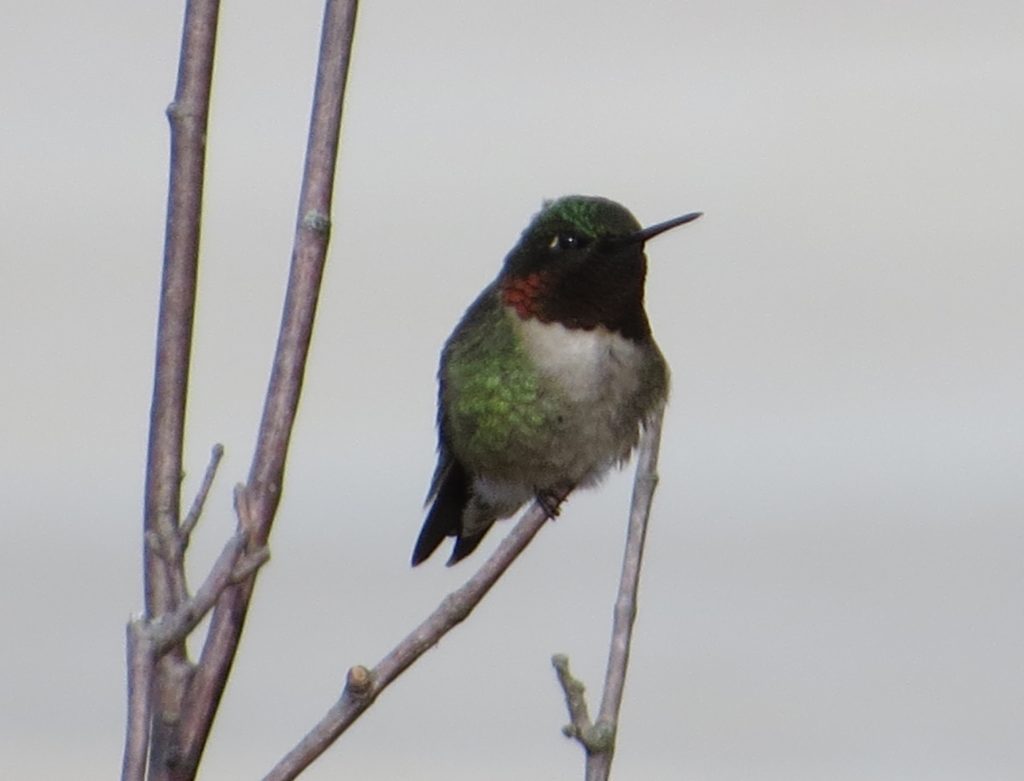 Another great find near the Visitors Center was a lifer Yellow-billed Cuckoo for Evan and me.  Tommy found the bird for us which started as a heard-only bird and then eventually give us a quick fly-over sighting.  It left me wanting more. Tommy always likes to "give back" something when he comes up birding.  Last winter it was the Black-backed Woodpecker near my parents' house that I had been wanting to see; this year it was the Cuckoo. So, thanks for the cool birds, Tommy!
Tommy Trip–Night Birding in the Minnesota River Valley
One night during Tommy's stay, he and I ventured down to the Minnesota River Valley just east of Granite Falls for some night birding.  Birding at night is always safer and more fun in good numbers, so we joined forces with Steve Gardner and Garrett Wee.  Our prime target for the night was the Eastern Whip-poor-will.  Tommy needed the lifer, and I was hoping to finally photograph one.  Chippewa County Road 40 is probably the best place in the state to reliably find this bird.  Despite Garrett already being down there before we arrived and having heard a half dozen of the Whips, the woods was completely silent when Steve, Tommy, and I got there. We birded on anyway and soon understood why the Whips weren't whipping it good–a pair of Barred Owls vocalized right near us.  We got amazing flashlight views as one soared just over our heads.  It was eerie and awesome.
Eventually the Barred Owls disappeared, and the Whips began to sing their unending songs as they are so well known for.  We never could get a visual unfortunately, but at least Tommy got to tally the bird for his life list. I also got to tally a new bird for my Minnesota list: a calling Yellow-billed Cuckoo in the dark!  Even though Tommy had it directly above his head at one point, we never were able to get the flashlight on it.  So the bird went from being a lifer to a state bird in a matter of two days but still left me unsatisfied.
Tommy Trip–Keeping it Local
For Tommy's last full day of birding we decided to bird close to home even though two Minnesota Megas showed up that very day, a Baird's Sparrow and a Calliope Hummingbird. A chase would have been fun but exhausting given all our recent travels.  We started at Prairie Woods Environmental Learning Center.  I had never really explored this place before, so it was fun to give it some serious attention.  One of our highlights was yet another Scarlet Tanager. This one behaved like a proper Scarlet, hanging out exclusively in the canopy.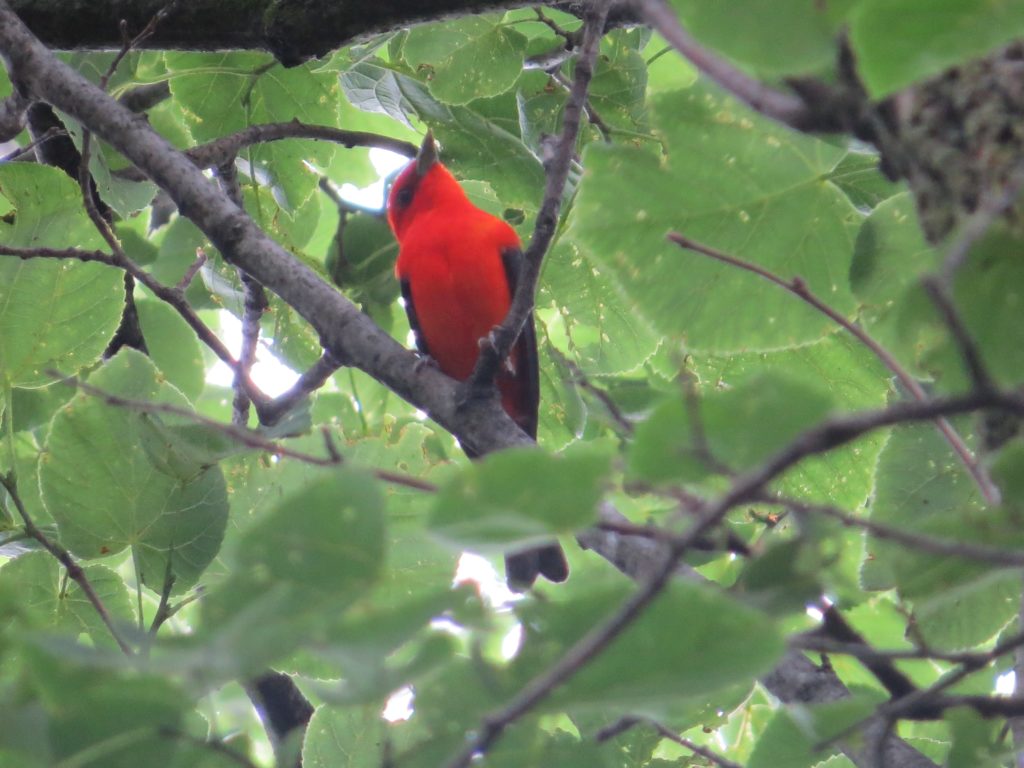 The other highlight was when Tommy picked out the sound of a calling Yellow-billed Cuckoo, a county bird for me! Once again, Tommy gives back! So in three successive days, this bird went from life bird to state bird to county bird.  But it still was a no show.  Someday.
One of our other stops of the day was Sibley State Park.  Despite this gem being so close to me, I haven't given much time to explore it which is something I really need to resolve.  Tommy and I gave it a good effort that day, though.  It was fun to look at some common-place birds through Tommy's fresh perspective.  We took time to enjoy Ovenbirds, Field Sparrows, and Swamp Sparrows.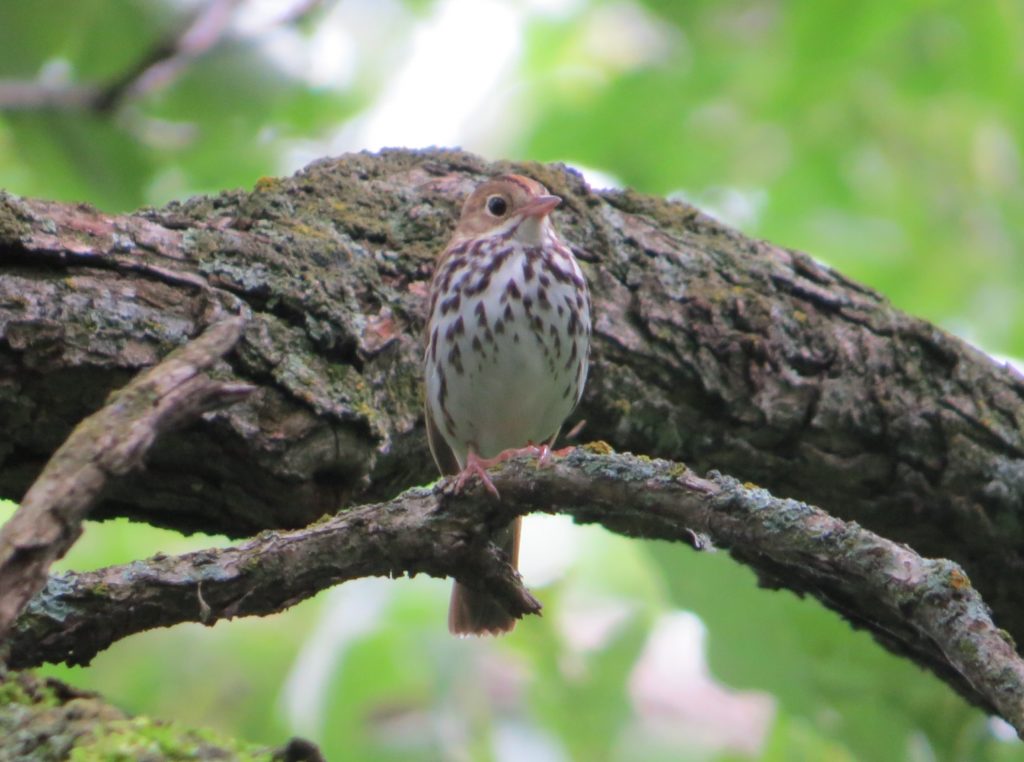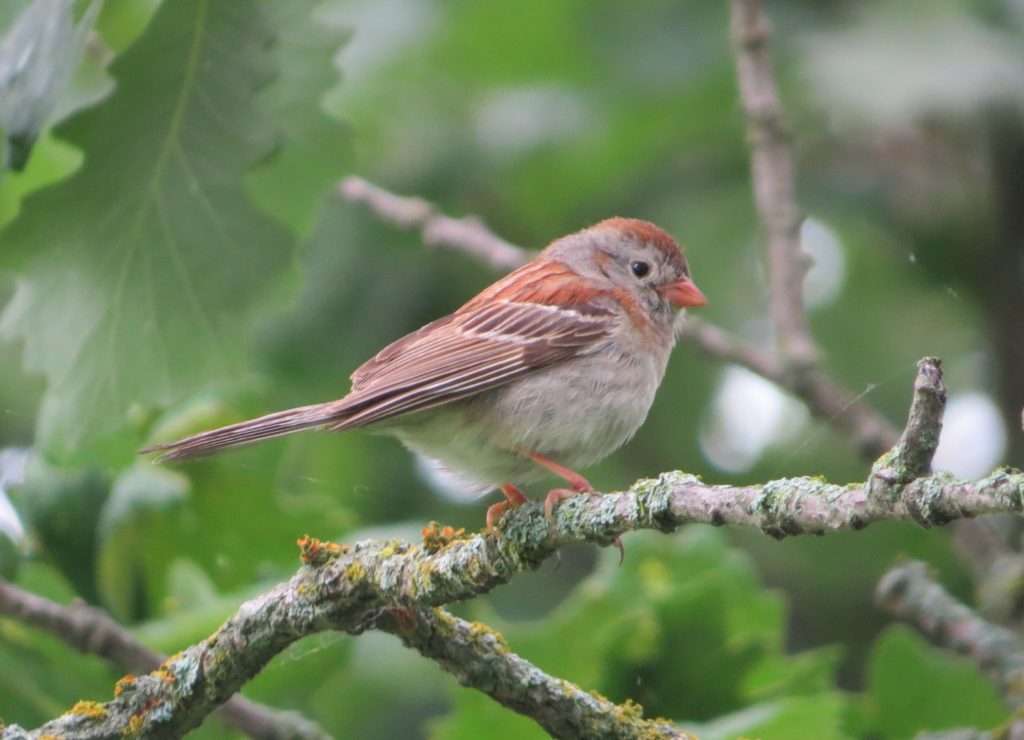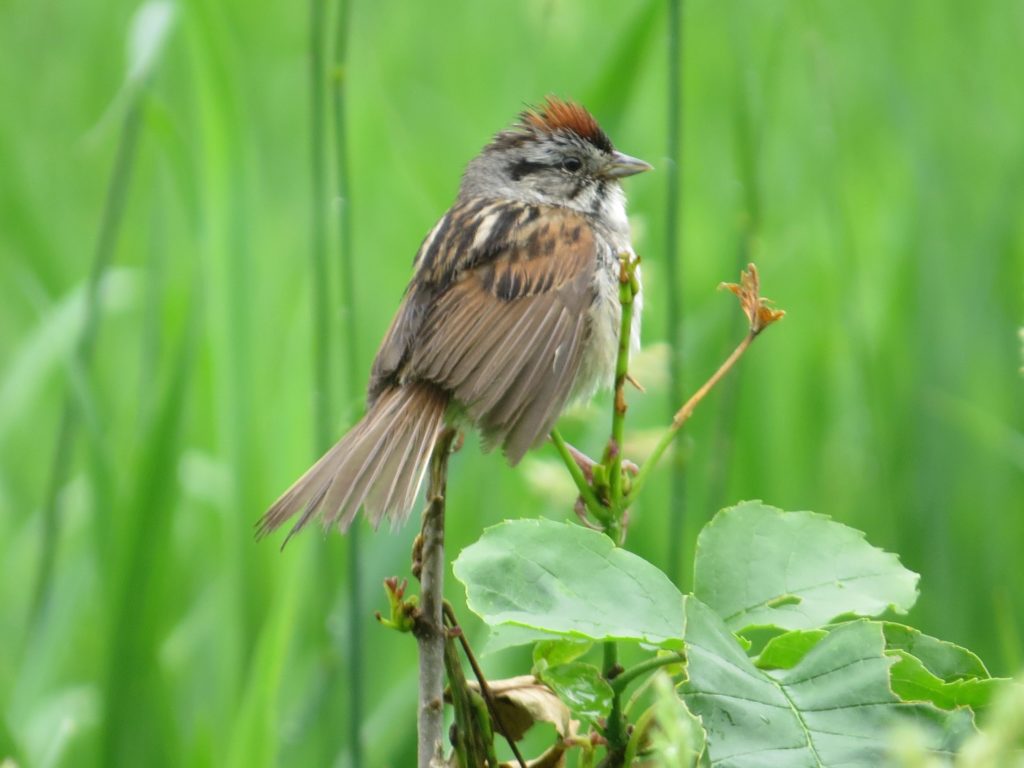 We also had a couple of good finds in the more uncommon species, like three additional Scarlet Tanagers…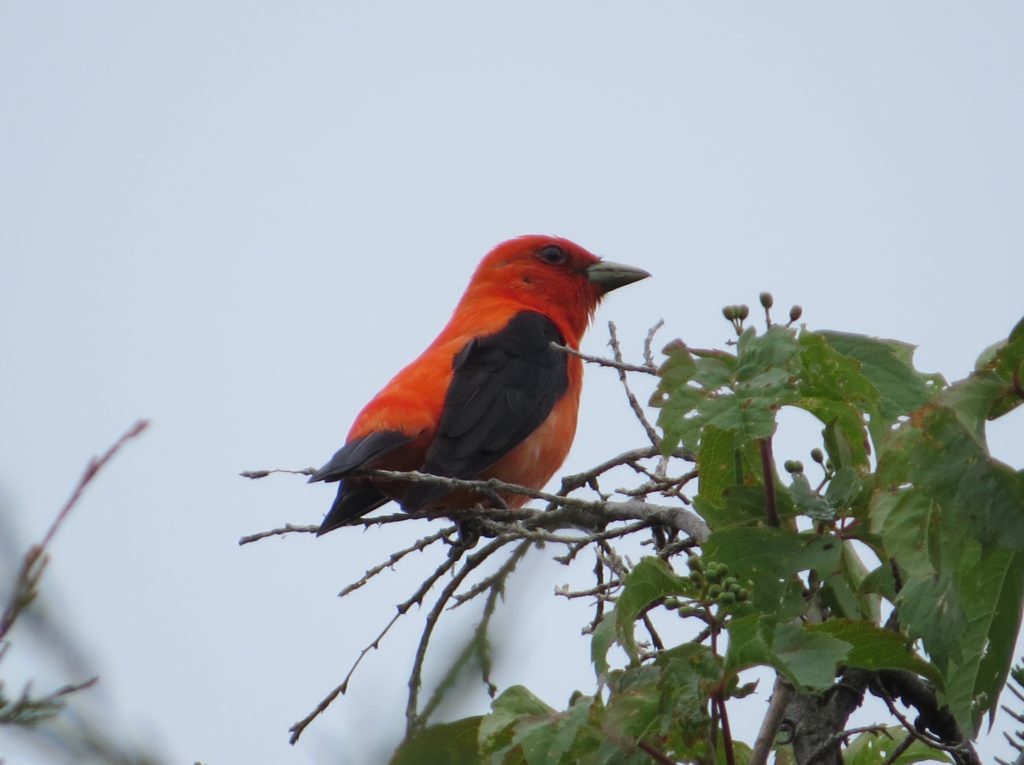 …and two Blue-winged Warblers, a very good bird for central Minnesota.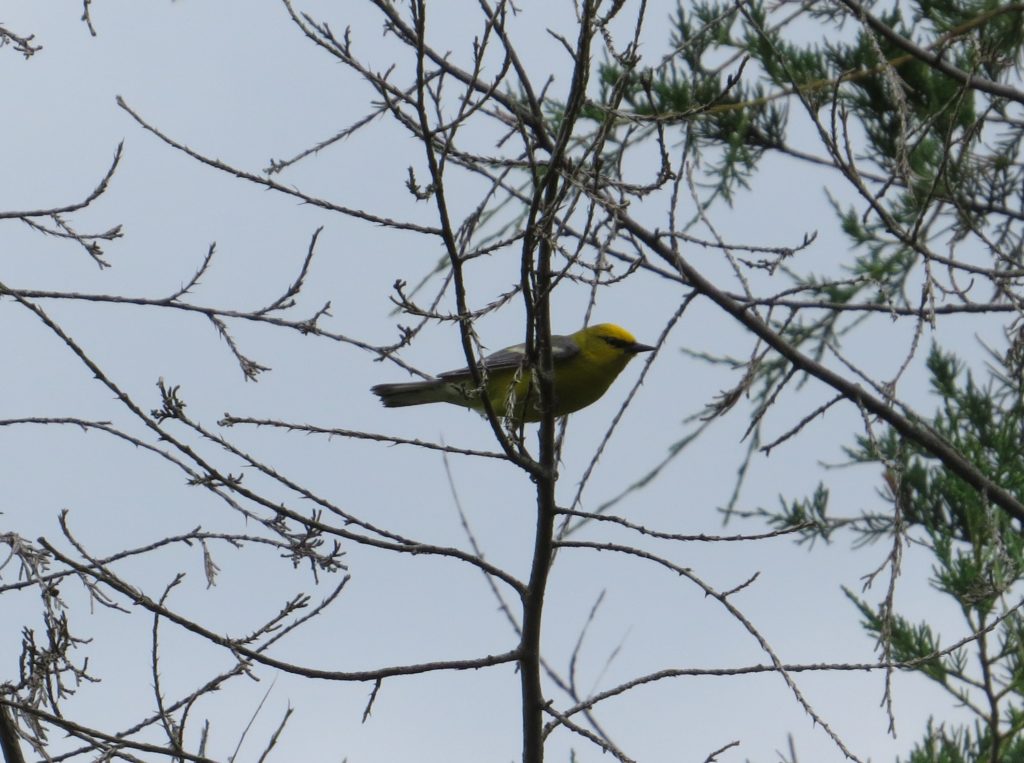 Birding After Tommy
After Tommy went home with a hefty bag of 26 lifers and a plethora of good bird sightings, I have continued to poke around close to home.  The Dickcissels have invaded the state in good numbers this year.  In fact, I even added one to my yard list.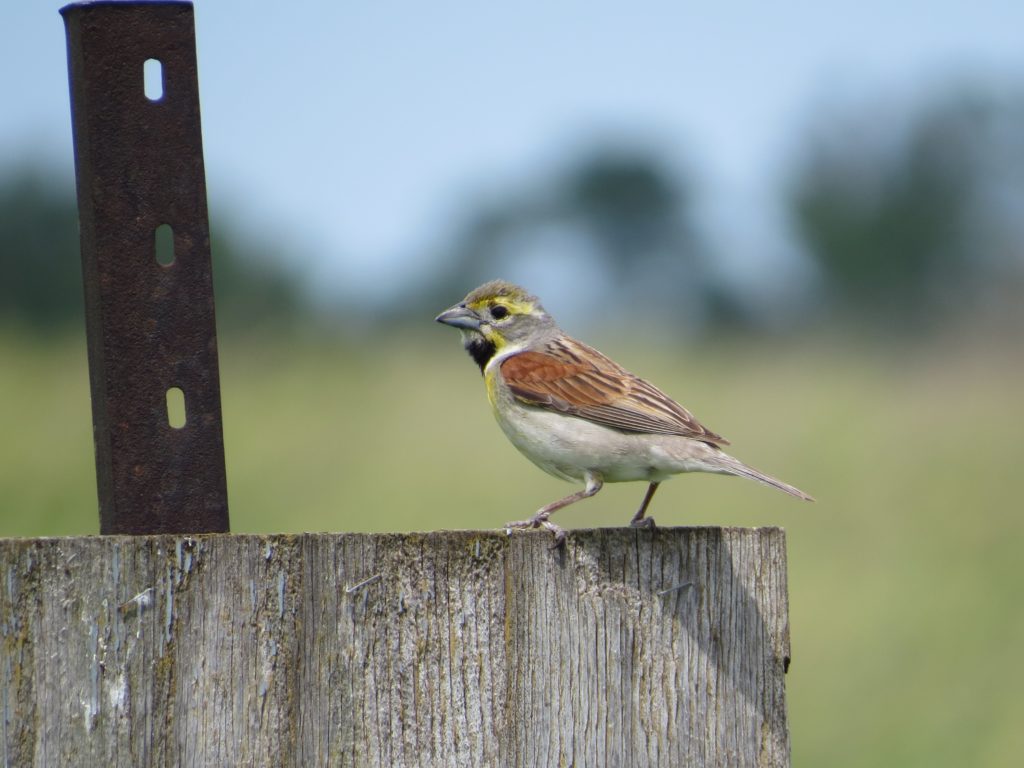 Another fun find I had one evening when I went out to a local wildlife management area was a completely unexpected county Least Bittern.  Though I had a killer look at one flying toward me, I wasn't able to get any photos but did record two Least Bitterns giving their "chuckling" call.  You may have to turn up the volume.
Birders can never turn off the birding.  Even when I accompanied Evan to a Cub Scout camping weekend, I had a couple of fun finds.  Highlights included yet another Scarlet Tanager and this Pine Warbler.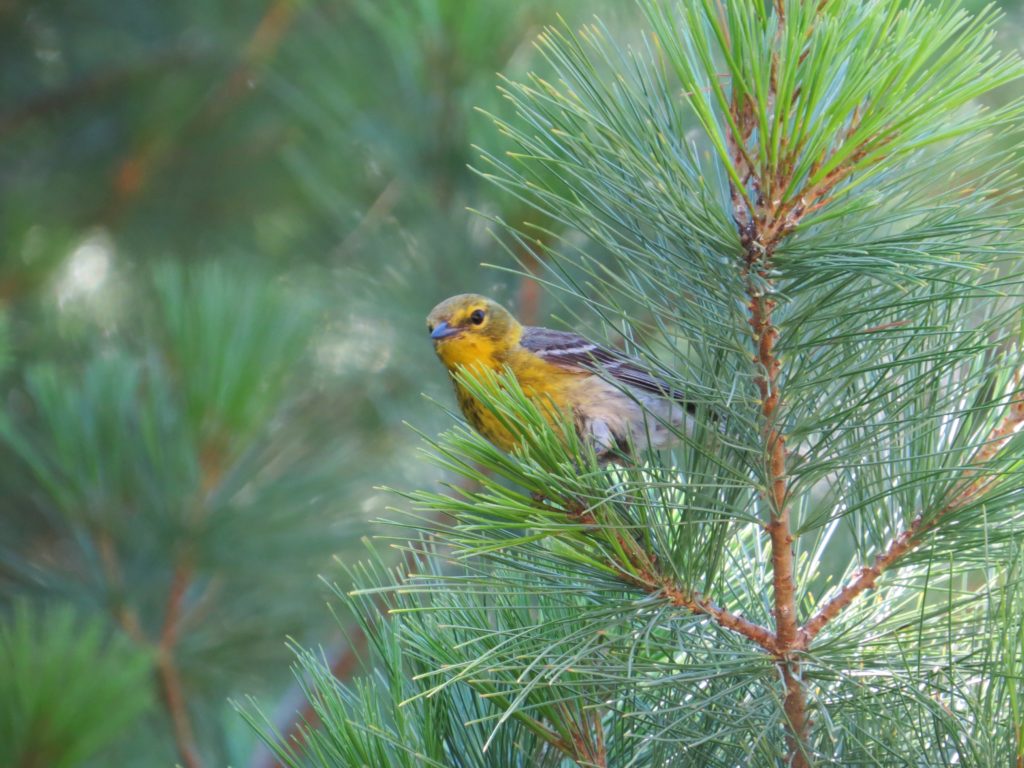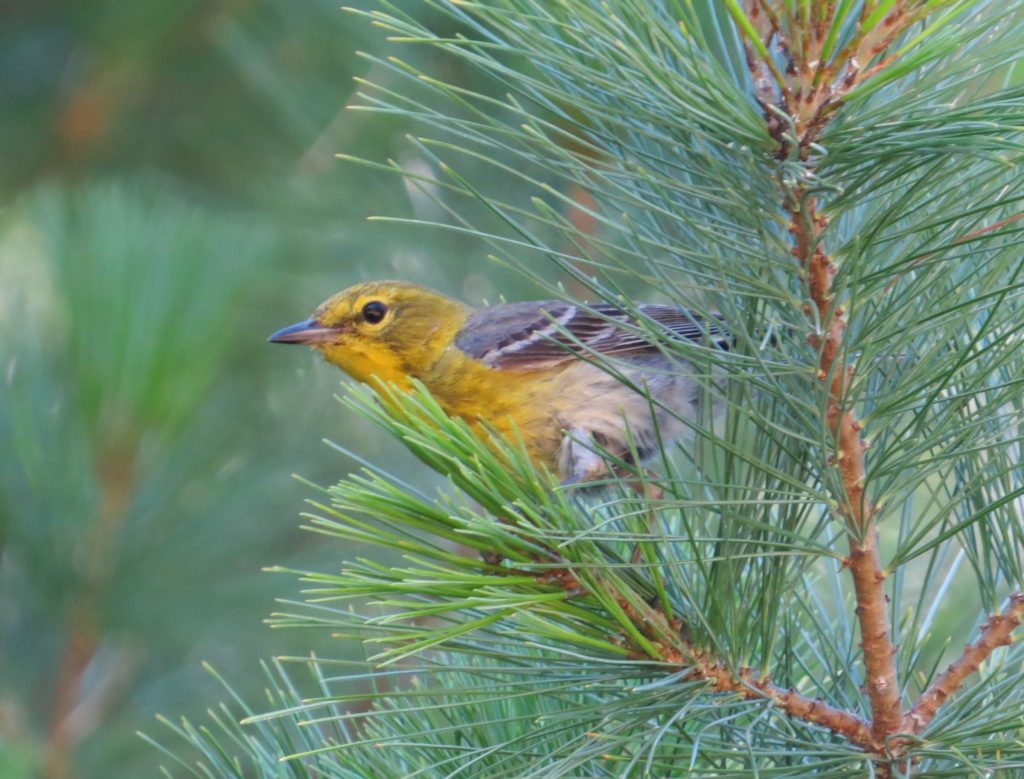 While the Pine Warbler was a good find this far south, I found something even better at Scout camp, probably my best sighting yet…
There are two more fun posts coming out soon–a chase to see a rare bird and an exciting Woodpecker encounter while visiting family in northern Minnesota over the 4th.