Over the last couple years whenever my wife or I spotted a pretty bird out the window, like a cardinal or an oriole, we always reacted excitedly and pointed it out to our son, Evan, who is now 6.  While our enthusiasm faded over time, his never did.  When gold finches would cover the thistle feeder day after day, they just became part of the background.  Not to Evan.  Each day he saw one was like the very first time – sheer excitement.  As loving parents w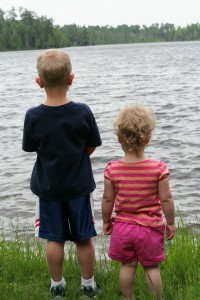 e would try our best to sound sincere and say, "Wow, would you look at that!"  It was fake at worst and half-hearted at best.
It's a good thing that grandparents can pick up their kids' slack when it comes to sharing the joy of a child.  It also helps that one of those grandparents is a former biologist who has a special affinity toward birds.  As we visited my parents one summer, Evan got excited over the birds on my dad's feeder.  My dad, Rick, got just as excited and before long the two of them were buried in a bird identification guide looking up everything with wings.
As a dad, I admired this special bird connection between my son and my dad, but I did not share their level of interest.  That all changed when I had an encounter one day on my dad's property in northern MN with a bird I had never seen or heard before – the Chestnut-sided Warbler.  From that point on, I was hooked on birding. Now the three of us share this hobby, and it is my goal to detail our adventures in this blog.  You can read more about the name of this blog in the post titled More Than Just a Name.