No secret has been made on this blog that Owls would play a predominant role in 2017's goals and adventures.   Seeing as how my #1 goal of seeing an irruptive Boreal Owl lifer is not panning out (yet), I'd have to look slightly further down my list to #2 if I was to get any check mark action on the little scrap of paper I keep tucked away in my Sibley. While that second goal was not an Owl lifer, it was just as tantalizing: a red-morph Eastern Screech-Owl.  Just a different color morph of the EASO which I already had in the gray hue, I know, but so, so different from those other gray Screech-Owl species of Western and Whiskered which I've already tallied.  Because my list of goals contained so many Owl-related items, I shared it with my friend, Jeff Grotte, a.k.a. Owl King of Minnesota, who lords over his vast digital domain of 'Owl About Minnesota' on FB. Jeff's a super nice guy who I've had the pleasure of owling with before, and he told me he thought we could knock #2 off my list.  He wasn't kidding and wasted no time. Not very deep into 2017–Jan. 1 to be exact, Jeff investigated a lead on a red Screech and was successful.  Shortly afterward he had gained the necessary permission to return to show me this Owl's abode, a quiet postage-stamp pond in the grove of a rural residence south of the Twin Cities.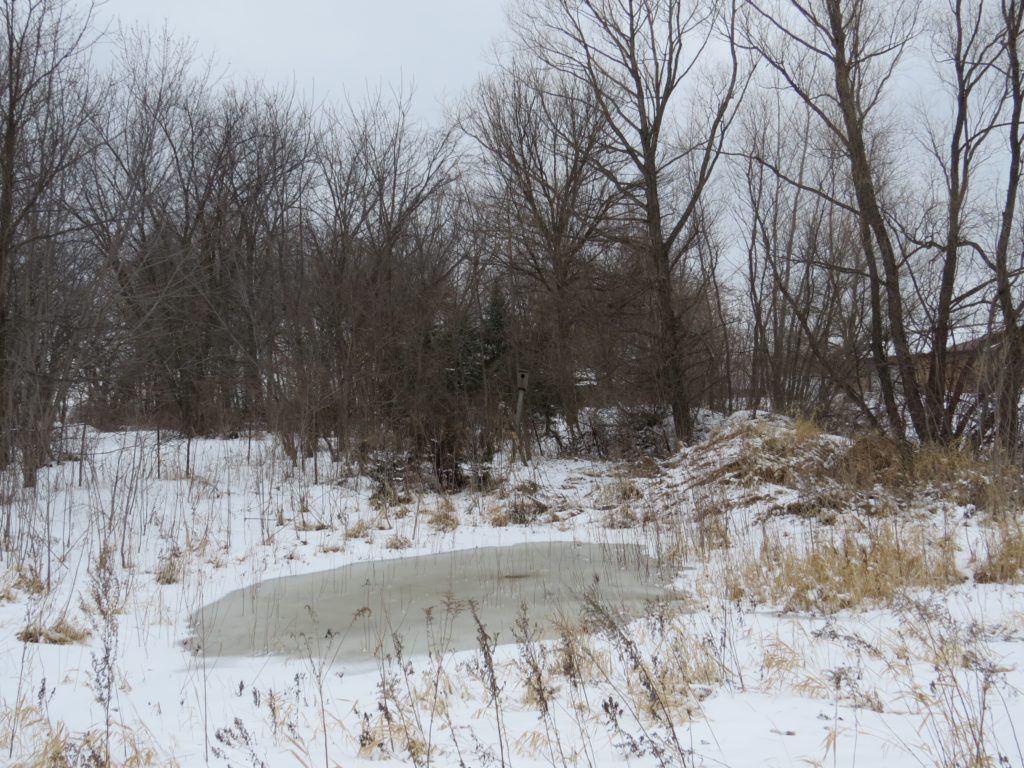 The homeowner, Kathy, assured Jeff the Owl was there regularly; it would just be a matter of me finding a time to make the 2-hour trip.  Funny thing when you are a parent, your time no longer belongs to you–work and kid activities keep us hopping and out of the house most every day and now on weekends too. Birding definitely takes a back seat.  I was feeling the need to get this done though; bird in the hand and whatnot. With Melissa being gone on a trip all weekend, I was staring at some serious single-parenting.  The red Screech dream was seemingly out of reach.  So I did what any serious Owler would do: cashed in some comp time and took me an Owliday mid-week.
After dropping the kids off at school on Thursday, I did not drop myself off at school and kept rolling east to the metro where I met up with Jeff.  Jeff brought along another birding/owling friend, Steve Brown.  The three of us were waiting on word from Kathy regarding whether the red Screech was even home this day. But birders and owlers don't sit still.  We went on the hunt for Long-eared Owls for a short time in Eden Prairie.  While unsuccessful with that target, we did kick up a Barred Owl which was a good omen for the day.
After this little foray, we headed over to Steve's house to drop off my vehicle and consolidate into his.  As I tailed Steve and Jeff, I saw a mob of Crows in a tree and began scanning for an Owl blob.  One of the birds was noticeably bigger but not Owl-shaped. As I cruised by I could see it was a Red-shouldered Hawk!  This is a bird I've had terrible looks at and never photographed before.  I flashed my lights at Steve and Jeff. No response. It didn't even dawn on me to use my cellphone.  As I put more distance between myself and the hawk, I was resigned to the fact that this bird would continue to elude me in looks and photos.
When I got out of my car in Steve's driveway, I was just about to tell the guys about my Red-shouldered Hawk woes when Steve started talking first, "Say, I think we should go in the house before we head out again because I've got a real tame Red-shouldered Hawk that hangs out in my backyard all day.  You can get some nice photos."  Jaw nearly met the ground. I hadn't even mentioned that this would be a photographic lifer. We went into Steve's beautiful home that overlooks the Minnesota River Valley, and Steve wasn't lying.  Bam. Another good omen.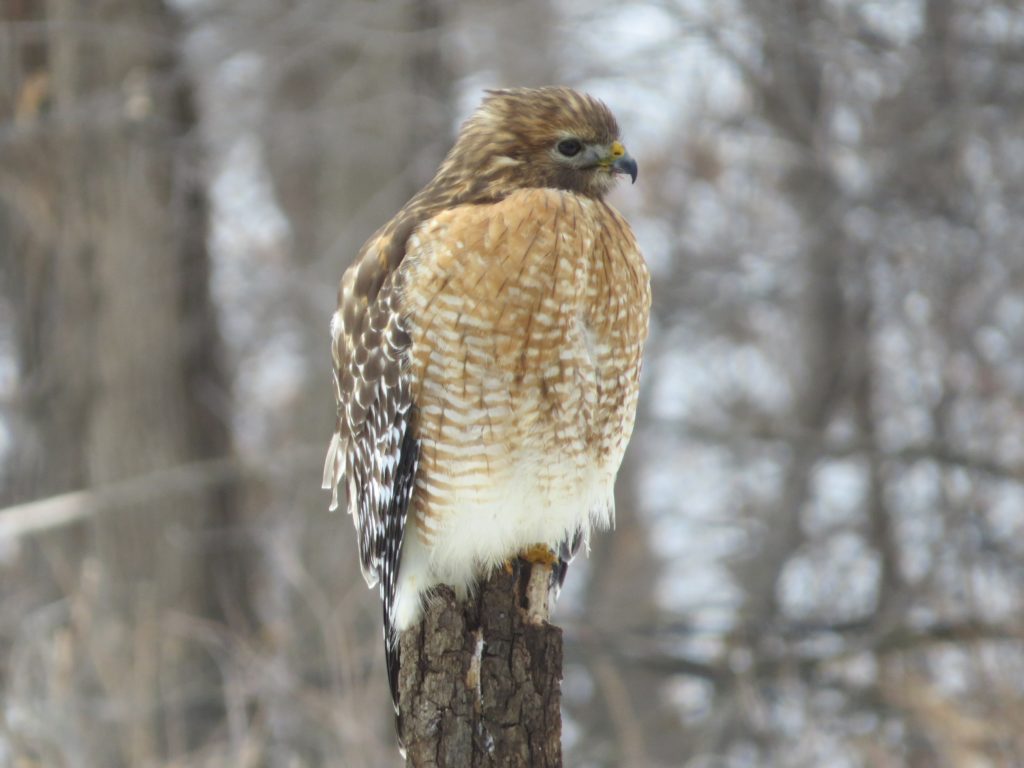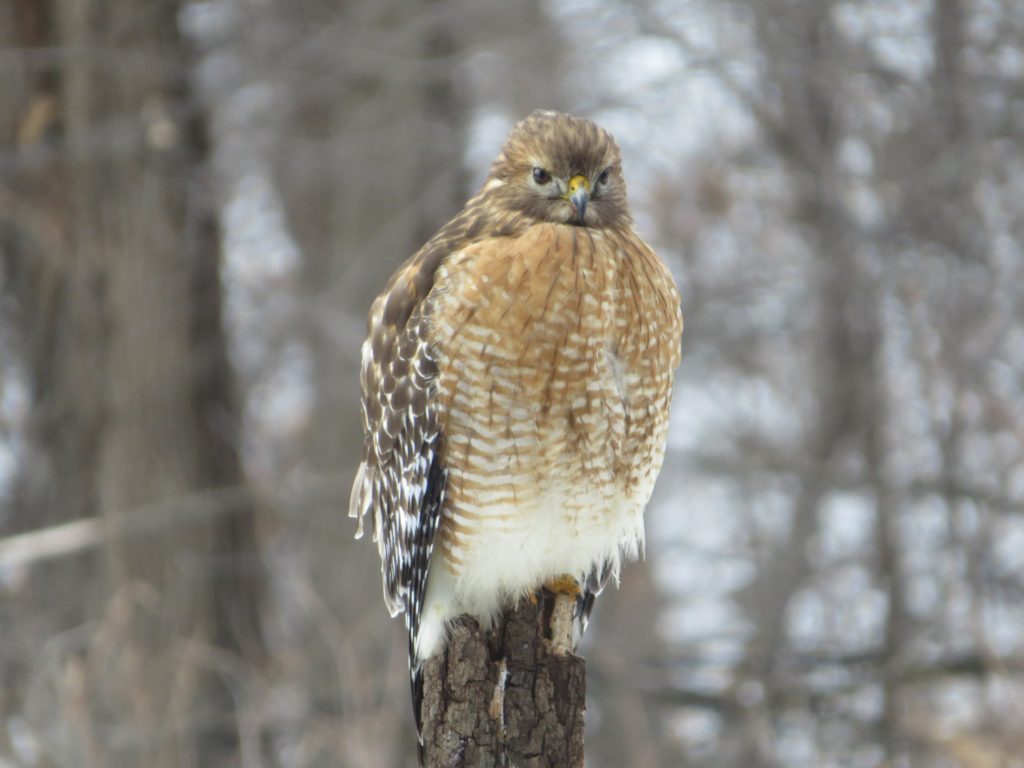 These photos were shot through glass.  Like Jeff, Steve is an accomplished photographer who ushered me into his photo blind where I could photograph the Hawk without a glass barrier.  Unfortunately, the Hawk got a bit nervous and flew into some tangles.  But have a look at that tail!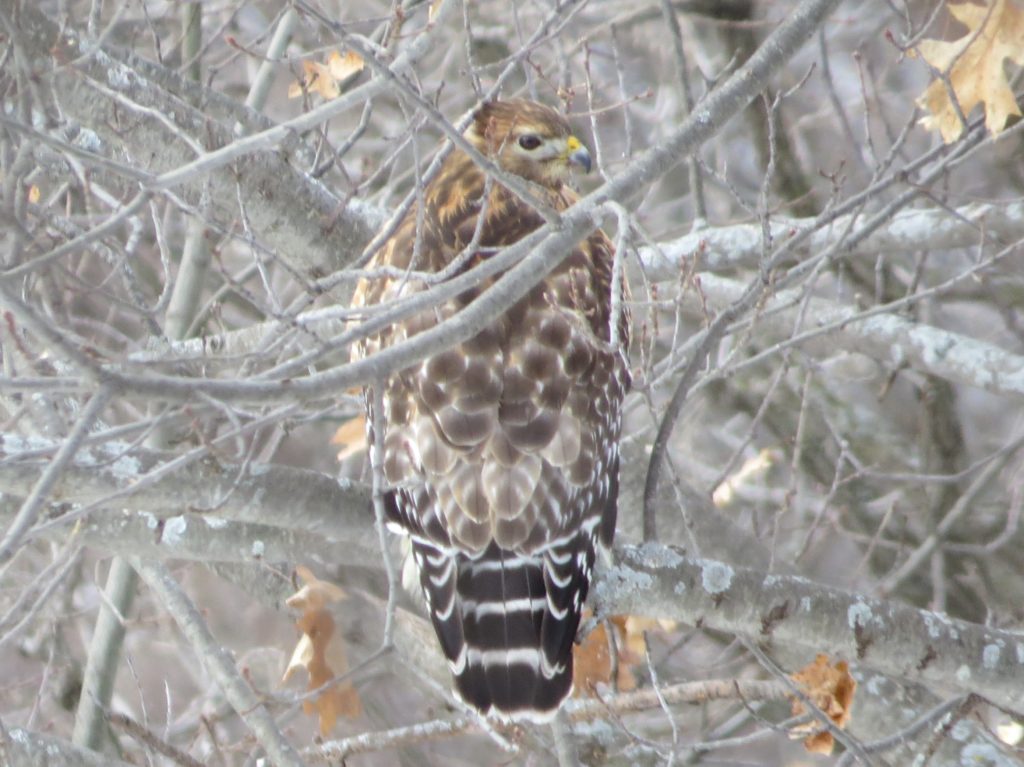 I very quickly learned that Steve, a retired dentist, was taking our birding mission very seriously. While the main object was to get me the red Screech, Steve did not want to send his newest guest away without getting some other good birds too.  He was off to a stellar start. In many ways I felt like I was in a parallel birding world to my experiences in Arizona.  Jeff was the MN Tommy and Steve was the MN Gordon.  Like in Arizona, there was one main mission for the day–get Josh the red Screech. That didn't mean we couldn't enjoy a little action while we waited, like this American Black Duck among the 500+ Mallards it was with at the Shakopee Mill Pond. Black Ducks have been really good to me this year.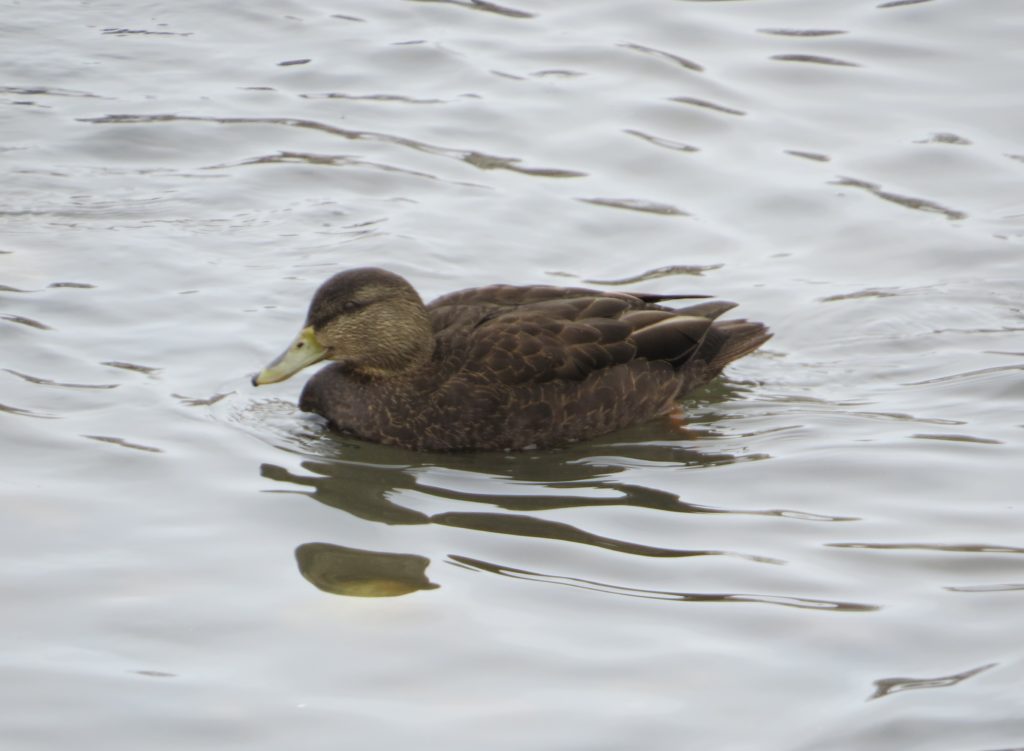 The open water was a good chance to pick up some FOYs as I still struggle to reach that barrier of 50 species. Belted Kingfisher, American Coot, Ring-necked Duck, and Lesser Scaup were all new for the year.  Ducks do not hold the attention for long, so we were off to do some backroads exploring while we waited for a sighting update on the red Screech.  We were told it pops out of the hole of the Wood Duck box regularly on sunny days.  This day was dreadfully cloudy, so we were hearing nothing in regards to the Owl. Just like Tommy, Jeff was really wanting to get me the target Owl bad.  We discussed an alternative option in St. Paul, but that was quite far away and no one had seen Screech- Owls in that spot for months.  As the hours ticked on, we were all wondering if the day's objective would be a bust.  Jeff figured our best shot was still with this homeowner, so he messaged her to ask if we could poke around the property to try to turn it up.  With an affirmative answer, we were on our way to at least make an attempt.
We pulled into the driveway, and Kathy and Mike were there to greet us in a warm, Minnesota-nice way on this cold day. And what a greeting it was–with excited eyes, Kathy's first words through the open car window were, "It's here!" The car lit up with smiles and laughs not unlike the war room when they got Osama bin Laden. After some pleasantries, the five of us headed out on a cleared path in the snow around some outbuildings to the secluded corner where the Screech had taken up residency.  Even though they had cameras as long as my arms, Jeff and Steve urged me to go first so I could get my look and photos.  The generosity and mission focus was the Tommy/Gordon thing all over again.  Uncanny.
The pond actually had three Wood Duck boxes.  Mike told us which one the Screech was in just 15 minutes ago.  So we stared and stared at a black hole, hoping it would get filled in with a red face.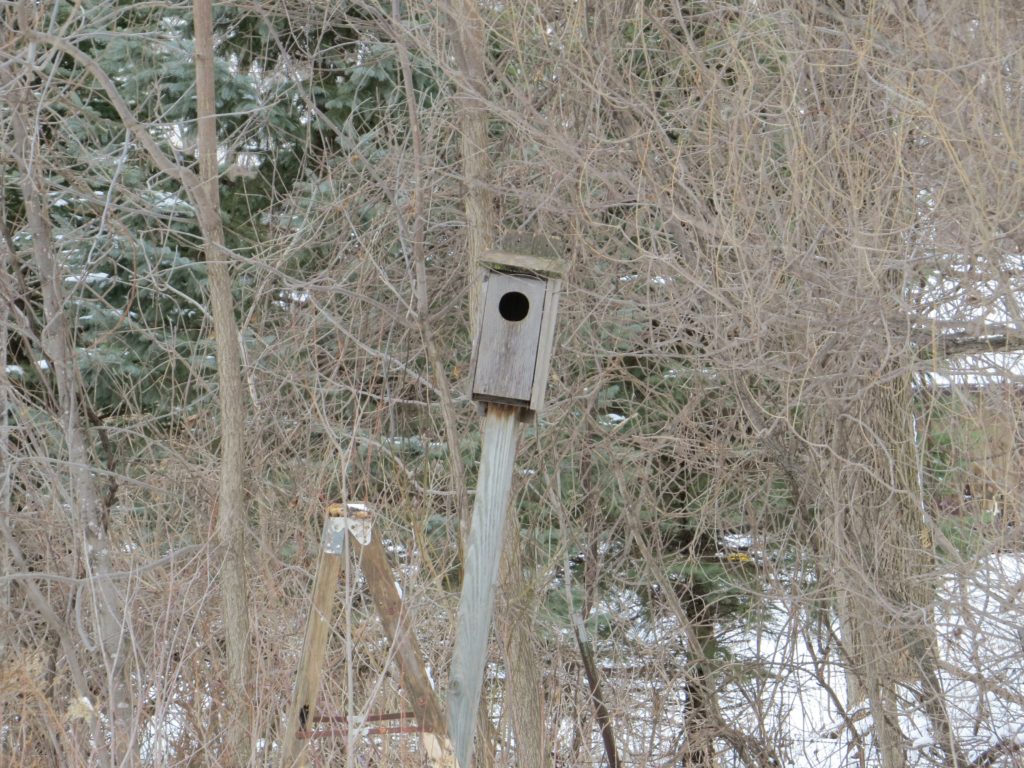 Knowing there was a red Screech in there made for some impatient waiting.  The Owl was not being cooperative at all while we watched and waited.  We were so close to meeting the big objective, but it just wasn't happening and the impatience of all was festering.  Would we have come this far only to fail? What's that they say? When a door closes, open a window?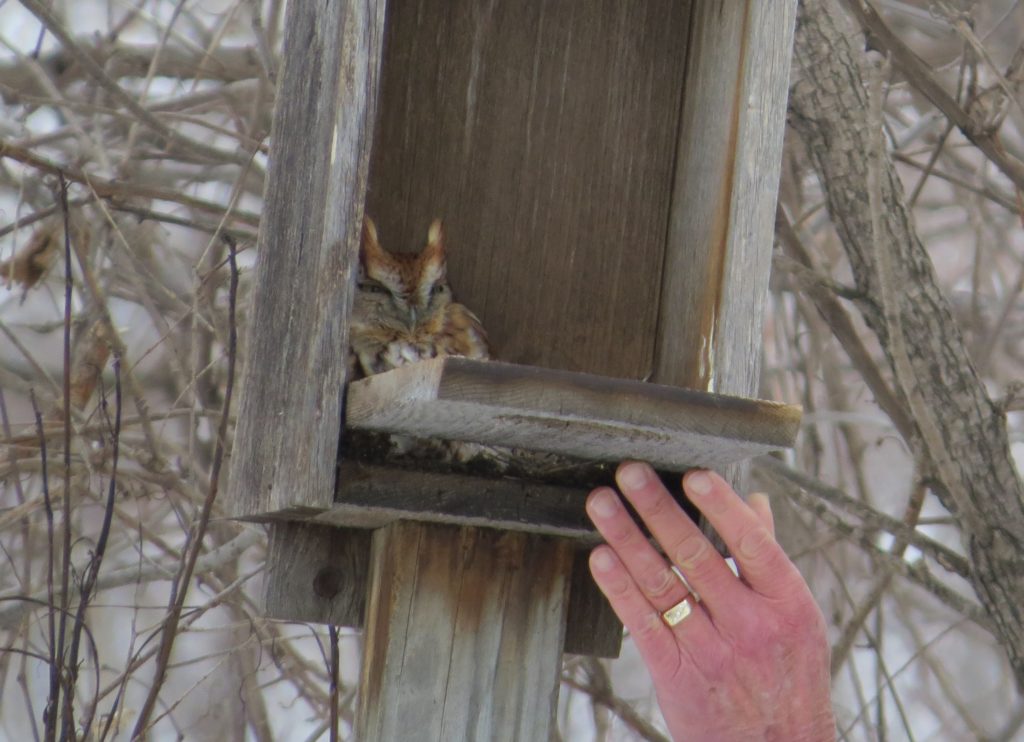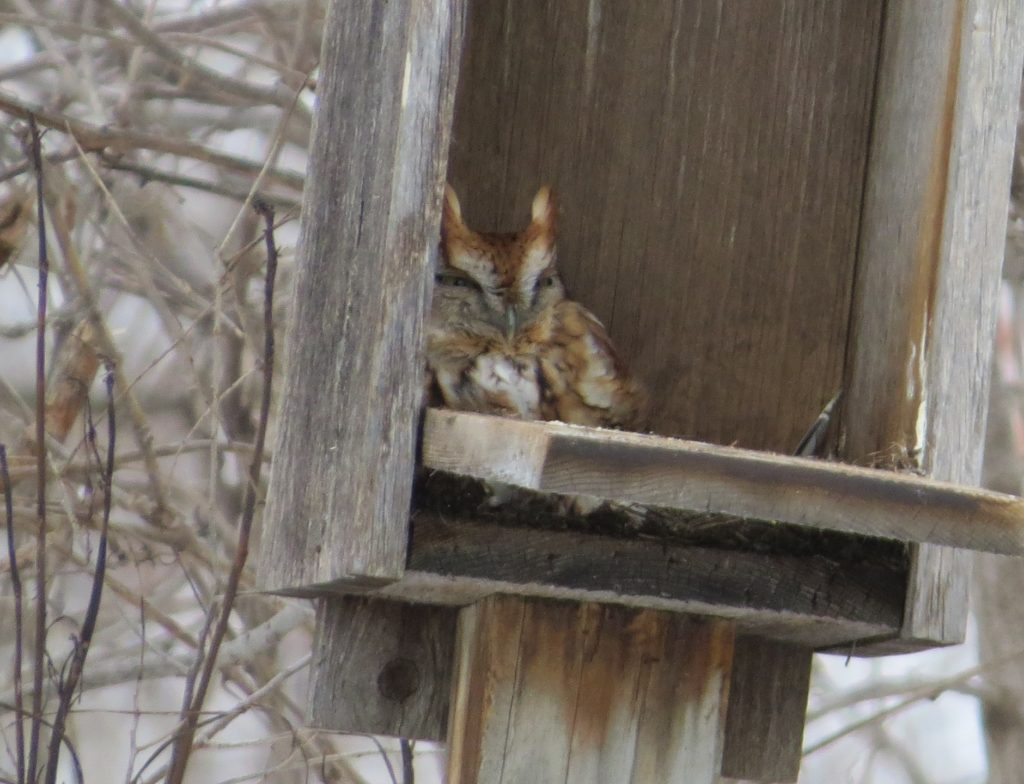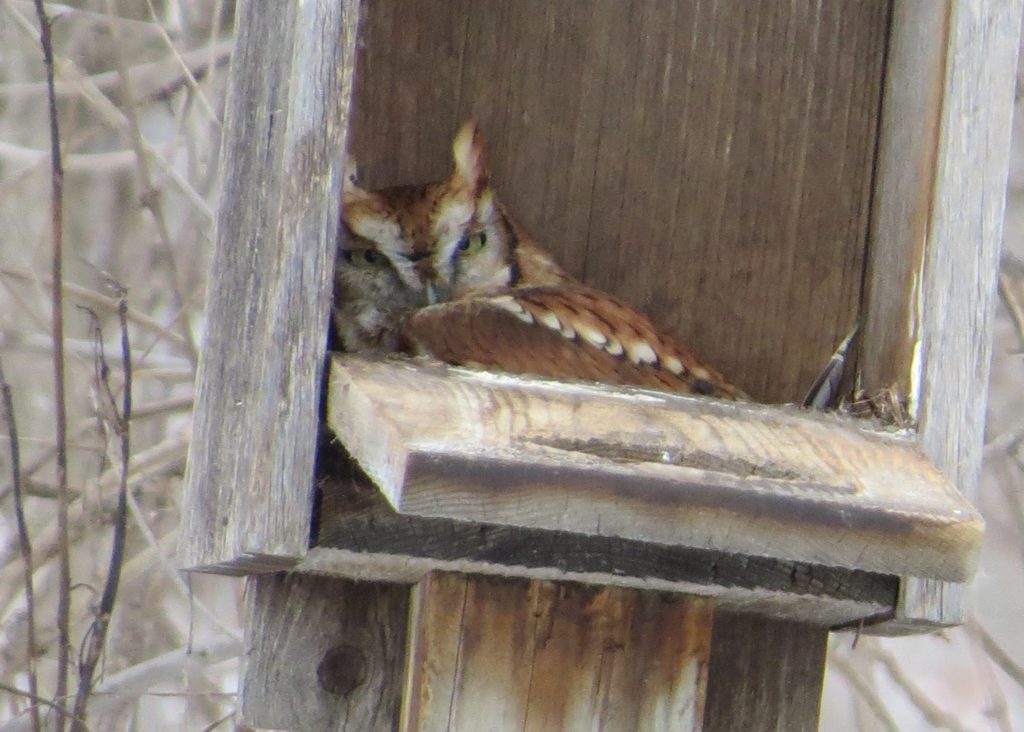 We thought this Owl was going to let us photograph it in this position for a little while, but after a half minute or so, it had enough of this nonsense and flew straight toward us and directly into to the hole of another Wood Duck box.  We never did see it again and decided to leave it alone.  High on a successful trip, we continued to hang out by that little pond and talk Owls with Mike and Kathy.  We thanked them profusely and were finally on our way.  With a few hours of daylight left, the day was still wide open with possibility.
Steve, Jeff, and I spent some more time looking for Long-eared Owls near Steve's place but were not successful.  Jeff is always up for more Owling (like Tommy), so after we said our goodbyes and thank yous to Steve, Jeff and I were off for Round 2 of Eastern Screech-Owls.  I told Jeff that I thought it would be cool to try to see both color morphs in the same day.  So we went to track one down in the western suburbs.  With some tenacity and brilliance (all on Jeff's part), we got what we came for: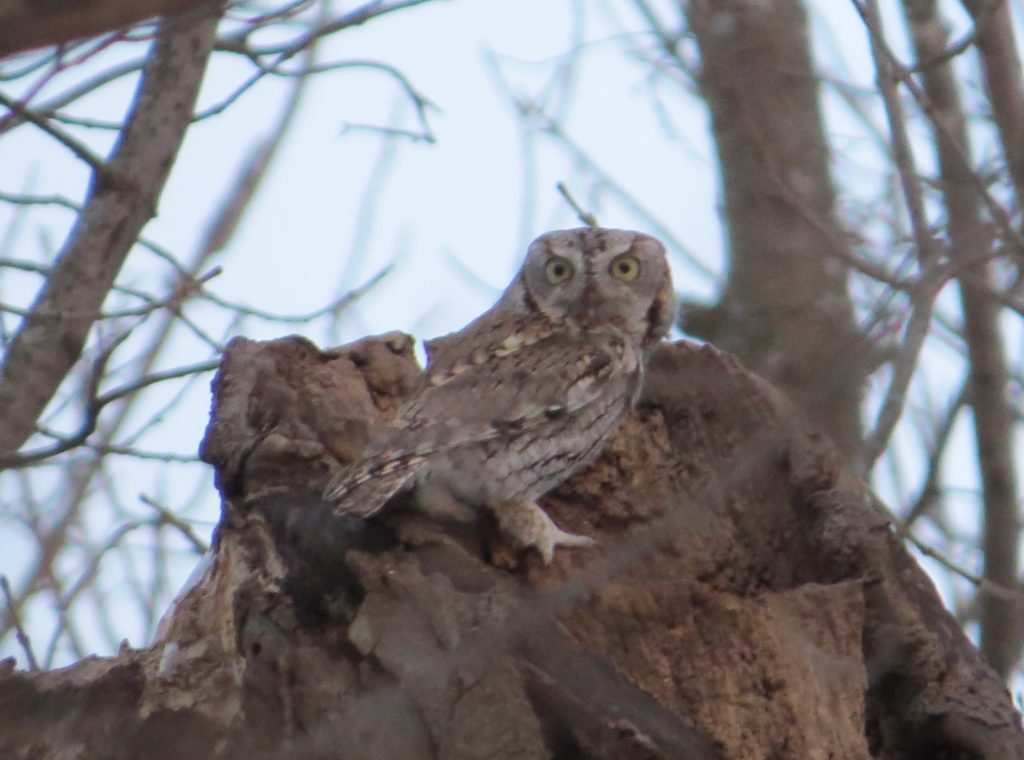 Quality over quantity is what this birding year is all about this year.  This day definitely embodied that as a lifer* Owl was had with a couple of bonus Owls all while having fun with friends.  A huge thanks to Jeff Grotte for setting everything up and making a fun day off, to Steve Brown for the other good birds and the selfless enthusiasm, and most importantly a big thank you to Mike and Kathy for sharing their special yard bird with us.  There will be more Owling with Jeff and possibly Steve in the months to come.  But first, I have a duck to track down.