There is a strange and paradoxical law at work in birding: a lifer must fall often as a crummy sighting in a far-off place before that bird is seen crushingly well, with ease, in good numbers, and/or close to home. When you finally reach that crossover point, the reward is so so sweet but is almost always followed with the nasty aftertaste of regret and self-doubt. Why wasn't I just a little more patient? Why did I even bother that first time? But if I didn't go the first time, would I even be enjoying this bird now? But I am enjoying this bird now, so wasn't the previous attempt a waste of time, money, and effort? It is the birder's equivalent of the age-old chicken vs. egg first dilemma.  A birder can perseverate on this for days.
For me this played out with the Short-eared Owl this past fall and even up until today.   In hindsight it is really quite comical (or agonizing) that in December of 2015 I traveled 2+ hours away to Afton State Park to get my lifer Short-eared Owl in a blizzard in the last 5 minutes of daylight. Or perhaps not. Maybe it paved the way for my great sightings of multiple SEOWs 4 hours away in Grand Forks, North Dakota last spring. And maybe that trip was necessary for all that follows in this post.  At least that's what I tell myself to justify the time and expense put into the aforementioned trips.  Because what follows is incredibly inexpensive in time and money.
November 2016, Lac qui Parle County
I can't reveal my reason for why I was birding two counties away in November, but I can say that what I was after would not be a big deal to my Arizona friends but would be a bombshell to my Minnesota friends. Let's just leave it at that. Joining me on this clandestine mission were friends Steve Gardner, Brad Nelson, and Jeff Grotte.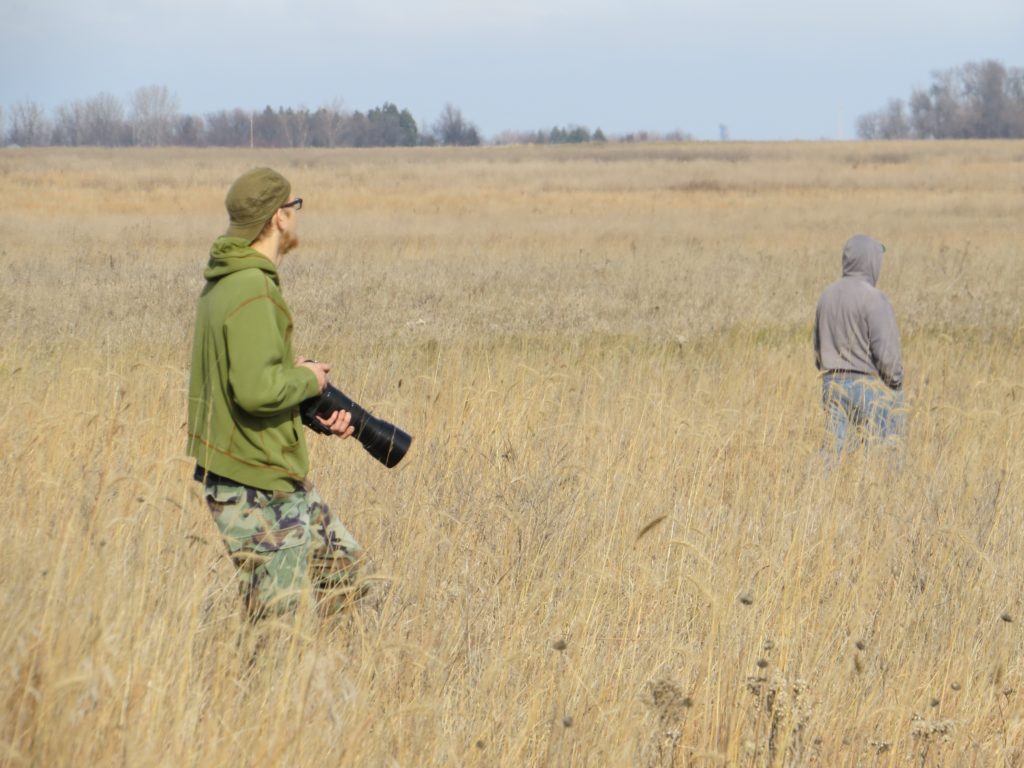 Walking out in this grassland, we were not expecting but were quite delighted to kick up two Short-eared Owls.  It's a pretty good day when a Short-eared Owl is a consolation prize.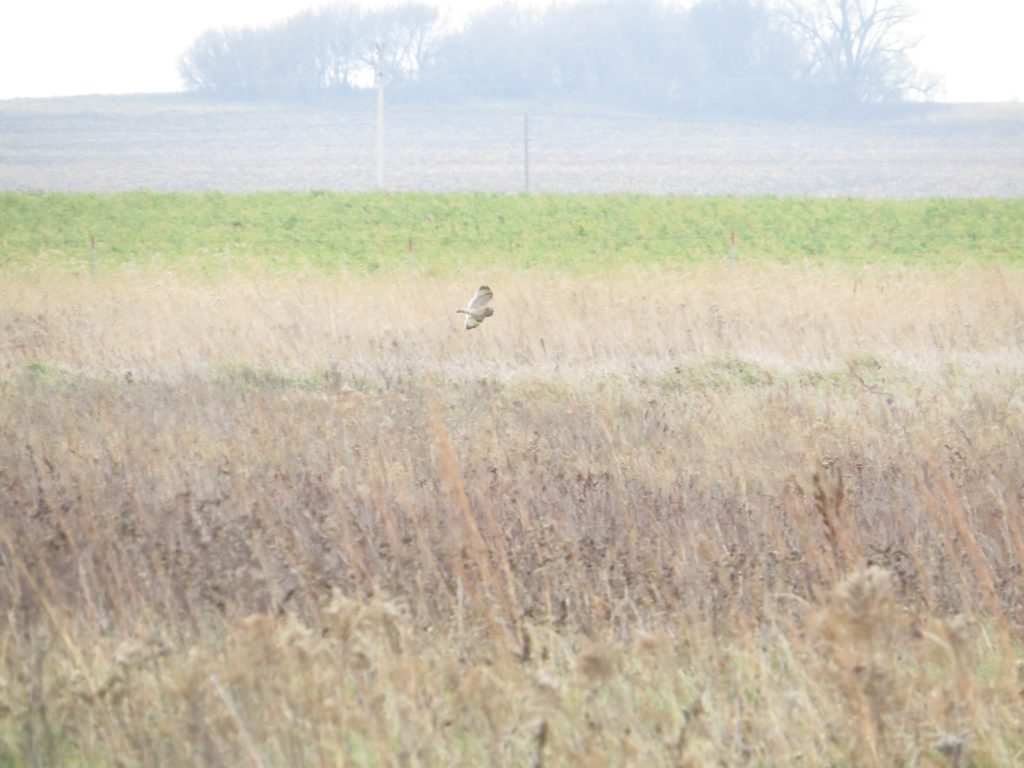 December 2016, Swift County
I received a report from Joel Schmidt that Jeff Weitzel had bumped into two Short-eared Owls in the next county over, just 45 minutes away. December gets busy and so I never got around to checking it out until about two weeks after the fact.  Maybe they were wintering in that spot, so Steve Gardner, his son Riley, and I went to check it out.  And dang, there weren't two Short-eared Owls after all–there were three!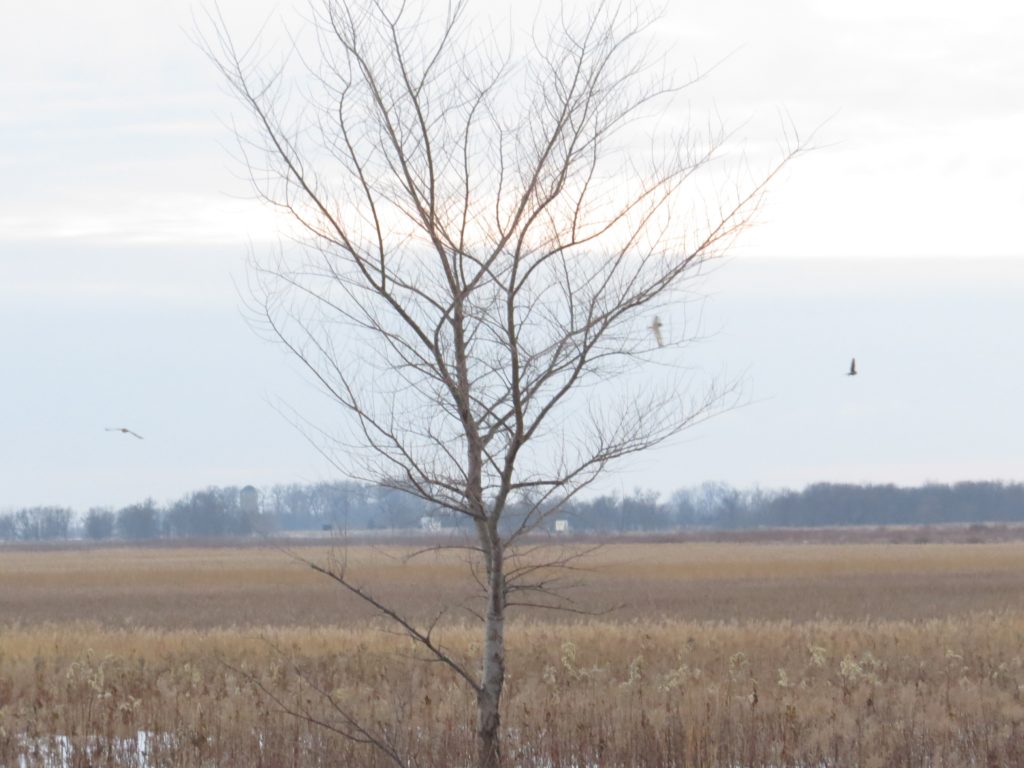 Steve, Riley, and I had phenomenal close fly-bys of these Owls.  Though the birds were cooperating for photos, the clouds and dropping sun were not. Even still, I got a few shots to remember the night.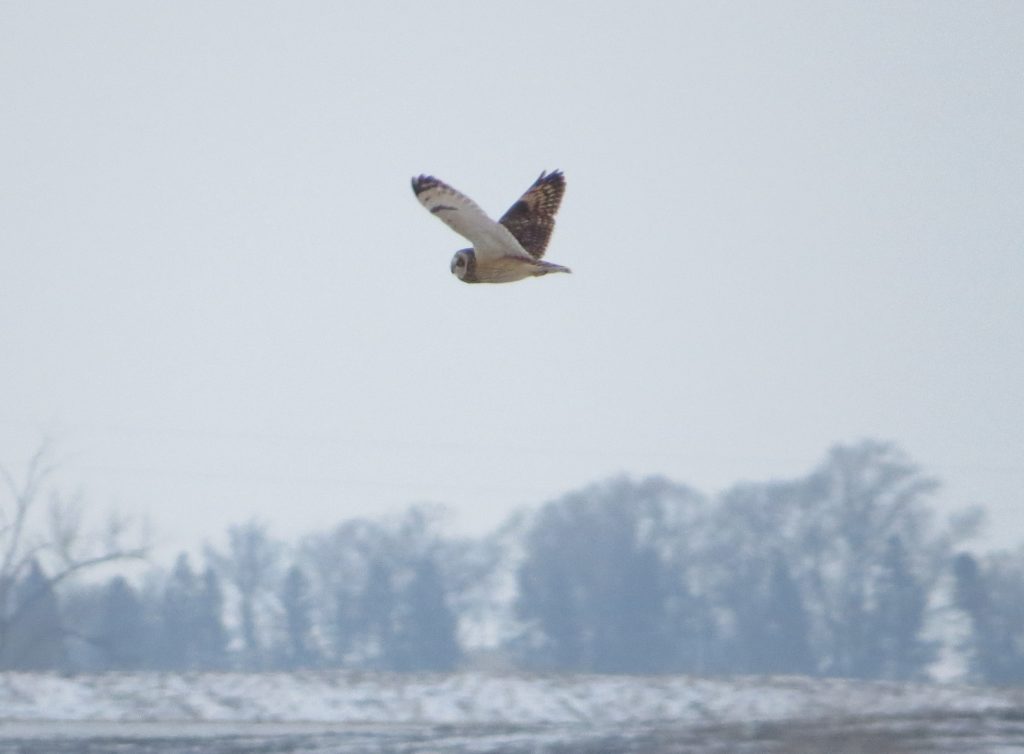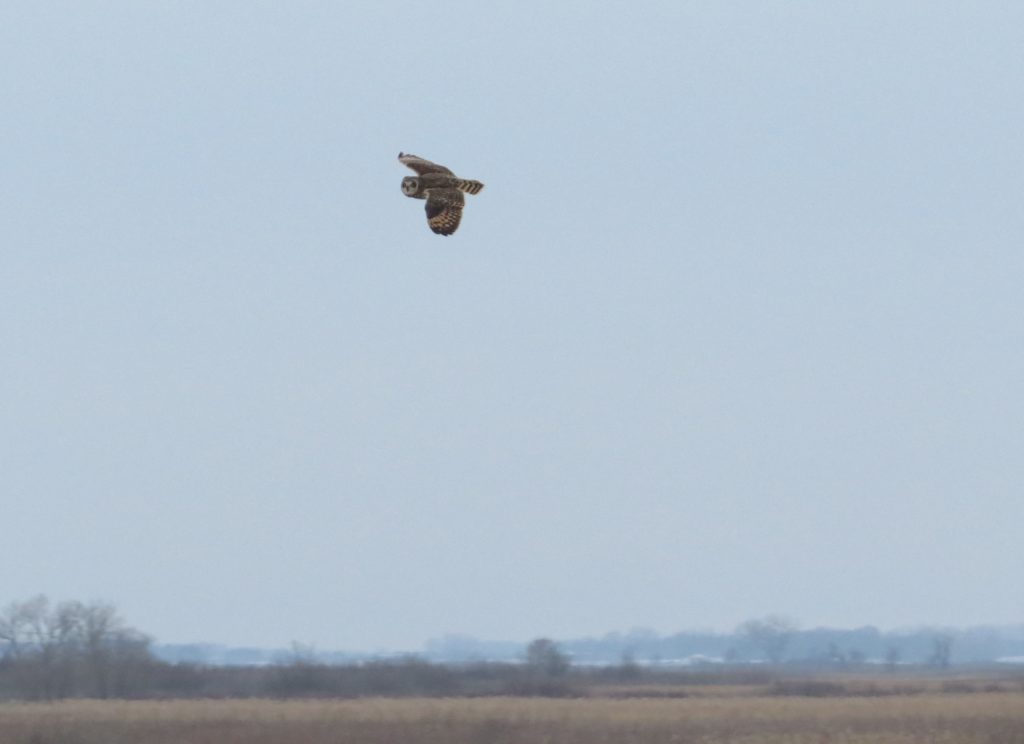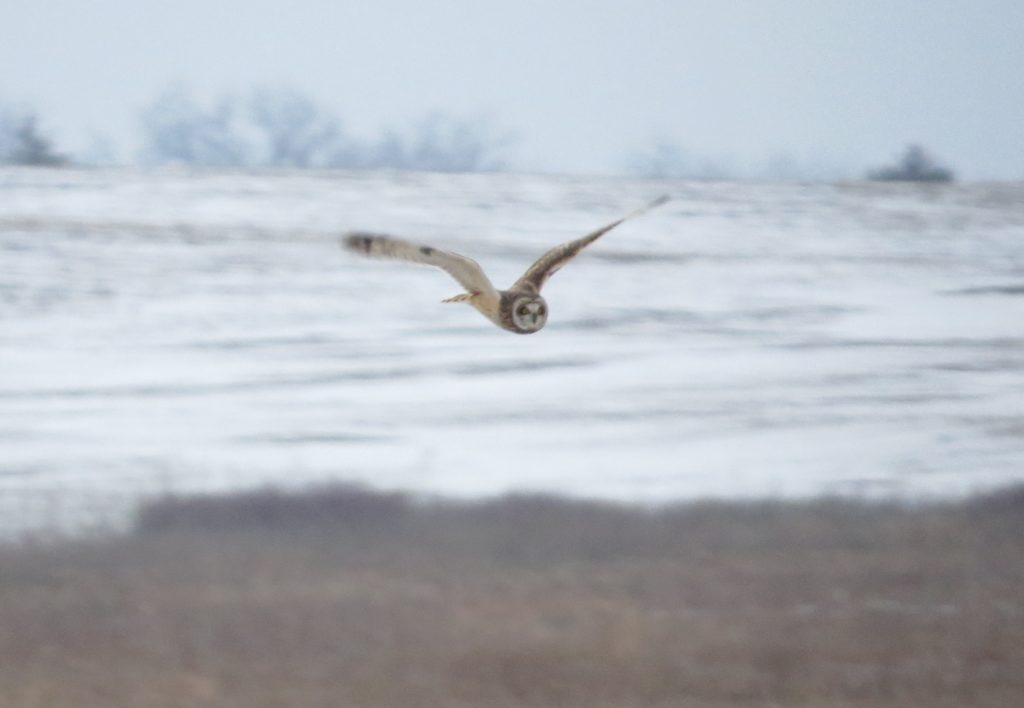 Then with no fear, one of the Owls perched up fairly close. It was exciting to see a perched Short-eared Owl–this likely would never happen again, right?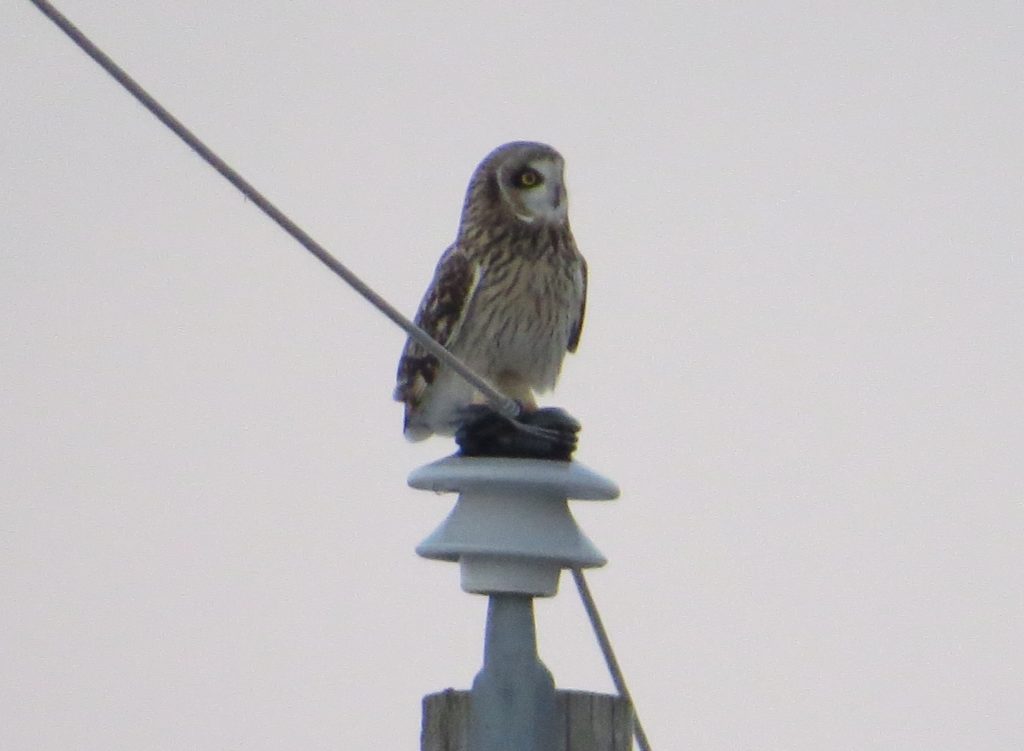 What made the Swift sightings even more remarkable was that when I got home I looked at my map and realized I went to the wrong spot that Jeff had found.  In fact, I was a couple miles away, and still I found Short-eared Owls!
January 2017, Kandiyohi County (the home county)
Astute readers have probably already picked up on the theme that as we are moving closer to the present, the distance traveled to see Short-ears has decreased and the quality of the sightings has increased.  As more reports were filtering in of wintering Short-eared Owls all across the state, I was really getting the urge to find one here in Kandiyohi.  It would be a county bird, a really good county bird.   With the holiday festivities putting a damper on most everyone's birding, I organized a search party with local birding friends for the afternoon of New Year's Day when there's nothing to do anyway.  We were going to look near Regal in the very northeast corner of the county. Aaron Ludwig out of Stearns County said that he couldn't make the Regal Roundup but wanted to do us Kandi birders a solid by scouting the area in the evenings ahead of time since he worked near there.  I had shown Aaron where Kandiyohi birding legends Randy Frederickson, Ron Erpelding, and Joel Schmit had over a half dozen Short-ears many years ago.  While I was still trapped in northern Minnesota for the holidays, Aaron sent word that his scouting was a success–he had found a Short-eared Owl in the very spot foretold by the Kandi legends!  Impatiently I waited out the next couple days, trying to tide myself over with some boreal birds.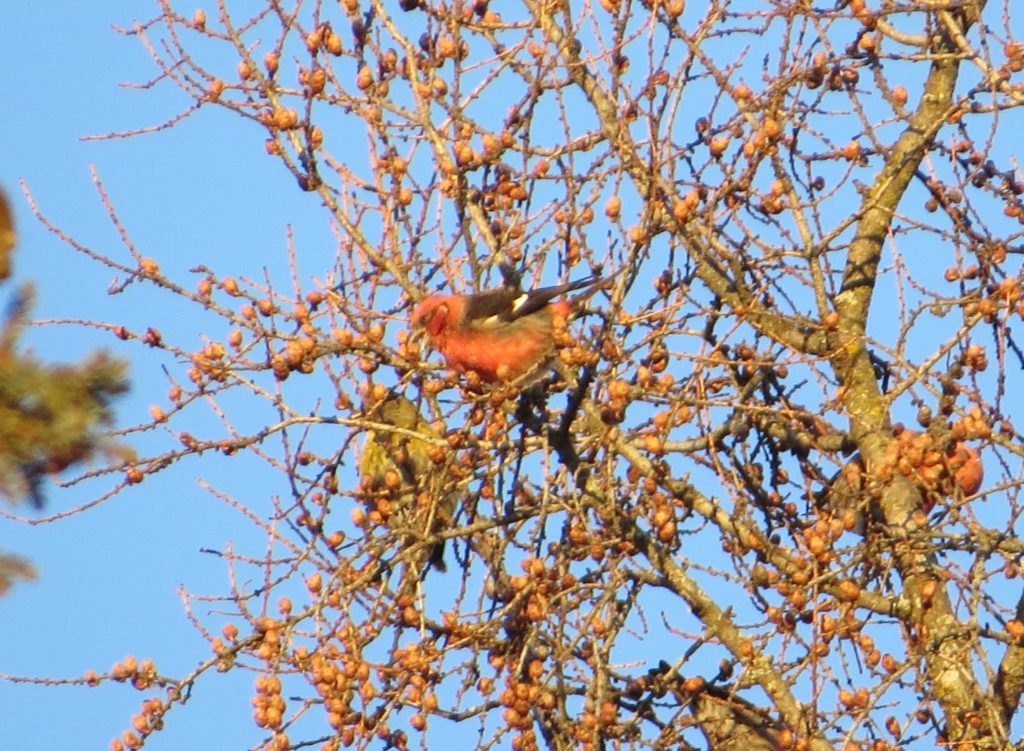 When it was finally time to leave northern MN, I got word that a Great Gray had just been seen in Cook, a mere 15 minutes from the parents'.  I didn't have time to look for it and had to go back to west-central MN. It seems I am always at the wrong end of the state.
January 1 finally came.  The search wouldn't start until late afternoon.  Brad Nelson and I teamed up in one vehicle, Milt Blomberg and Dan Orr were in another, and Randy Frederickson and Joel Schmidt were in a third. The plan was to each drive separate areas, call each other if we found something, and then race to the Owl location (if one was found) before dark.  It turns out it was a plan was overkill and full of redundancies as Brad and I immediately spotted a Short-eared Owl (likely Aaron's) at 3:45 in the full sun.  We could practically feel the wind off the Owl's wings it was so close as it zoomed by us over and over. It was astonishing to see such an acrobatic display.  I don't think a county bird victory has ever felt this sweet.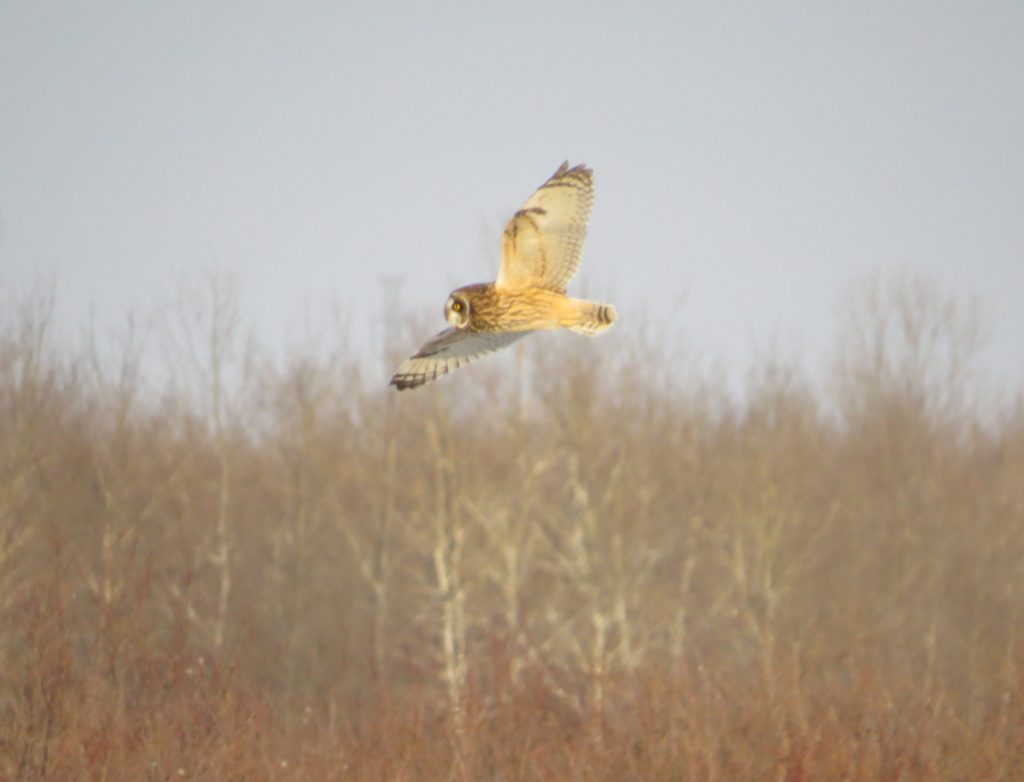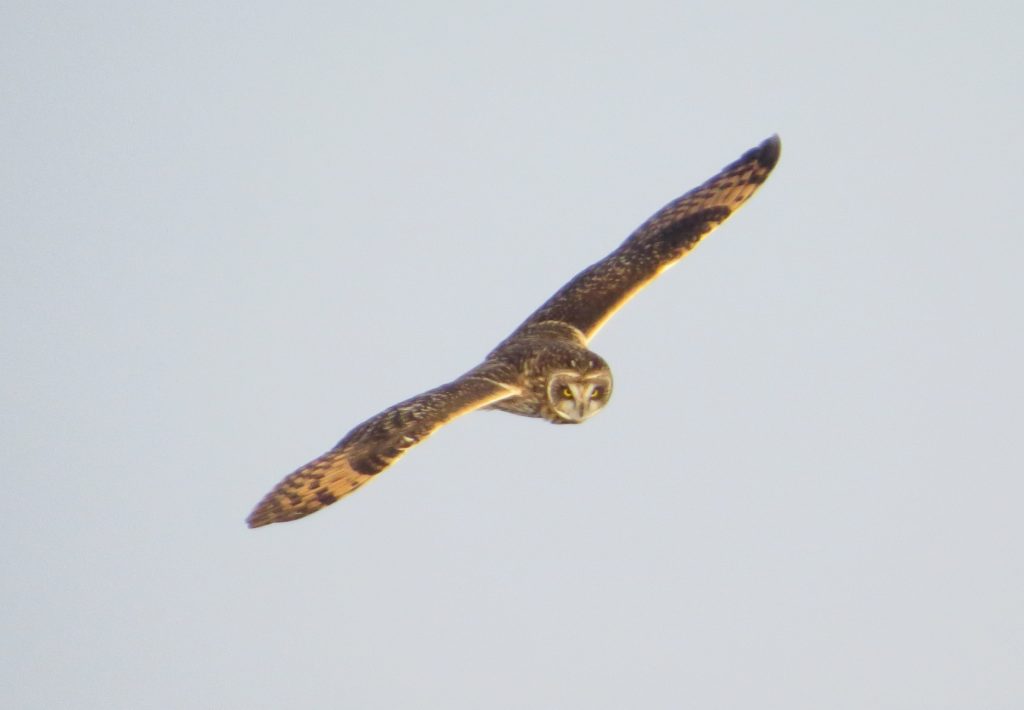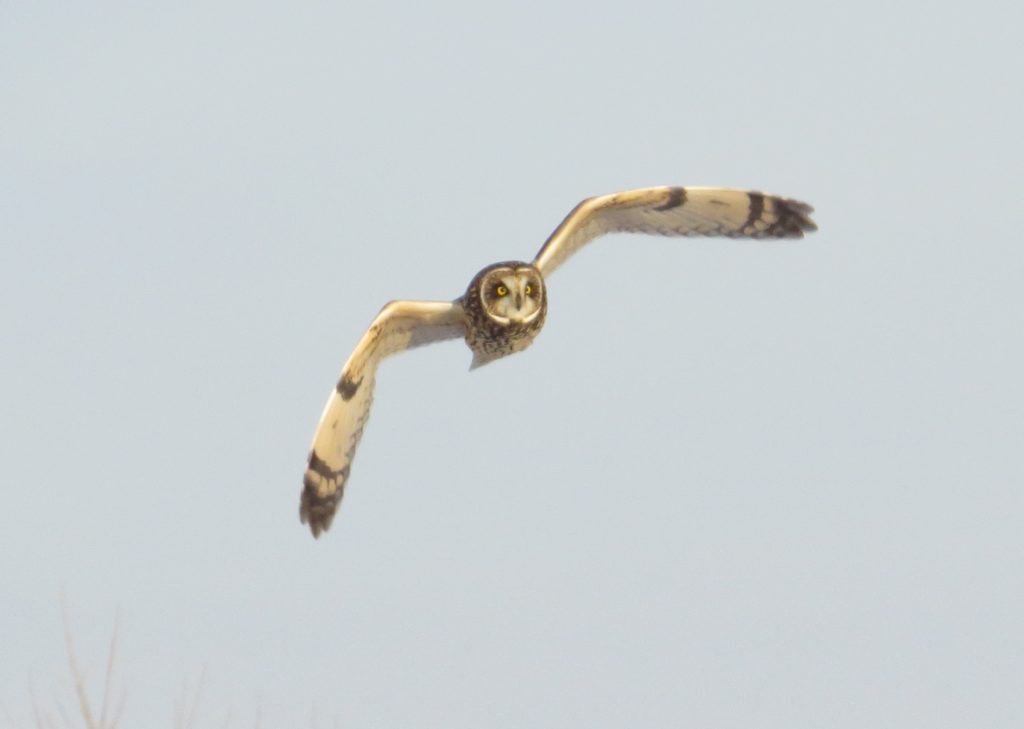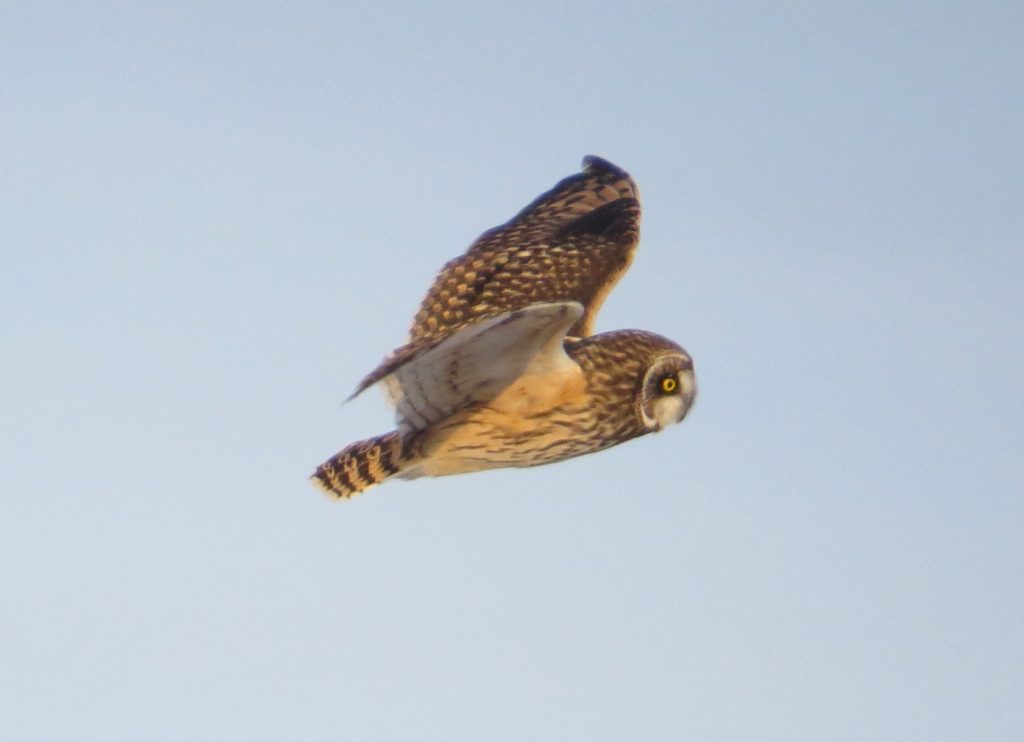 What's not been mentioned yet is that the other members of my party were promptly notified and arrived on-scene shortly afterward.  Just as they arrived, a Rough-legged Hawk appeared and got into an aerial spat with the Owl.  The latter was decisively victorious as it drove the former to the ground to the great delight of the Kandi crew.  A little while later the Short-eared perched up on a road sign offering everybody a chance to get incredible looks as the Owl at its Vole dinner.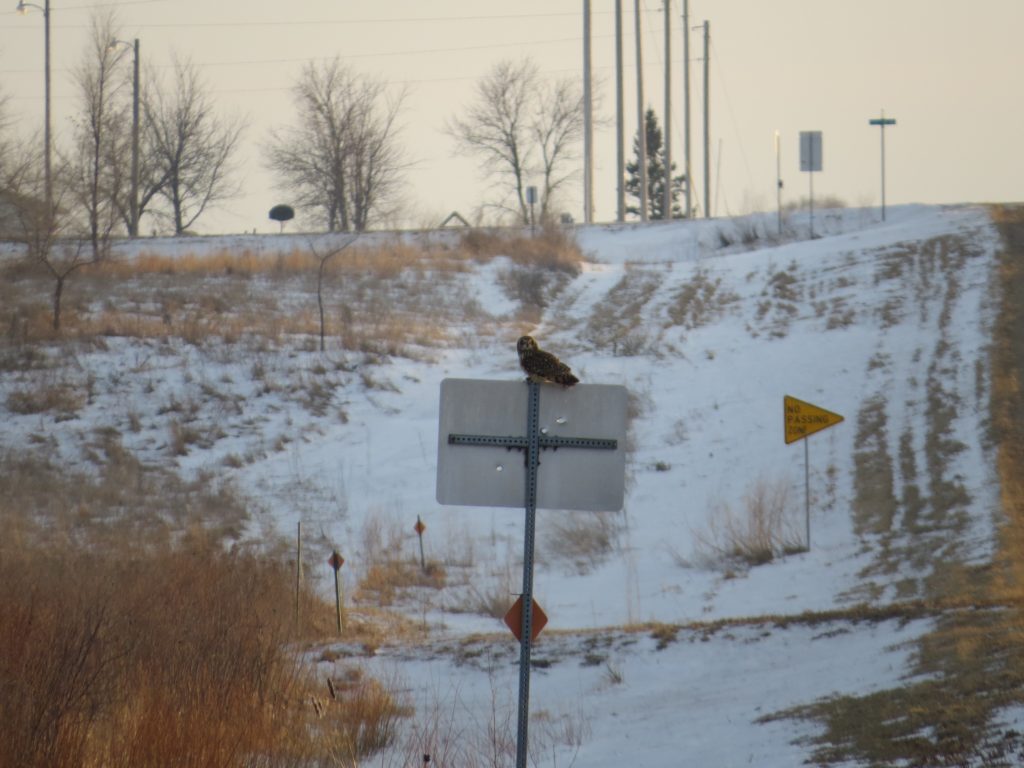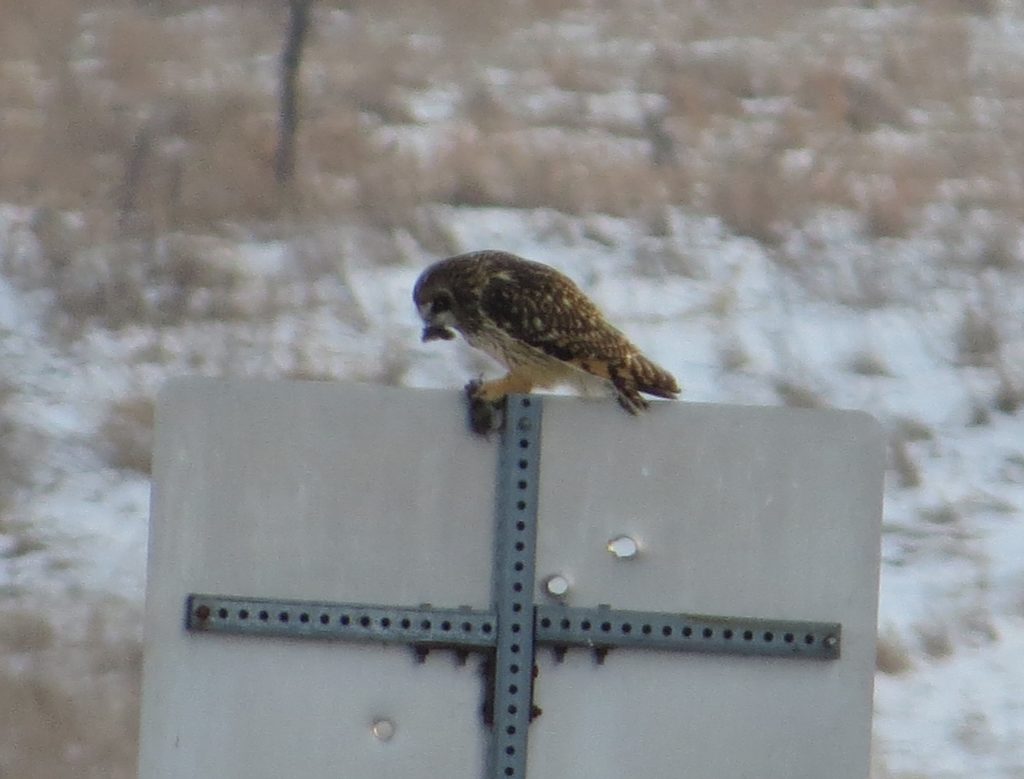 The newer Kandi birders, of which I am one, were elated. The wise old Kandi legends were pleased–their prophecy that such a moment would happen in this very place had come true.  They had preached patience all along.  Some grasshoppers don't listen, though, and end up going to North Dakota.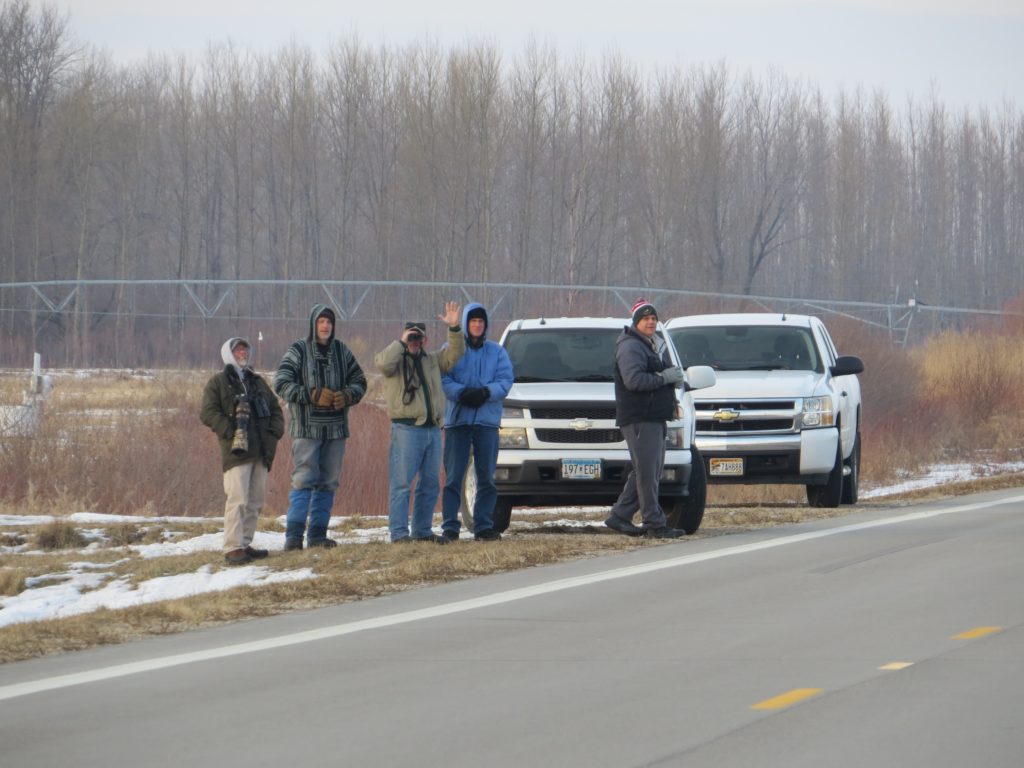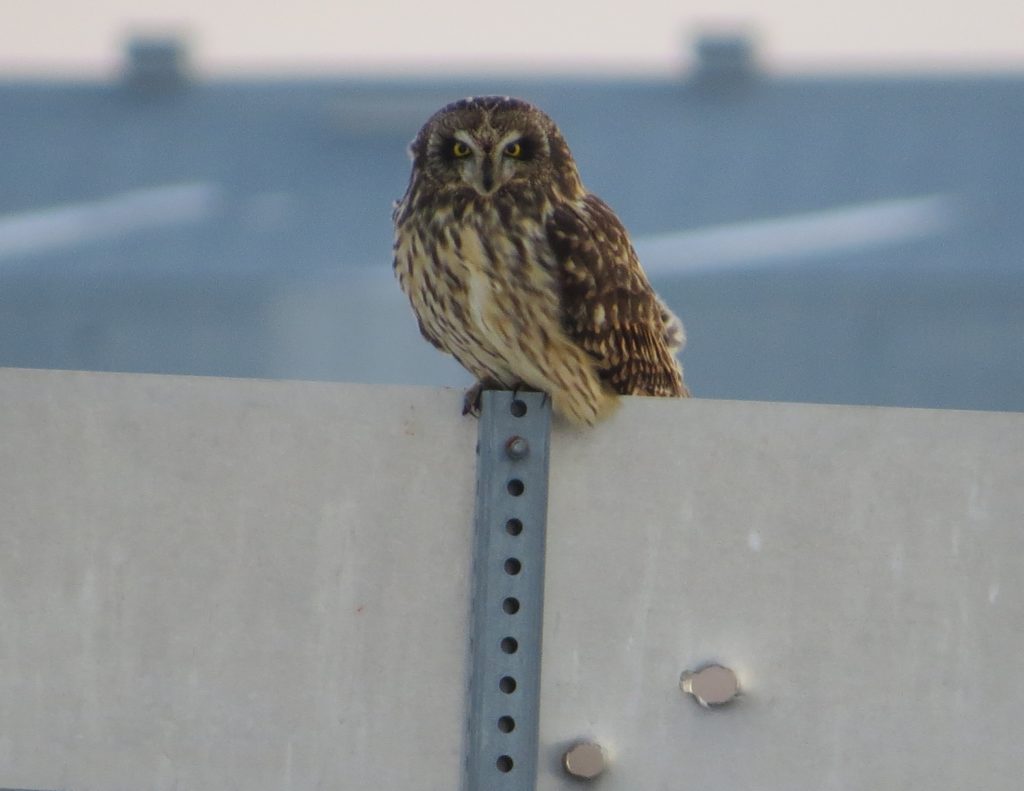 Certainly there was no way for the day to get any better. Or was there?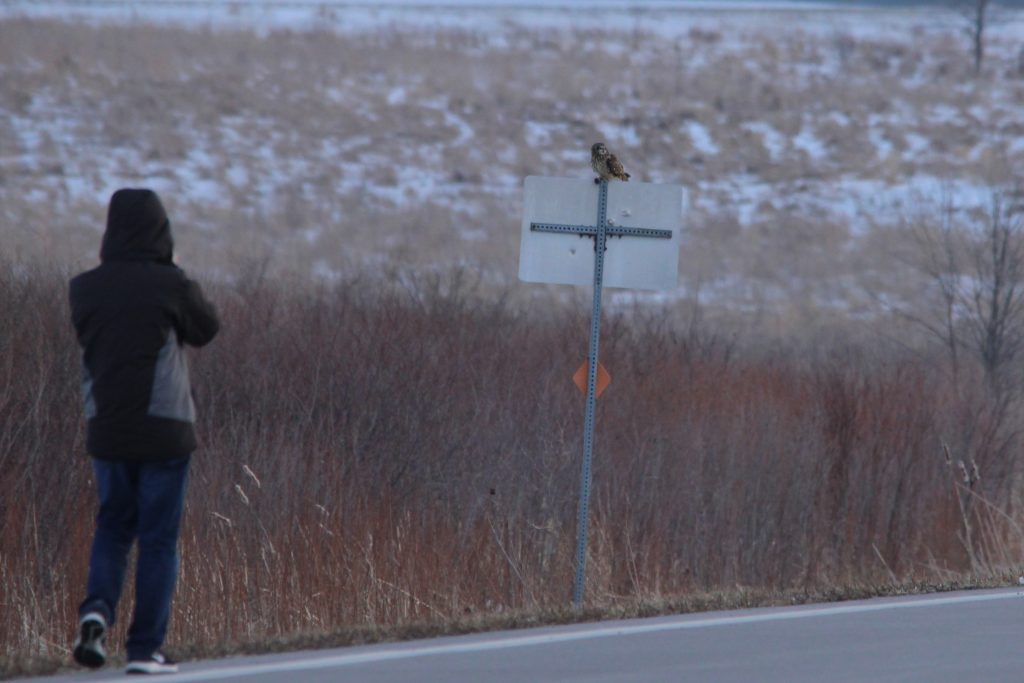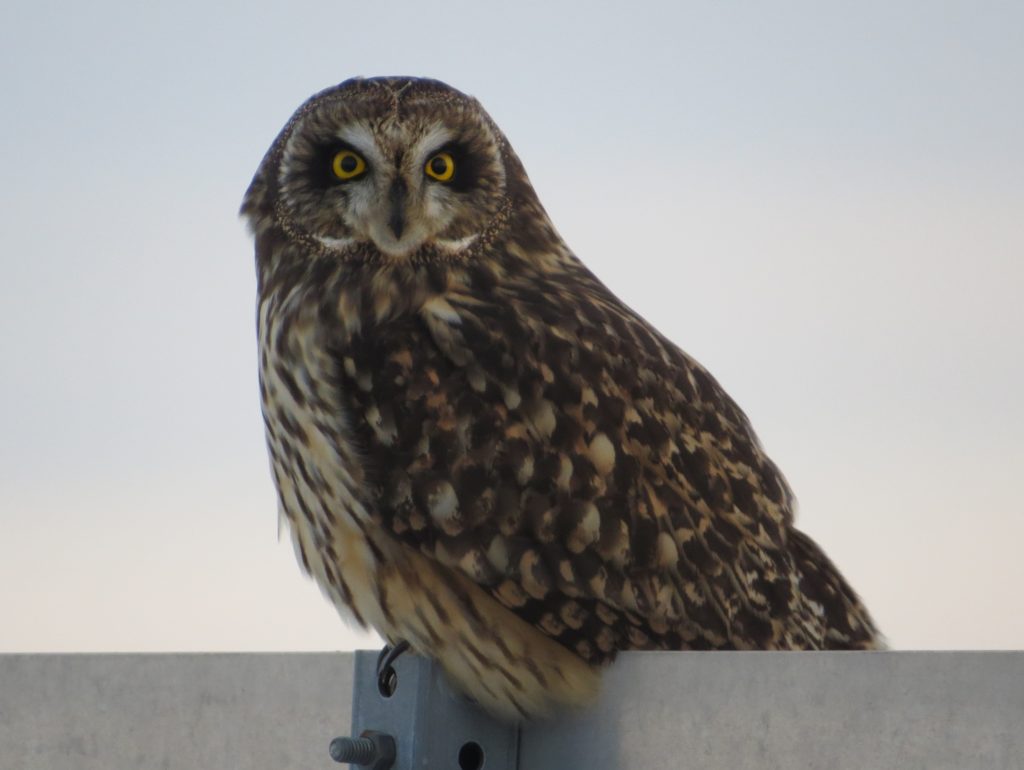 Not once did I bump this Owl off its perch.  In fact, we all got incredible looks as we slowly drove by the bird while it continued to sit on the sign. Brad and I watched it from the vehicle at close range for a long time until it finished its meal and then quickly went out to grab another Vole. The talon to beak transfer we witnessed was incredibly smooth and quick.
Since the Regal Roundup was a success early in the search, we all were able to head home long before dark.  Brad and I took some more back roads on our route home and turned up a second Short-eared Owl! It was the icing on a very filling Short-cake.
Willmar, Present Day
You see where this post is going, don't you? A week ago, Randy Frederickson found another Short-eared Owl just outside of the county seat of Willmar, 15 minutes from my house. I went to look for it this afternoon and found it.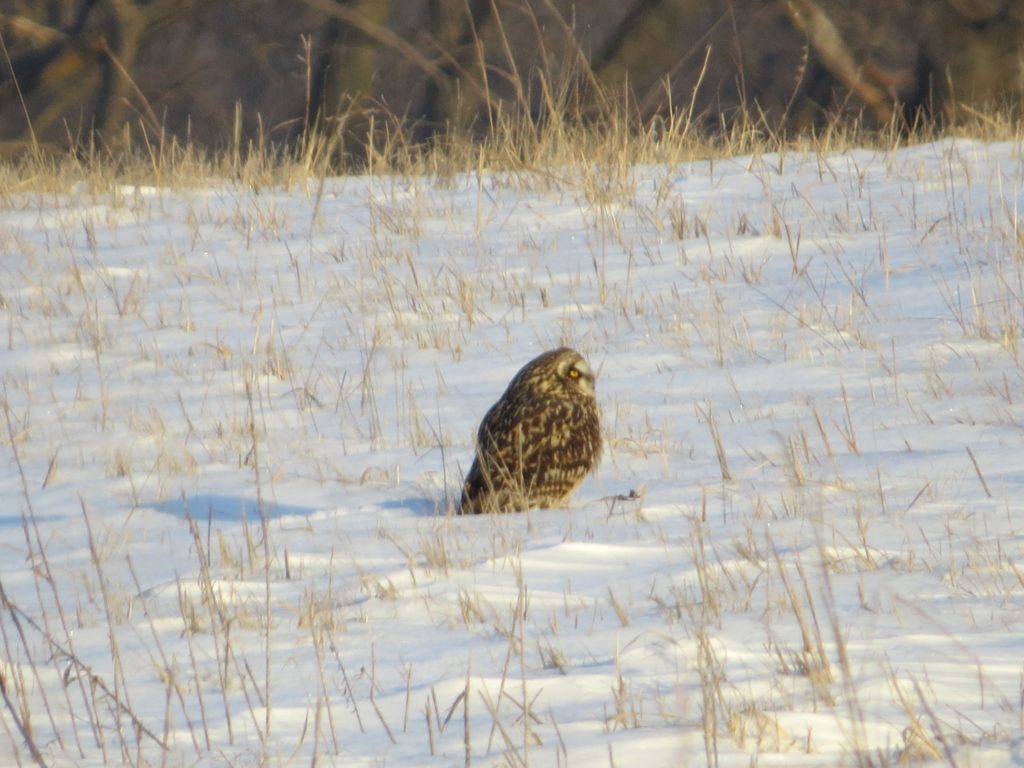 At the rate and manner in which things are progressing, you better believe I'm watching the field by my house when I take my dog out to pee.