All of last week I had been reading reports of a stunning find for Minnesota – three Common Eiders had shown up on Lake Superior, the first time since 1966. So last Friday night when Melissa came home from chaperoning a dance I told her I was thinking about getting up in a few hours to head back to Duluth after going there just a week ago.  I agreed with her response that I was crazy.  So I dashed my Eider dreams and settled for a Snowy Owl search, a more local, reasonable way to get in a good birding fix on a Saturday morning.
So it was an owling I went on this snowy morning.  I was finding fun birds like my first-of-fall flock of 100+ Lapland Longspurs and Snow Buntings, a group of 8 Wild Turkeys (all jakes and toms), and over a dozen of these guys which I haven't been seeing much of all year.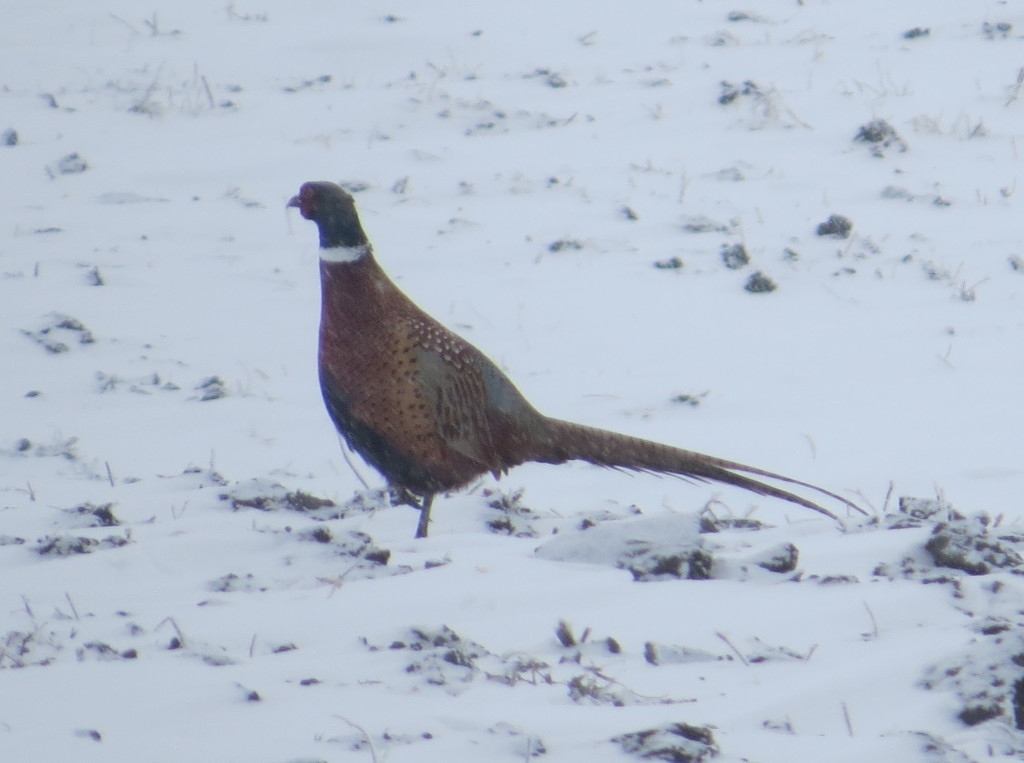 I wasn't seeing what I was seeking.  It was disappointing because I thought my chances were good.  As my Snowy Owl route eventually brought me closer to Spicer, I thought about heading into Willmar to try for some better Varied Thrush photos or even to check up on a older report of a Northern Mockingbird in town.  However, as I drove around the very large Green Lake, I noticed that it hadn't iced over yet unlike the smaller lakes and ponds.  Gears shifted completely – suddenly I had the urge to look for Scoters.
I stopped at the public beach at Spicer and walked up to the calm water.  There was some debris in the water right by shore that I hadn't looked at twice.  That is, until that debris started moving.  I was startled to see this family of Trumpeter Swans.  Not an Eider, not a Snowy Owl, but still another fun bird to add to the morning's outing.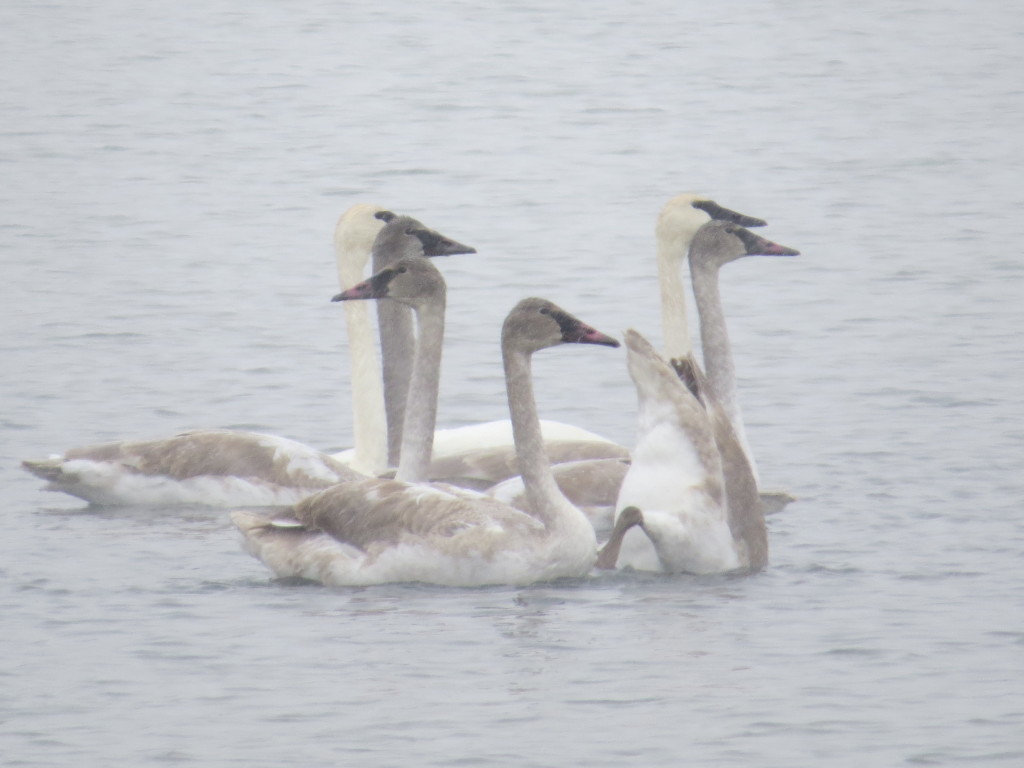 As neat as swans are, I didn't come here to see them.  So I scanned the lake to the east past Zorbaz Restaurant where I saw a large group of waterfowl at a distance.  The naked eye showed that most were Canada Geese.  The zoom on my camera revealed a couple of ducks I would have liked a better look at, but I just couldn't make any IDs.  Then an interesting bird right near the pylons at Zorbaz caught my eye.  It dove and then wouldn't come up.  I was hoping it was a Scoter. After a long wait I never did see it resurface.  Finally, I gave up and went to the public boat landing to check out the lake from there.  That unknown bird was bugging me, so I decided to go back to see it.
Well, I saw it and was greatly disappointed.  Pied-billed Grebe.  It doesn't get more boring than that.  I took one last scan to that group of geese and waterfowl to the east.  What's this trucking my way through the blustering snow?  I see a very dark duck, low to the water, with a wide bill.  It's V-shaped wake was getting bigger as the duck was cruising toward me.  Could it be? It turned its head revealing two big white spots on its head.  Holy smokes, it is! A White-winged Scoter!!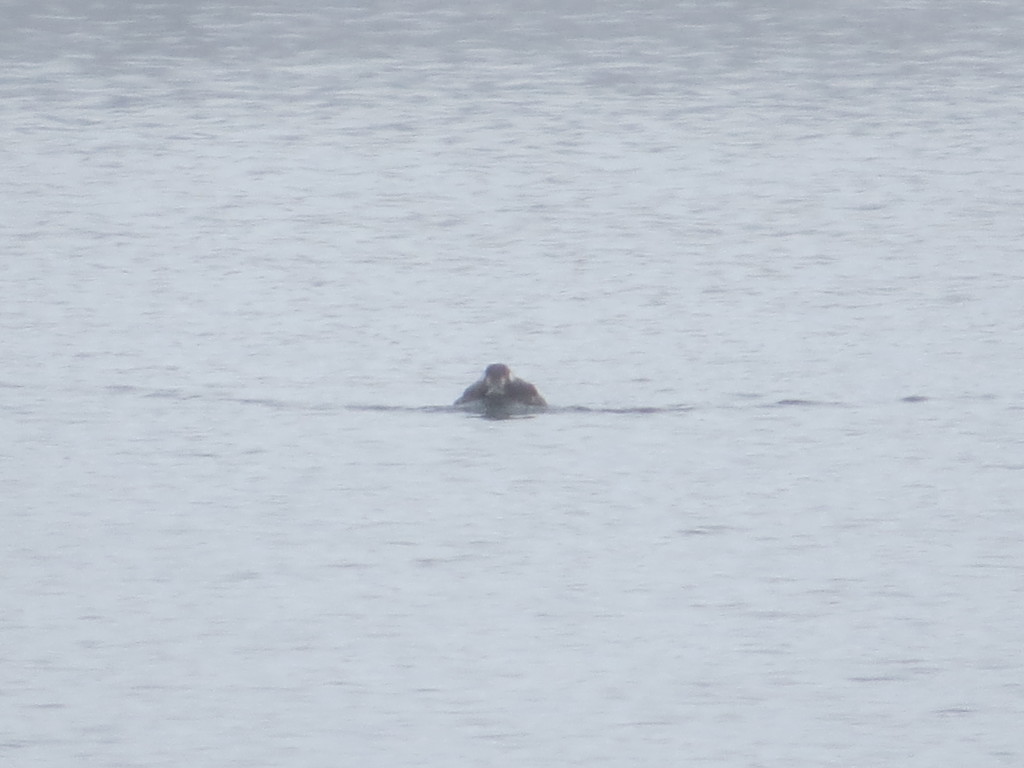 Evan and I just got this lifer exactly one week earlier on Lake Superior where it is not a rare duck.  Here, though, in the middle of the state, this was a spectacular find.  There previously had only been three instances of this bird in Kandiyohi County.  And the cooperative duck just kept coming my way!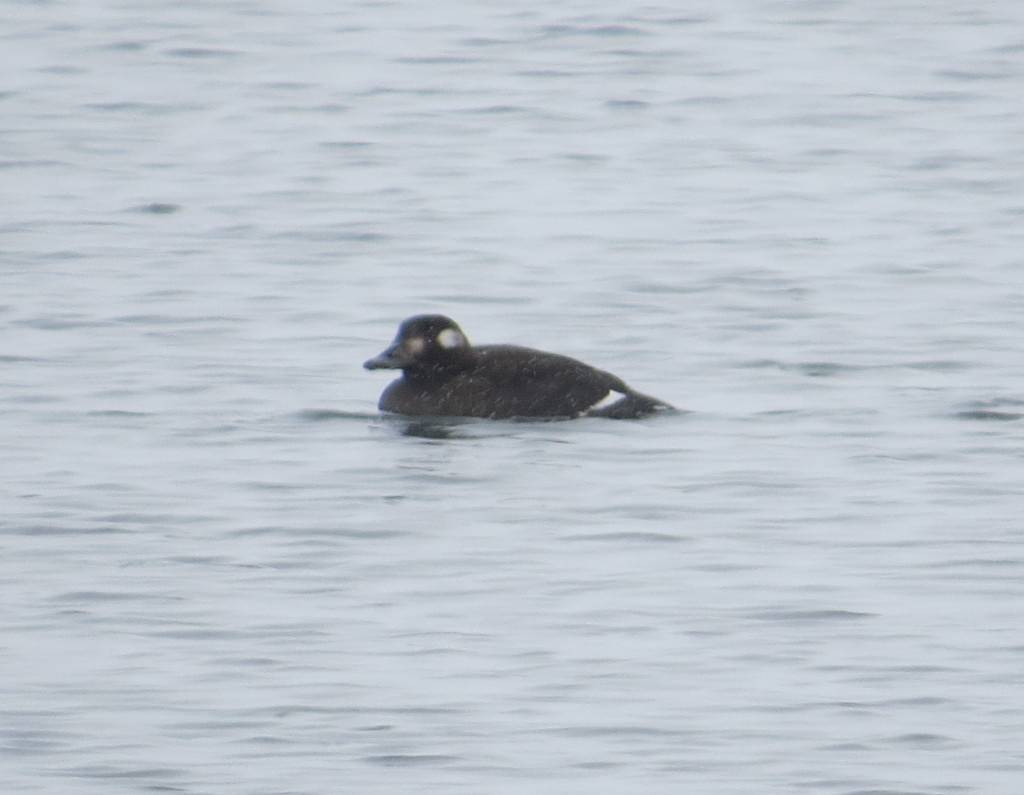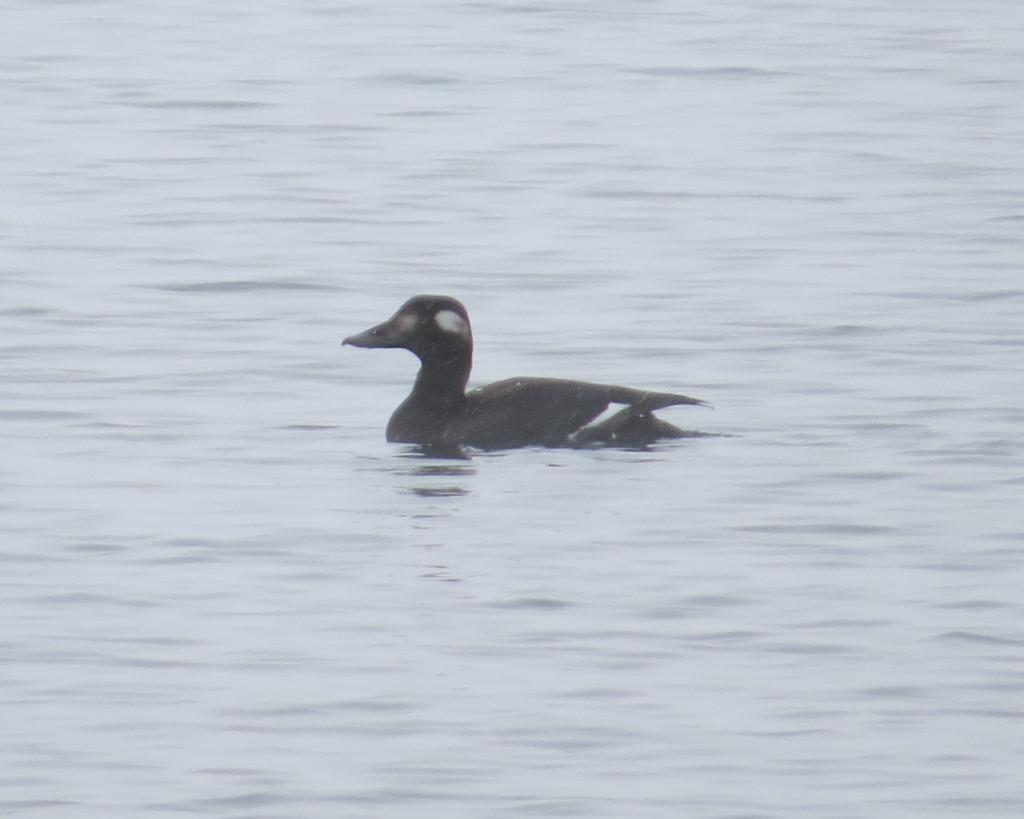 I immediately called Steve, who was just hanging out at home.  He scrambled to get to Spicer. I kept an eye on the duck until he and his son, Riley, got there.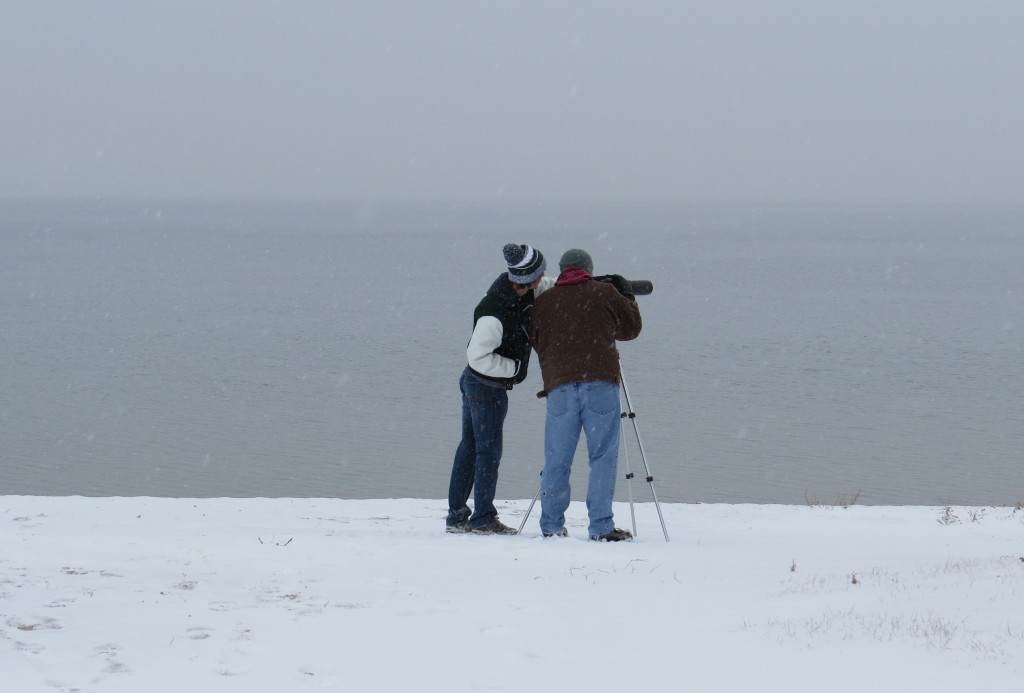 Steve and I were elated – a Varied Thrush and a White-winged Scoter in the county in the same week.  It was a dream.  What was I looking for again? Snowy-something-or-others?
Amazingly this White-winged Scoter has hung on and is still present at the writing of this post.  Many county-listers came out to see the duck after my posting to the listserv.  More importantly, though, several birders finally added this duck to their life lists.  Helping others get a lifer like this is one of the things I enjoy most about a good find.
I have been out to Green Lake several times since my initial discovery.  Only one of those times, though, was to check on this duck.  No, there was another big draw that kept bringing me back – more on that later.  Anyhow, each time I'm at the beach in Spicer, I see my duck and can't help but take a photo or two or five. Some days were cold and windy.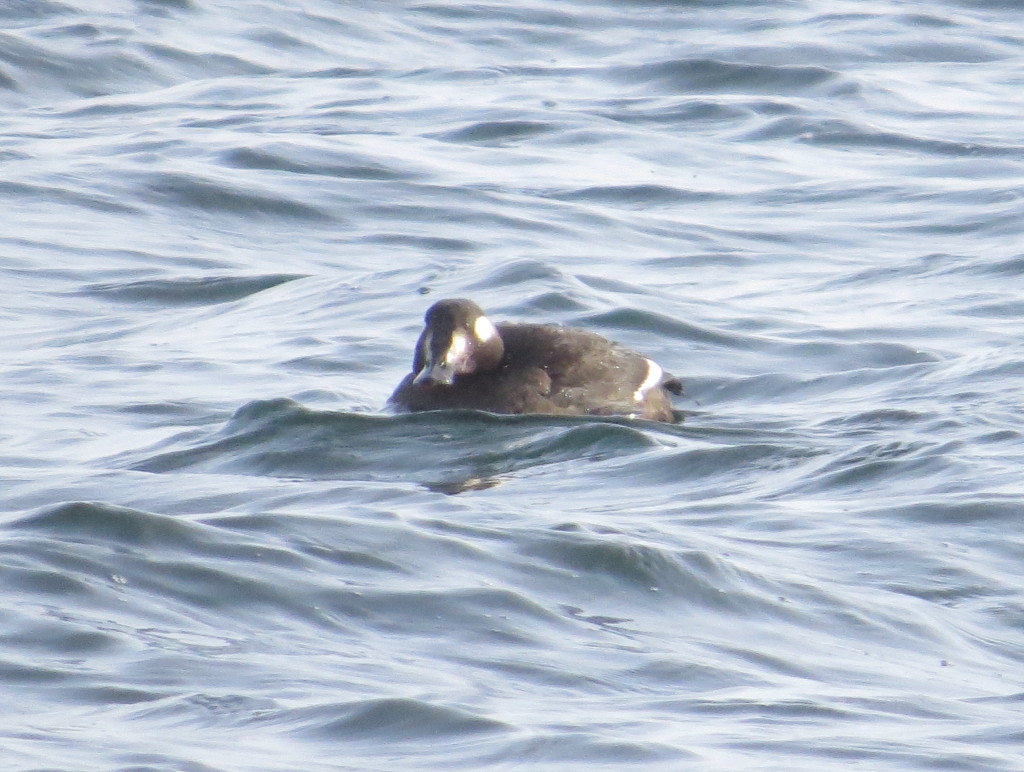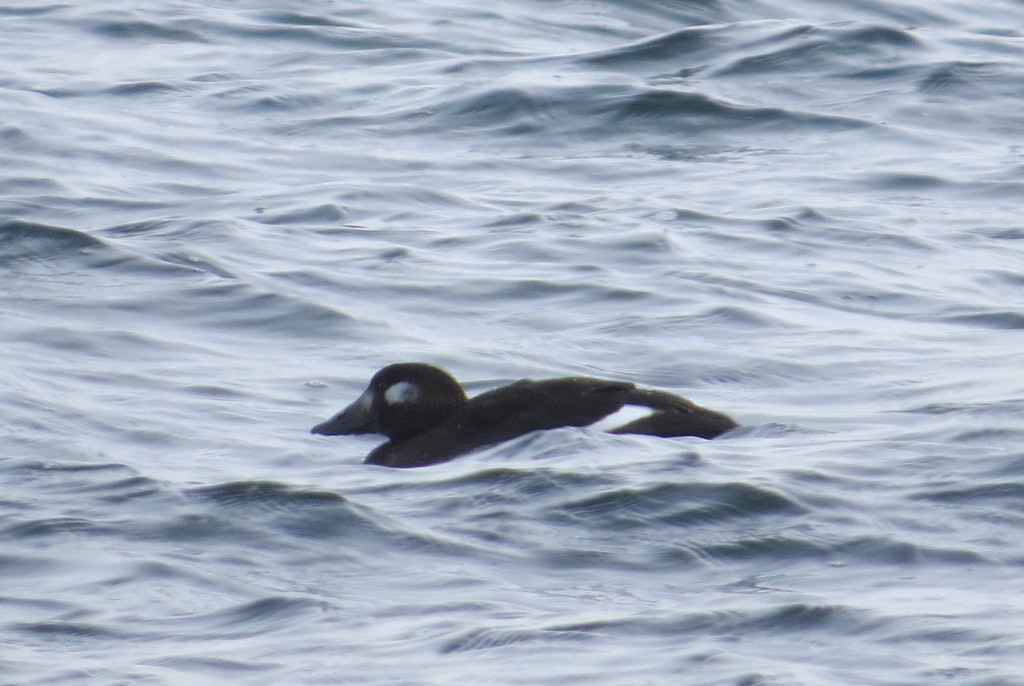 Other days were colder and placid.  Much of Green Lake was covered in ice in these next shots, and I suspect that the open water and the Scoter will be gone in the next day or two.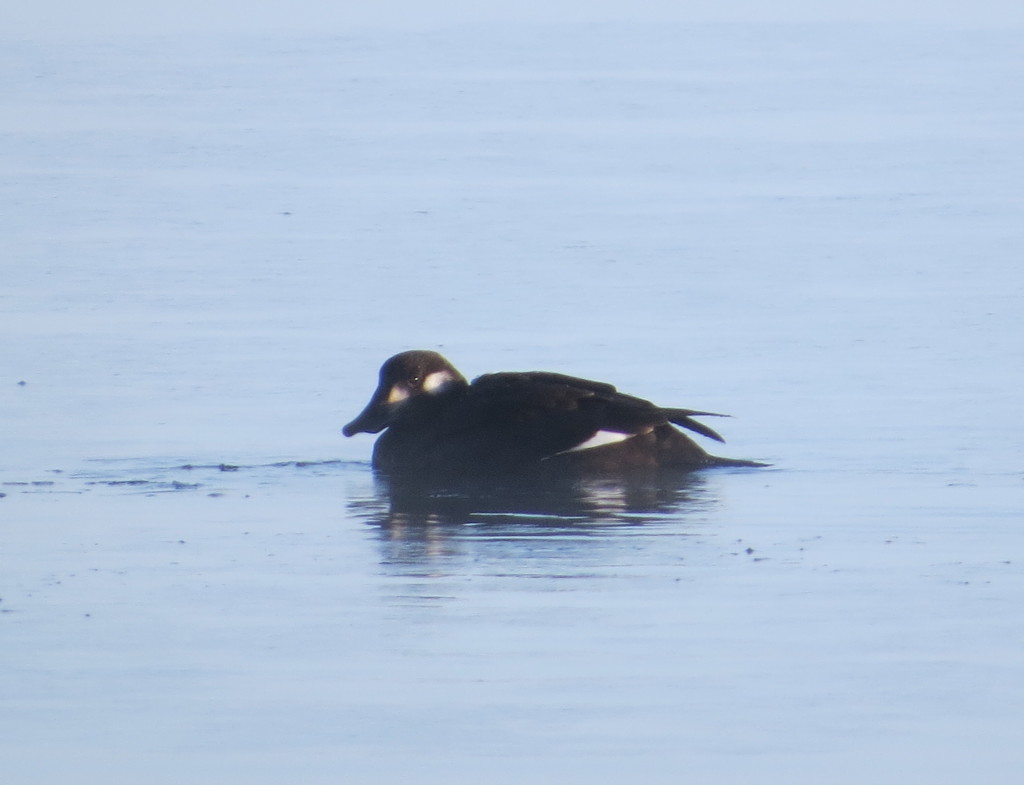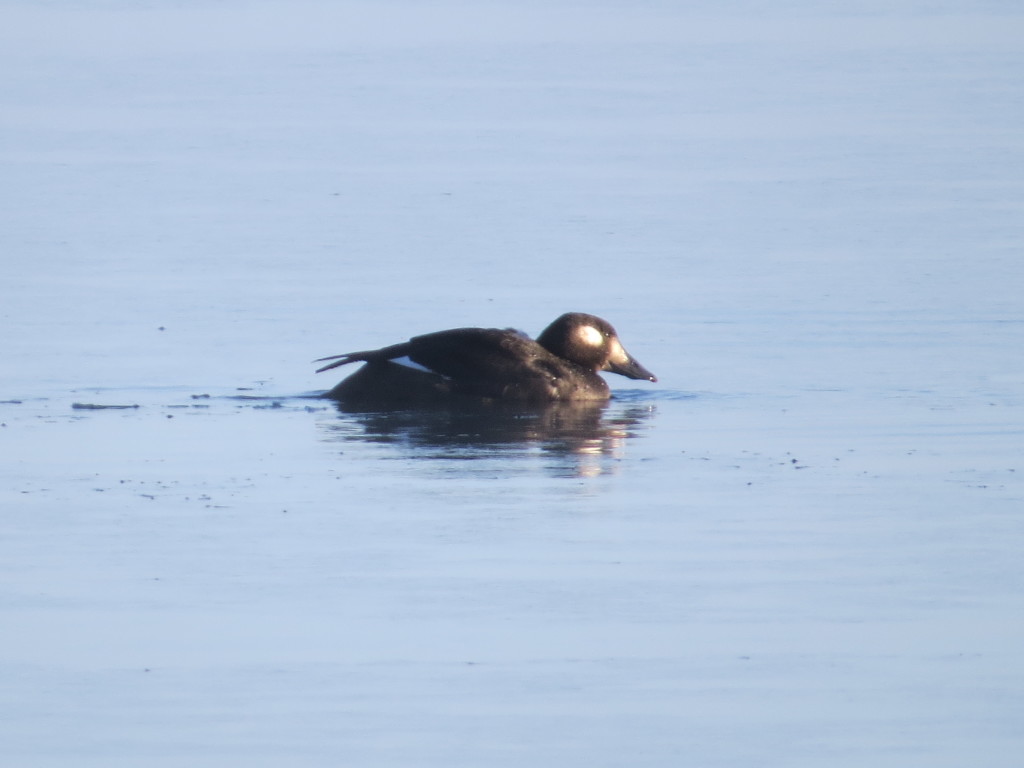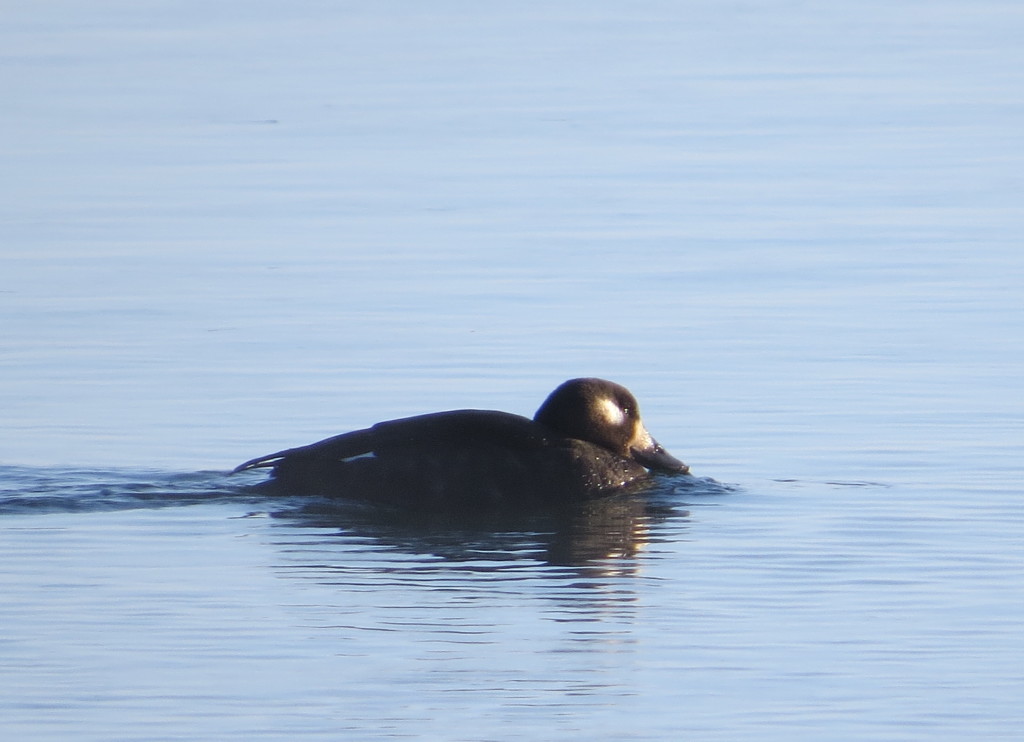 Even though I've had more than my share of good finds, this is one of my all-time favorite discoveries.  The rarity of it, the fact that I set out to find a Scoter and succeeded, and that so many people got to enjoy it makes this a very memorable find. And it came in a crazy week of birding.  Indeed, there was another rare bird that kept drawing me back here.  But even beyond that, Steve and I managed to add TWO more sea duck lifers after we saw this Scoter!  More on all that later.