1966.  That was the last time a Common Eider had been reported in Minnesota.  Now two juveniles show up on Lake Superior in Duluth, and a third one shows up an hour up the shore at Silver Bay.  Birders of all stripes were flocking up north and churning out continual updates on the ducks.  Yet all week neither Steve nor I hadn't even brought up the idea of a chase.  The White-winged Scoter on Green Lake changed that.  Now face-to-face and excitedly bantering about sea-ducks, we decided that we, too, would make a fast trip to Duluth – going up and coming back on the same day.  It is a life list after all and neither Steve nor I had another 50 years to wait for another return of the Common Eider. So a week ago last Sunday Steve picked me up from church and we made the 3.5 hour haul up north.  A week before this I was returning from Duluth.  Crazy.
There was an eerie lack of reports on the Eiders this Sunday, either positive or negative. We brushed it off, but when we got to Duluth and reached the 21st Ave exit, we were nervous that this would be a bust.  Steve nervously tapped the steering wheel as he looked for a place to park.  In a matter of minutes we parked, piled on the cold-weather gear and optics, and walked to the shore.  The icy, gusting wind was coming straight off the lake and biting any exposed skin and drilling the cold into our bones.  What was stinging worse, though, was that we were not seeing the Eiders.  Now what? With no throngs of birders looking today, do we keep searching the vast shoreline in Duluth alone or do we go another hour further north to hopefully see the Silver Bay Eider?  It was a horrible dilemma and a decision had to be made fast.  Finally Steve and I settled on walking the lake walk.   With the wind coming in as strong as it was, we were looking for a cove or anything that would provide a calm area for a duck to be.   The wind was blowing into our faces the whole time and body parts were going numb.  Then, it was like somebody hit a defrost button when Steve said, "Hey, what's that?"  There on the water was a duck bobbing up and down in the surf that crashed against the ice-covered rocks.  Too small for an Eider, but the perfect size and coloration of a juvenile Harlequin Duck!  Wow, neither of us expected this lifer on this trip.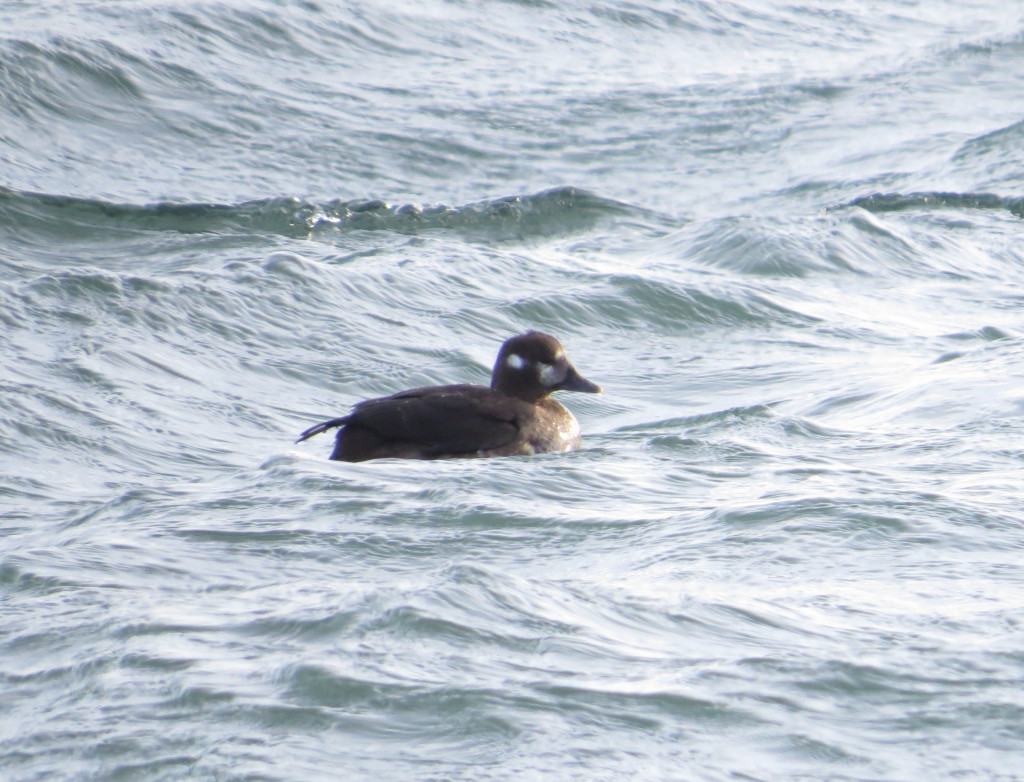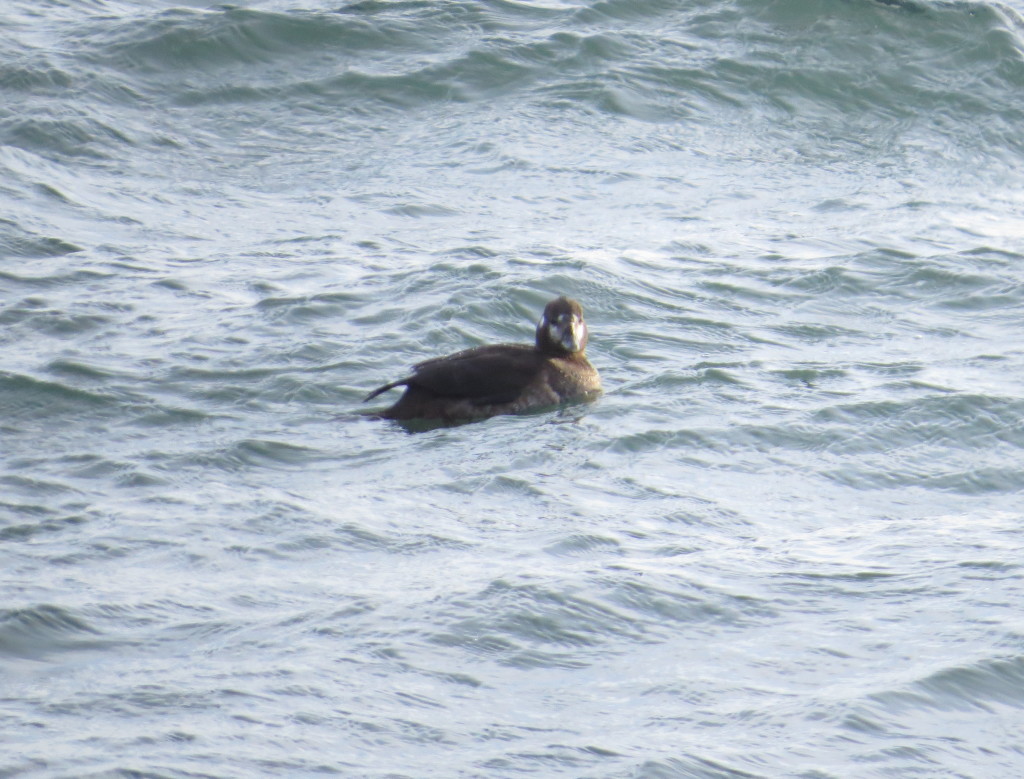 It wasn't the mature Harlequin drake I hope to see someday on the North Shore, but this was a tough-to-get addition for the life list.  The Harlequin was hanging out almost right next to the ice-covered rock on the point below.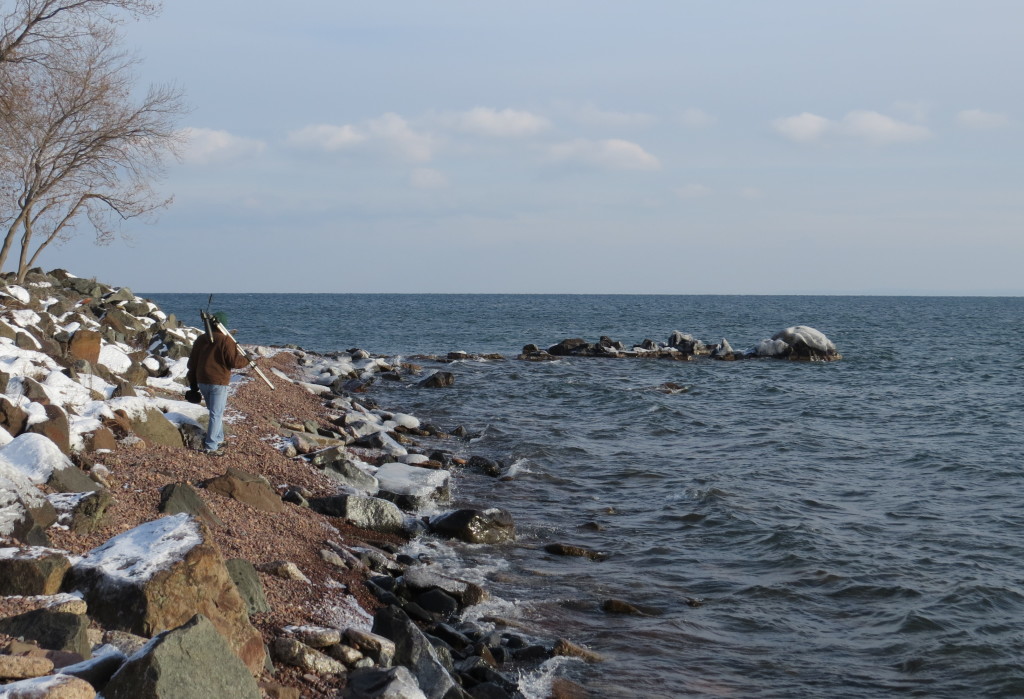 Satisfied with one heck of a consolation prize – if it came to that – we continued walking down the lake walk.  As we got to a larger cove across from the Essentia Health building, I spotted the biggest duck I've ever seen in my life.  I didn't even need binoculars to know that we had found what we came for – the Common Eider.  I looked for the second Eider that had been accompanying this one, but all I could see was this loner.  It was absolutely huge.  According to Sibley, it is the largest duck in North America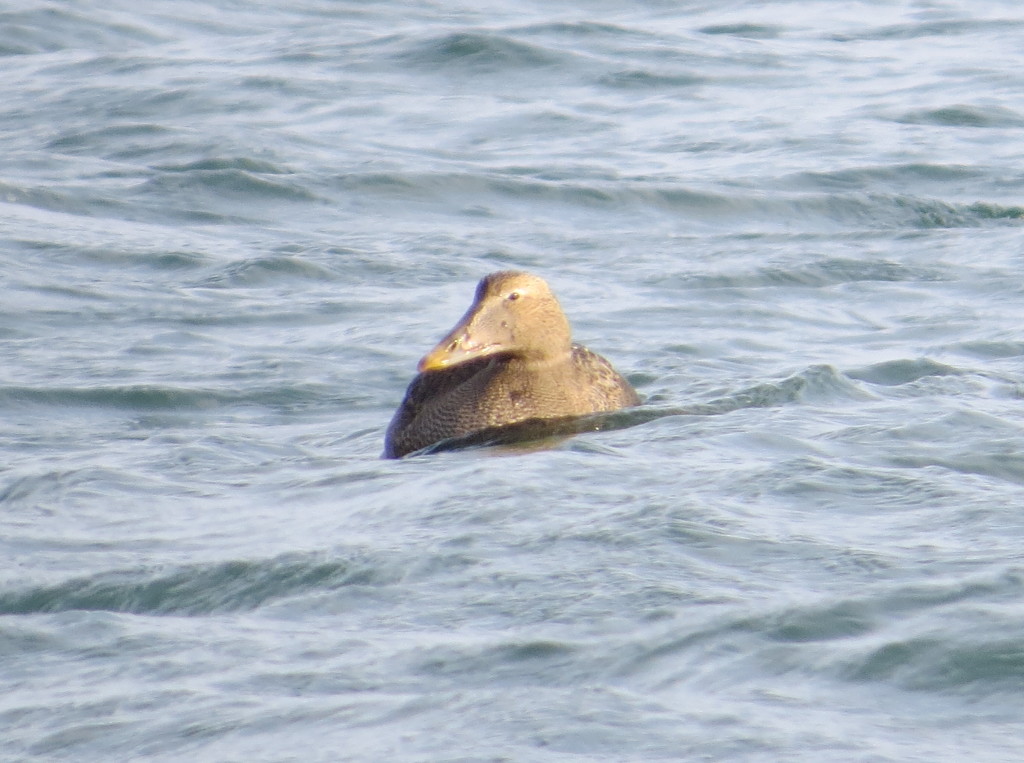 Again, not a mature drake, but when a duck waits nearly 50 years to make an appearance, you try not to complain.  And actually, it is so intriguing that some fools risk hypothermia and broken bones trying to get better looks.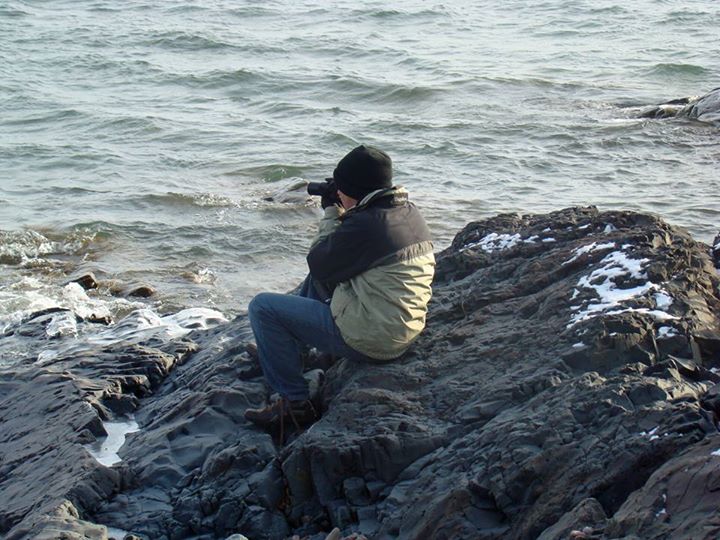 It was worth it.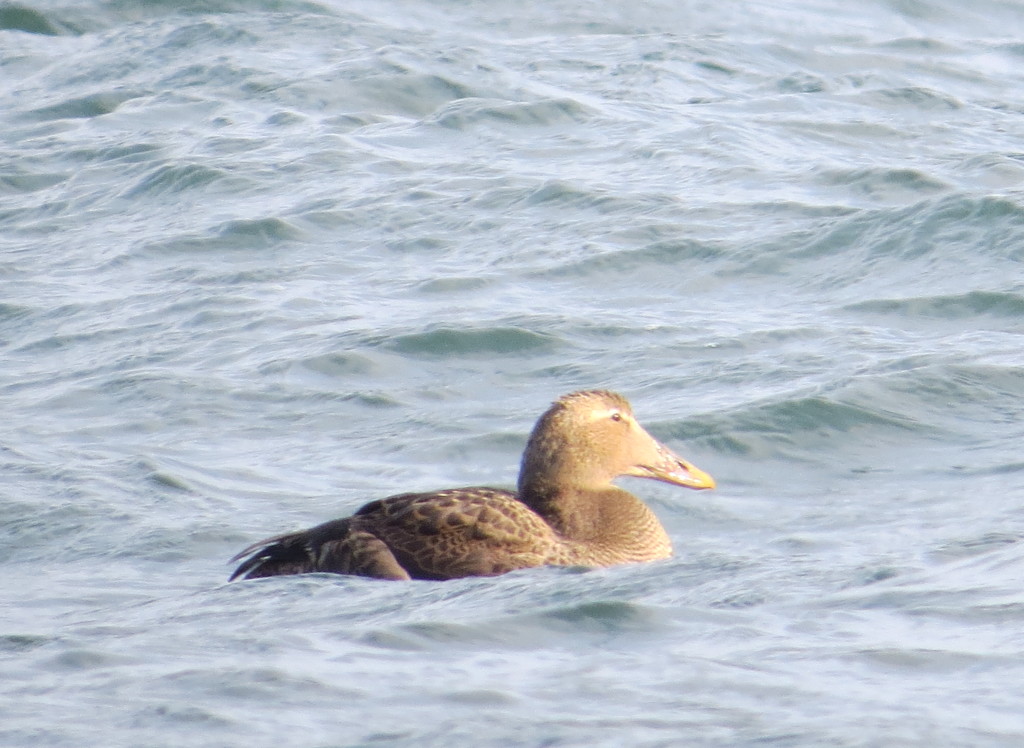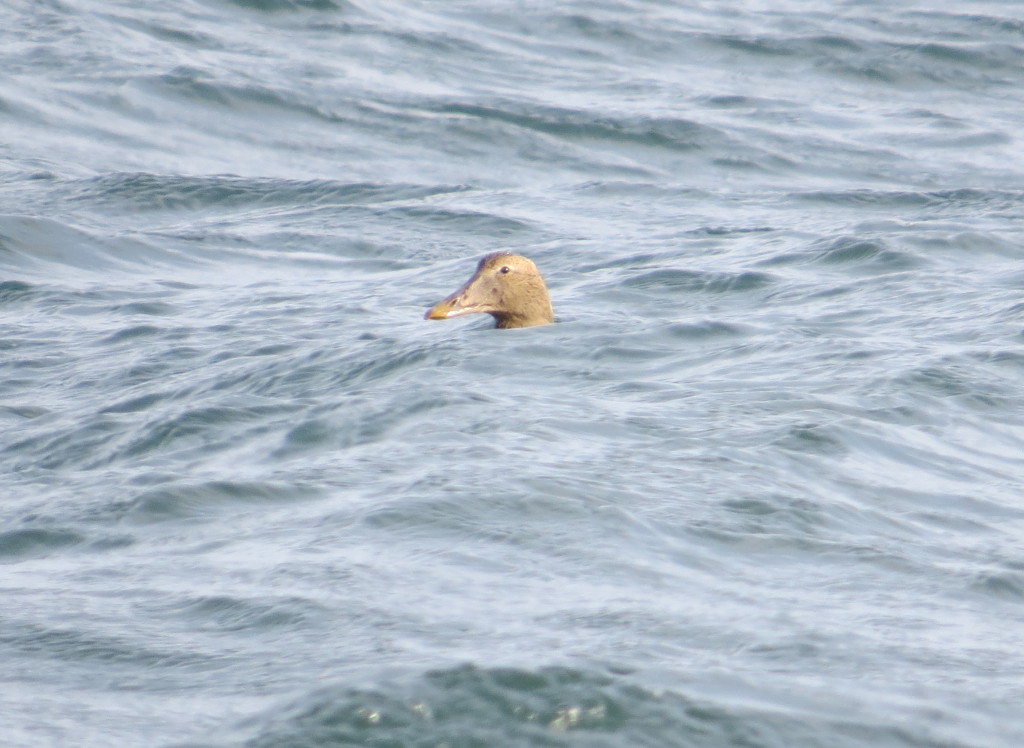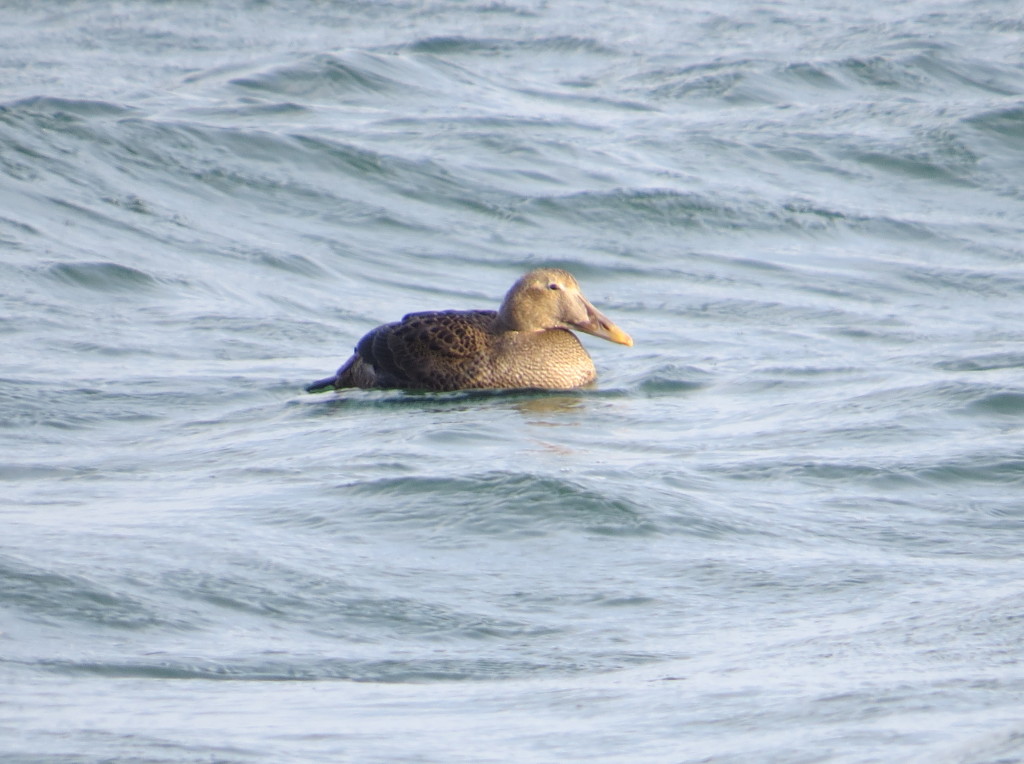 We were ecstatic – we got what we came for and had seen our third sea duck in two days. Literally and figuratively, the wind and sun were now at our backs as we walked back to the car.  We again got to enjoy the Harlequin as it motored with the waves further up shore.  Can you find it?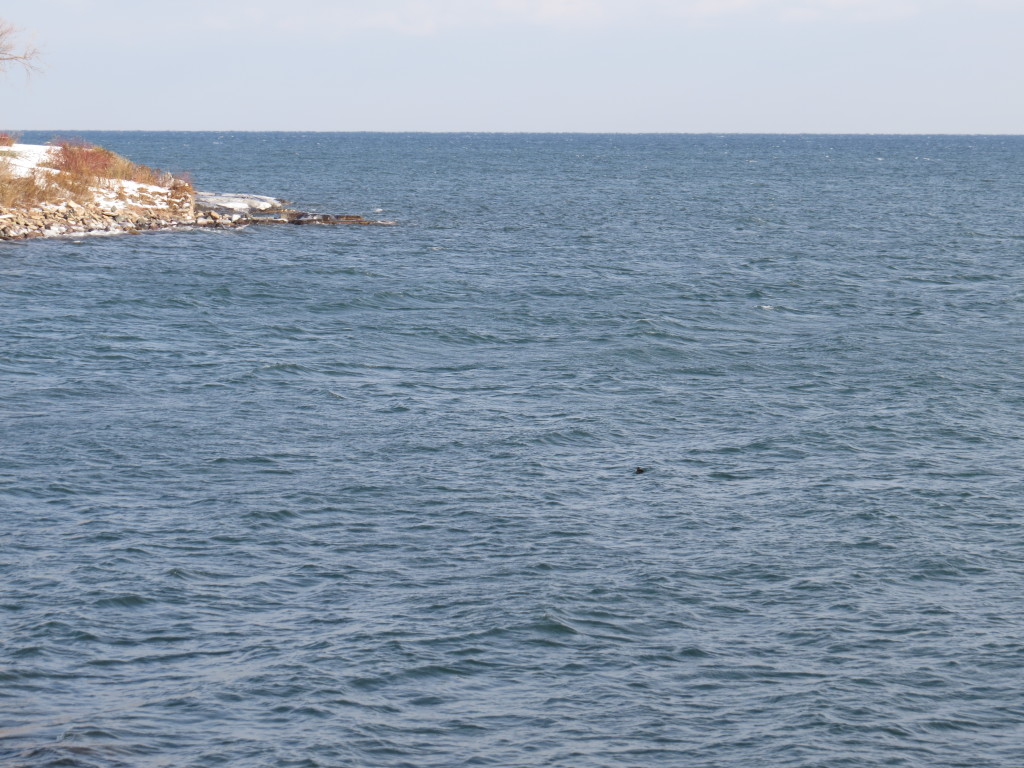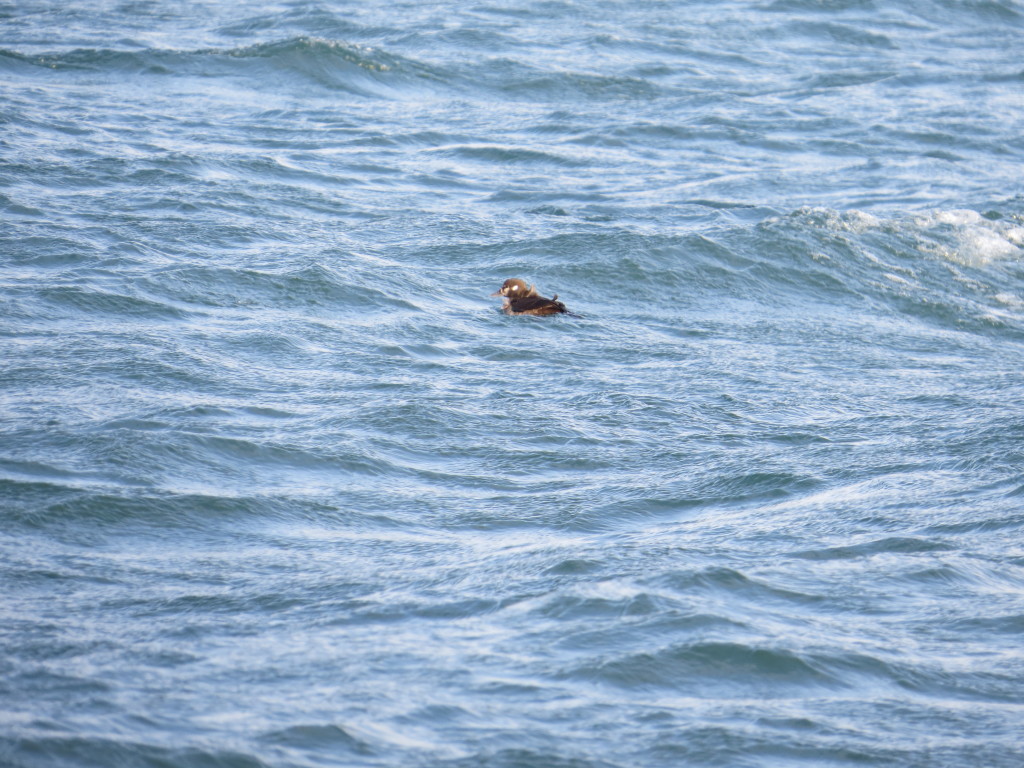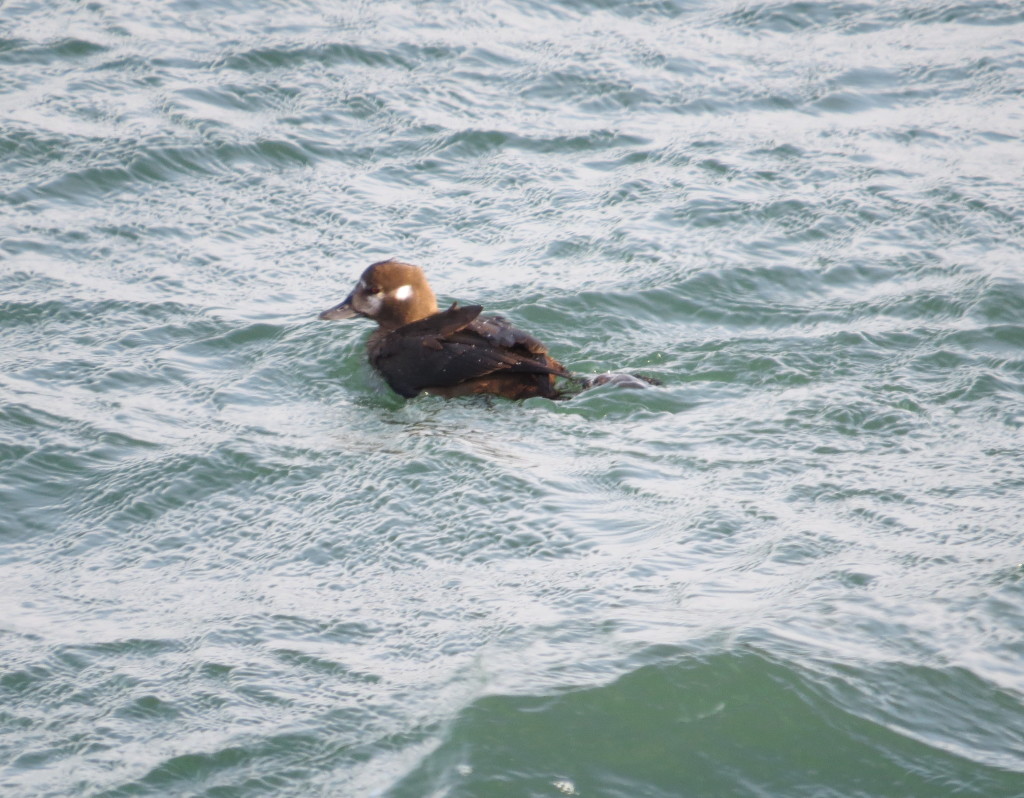 As if we hadn't had enough excitement for the day, we got to the car and read an email from the listserv that a flock of Bohemian Waxwings had just been found in Floodwood, which was a half-hour away.  Steve had an interest in looking for Bohemians up in Beaver Bay, but we decided that was too far up shore.  Floodwood, though, was not too far out of the way on our way home.  So we went to Floodwood, and we found the Bohemian flock. Steve got his third lifer of the day, and I finally got to get more than just a fly-by look at this bird.  It would have been nice if they came closer to the ground for some better photos, but these will have to do for now.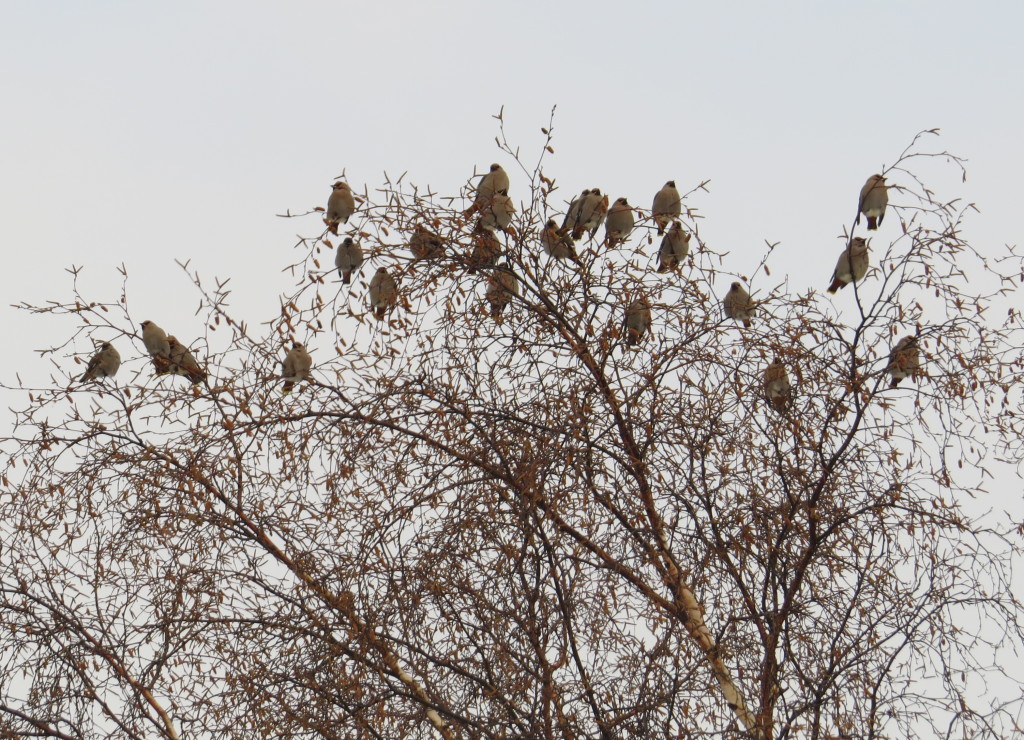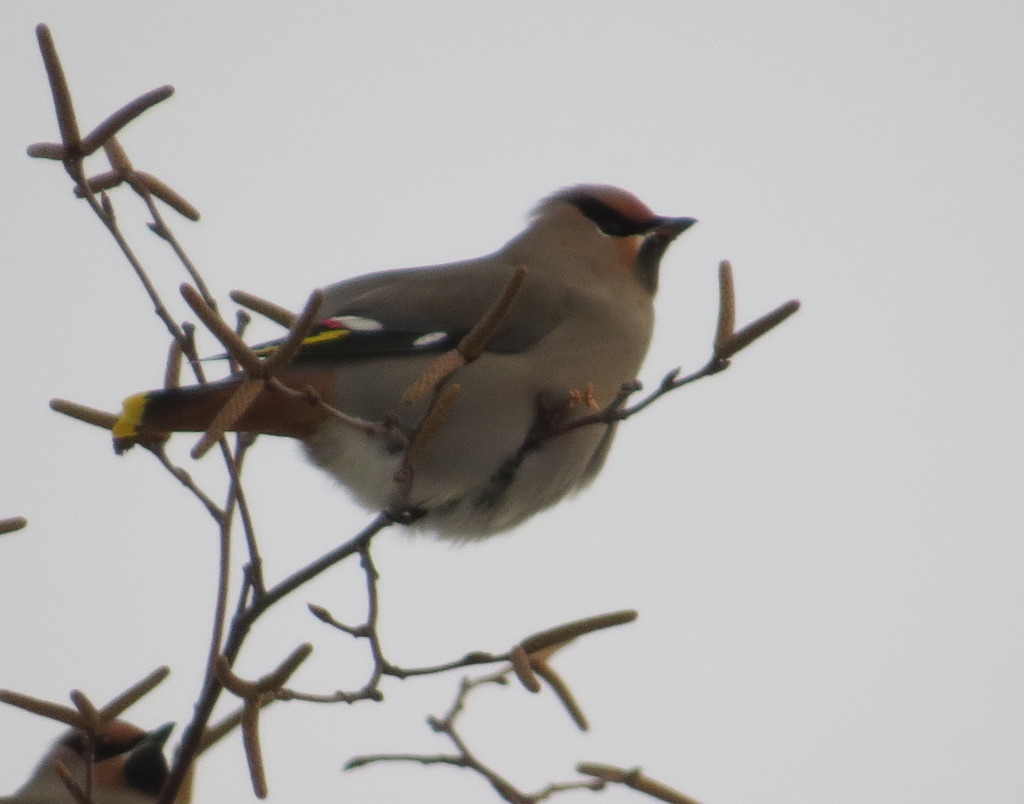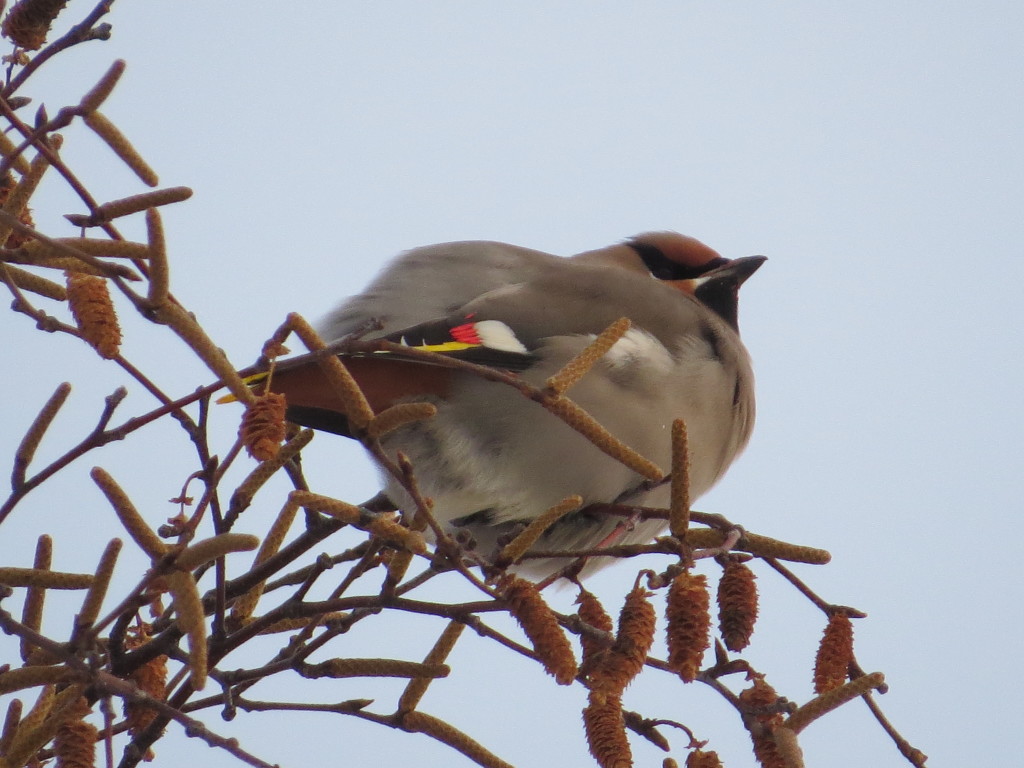 It was finally time to head home.  We had a couple other nice northern Minnesota bird sightings including Common Raven and Ruffed Grouse.  We were hopeful that we would bump into an owl or two as we cruised south through the boglands along Highway 73 just before dark. We never did see an owl, but it didn't matter because we were on our way home from a monumental day of birding.