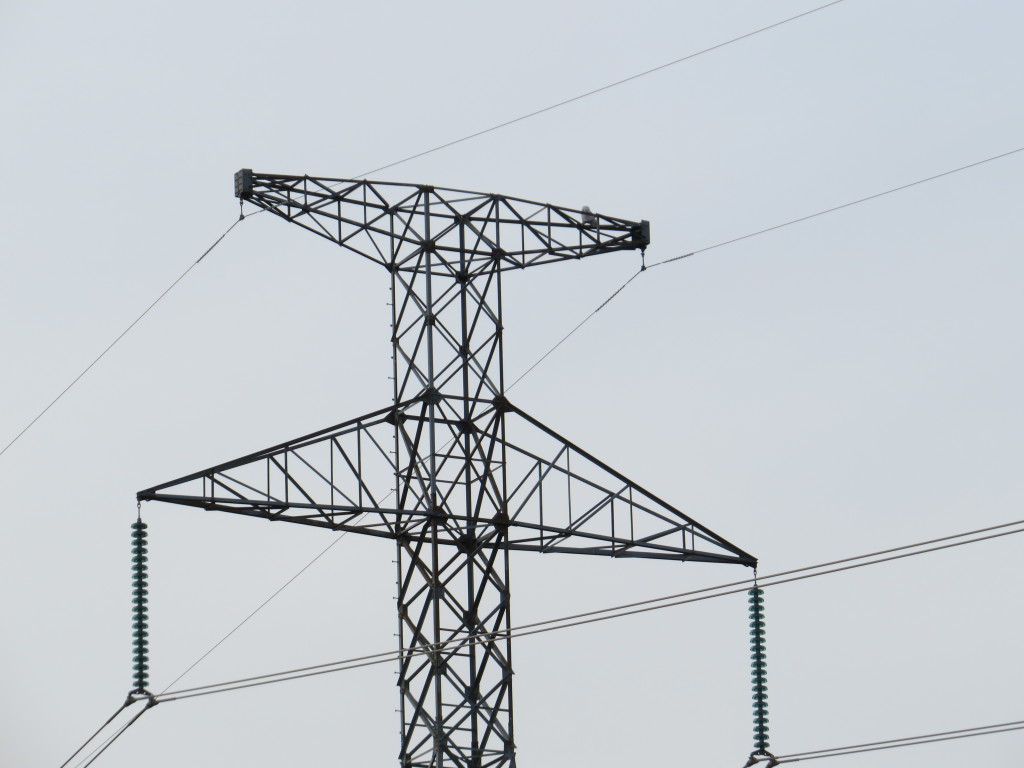 10 and 2.  Eyes straight. I couldn't be distracted by birds and such on the drive; my focus was on the road and those who patrol it as we hurtled down the highway.  With a slightly elevated heart rate for over three hours, I was racing to get home from Duluth and the North Shore to get on the scene of a great bird before sundown. The bird that had been upgraded to the top of the priority list that we were now straining to reach was none other than the Snowy Owl. And with a blizzard that was forecast to dump a lot of snow on us late that night, this was the last easy day to find a white bird.
The day before our sea duck trip a strange set of circumstances occurred.  The lesser was that I forgot my phone at home all day.  The greater was that my colleague, Mike, nearly sliced his finger off while cutting a squash before baking it.  Getting home that night I finally reconnected with my phone and saw a stunning text from Mike: "Snowy Owl just north of my place – 9:30"  I couldn't believe it.  The next day I caught up with Mike and asked him about it.  He told me that he was driving himself to the doctor after the aforementioned accident when he saw an all-white Snowy Owl 10 yards from the road sitting in a plowed field.  I was floored.  This is early for Snowies, and this was only the second sighting in the state.  Something similar happened last year when Mike found me my lifer.  That was late November and the 5th one in the state.  Then our region (Kandiyohi and Meeker Counties) became one of the hottest hot beds for Snowy Owl activity in an historic irruption of SNOW.  (Check it out on eBird or look in my "Owls" category). Word quickly spread throughout our school, and I was fielding reports from all kinds of staff and students on new sightings of Snowy Owls.  It was a fun season to watch so many people, birders and non-birders, get excited about seeing their first Snowy Owl.
So I was slightly disappointed to not be able to investigate Mike's sighting as I was going on the sea duck trip.  Regardless, I put the word out to other birders on the listserv.  Jeff Grotte answered the call and came owl hunting.  Amazingly he turned one up 5 miles from Mike's.  Surely it was the same bird.
As I drove, I put in a call to birding coworker, Bonnie, who lives just a few miles from this owl.  Bonnie went out and got eyes on it.  It was perched nicely for her on a telephone pole. I was still two hours out. Meanwhile, other birding coworkers, Brad and Theresa, went to have a look.  No owl.  Brad would call me when they found it.  One hour out.
I arrived at the scene with no positive updates from Brad or Bonnie.  But finally getting here I was now calm and confident.  There was no snow.  A Snowy Owl would stick out anywhere and likely wouldn't have traveled far.  I started from ground-zero and surveyed the landscape.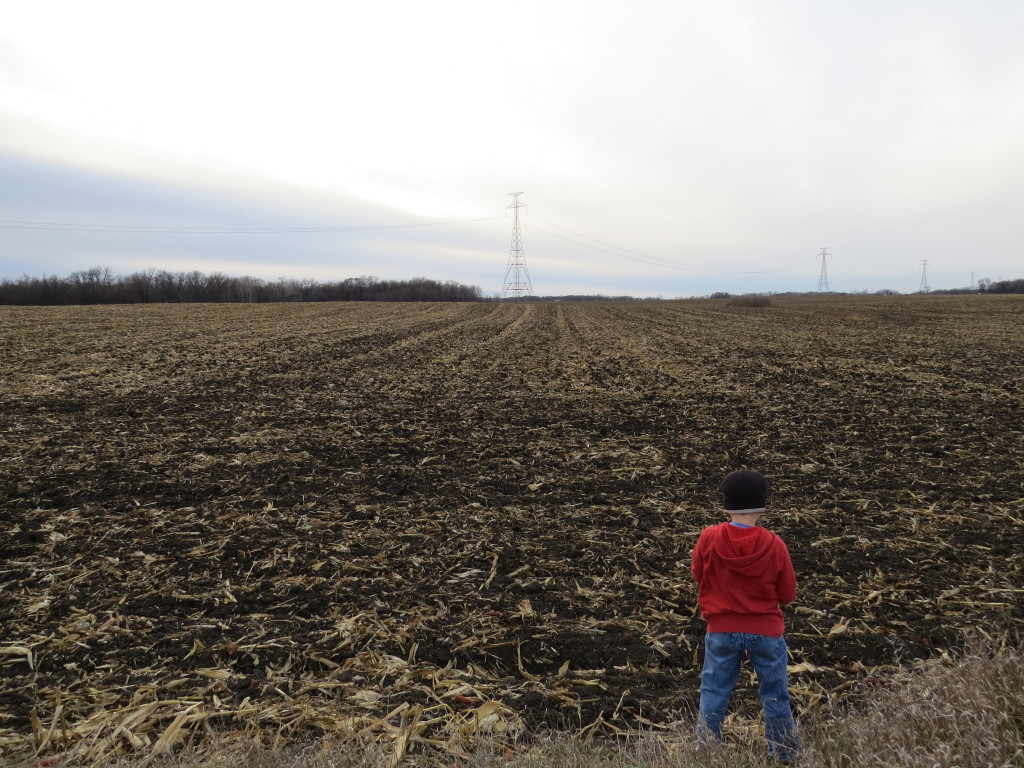 I've had the good fortune of getting a lot of practice looking for these things.  Eyes started scanning every pole top, every rooftop, basically any low perch out in the open.  I've learned to look for slight anomalies on distant irrigators, fences, or transmission line support structures. Go back and look at the first photo – did you see the slight bump on the upper right of the tower?  It was even more imperceptible from where I saw it and took the picture of Evan above, but that bump was not replicated on any of the other towers. Thankfully the zoom on the camera could confirm my suspicion.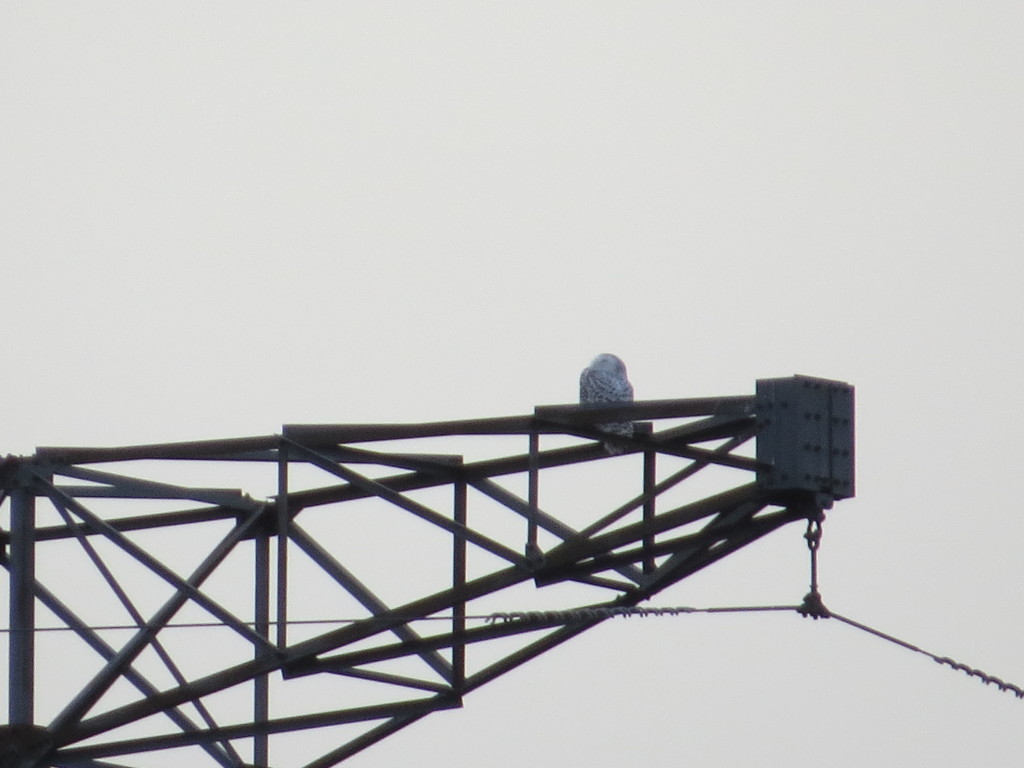 The Snowy Owl! It never gets old to see SNOW.  I was shocked to see how HIGH this bird was perched.  I estimate this tower to be 60-70 feet high.  Normally Snowy Owls perch very low off the ground or even on the ground itself if they can find a suitable knob of land that sticks up.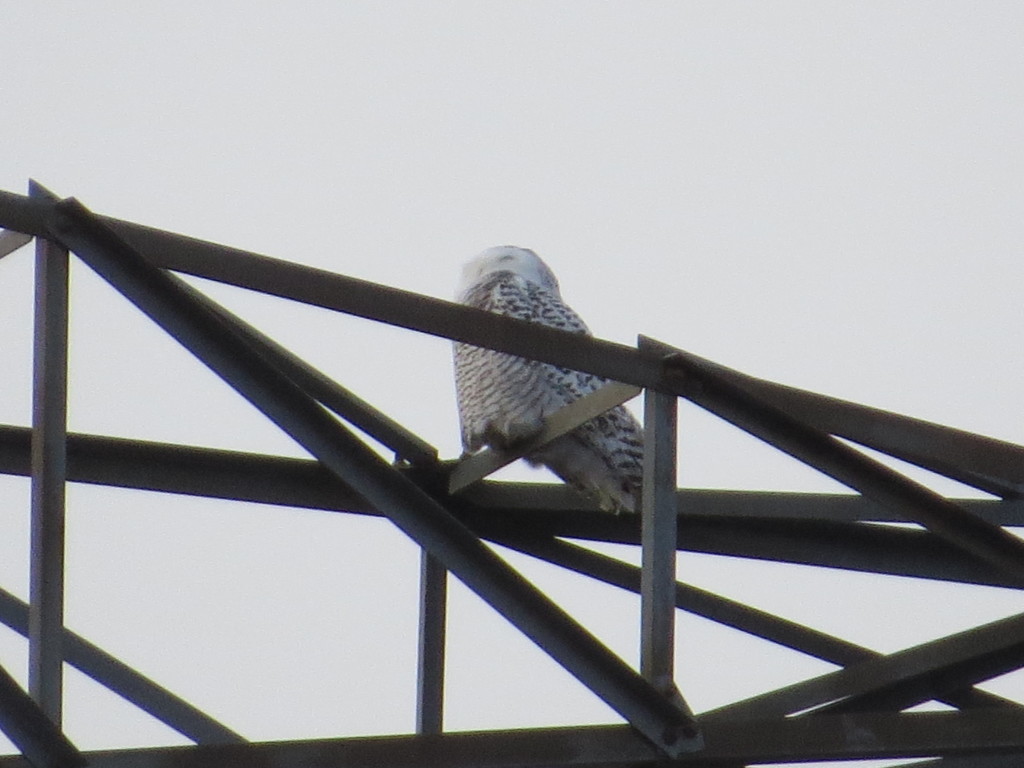 Just as shocking as the owl's height was its coloration.  Mike saw an all-white Snowy at 10 yards just 5 miles away a few days ago.  This was definitely a second Snowy Owl.  Are we in for an echo year of another big irruption? As of this writing, according to the sources Jeff Grotte has pulled together, there have now been 10 Snowies in Minnesota already!  Jeff has put together a great Facebook group called "Owl About Minnesota" with lots of great photos and intel.
I would have to be satisfied with my distant looks and add more distant, grainy pics to my Snowy Owl photo collection.  Maybe soon I'll be able to get some phenomenal photo crushes like Jeff did in the coming days.  Meanwhile, check out those heavy clouds on the horizon in the photo below. They were carrying a raging snowstorm and one lost, little bird from the Pacific Northwest. Check out the stunning vagrant in the next post.