At the end of our long day of North Shore birding, Evan and I opted to stay in Grand Marais at my brother's vacation house instead of retiring with the rest of our group back to Duluth. Besides making for a more relaxed travel schedule, this extra night also guaranteed another crack at those ocean-going birds as well as all the oddball birds that can mysteriously show up in Grand Marais in the fall (Scissor-tailed Flycatcher, Townsend's Solitaire, etc).  Grand Marais is great town even if you're not a birder.  With the vibe of a seaside village it attracts artists and nature lovers alike.  In addition to the birds, eating at the world's only Sven & Ole's Pizza was a must, and according to Evan, so was a Tom and Jerry marathon back at the house.  To each his own.
After plenty of pizza, cat&mouse antics, and sleep, it was time to get going with the new day.  We had birds to find and a state to cross.  While I was hauling our things out to the car in the pre-dawn darkness, I heard those shooting lasers that Clinton talked about – flight calls of Common Redpolls.  The rising sun revealed a whole cluster of them feeding at the tops of the birch trees in the front yard.  They were close and in the sun, so I decided I should get a proper photo of one.  I pulled up the camera on one and realized it was pretty frosty in appearance, and the bill was so small and conical.  Right away I was thinking it was a Hoary Redpoll.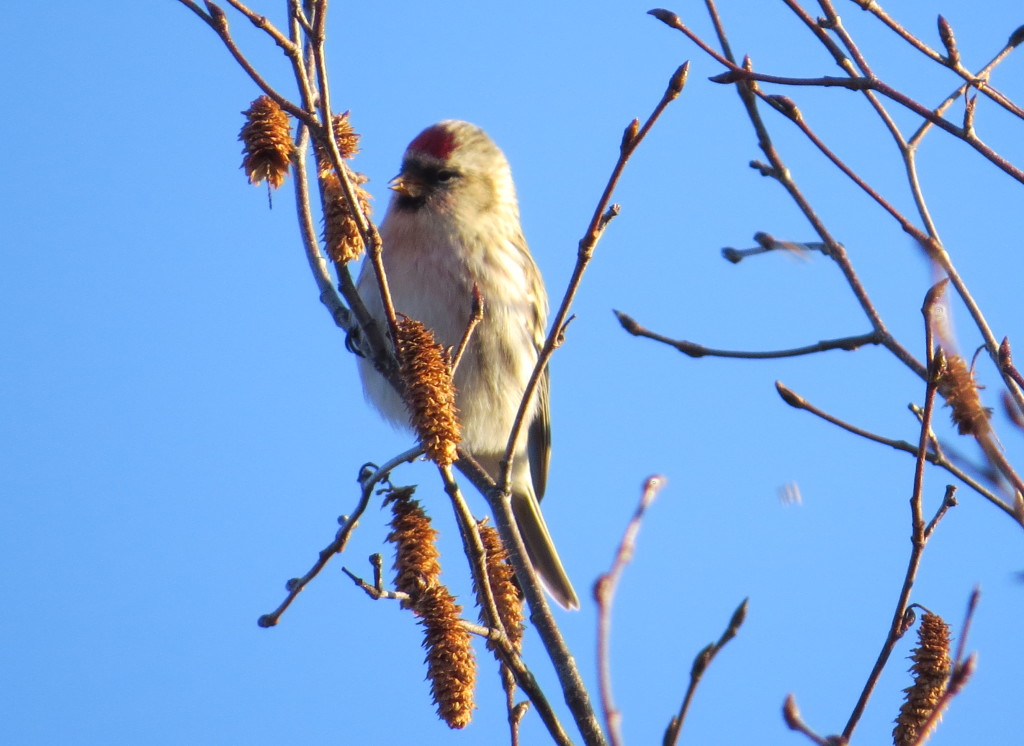 Many Redpolls cannot be cleanly deciphered as Hoary or Common.  There is a lot of overlap, and it is all very confusing and frustrating.  People generally only claim Hoary on the most perfect specimens that exhibit all the undeniable traits of a classic Hoary.  Hoaries are rare as there may be one bird in every flock of 150-200 Common Redpolls. I've stared at many, many suspicious birds in my own yard trying to make the call on Hoary or not Hoary.  The general discussion on Facebook of the bird above leans toward the Hoary side.
At any rate, we were not in Grand Marais to debate Redpoll statuses.  We had birds to find. The plan was to hit up the municipal campground to look for flocks of Bohemian Waxwings and a couple of Black-backed Woodpeckers.  Up to 75 Bohemians had been seen in town a few days prior.  Since I needed to charge my camera battery that morning, we went camera-less.  The campground held some interesting birds – four Snow Buntings and two very frigid, out-of-place Meadowlark species.  However, there was nothing we were after.
We then retrieved the camera battery and drove the streets of town looking for fruit-bearing trees for Bohemians and donut-bearing gas stations for us.  We were successful on the latter.  The gypsy-like birds are completely unreliable and never did show up for us. We made one more pass through the storied campground and could only muster up a few Rusty Blackbirds.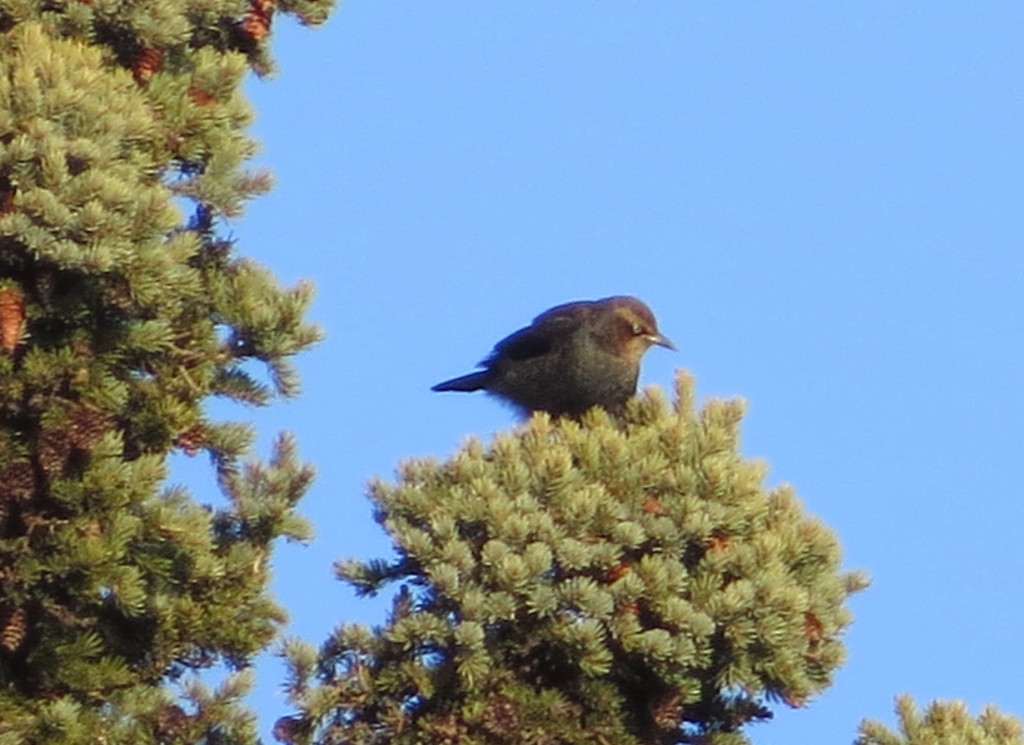 After an hour of searching for the Waxwings, we gave up and headed southwest down Highway 61.  I spied an interesting-looking raptor flying the same direction as us, but I didn't stop because the focus was back on ducks.  Either this bird passed us or there was another one just like it because Evan was exclaiming he just saw a black raptor with a white tail sitting on the power line.  I asked him if he thought we should turn around to look.  He wanted to, so we did.  The bird was a gorgeous dark-morph Rough-legged Hawk that was now on the move again back to the southwest.  So we raced ahead of it and stopped at the same overlook where we got our White-winged Scoters.  The views were spectacular.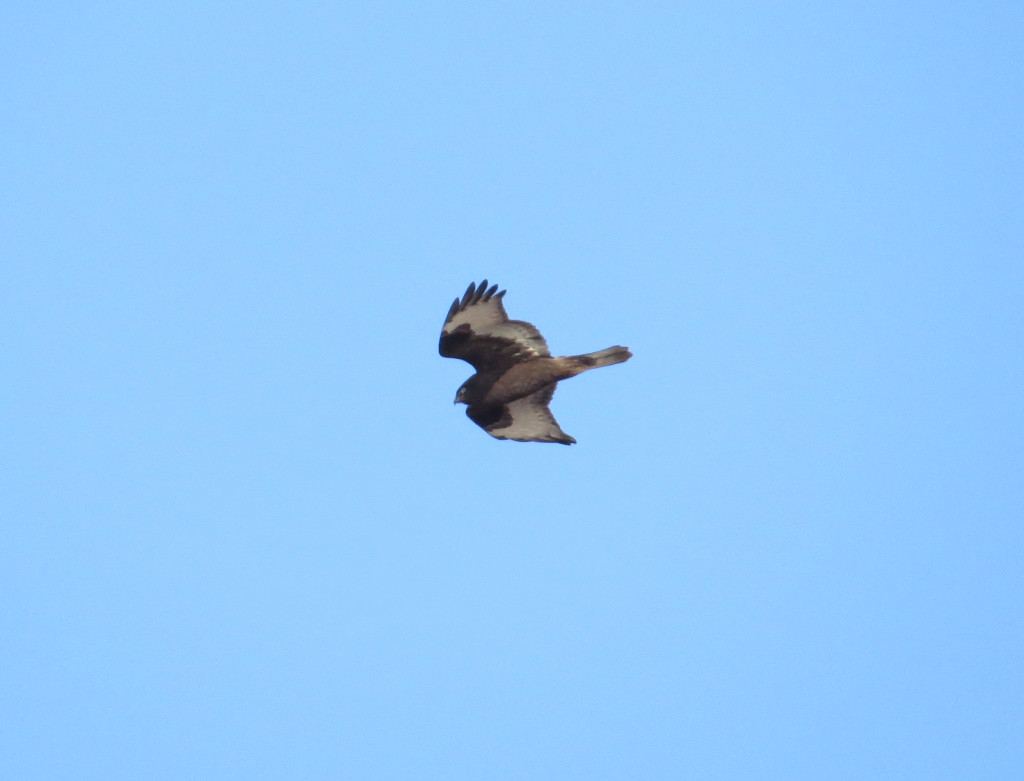 After enjoying this new, rarer flavor of RLHA, we noticed the three White-winged Scoters were continuing from the day before.  Then it was time to pop in our book-on-tape and hit the road hard, only stopping briefly at the lookouts from our trip yesterday to scan for ducks.  The story was much the same – no sea ducks.  Interestingly the day after this trip, a couple of juvenile Common Eiders were found at one of these locations – the first time since 1966.  And we missed it by a day.
Anyhow, Duluth still held something very promising for us.  It turns out that American Black Ducks are a relatively easy find along Park Point.  We needed that bird.  We can get it at home in spring and fall migration, but it's not an easy one.  Clinton, our guide from the sea duck trip, gave us a reliable location to try for this semi-nemesis.  He said to look bayside at 38th street.  As I drove down Park Point and could see Lake Superior to my left and the bay to my right, I was not seeing ducks anywhere, not even Mallards.  This was a bad sign.  Even at 38th where the water nearly laps onto the road, there was nothing.  I checked lakeside even though Clinton said the ducks are always bayside.  Nothing.  I couldn't believe it.  Leave it to me to screw up a sure bet.  I was settling in for defeat and driving back toward Canal Park when I caught sight of a couple of Mallards on the grass on the bayside of the road right near 38th.  I stopped and looked.  This caused these Mallards and several others who were tucked up on shore in the cove-like corner under some brush.  As they swam out into the bay, I saw that five of them were Black Ducks! This was a very satisfying lifer, perhaps the best of the trip.  It was a nice ending to a fun weekend of birding.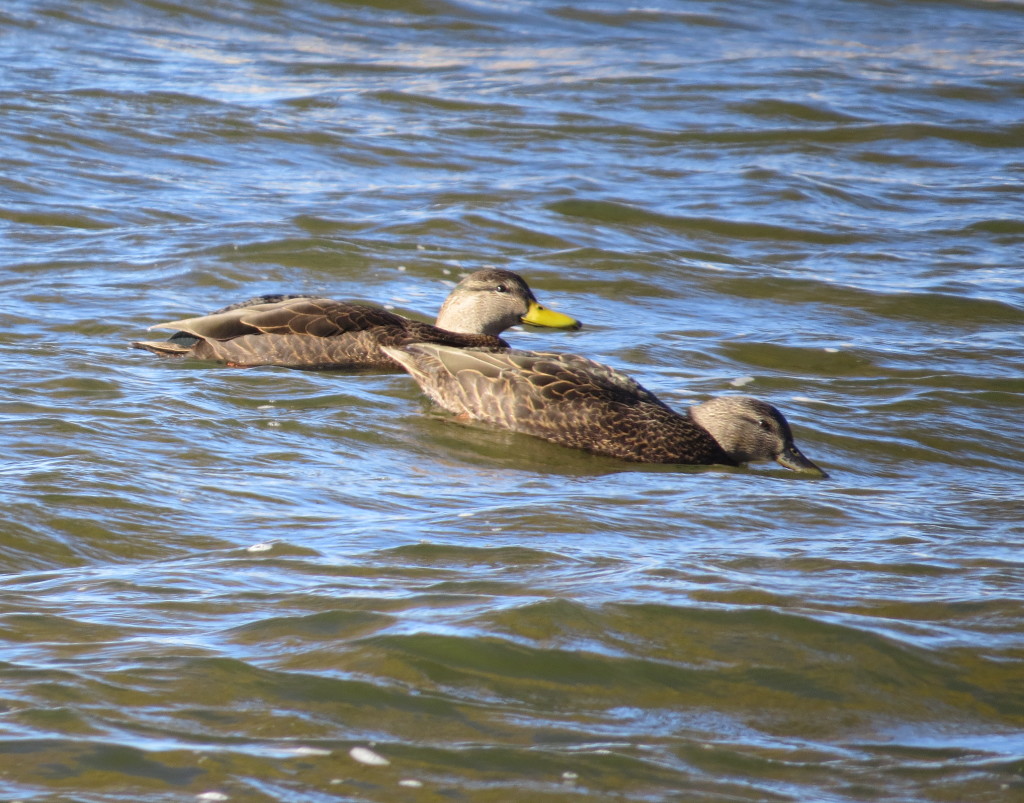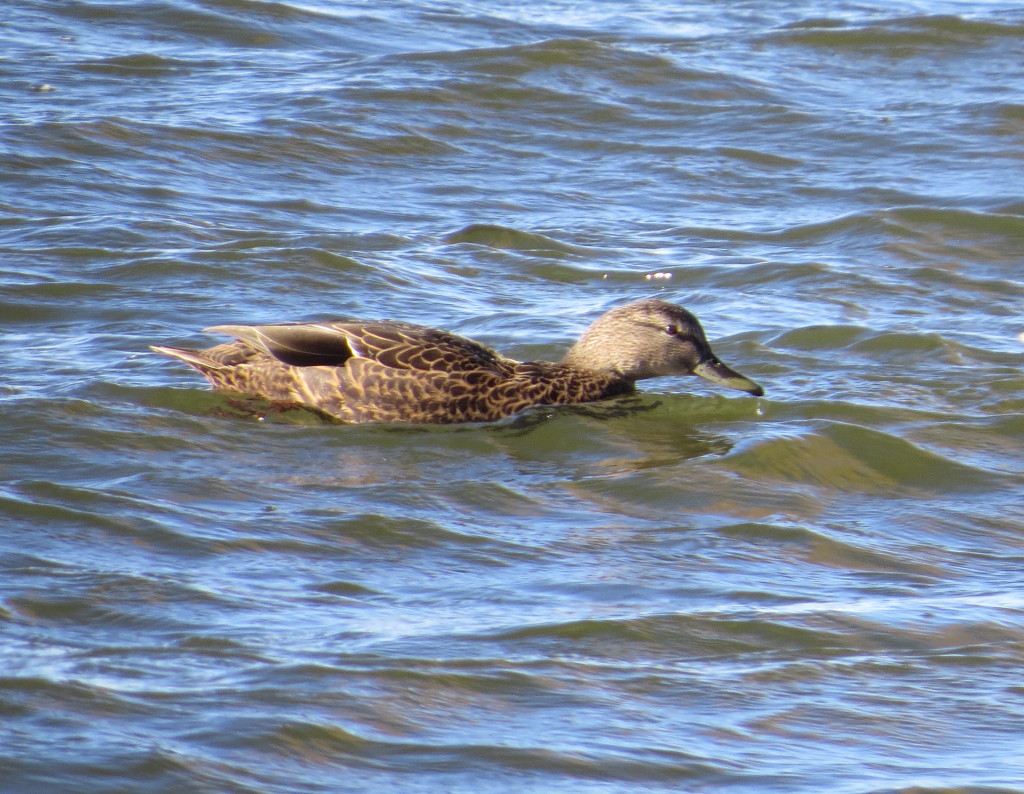 It's amazing how black these ducks really look in the right light.  The male below shows some green on the top of his head which might make it a Mallard X American Black Duck hybrid.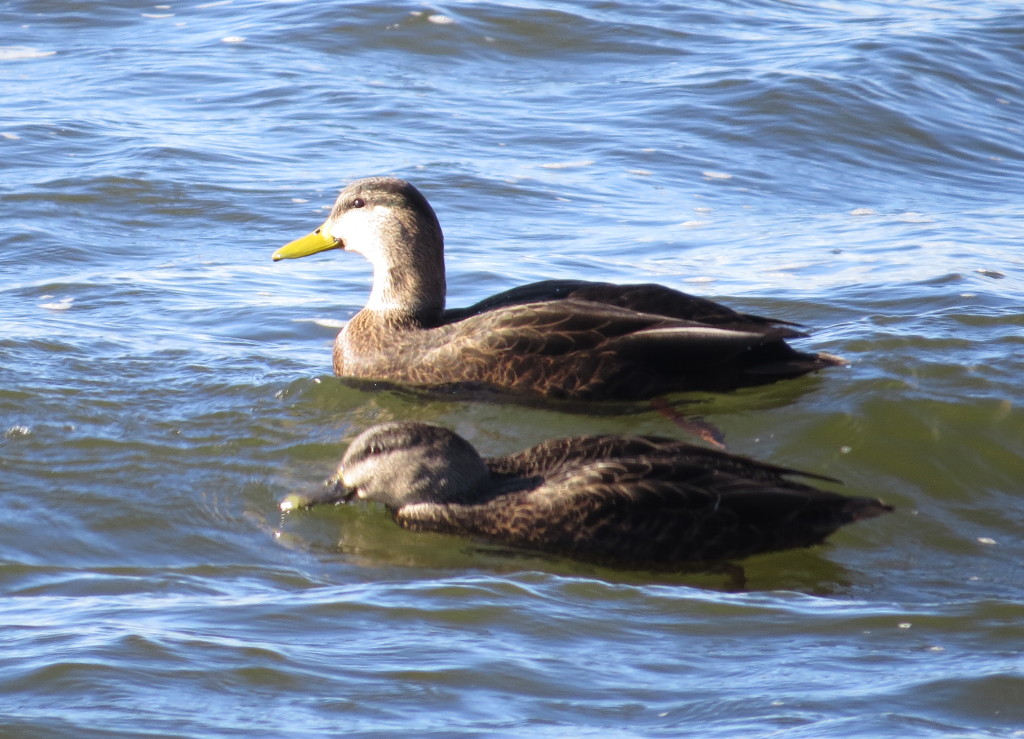 Here's a better shot of the green.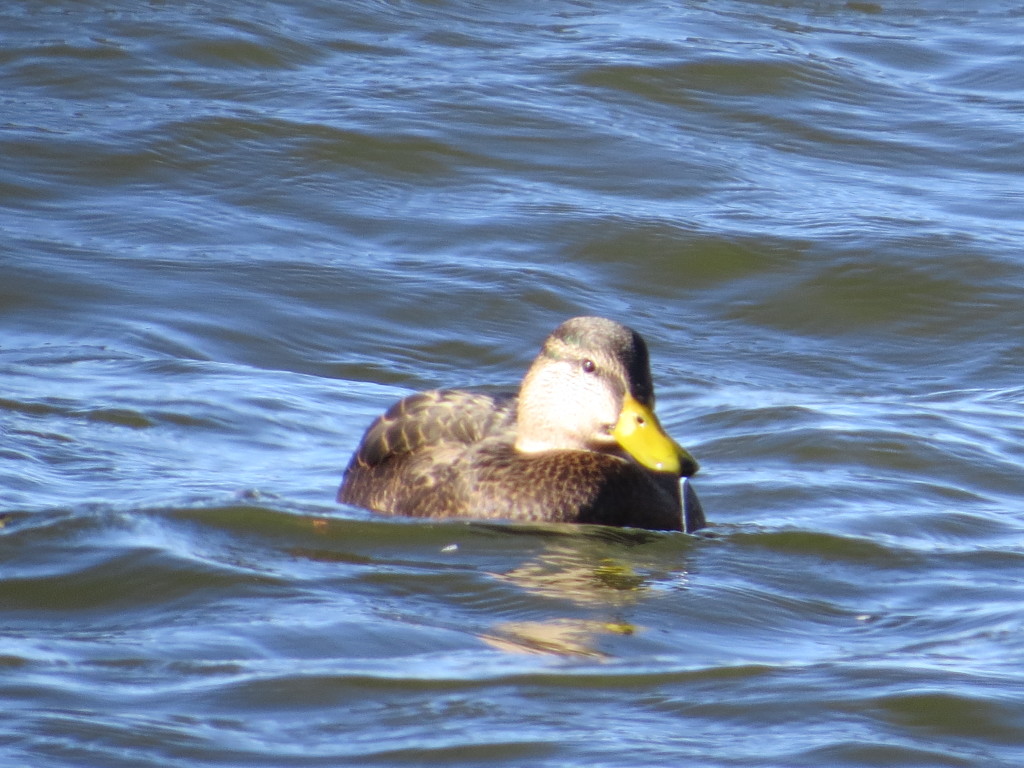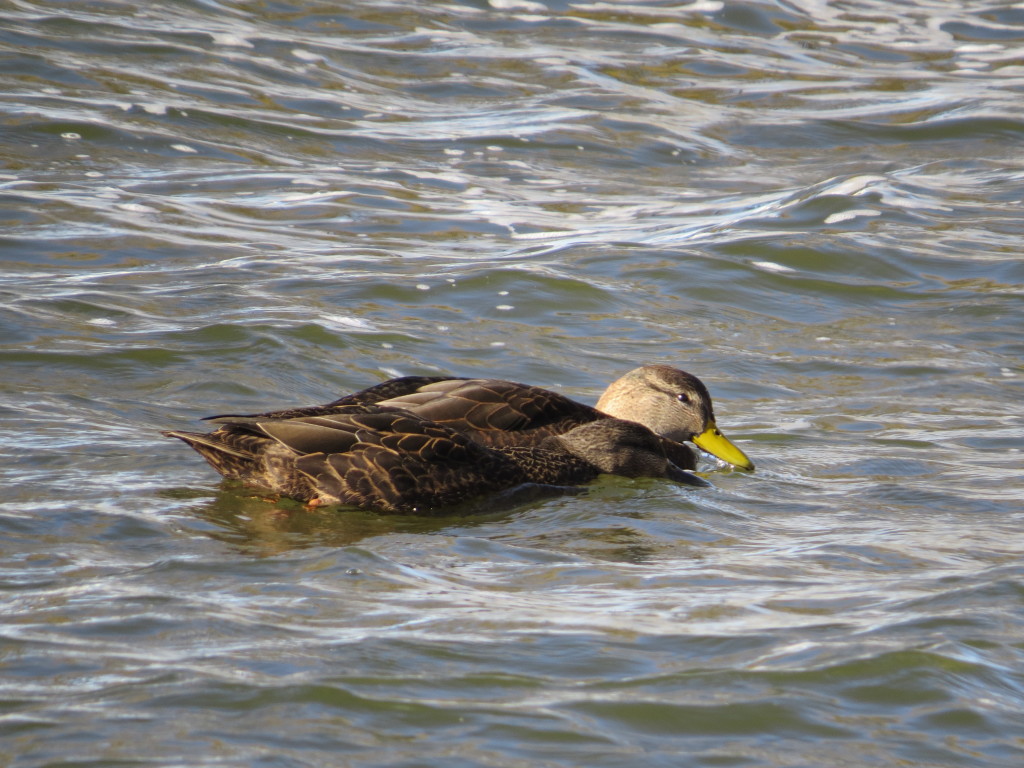 It was finally time to leave the Black Ducks and Duluth behind and hit I-35 for the 3.5 hour ride home.  I was quite content to have gotten this hoped-for duck.  I was now looking forward to a relaxing ride home with no more birding stops.  Evan and I stopped one last time to fill up the tank and empty ours.  As I was waiting for Evan, I compulsively checked my phone (a bad habit brought on by birding).  Birding friend Tony Lau had messaged me to alert me to an incredible bird discovered by Jeff Grotte back home just a few miles from where I work. Before I knew it, I was hurrying Evan to get back in the car.  It was 1:00. Darkness was coming in four hours and I had to go just over 3 hours to get to this bird. Moreover, the coming 12 inches of snow that night would make a next-day search impossible.  Never mind that the bird could up and leave at any moment.  I had to get there – fast. There would be no relaxing drive home.