Somehow life has come full circle as I found myself planning a trip to Arizona this year to visit my snowbird parents.  I can remember many long car trips as a kid when we would go to Arizona to visit my dad's parents in Sun City and then there were sporadic trips several years later to visit my mom's parents in Yuma.  And now I'm hauling my family across the country to repeat history for our 2014 spring break.  But this was my first trip to Arizona as a birder.  Other birders know just how exciting it is to escape to a new state, complete with its own collection of unique birds. It doesn't take long to exhaust the novelty of the birds on your home turf, so one must wait for a rarity to fly in or for a chance to visit a new destination. Birding changes everything – old places become exciting, you're never bored when you're outside, and someone else's ordinary birds are prizes to find.
So this past Sunday we flew into Phoenix early in the morning, and I was ready to enjoy the fallout of lifers that was sure to happen.  My parents picked us up at the airport and drove us through the myriad of freeways and highways down to their place in Maricopa. I couldn't help myself.  Yes, the t-shirt weather was dreamy and it was good to see my folks, but I had to look at everything that flew. The problem, though, was that I knew I was seeing a lot of new birds, but we were going freeway speeds and I couldn't make anything out.  I think I was able to discern some Great-tailed Grackles flying across the road, but I needed a good, long look.  Anything else is most dissatisfying.
We had planned to hit up Zanjero Park on the way home to look for the number one target, the Burrowing Owl, but with a couple of tired kids, one of which had become quite sick, we just needed to get to Grandma and Grandpa's. On the ride Dad did inform me that he saw a pair of Burrowing Owls near their house the night before.  What?!  That was something that could not be delayed – we must check it out before we got to their house.  Sick kid or not.
As we got near the vacant lot where my parents saw the owls, we drove by a small, man-made pond.  To my amazement there was a duck on the pond shining like a red beacon in the early morning sun – the Cinnamon Teal!  This was major target number two and it was already in the bag.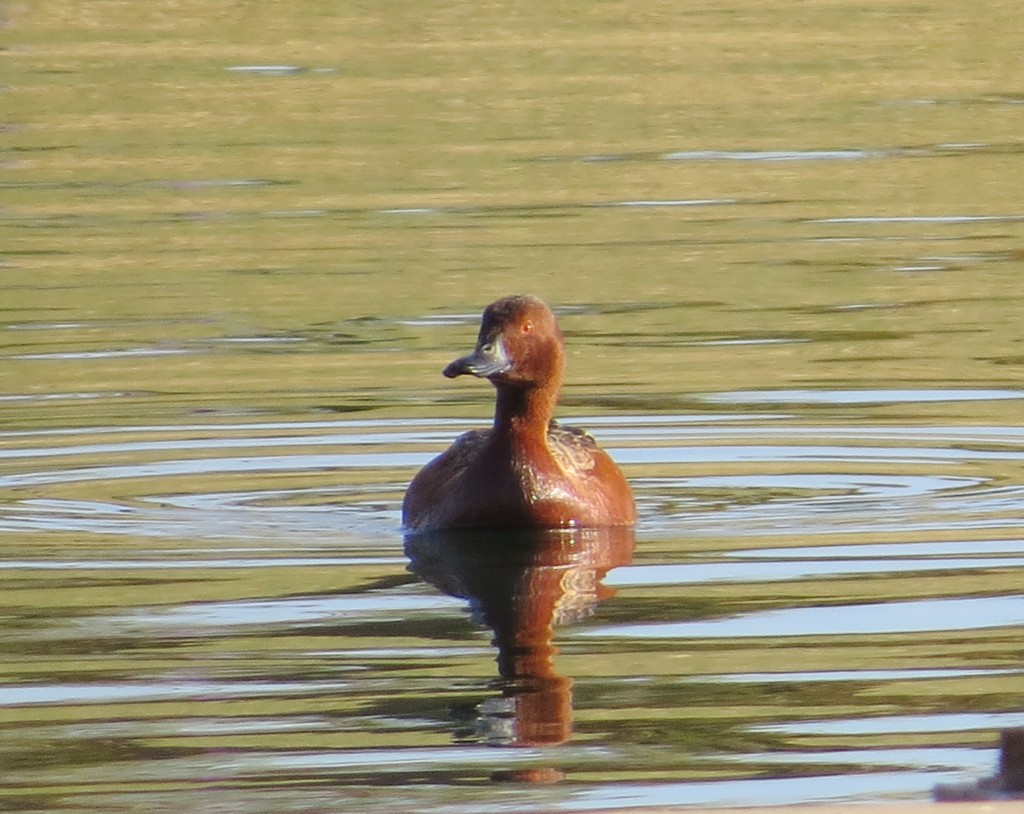 Bam! What a way to start the Arizona birding! As I was standing in the middle of the street photographing this bird, the air was filled with the most exotic bird noises I've ever heard.  What I was hearing were the clicks, whistles, and squeaks of Great-tailed Grackles everywhere. I've heard them called nuisance birds before, but I thought they were simply amazing.  Maybe it was the sounds, maybe it was warmth, maybe it was the cool cacti and palm vegetation everywhere, but I was enjoying the euphoria of birding in this wonderful new environment.
But the lifer party wasn't over on this little stop.  Across the shore I spotted a Neotropic Cormorant.  I really don't care for cormorants, so this shot is more or less just to document a life bird.
Finally we got back to the house and got sick Marin situated so she was comfortable.  But I could only take being in the house so long.  There was a hot, blazing sun outside and new birds everywhere.  My quest started on the patio.  At first all I was seeing were Mourning Doves, House Finches, and House Sparrows.  Ugh. I didn't fly across the country to see my own yard.  But with a little patience and careful observation, life birds began to make their appearance.  The first to show up was this Say's Phoebe.
Then one of Arizona's hummers came in – the Black-chinned Hummingbird!
I had also observed a warbler darting in and out of my dad's trees and was pleased to see it was the Audobon's Yellow-rumped Warbler.  This is not a new species, but we don't often get this variety of the butter-butts in Minnesota.  Ours are mostly the Myrtle's variety.
Another bird that was flitting around in this same tree was a life bird – the Verdin.
Not only were there new birds everywhere and warm sun beating down, but there were all kinds of other cool critters moving about the backyard.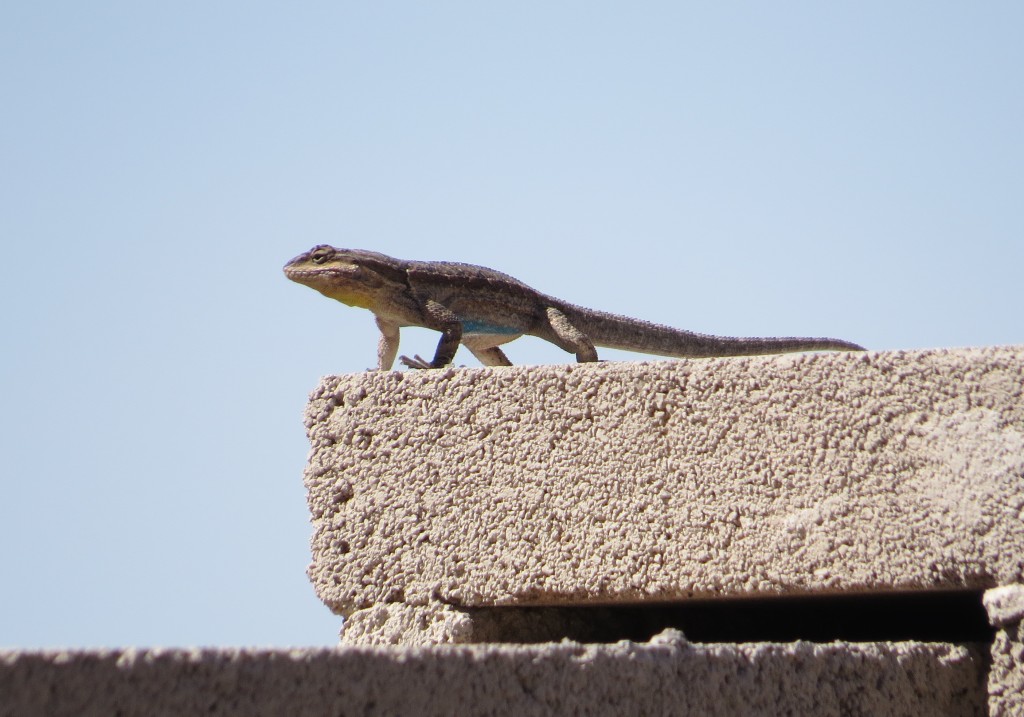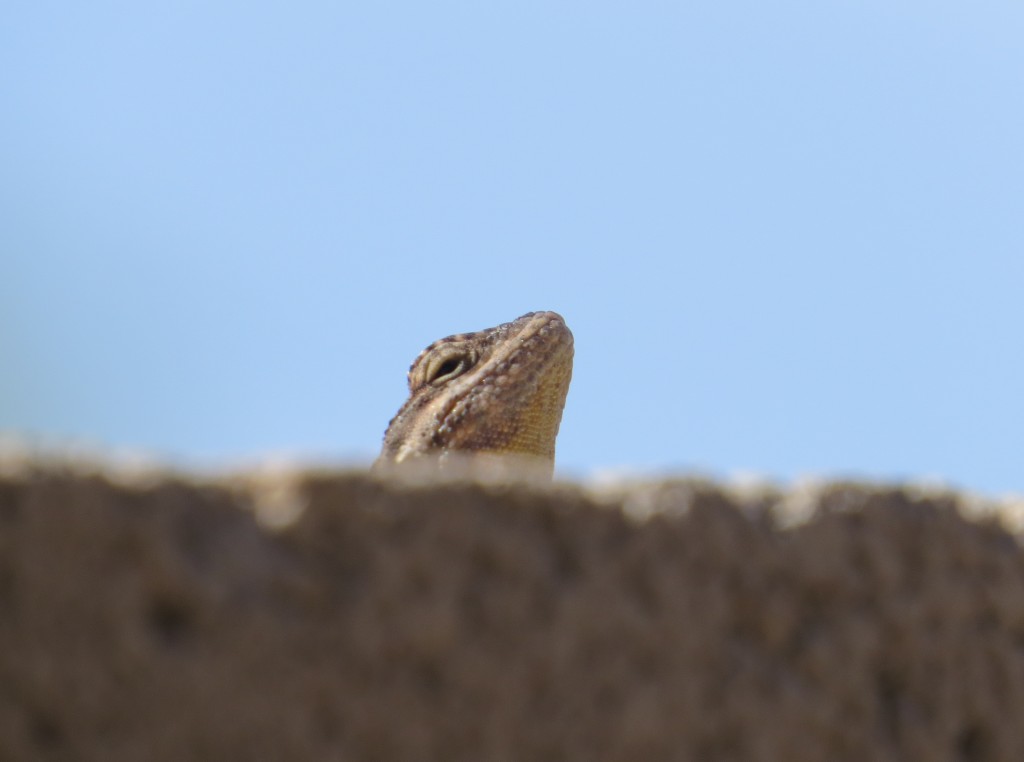 After some time of going in the house to check on Marin and going out of the house to look for new birds, I was getting the itch to see what other avian treasures the neighborhood held.  So Dad and I went for a little walk.  Right around the corner we found another life bird, the Northern Mockingbird.
And it doesn't take long to bump into the ever-present non-lifer that is so unique and beautiful that I remember it from my non-birding days, the Gambel's Quail.
As Dad and I concluded our walk, I saw a flash of copper and whir of furious wings buzz right by us.  It was a new hummingbird of some sort.  I tried to snap a photo.  It's blurry, but this photo helped me determine I saw the Rufous Hummingbird – a migrating bird that was just passing through.  My Arizona birder friend, Laurence Butler, told me this was quite a find at such a low elevation.  So, even though the picture is blurry, I decided to post it because it was such a cool lifer. And let's be real.  It's a hummingbird. They move at like Mach 2, at least.
The trip was off to a great start.  Eight lifers, a couple really cool non-lifers, and one major target checked off.  And this was just the tip of the birding iceberg for this trip. Check back to see some more posts from our time in Arizona.  If you're a fan of owls (who isn't?), you won't want to miss the next couple posts.