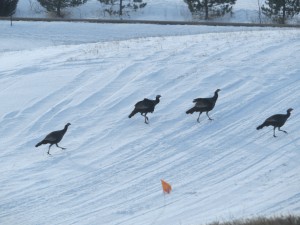 Today was the final performance of Willmar Middle School's production of The Little Mermaid. That meant we were getting Mom back from her crazy rehearsal and production schedule. This weekend the kids had plenty to keep them occupied while Mom was away.  Melissa's parents, nieces, aunt, grandma, and a second cousin made the long trip down from up north to see the musical and celebrate Evan and Marin's birthdays which are both next week.  Our kids got to hang out with their cousins and spend some quality time with them and their grandparents in a hotel all weekend, even spending two nights at the hotel away from home.  Cousins, presents, swimming, bowling, a musical performance and lots of good food.  Needless to say, the kids didn't miss us  too much.  Today, though, Melissa's family hit the road, and it was just the three of us again while Melissa did her last show and post-production party.  After the kids each delivered their mom some flowers after the final performance, the three of us hit the road for a birding adventure while Mom did her post-production party and clean up.  This afternoon we were following up on a birding tip I had gotten from a coworker last week.  This coworker, Terry, had told us he had been near Paynesville and seen 300-400 Wild Turkeys on a hillside one morning.  Wow!  So he drew me a map so we could investigate ourselves.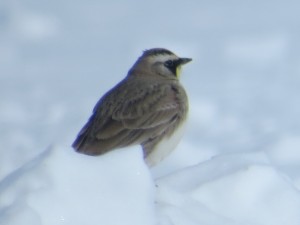 Right away on our outing we started seeing Horned Larks, and we never stopped seeing them.  Every county road we traveled we would flush little flocks of 6-10 birds every mile or so.  A week ago this was a life bird for us, so they are still pretty exciting to see. They are always a surprise to see on the highway because you can't really see them until they flush.  They like to hang out in the exposed grass just off the shoulder.
We made our way up toward Paynesville.  There wasn't much for birds, so I started commenting on other things I saw.  I saw a skidloader and told the kids, "There's a Bobcat."  Of course this confused Marin who thought I was talking about a lion.  Evan then went on a discourse explaining to his almost 3-year-old sister that "Bobcat" is just a name brand for a skidloader and that real bobcats don't live in our area.  I didn't follow all of the conversation, but he was a treasure-trove of information, true or otherwise.  Marin, the budding conversationalist, proves she is listening by asking relevant questions, such as, "And if you  see a bobcat, you run like the dickens?"
I had forgotten my map at home, so I was going on memory.  Not good.  I made one wrong turn and then proceeded to go down another road that seemed to fit somewhat with my memory of the map.  I was frazzled not knowing for sure if I was in the right location.  It was a long trip up to this area, so I didn't want to miss out.  Then we came up over a hill, and there was our target bird – the Wild Turkey.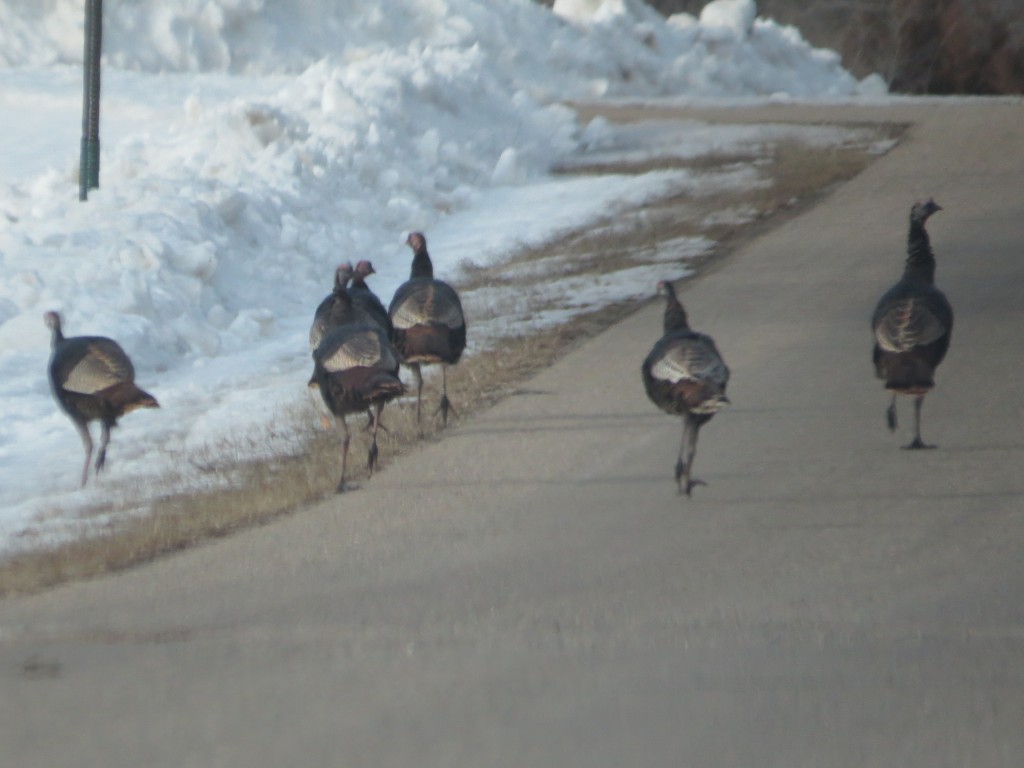 These guys quickly split into the woods on both sides of the road.  These last two look like they are debating which way they need to go.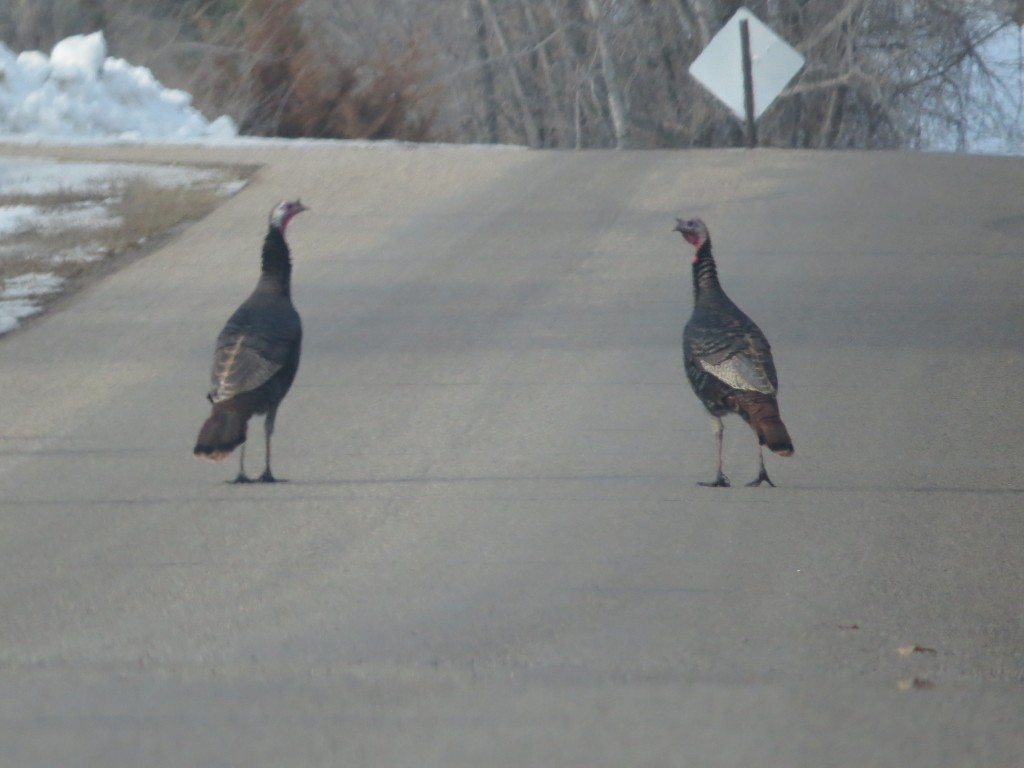 Even if we didn't make it to the spot we were supposed to go, the trip was already a success.  As we kept driving, though, the scenery started matching Terry's description perfectly and I knew we were in the right spot.  Taking the next turn, we found another group of seven Wild Turkeys.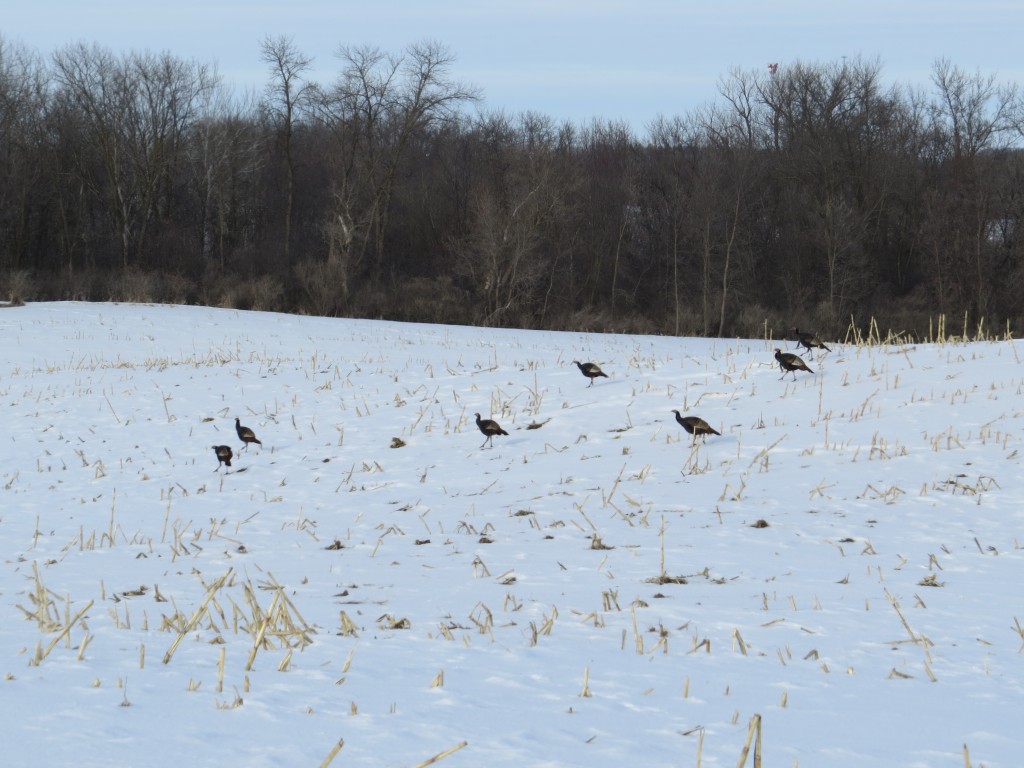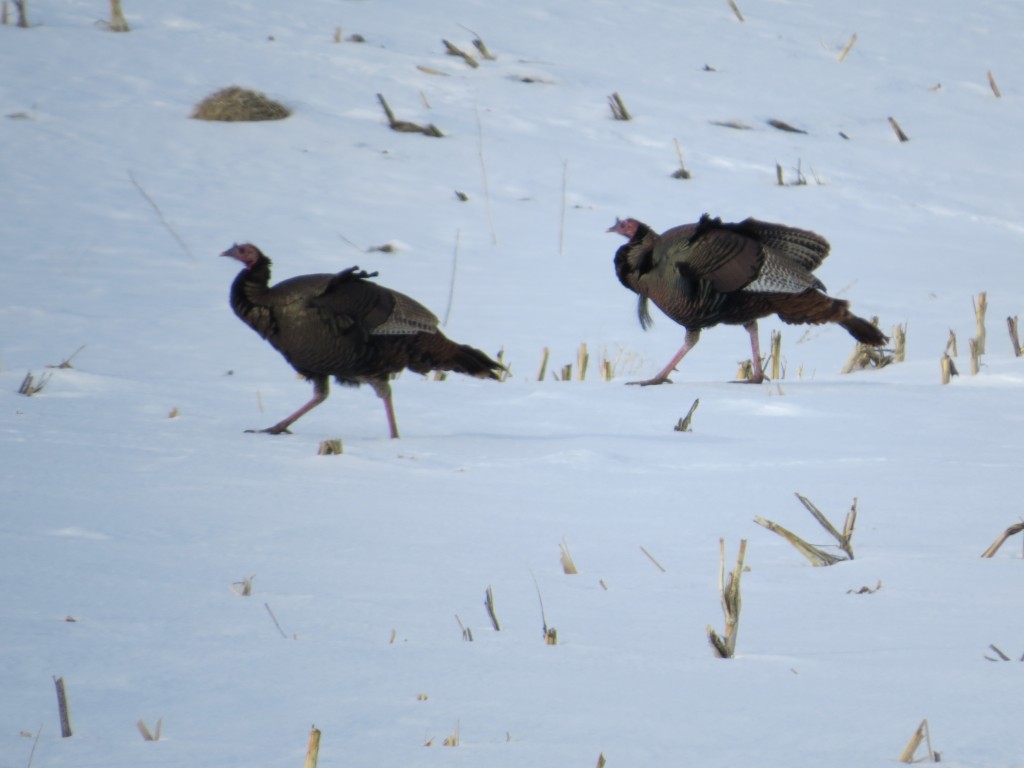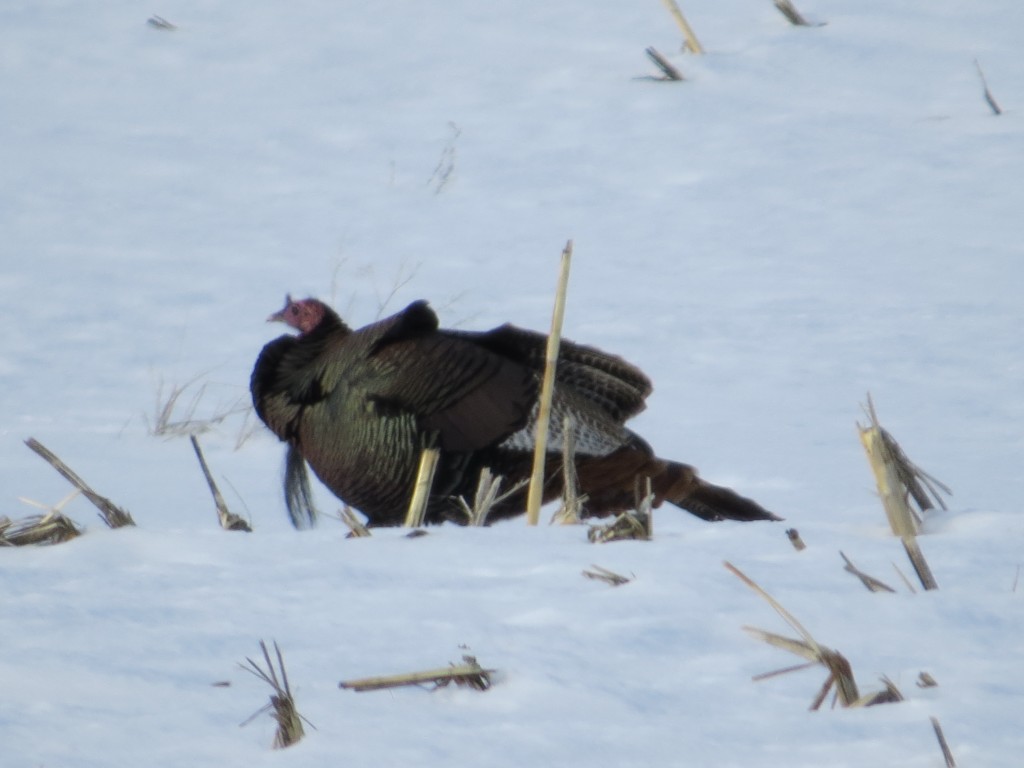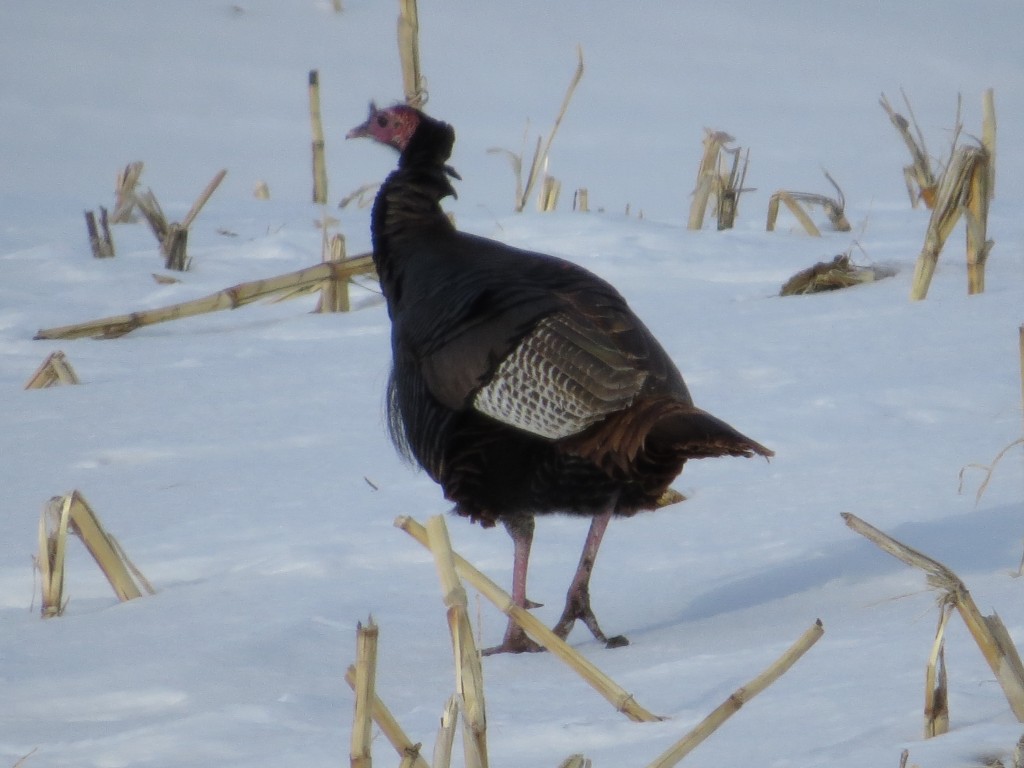 Turkeys sure are skittish and can run fast.  I had to photograph them on sports mode.  Before long these seven were out of sight. We went down the road a couple more miles before deciding to turn around.  I had found these turkeys again on the right side of the road and stopped to photograph them again.  Evan then screamed out, "Dad! Turkeys!"  "Yes, Evan I see them.  Those are the ones we saw before."  "No, Dad, look on the other side!"  Sure enough, he was right.  There on the hillside where Terry had seen the hundreds of birds a week earlier stood many huge birds out in the field.  I don't know what it was with the number seven, but here is another group.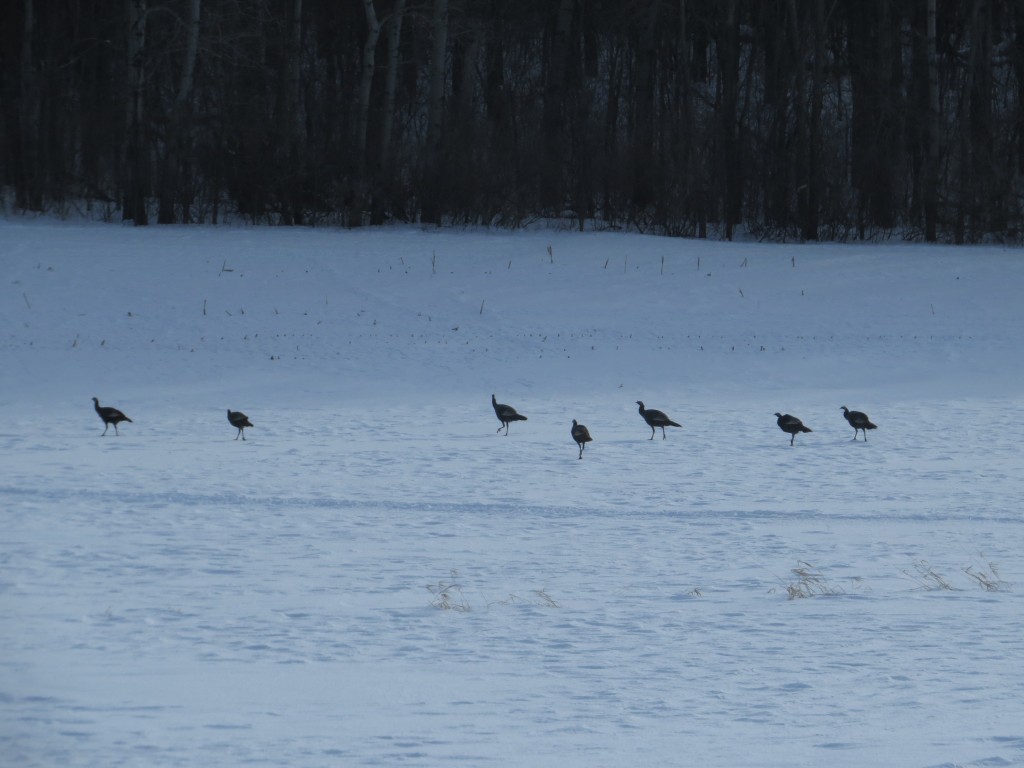 Here is a shot to the left of the photo above.  The famed hillside that held hundreds of birds is further to the left yet.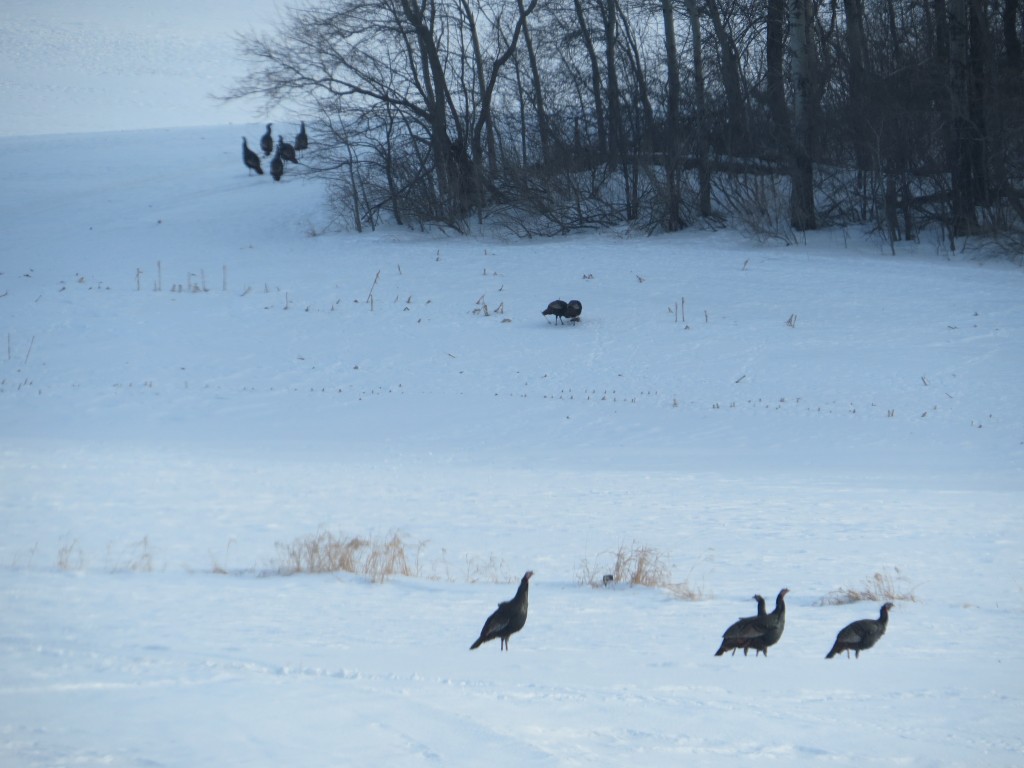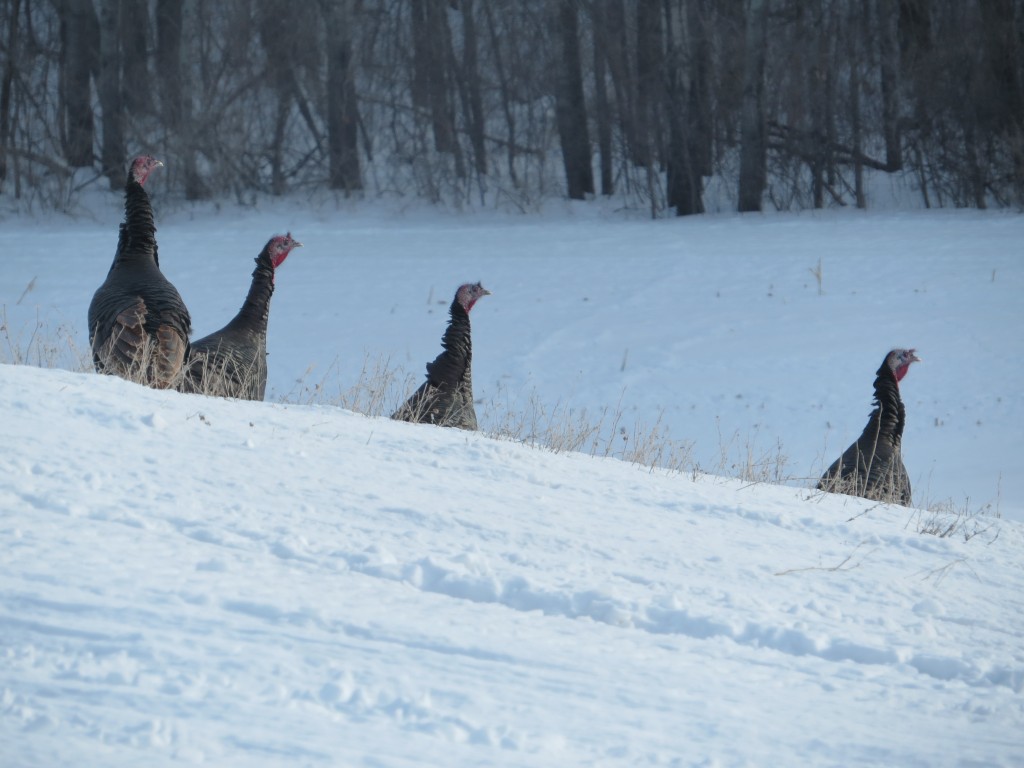 After viewing all these turkeys (we estimate that we saw 25-30 in these sightings), we drove a couple of miles into the town of Paynesville to get a treat.  Marin was becoming impatient with us birders, and  so she needed something to break up the trip. With treats in hand, we were ready for more bird action.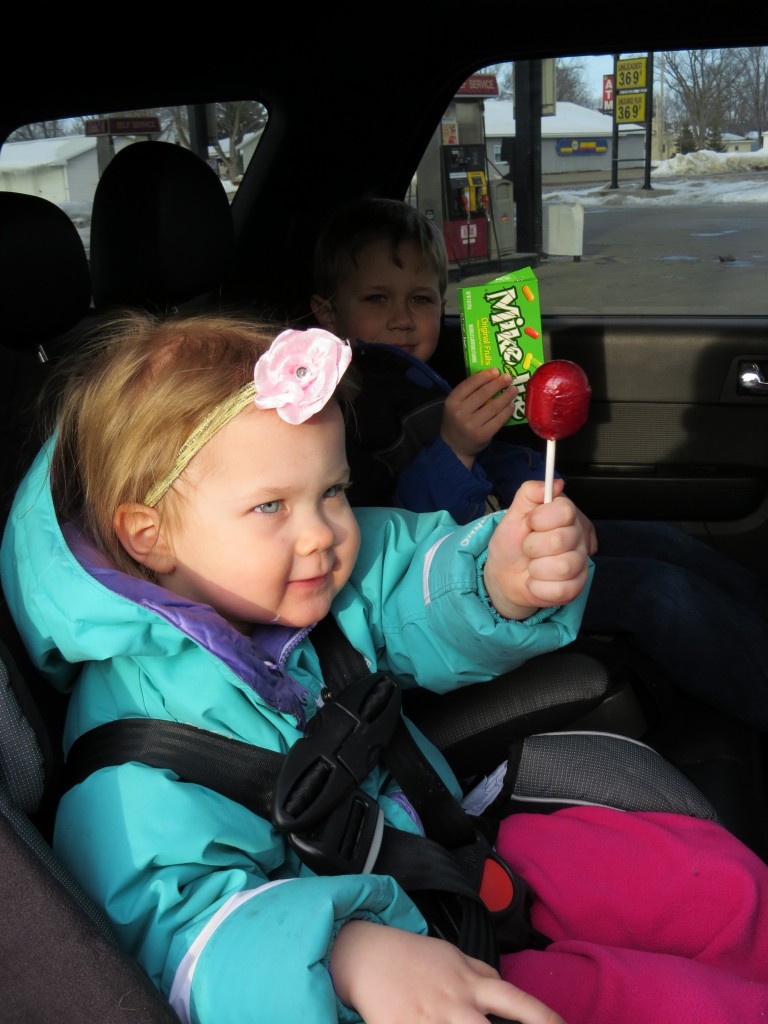 We decided to head back to the same turkey spot afterward just in case those throngs of turkeys that Terry saw would come out for an evening meal.  No luck.  There were a few of those turkeys still lingering about.  We didn't get to see the swarms of monstrous birds we'd heard about, but we had a successful turkey-outing nonetheless.  It also excited me to see so much turkey action within a couple miles of where I'll be turkey hunting in April.
We made our way home and found a pair of Bald Eagles soaring on the south side of Lake Koronis.  Other than that, we saw hundreds and hundreds of Horned Larks.  I did spy a bird perched on a wire hunting the larks – the Northern Shrike again.   All our other sightings of this bird were pre-camera.  Well, even with a camera in hand, this one gave us the slip before I could get a shot.  It appears this is my nemesis bird.
As we rode home, I was asked over and over to turn up the volume on Radio Disney.  As a Justin Bieber song played, Evan asked me if I liked him.  I replied that I didn't care for him to which he said, "Ah, why not? Justin Bieber's so awesome!"  Maybe it was the Bieber music, maybe it was the good birding trip, but we went out to look at turkeys and ended up coming home with a couple.