Recently I had the opportunity to travel to the Northland, the homeland.  In addition to visiting family while up north, I also took the opportunity to pursue a life bird.  That life bird was found and immensely enjoyed, but there was another bird found during the pursuit that was so distracting and almost literally underfoot at times that it demanded its own post.  This bird kept my birding companions and me from the task at hand of lifer searching, much like this post is keeping us from that lifer story.  I don't know what it is about this bird that I just can't get enough.  It is a bird whose combination of beauty (certainly not brains) and playing hard to get make it irresistible and cause even the most hardened birder to go weak in the knees.  We are, of course, talking about the Spruce Grouse.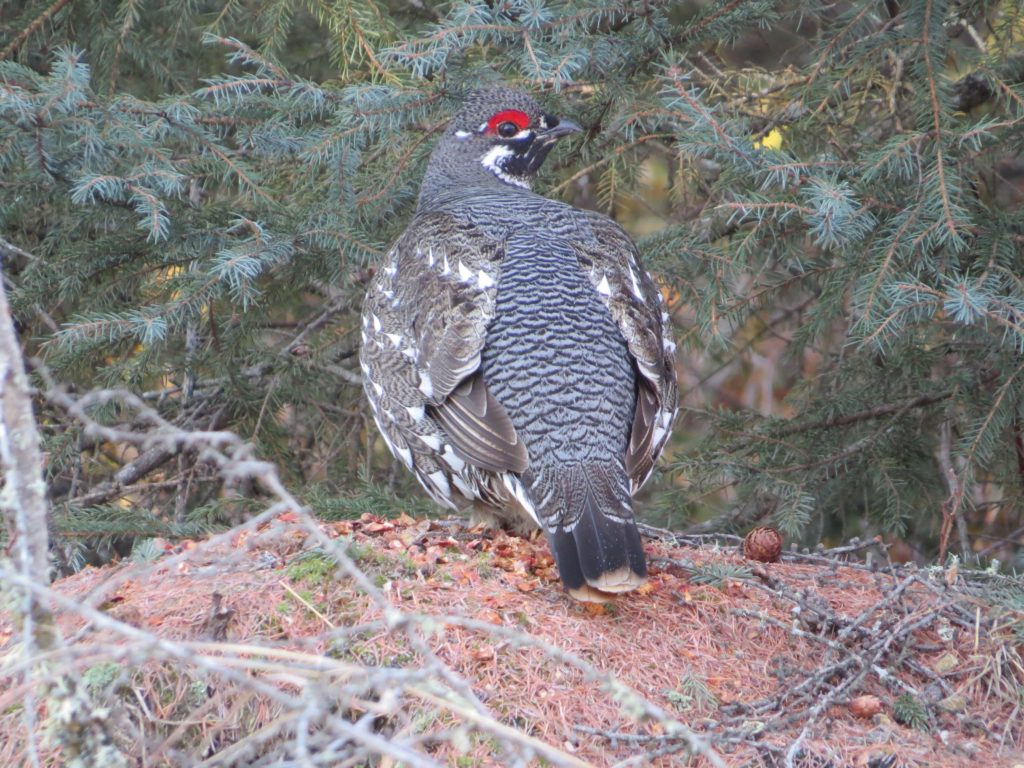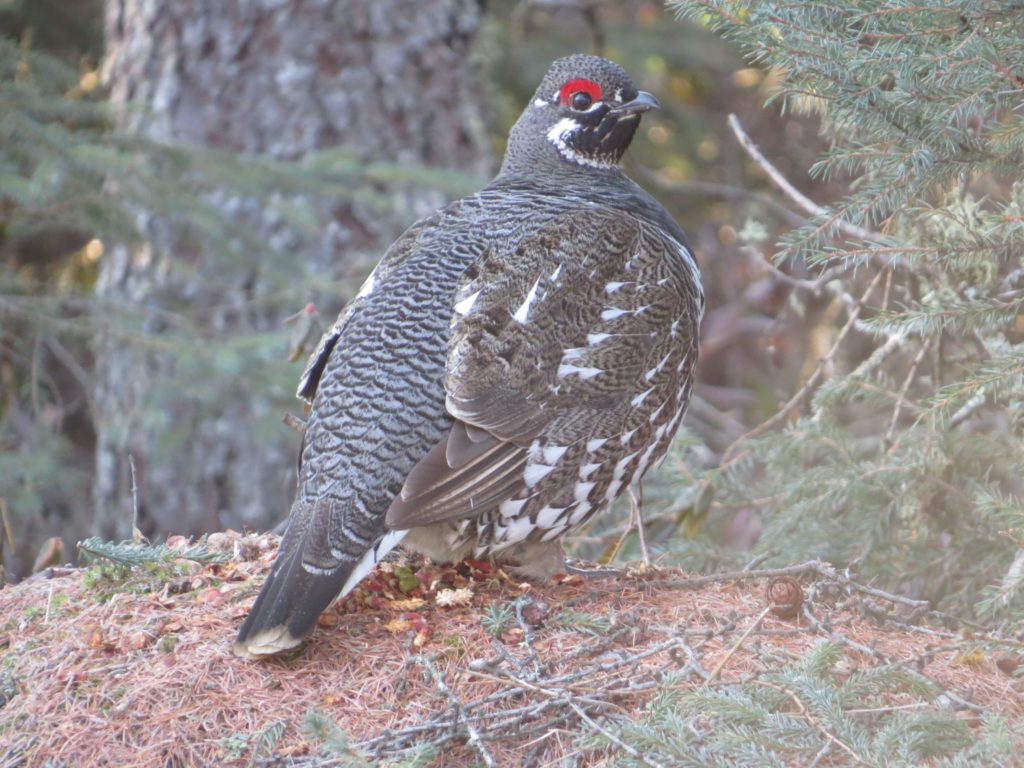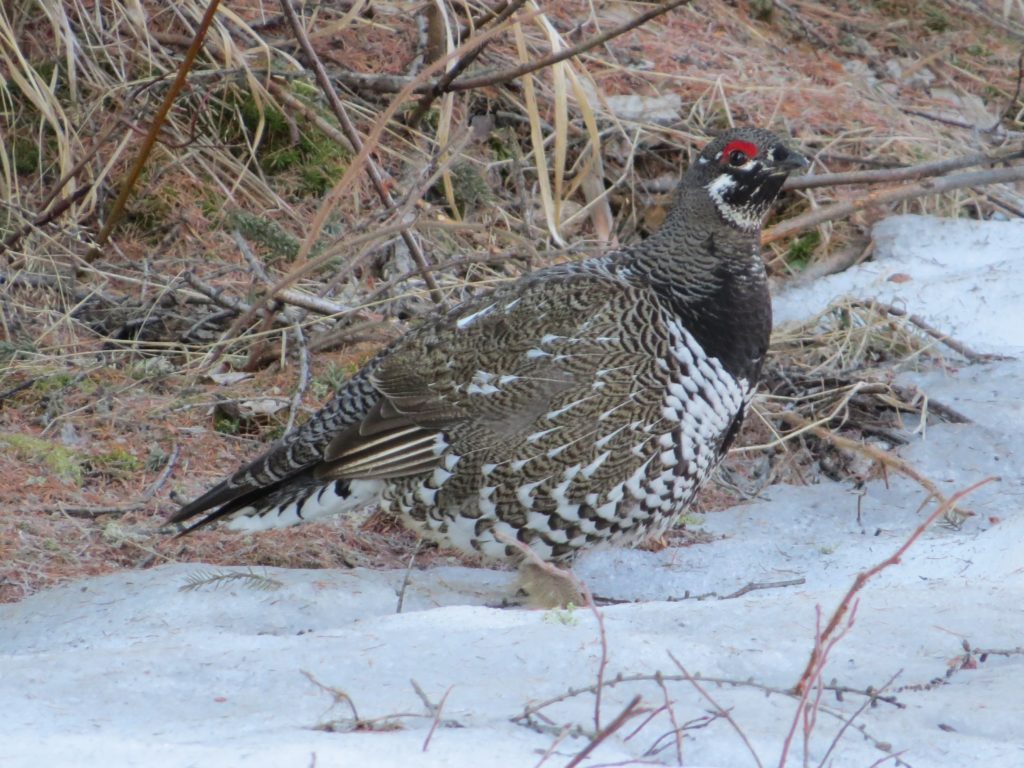 This male Spruce Grouse was the first bird my local birding friend Julie Grahn spied while we hunted for the life bird that Julie had found weeks earlier on this same road.  I was thankful that this Grouse finally flew off so we could get back to the more important search at hand.  But doggone it, an hour later I looked behind me and saw that another male had come out to the road.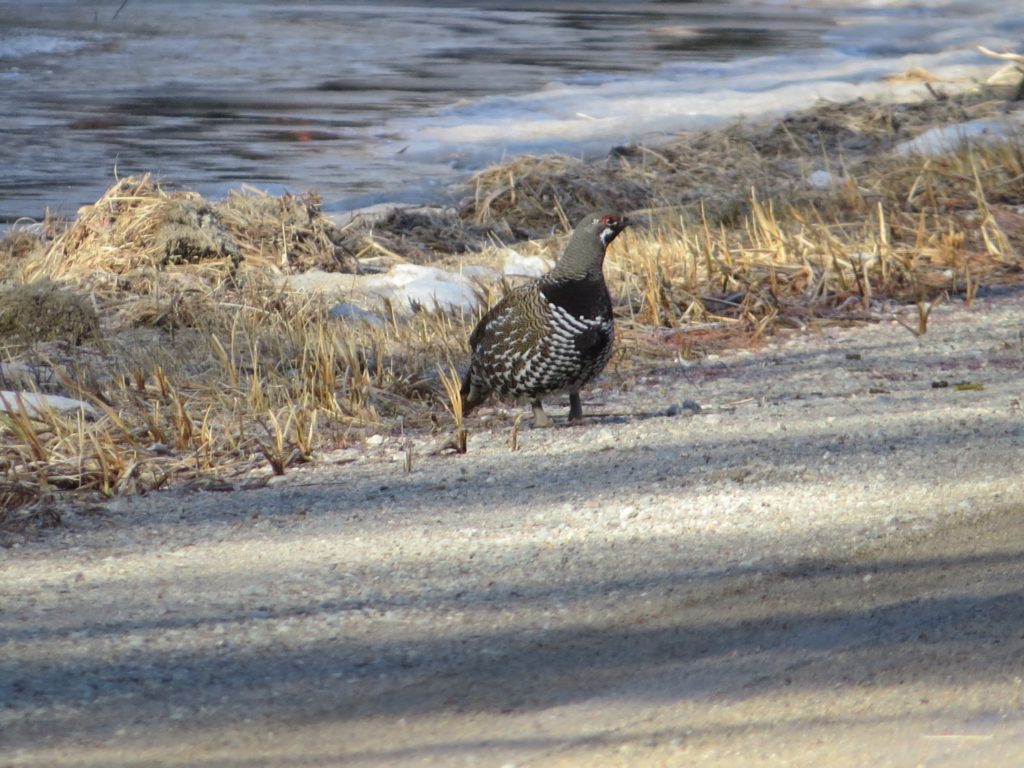 I had actually been looking behind me to see if another friend, John Richardson, was coming.  This was good timing because John was hoping to see this bird too.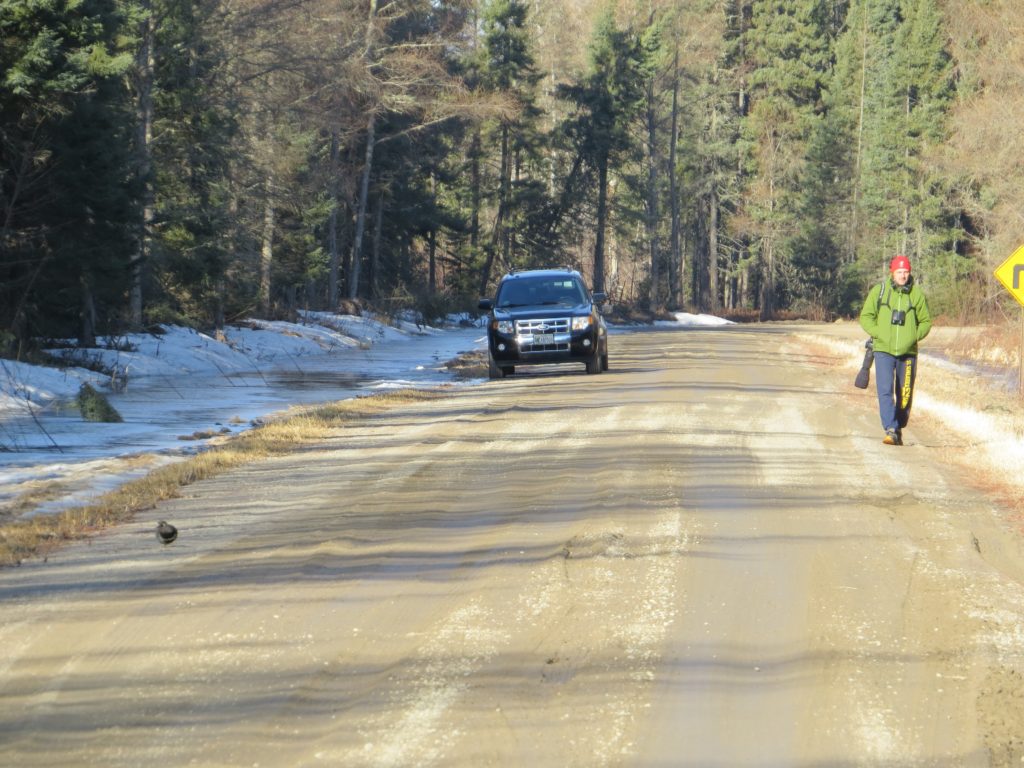 While it looks like John is about to miss his opportunity, rest assured he saw it and saw it well with Julie and me when it flew from the road into this Black Spruce about 20 feet up.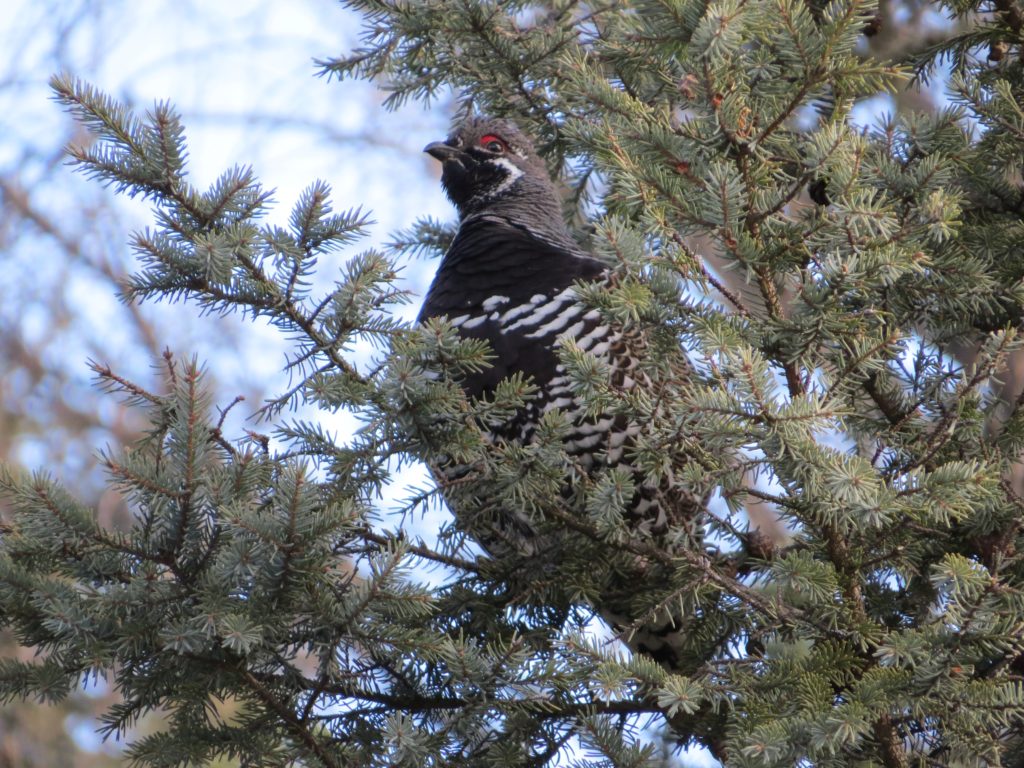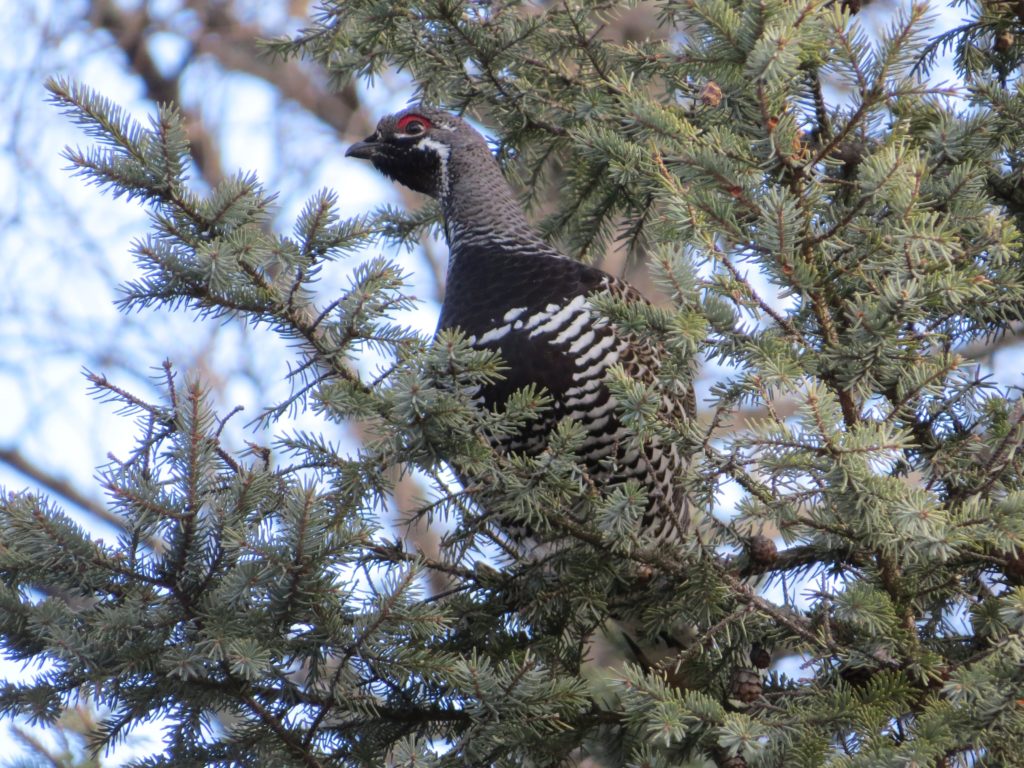 You want to know why so many people have trouble finding this bird?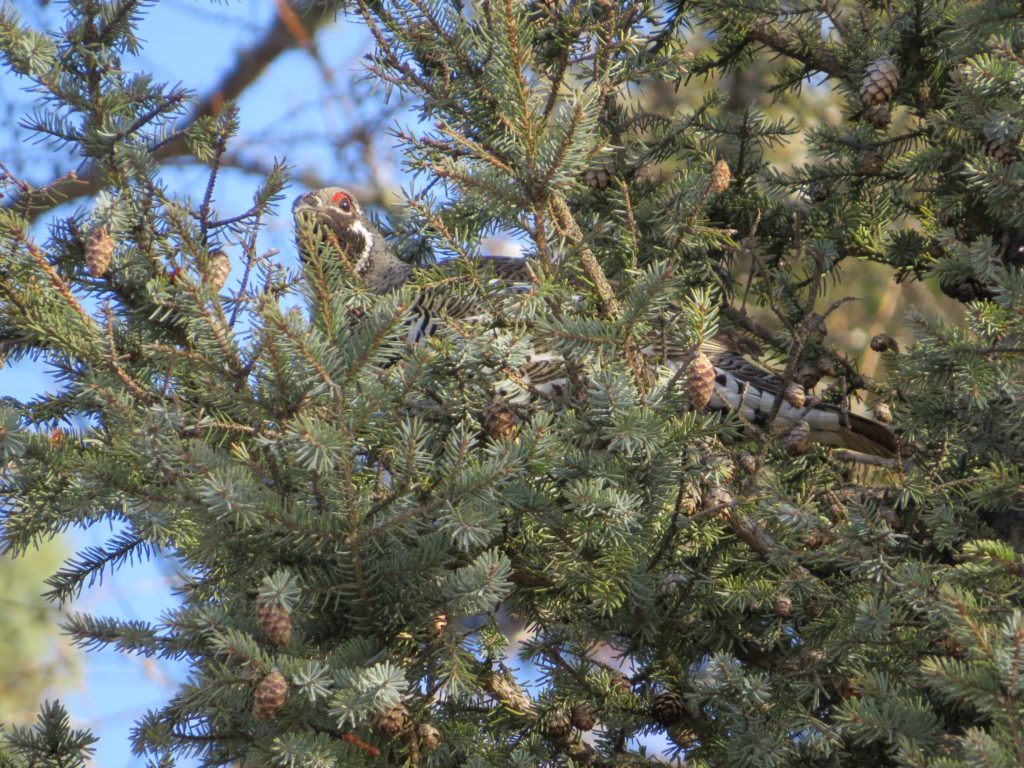 That is actually a fairly conspicuous shot.  There were times that it was so well hidden, camouflaged, and motionless at the top of this small tree that we would not have known it was there had we not just been observing it.  Only the slightest rustle of the boughs gave away its presence as it consumed the Black Spruce needles.  We were treated to full monty looks as well and could just not pull ourselves away…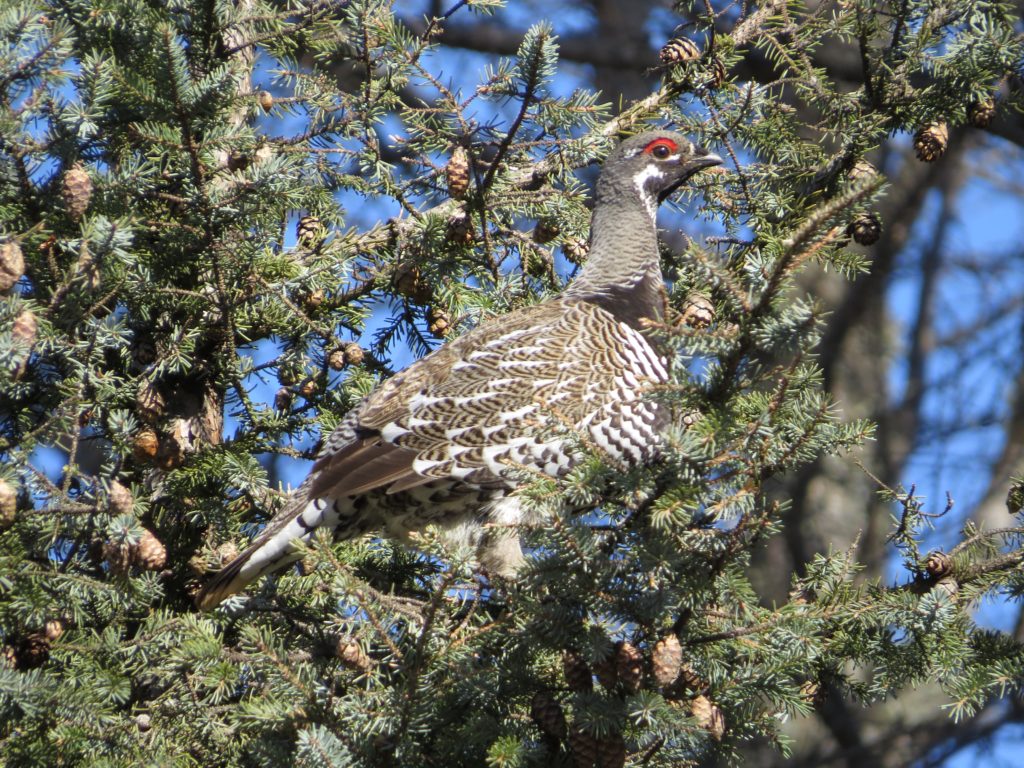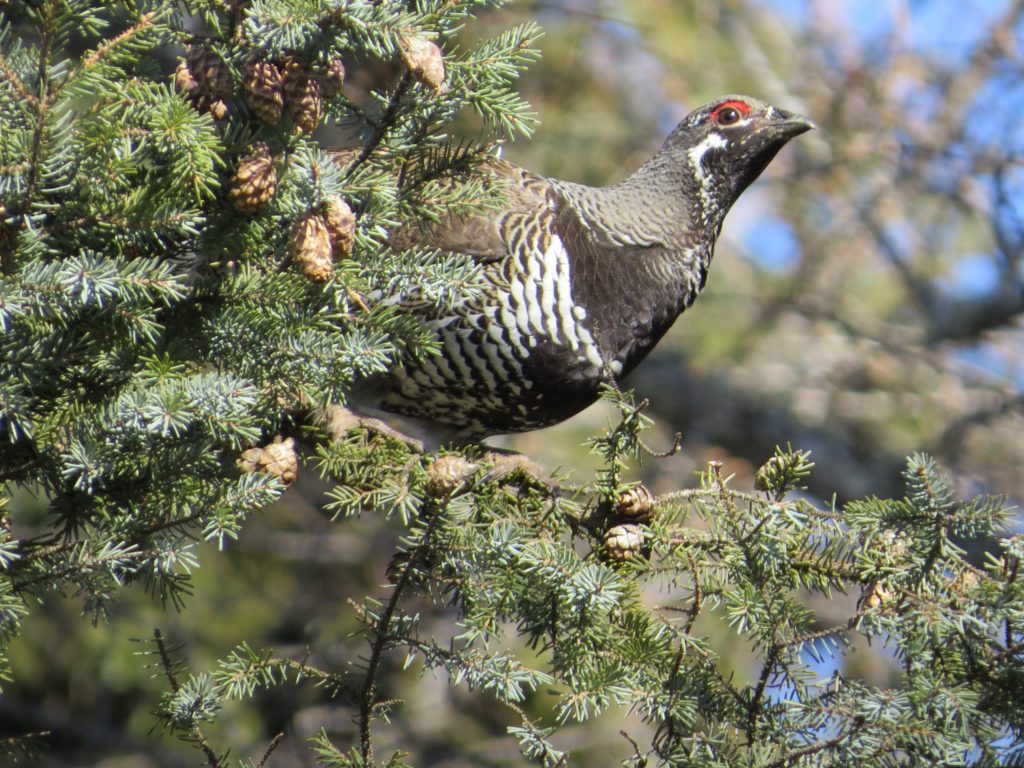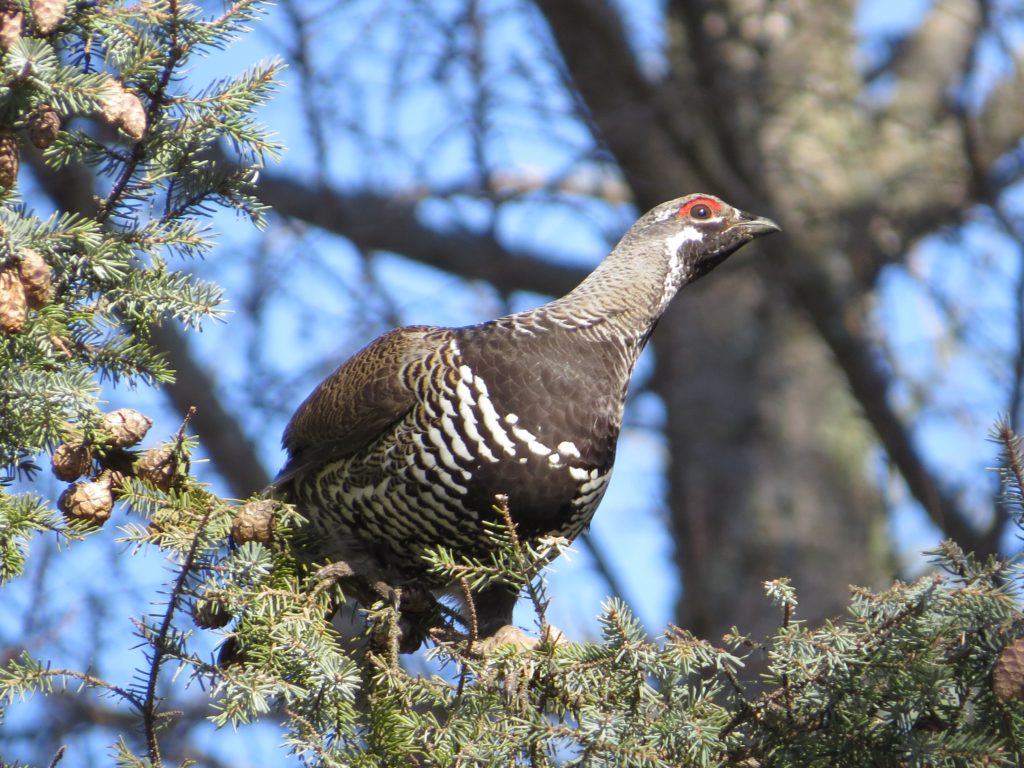 We finally managed to leave this incredibly accommodating bird and get back to our priority of lifer-searching. But one lifer and one day later, I was back on this road birding again just to see what I could see.  Though I started the day alone, I bumped into fellow birders Sparky Stensaas, Dee Kuder, and Julie Grahn.  At one point I was bushwhacking to join Sparky in the heart of the Spruce bog when the ground fluttered in front of me. Spruce Grouse–again!  This was much later in the day than the sighting the previous day, and the bird was not gritting out on the road.  I had stumbled upon it just relaxing in the dark recesses of the bog for the day.  Known by locals as the Fool's Hen, this Sprucie was not overly concerned about me and settled back down under his Spruce bough.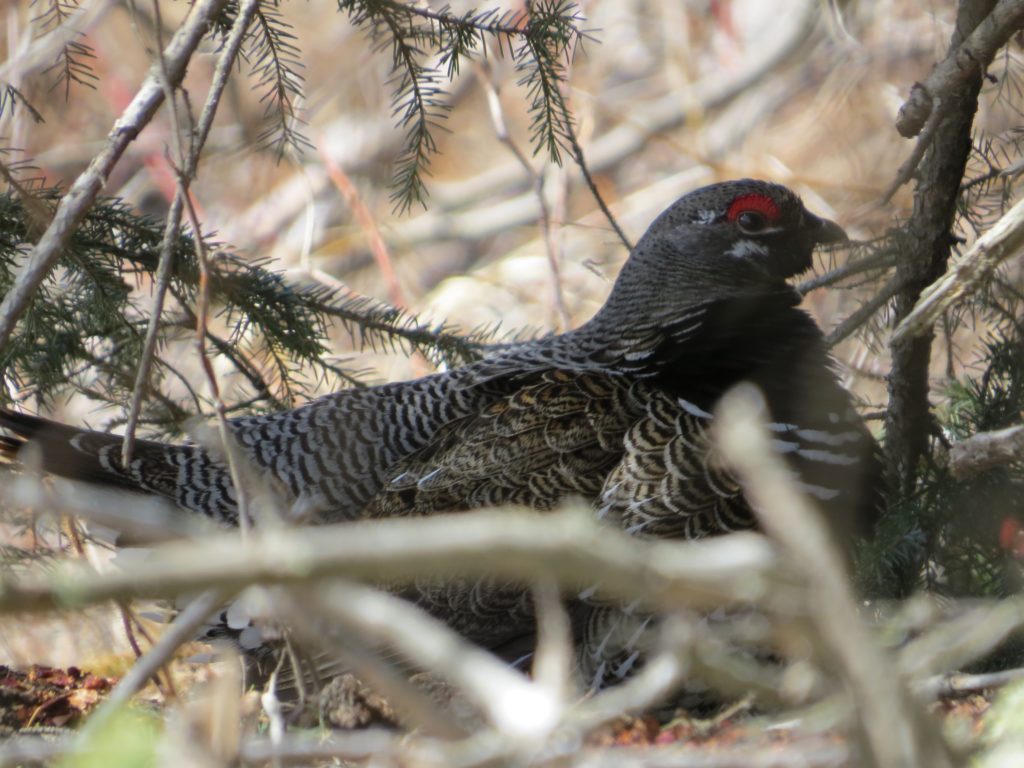 As I observed the Grouse, it began displaying!  While I quietly watched from 15 feet away, I spied a hen Spruce Grouse near the male.  She made little clucks that would cause the male to puff up and fan his tail straight up.  Then a third Spruce Grouse flew in and landed 20 feet up in a Spruce Tree!  This sound of the second one fluttering its wings also excited the male on the ground.  The birds and I were both in obstructed quarters which didn't allow for the best viewing, but I was eventually able to get in a position to better capture the displaying male.
I even managed to snag a quick video to better show this display:
As Sparky and I watched this bird, we realized that we were probably on the lek which was why there was so much activity.  The lek was a small, open area in the Spruce bog about 10 feet in diameter with an angled dead tree positioned in the center. Sparky described how the males will walk up the angled tree and do a flutter flight down to the lek to attract the females. As we continued to watch this bird, I spied the second male Spruce Grouse that had landed 20 feet above us in a Jack Pine.
This bird did not mind that we were standing underneath him, nor did the female mind when we eventually got into a better position to check her out.  We got to enjoy her taking a dust bath in the afternoon sun.  I'd say she cleaned up pretty nice.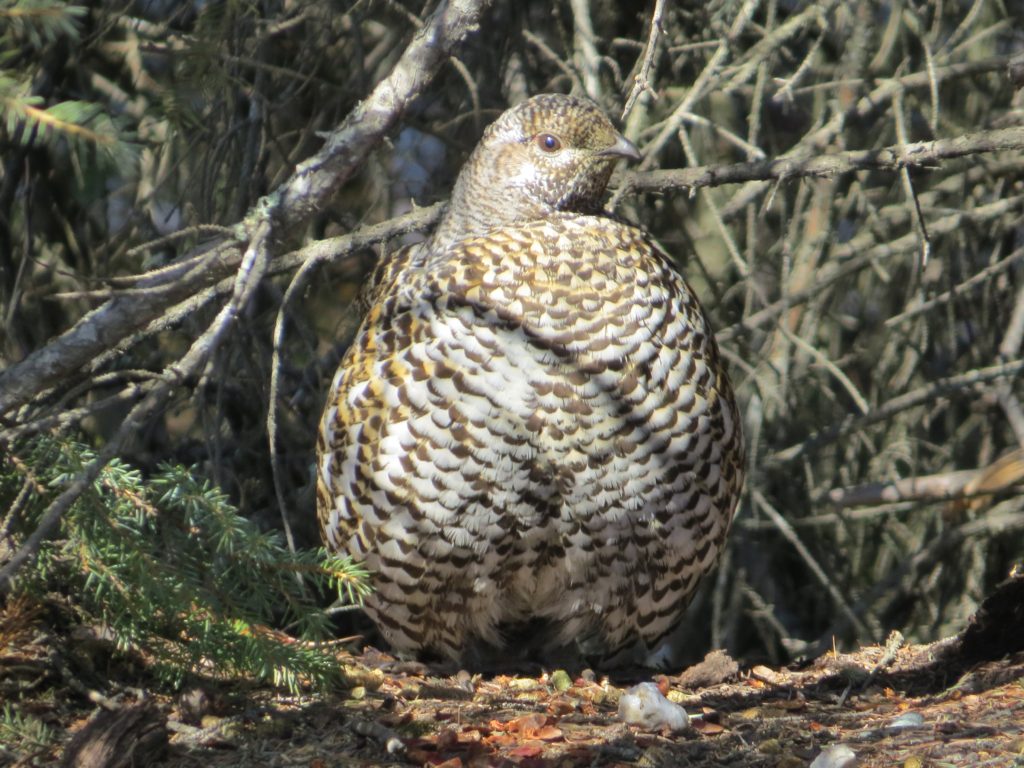 Each encounter I have with a Spruce Grouse is special and never taken for granted.  I am still awestruck by this bird and may have finally gotten my fill, at least for a little while. And now, NOW, that we have dealt with the horribly distracting Spruce Grouse, we can move on to that incredible lifer in the next post.