How is it that a hobby that can bring so much pleasure one moment bring so much pain the next? One minute we birders are on cloud 9; the next we are singing the blues.  It's a vicious cycle.  Why do we do this again?  IDK, but here's the sad/happy story of me chasing a rarity 2.5 times.
The parade of vagrants this spring/summer has been most impressive. One entry in the parade garnered more attention than the others–a state first Gull-billed Tern on Salt Lake which straddles the Minnesota/South Dakota border.  News of the Tern broke out late in the day on June 1. This was practically in the backyard for birding friend, Garrett Wee, and me, so we were on the scene immediately at daybreak on Thursday, June 2.  Garrett and I were no slouches on this search, checking the lake from both the MN and SD sides and even hiking to distant jetties and shorelines on the lake. No luck after looking for nearly two hours.  A Willet and this Sanderling were weak consolation prizes.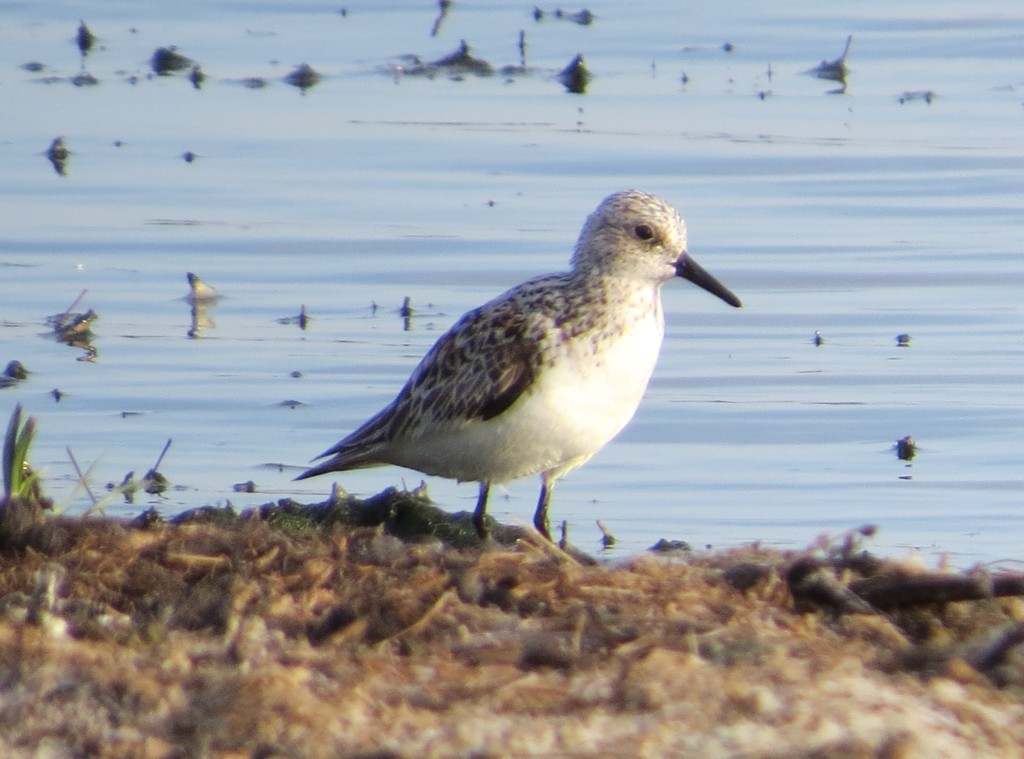 On the way out of Salt Lake I ran into Herb Dingman just heading in.  He, of course, was disappointed to hear my report but decided to look anyway.  I told him to call me if it showed before I got too far away. That call didn't come…until I was 15 minutes from home. Herb had seen it. I couldn't turn around; I had obligations at home before my parents came to visit.
On Friday, June 3, no one saw the state record bird despite standing vigil from dawn to dusk.
On Saturday, June 4, the Patagonia Picnic Table Effect was in action as the state's #1 eBirder Peder Svingen was in the Salt Lake area and turned up a casual Lark Bunting.  I decided to chase this state bird. My dad came with me.  On the way, news came in that the Gull-billed Tern had returned! I was elated as I was counting my chickens and Terns and Buntings before they hatched, thinking I would get two cool birds.
Dad and I had a cool find on the way near Lac qui Parle High School–a pair of Marbled Godwits.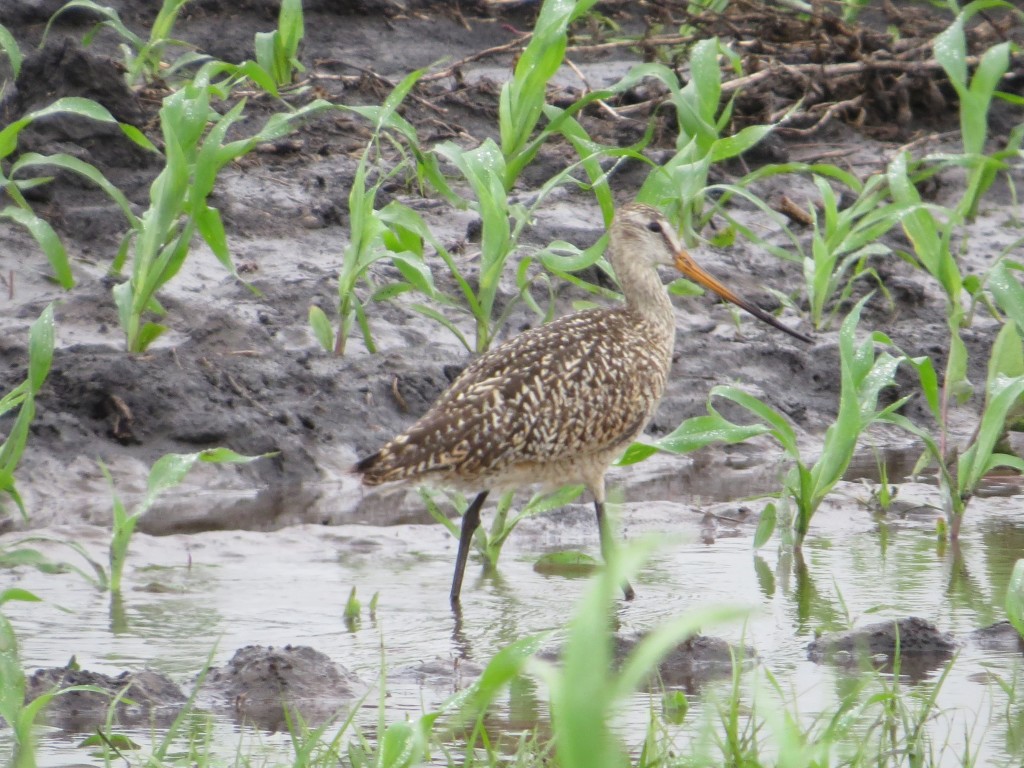 When we got to Salt Lake, the report was negative on the Tern. Ugh, not again! But hope was still alive for the Lark Bunting which was 8 miles away. Peder was still at the Bunting spot along with a swarm of others who were trying to relocate the Bunting.  No one was coming up with it.  However, I was informed by Jeff Stephenson that there were Henslow's Sparrows at this WPA!  I visited with Peder a bit, and when he found out I had never seen a Henslow's, he walked out in the grass with me to help me get visuals on this skulker that had eluded my life list so far.  It was incredibly nice of him since I caught him just as he was about to make the long trip home to Duluth after getting both the Tern and the Bunting.  Peder and I were successful.  A Henslow's Sparrow–finally!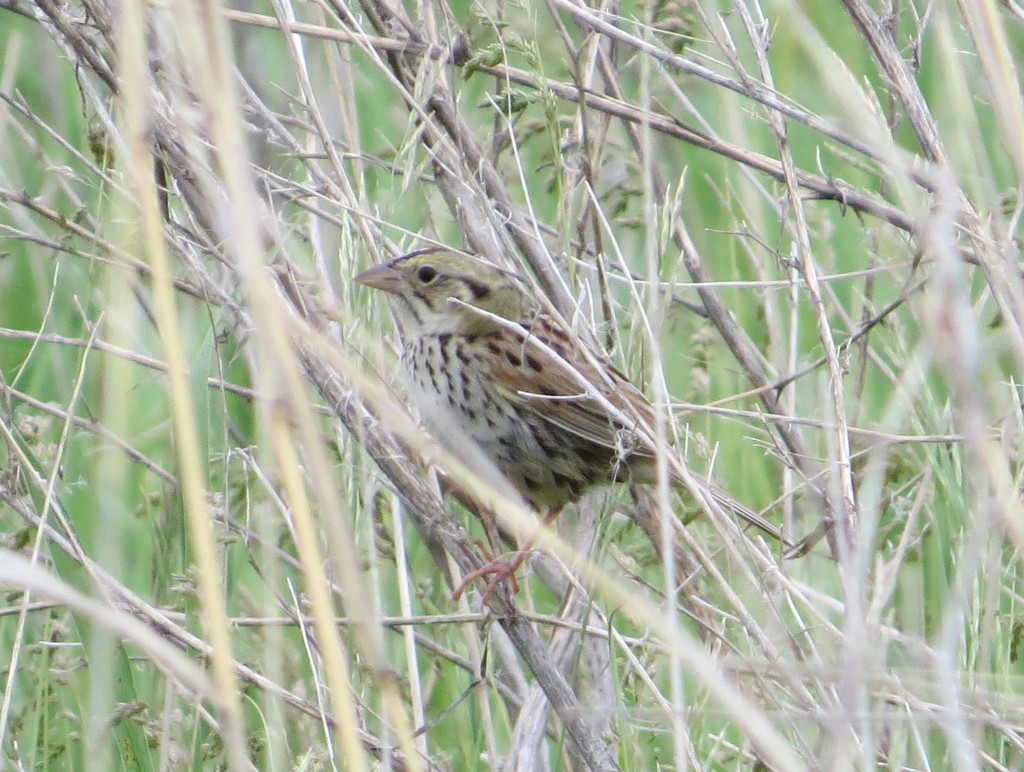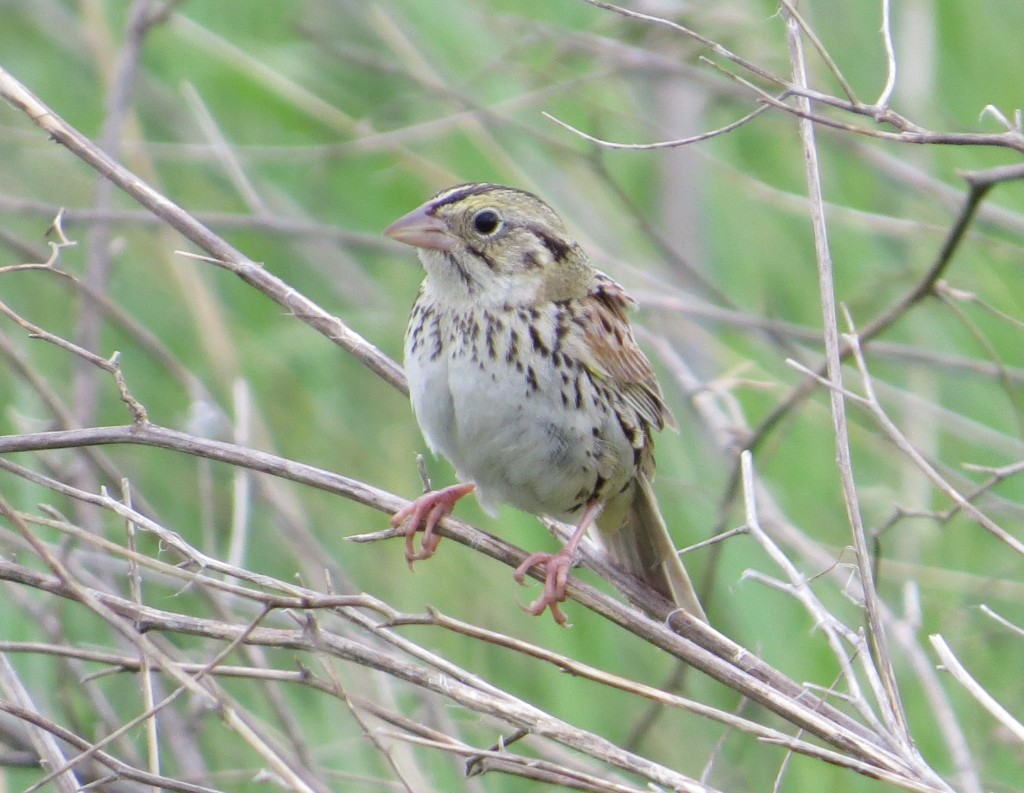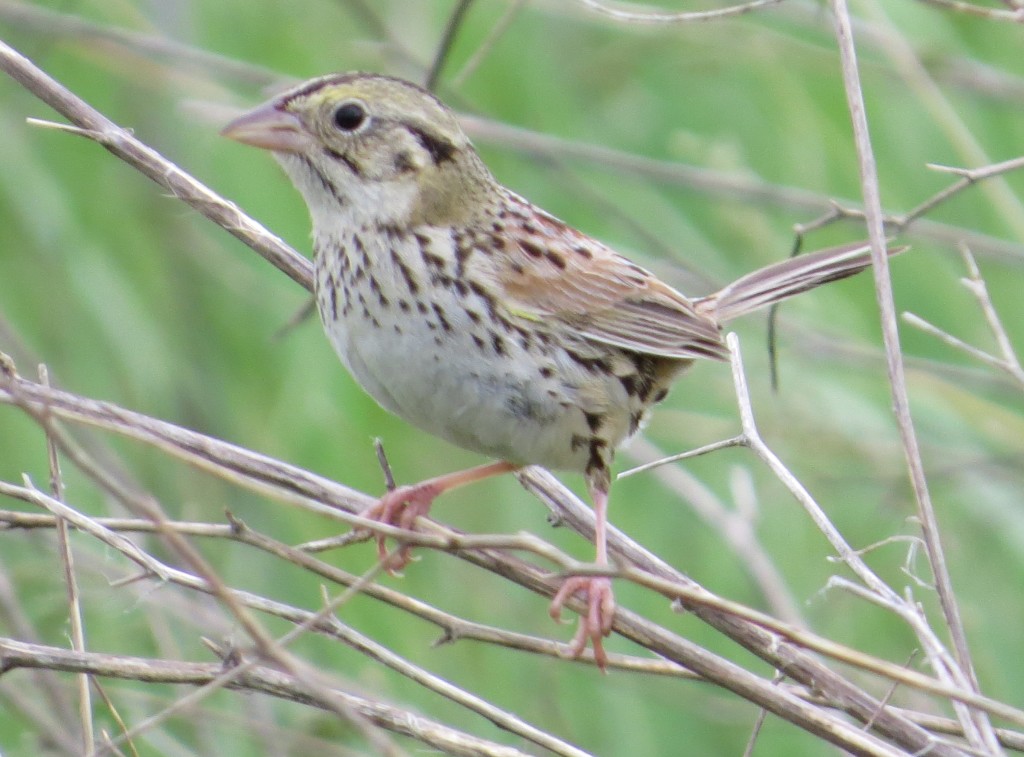 This felt great and made up for the double dip.  Dad and I continued to check Salt Lake for the Tern who did not keep any kind of regular schedule. We were not successful, but we did enjoy some of the native grassland birds, like Bobolink and Dad's favorite, Western Meadowlark.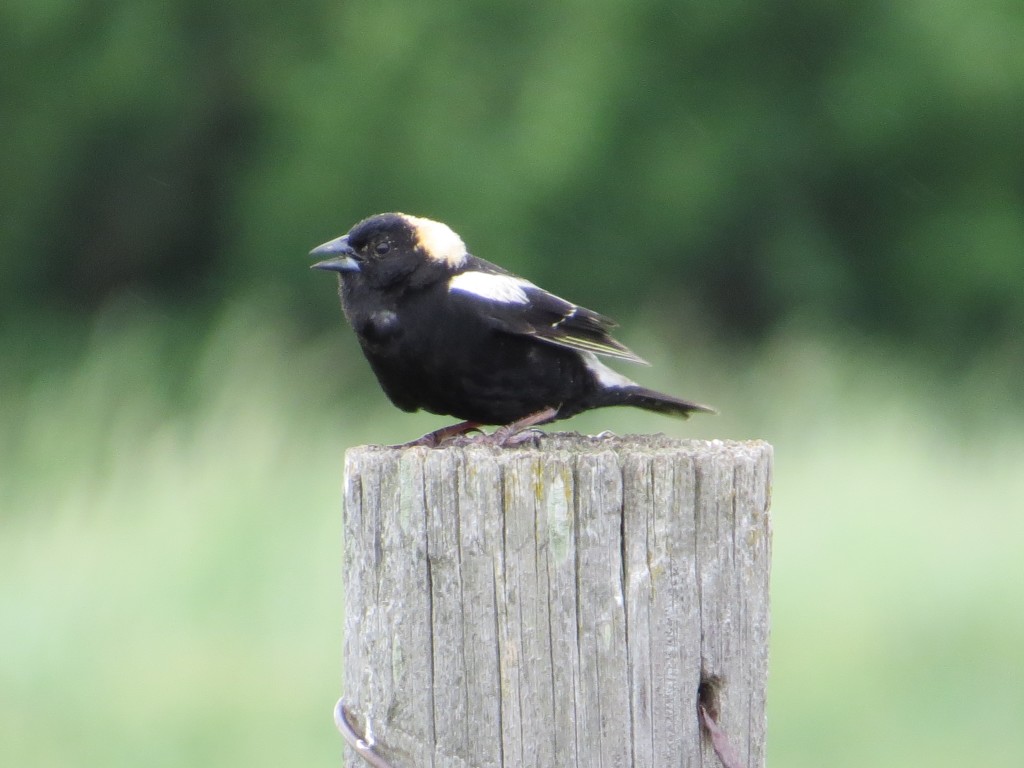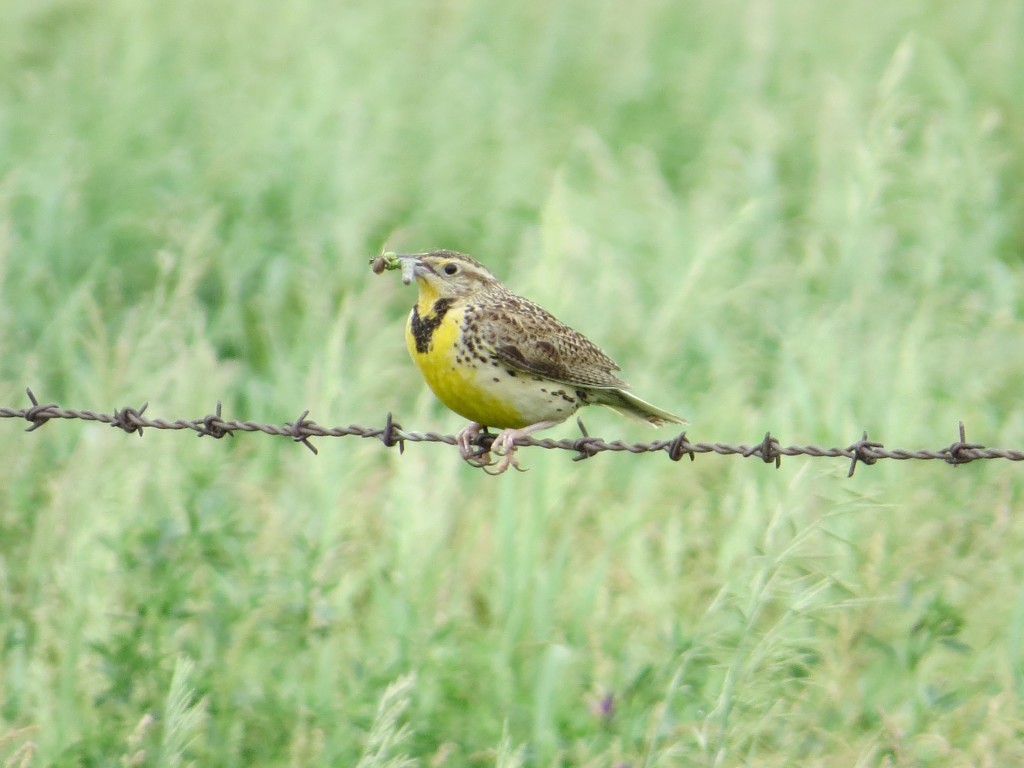 With no luck on the Tern, we decided to try one last time for the Bunting. Nothing. Grasshopper Sparrows are nice, just not LABU nice.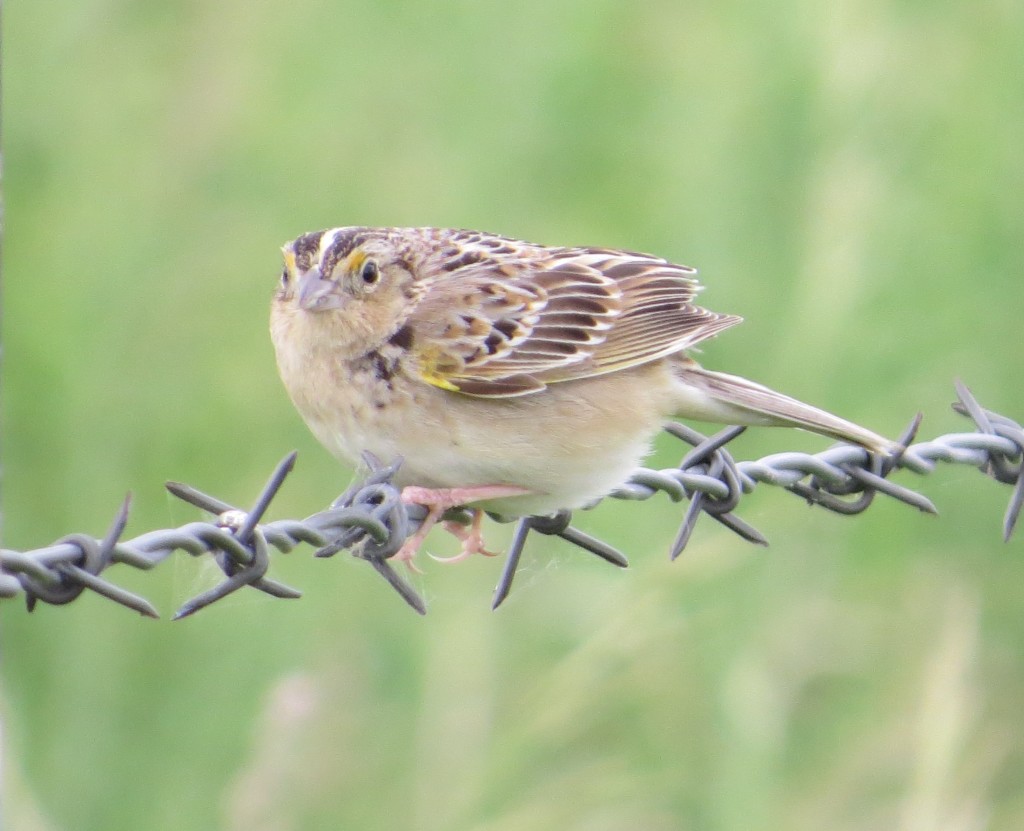 Just as I was pulling away from this area to head home, Randy Frederickson called me up to tell me he and Joel Schmidt had found the Tern a mile north of the Bunting spot on private land!  That was about 7 miles from Salt Lake! Elation again! As Dad and I raced up to the spot, we were about a half mile away when we saw a Tern-like bird fly across the road.  Could it be? Nah, probably just a Ring-billed Gull or Forester's Tern. I got to the farm site where Randy and Joel had the bird; Randy was on the road waiting for me so I'd know the correct driveway.  I hurried down to Joel who had the scope set up. I excitedly hopped out of the car only to be greeted with, "It just flew." Oh, the depths of despair in birding! Piecing the timing and the direction of flight together, Randy is convinced that I did, in fact, see the state record Gull-billed Tern fly across the road in front of me.  However, I didn't get a solid look to confirm the ID, so I'm not counting it.  It just wouldn't feel legit.
It was time to go home. Two dips for one bird. Ouch. I've double-chased before but always rebounded the second time around. Contemplating a third chase for one bird was new territory.
On Sunday, June 5, birders were fanning across the state on their way home from a successful chase for some and a heart-breaking chase for others. These birders were turning up cool things all over.  Luckily, one of those birds was found in my county thanks to Jeff Stephenson and Jerry Pruett.  The Northern Mockingbird is one I have wanted for this county for some time.  Dad also accompanied me on this fast break out of the house before church.  This one felt good even if it was too skittish for photos.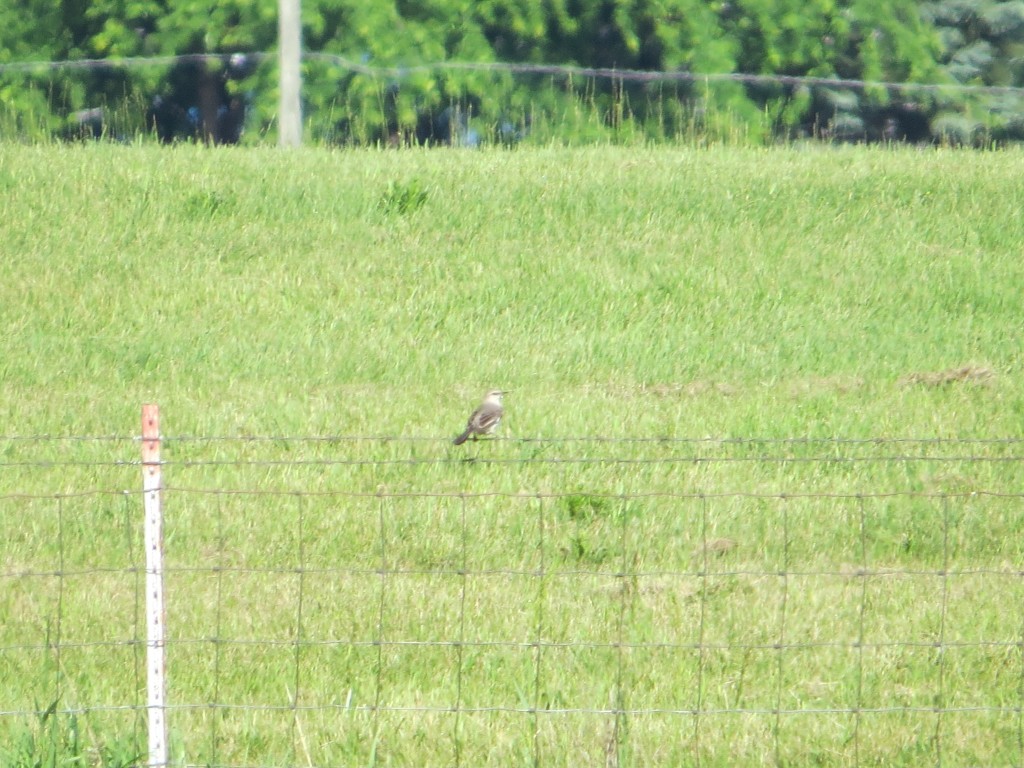 After church, the dreaded news came: the Tern had been re-sighted at Salt Lake.  I hemmed and hawed over going back a third time.  This bird had burned me bad.  Finally I gave in.  It is only 1.5 hours away. Dad and I hopped in the car for another chase.  This time I was smart about it, though. ABWCH reader, Tod Eggenberger, had been there all day, left to go home, and turned around once he saw the news. He was 30 miles away.  I asked Tod to keep me in the loop and let me know if this unpredictable, elusive bird were to give people the slip again.  Unfortunately for Tod, he missed it by 5 minutes before the bird vanished again forever.  Fortunately for me, I got the news before I reached the halfway point to Salt Lake.  I decided I would go that far in case there was positive news. There wasn't. So I turned around at the predetermined spot and cut my losses.  Take that, you stupid Tern!