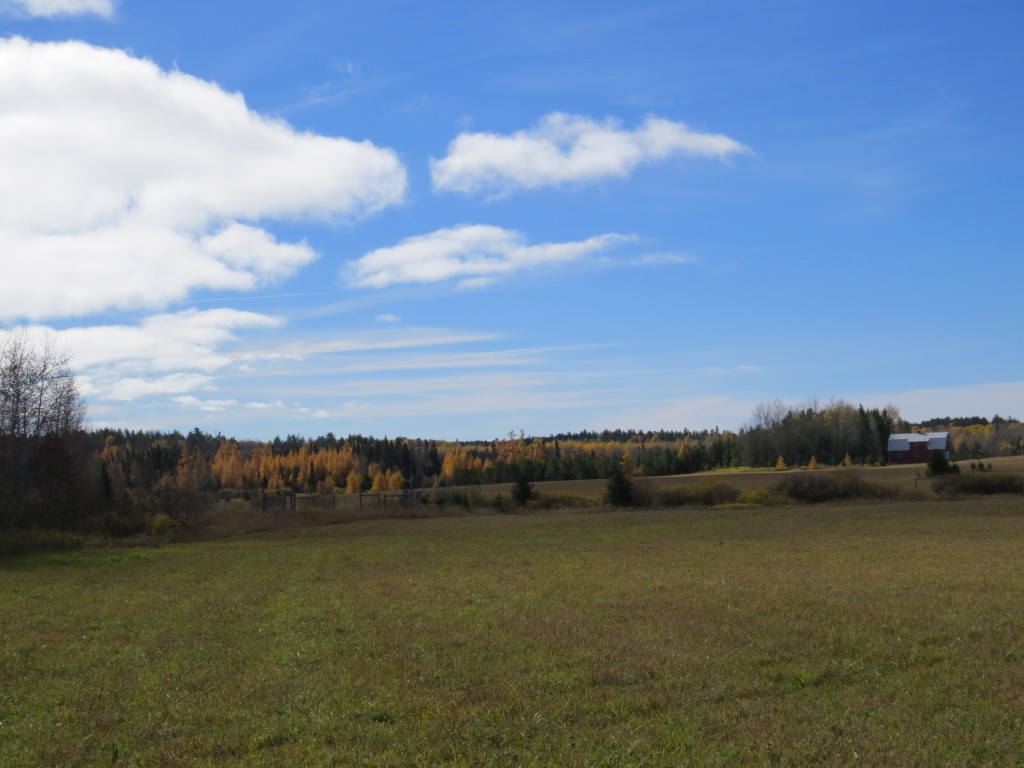 Last week we enjoyed an extra-long weekend due to fall break, so we made the 265-mile trek home to northern Minnesota to visit our families and enjoy the beautiful northwoods. Going up north is always a delight, but doing so in the fall is special treat.  The stunning colors, the perfect temps, and the sweet smell of decaying Aspen leaves all remind us of this great land in which my wife and I grew up.  Let's not forget the birds, though.  Northern Minnesota has its own species of interest that are not found in most of the state or the country for that matter. To that end, I had been coveting some recent pictures in my Facebook feed of Great Gray Owls in Tamarack trees in the Sax-Zim Bog.  The Bog is only 45 minutes south of my parents' place, so I usually try to hit it up each time I go home.
Since Great Grays are crepuscular, the best times to see them are in the hour of first light and the hour of last light. We arrived at Mom and Dad's in the early afternoon, but after a couple hours of visiting, Dad and I were headed south to try to find a Great Gray before dark. I never get tired of seeing this owl and the possibility of seeing them in the golden yellow Tamaracks was very appealing.  Tamaracks are a conifer found in boggy land, and their needles are green in the summer, turn gold in the fall, and then drop like the leaves of deciduous trees.  They are as fascinating as they are beautiful, especially when their fallen needles transform gravel roads to streets of gold.
Dad and I trolled up and down McDavitt Road several times at 5 MPH, scanning every snag and every possible perch for the Great Gray Ghost. This was the road where they'd been seen within the last week, so it was where we concentrated our search.  I was hoping to see an owl, get my desired shots, and then take some scenery shots to show off the yellow landscape of the Tamaracks interspersed with the vivid green of the Black Spruce. But, every possible second of remaining daylight was given to the search, and we were coming up empty.  I did stop to take a picture of a porcupine snoozing in a Tamarack.  Whether he's lazy or relaxed, I just couldn't resist the photo-op.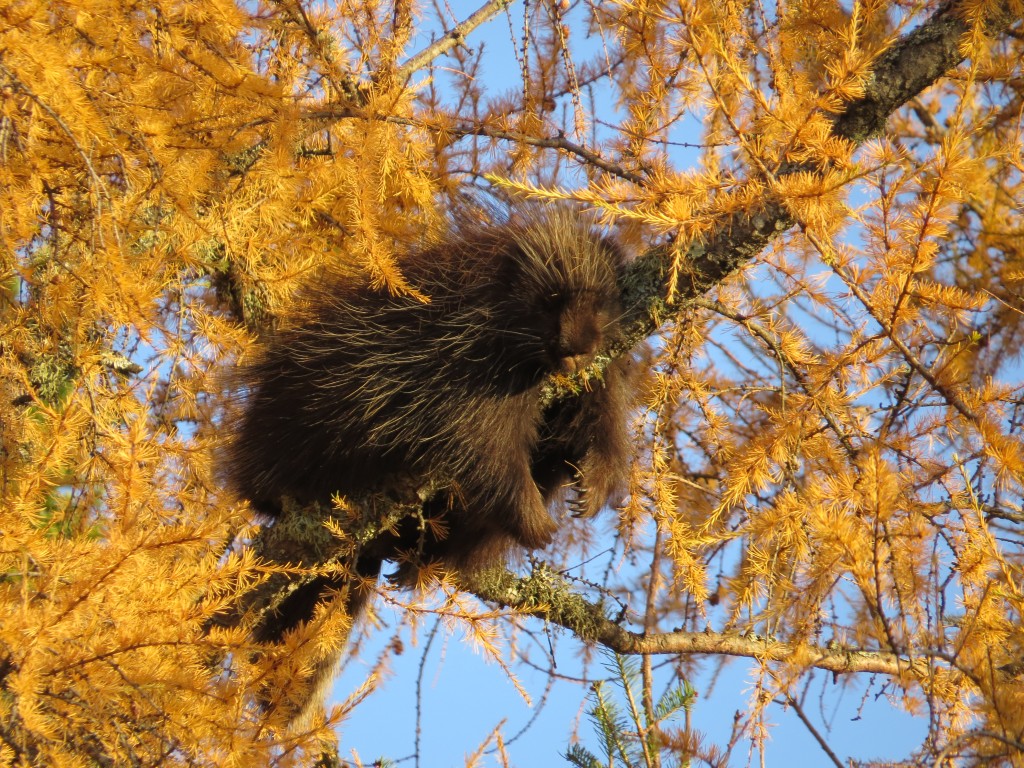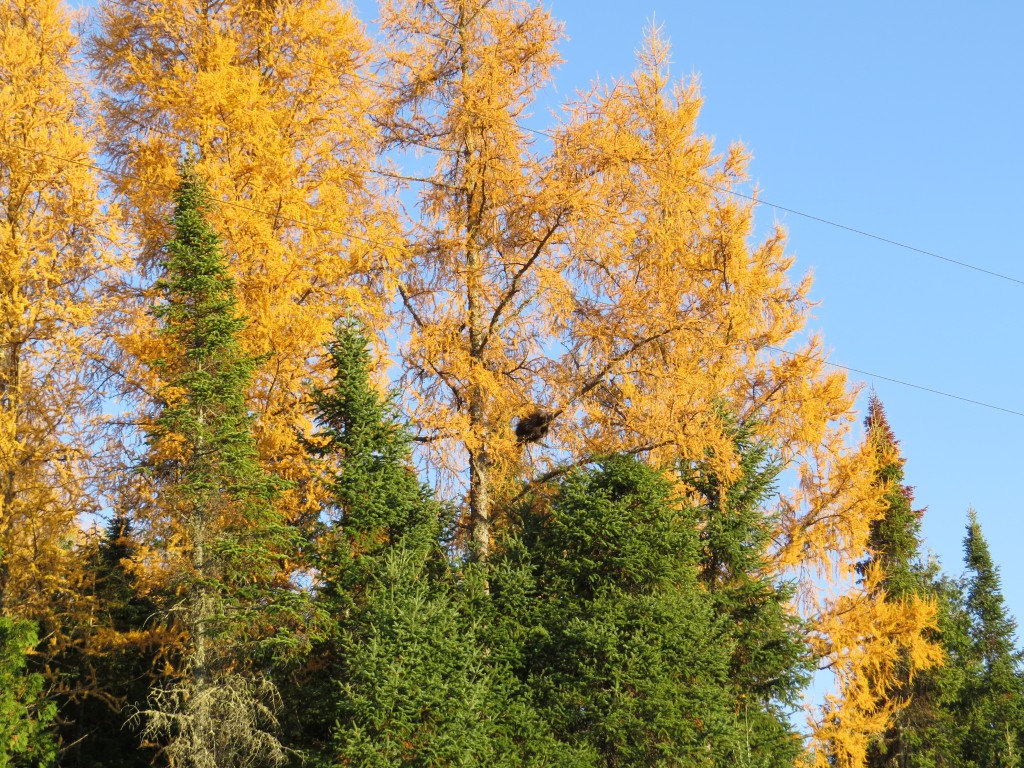 I'm afraid the porcupine was the only interesting thing we'd see in the Bog.  There were hardly any birds around, let alone any interesting species.  The next morning I continued my owl hunt closer to home as they have been found within 5 miles of my folks'.  I have yet to see one so close, but I'm determined! That determination will have to carry me forward because my luck was no different on this outing.  The birding was better than in the Sax-Zim Bog, though, as I found some Gray Jays and a couple of Ruffed Grouse.  The skittish grouse bolted when I popped up through the sunroof for a picture.
Speaking of grouse, my previous fall breaks in the northwoods used to be consumed with me pursuing Ruffed Grouse with a shotgun.  On the surface it may seem a bit of a contradiction that I'm a birder who hunts.  However, it is that interest in nature and wildlife that comes with hunting that helped propel me into this obsessive birding habit. Though I still hunt on a limited basis (just Ruffed Grouse and Ring-necked Pheasants), it is is not as interesting to me as birding, where I can experience the thrill of the hunt and the beauty of nature without the restrictions of seasons, state lines, and bag limits.  The thrill of locking eyes with a Great Gray is much more appealing. Maybe I'm just growing up.  When I saw the two grouse I wasn't even interested in grabbing my gun out of the back of the car.
Despite my shift into birding, I still have a young boy and old dog who very much would like to chase some game.  So one morning I took Evan and my Yellow-Lab, Faith, on a short walk on my parents' 80 acres.  Faith led the way with a vigor that belied her age (she lives for this), and Evan was several paces behind me.  We were hunting on trails in an area with young Aspens (about 10-15 years old).  It is perfect habitat that produces grouse every year.  This year was no exception as all of us, dog included, were startled by the pounding wings of our first grouse.  Though it was close, none of us saw it because of how thick the woods were.  That's how it often goes.  We soldiered on and hiked on a trail carpeted in clover, a favorite food of the Ruffed Grouse.  The surrounding woods here were young Aspen trees 4-5 feet high growing up and around the stumps and logs of the mature Aspen stand the was here just a couple years ago.  Going off trail would be an impossible task.  Anyhow, when I paused at a bend along the trail, there was an explosion of wings to my left from the thick young trees and tangle of downed logs. Two grouse rocketed out.  I could only see one and only for a split second because of the surrounding trees and brush.  I fired a couple of times but missed.  It didn't bug me.  As Faith was now investigating the scent of these birds (she was a little late) and I was contemplating the miss, a third grouse got up from the same spot!  Again, I only saw it briefly and fired the last shell I had in my gun.  No luck.  Ruffed Grouse are probably the most difficult game bird to hit on the fly because they live in the woods where your chances of hitting them are not as good as hitting the branches and trees they fly through.  To emphasize this point, a couple of colleagues recently returned from a grouse-hunting trip, and they had 55 flushes but only 3 kills.  I was not sad over the misses.  Evan got to see some grouse flush and watch me shoot.  He was happy.  Faith was doing what she was made for.  She was happy.  I didn't have any birds to clean and eat.  I was happy.  Plus it was really special to see three grouse together; they are normally found as singles.
My birding pursuits continued Up North.  Dad and I made a dawn raid on the Sax-Zim Bog one of the mornings, arriving there just as you could make out the silhouettes of the trees. The best we could muster were some Gray Jays in low light.  All was well – birding the Bog with Dad is a great excuse to visit and drink some coffee.  Seeing owls is just a bonus.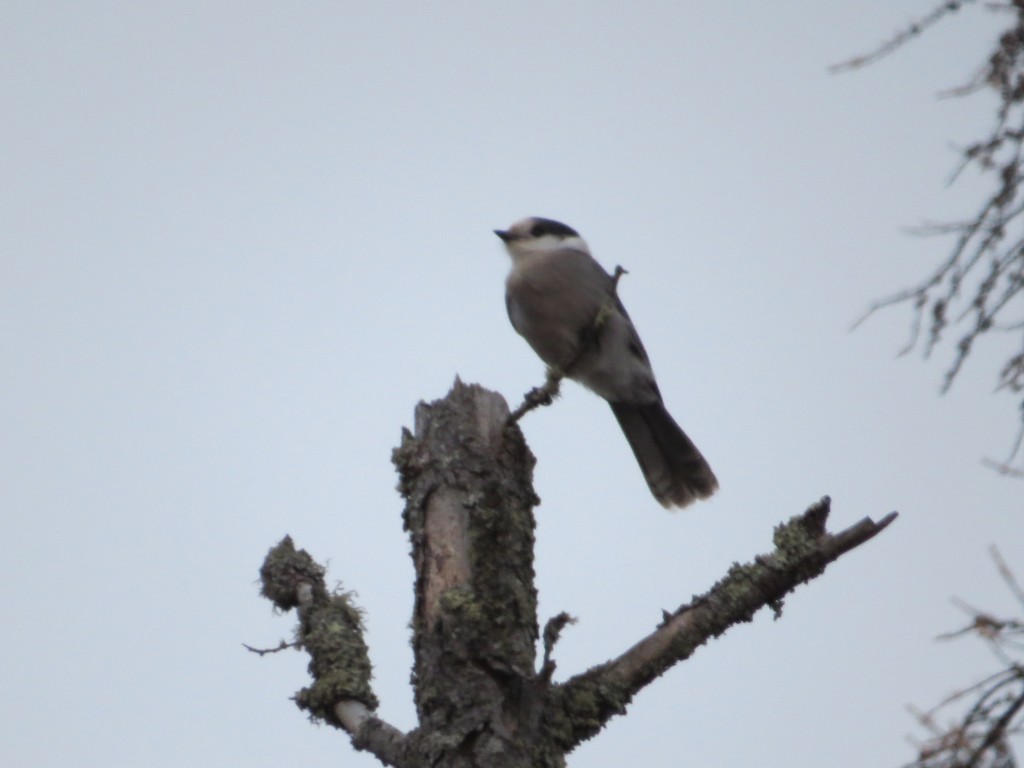 Gray Jays and Ruffed Grouse are some nice northern Minnesota birds, but I had a great find while I was out driving on my own one afternoon.  I had seen a couple of birds fly and thought they were ducks.  The habitat wasn't right though since there wasn't any water around.  I drove that way and was startled to see Black-billed Magpies!! I found four in all, and one even came out to the road to pick at something.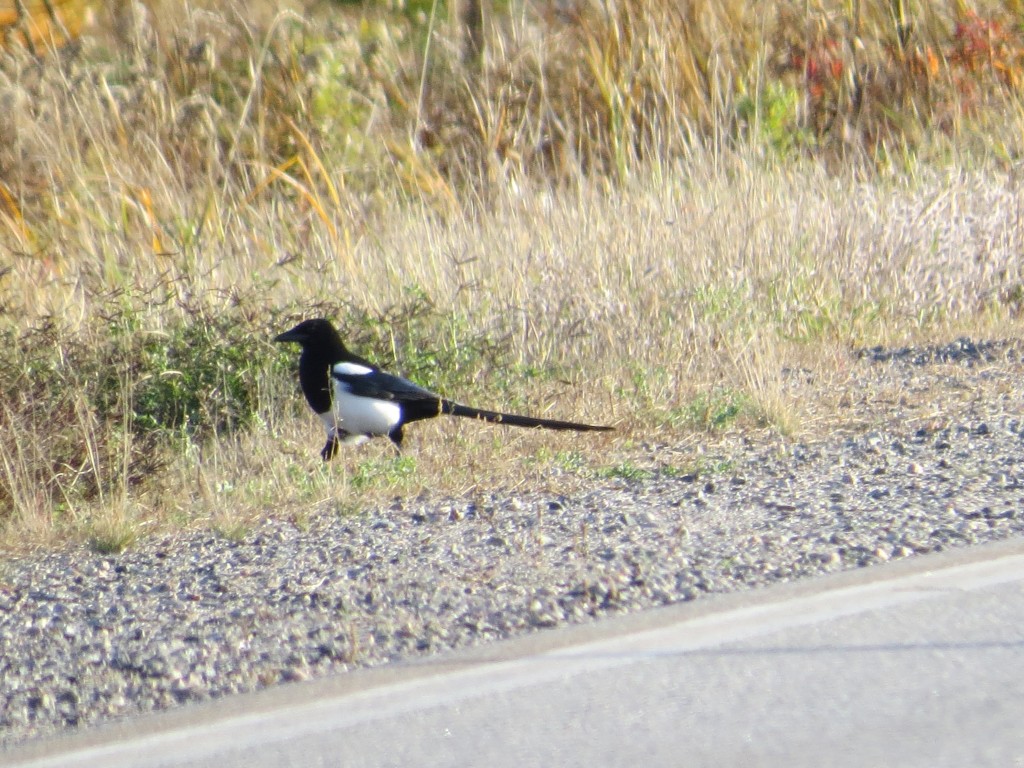 I remember when I first got into birding and being shocked that this cool bird could be found in Minnesota since I had never seen one in my life up to that point.  They are known to frequent the Sax-Zim Bog. In fact, the Bog is the furthest location to the east where this species breeds.  I have seen them in the Bog and in northwestern Minnesota, but I was astounded to find them so close to where I grew up.  It was hands-down the best find of the trip.
I had better bog-birding outside of Sax-Zim on this trip.  Perhaps the only thing the Bog has on the birding scene around my parents' place is the number of birders scouring it. Given the recent finds though, I might have to keep up the lone-rangering.  When I finally find a Great Gray on my parents' road, it will be all the more sweeter because it's close to home far from where birders trod.  The hunt will resume at Thanksgiving, and I can't wait.