Joel emailed today saying he had two Golden-crowned Kinglets in his yard.  This was a bird that Evan and I have not yet seen, and I had asked Joel to keep me in the loop on any he found.  Joel suggested going birding around places with water to try to find these kinglets, such as the cemetery on Foot Lake, Berguist Nature Area, and Robbins Island Park.
We started at the cemetery.  It was pretty dead there (pun intended), but we did see some bird activity. We never bumped into our target, though. Evan spent more time reading grave markers and asking questions about where bodies were buried.  He was creeped out when I told him we were walking above buried people.  What struck me while walking through the cemetery was the number of recent dates on tombstones; death is a constant.  It was particularly sobering to see that one man was born just four days before me. I was reminded of the brevity of life and the importance of living to the fullest. That's why I am thankful for this birding hobby to be able to spend so much quality time with Evan and do spur-of-the-moment adventures. That said, when I'm gone I do not want a laser-etched image of binoculars or some bird on my tombstone.  I found those type of stones to be incredibly sad.
Despite the numerous reminders of our expiration, the cemetery itself was absolutely beautiful as the trees were adorned in beautiful fall colors against the backdrop of the bright blue sky.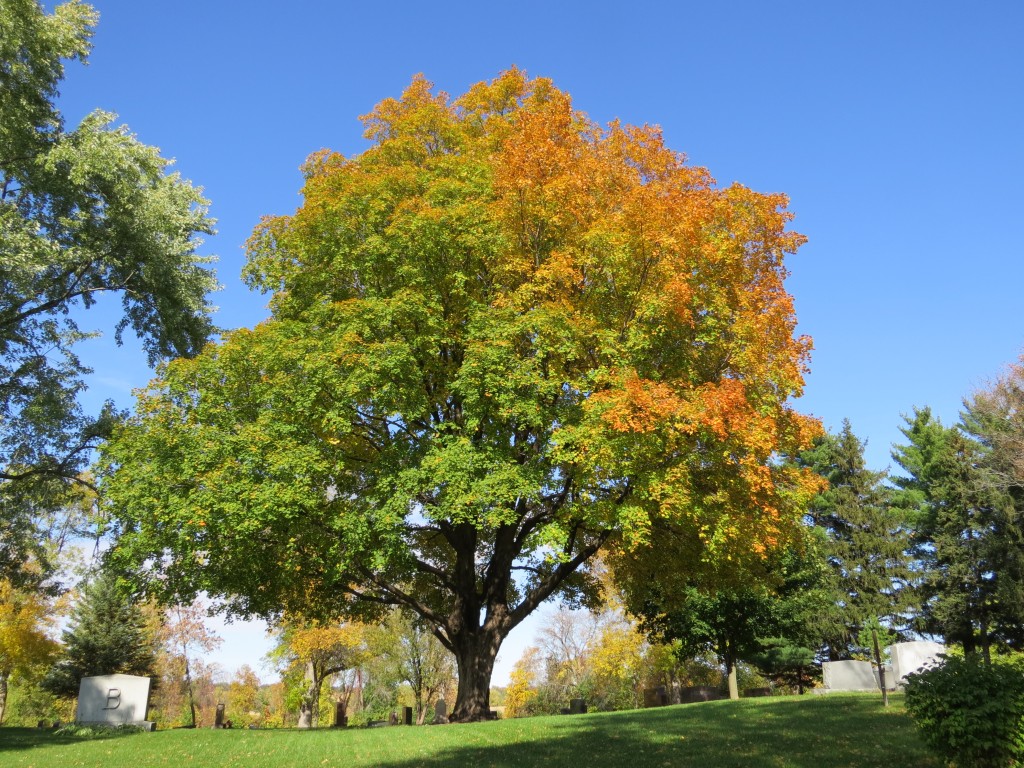 After leaving the cemetery we stopped at Berguist Nature Area for a quick stroll down the loop path.  There wasn't much bird activity at first, but just before we left I spotted a Blue-headed Vireo! This bird has eluded us continually.  I was fortunate to see it over a month ago and another time since, but it took me five months to find it. Evan has never seen it.  Additionally I have never gotten a picture.  Fortunately on this day I was able to point it out to Evan so he could add it to his list.  I also got a recognizable photo of this bird.  I'd still like a better one.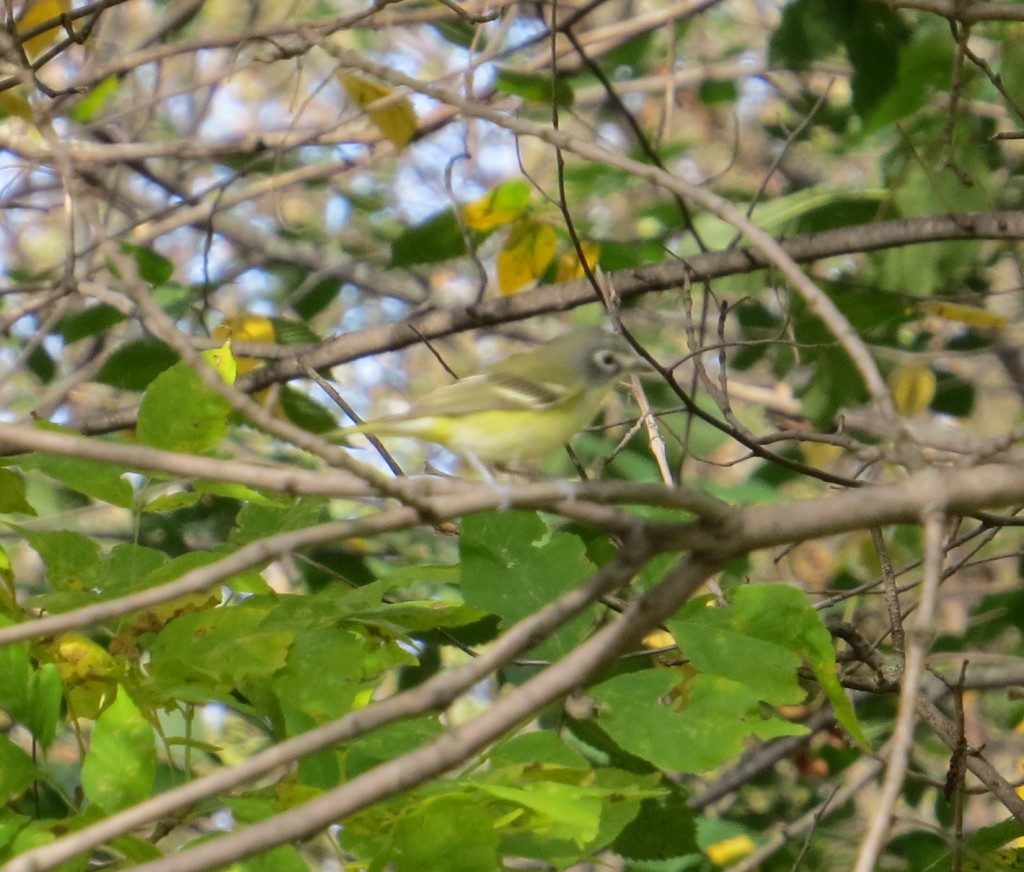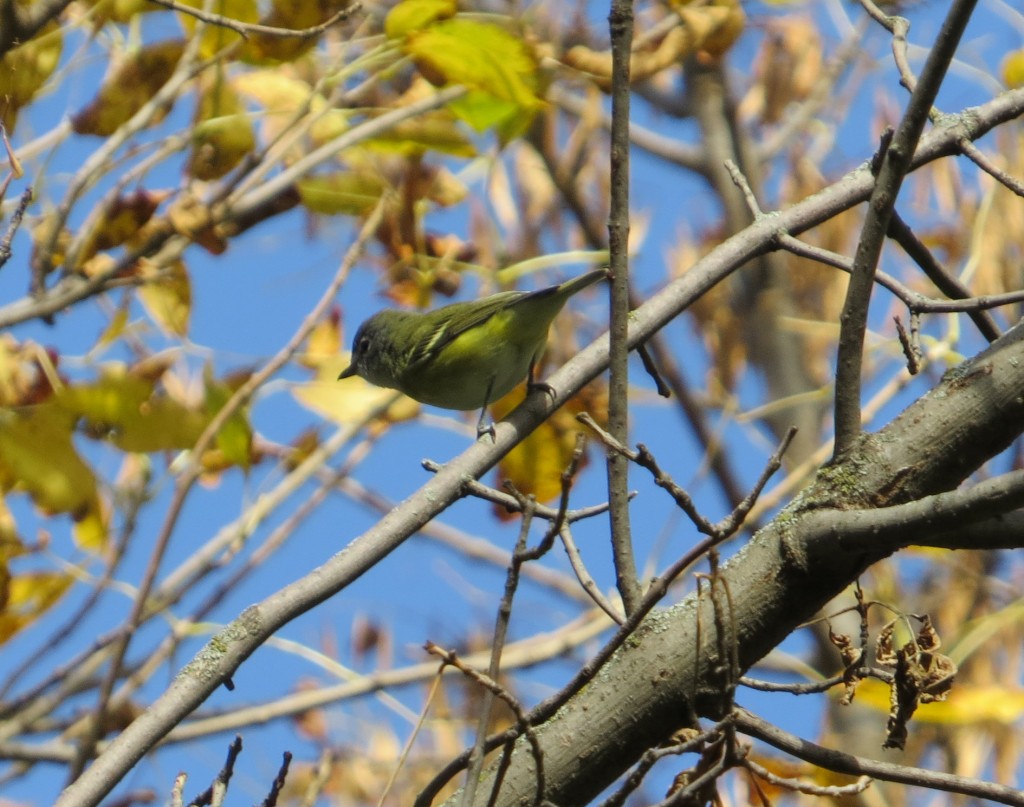 We saw many other great species of birds at Berguist including Downy Woodpecker, Hairy Woodpecker, Northern Flicker, Wood Ducks, Eastern Phoebe, Ruby-crowned Kinglets, White-throated Sparrows, Lincoln's Sparrows, and a Song Sparrow. I couldn't get over how much activity there was on this fall day.  No, we didn't get our target, but it was nice that Evan got another lifer.  Plus it was an absolutely gorgeous day to be out.