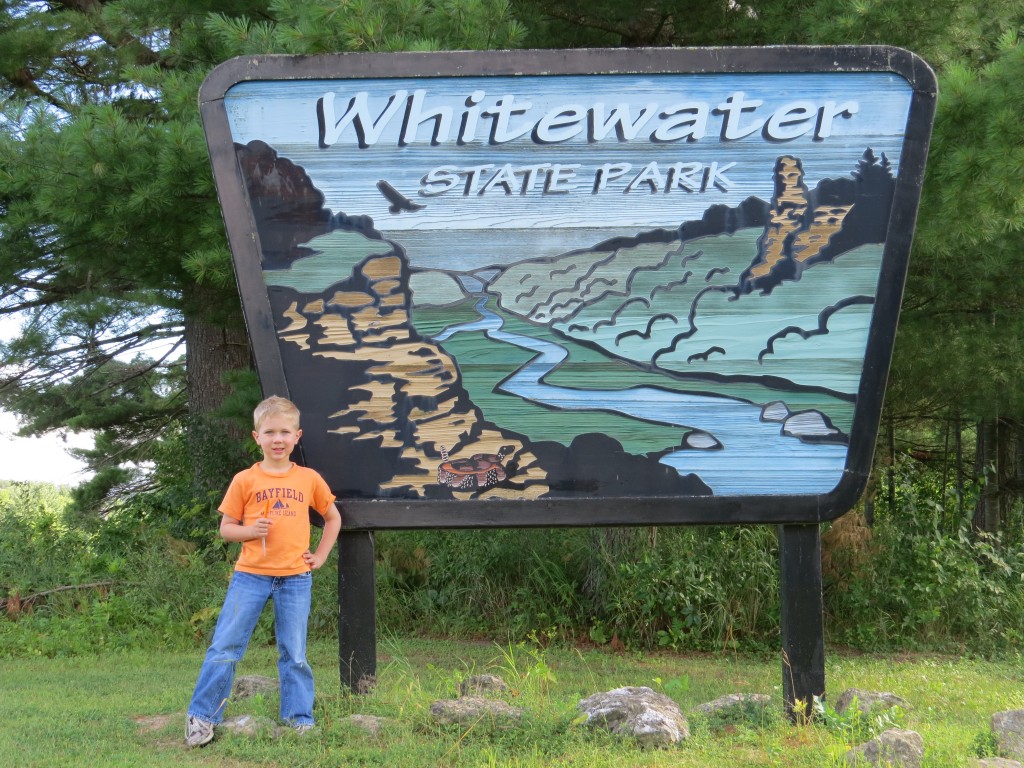 It is really quite crazy how certain events can unfold and line up to create a birding trip that seemed as if it was destined to happen.  That was the case on this most recent one-night adventure that Evan and I took to yet another state park.  While it may appear we fly out of the driveway and head off to a distant land for any old bird, that simply isn't true.  If it was, we would be on the road every day because there are a lot of birds in Minnesota that we haven't yet seen. But I recognized this latest chase as being a very rare opportunity that in all probability would not happen again.
Before I go into the details of the chase, it's important to build the background for this latest story.  It started 14 years ago at the University of Minnesota-Morris when I met Malcolm – someone who shared my enthusiasm for mathematics and a different sort of birding.  Malcolm and I were both avid waterfowl and upland game hunters who quickly found ourselves sharing a jeep or a canoe as we hunted the birds of the prairie pothole region of western Minnesota.  Though we became roommates, we eventually lost track of each other after college.  That changed this winter when I posted a bird photo to a Facebook birding page asking for identification help.  One of the people who commented was Malcolm!  We reconnected online and mutually discovered we had both gotten into birding in recent years.  It was a fun discovery.
On one of our first bird chases, when we went after the Painted Bunting in Aitkin, I ended up searching for the bunting right alongside some of Malcolm's birding companions.  As we corresponded about the small world of birding and the sport of chasing, Malcolm planted a seed in my mind when he said there was a Yellow-throated Warbler taking up residence by the Nature Store at Whitewater State Park.  He said if we felt like chasing it, we were welcome to stay at his house which was only a half hour away from there.  At the time, I didn't know a Yellow-throated Warbler from the dozens of other warblers I hadn't yet seen.  I think I had only seen a few warblers by that point. I didn't realize that the Yellow-throated Warbler is a special find in Minnesota; this bird's range is in the southeastern part of the country.  They are rare strays here.  In fact, this particular bird was a first for Winona County.
As spring and summer rolled on, we had racked up the warblers.  Last time I checked, our warbler list grew from just a few species to 26.  Any regular reader knows that warblers are the birds I enjoy most.  With each new warbler found, the desire for the rare warblers increased – hence the trip to Oberg Mountain for the Black-throated Blue Warbler or the trip to Lyon County for the Cerulean Warbler.  Now I was eyeing up this Yellow-throated Warbler and trying to find a way to justify another bird trip to see it. After all, it was four hours away to Whitewater State Park.  I tempted myself to go on this trip by emailing Malcolm to find out if that bird was even still present. Malcolm responded that he hadn't checked for over a month, but he showed me how I could query the MOU database to look up other birders' reports of sightings to find my answer.  I also learned through our correspondence that he was moving to Kansas City in mid-August.  The window for going birding with an old friend was closing fast.  Besides the fact that we had a limited time to meet up with Malcolm, we also had to worry if the bird was still around.  Then, if it was, we had to consider that the warbler would be heading south soon as fall migration starts near the end of summer for this species. I discovered from my queries, though, that this warbler had, in fact, been consistently active all summer.  It was there as recently as July 20.  Many of the reports said it was right in the vicinity of the Nature Store and was singing loudly on territory and easy to find.
So the bird and birder were still there, but could we go?  We've traveled a lot this summer and were scheduled for another trip the last week of July to Madeline Island with my family.  At some point I had to start restricting myself.  But then a turn of events made the Whitewater trip more probable.  Marin's Hand, Foot, and Mouth Disease forced us to cancel our trip to Madeline Island.  Now there was a little more freedom with time and money to be able to go after the Yellow-throated Warbler.  After Marin started recovering, I became ill for a couple days.  By this time I was wondering if we were too late for the warbler.  The end of July is getting really late to find them as they typically don't sing as much on territory since they are busy taking care of their young.  If you can't hear a bird this time of year, chances are you won't find it.  But then I got a welcome email from MOU-Net on July 25th in which a person reported that the bird was still there singing loudly.  It was go time.
Not only were we going after a rare warbler for Minnesota and seeing an old friend, but we were headed to another state park.  This means one thing for Evan: a new patch for his ruck sack.  On the day I decided to head off to the southeastern corner of the state, I called Whitewater to find out if they had any camp sites available.  I knew it was an extremely popular park, so I was worried.  It turns out they only had three left out of nearly 70.  Our plan to leave after lunch was moved up to 10:00 AM.  The decision to go was made so fast that I only emailed Malcolm to tell him what we were doing.  I didn't know if he would be able to join us, but I hoped it worked in his schedule.  En route he replied to me saying he would like to go birding with us and could even help us find some of our secondary targets that were southeastern Minnesota specialties.
Once we got near Rochester, I called the park again – no vacancies! No! I anticipated this, so I went to plan B which was Carley State Park – a non-descript state park 8 miles from Whitewater.  From touring it 10 years ago with Melissa, I knew this place wasn't somewhere I wanted to camp.  Because that's all it is, a place to camp.  There is nothing special about the park unless you want to play Bocce Ball or Croquet on its one picnic ground area. Whether we liked it or not, we had to race to get there because Carley only had four sites open.  Thankfully there were a couple still open by the time we arrived.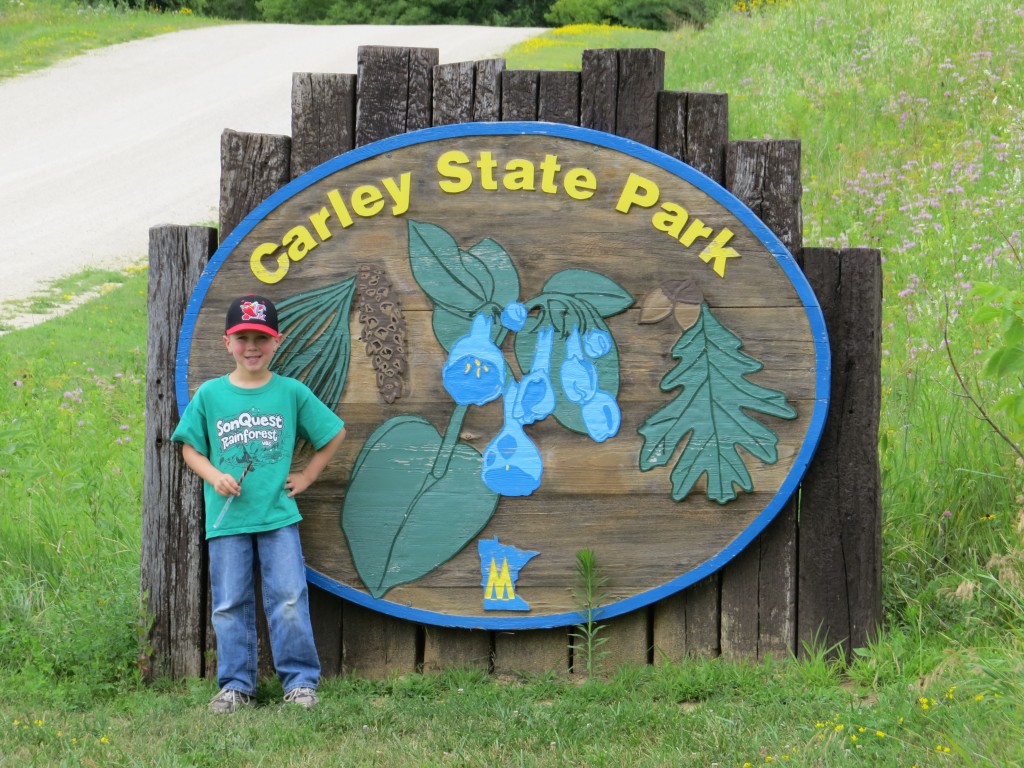 This created a patch dilemma since our rule is that we have to spend the night at a park for Evan to earn that park's patch.  I was hoping it would be the Whitewater patch since that's where our target bird was.  I consulted Melissa, and we concurred.  We'd override our rule and make it a two-patch trip.  After all, Whitewater was where we were birding, and I know we will go back and camp there someday. The beauty of these bluff lands is amazing.  The park is nestled at the bottom of the Whitewater River valley surrounded by very large bluffs or mini-mountains. The Whitewater River runs right through the campground and has the feel of a mountain stream – complete with ice-cold, crystal-clear water and rainbow trout. You'll forget you're in Minnesota if you ever visit.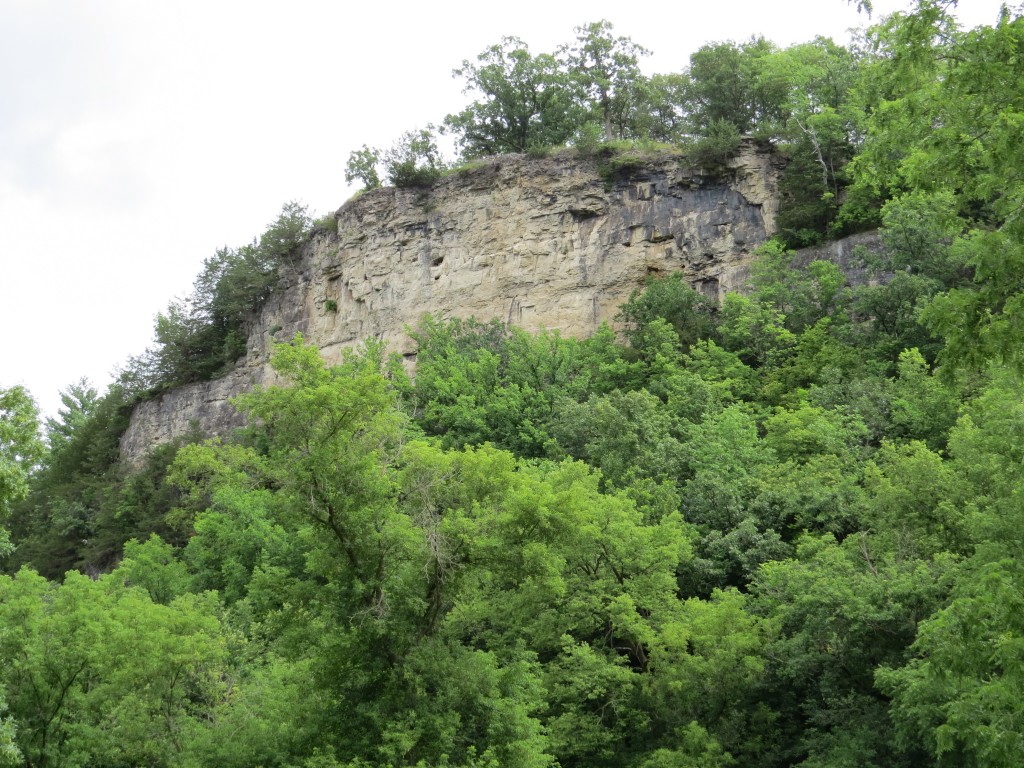 Once camp was set up, we went to Whitewater to check things out.  We listened for the Yellow-throated Warbler at the Nature Store.  Nothing.  I was secretly hoping to check it off right away to take the pressure off.  Well, morning is the best time to find any bird, so hope was not lost even if it was diminished a bit.  We went back to Carley to have supper, work on Evan's Park Naturalist workbook (something that when completed earns him a patch from the Minnesota State Parks system), play some cards, and go to bed.
We woke up early to get over to the Nature Store parking lot before our meeting time of 7 AM with Malcolm.  I was hoping we'd hear our bird while we waited for Malcolm.  Nothing again. Were we too late?  Did the recent drop in daily temps force this southern bird to leave early?
Malcolm showed up on time, and it was a lot of fun to reconnect and visit while we looked for this target bird.  After spending some time in the parking lot, we ambled over to the adjacent picnic grounds toward the river.  There was still no sign of the bird.  It was now becoming worrisome.  After nearly an hour we decided to go after another warbler that Evan and I needed that was a reliable find at this park – the Louisiana Waterthrush.  We hiked along a trail that had us go next to and criss-cross the Whitewater River which was more like a small creek the further upstream we went.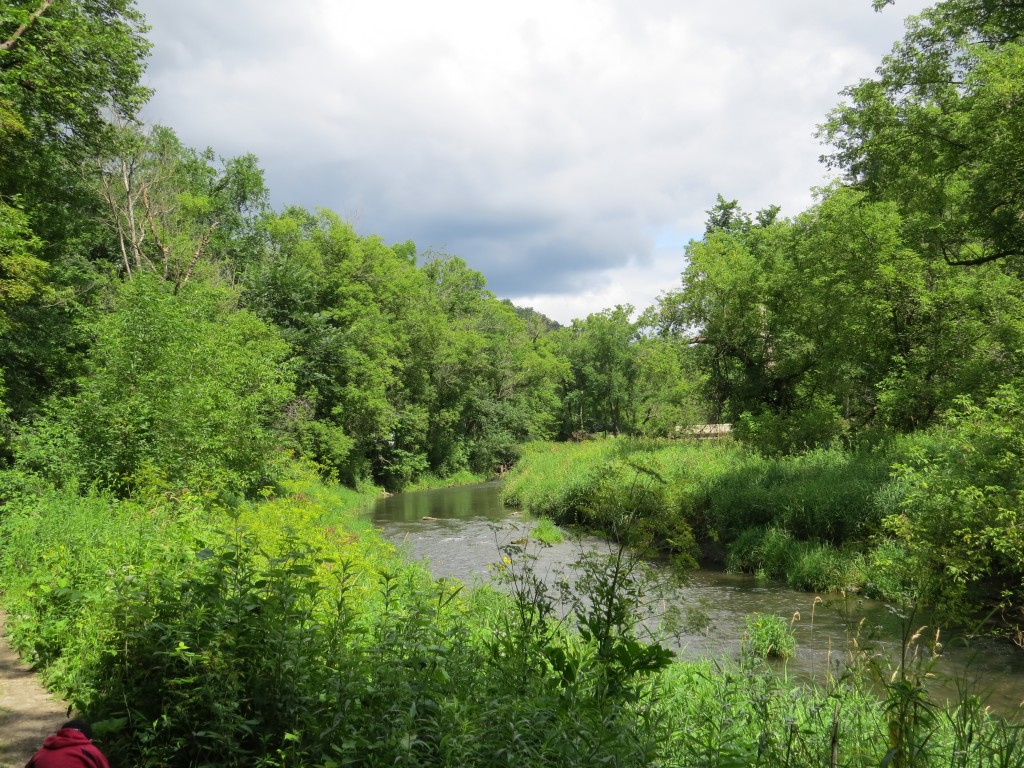 As Malcolm and I discussed careers, life, and birds, Evan would run ahead looking for trout in the stream and occasionally throw rocks.  It was a pretty relaxed walk even though we were after a specific bird.  We never did find our secondary target, though. Now we had struck out on two birds.
It was now time to head back to the parking lot to make another check for the Yellow-throated Warbler.  Again there was no song.  Malcolm said that when it sings it can be heard from a fair distance.  In other words, if it was there we should hear it.  We continued our visit as we waited and watched.  At one point I consulted the latest MOU-posting from two days ago and picked up on a detail I missed.  It said the bird was found around the parking lot and througout the adjacent picnic grounds.  We hadn't searched the picnic grounds much at all.  It was worth a shot.
We headed that way, but Evan needed something back at the car.  He and I went back while Malcolm searched.  After that errand, we went to rejoin Malcolm.  Evan was more interested in listening to Justin Bieber than listening for our bird.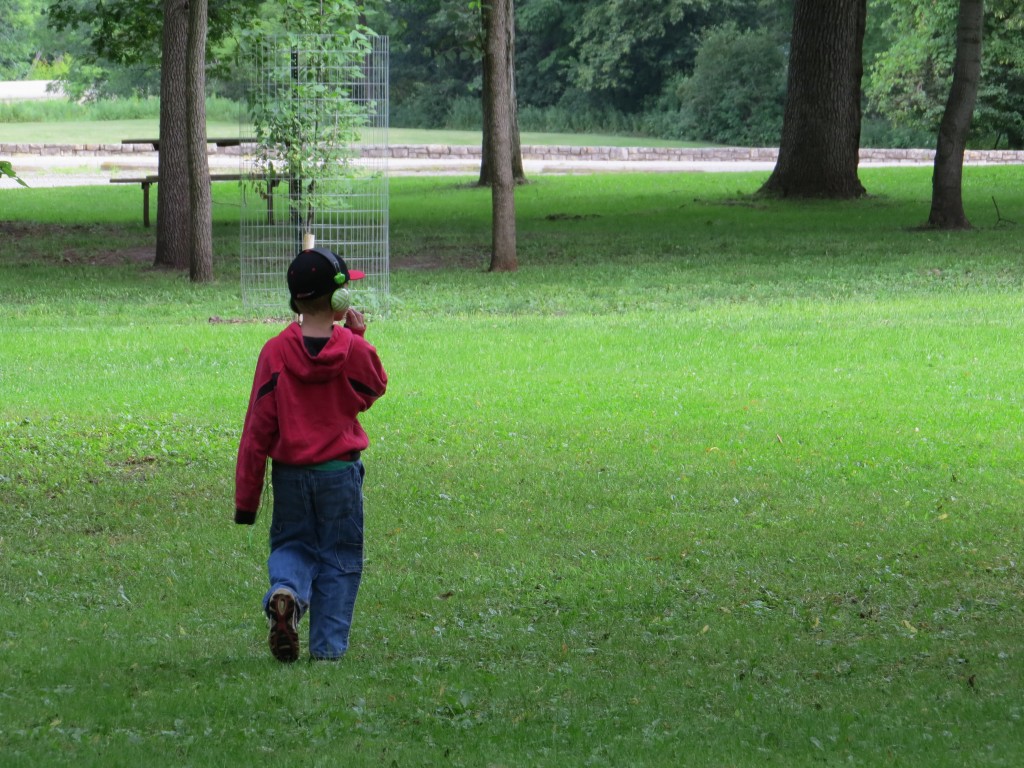 I no sooner took this photo then heard Malcolm holler my name.  I could tell by the sound of his voice that he finally found it.  Evan and I began to jog his way.  Malcolm had, in fact, found the bird in a small white pine near the highway.  Though he's seen this bird before, he got his best view of it on a low branch.  It normally hangs out in the tops of tall, tall white pines.  It was a good thing we had Malcolm to guide us; otherwise we probably would have never located the bird.
After a little bit of searching, we finally got our eyes on it too.  The flash of that brilliant yellow throat was exhilarating.  Now it was time to work on getting a good photo – something that clinches a target bird for me.  As we watched and chased the bird from tree to tree, we saw that there were other warblers with it.  Malcolm quickly got excited because it appeared they were juveniles with the parents.  Up to this point, this male Yellow-throated Warbler was the only one observed.  It alone was a record for the county, so a breeding pair would be big news.
Now we were keeping close track of these birds for different reasons.  I wanted my picture, and Malcolm wanted proof that these were juveniles.  We got many good views of the birds, and I was able to get some photos of the male.
Here is a picture of one of the juveniles we saw.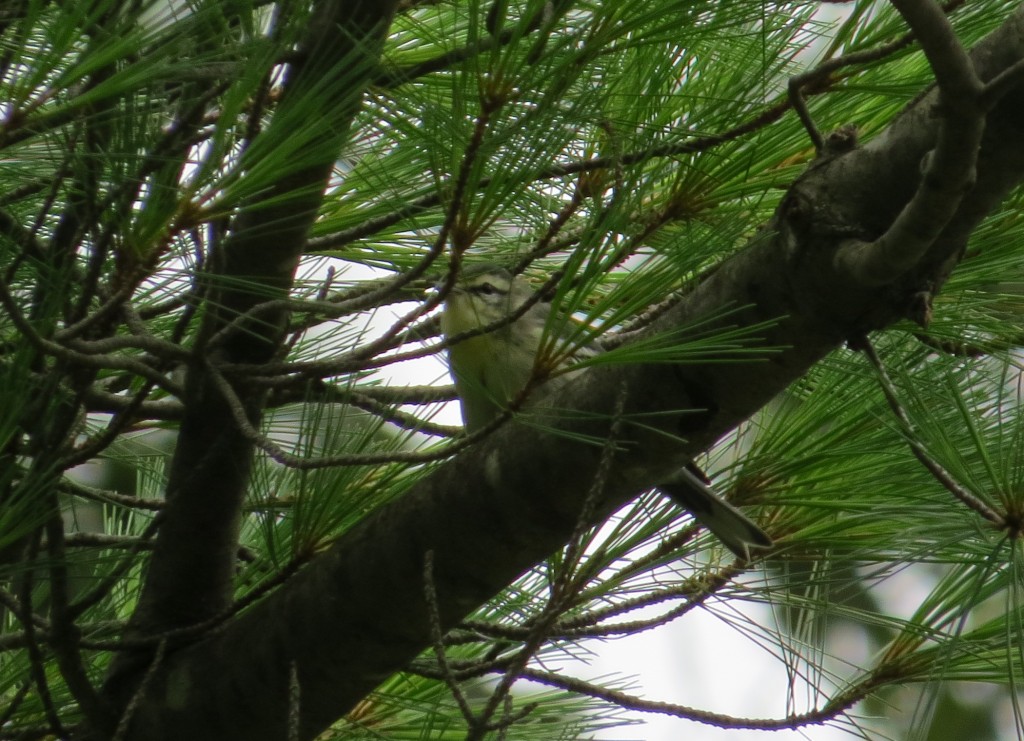 As we chased the Yellow-throated Warbler family around the picnic grounds, other birders started to join our ranks.  Apparently they, too, wanted to view this special visitor before it was too late. It's kind of funny because the faces are unfamiliar, but the names are not.  Through our online birding, we frequently meet birders that we've heard of before.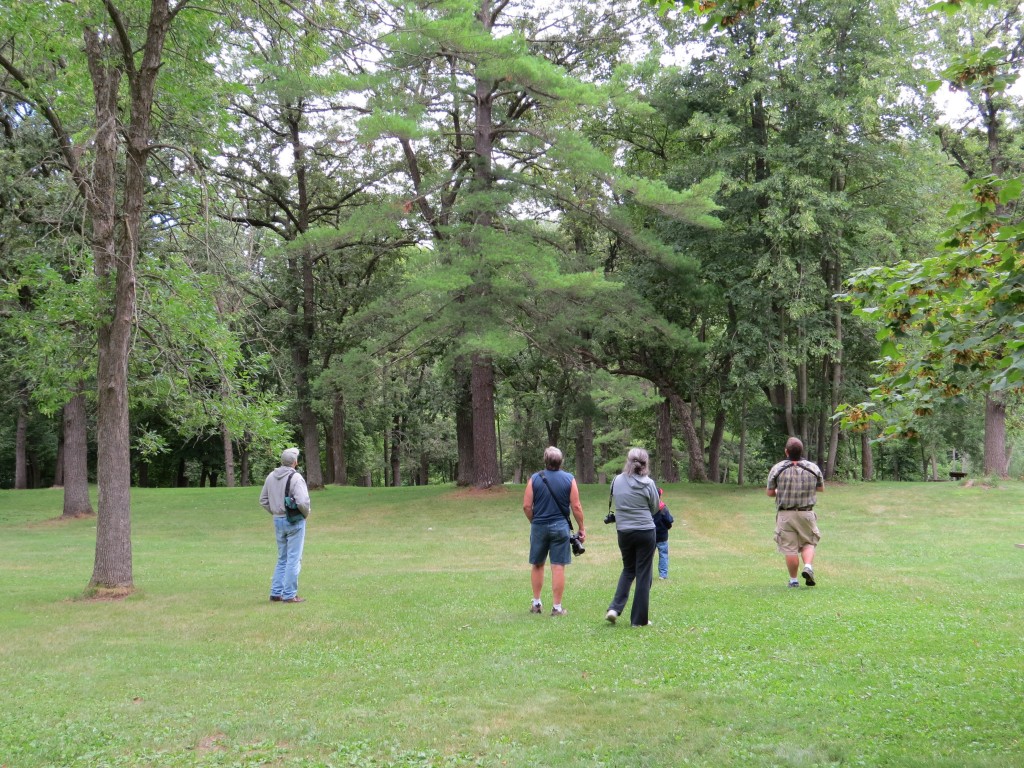 Here is a picture of a funny moment that occurred while Malcolm sought his evidence. Malcolm excitedly claimed to hear a second male Yellow-throated Warbler and pointed in the direction of the sound.  But it was not a bird.  It turned out to be Evan playing the bird's song on his iPod.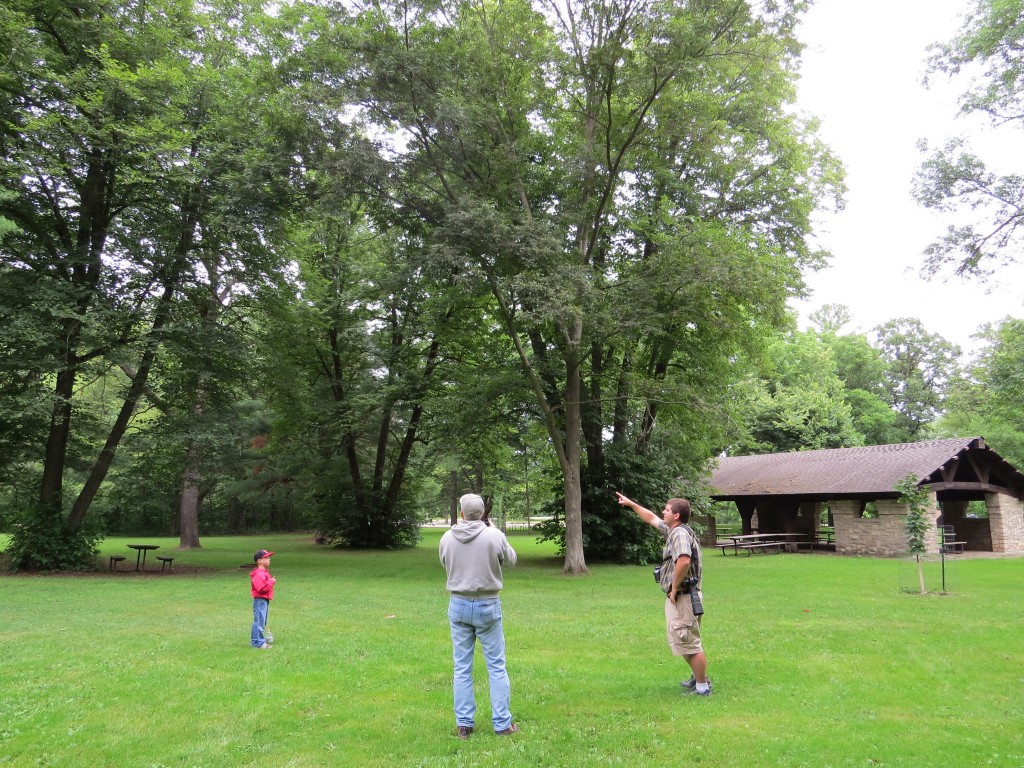 This was a monumental lifer, and now our trip had been made complete.  All the birders there that morning got to see this cool warbler. Everything afterward was a bit more relaxed.  There was more conversation among the birders, and we all just continued to watch this family of birds.  I'm not sure what kind of conversations Evan had while I was taking pictures, but one guy told me how impressed he was with Evan's bird knowledge and another one politely ate a lone Pringle chip that Evan offered him. Here Malcolm is quizzing Evan about some other bird.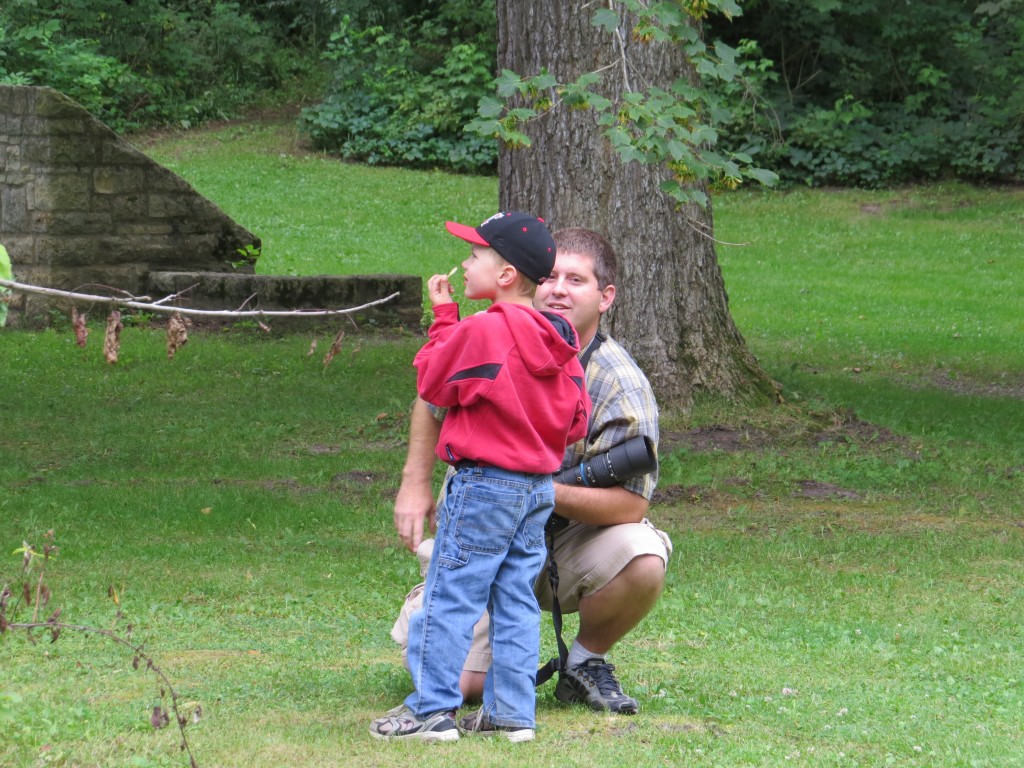 With a lighter mood all around, we decided to make one more try for that Louisiana Waterthrush.  We didn't end up finding it this time either, but it was nice to have more time to hang out and visit.  Finally, though, it was time to part company with Malcolm.  It was a phenomenal trip.  Evan's trip was made by getting two state park patches for his ruck sack.  Mine was made by getting a chance to bird with a friend I hadn't seen in over a decade.  Seeing the target bird was the icing on the cake for both of us.