It is said that chance favors the prepared.  Well, today was full of chances at viewing life birds, and I was not prepared.  There is very little I could have done about my first life bird of the day, the Yellow-headed Blackbird.  I was on my way to work, and I was late. I spotted these birds on the shoulder of the busy highway I travel.  There was no way I could stop. It was neat to get this one that Evan got the other day, but as with many other birds, I still needed a picture.  A good picture clinches a life bird.  It is both proof of a sighting and a trophy to behold.
When I got home, Steve had called saying he had a Blue-gray Gnatcatcher, Orange-crowned Warblers, and Lincoln Sparrows in his yard – all would be life birds.  He also had Ruby-crowned Kinglets and Yellow-rumped Warblers – two species that we've seen but haven't yet captured with a picture.  It was a bird bonanza at his house.  Evan and I had to go check it out.
We got to his house, and the three of us and Steve's two dogs crowded around a singular glass door overlooking his back yard trying to identify tiny birds at the tops of trees at the end of his lot.  It's kind of funny how life can be unpredictable.  If someone had shown me a picture of this scene a year ago and said it was in my future, I would have been really confused.  A year ago I wasn't chasing birds, I didn't know Steve, and I would have wondered what the five of us were viewing so intently.  I was relying on my camera to look at birds because they were far out, and I hadn't brought a pair of binoculars.  We didn't have to wait long to see what Steve had reported.  I was able to get this picture of the Orange-crowned Warbler, a life bird, just before my camera battery died.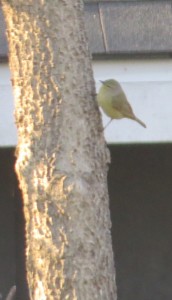 Argh! Not only could I not clinch any more action with photos, but I also couldn't see anything unless it was close. I had to use my naked eyes to view the swarm of Ruby-crowned Kinglets in the pine tree.  Then we were fortunate to have the Lincoln's Sparrow come to the feeder right off the patio.  It was awesome for Evan and I to see another life bird.  It killed me to see it in perfect light so close and not do anything about it.  Later on Steve identified the Blue-gray Gnatcatcher.  It was way out there.  Steve lent me his binoculars, but it was gone by the time I could focus them.  Evan didn't even see it flitting in the tree.
When we were leaving, Evan said that I got three life birds and that he only got two.  He didn't want to count the Gnatcatcher.  He has his own integrity for his sightings.  Sound isn't enough, and he has to see them with his own eyes.  I knew he was bummed about this, so I said I wasn't really counting it on my list.  I didn't get a good enough look at it.  I need my photo proof. It was a great day of lifers, regardless; and it was nice of Steve to think of us and invite us over to help us with our life lists.
At least my camera was working for this photo-op of a pair of Blue-winged Teal I saw at the school pond today.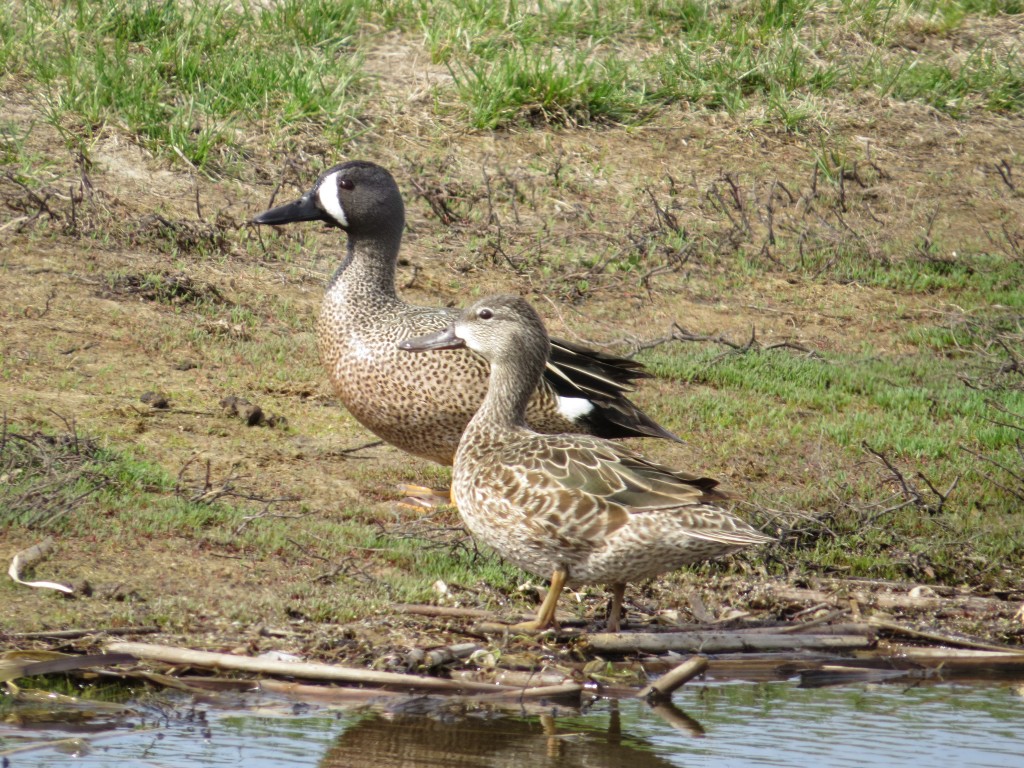 I don't want to be unprepared again. I'm going to order a second camera battery.  While I'm at it, I better make sure I have another SD card as my first has over 1500 images on it.  Birds have wings – you never know what will show up or how long they'll stay.  Next time I'll be ready.