Yesterday our birding plan was to get up and go on a naturalist-led birding walk at Sibley State Park.  We woke up to temps in the high 30s with a mist coming down.  There was no way I wanted to go out in this weather, let alone drag a 6-year-old out there.  So I pulled the plug.  It's a good thing I did because shortly afterward Evan started throwing up.  No birding this day.  Steve was on the birding walk and reported that there was no bird action at the park.  For once we didn't miss out.
I later met Steve at the Wild Bird Warehouse which was having an open house that day.  I needed some seed, and since everything was on sale today I headed in to check it out.  I visited with the owner for a bit, and he told me about the sparrow action he had at the feeders outside of his store.  One of them is one we're after – the Harris's Sparrow.  This particular sparrow only passes through our area during migration on its way north.  After chatting for a bit with Randy and Steve, I made my way back home.
As the day went on, Evan seemed okay, so I asked if he wanted to take a short car ride and watch the feeders at the bird store from the comfort of the car to find our Harris's Sparrow.  He didn't want to.  He must have been really sick.
This morning we woke up with a different kid.  He was healthy, hungry, and full of life again.  Since we had to run errands in town, we decided to do a little birding as a family before doing errands.  We were going to go to the Bergquist Nature Area in Willmar and then go to watch the feeders at the bird store.  Getting two kids out of the house was like trying to move a herd of turtles.  At one point Evan refused to wear a coat because it interfered with his birding vest.  This was a major issue and before long he was in an all-out tantrum.  Melissa and Marin went to town to do the errands.  I stayed home with the screamer.  No birding today.  The anxiety of not finding a new bird for a few days now was growing, especially with increased reports on MOU-Net of all kinds of returning birds.
Evan eventually calmed down and came out of his room, but I was very frustrated.  His actions not only affected him today but me also.  The kid did his time in his room and was happily playing afterward.  I was still miffed – he seemed to be very content to just play.  It appeared I was the one being punished.  So I talked with him and told him that I still wanted to go to these feeders but his behavior caused us to miss out on the Bergquist Nature Area as a family.  Because I wanted to go to the feeders, I had no choice but to bring him with me.  I also told him that we'd stay as long as I wanted and that he should just be happy to still get to do something birding-related today.
With that drama behind us, we headed to the bird store.  We were treated to all kinds of sparrow activity today.  I was searching for the Harris's Sparrow but was happy to find the Lincoln's Sparrow, which we weren't able to photograph a couple days previously.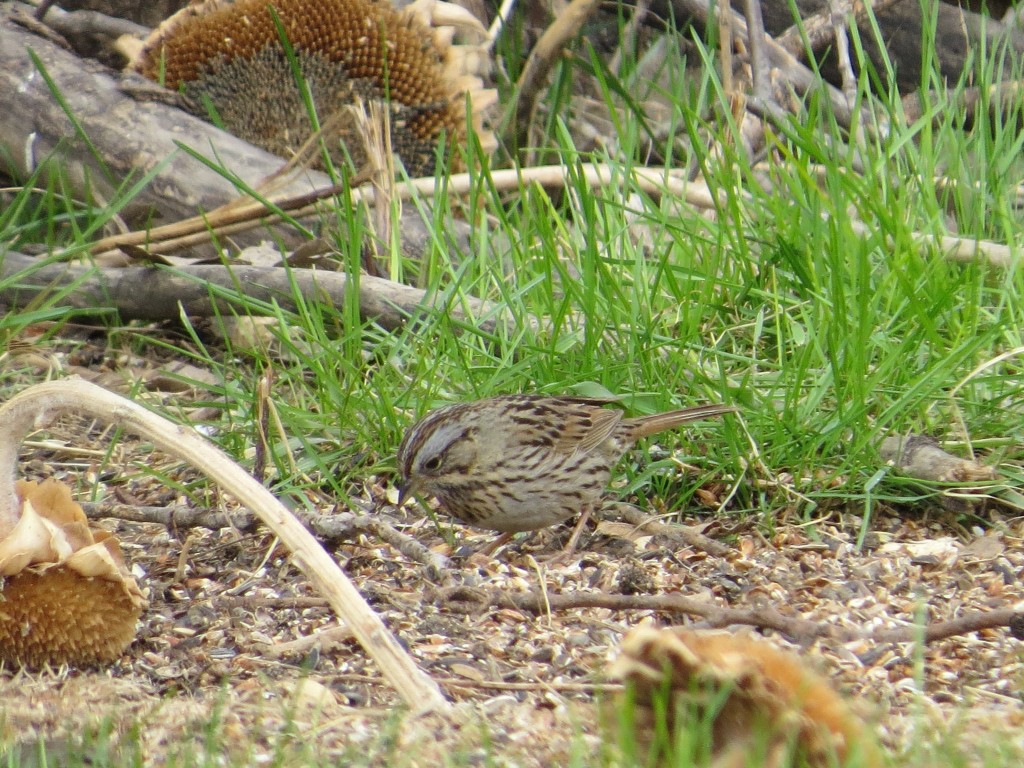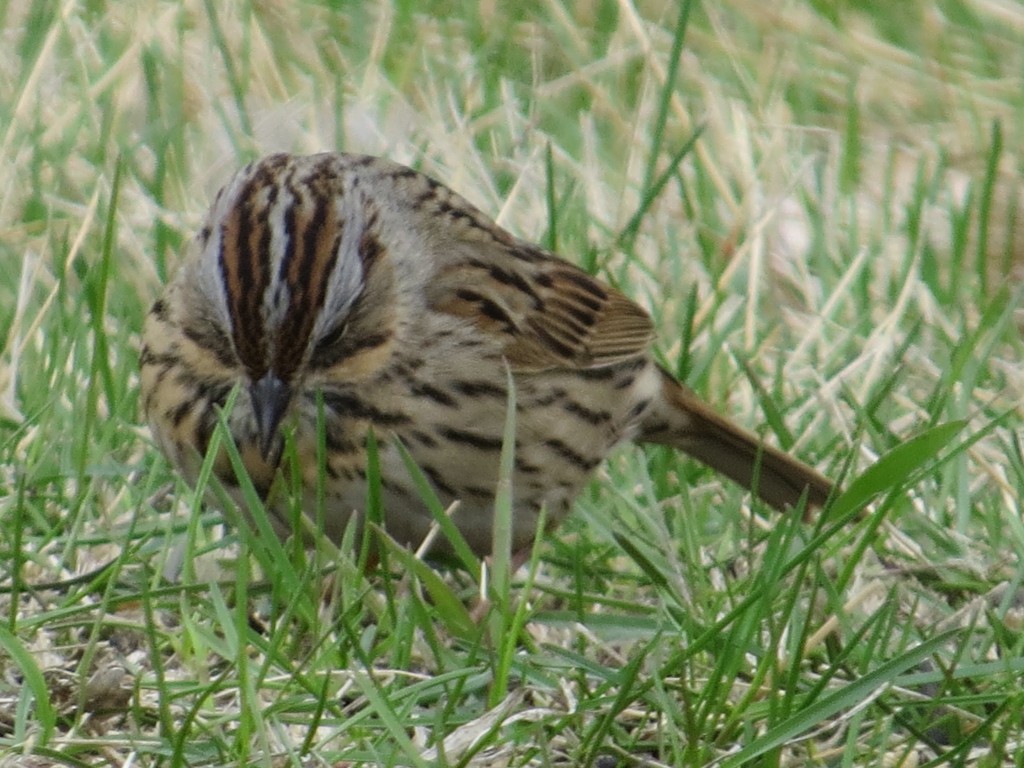 There were actually about a half dozen of these that we were watching.  Then I saw a much darker sparrow appear, and I quickly shifted to this new subject for my photography.  It was our lifer, the Swamp Sparrow!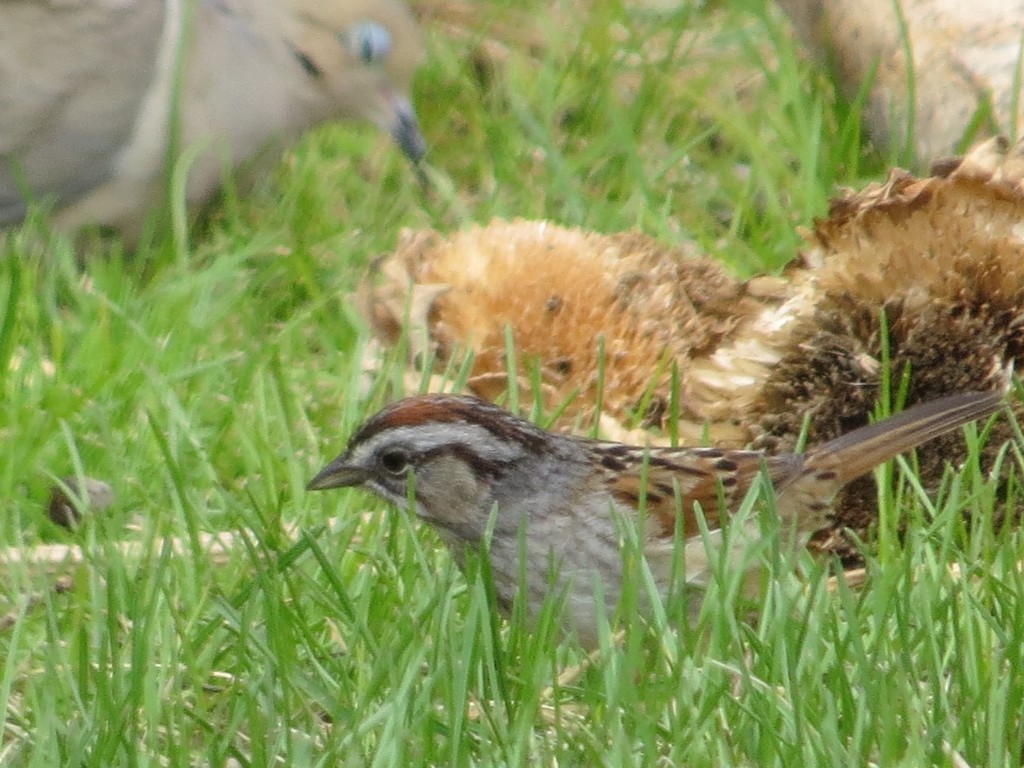 We were delighted to see the Song Sparrow shown in the foreground below with the Swamp Sparrow in the background.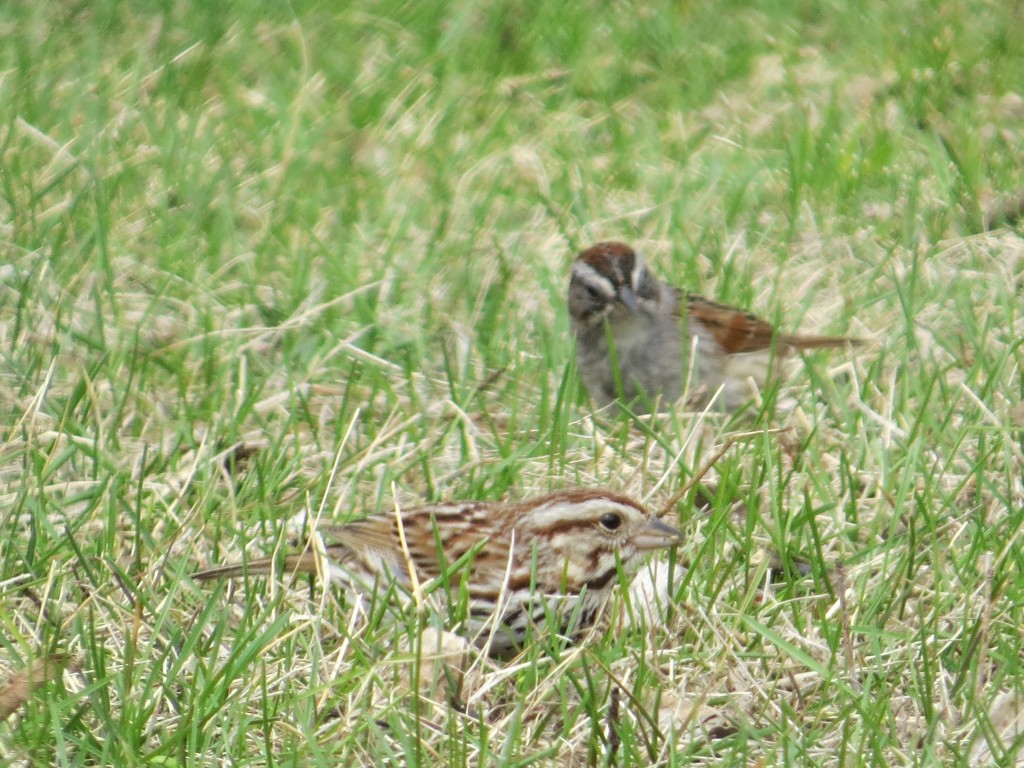 It was fun to see the White-throated Sparrow shown below.  We also saw the White-crowned Sparrow, the Fox Sparrow, and the House Sparrow.  It was a 7-sparrow stop!  Hopefully we'll find the Harris's soon.  As fun as the Swamp Sparrow was, that bird is a resident in the summer so there was no worry about getting it.  Our window of time is closing for Harris's, and the anxiety continues to build.  Hopefully we don't add to that anxiety by our behavior like we did today.