I know I promised a post on the local birding scene, but it's going to have to wait on yet another lifer post.  My only failed lifer chase in the last post was a Kentucky Warbler, the second such time I've pursued this bird in the past couple years. Thanks to Brown County birding guru, Brian Smith, there was another opportunity. A few days ago, Brian  discovered a Kentucky Warbler seemingly on territory along the KC Road in the Minnesota River Valley just northwest of New Ulm. The Valley is the perfect place for a Kentucky to show up and set up shop.  The mature, deciduous forests create shady understory haunts, complete with quaint mountain-like streams. Additionally, being in the southern 1/4 of the state, this part of the Valley has a more southern, humid feel that might feel inviting to a barely out-of-range Warbler whose northern reaches include southern Iowa and northern Illinois.
Despite this being a good fit for the Kentucky Warbler, this bird was apparently a Brown County first record.  And in spite of that status, this particular bird did not seem to attract the same attention from the MN birding community that Gerry Hoekstra's Rice County bird did a month ago.  There were a few souls who ventured into the scenic river valley to get this tic. I was waiting for an opportune time but was not feeling rushed since the bird seemed like it was going to be around for the summer.  Clearly I had underestimated my opponent. I arrived early this morning expecting to hear my lifer immediately (these birds are loud) and then have to work for a photo of the skulker. There were plenty of interesting bird songs to listen to on the KC Road–a calling Yellow-billed Cuckoo, a distant Wood Thrush, the scratchy song of a Scarlet Tanager, but no Kentucky. I was patient too, giving it over an hour, even double- and triple-checking that I had the right location. Nothing. This would be my third dip on the Kentucky Warbler, two in as many months. Frustrated as I was, there really was nothing more to do but go home.
There's something about birders that they have undying hope to the very end, or, more likely, just never want to stop birding at the very end. The KC road was birdy, and the stretch lying to the west looked interesting.  I hadn't come in that way, but I could certainly go home that direction. The thought did occur to me that I could find my own brand new Kentucky Warbler. Why not? This place was perfect.  As I rolled along the gravel road slowly with the windows down, I was imagining what it would be like to actually hear the clear, ringing song of a Kentucky that I'd only ever listened to on my app. It could happen, I told myself. Almost as soon as that thought went through my head, an actual Kentucky Warbler belted out his song right by the road as I went past! Even though I had a hunch (more like a long-shot hope), I was still somewhat in shock. After all, this was a half-mile away from the original location. I can only imagine it is the same bird considering the first location was devoid of the KEWA. And from what I could tell, he had upgraded his summer accommodations, settling in at a picturesque, babbling tributary of the Minnesota River.
It's true what they say about Kentuckys being easier heard than seen, but I was afforded a few brief looks at this stunning Warbler as he sang over his new territory.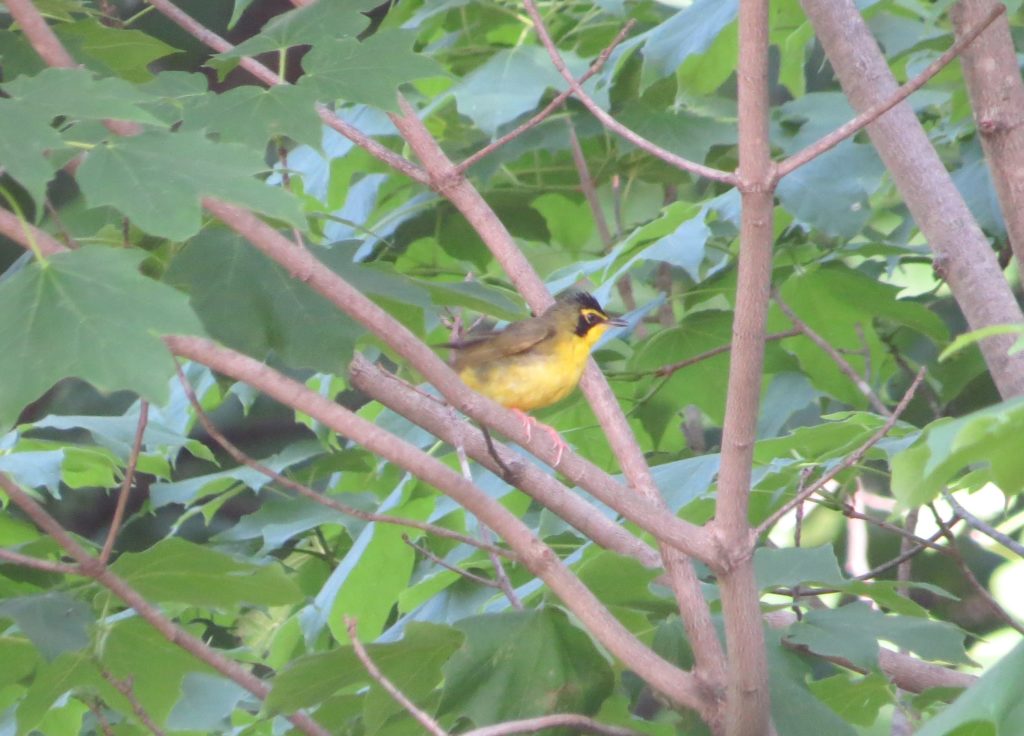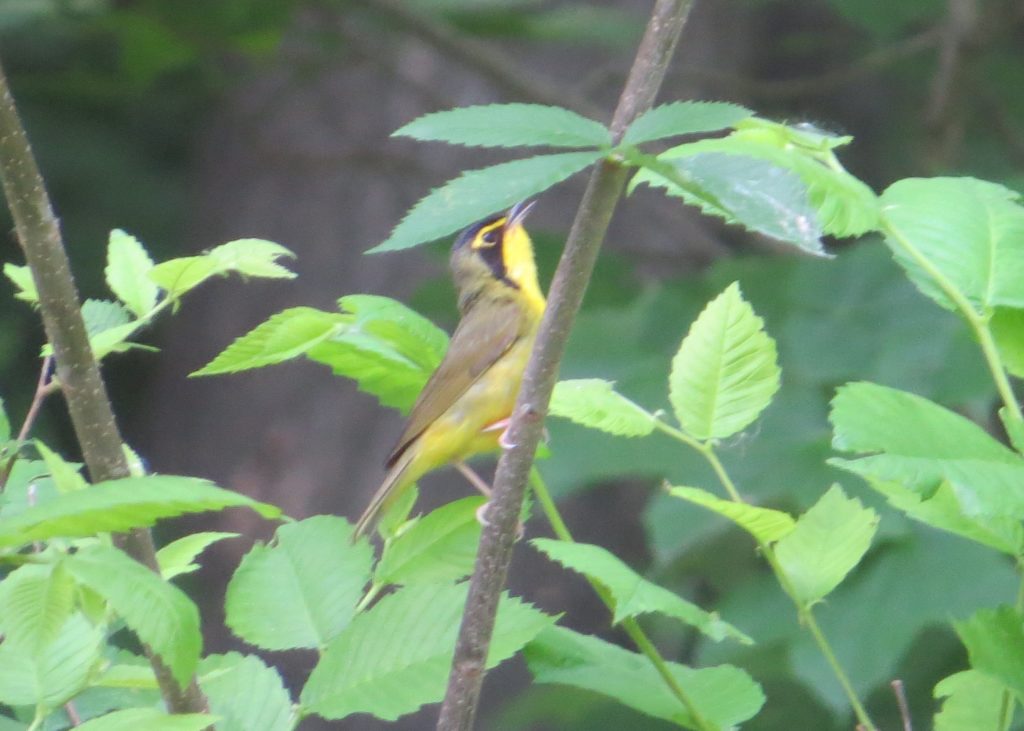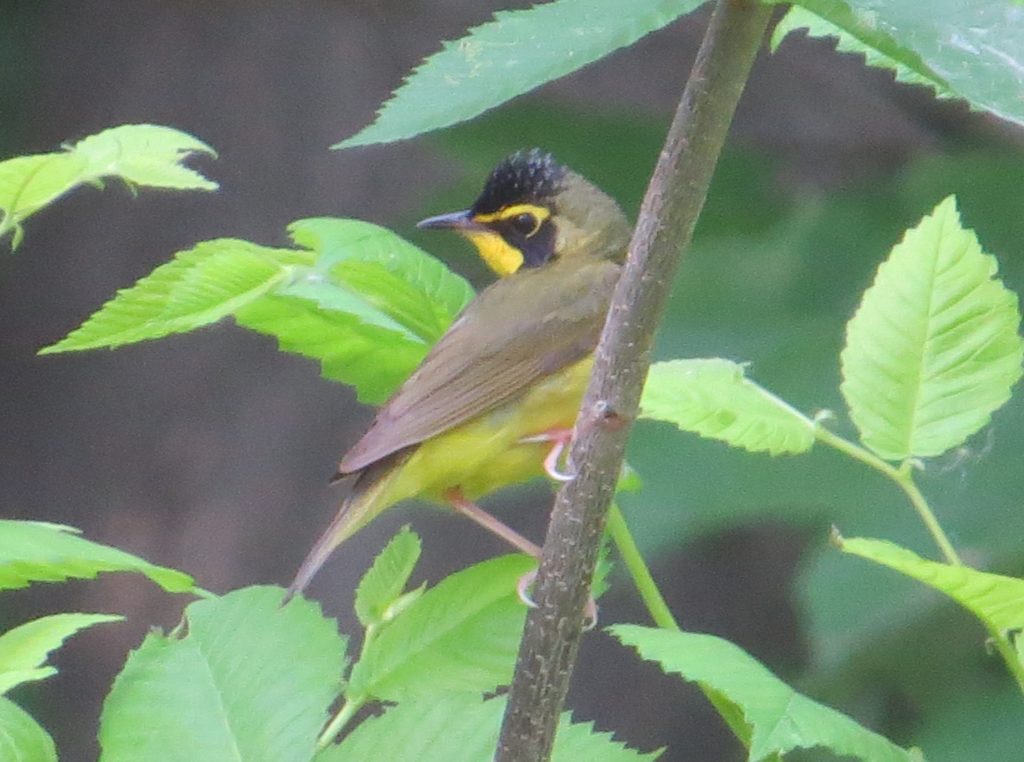 I am still shocked I got to see this Warbler after dipping in the original spot. Getting a photo was a wonderful bonus as I never counted on getting one in the first place even when I thought the bird would be a cinch. That's birding for you, though. It's never over until it's over and doesn't always play out like you think it will.  This was a good reminder to bird hard to the end and expect the unexpected.