Most birders keep lists. This is known. Yard lists, day lists, year lists, county lists, state lists, trip lists, lists of birds seen while nude, lists of birds seen while relieving oneself, lists of birds seen relieving themselves, and on and on…these are more or less different ways of keeping the hobby exciting and fresh. Depending on the birder, some lists carry more weight than others and some lists are never even made. My Kandiyohi County list has taken on a greater importance to me in the last couple years.  2016 was full of many new and exciting additions to my list that was already in the 200+ category, creating even more of an interest in this list.  Something happens when you make a list and it starts to become significantly large–you notice others who keep the same list and see how you stack up in comparison.  We have a great cadre of birders in Kandiyohi County who have amassed some incredible totals, and so I had no ambition (or realistic hope) of getting into the top 3. This was just accepted. But 4th place was within reach and was held by a non-resident of the county, the legendary Bob Janssen. Bob's a great guy who I've learned a lot from, who I've helped in Kandiyohi County, and who I've had the pleasure of birding with a couple times, but I had just one thing against him–he wasn't from here. I felt that the top spots should belong to those that toil for birds in the county the most, the local birders. Therefore, at the end of 2016, I set out to pass Bob Janssen.
Though it was a reachable goal, this was no small task. I ended 2016 with 244 county birds. Bob was at 250. I needed 7 new birds to meet my goal. It seems like a small number, but any longtime Minnesota birder knows that new county birds are very hard to come by with a total like mine. Nevertheless I was determined. To accomplish such a feat would require a lot of work and a lot of time birding. I didn't waste any time either, getting #245 on January 1st.
January 1: #245–Short-eared Owl, 6 Birds to Goal
The Kandi birding crew joined forces on New Year's Day, and thanks to some scouting by Aaron Ludwig on New Year's Eve, we were victorious.  It was a banner year for Short-eared Owls across the state.  It felt really good to finally notch this one.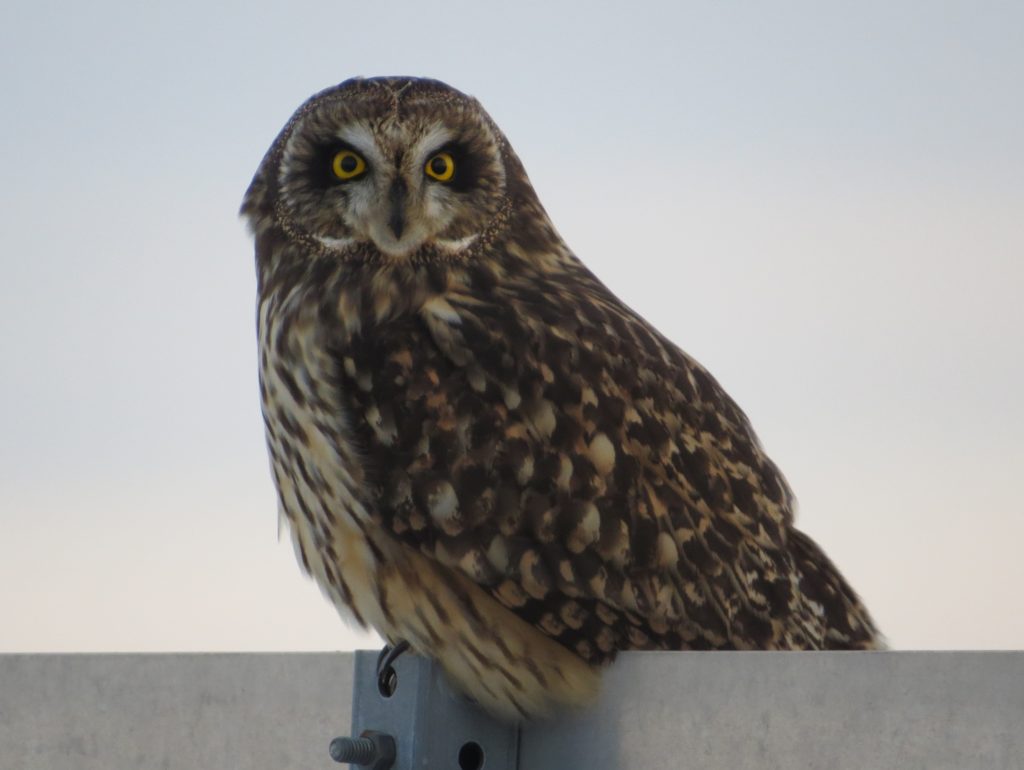 February 4: #246–Townsend's Solitaire, 5 Birds to Goal
Another Kandi birders' group event was successful as we targeted Townsend's Solitaire. This individual was found by the team consisting of Milt Blomberg, Dan Orr, and Herb Dingmann.  This was another overdue, feel-good county bird.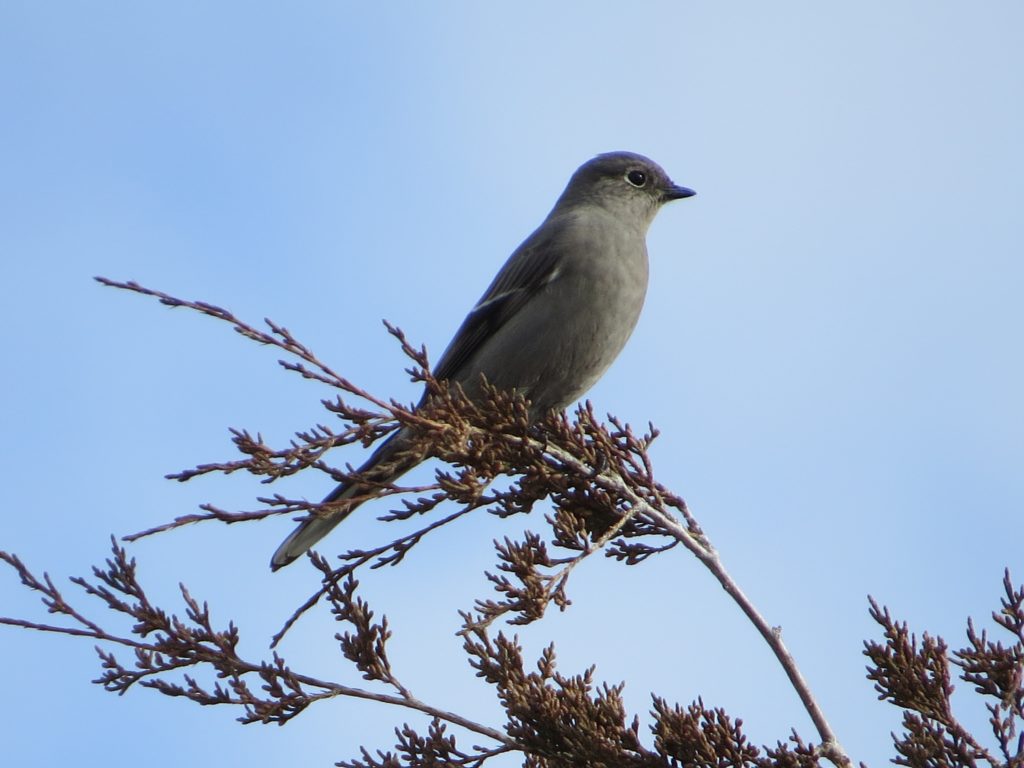 February 19: #247–Long-eared Owl, 4 Birds to Goal
A second county Owl in as many months?! Steve Gardner and I went looking for Long-eared Owls on this day. Despite many, many fruitless attempts in the past, we did not come up empty this trip. Victory never felt so sweet.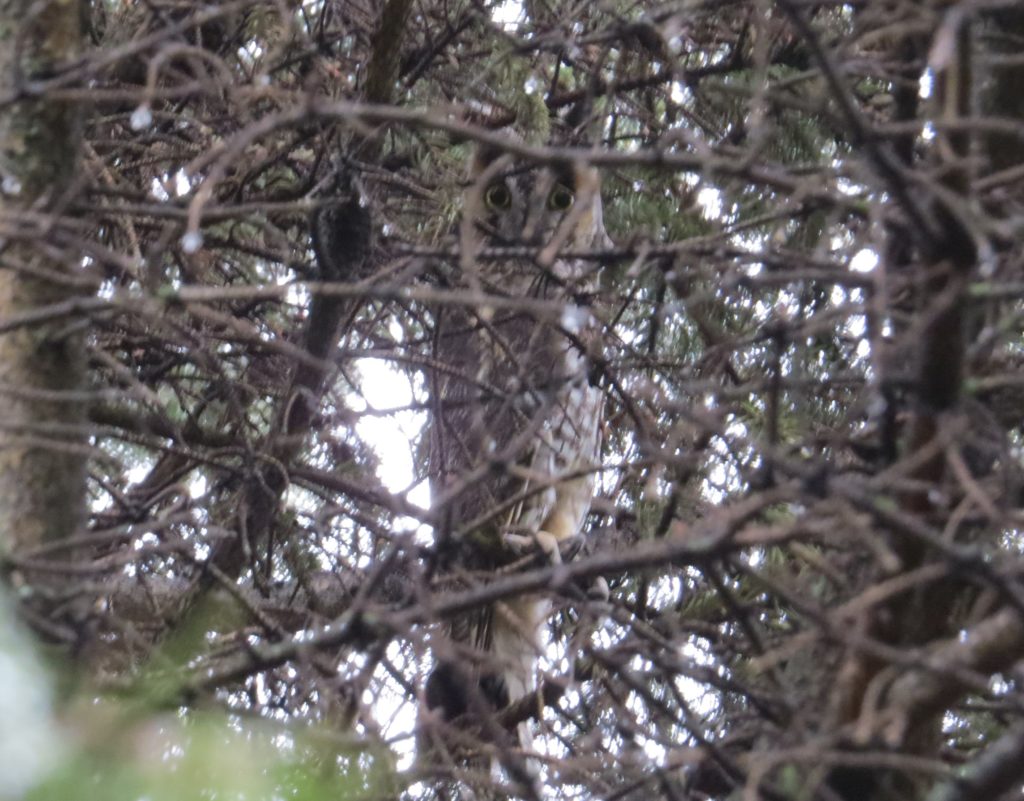 May 18: #248–Black-throated Green Warbler, 3 Birds to Goal
Three months had gone by without a new addition to the county list.  Serious doubt about achieving the goal was setting in hard. With that said, there was one bird that I simply had to nail down this year, a bird that had painfully eluded my county list year after year. Each year I have a very good chance of getting it too. I have chased this bird in the county many times, even literally once to the point I had to catch my breath in the process.The BTNW was a waaaaay overdue county bird. I had gone out many, many times this past spring to look for one. And it still continued to slip my grasp.  Then, on May 18th, Joel Schmidt called me about an hour before sundown saying he found one at a country church and cemetery in the western part of the county.  I got out there just before dark and was able to dig it up. Finally.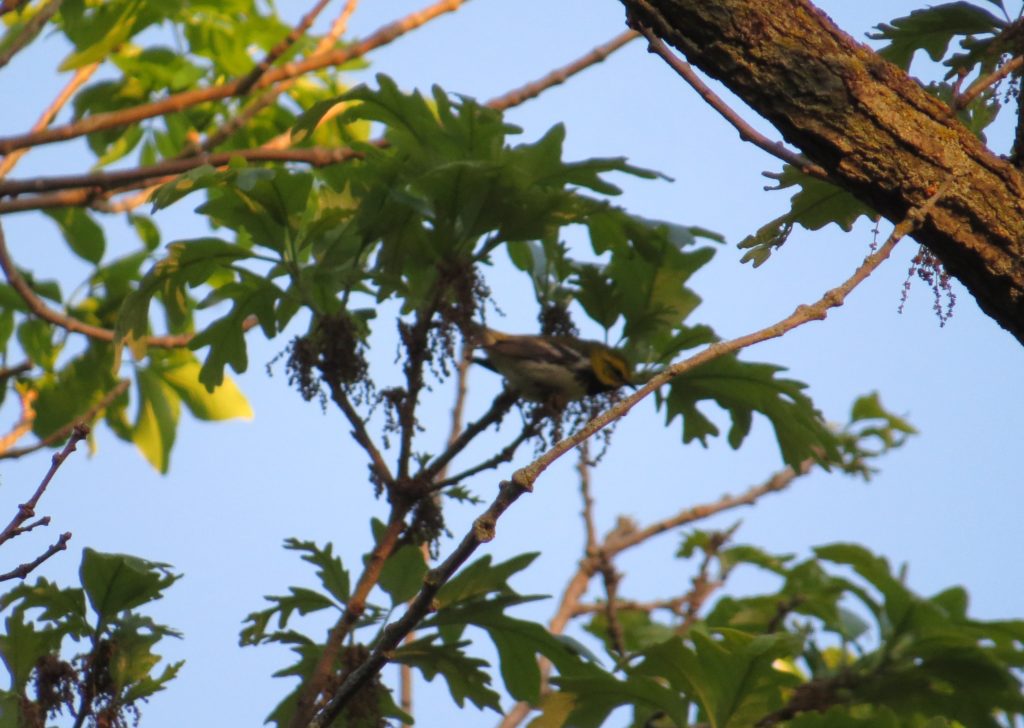 May 26: #249–Connecticut Warbler, 2 Birds to Goal
Spring migration is one of the best times of year to try to pick up a new county bird.  However, at the end of May, migration was wrapping up quickly as birds started settling in to raise families wherever they called home.  I was still checking for a couple a shorebirds I needed in this last week of May, like Marbled Godwit and Sanderling. Then somehow I started to notice that Connecticut Warblers were being reported in various places, and these birds were all singing. This is a bird that was never on my radar. I figured if I was to get this one on my county list, I would have to get lucky some spring migration and catch a quick glimpse of this skulker. So I asked the godfather of Kandiyohi birding–Randy Frederickson–about them, and he said he will have a Connecticut singing in his yard about one out of every four Memorial Day weekends. What?!  I've come to learn that Randy is a huge deposit of birding information that has to be continually mined to get the nuggets of birding intel out of him. So even though this bird was never even a candidate for my goal of seven new county birds, it quickly became one.  I found a singing Connecticut Warbler in neighboring Meeker County on May 25th, so I was even more obsessed with finding one in Kandiyohi.  For awhile I was making daily trips to Robbins Island Park in Willmar just to look for this bird. Even though most migrants had moved through, there was still hope for this one. And I was less intimated to look for this bird armed with the knowledge that these birds often sing during migration.
On my trip to Robbins Island on My 26th, I was stopped dead in my tracks by this:
No, it wasn't the Connecticut I was after, but I don't know if getting my first personally found and second county Cerulean Warbler was any less exciting!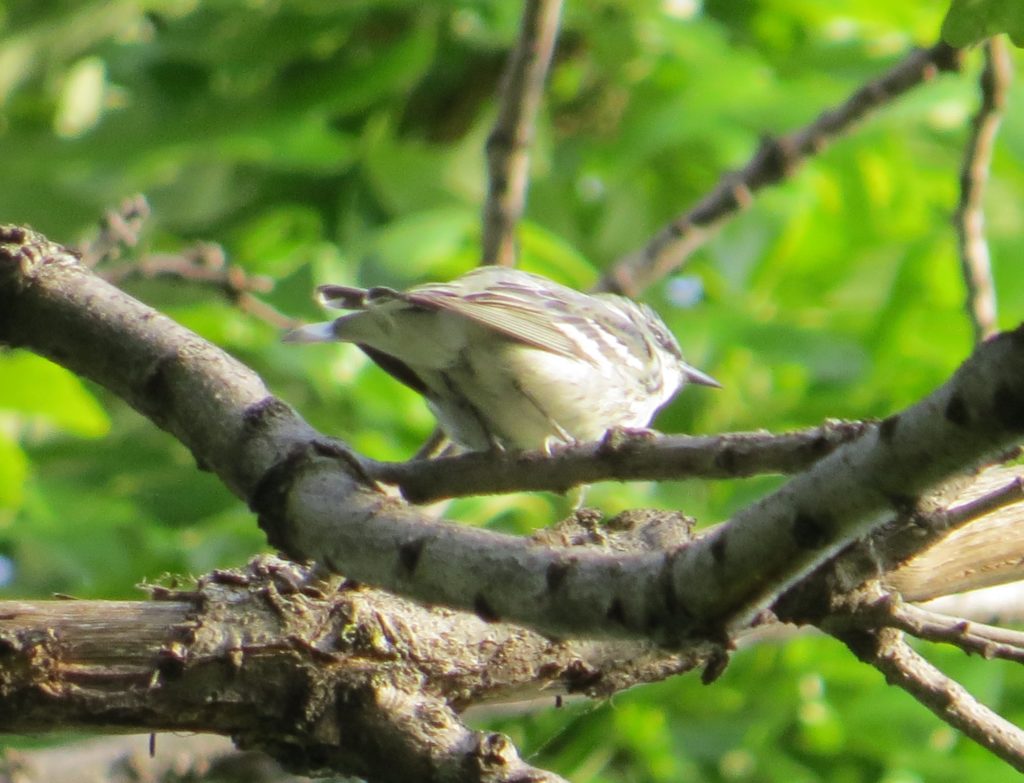 I must have spent an hour listening to this bird and following it through the trees.  It was singing constantly and staying to a confined area.  I was convinced the bird was on territory but later visits by myself and others proved otherwise. It's a good thing I spent so much time with this Warbler because when I had to decided to give up on finding a Connecticut and was on my way out of Robbins Island, I heard this!
Connecticut Warbler!! I couldn't believe it! Two new county Warblers within one week and two incredible Warblers in this outing! Suddenly, the dream of reaching #251 was very much alive. And to add some Warbler icing to the delicious Warbler cake was a singing and posing Black-throated Green–proving once again the birding law that says once a hard-fought bird falls, it falls hard.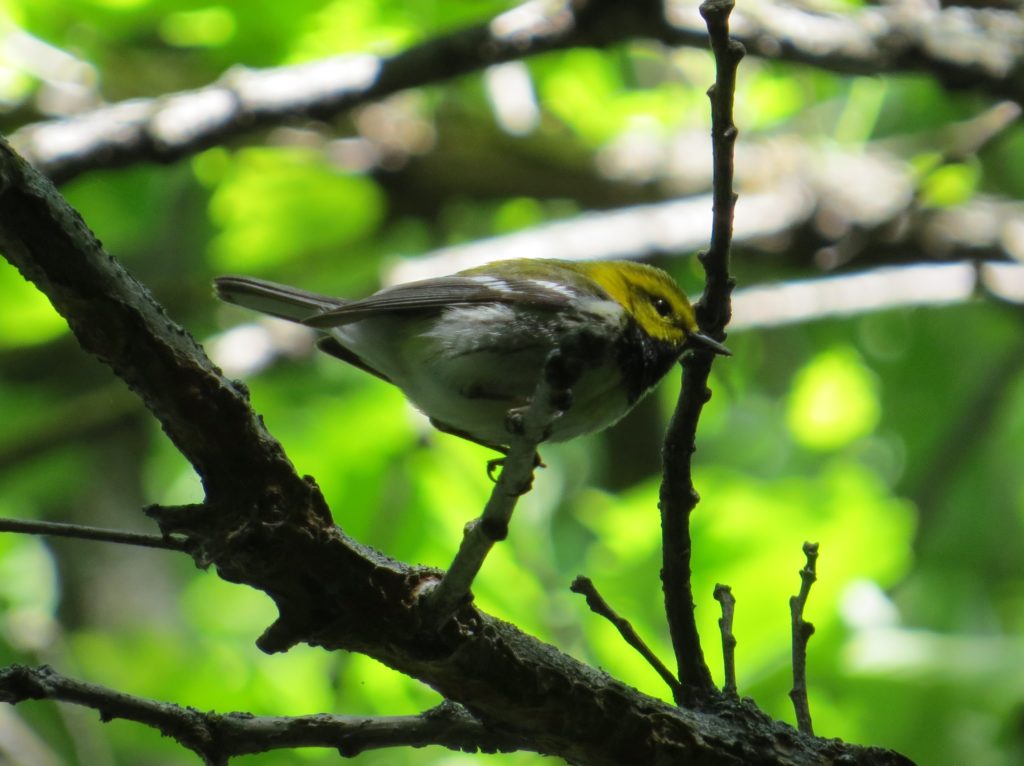 May 30: The One That Got Away
In any kind of big year or any regular year with a big birding goal, there will inevitably be pain. This is a given. There is also a long-standing birding rule that says that really good things will happen back home whenever you go on a trip somewhere.  Well, on the afternoon of May 30th, my family and I had just landed in Phoenix for our Flagstaff vacation. As we were heading up I-17, my phone started blowing up with group text messages: Randy had a Summer Tanager make some appearances at his feeder.  It was reliable enough that Steve Gardner and Joel Schmidt were able to pop over and see the bird after a brief wait.  My wait was a lot longer, like several days longer.  It was as good as gone. I was really bummed, and it definitely dampened the birding mood a little bit while I was in Arizona hunting down my Flam lifer.
June 16: #250–Snowy Egret, The Penultimate Bird
One thing my buddy Tommy DeBardeleben taught me is that when a good bird slips through your fingers, you get back out there and find your own rarity. The last time I went to Arizona I missed a Brant and Red Phalarope back in Minnesota. When I came home I poured my woes into my ongoing Surf Scoter hunt and dug out a Kandiyohi County first record Surf Scoter.  Experiences like that give you something to draw on when the tank is empty.  Though I was tired from the vacation, a move(!), and chasing life birds at North Ottawa Impoundment, I was pushing myself to get that next county bird. Summer had settled in, and my options for a new county bird were very limited. One bird that I really wanted to get and one that I felt was probably in the county every year somewhere was a Snowy Egret. On the morning of June 16th, I set off to find one. I expected to come home empty-handed as I have so many times on my numerous outings this year. Regardless, I was going to check several spots around the county, mostly drainages and some wetlands where I'd seen Great Egrets congregating.  After several hours and dozens of miles, I made my last stop: a newly formed wetland just off the Willmar bypass. I spotted a lone Egret out there, and I was well over a quarter mile away.  I don't own a scope, so I had to use my camera to take some blurry long-distance shots. As I reviewed them, I couldn't believe it–a small Egret with a long, black bill and yellow lores. It was the Egret I wanted!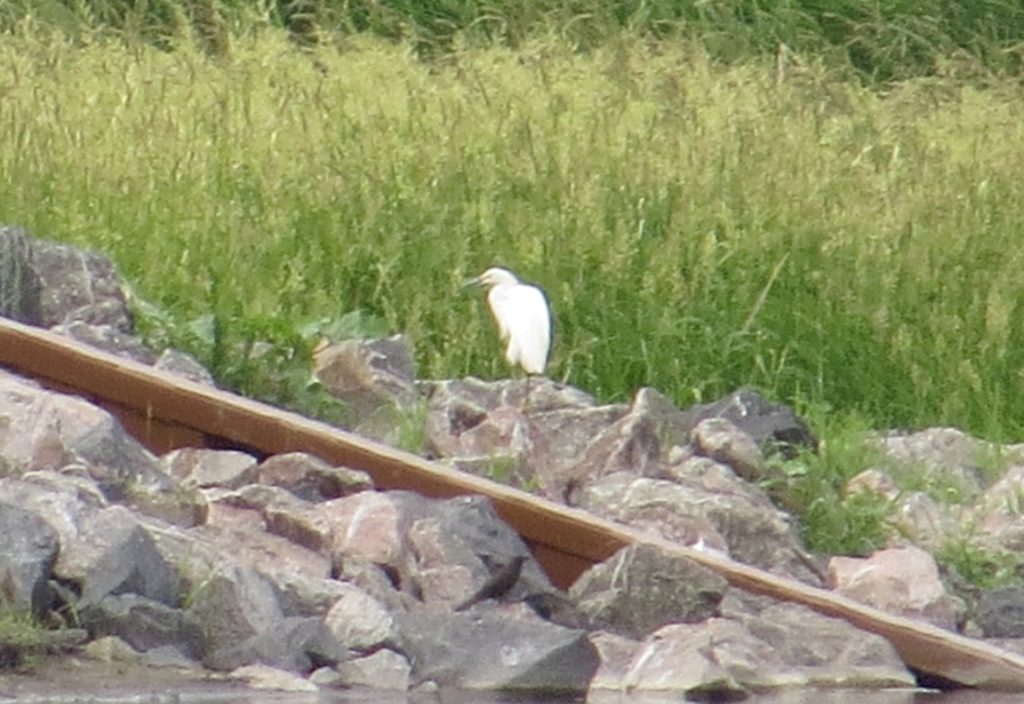 An Egret vs. Egret pic is always a nice assurance for an ID of such an important bird.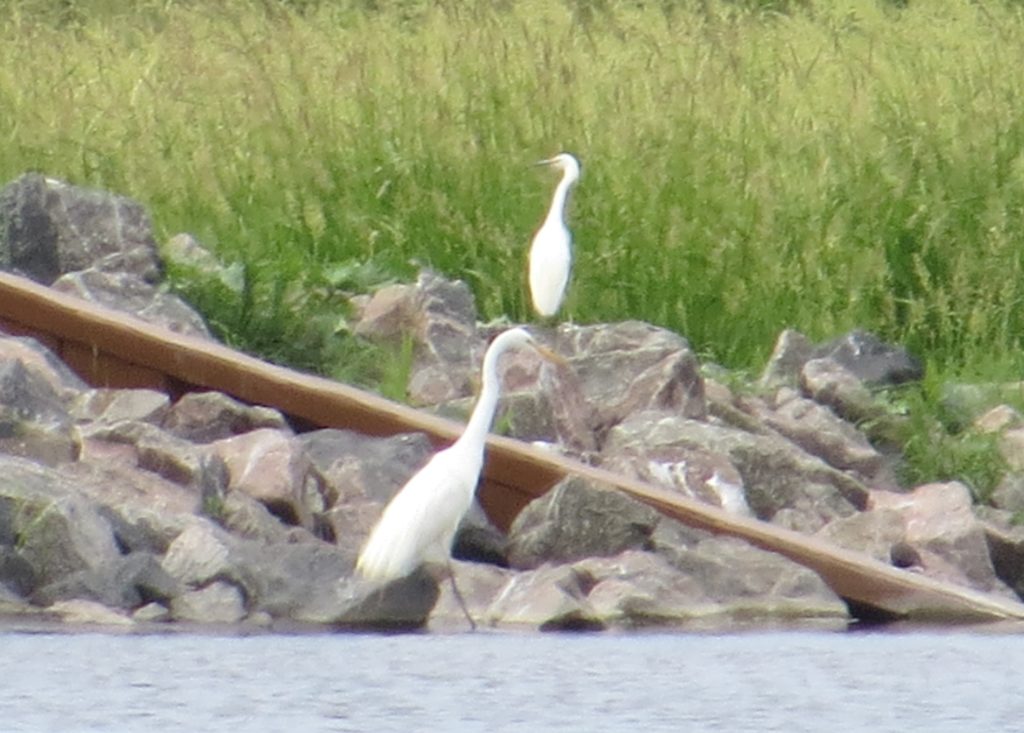 I was now tied with Bob. Wow. Some people get excited over reaching round-number milestones, like this 250, but not me. I wanted a crooked number. I wanted that #251 in the worst way.  While my motivation in the beginning was to pass Bob's number, my motivation was now about me meeting what I once thought was an unattainable goal.  More than anything I wanted to do what my mind had declared an impossibility or at least a far-fetched possibility way back in December. I wanted that 7th bird in the worst way, more than a lifer even.  And it was only June.  I had averaged one new county bird for each month in 2017, and I still had 6 months left to get just one new county bird.
My birding intensified from that point on. I was obsessed, waking well before daylight and going out every morning. But with the Snowy Egret secured, I really had very little to search for in June.  My searches were mostly after Henslow's Sparrows and breeding Marbled Godwits in the very northeastern corner of the county, both of which were long shots. But I pressed on. Day after day I pushed myself out the door trying to make something happen.  I'm a very impatient person. Even though I had half a year to reach my goal with just one bird, I wanted it now. I was driving myself crazy.
When it came time to visit family in northern Minnesota in late July, I didn't want to go. I was afraid to go. That's always when something good happens at home.
July 30, 2 AM: The Gift
I had made it through the up north trip without a birding emergency happening back home. Whew. We were scheduled to head home the morning of the 30th. We went to bed on the 29th, and I was awakened by my daughter who had a bad dream. After I got her settled down, I looked at my phone to check the time.  On my homescreen I saw two emails that had come in while I was sleeping–one an eBird rare bird alert and the other an eBird needs alert for KANDIYOHI COUNTY!! What the?! I was wide awake now. Not many people bird in Kandiyohi County, let alone eBird in Kandiyohi County, let alone find rare birds and especially rare birds that I've never seen in Kandiyohi County.  I couldn't open the emails fast enough. Our county had a visiting superstar birder whose incredible find had tripped both alerts. Kathleen MacAulay known for many incredible finds, including a state record Mottled Duck, had unearthed a rare bird that is incredibly hard to discover because of its choice of habitat. Kathleen had found an entire family of Common Gallinules at a wetland I had never birded.  I was in shock. Finally, finally, we got a gift bird–something that had been missing the first half of the year.  Usually every year holds one or two random bird surprises. So far we hadn't had one.  All the rare birds I had seen in the county this year were reasonable expectations that were targeted and found.  I couldn't sleep the rest of the night. I knew that #251 was as good as in the bank since these Gallinules had young. I just had to get 265 miles across the state. That next morning the minutes felt like hours as we got ready to leave.
July 30, 5 PM: #251–Common Gallinule!
Not only did I have to get my family back home, but then I had another half hour trip to the location of these Gallinules. But finally I made it there. Others had seen the birds a few hours earlier. I was patient but I wasn't patient.  I knew it would happen, but I wanted it to happen instantly.  While I watched the small corner of the cattail slough, I caught sight of my second county Least Bittern.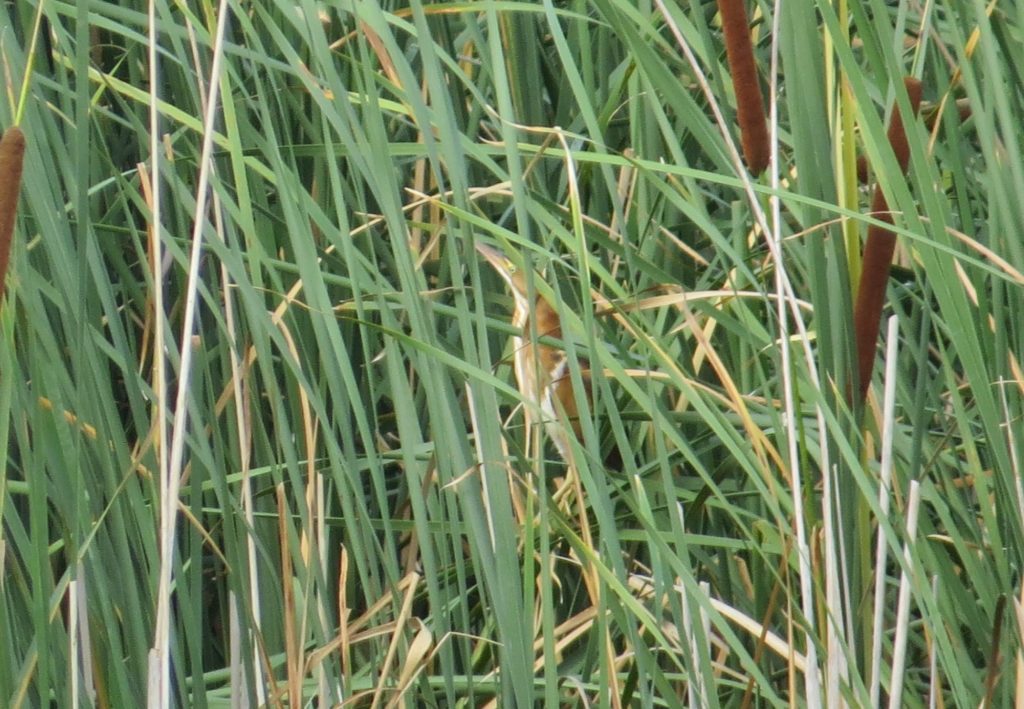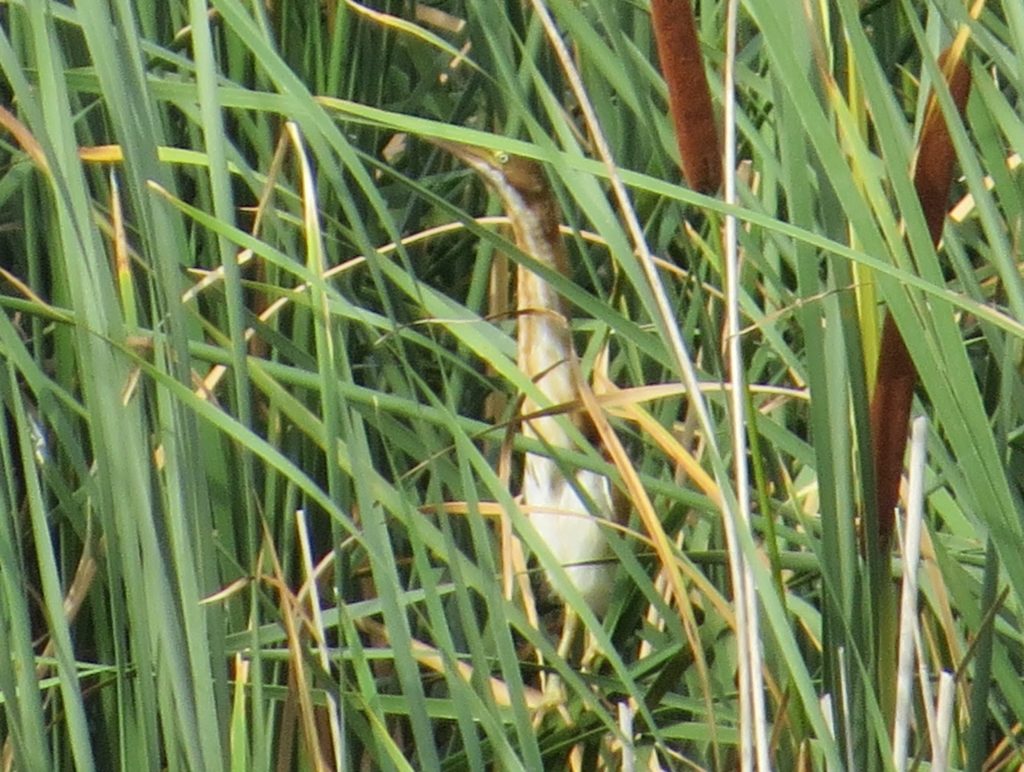 The Bittern was a fun find, but I wanted to see those Gallinules bad.  I did hear one of the adults vocalize at one point, so it was officially notched. Since it was such a monumental bird, though, I really wanted to see it. Finally, patience paid off as I spotted one of the babies.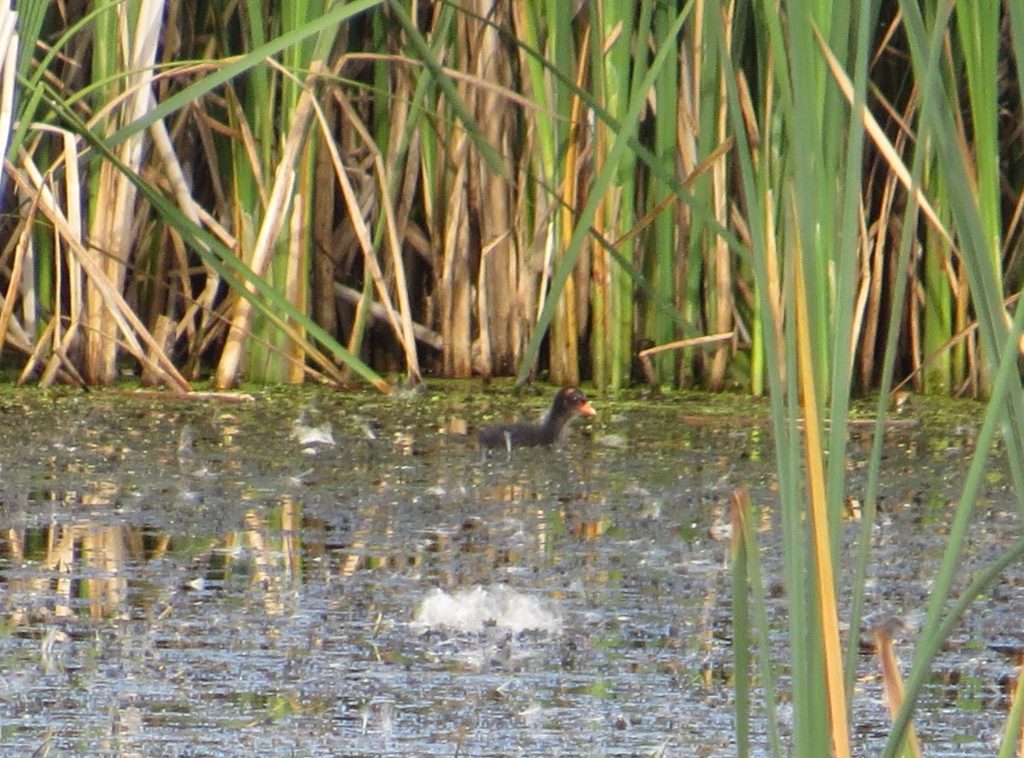 And then I saw two of the babies with one of the parents.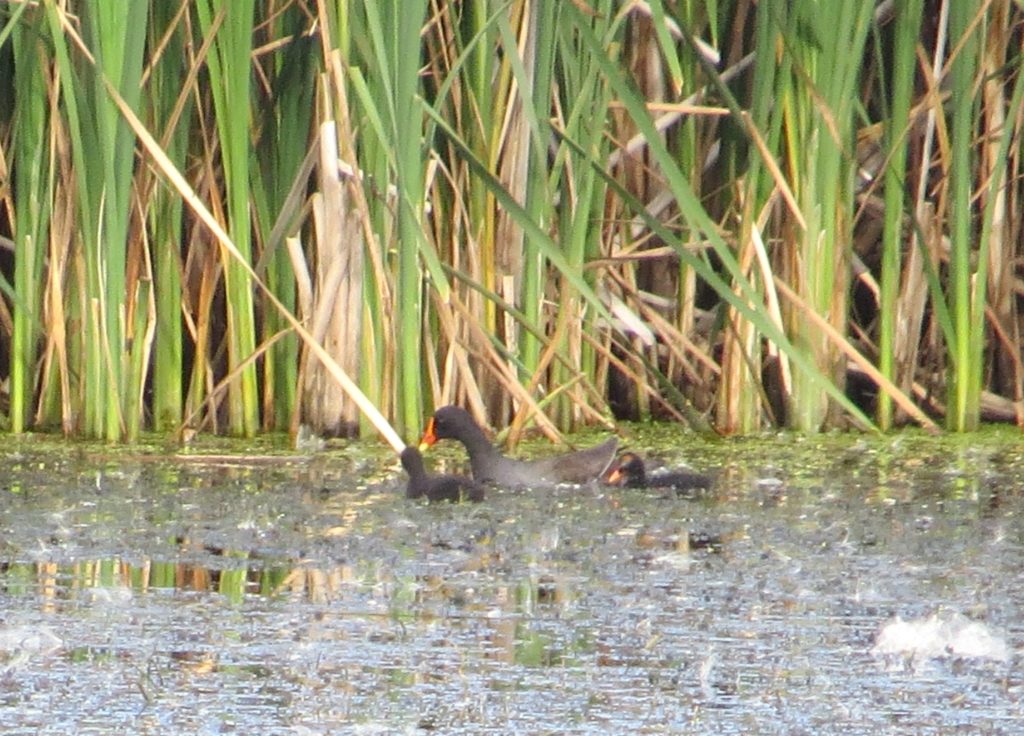 It was finished. I was ecstatic. The impossible had been achieved with a whopping 5 months left on the year. I had made it.  Kathleen, if you're reading, thank you very much for your great find!
I learned something important from this entire experience: set high goals for yourself even if they seem like a pipe dream.  Then write them down and work like crazy. This goes for birding or anything, really. Having my goals written out on paper back in December focused my birding and kept me driven. It was a huge thrill to add each new check mark and fill in those blanks on the piece of paper I keep tucked in my Sibley. Aim high and look high–the good birds are out there.
The astute reader will look at the picture below and realize the county listing story did not stop with #251. Hang on for the next post–longtime readers will get to see a long-running story line reach its wonderful conclusion.