By all rights I should have written a post commemorating the incredible birding year of 2014 by doing a Top Ten birds post or something similar. It sounds corny, but this year has been unimaginable and would be deserving of such cliche.  Evan and I ended with 72 and 96 life birds respectively.  Highlights included tallying eight new species of ducks and seeing 30 individual owls of 8 different species.  Additionally I found three official county records and a host of other rare birds for the county, not to mention the many rare birds we've seen found by others.  2014 was a year of gifts, and in a fitting fashion, there was one last gift that would usurp any year-end reflective post.
We recently made our usual Christmastime trek to the northwoods to spend some time with Melissa's family.  My family is already in Arizona for the season.  As is the custom, we pass through the Sax-Zim Bog on the way home. After our Great Gray Owl success over Thanksgiving and after having my Facebook feed littered with GGOW pictures all December, I figured seeing the owls again was a lock. Nope. We were there the wrong time of day (mid-morning), and the sun was out. With the gloomy weather the past month the owls could be found actively hunting all day long.  Apparently they are now less photogenic and are being found late in the afternoon and early in the morning.
My hopes for the trip were not over though as I decided to take the next morning to head down to Duluth to look for a Townsend's Solitaire and a Northern Hawk Owl.  I struck out on both but still held up hopes for good stuff when coming back north through the Bog. Again, the GGOWs were playing hide-and-seek, where they were doing a lot more hiding than seeking.  I had some other goals for the Bog, which included seeing/photographing the resident Boreal Chickadees as well as getting a lifer Black-backed Woodpecker that had been pretty regular.  Well, the chickadees were a no-show, and I missed the woodpecker by 5 min. This was turning out to be a bleak trip up north as far as birds go.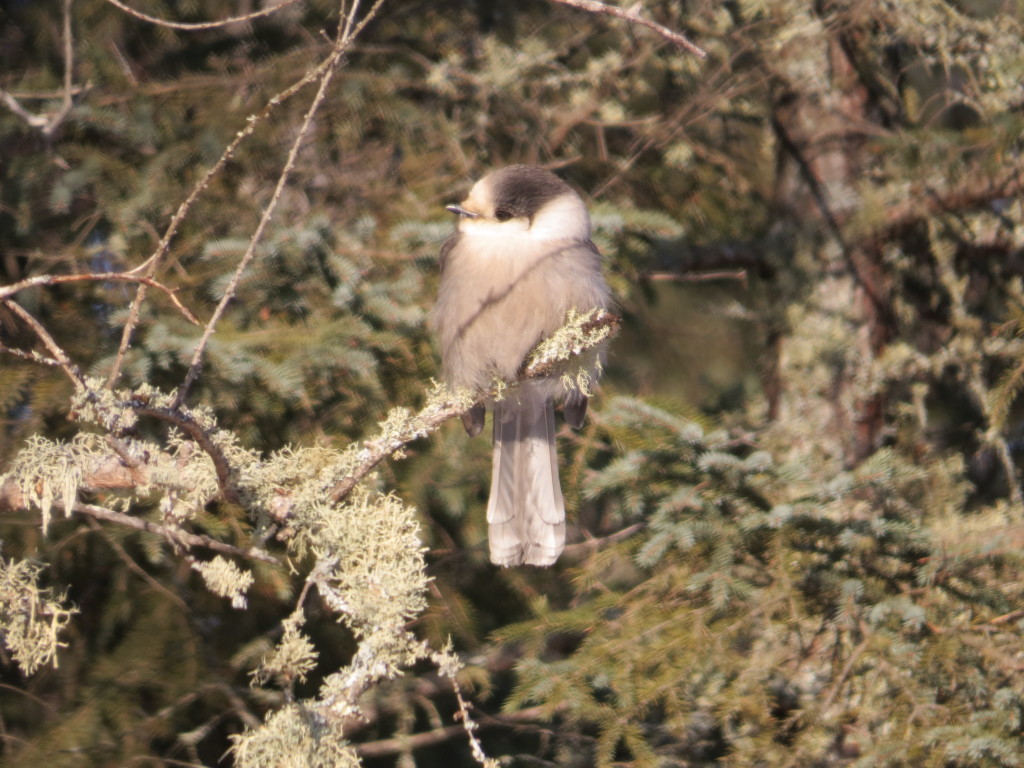 The next day, though, I received a birding gift that surpassed anything I was searching for. It was perfect – so much so that I hadn't even thought to put it on my Christmas list.  That morning while returning from taking care of my dogs who were staying at my parents' house, I stumbled upon a lone, male Spruce Grouse pecking grit off the side of the road along a black spruce bog.  I was ecstatic.  The last time I saw one was about 15 years ago, long before I was a birder, and it was only the third one I'd ever seen.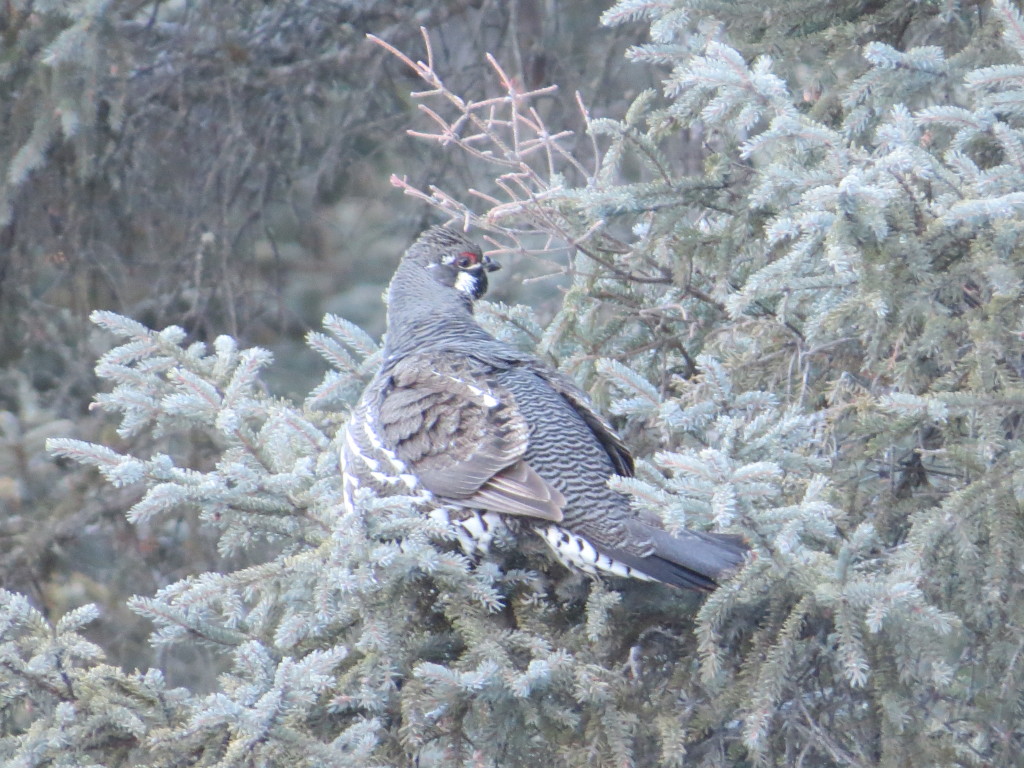 Surprisingly the SPGR was somewhat wary of me despite their nickname of "Fool Hen." It flew from spruce bough to spruce bough allowing me some good looks and photographs before disappearing into the dense spruce bog.  I was hoping to have it stick around for Evan's sake since he was just a few miles away.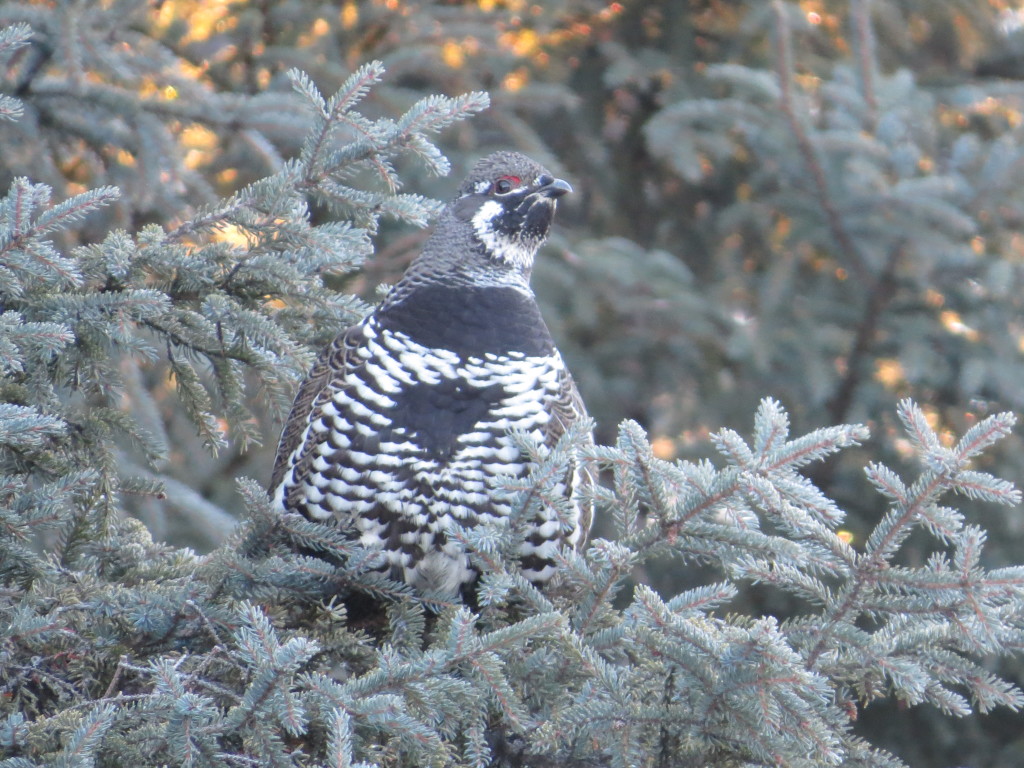 They are incredibly beautiful birds and quite the prize bird in Minnesota.  It was quite a thrill to see the intricate and bold patterns of this grouse species.  It very well may be one of my favorite sightings of 2014 even though it was not a life bird.
Later that day we headed to Melissa's Grandma's house for some coffee and a game of Farkle and some birds.  The drive over was eventful as a half dozen escaped horses were all over the road.  We stopped at the farm house to let the owner know and were delighted to see he was home and that he had an Ermine running around his yard, all decked out in it's sporting white winter coat.  We didn't just stop for horses and weasels, though. There were, of course, Pine Grosbeaks.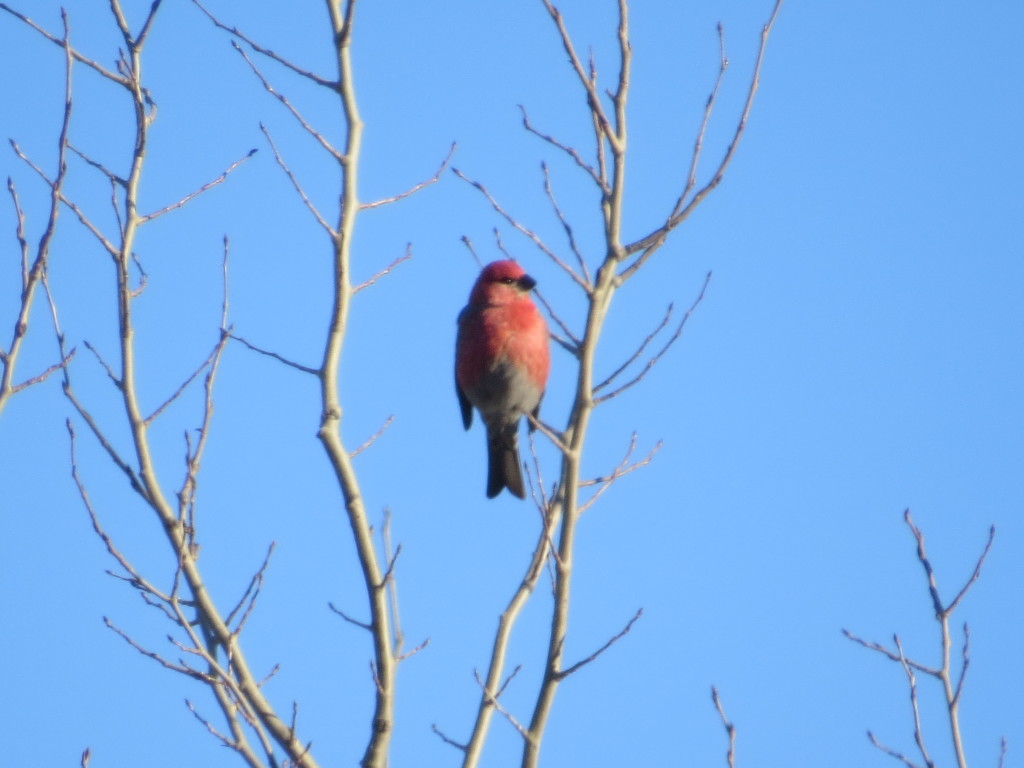 Though this PIGR appears legless and taxidermied with a stick poking into its mannequin body, I can assure you it is real and my best photo yet of this species.
The birds and treats at Grandma's did not disappoint as Grandma puts out a spread nary a grandkid or Evening Grosbeak can resist.  Though this species was once very common in the northland, its population has declined dramatically and has become quite  the prize bird, visiting only select feeders.  Grandma Evelyn's is just such a place.  Many breaks were taken from the intense Farkle game to look at these beauties.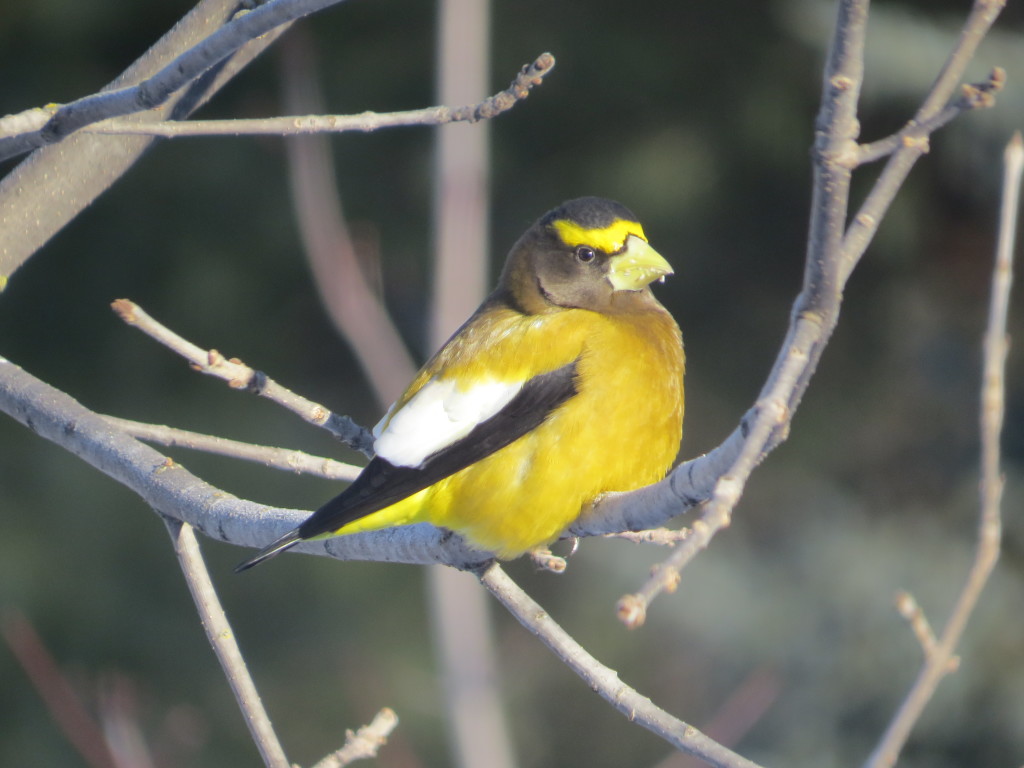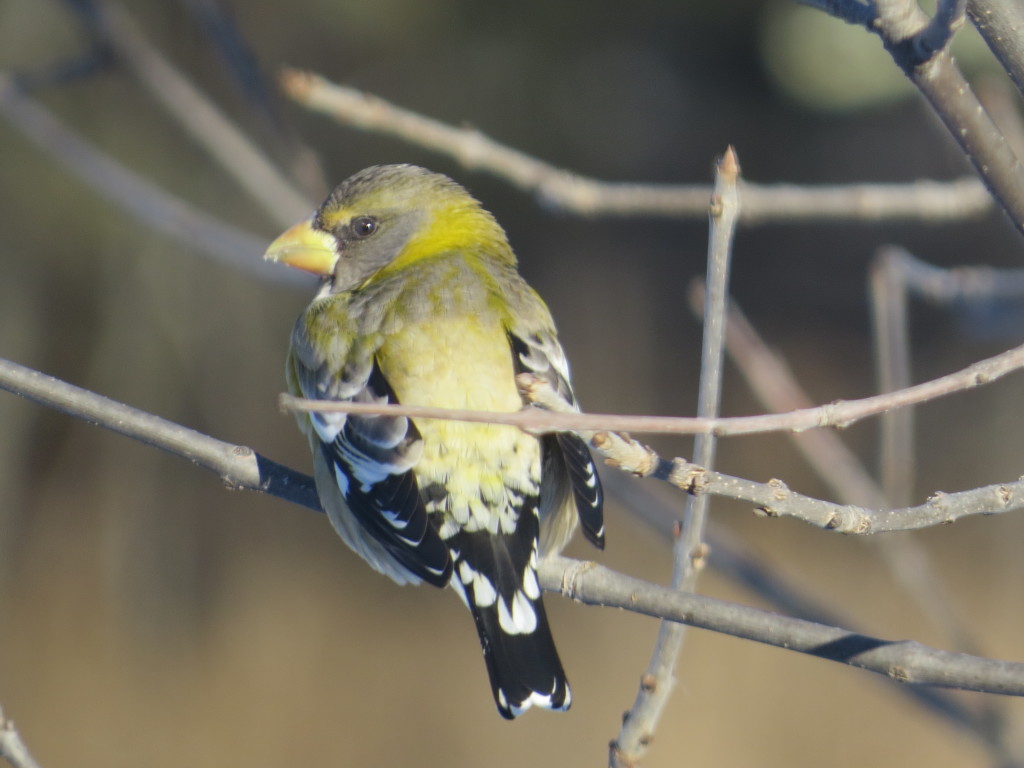 I love the color variation of all sides of this bird.  It was a special treat to be able to photograph them on a perfectly sunny day.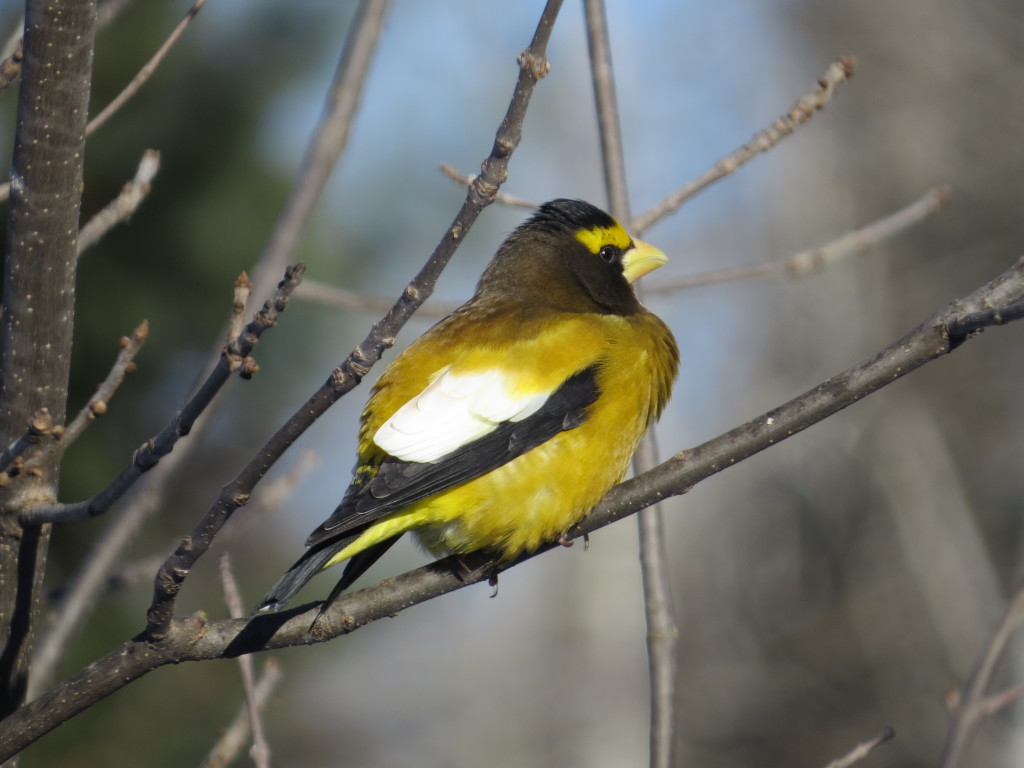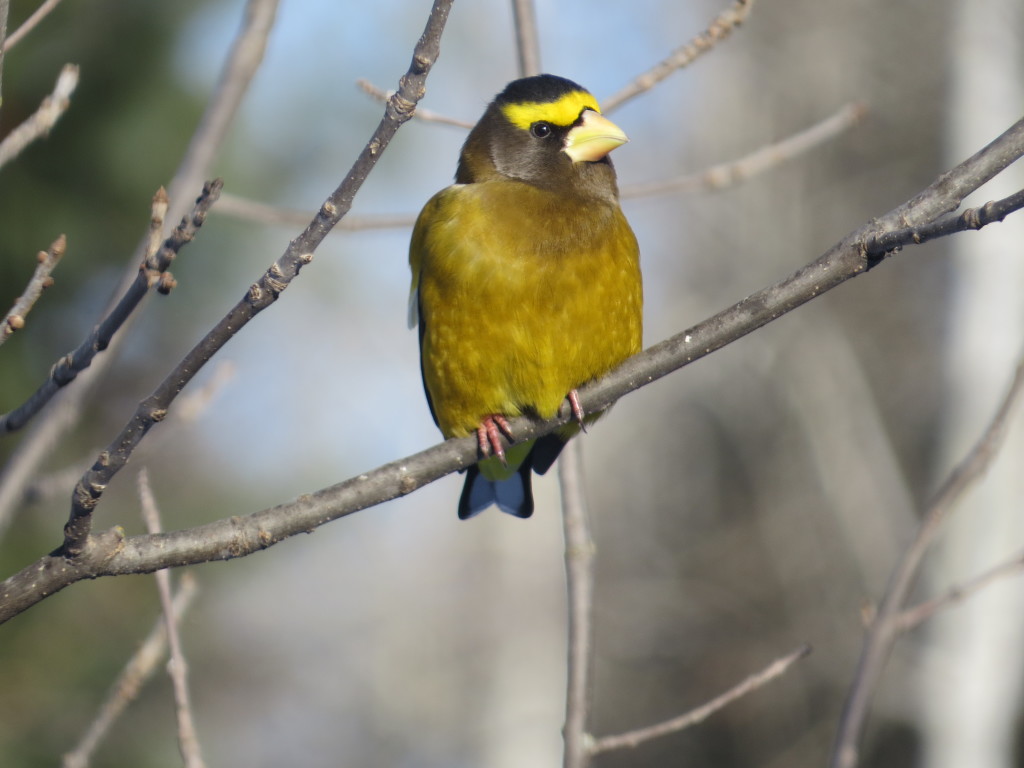 With cravings for goodies and grosbeaks satisfied, it was hard to complain about getting whooped by Grandma in Farkle.  We left with full bellies and content hearts, satisfied yet already yearning for the next visit.  It was a great day in the northwoods with its birds and people!