Today I was thinking about doing something special to try to get Evan's 200th bird.  I decided we'd take about an hour-long drive down to Cottonwood to look for a Western Kingbird and possibly some new shorebirds at the surrounding lakes and marshes. Just before we left, however, I saw I had missed a call from Joel.  I gave him a call back, and he said he found a few Buff-breasted Sandpipers in a field just a few miles west of Willmar.  I had gathered from recent posts to MOU-net that this bird had started to migrate, so it had been on our radar.  Little did I know that it is a significant bird, though I should have been clued in when Steve was trying to get ahold of me while I was still on the phone with Joel.  Steve told me he left work to go out and see it quick.  Huh, this must be a good bird.
This field now became a must-stop before we headed to Cottonwood, especially since Joel said there were also Semipalmated Plovers, another would-be life bird.  We could potentially hit the big number without going very far at all. We got out to the field where this muddy area with a couple of puddles and surrounding grass was the hotspot.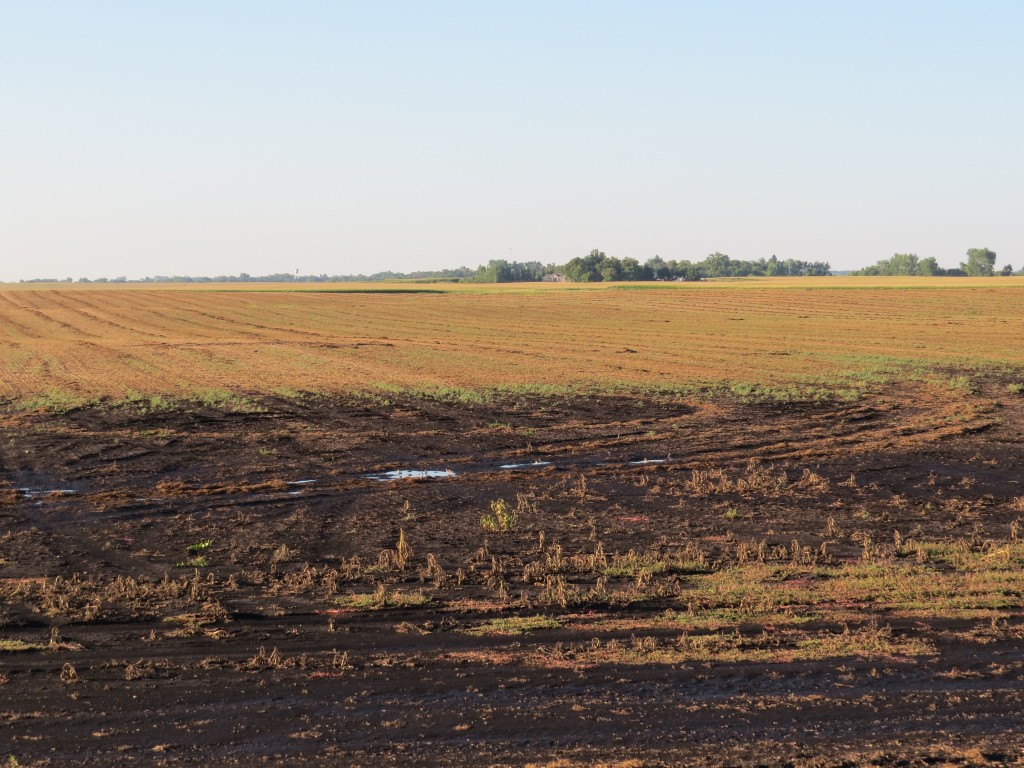 Scanning the mud and the surrounding field, we could see lots of birds. I started taking pictures of anything that wasn't a Killdeer.  I really do not know shorebirds, so I rely on the photos to help with my identification.  I was certain we had to have something new, but confirmation would have to come when I could study the pictures.  At one point a larger shorebird flew in – it was the Upland Sandpiper!  I saw one earlier this summer, but Evan needed it for his list.  Lifer #199.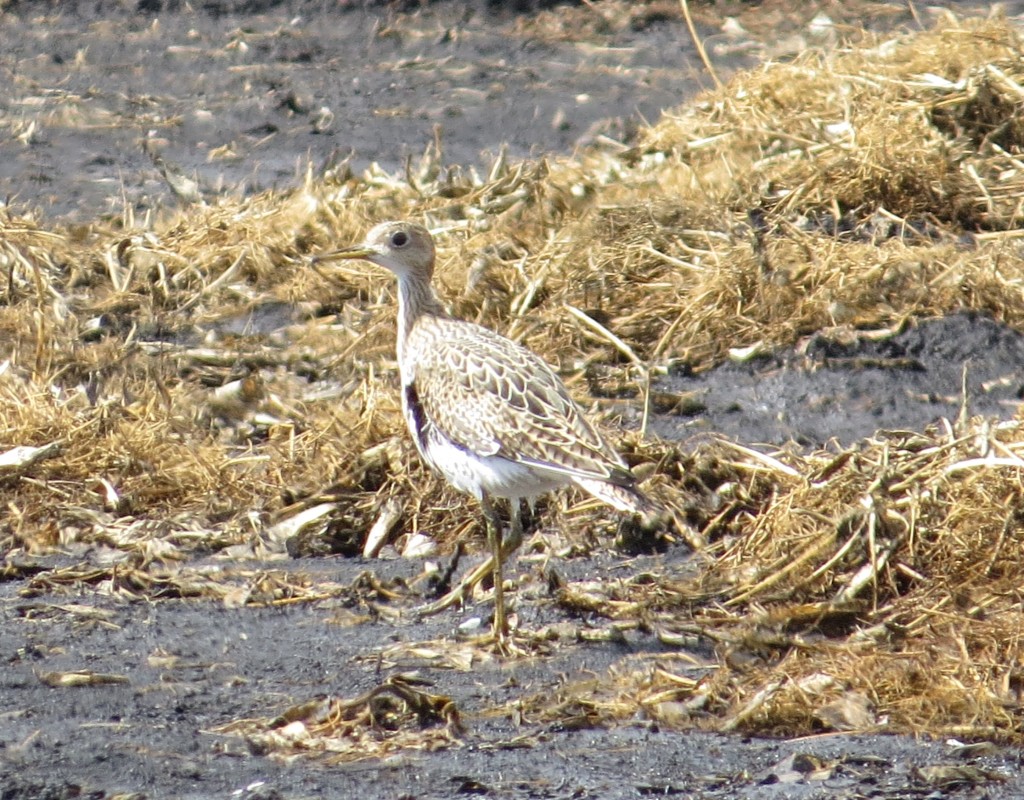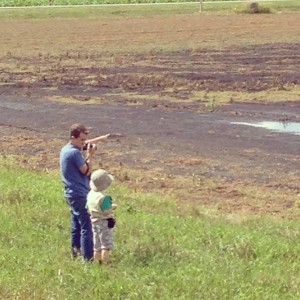 This was a great find.  We missed on it at Blue Mounds State Park and Felton Prairie. Hopefully #200 was on my camera roll waiting to be identified.  There was so much to look at, but we had to get going to run an errand and go out for a celebratory supper before going to Cottonwood.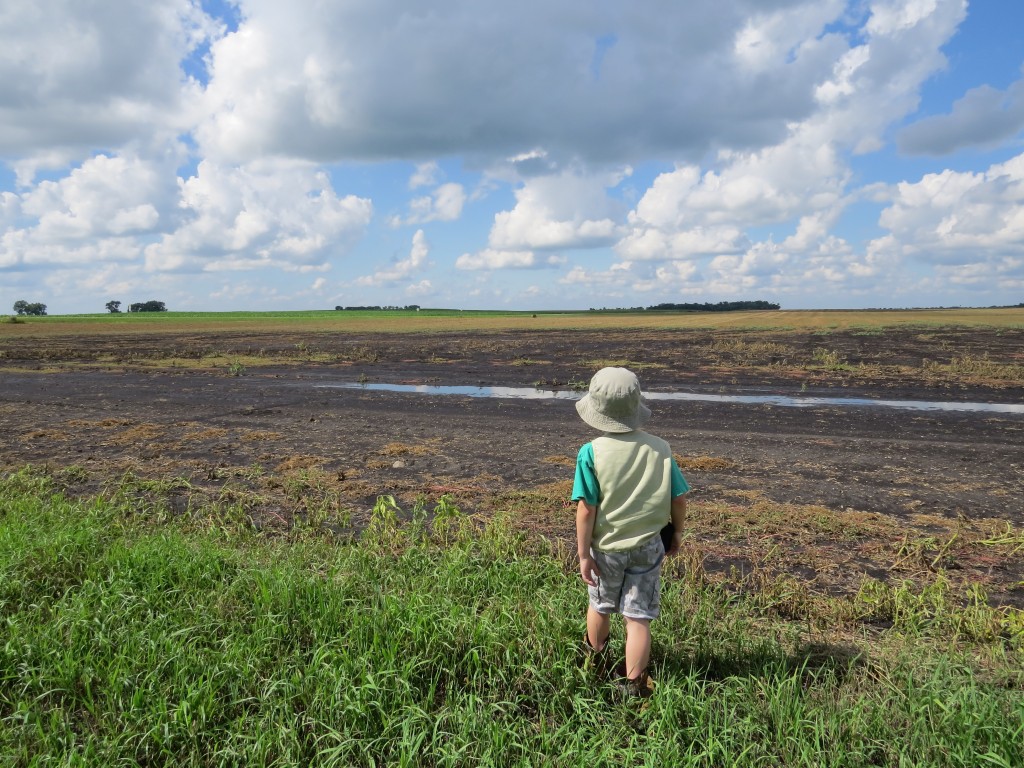 While in the car I started going through my pictures and scouring the field guide.  As desperate as I was for something new, my pictures were just turning up two shorebirds besides the ever-common Killdeer: the Least Sandpiper and the Pectoral Sandpiper. We've seen both.  There was no Buff-breasted Sandpiper. Here are two pictures of the Least Sandpiper, a tiny shorebird about the size of a sparrow.  They are often referred to as "peeps."  They're kind of cute.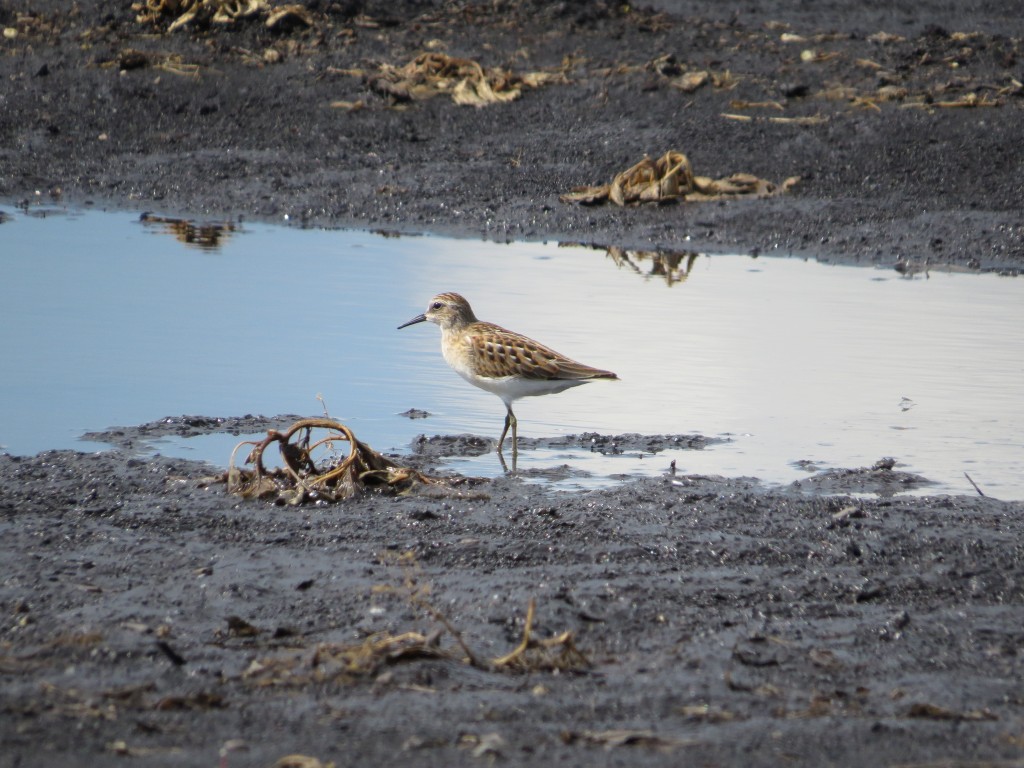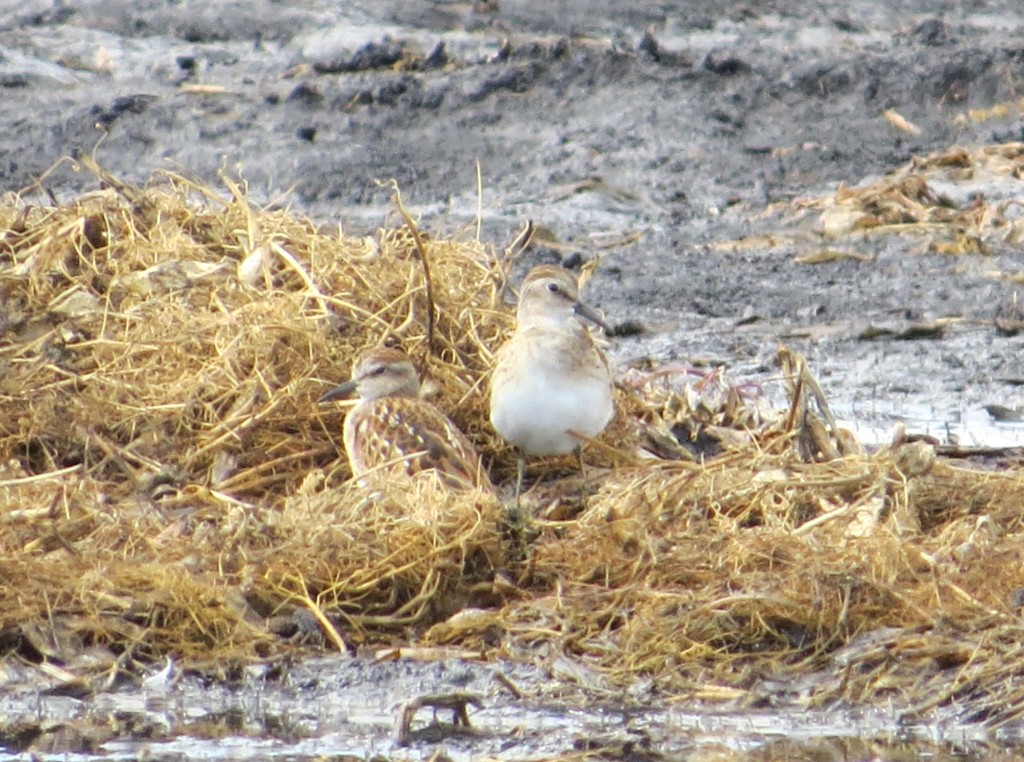 Here is the Pectoral Sandpiper – yesterday's new life bird.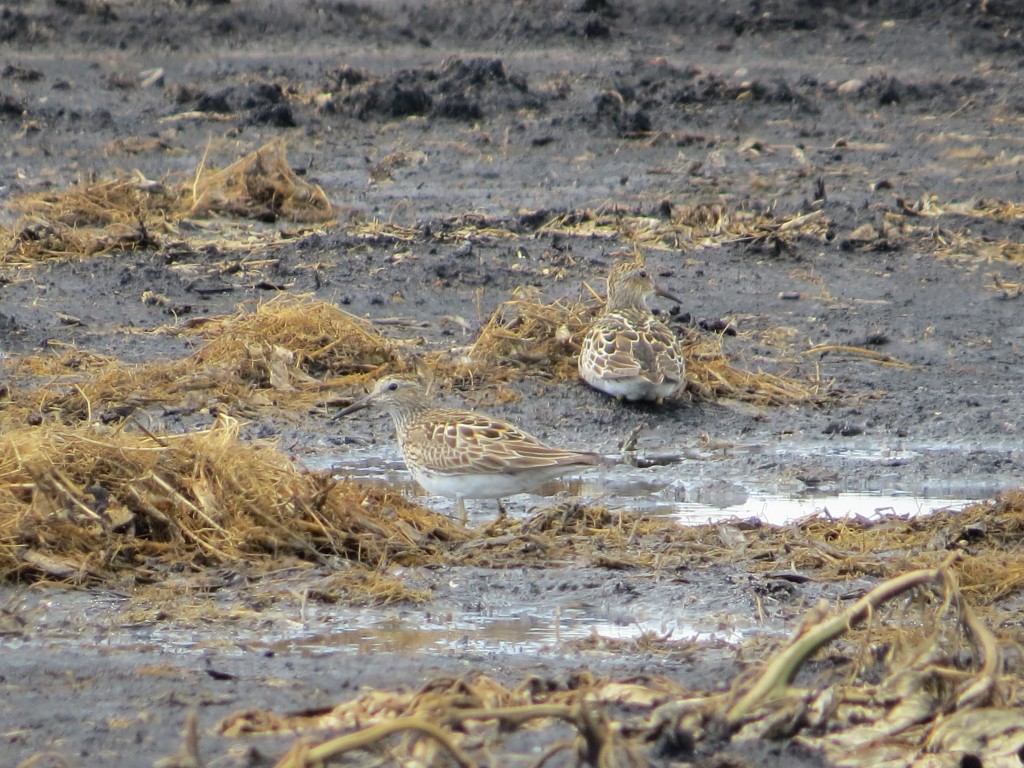 So we were sitting at #199 while we prematurely celebrated by eating out at Evan's restaurant of choice, Burger King.  The evening was coming to a close leaving very little time to go to Cottonwood.  I decided we'd head back to this muddy field to try one more time for the Buff-breasted Sandpiper instead of making the long drive.  Maybe there'd be something else too.
Arriving there we saw the scene was pretty much the same: Killdeer, Least Sandpipers, and Pectoral Sandpipers.  Bummer.  As we were watching, though, the cavalry arrived in the form of Ron Erpelding.  Ron is a well-known birder around the state who's been at this sport for over 50 years.  Apparently he had heard from Joel too.  Ron set up his Swarovski spotting scope and went on the hunt for the target in the short grass far beyond the mudflat.  Evan and I weren't concentrating on the right habitat.  Within minutes, Ron located three of the Buff-breasted Sandpipers and let us look through his scope to see them.  Lifer #200 for Evan! They were way out there, but I managed to scratch up a recognizable photo.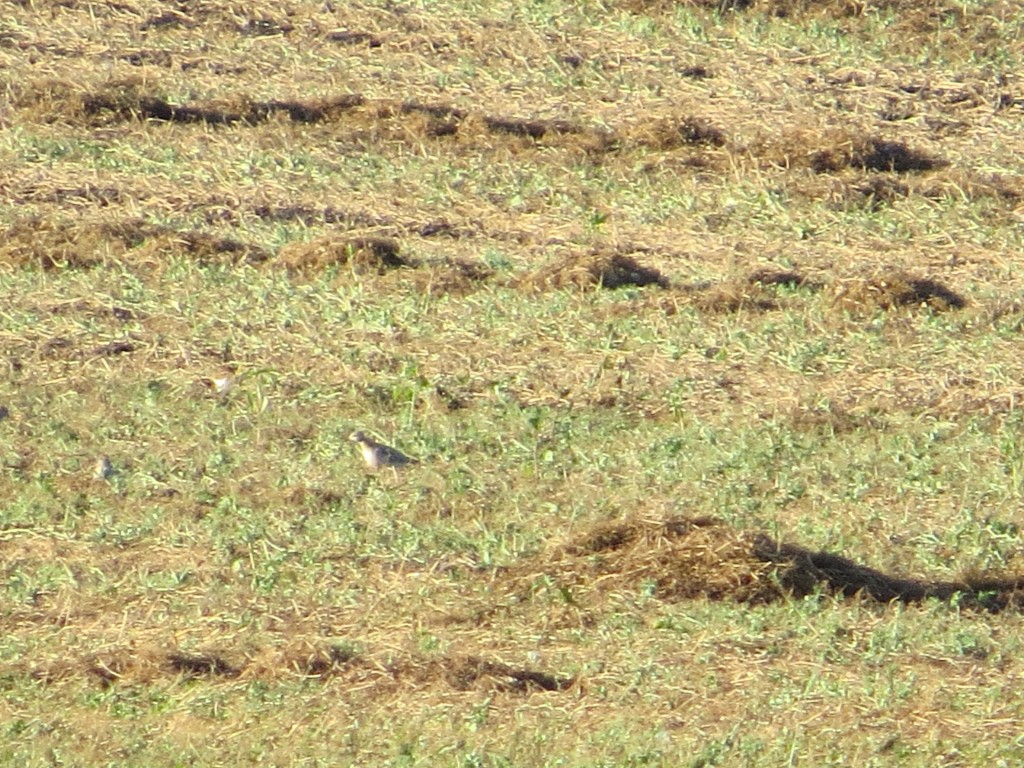 There's always so much to learn about birding.  Ron taught us about habitat types for this bird and other shorebirds.  He also told me that this was a good bird to get – that Joel had only found them one other time in the county over a decade ago. Wow!  Here I was kind of bummed that #200 was a shorebird and not something spectacular like a new warbler or other colorful songbird. With this find, however, I'm now starting to catch the shorebird bug. The birding addiction is in full-effect.
Not only did Ron put us on to the Buff-breasted Sandpiper, but pointed to some small birds flying overhead, peeping as they went, and told us they were American Pipits. Lifer #201 for Evan.  It was a cool bonus. The road to 300 has started.
After Ron left, I moved to a different location to try to get a photo of the Buff-breasted.  It was fun to be able to find this one myself even if it was still way out in the field.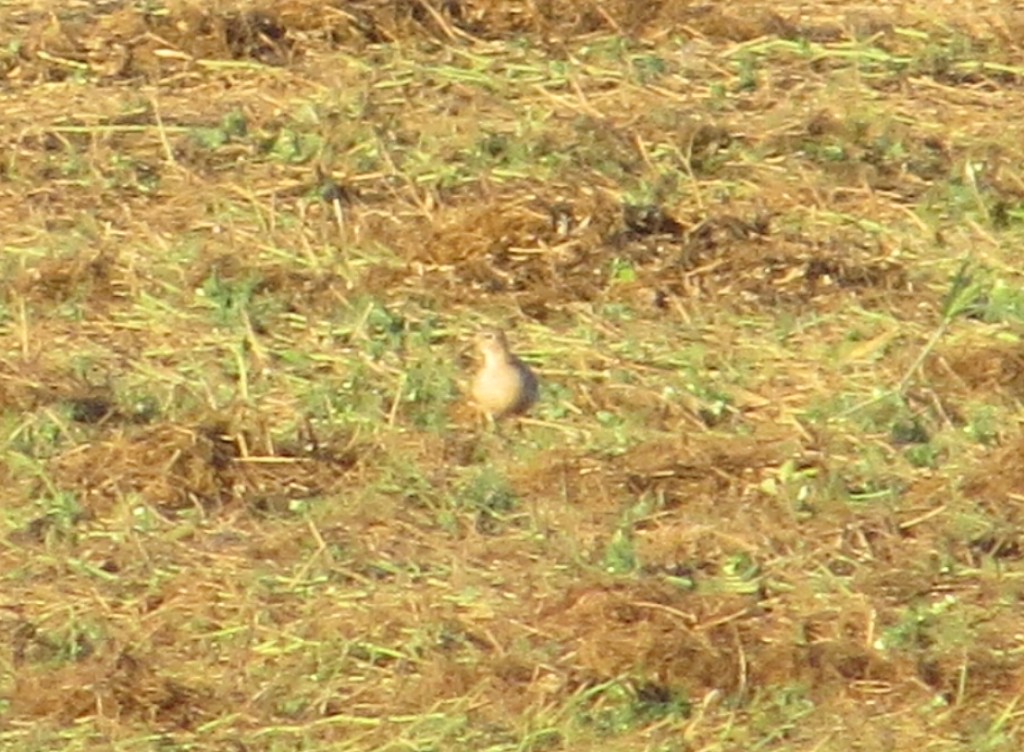 These birds blend in very well.  As Ron said, when they stop moving they are tough to see because of their buffy color and the habitat they love.  Can you find it in the picture below?  The white ones are Killdeer.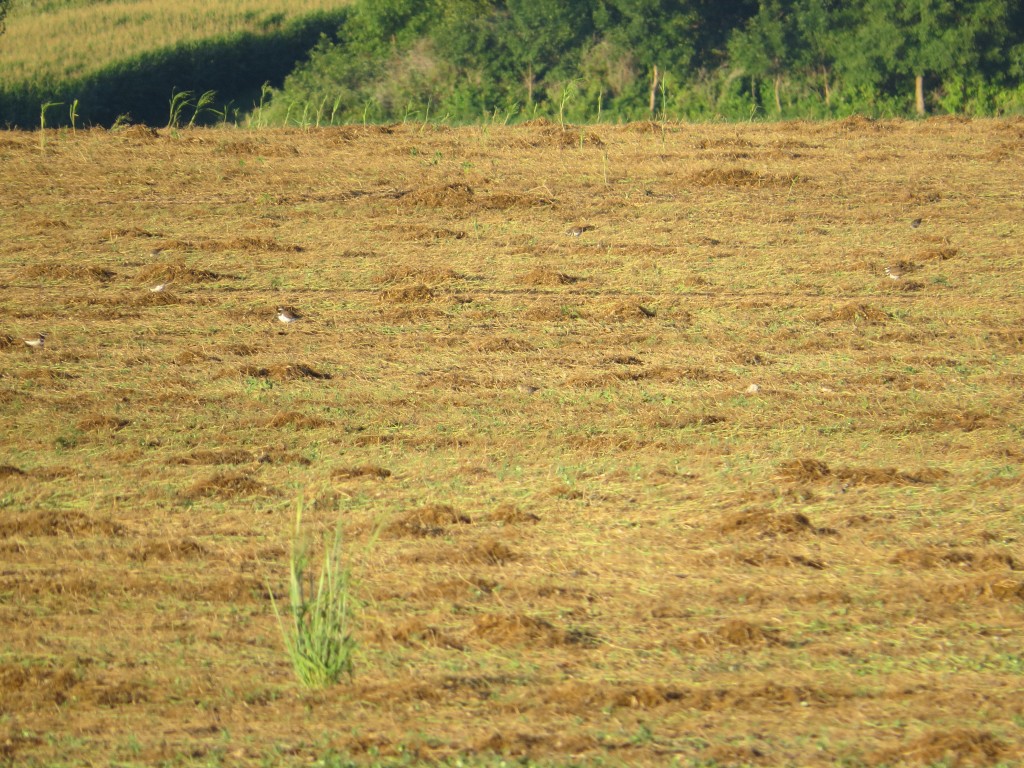 With three lifers today, Evan crossed the monumental threshold of 200.  The next 100 will be tougher and slower to come by, but you can bet we'll be hacking away at it.  For those of you following the giveaway contest, Julie had the closest guess of August 11 and has won the Kaufman field guide.  Julie, we have your contact information, but we need you to acknowledge your win by commenting on this post.  Thanks for playing the game, everyone.  Look for another giveaway at #250.

Celebrating #200 with ice cream…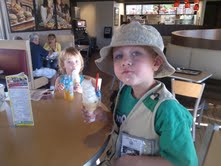 Much like celebrating #100 last spring…