It's hard to be a part of Tommy DeBardeleben's Owl Big Year (TOBY) in 2016 and not have it rub off on you in some way.  Watching my friend Tommy see all of America's Owl species in one year was inspirational and got me thinking about completing my own "set" of Owls since I was so close.  In the fall of 2016, I made it my goal to see a Whiskered Screech-Owl on our annual trip to Arizona.  After that Owl was secured, only 3 Owls of 19 remained: Boreal Owl, Ferruginous Pygmy-Owl, and Flammulated Owl–none of which would be particularly easy.  In fact, all of them are quite challenging. Nevertheless, a plan was hatched to make a rare summer trip to Arizona to attempt Owl lifer #17, Flammulated Owl.  Going in summer was necessary since this Owl is a migratory summer resident that is not around in Arizona during the fall/winter when we usually visit.  And since Flams are associated with the forests of higher elevations, we'd have to head to the mountains for this bird.
There are many places in Arizona to look for Flams, but to make it a family-friendly trip I opted for northern Arizona so that we could knock out our lifer Grand Canyon too.  Tommy had suggested that the Flagstaff area held great Flam habitat.  I liked his suggestion, so we made plans for a quick, end-of-school-year vacation at the Wyndham Flagstaff Resort.  Tommy made plans to join us for a couple days of our vacation so that he could help me get yet another new Owl.  Previously Tommy had shown me six Owl lifers on other Arizona trips.
The Owling was to commence on the first night of our vacation. May 30th was travel day and got off to an early start.  We landed at PHX around noon local time and proceeded to make the 2-hour trip north to Flagstaff.  Tommy drove up from Phoenix later in the afternoon and after some grocery shopping and enjoying a meal together, Tommy and I were off for a night of Owling while the family stayed back at the resort to relax.
Tommy and I had an hour's drive to the southeast along the Lake Mary Road to make our Flam attempt at arguably the best place to try for them: Happy Jack Lodge.  The Flam fame for this location started when Caleb Strand discovered multiple reliable, accommodating birds here a couple years.  This was the site where Tommy got his TOBY Flam in 2016.  I have seen many crushing photos of Flams from Tommy and Caleb from this site and have drooled over the possibility of Owling here.  And now it was finally going to happen.  Although, daydreams of Flams perched low in Oaks were interrupted by a couple close encounters with Elk on the road.  Thankfully Tommy was driving and was skilled at spotting them.  The Elk weren't the only distraction. We cruised right by Mormon Lake, the site of the the Arizona first state record Common Crane that showed up earlier in the month and disappeared just a week or so before our trip.  I found out later (back in Minnesota) that the Common Crane was refound on our last day of vacation! Doh!
We got to Happy Jack Lodge just as it was getting dark.  After a short walk through the campground, we started Owling in the adjacent forest which was fairly wide open.  I was expecting magic at any minute. But it was eerily…silent. We forged on, stopping every now and then to listen and play tapes. Nothing.  What was going on? In my mind I had billed Happy Jack as a sure thing, so disappointment was quickly setting in.  We weren't hearing any nighttime sounds. The lack of activity coupled with the long day of travel was finally taking its toll on me.  I found it difficult to stay awake and focused and had to pause often to sit down and rest. Finally, enough was enough, and we ditched Happy Jack altogether.  We were now entering the unknown territory for getting me this Owl lifer.  It's a good thing Tommy is a skilled Owler and is not at all daunted by the unknown.
On the drive back to Flagstaff, Tommy decided to stop at Wiemer Springs Road where he had seen a recent eBird report of a couple Flammulated Owls.  It was worth a shot.  Tommy had never been here before, but he got excited once he saw the habitat.  He felt really good about our chances.  We continued the ritual of hiking, pausing to listen, and playing tapes. Then, a short time after playing the tape, we heard a "Poot!" It was a Flam! And once it started, it kept going: "Poot!….poot!….poot!" Tommy said, "Let's go get it!" and led the way into the woods as we tried to pin down the Owl for visuals and photos.  We tracked down what tree it was in, but Flams can perch high and remain out of sight as they perch close to the trunk of the tree.  We scanned and scanned with our flashlights.  Finally, Tommy shouted, "Josh, I've got it!" I hustled over to where Tommy was, but just then it flew and I never saw it.  This played over a few times: we'd hear the bird, track it down, Tommy would get a quick visual, and then it would fly as I approached.  It was so frustrating.  We even had a second Flam that we heard, but neither was being cooperative for us.  Eventually the Owls were quiet and we were super tired.  We had to call it a day for Flam attempt #1.  Officially, #17 was on the list as a heard-only, but it wasn't as gratifying as it could have been if I had actually seen it.
The next day Tommy accompanied our family on a trip to the Grand Canyon.  Throughout the day we discussed what we should do for our next and final night of trying for the Flam.  Options included Owling closer to Flagstaff, returning to Happy Jack, and returning Wiemer Springs Road.  We finally decided on the latter as we knew there were actually Owls at that location.  Their reclusive habits made us nervous, though.
When we got to Wiemer Springs Road, Tommy had commented that it would be funny if we got the Flam right away.  We began the walk we had taken the night before and  played the tape in the same spot we had found one.  Immediately we got a response! I followed Tommy through the woods.  Rather than scanning with my own light apart from Tommy, I basically stayed right at his side.  This time it paid off as Tommy quickly got on the Owl with his light, and this time it stayed put!! Flammmmmmmm!!!!!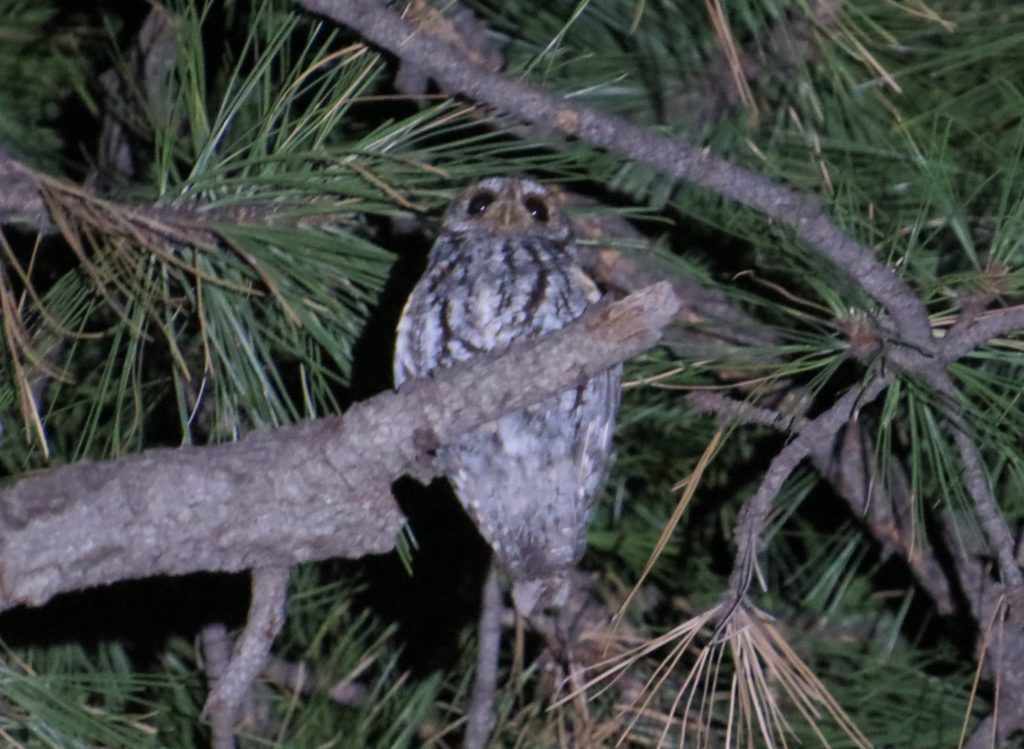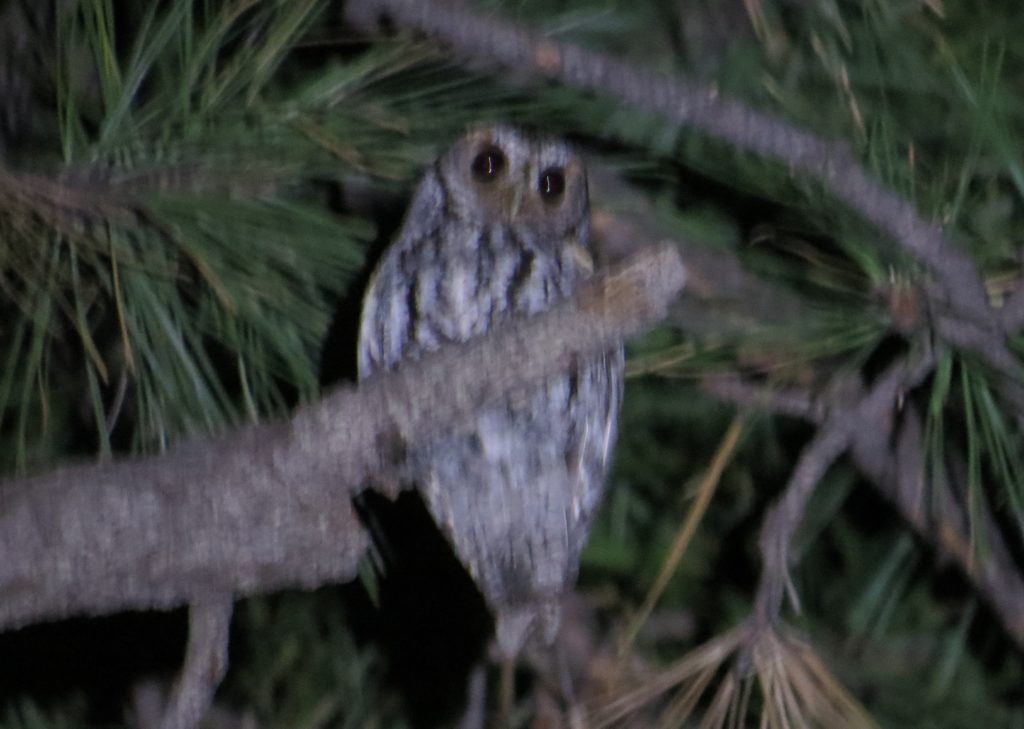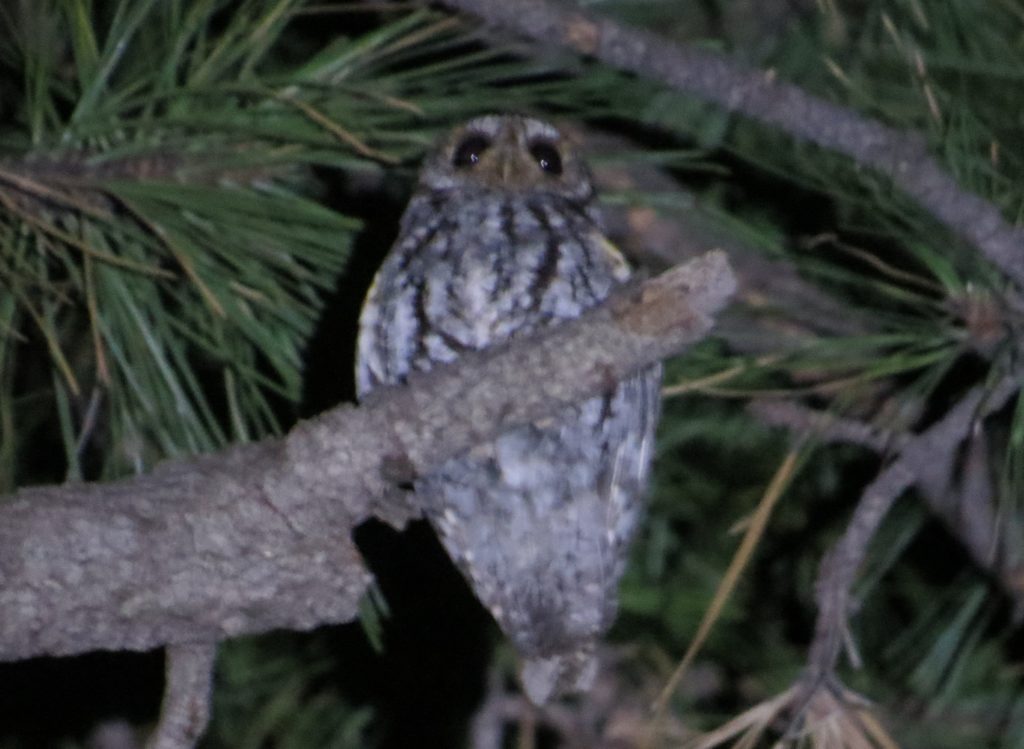 We literally had about one minute to view/photograph this bird before it flew off from its 30-foot high perch.  From the time we had started walking to when this encounter was over, only 12 minutes had gone by! It was quite the stroke of luck, or more likely, an answer to prayer as Tommy had said.  Wow, what a thrill it was to get this Owl with my buddy, Tommy! I was very satisfied with the experience and the photos I got, but since the night was still very young, we decided to keep trying for more visuals.
The rest of the night would play out like the night before where additional visuals and cooperative birds could just not be had.  We did hear a couple more Flammulated Owls, but none was willing to sit still.  However, the excitement for the night was not over.  As we were chasing yet another Flam vocalization, I heard something faintly in the distance that sounded like a Western Screech-Owl.  Unsure of what I was hearing, I asked Tommy if there were Screech Owls in the area.  He told me they were very unlikely at these high elevations.  We paused to listen, and I kept hearing it! The bouncy ball song was unmistakable.  Tommy wasn't picking it up though which surprised me and caused me to doubt my senses.  But then he caught part of the distant vocalization and confirmed it was a Western Screech!  It was a Coconino County first for Tommy besides! Since this bird is somewhat rare for this part of the state, we decided to track it down for visuals and photo documentation.  Unlike Flams, Western Screech-Owls are very cooperative.  Tommy knew we would have no trouble seeing it.  Tommy was right.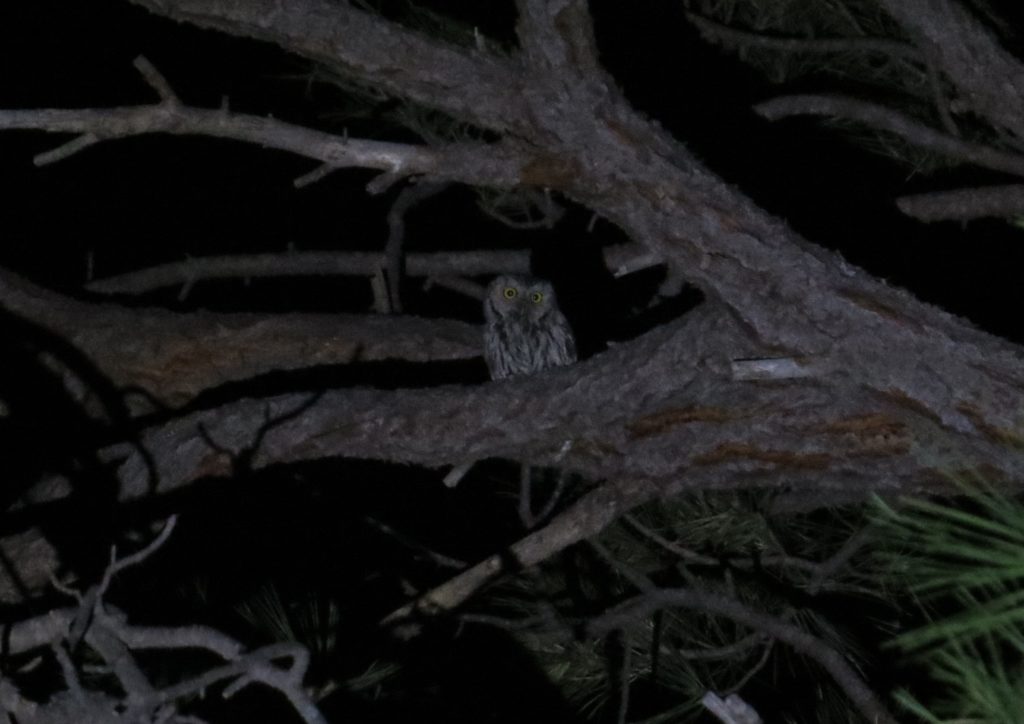 Strangely, though, this bird stayed very high and wouldn't come close for photos.  We actually detected at least three Western Screech-Owls, two adults and one juvenile.
After the Screech-Owl fun, we kept up our search for Flams with no further sightings.  A pair of dueting Great Horned Owls did give us a three-Owl night, however.  With Flammulated Owl locked down and photo-documented as my 17th Owl lifer, the trip was a huge success.  A fun coincidence is that the Flam was Tommy's 17th Owl species for TOBY. I can't thank Tommy enough for all the Owl species he has shown me (7 in all!).  The next day we celebrated in a most appropriate way–eating at the Toasted Owl Cafe right by our resort in Flagstaff.  It's very good, by the way.
So now only two Owls remain for me.  I got Owl lifer #16 in 2016, #17 in 2017, so I'm putting it out there as my next birding goal: #18 in '18 and #19 in '19.  Research and plans are already underway.  There is a chance Tommy still might be able to help me with one of those, but I may be on my own in other parts of the country for the rest of the journey.  Thanks again, Tommy!
Coming up in the next post will be the other lifers of this Arizona trip, highlighted by a real show-stopper which was the other major target bird of the trip!