It was 2012 when this whole birding thing began for Evan and me. By year's end, we didn't even have 100 species to our name. Sometime in January of 2013, I discovered Minnesota's listserv, MOU-net. My eyes were opened to the world of rare birds. At that point in time, rare birds and common birds were all still new to us, so many of the reports were not of great significance to us. While I wasn't into chasing rare birds at that time, a bombardment of emails regarding one bird was causing me to think I should take some kind of action. The Boreal Owl was irrupting in record numbers that January and February, coming down from Canada. I had only seen a Great Horned Owl by this time, so it was just one of 18 Owl species I had yet to see. But people were describing how this species only irrupts like this every four to five years, and birders were flying in from all over the country to see this Owl. It was a rare event to say the least; I knew I had to try. Melissa was involved in directing a school musical during that same time and couldn't break away for a weekend getaway until early March which I later found out was a little on the late side for Boreals. Some readers may recall that it was then that we made our first ever birding trip to the Sax-Zim Bog and the North Shore, hoping to see the Boreal Owl as well as the other great northern Owls. Not only did we not see a Boreal, but we saw no Owls at all.
That winter passed giving way to new seasons and new birds. Over the years our life list would quadruple, and it would include numerous Owl sightings from 17 different species. Each winter I'd hold out some hope that there would be a report of a Boreal Owl somewhere along the North Shore of Lake Superior, but there would be none. Eventually it became a mythical bird for me. I kicked myself for not getting my butt up to Duluth in February of 2013. In the years since then, I had amassed a formidable collection of rare bird sightings in Minnesota and across the country, yet I was not a member of the Boreal Owl club.  I had Owled literally from the Canadian border down to the Mexican border seeing really cool Owls.  But the Boreal was not one of them. In fact, I was down to two unseen Owl species of the 19 that are possible: the Ferruginous Pygmy-Owl and the Boreal Owl. Watching my good buddy Tommy DeBardeleben accomplish his goal of seeing all 19 Owl species in 2016 only heightened my desire to get the Boreal.  I felt as if Minnesota was a lost cause.  I began to daydream of trips to Washington state, Colorado, or Ontario to look for this Owl.   The winter of 2016-2017 was supposed to be the next Boreal Owl irruption if it truly did irrupt every four years. I eagerly awaited news last year. There were a handful of scattered reports, but nothing of a large scale irruption materialized. Would I have to wait another four years? Would I have to travel far away and spend all kinds of money to finally see this Owl?
It turns out I was not alone in my longing for a Boreal. Buddy Jeff Grotte who started the popular Facebook group, Owl About Minnesota, has seen over 1,000 Owls in the last five years. He even tried for Boreal a few times back in 12-13, but he was still Boreal-less too. Jeff and I talked often of hoping to see this bird. Then in December, a friend of Jeff's from Indiana had a brief sighting of one in the Sax-Zim Bog. It was a fluke sighting, or so I told myself. This wasn't the irruption year–that was supposed to be last year. Jeff and I decided to try for this Owl the very next morning. It literally was our first opportunity in five years of waiting. We had to try. Rising early, we got up to the Bog just after dawn. Great Grays, Hawk Owls, and Snowies were all off to a banner start up there, but Jeff and I have both seen plenty of each. We wanted the prize bird more than anything else. By noon we were still without a Boreal sighting and decided to call it quits. The three Owls we did see were of little consolation.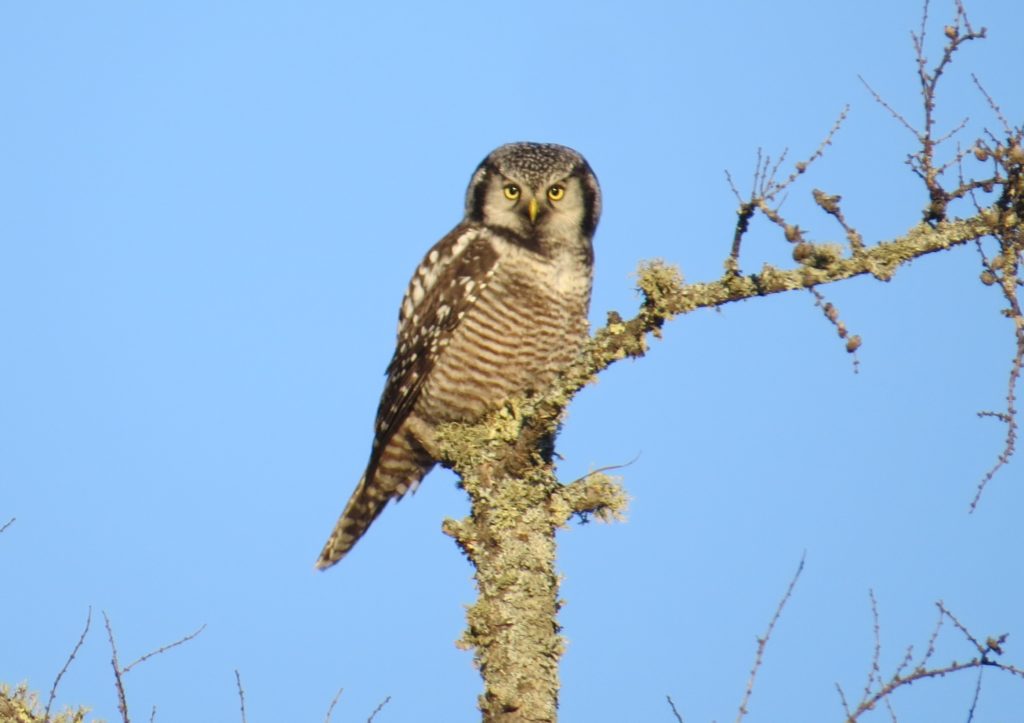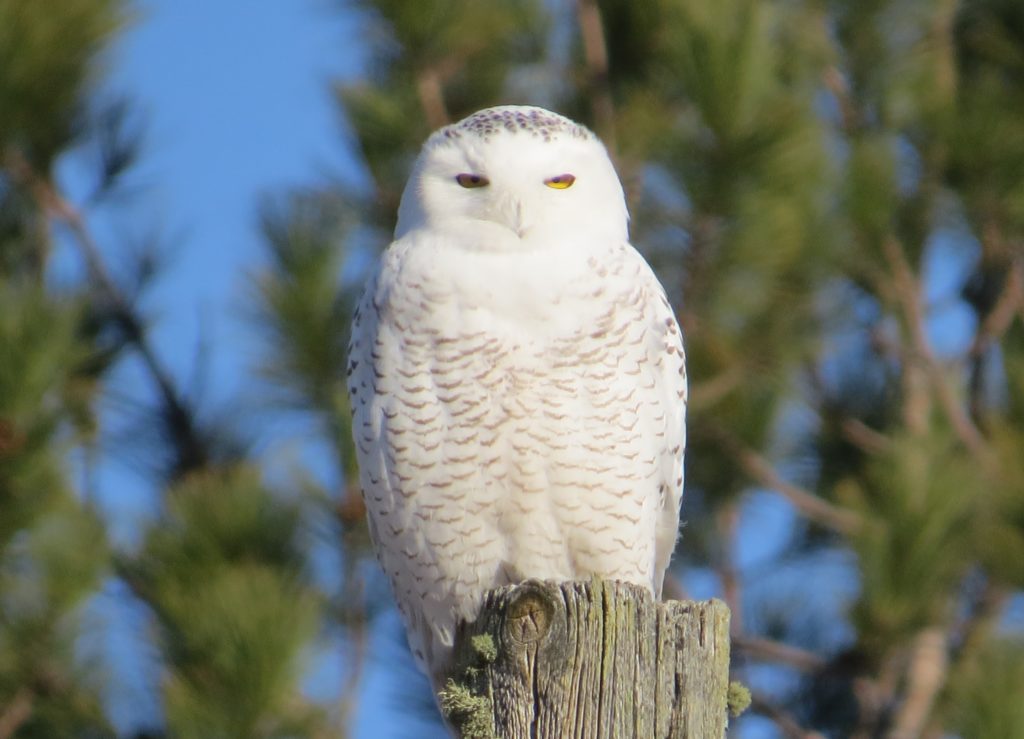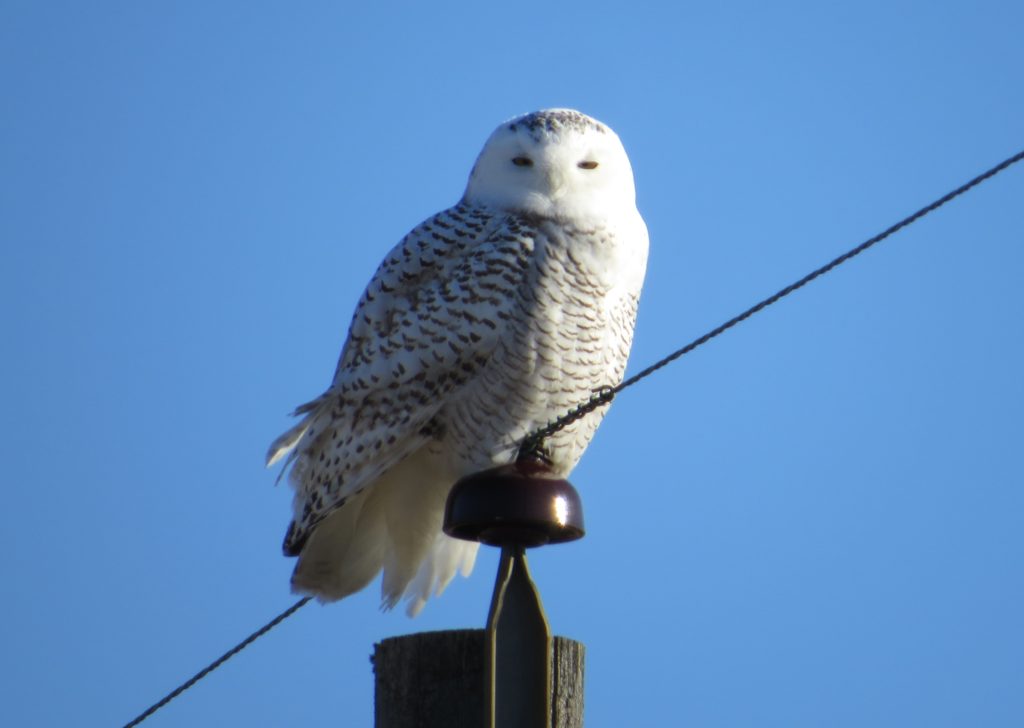 Heartbroken at the time, little did we realize that the Boreal we chased was just the tip of the spear. More sightings kept popping up during December of both live and dead Boreal Owls. By the time news of one would come out, though, it would either be during the work week or late in the day making a chase impossible. Jeff and I were hopeful that our day would finally happen, but we were very antsy about it. I had an upcoming trip to Arizona that I was now dreading. I did not want to miss my chance.
Jeff, myself, and several others decided we should just head up to Duluth and the North Shore the weekend of January 6th-7th whether we had sightings to go off of or not. Clearly the Boreals were irrupting, so the plan was to either look for one on our own or geographically put ourselves in position to quickly get on a bird if there was one. I decided to drag Evan along on this trip; even if he didn't care about Boreal Owls so much, I knew it would be a fun father-son adventure. We would travel all the way to Grand Marais to stay in my brother's vacation home, looking for Boreals along the way.
Late in the day on January 5th, one of our group had accomplished the unthinkable: while looking for Saw-whet Owls, teenage birding brothers Ezra, Isaac, and Caleb Hosch had discovered their lifer Boreal Owl near the Twin Cities! Four days prior to that, these brothers had come out to Kandiyohi County to try to help me find a Saw-whet out here. Jeff opted to look for the Boreal these guys found that next morning. I decided to continue with my plan of heading to the North Shore. After all, Scenic 61 between Duluth and Two Harbors is where the Boreals usually pop up. Furthermore, a fellow living outside Grand Marais had one coming to his yard for a few days in a row. This Twin Cities Boreal could easily be gone the next day, and chasing it could cause me to lose valuable search time along the North Shore. Jeff planned to call me that morning if it was relocated. Sure enough, two hours into my journey north I got the call from Jeff. I was just north of Hinckley at the time, heading north on I-35. I continued to the next exit where I could get turned around to head south. It would take an hour to get there. It was a strange detour, but you know, a bird in the hand and all that…
Evan and I got to the site. Jeff was waiting for us in his car trying to get warm.  Little did we know that it was nearly a mile hike in the single-digit temps out to this Owl. Jeff did warn us that the Owl was extremely high in a pine tree, like 60 feet high, and the views were terrible. The Hosch family was also there to guide us out to where the Owl was. Visiting with the Hoschs, I learned that Jeff had called me to get me turned around on the highway before he even laid eyes on the bird himself. Nice guy. When we got out to The Tree, Isaac and Ezra were helping people get on their amazing find. I could not see the darn thing despite patient birders trying to describe where it was. Just as I was about to zero in on it, it flew! So, technically I had a Boreal Owl, but it didn't feel like it. Evan never took his eyes off it and saw it land in another pine just as high off the ground as the first. Evan was able to see it with no optics, but again, I could not pick it out. And then it flew again. Argh! The bird had been notched, but there were no solid looks or photos. This was not just some western Empid that you could be satisfied with a brief, distant look–this was the freaking Boreal Owl!  Two hours had now passed since I got that phone call from Jeff. Evan and I could still make it Grand Marais before dark and get at least some searching in along the way if we hurried. I was hoping we could get onto a more cooperative Owl. So with temps hovering around zero, Evan and I jogged most of the mile back to the car and quickly got on the road to go back north. There were more Boreals to be found, and we wanted a better look.
We got to Duluth around 1:00. I wanted to be in Grand Marais by 4:00 in case that gentleman with the yard Boreal called me. He had said he would make sure to tell me if it made its usual appearance at dusk. Once in Duluth, Evan and I hopped on Scenic 61, a highway that hugs the shoreline of Lake Superior. Boreal Owls are often found here during irruption years because when they come south they hit the lakefront and keep moving southwest along the shore. The stretch between Duluth and Two Harbors is often the best section for them. We, though, didn't find any by the time we hit Two Harbors. We stopped at a city park where a Boreal had been seen a few days earlier.  We planned to leave by 2:30 to get to Grand Marais in time. The park yielded nothing.  Evan and I were walking back to the car to continue northeast to GM when my phone rang. It was Jeff: "Hey, where are you at?!"
"I'm in Two Harbors."
"Turn around right now! There's one in Duluth!"
I was literally running while getting the location from Jeff and hollering to Evan (who had fallen a hundred yards behind) to start running back to the car. Huffing and puffing, we hopped in the car and quickly got on the expressway back to Duluth. Another jaunt south on this north-south zig-zag adventure. No Scenic 61 this time. In about 25 minutes we made it to the Hartley Nature Center where Erik Berg and Kelly Raymond had seen this Owl and notified Jeff. It took a little bit of time to figure out where Erik and Kelly were, but eventually we found them quietly looking at this!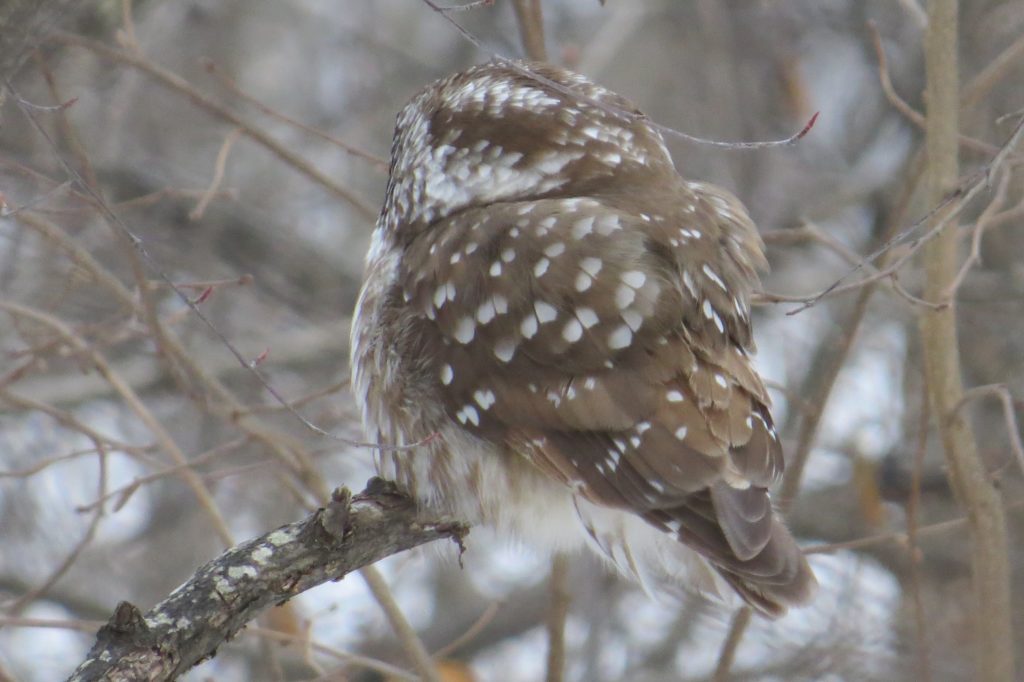 Erik and Kelly made some room for us to see this brush-loving bird through a small window in the branches. It felt good. We had made it. We were looking at a real-live Boreal Owl! Now, we were just waiting to see that face. This was our first glimpse.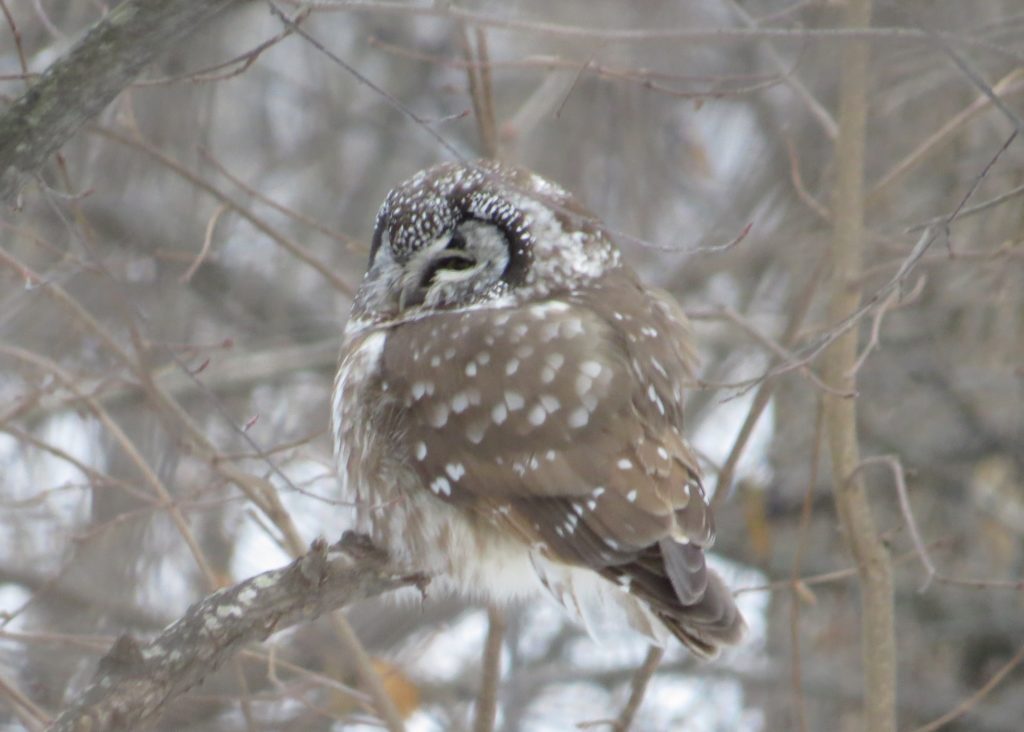 And then: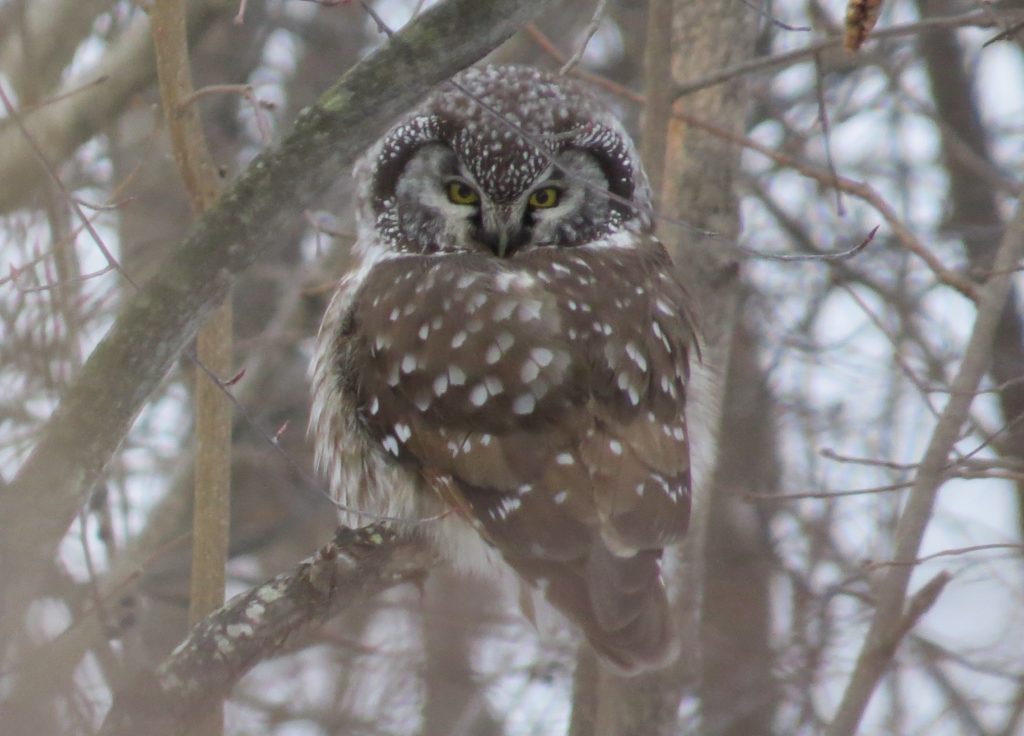 Even Evan was in awe, saying how cool this was. I was genuinely surprised at this reaction from the kid who has turned down seeing Flammulated and Whiskered Screech-Owls. "This is so cool! Dad, I see its face!"
Conditions for viewing were not perfect. I was sitting in the snow in jeans to get these photos. Eventually this sluggish bird came to life and started actively hunting! The photo opportunities (and the crowd size) started to increase.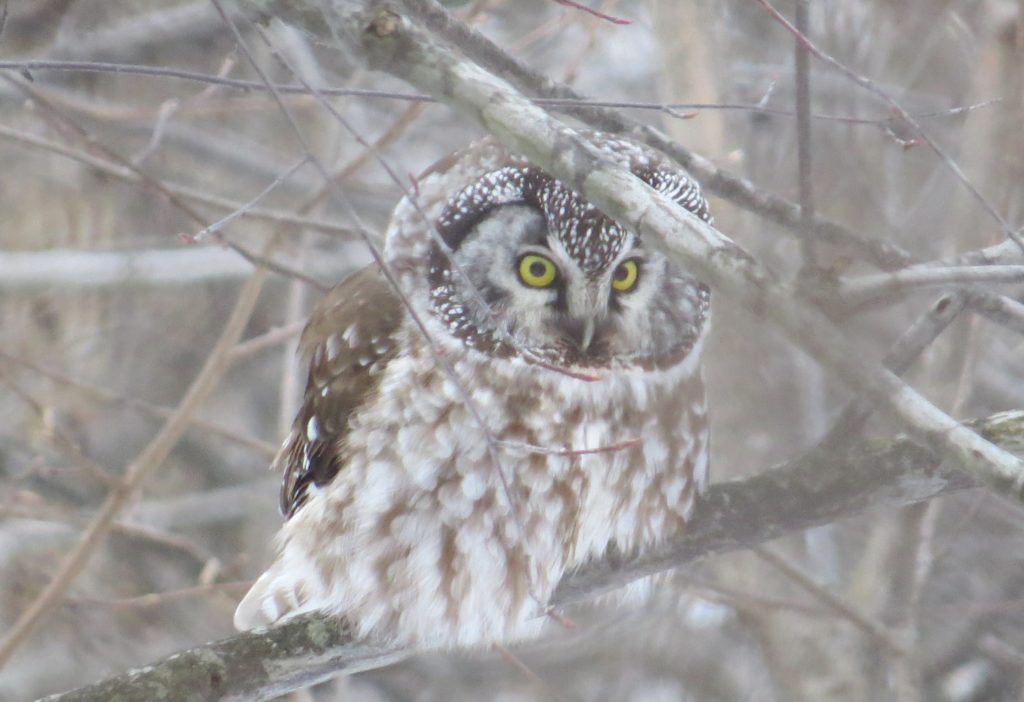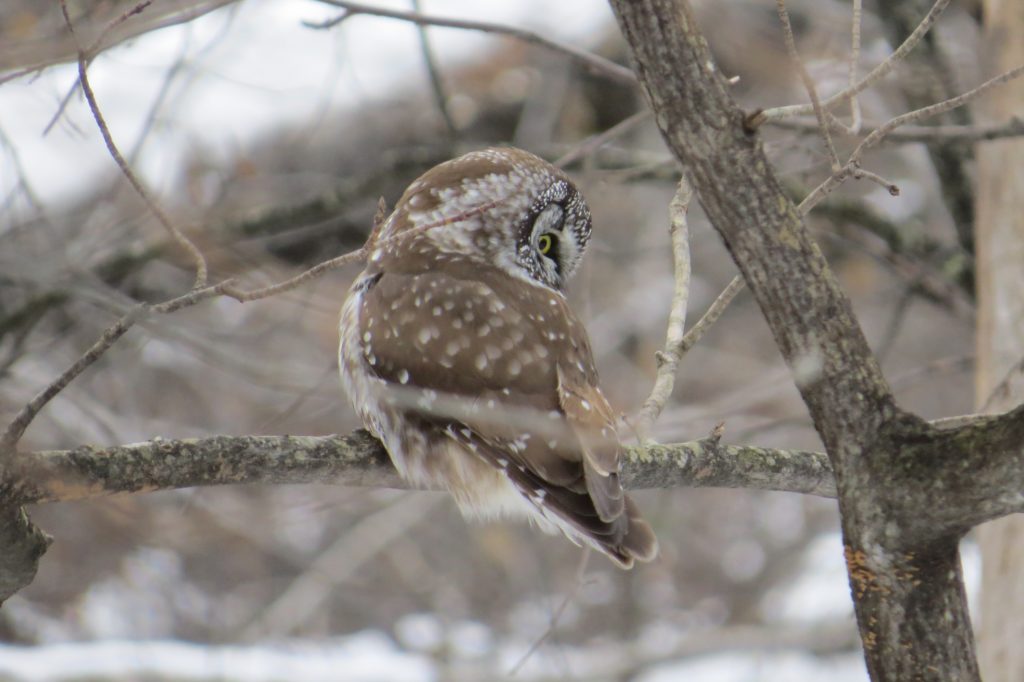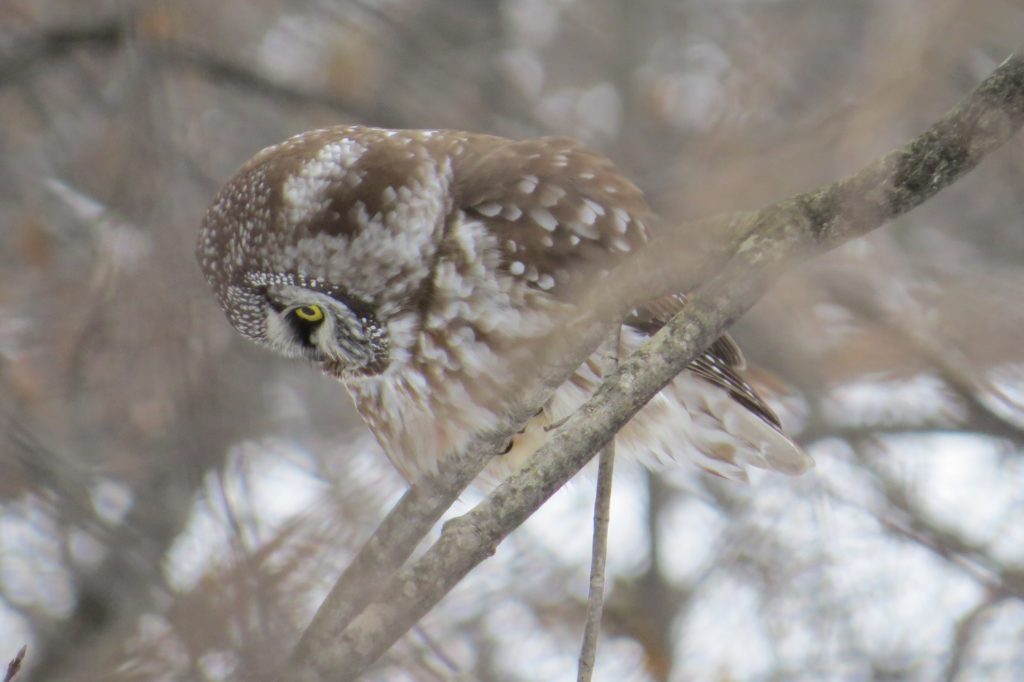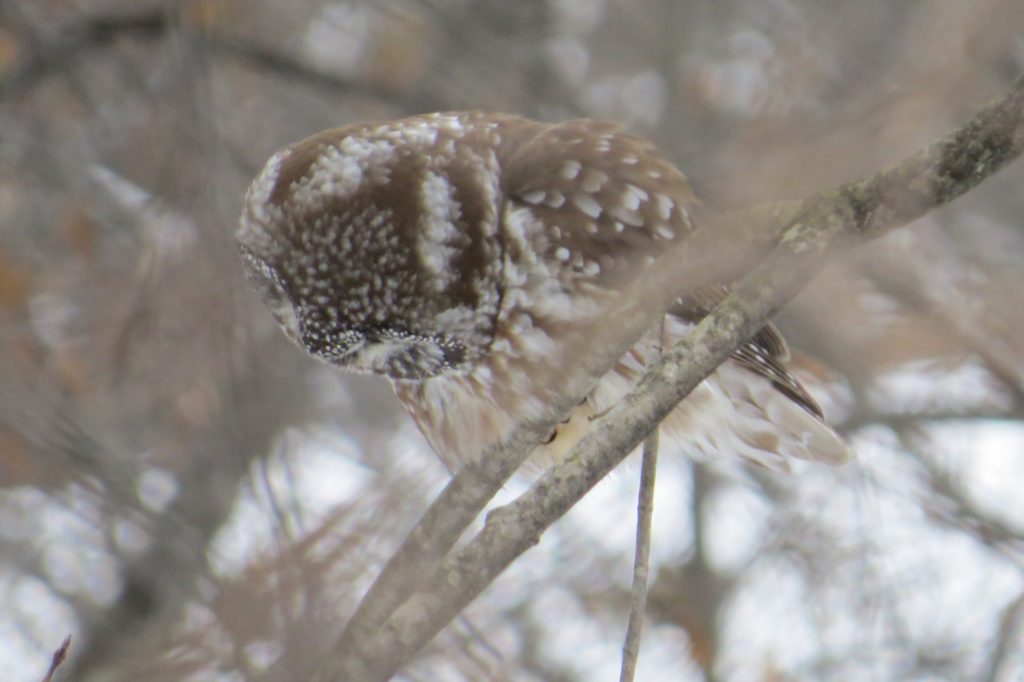 This was, by far, the coolest Owl I had ever seen. This Owl eventually flew away from this spot. I noticed it actually flew close to a different trail. John Richardson and I walked that way and spotted it on top of a brush pile. The views were much better and gave me my best Boreal photo, which Jeff helped me enhance.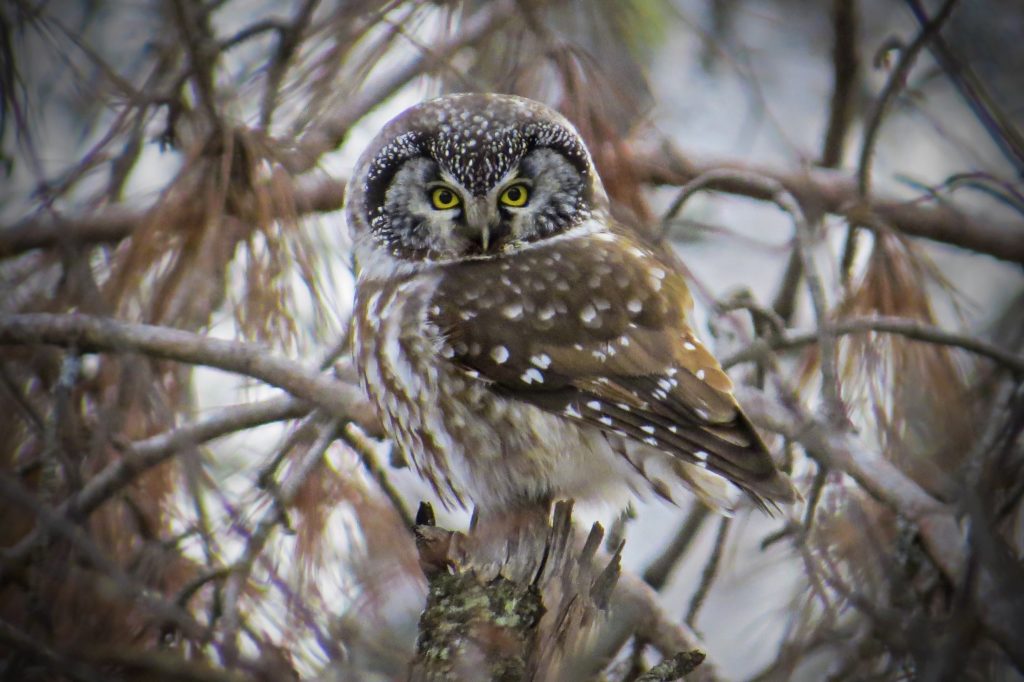 Evan was cold at this point and wanted to wait in the car while I continued to enjoy the bird.  I walked him back to the car. When I returned, the Owl (and the crowd) had moved.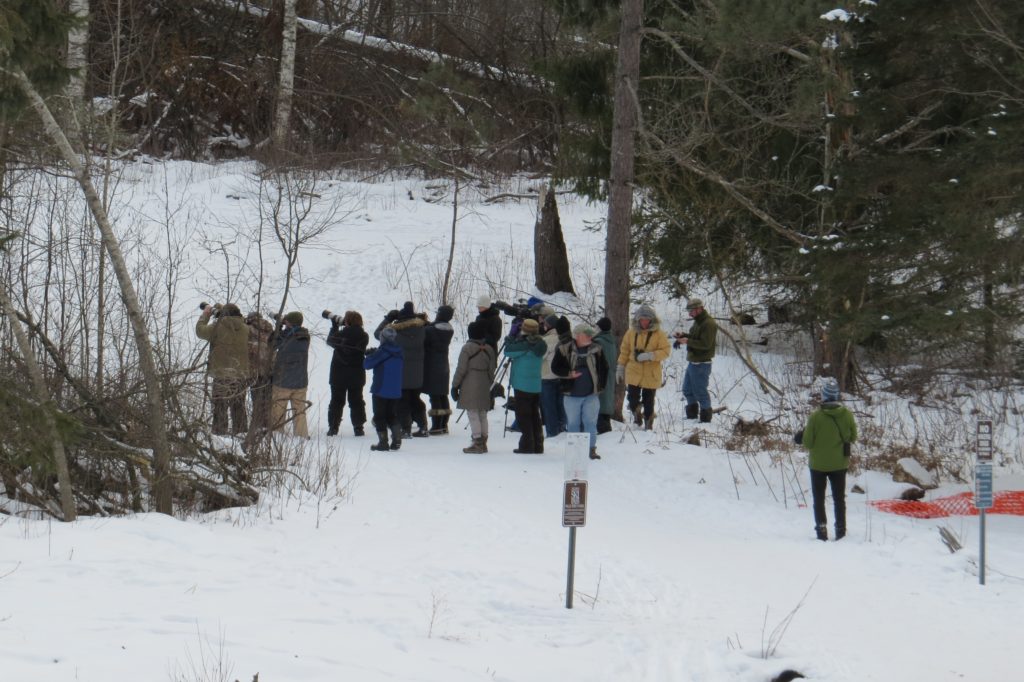 The Owl was now very close to the trails and out in the open. I felt bad that Jeff wasn't there to experience these photo opportunities; he had not felt well after the Twin Cities Boreal expedition and decided not to come north.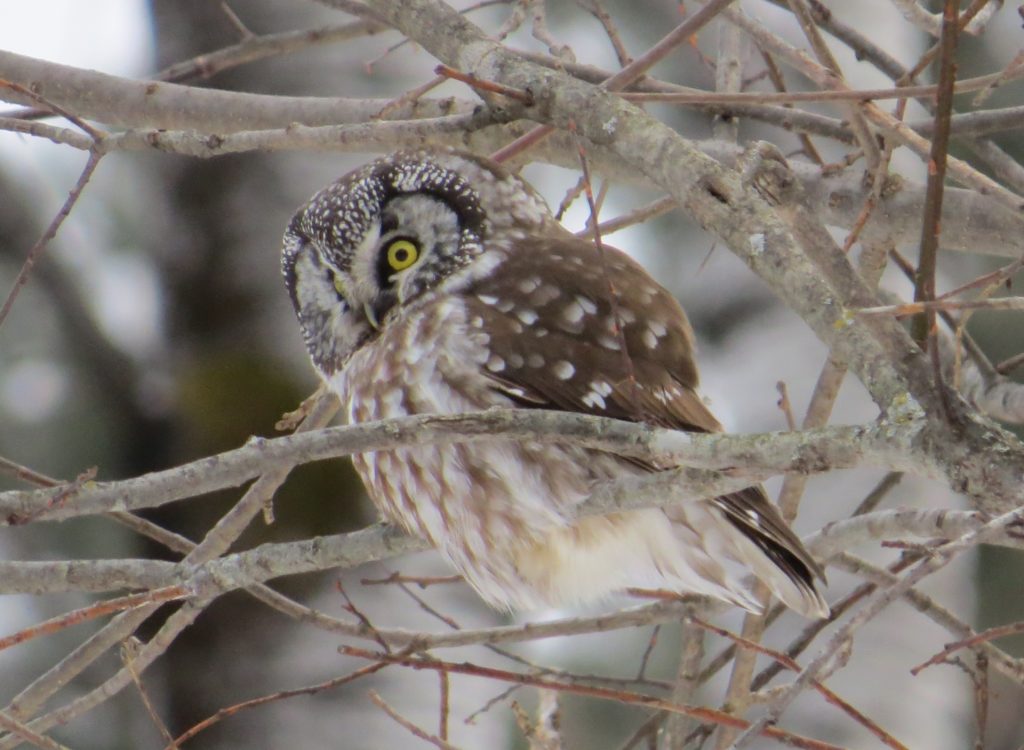 Books describe Boreals as having a surprised look on their face. It is definitely true.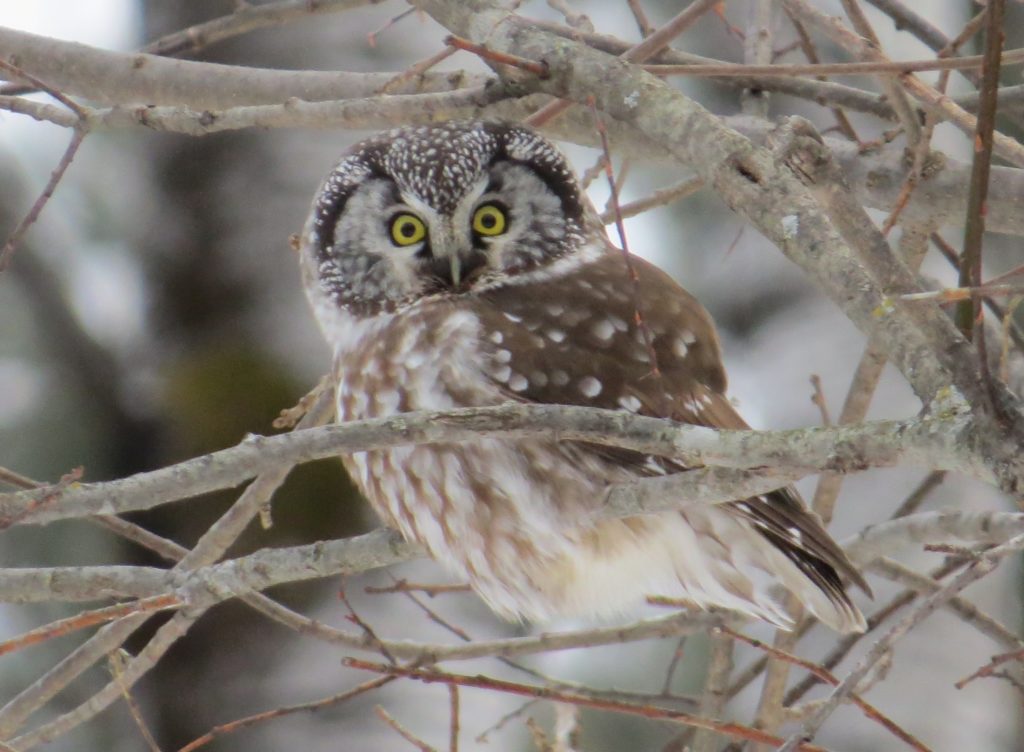 Finally, I had been satisfied enough to pry myself away from this spectacular bird. Evan and I could continue on our trip to Grand Marais in perfect peace, even if my pants were soaking wet for the two-hour drive. The Grand Marais birder with the Boreal Owl in his yard never did call me, so things worked out perfectly. It was a dream come true. We had brought our birding full circle from that very first year; we were now members of the Boreal Owl Club.  Evan and I celebrated by eating supper in Grand Marais at a family favorite restaurant, Sven & Ole's Pizza.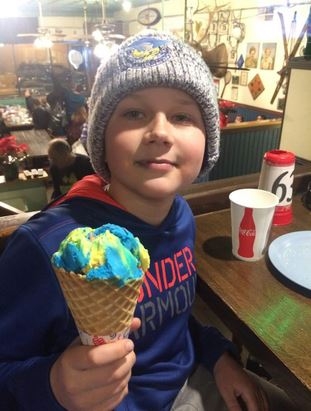 Josh Watson, of Kandiyohi County Blue Grosbeak fame, stopped by to join us for a celebratory beer (Evan had ice cream) and we had a nice visit about Boreal Owls and other cool birds of the North and beyond. It's always fun to catch up with birder friends you don't see often. It was just a great way to end a great day.
The next morning, Evan I got up and poked around Grand Marais for cool birds. We didn't find much, but it didn't matter–it was a completely relaxing trip now with zero anxiety. Jeff was on his way up to Duluth that morning to see if he could get onto a good look of a Boreal Owl. Evan and I continued to look for Boreals on our way southwest to Duluth.  We were hoping we could find one for Jeff. One of our stops was Sugarloaf Cove Nature Center where we were hoping to find a Boreal on a little hike. No Boreals, were had, but Evan was excited to get a lifer Snowshoe Hare.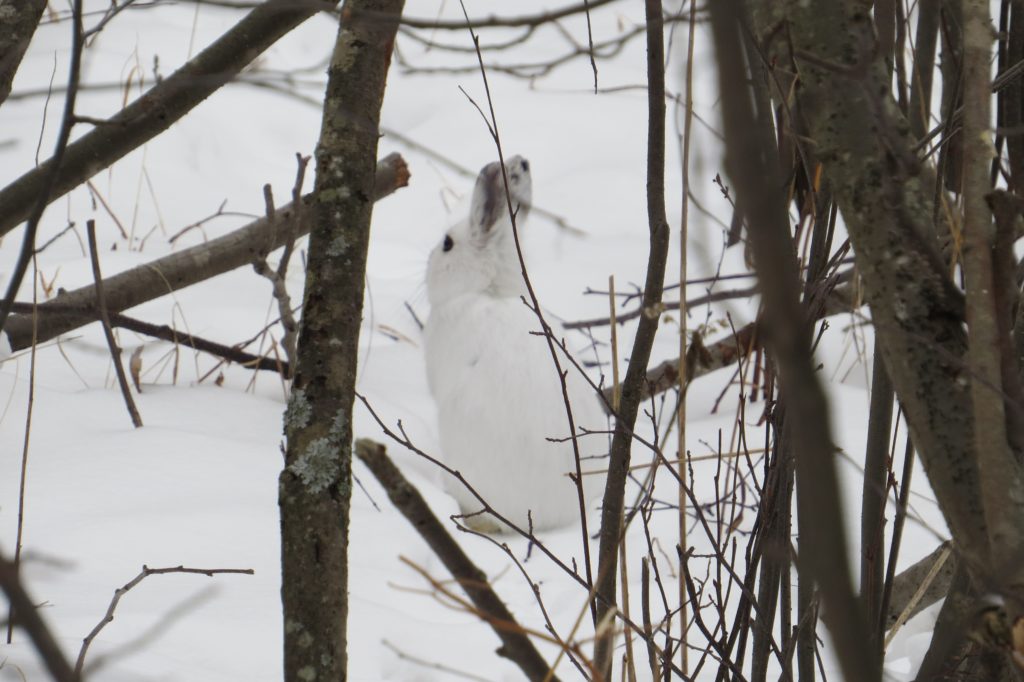 We also took a moment to take a Lake Superior selfie.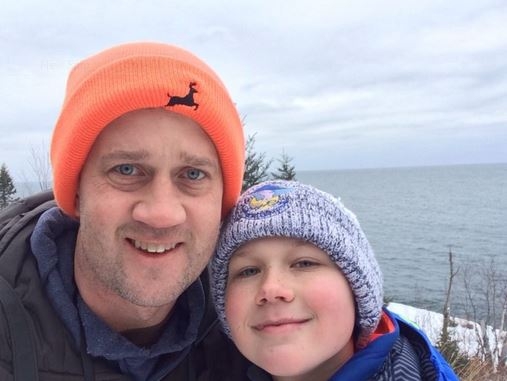 Once again, we stopped in Two Harbors to poke around. Of course we wanted to find a Boreal Owl there, but we also took a moment to get Evan a Harlequin Duck lifer, one of two continuing birds in Agate Bay along the jetty. These birds could be seen very well with the naked eye.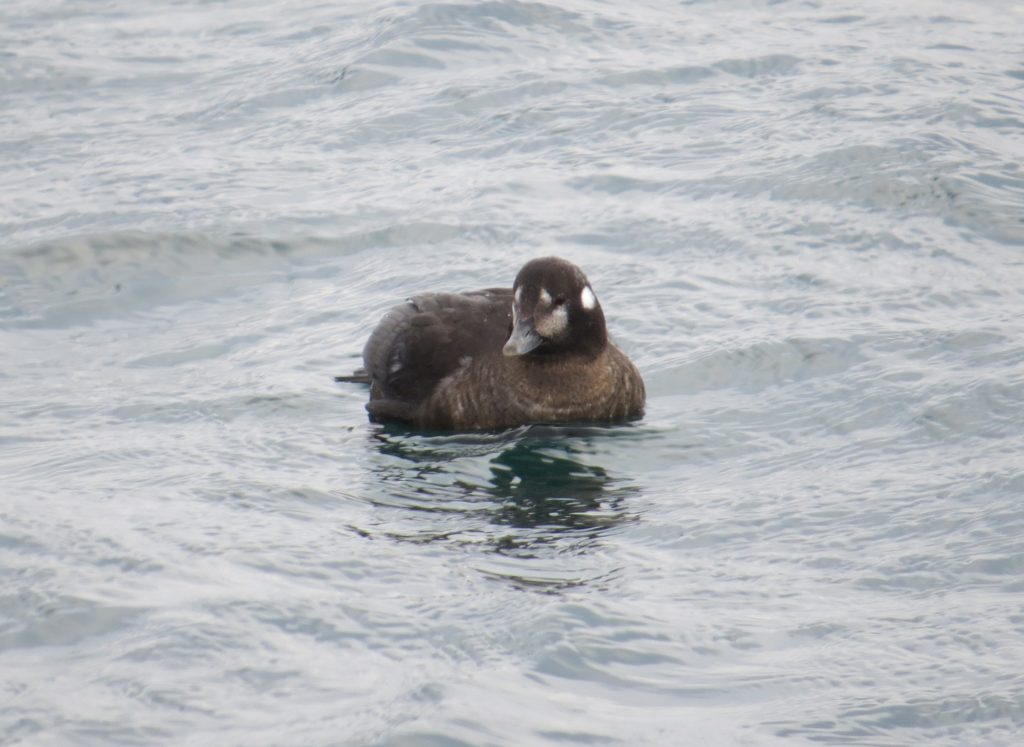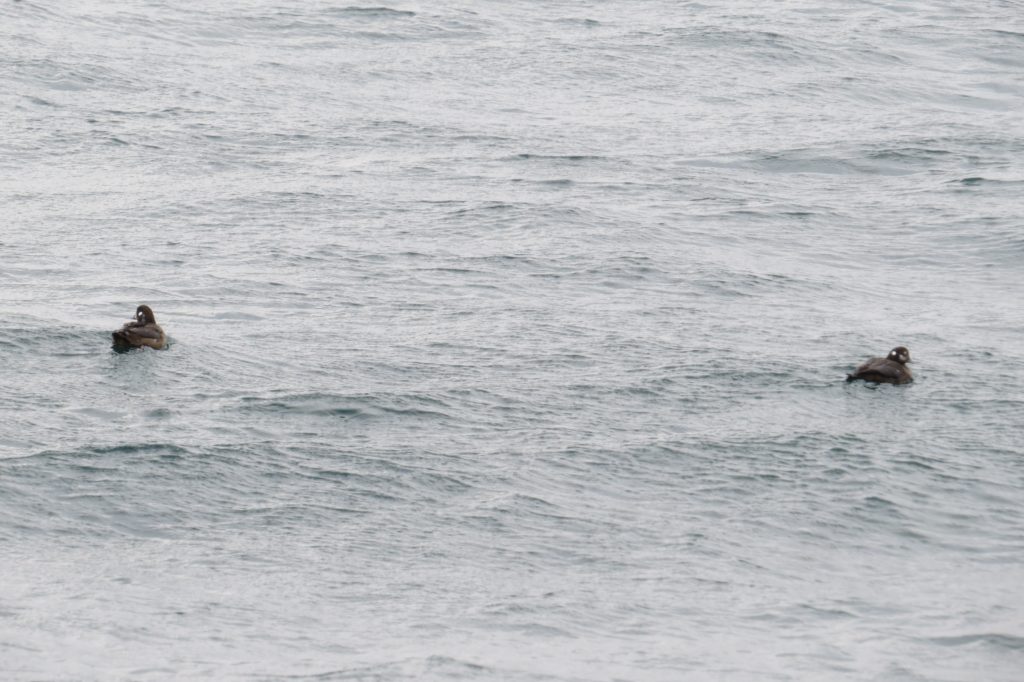 We had barely been in Two Harbors when I got a message from Jeff that he had found his very own Boreal Owl down by Duluth! I was happy he had finally gotten good looks at a bird low and in the open. Knowing there were Great Gray Owls in the area, I asked Evan what we should do. Evan thinks like a true birder because he said we should go after Jeff's Boreal since we can see Great Grays any year. So once again we were on our way back to Duluth for a Boreal Owl. This one was snoozing in a tree right along Scenic 61. That, combined with the fact that we had gotten our Boreal the day before, meant we did not have to rush this time. Sure enough, this Boreal was right where Jeff had spotted it.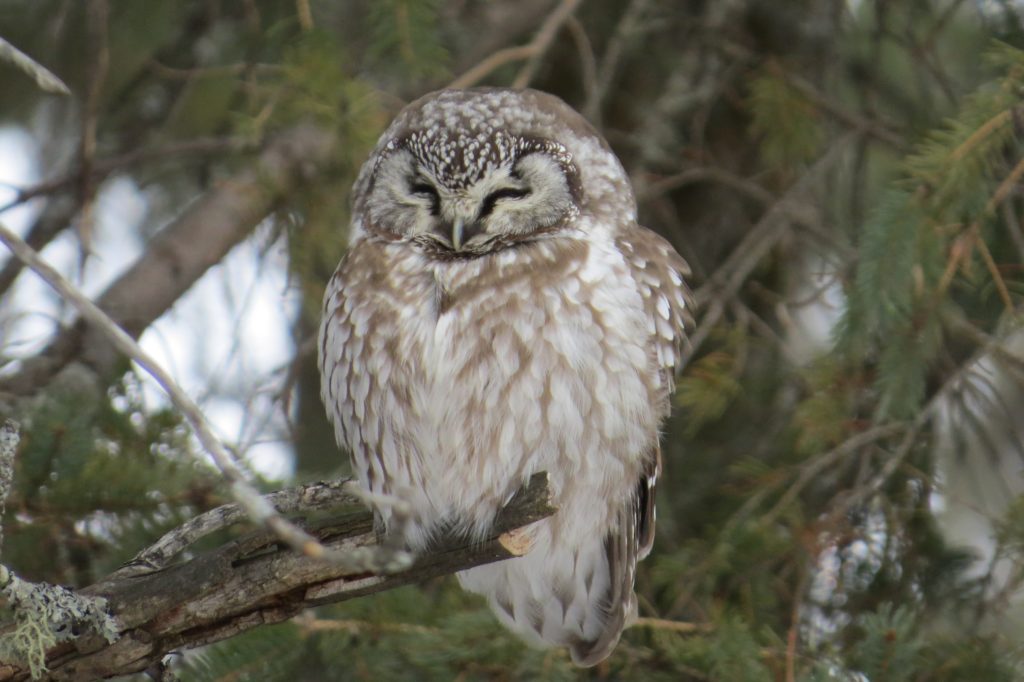 Some people, like myself, have trouble spotting these Owls. Thankfully, people like Evan can point them out.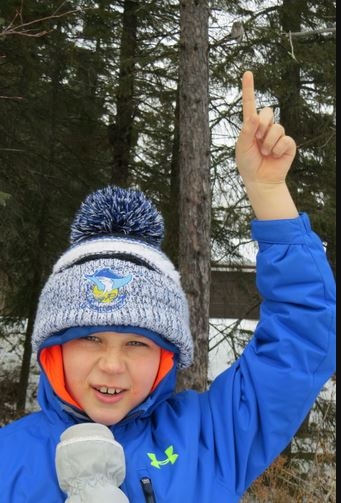 What a trip–three Boreal Owls! It was beyond a dream come true. This trip with Evan was second only to the Greater Sage-Grouse trip he and I took three years ago. Many thanks to all the people that helped us, especially the Hosch Bros, Kelly Raymond, Erik Berg, and most importantly, Jeff Grotte who helped me get on all three of these birds after he and I shared the Boreal-less struggle for so long together.
There is now just one Owl left for me to find in the United States. I'm hoping that happens in 2018. But first there will hopefully be some more Boreal Owl encounters this winter–we will be helping legendary Arizona birders Tommy DeBardeleben and Janet Witzeman hopefully get on a Boreal or two.  Speaking of Arizona, the next blog post will feature a few lifers and other favorites I picked up on a trip there last weekend.