Anyone who has been keeping up with the sporadic posts of this blog lately knows that my interest in local birding has intensified.  Specifically I've been working hard on growing my Kandiyohi County list. My self-imposed mission for the year was to try to pass the legendary Bob Janssen. Doing so would require me to get from 244 to 251 in a single year–a daunting task for sure, but one that I accomplished by mid-summer.  The first six birds (245-250) did not come easily and were the result of a lot of effort, both as an individual and as a part of different groups. The goal bird, #251 (Common Gallinule), on the other hand, was a gift from the efforts of another birder. Little did I know at the time, but gift birds would be the theme for the second half of the year which would hold nearly as many new birds for me as the first half! The last post featured the next such gift, #252, the long sought-after Blue Grosbeak.
#253
That Blue Grosbeak was found in the midst of a major Red Crossbill irruption that was engulfing western Minnesota.  In the days leading up to the Blue Grosbeak, Randy Frederickson and I had been searching high and low for one in our county. At the time of the Blue Grosbeak discovery, I was on a camping trip to Sibley State Park with my brother and his family. Twice I had to ditch the campsite and my family to chase county birds–once to look for Red Crossbills Joel Schmidt found and the other time to nab the Blue Grosbeak. Though unsuccessful on the Red Crossbills that day, we knew from reports in the surrounding counties that our Red Crossbill moment was imminent.  It was like being at a Twins game and waiting for the wave to overtake your section. We did not have to wait long. Just as I was literally towing the camper back home, Randy texted saying he found 4 of the "red bastards" on a golf course in the southwestern part of the county. The Red Crossbill had eluded Randy for nearly three decades. I didn't have nearly as long of a wait, but I was still in a hurry.  I didn't even bother unhitching the camper at home as I went straight from Sibley to the Raymond golf course.  When I arrived, I called Randy to find out where he was on the course which was not in use at the time due to flooding from heavy rains.  As we were talking, Randy was approached by the groundskeeper who was questioning what he was doing. The guy turned out to be rather friendly and even drove his golf cart to the clubhouse to pick me up and bring me out to where Randy was! Not long after, he did the same thing for Ron Erpelding. And the three of us enjoyed our second new Kandiyohi bird in as many days.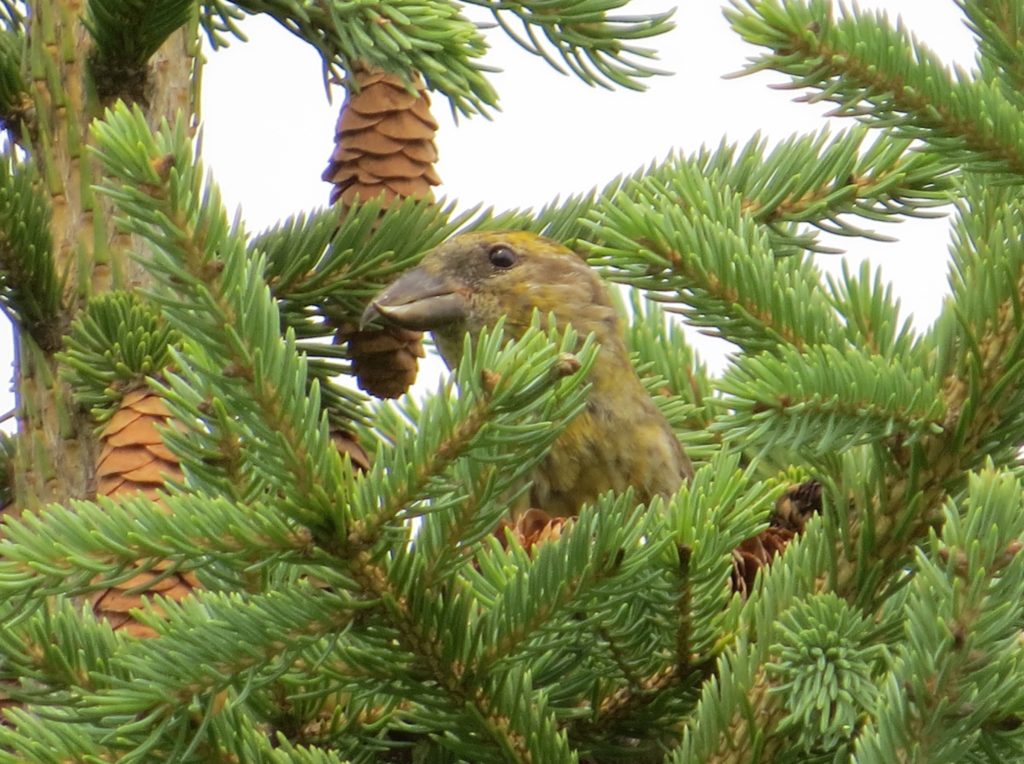 The Red Crossbill irruption was/is nothing short of incredible. This was my first sighting of many just within our county alone. I had several personal finds of this species in the following months, including finding a flock while driving highway speeds and a flyover flock while walking out to my mailbox!
Here is a pair from a flock of about 20 found by Steve Gardner at MinnWest Technology Campus in Willmar.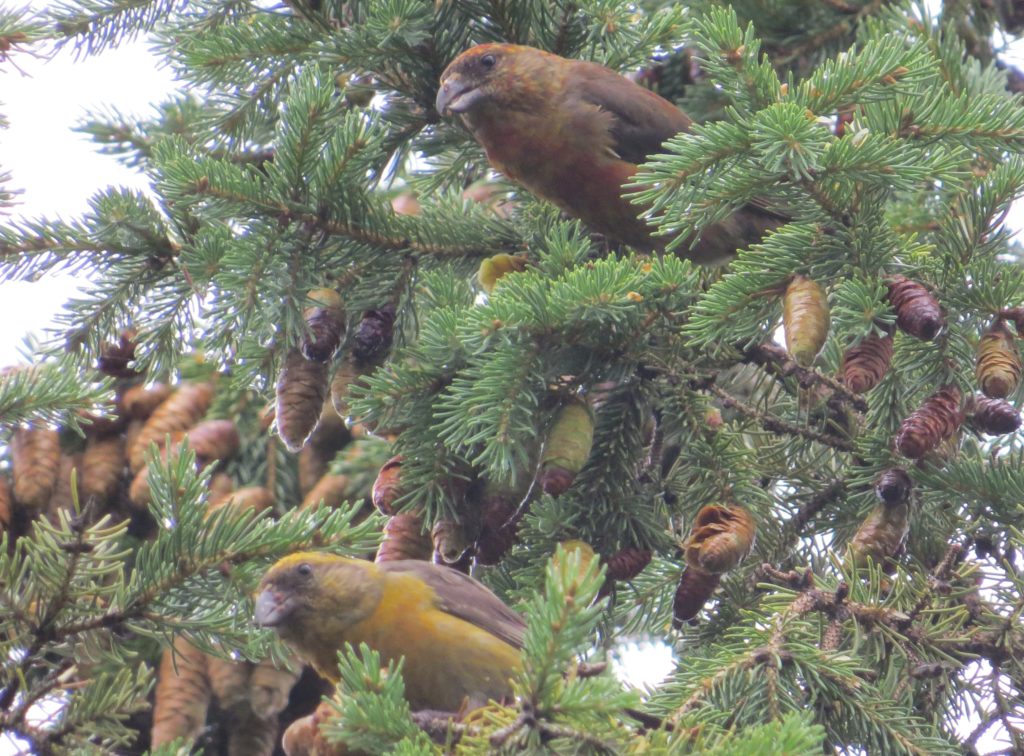 This next picture shows a Red Crossbill that I was disappointed to find this past October. I was actually looking for the other regular Minnesota Crossbill species which was also showing signs of irrupting. Birding can be strange. Somehow I ended up with the much more difficult Crossbill species before getting the supposedly much easier White-winged variety. I was the only serious Kandi birder who still lacked this species. I desperately wanted to see wing bars on this bird.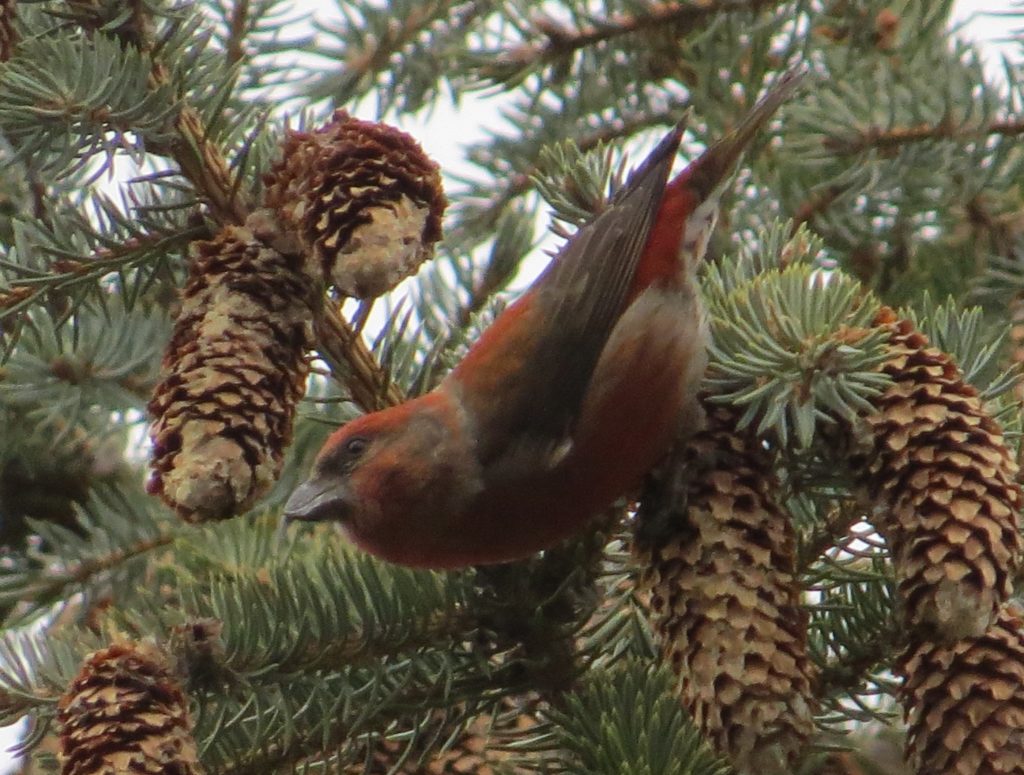 #254
During late summer and early fall, I managed to get an Eastern Screech-Owl in two neighboring counties but not in the county where I wanted it most. Both birds were found at ordinary farm groves and had me rethinking my whole strategy for finding this species in Kandiyohi County. I always thought that I would have to search in the northern part of the county which is more heavily wooded and not as agricultural. Now, though, I reasoned that if I simply put in the reps of going to farm groves in the southern half of the county and played recordings, I'd eventually connect with a Screech.  As luck would have it, I never had to enact that plan. In early November some junior high students were wondering about the ID of a "small owl in a tree cavity with pointy ears," a bird they had discovered while hunting squirrels in their patch of woods. Unbelievable! Leave it to the sharp eyes of some young kids to finally–finally!!–get me on one of my most-wanted birds for the county. An added bonus was that it was gorgeous red-morph. Seeing this color Screech was another major birding goal of mine for 2017. Because of circumstances surrounding this bird, I am keeping location details under wraps.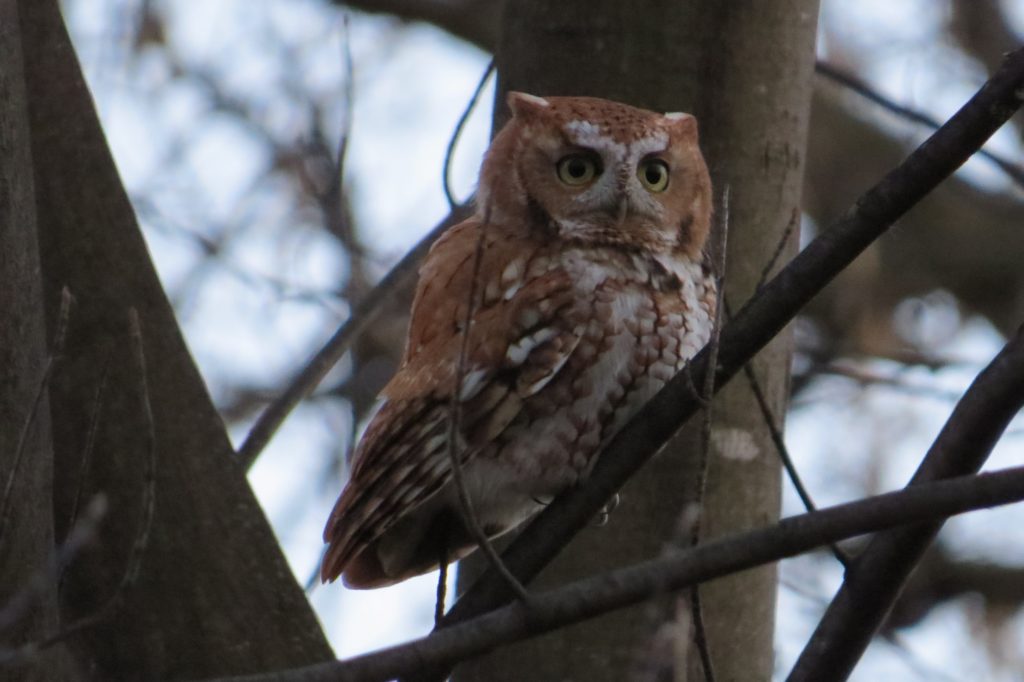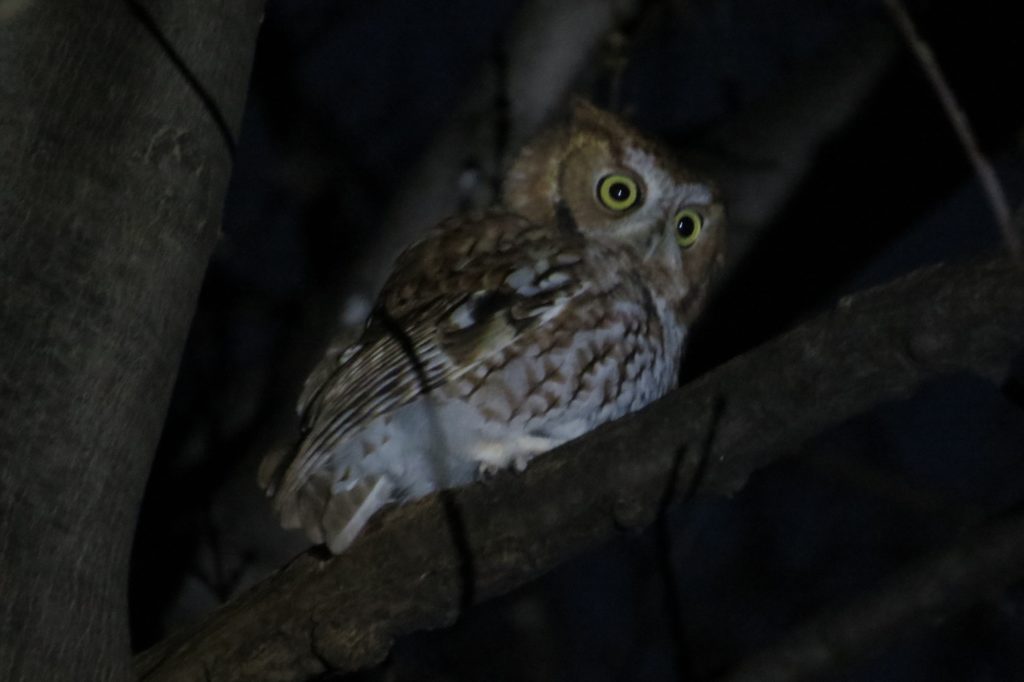 #255
The Screech was an incredible high point for me, but this was not the time to rest and take it easy. As I mentioned earlier, White-winged Crossbills were irrupting in northern Minnesota, most prominently along the North Shore of Lake Superior. I have wanted to see this species in Kandiyohi County for a very long time. It turns out there was a flock in Willmar the very first winter I started birding in 2012.  Unfortunately I was not connected with local birders at the time and therefore had no idea about these Crossbills until long after the fact. I was excited to learn that some were seen on last year's Christmas Bird Count at the MinnWest Technology Campus in Willmar, the very same place they were in 2012.  I visited the site that very day but had no luck. I continued to make visits there throughout last winter only to get the same result. This year was different, though. Based on reports, I knew I had a good chance this year. And since I was the only serious Kandi birder without the species, I knew finding it would depend on me alone. So once again, I made several trips this fall to the same small stand of Spruce trees where this species tends to show up. I was undaunted by my misses because of the positive reports out of the north. Then, finally, a mere four days after getting my Screech, I walked to the same stand of trees at MinnWest and instantly had a flock of Crossbills fly over my head and land in a nearby tree.  I thought they might be Reds, but I had to get my eyes on them to be sure. This proved difficult since the 40+ birds were buried in Spruce tops. Finally one popped out to the end of a branch. Wingbars!!!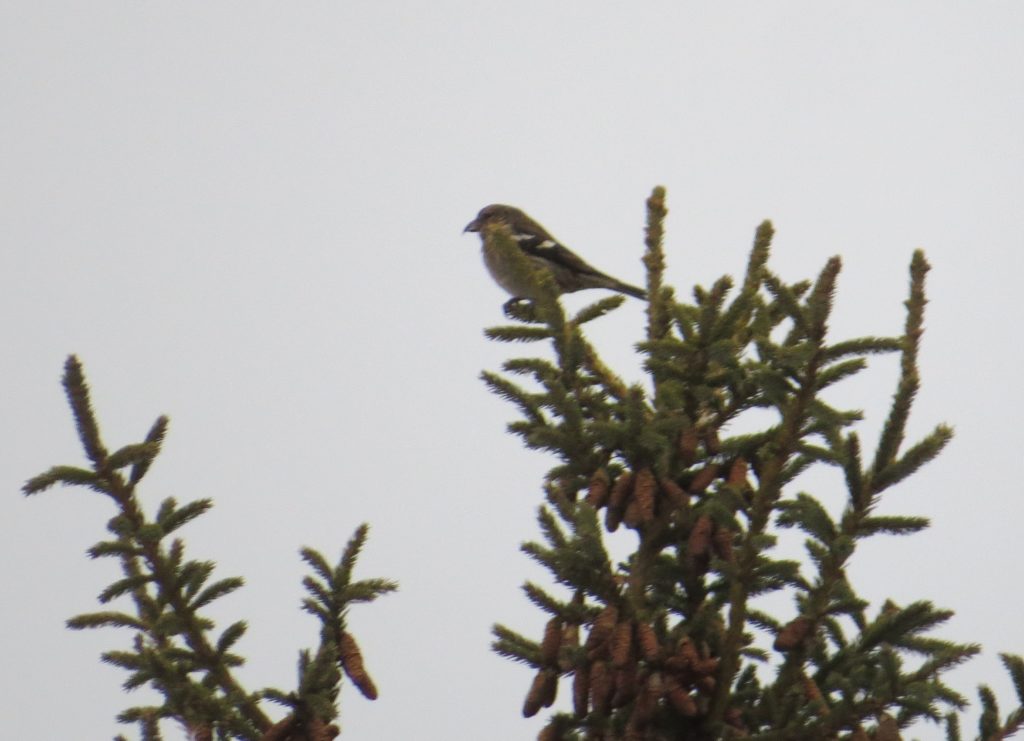 Getting this DIY county lifer was incredibly efficient and felt amazing. I enjoyed these birds for about a half hour before heading home. It was one less bird for which I was on my own.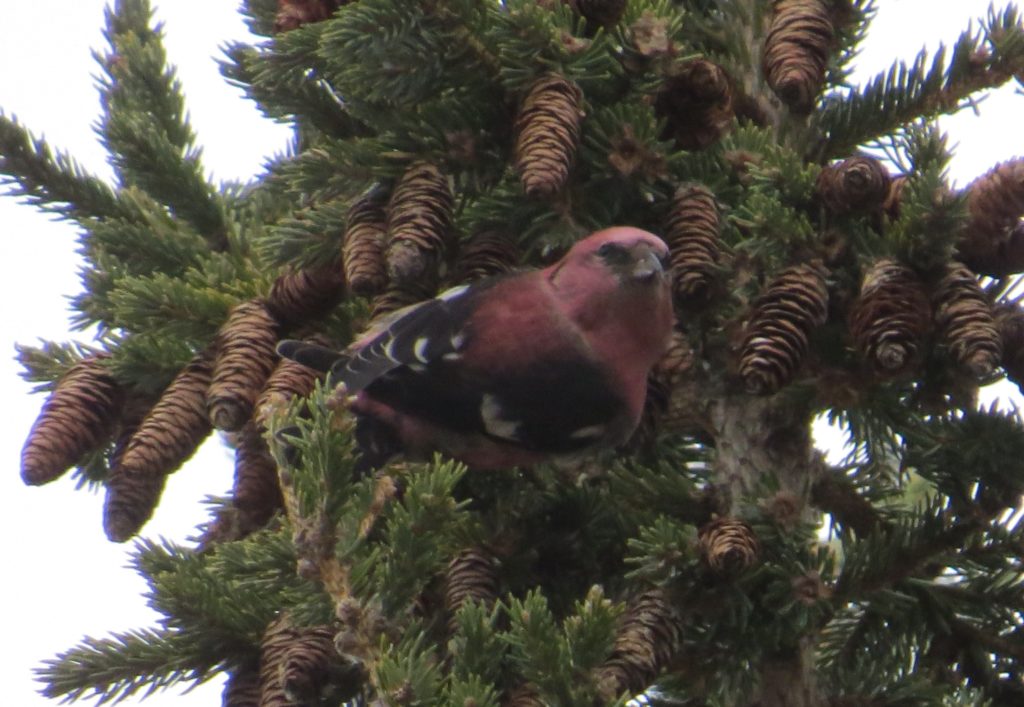 #256
This year I organized a campaign of nearly a dozen birders to do daily patrols of our county's most probable location for sea ducks, Lake Lillian. The county has no official record of a Black Scoter, and a few of us needed Long-tailed Duck besides. While the Lake Lillian vigil did not produce either of these, Dan Orr did manage to find a Surf Scoter which was a county first just the previous year. By late November, Lake Lillian froze over and the 2017 sea duck season was over. Or so I thought. Green Lake by Spicer was still open. Green has held sea ducks before too, but its large size often makes it difficult to search as ducks can be far from shore. One Sunday morning in early December, Joel Schmidt drove through Spicer and noticed ducks on the water. Joel stopped to scan them and found the much coveted Long-tailed Duck many of us still needed!  The action went down while I was in church, so I wasn't aware of the flurry of activity until I looked at my phone after the service. By this point, everyone else had nabbed the bird, eBirded it, and packed their bags for home. I was on my own! Moreover, we had tickets for the community theater at 2:00 that afternoon. and our family hadn't even had lunch besides. I was crunched for time. To add to the drama, I had ditched my family all day the day before to chase a life bird in the Twin Cities, and now I was headed out again. This was not good. Why do all the good birds come at the worst times? I had to go for this one. I knew I had time, but it would be tight.  We hopped in the car and went, hoping to snag a county lifer and some fast-food lunch all before the curtain went up at 2:00. When I got to the Spicer beach/boat launch area I could not find it. It was sickening. I called Steve who had seen it an hour earlier, and he said he last saw it swimming north. I hopped in the car and raced to the next access point that direction, the Spicer city park. Then, thankfully, after a few minutes I was able to pick it out. Whew!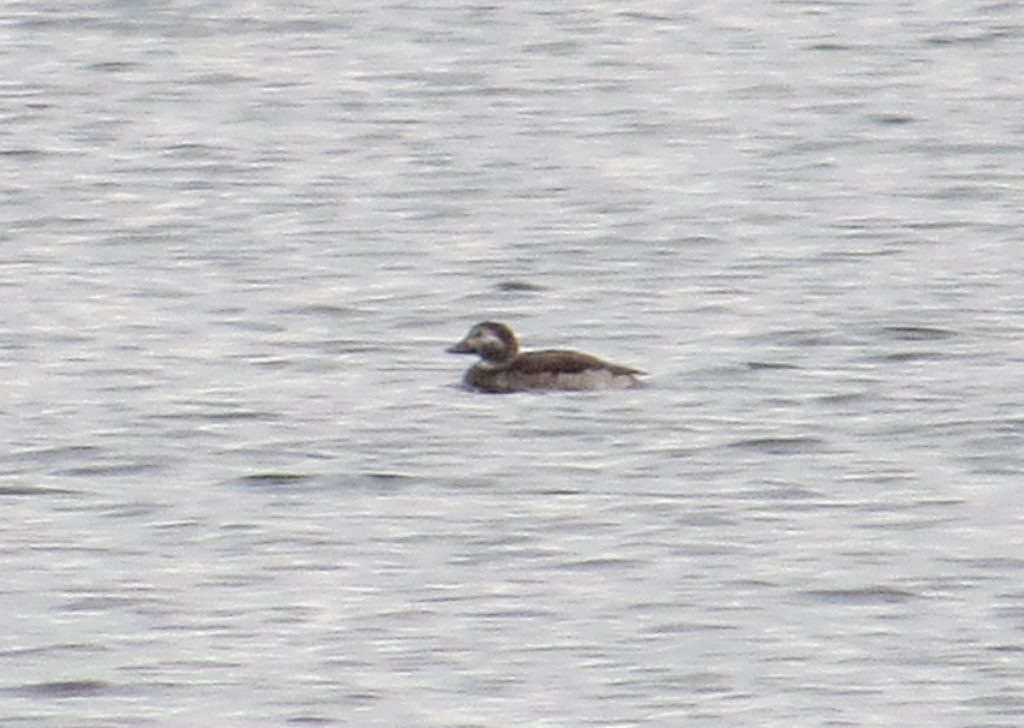 This year has been an unbelievable ride for my county birding. I was hoping to squeeze out 7 new ones with a lot of work, and I ended up getting that and more, much more. Here is a recap of the 12 new birds I ticked in Kandiyohi County this year.
#245–Short-eared Owl
#246–Townsend's Solitaire
#247–Long-eared Owl
#248–Black-throated Green Warbler
#249–Connecticut Warbler
#250–Snowy Egret
#251–Common Gallinule
#252–Blue Grosbeak
#253–Red Crossbill
#254–Eastern Screech-Owl
#255–White-winged Crossbill
#256–Long-tailed Duck
This year has shown me the enormous potential of what can happen in one's own backyard.  Seeing rare birds is always fun, but they are even more special the closer they are to home. Seeing so many was incredible, and the year is not even over! With some luck and some effort, I might even be able to make it a baker's dozen. There are some very real possibilities in these last two weeks including Northern Saw-whet Owl, Pine Grosbeak, and Bohemian Waxwing. Stay tuned!