As I reach the end of the MN regulars for my life list, certain species have been drawing my attention with a laser-like focus. This fall my obsession was to finally end my Scoter quest and nab a Black Scoter.  This rare-regular sea duck can be found in late fall every year in MN, most often on Lake Superior but also sometimes inland.  I was  determined to chase any Black Scoter that showed up within a couple hours of home.  It was a bountiful year for sea ducks in the upper Midwest, BLSC no exception.  In fact, both of the other Scoters were even seen in the home county.  Fun as that was, my main Scoter itch wasn't being scratched–I wanted to see a Black one bad. Black Scoters inevitably showed up within a reasonable distance, but always during the work week with none of them spending more than 24 hours in one spot. Weekends–go figure–were painfully quiet for Black Scoter news.
As December was settling in for the long cold nap with bodies of water freezing up everywhere, my Black Scoter hopes were quickly fading with each passing day. With great pain I was forced to acknowledge the truth: Black Scoter would probably not be notched until fall of 2017. But then, my hopes came roaring back when Julie Winter Zempel posted a photo of a stunning adult male Black Scoter on Lake Waconia, a drive that was an hour and change. The Scoter was detected the day before by Bill Marengo, the news of which nearly slipped completely under the radar had it not been for Julie diligently mining the MOU database to find Bill's report. One major problem to this sighting, though: weekday.  My Scoter lust got the better of me and so when I had a meeting with my boss that next morning I asked if she'd approve me on the spot for a half personal day.  With an affirmative answer, I was on my way out the double doors.
This truly was my last chance for a Black Scoter in 2016. The only thing keeping Lake Waconia open in the teen temps was the raging west wind. It was figuratively and literally keeping the ice at bay.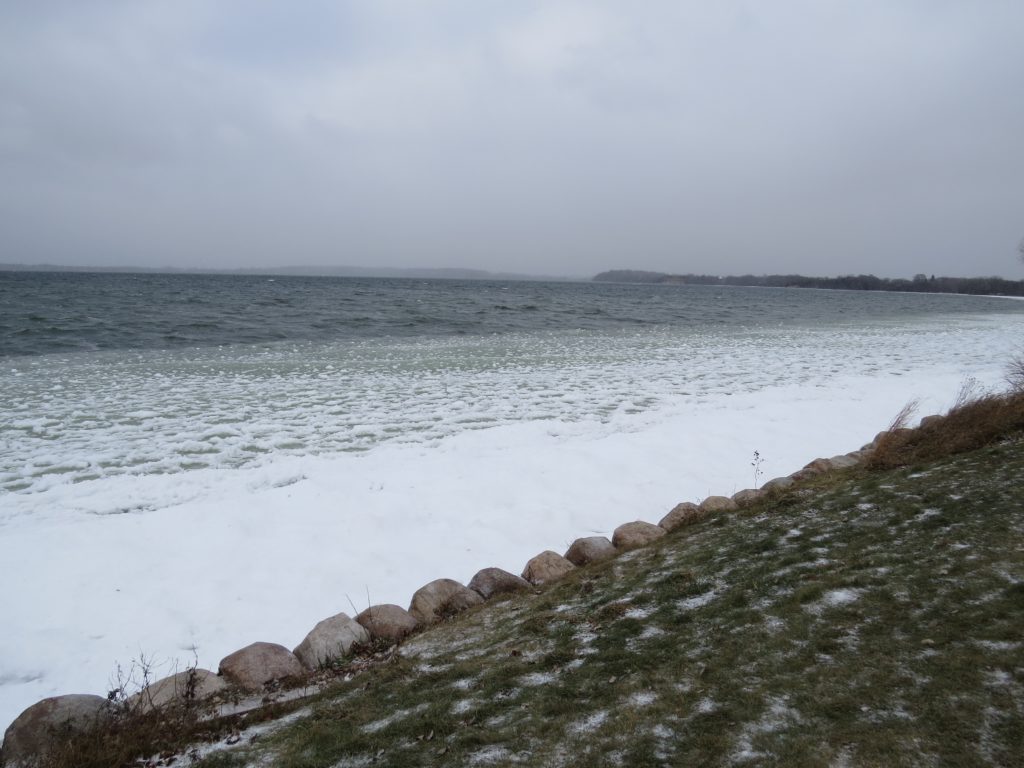 When I pulled up to the boat launch at Lake Waconia Regional Park, I saw a Carver County Sheriff truck trailering a patrol boat. I thought it was odd since no one would be on the lake on a day like this nor could a boat be launched in the rapidly building ice. Strange. I didn't think about it much more and set about my business of finding my target.  Watching the sea swells and facing into the sub-zero windchills was brutal even for being dressed for the elements. Scans of the big lake were intermittent and necessitated warm-up sessions in the car.  Having no luck seeing the duck (which was there that morning), I asked Julie for any tips on where to stare into that blue abyss to find this duck. In giving me directions, Julie also reminded me of the ongoing search for a paddleboarder that went missing two week prior.  The dots started connecting in my head regarding the Sheriff's trailered boat, trucks driving slowly along the shoreline who I had thought were also looking for the Scoter, and my own vague recollection of a news report I had seen. It was suddenly a grim realization that I should be looking for more than just my bird.
Julie gave me spot on directions.  Following them exactly finally allowed me to spot that gorgeous black blob as it appeared and disappeared in the rolling white caps.  Finally. The journey had ended with one new Scoter species per year.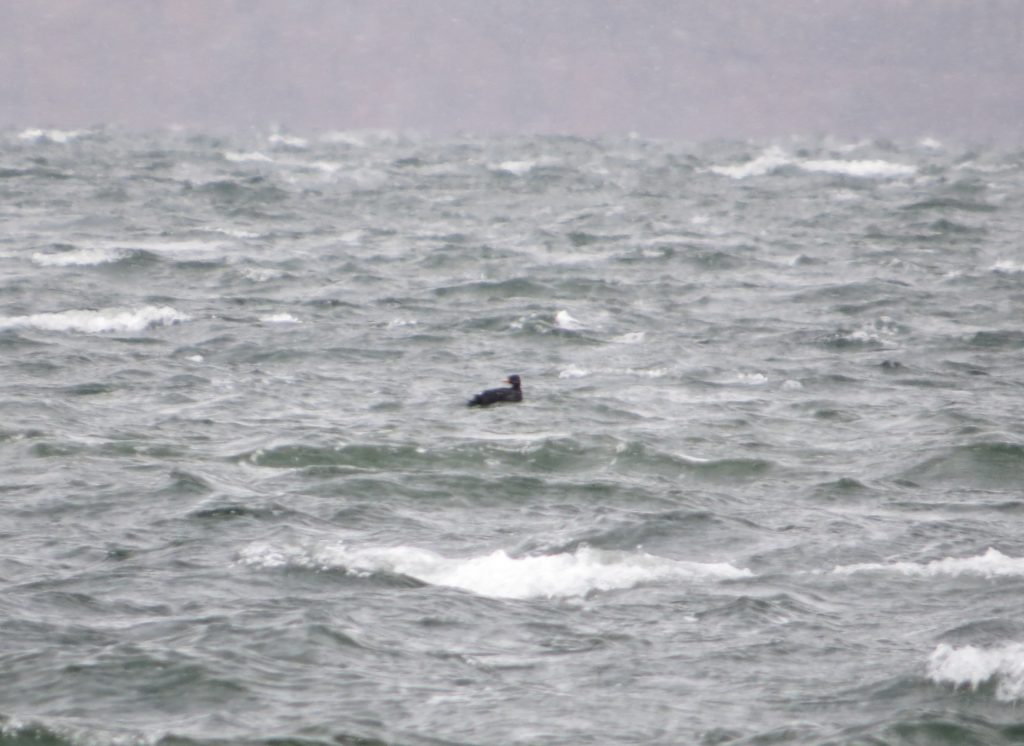 The incredible distance, the numb fingers, and disappearing/reappearing bird made picture-taking a nightmare.  Regardless, I was thrilled to finally add this bird and see an adult male at that, a gender/plumage combo that is rarely ever seen in the state.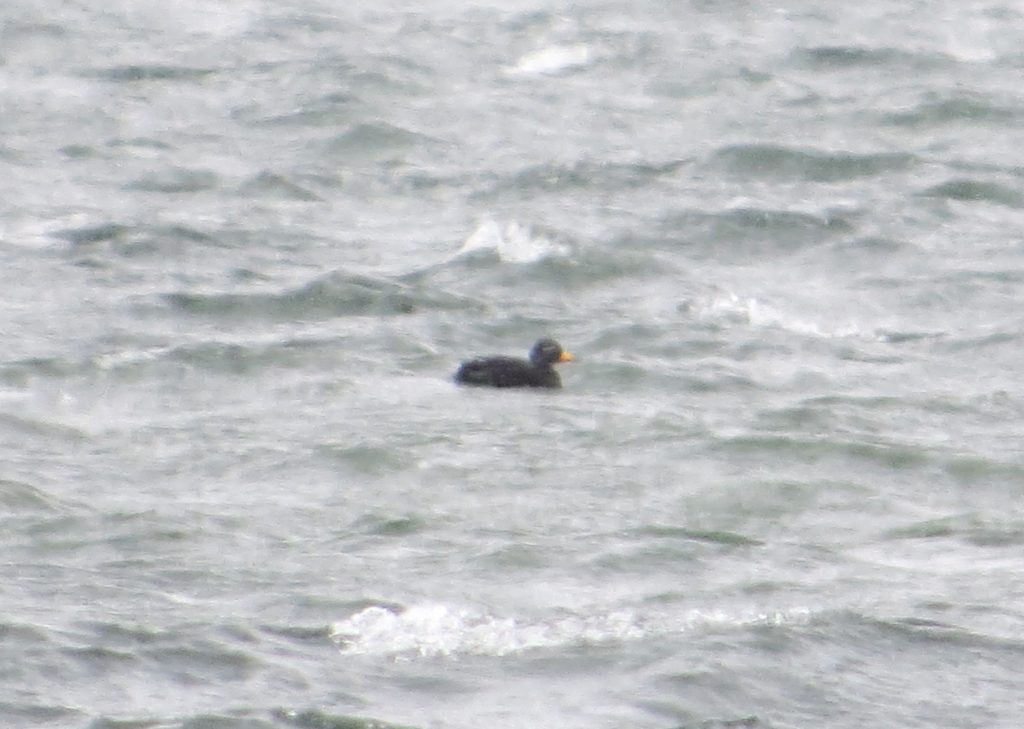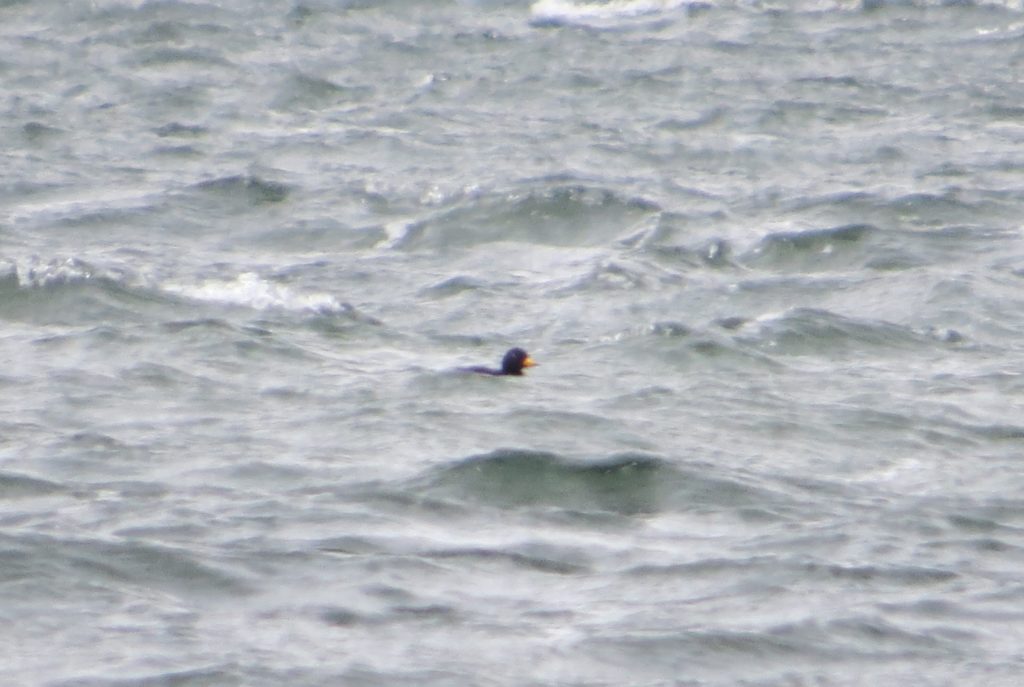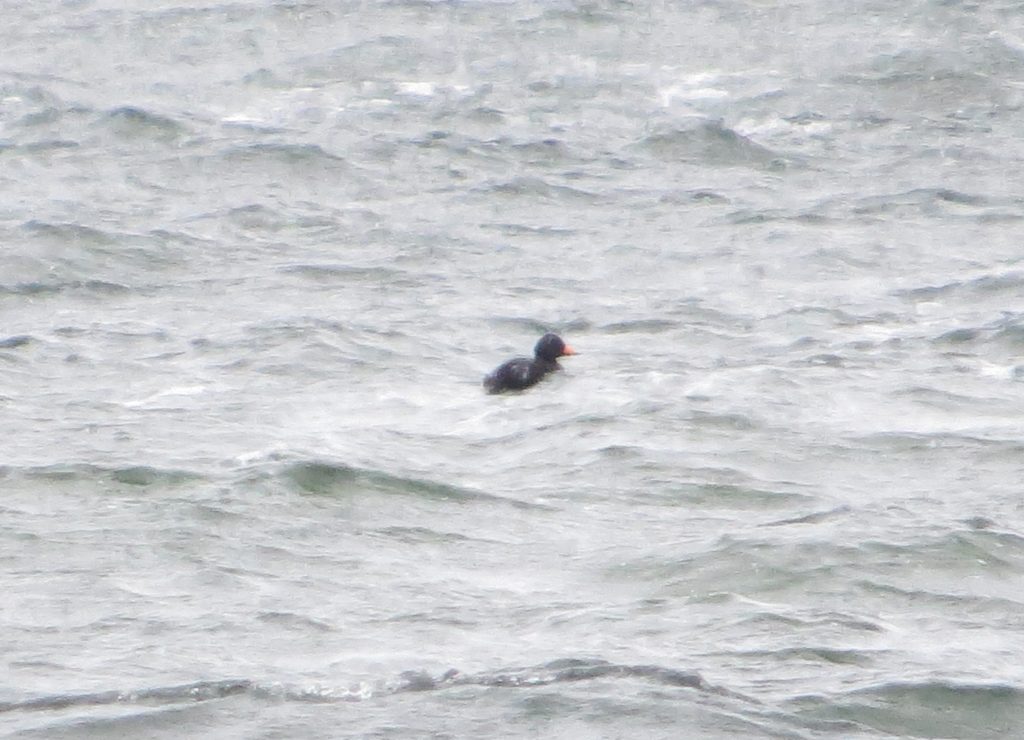 The excitement of this new addition was tempered by a Sheriff's helicopter making constant circles around the lake the whole time I was there, undoubtedly desperate to find this man on this last day of open water. The man was just a couple years younger than me with two young kids and another on the way. He had gone out to pursue his passion of wildlife photography from his paddleboard. And here I was at the same body of water just a couple weeks later pursuing mine.  Life really is unfair. The whole ride back to work it was hard not to wonder if I sometimes take unnecessary risks in the pursuit of my hobby.  Then again, a life lived with no adventure is a life not fully lived.  Seize the day.