Since my last post in which I explored the possible range expansion of the Blue Grosbeak and how it might be occurring via waterways, there have been a couple of exciting developments. Two new county records for Blue Grosbeak have been found! Those two red markers in the upper left of the photo are new since my last post.
On August 13th, a new county record Blue Grosbeak was found in Big Stone County by Milt Blomberg, John Hockema, and Lance Vrieze.  Not only is this significant for being a county first, but these guys found a family of this species the furthest north they've been found in Minnesota, vagrants excluded. Moreover, their find fits the pattern of the bird being found all along the Minnesota River Valley.  These guys stopped at a gravel pit, thought the habitat looked right for BLGR, and played a recording. Instantly they had Blue Grosbeaks come in without ever having seen or heard any before playing the recording.
I don't know whether or not my article influenced their decision to try for Blue Grosbeaks in Big Stone County, but Dan Orr had told me that my last blog post got him curious about Swift County as the very southwestern corner of that county is along the Minnesota River.  Swift previously had no BLGR record.  I was excited about Dan's search and started to scout satellite imagery in southwestern Swift for appropriate habitat.  I shared with him a gravel pit area just north of Appleton. However, Dan told me he had already birded that spot in early summer. Since Blue Grosbeaks seem to be actively singing in August, I encouraged him to try again and told him how Milt Blomberg et al. "cold-called" their Blue Grosbeaks. So Dan tried it on August 15th. He went to that area, played a tape, and bam–a pair of Swift County record Blue Grosbeaks showed up!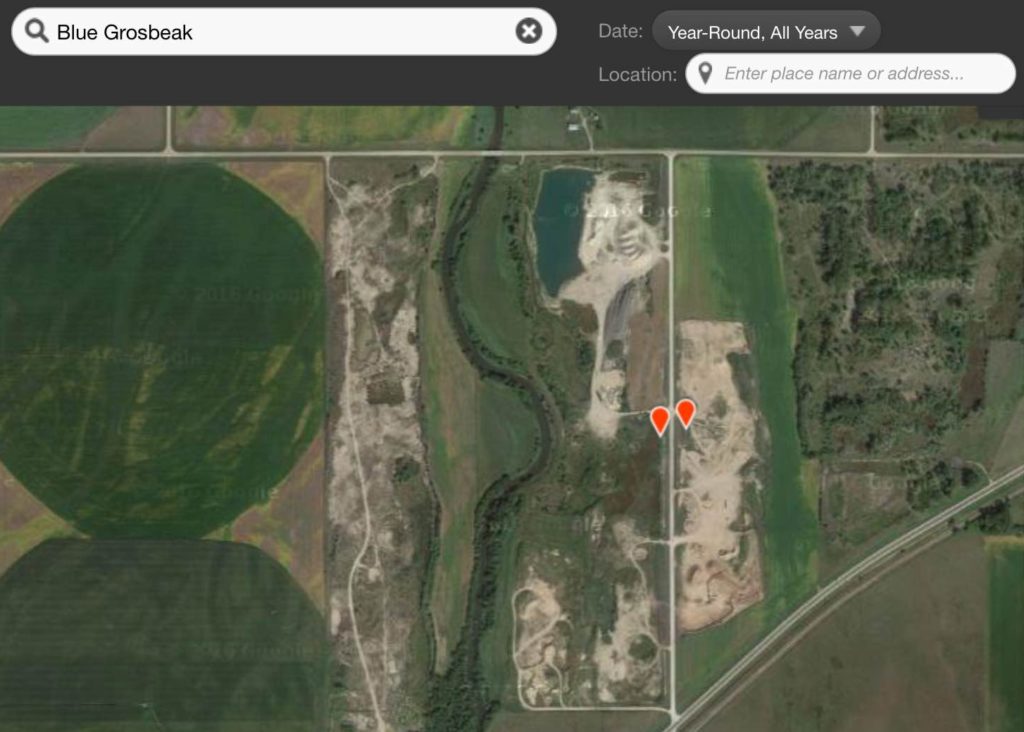 As exciting as the Big Stone and Swift Blue Grosbeak finds are, I am concerned. Now that two county records have fallen, birders have been going to these stake-outs to get their tics.  And once they have their tic for a county, many birders are less likely to explore new areas to look for more Blue Grosbeaks in those counties.  With the Swift and Big Stone records, now very few counties along the Minnesota River still do not have a record.  In fact, I believe Sibley, Carver, and Hennepin are all that remain. Hopefully the county-listing bug will help turn up new records in these counties. But I continue to think that there are many, many more Blue Grosbeaks to be found in Minnesota where county records already exist, namely along the Minnesota River Valley and anywhere in southern Minnesota. So call up a birding friend, go exploring, and find some Blue Grosbeak habitat. There is probably a two-week window left to find these birds before they head south again. And if you find appropriate habitat and don't hear or see one, play the recording and see what happens. You might be surprised.