There comes a point in one's birding where the lifers in one's own state slow down to a trickle and then just the occasional drip. I've seen it play out on blogs and with friends.  It is inevitable. Luckily for me, Washington County's Falls Creek Scientific and Natural Area still held the juicy potential for perhaps my last multi-lifer day in Minnesota. Two southeastern specialties that have an extremely limited range along just the eastern border of the state have been known to breed here, the Acadian Flycatcher and the Louisiana Waterthrush.  In fact, this is about as far north as these two breed.  Like a scene out of the Pacific Northwest, Falls Creek offers steep ravines with towering Pines and mature deciduous forests with an open understory.  It is the perfect habitat for the Acadian Flycatcher, and the Louisiana Waterthrush thrives along the small, yet swift stream at the bottom of a ravine. There is nothing flashy about these two birds which is probably why this errand has been reserved for that point in my birding when there is little else to go after.
I saved the Falls Creek trip for when Arizona friend Tommy DeBardeleben came for his third Minnesota trip of 2016.  He also needed the Acadian along with several of our eastern woodland species, many of which are also present at Falls Creek. We could both do well here.  It was a logical stop on our first full day of birding for Tommy's week-long vacation.
Near the parking area was an open prairie area.  One of the inhabitants of the brushy edge was a lifer for Tommy, the Blue-winged Warbler.  This Warbler species also has a limited range in southeastern Minnesota, though we seem to be turning them up in lots of areas further north and west of where they are supposed to be according to range maps in field guides.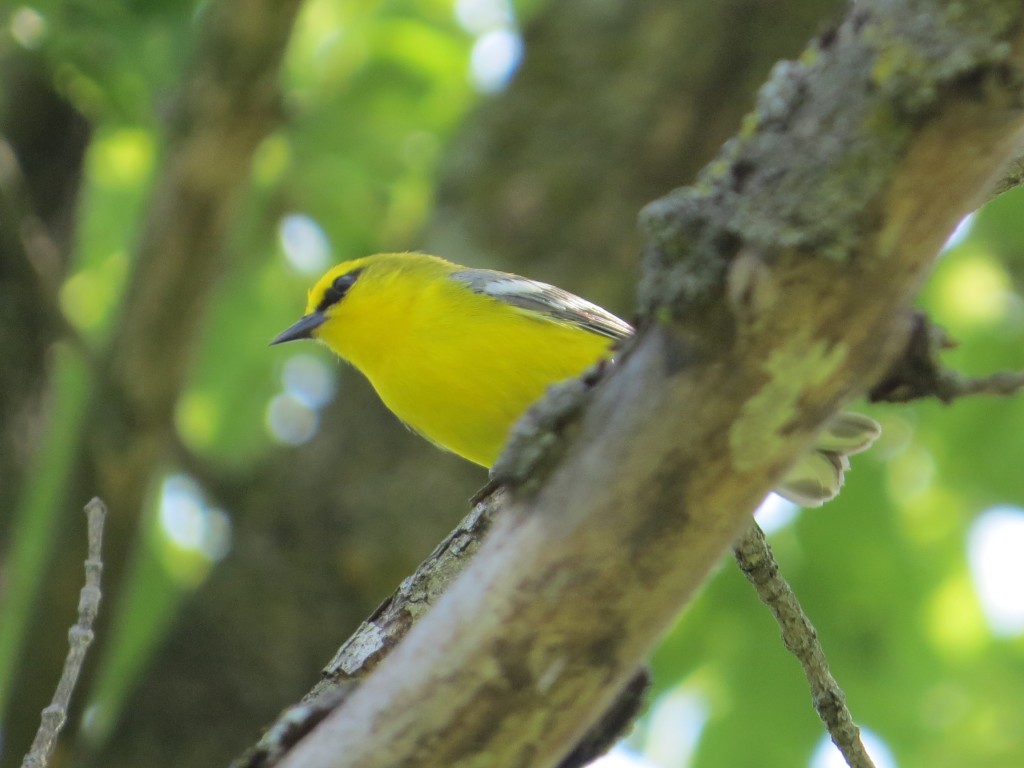 Once we hiked through the prairie habitat and into the woods, we walked along a trail on glacial ridge where the slopes quickly became quite steep on each side of the trail.  Thanks to some great insights from Washington County birding guru, Pete Nichols, we cut down one of these slopes on a goat path of sorts to reach the creek in the ravine below. This was the promised land for BOTH the Louisiana Waterthrush and the Acadian Flycatcher. It did not take long for us to hear the sharp "Pit-se!" call of our shared Acadian lifer. Arriving at the creek bottom, Tommy instantly pointed out the chip note of the Louisiana Waterthrush, which had the honor of being my 400th life bird. The bird showed well for us but would not sit still. Its song was beautiful as it rang through the ravine.
Tommy and I had some shared objectives on this trip and some separate.  We eventually split up to do what we needed to do–Tommy spent a good amount of time trying to get visuals on his Wood Thrush lifer (good luck!) while I really wanted visuals and photos of my two new life birds.  Not only were the birds difficult to find and difficult to pin down, but the low light conditions made photography a challenge.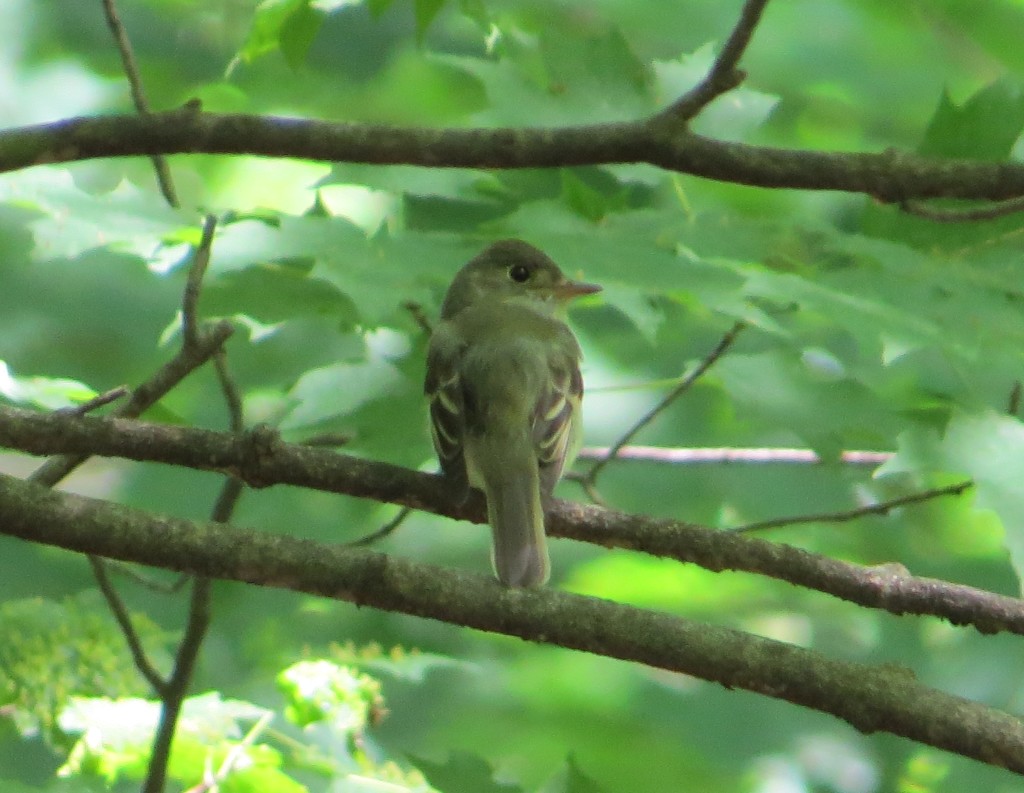 Confession: I'm starting to really like the Empids, at least the eastern ones.  Though the five are difficult to differentiate visually, their unique habitat choices and equally unique songs make identification a lot easier than I once thought.  Hearing this Acadian Flycatcher was much more fun than just seeing it.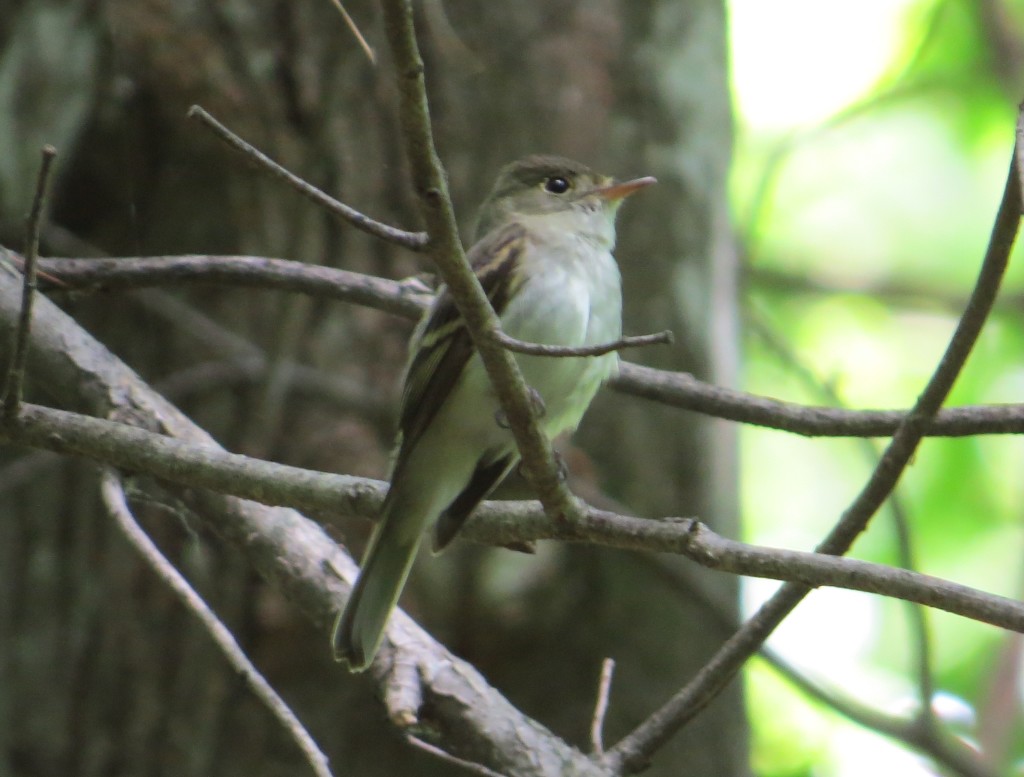 An equal auditory delight was the Louisiana Waterthrush. It was loud. We had at least two different birds.  This one below put on an impressive spinning and tail-bobbing display on this log right in front of us.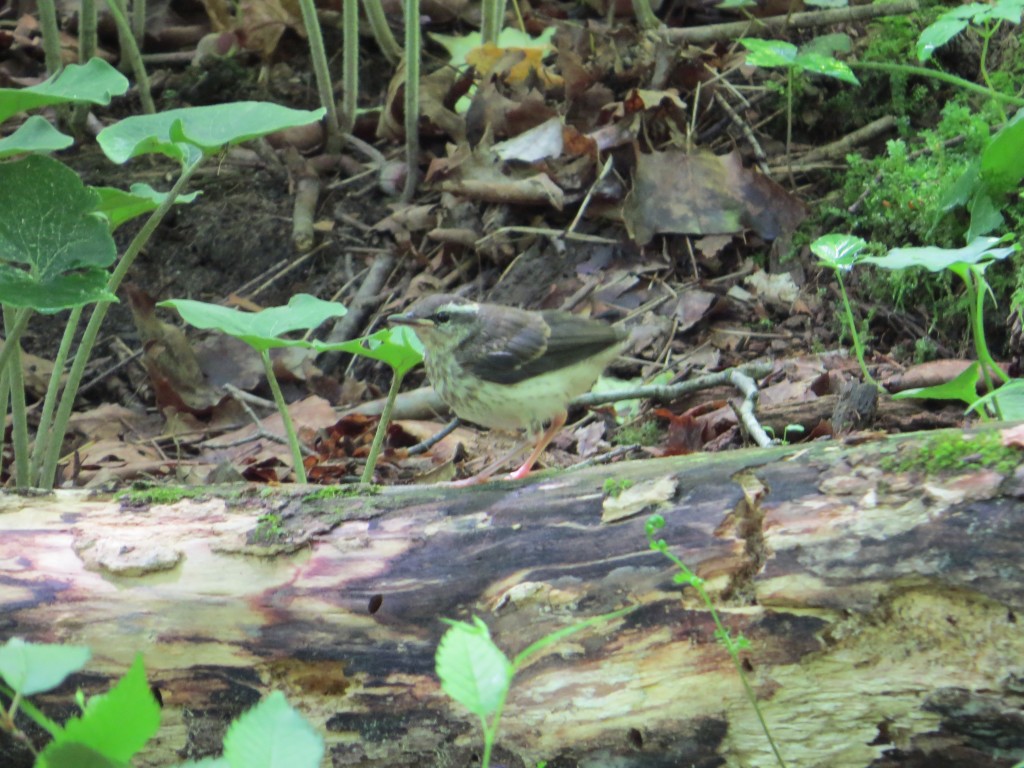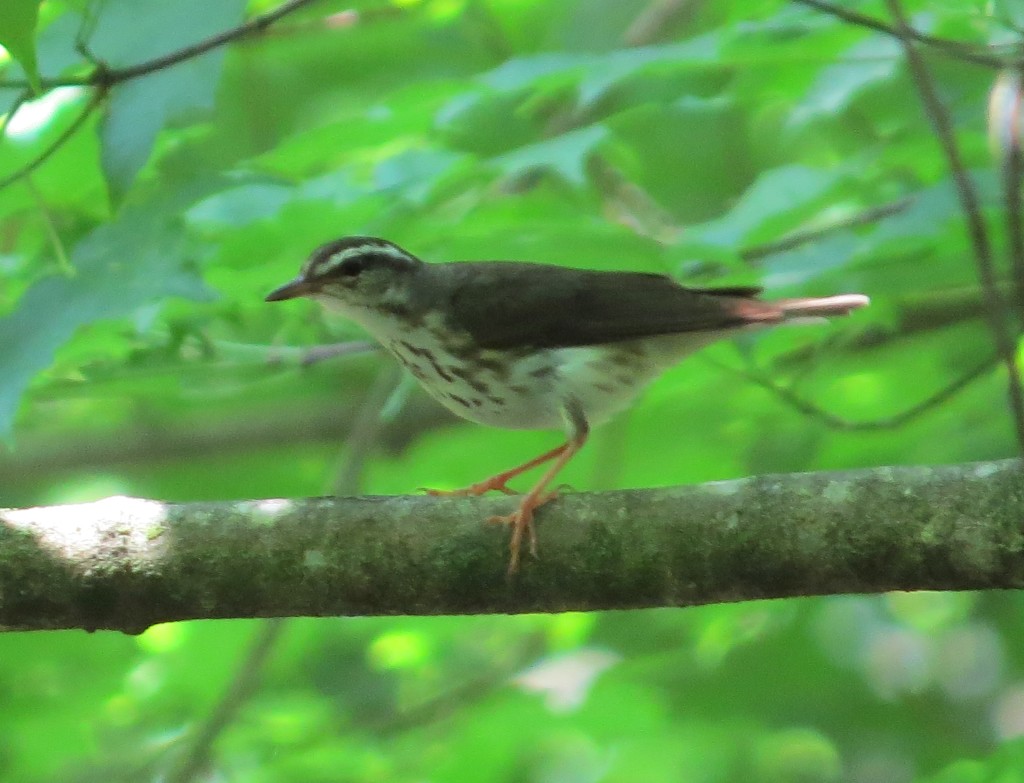 Tommy and I became absorbed in our separate pursuits spending more time than we anticipated in our searches. Is that a Scarlet Tanager? Nope, just a super content Evan who kept busy the entire time playing in the creek.  Good thing he wore his water boots.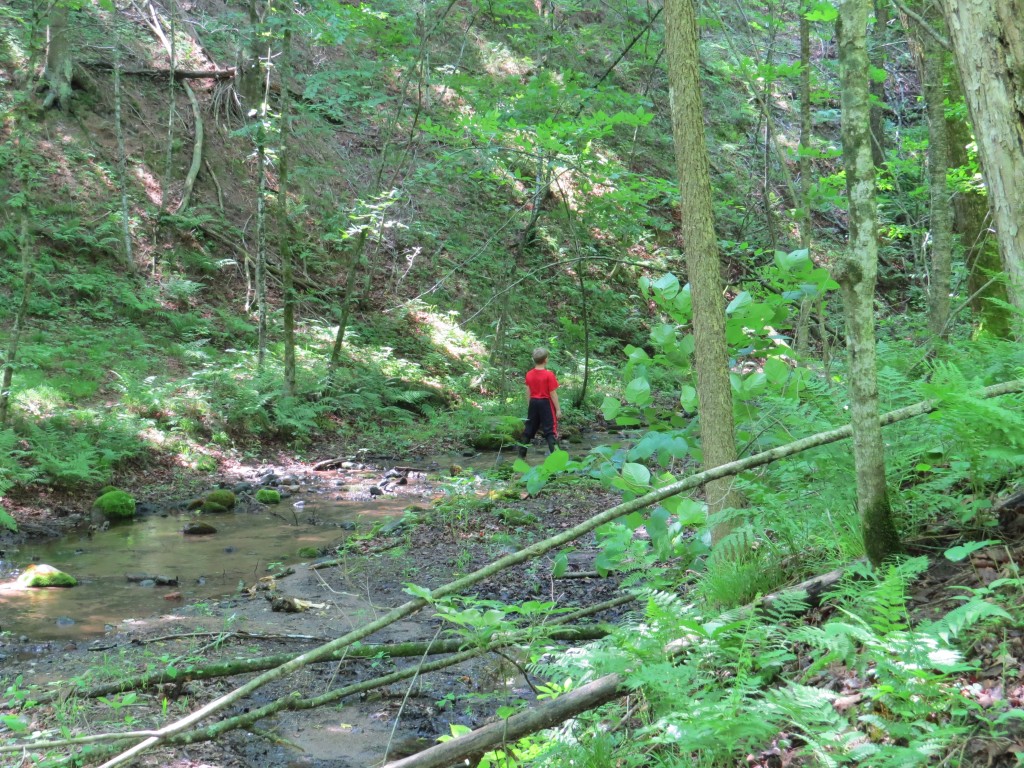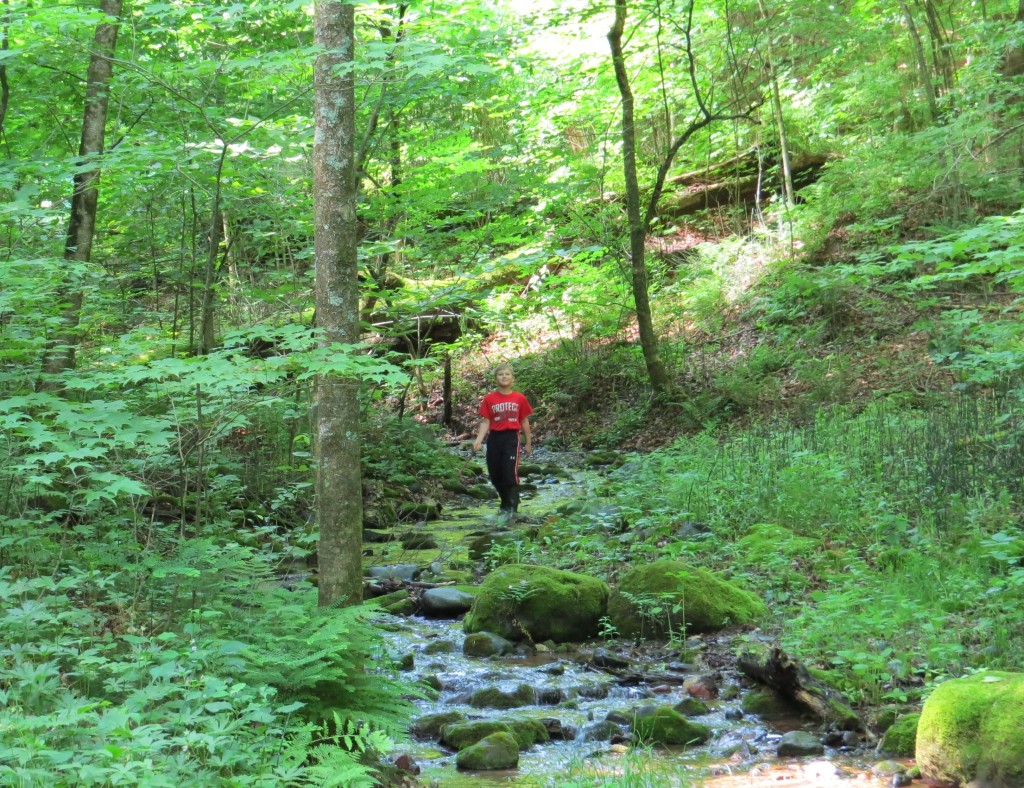 Another lifer for Tommy that we both enjoyed up close was the Veery.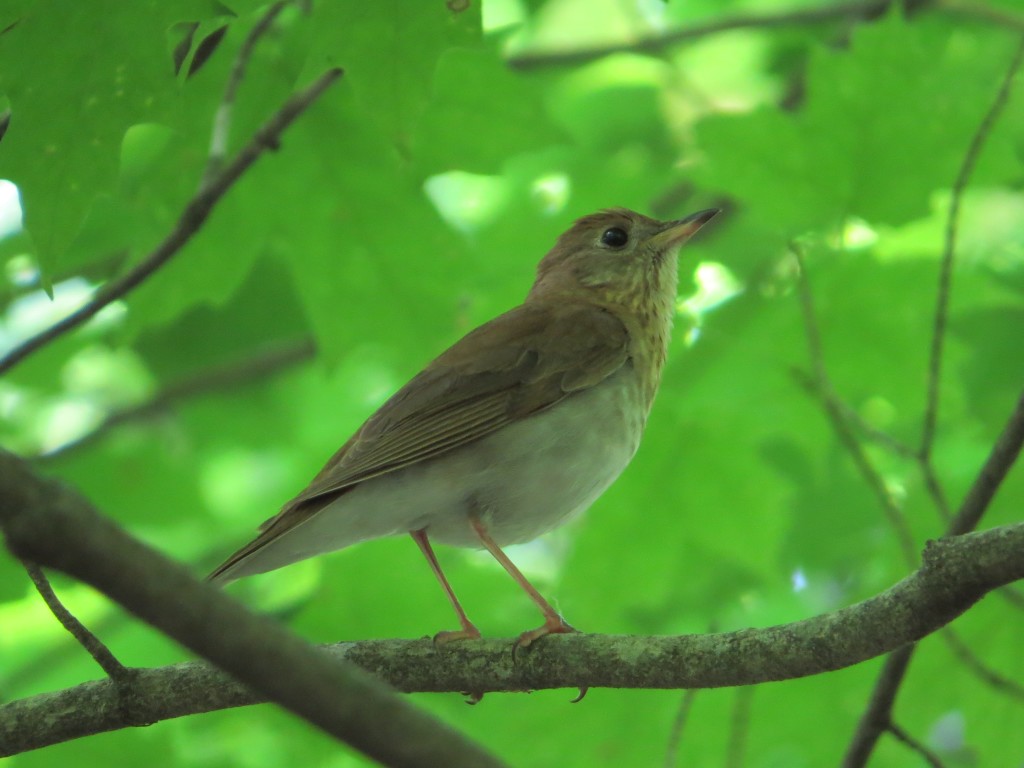 The Veery's song is the best.  It's unmistakable song can often be heard throughout the deciduous woods of Minnesota. Never before I had I actually seen one sing.
Tommy and I thoroughly enjoyed this stop at Falls Creek SNA. It is truly one of Minnesota's birding gems that deserves its rightful place alongside places like Felton Prairie, Blue Mounds State Park, Sax-Zim Bog, etc.  There were so many good species to be had.  At one point I could hear Louisiana Waterthrush, Acadian Flycatcher, and Pine Warblers all at once, not to mention the sounds of Veery, Wood Thrush, and Scarlet Tanager not too far away. This place is a must stop for any serious Minnesota birder. Or herper. This 4-foot Fox Snake was in the parking lot on the way out and put on its best rattlesnake impression, frantically wiggling its rattle-less tail.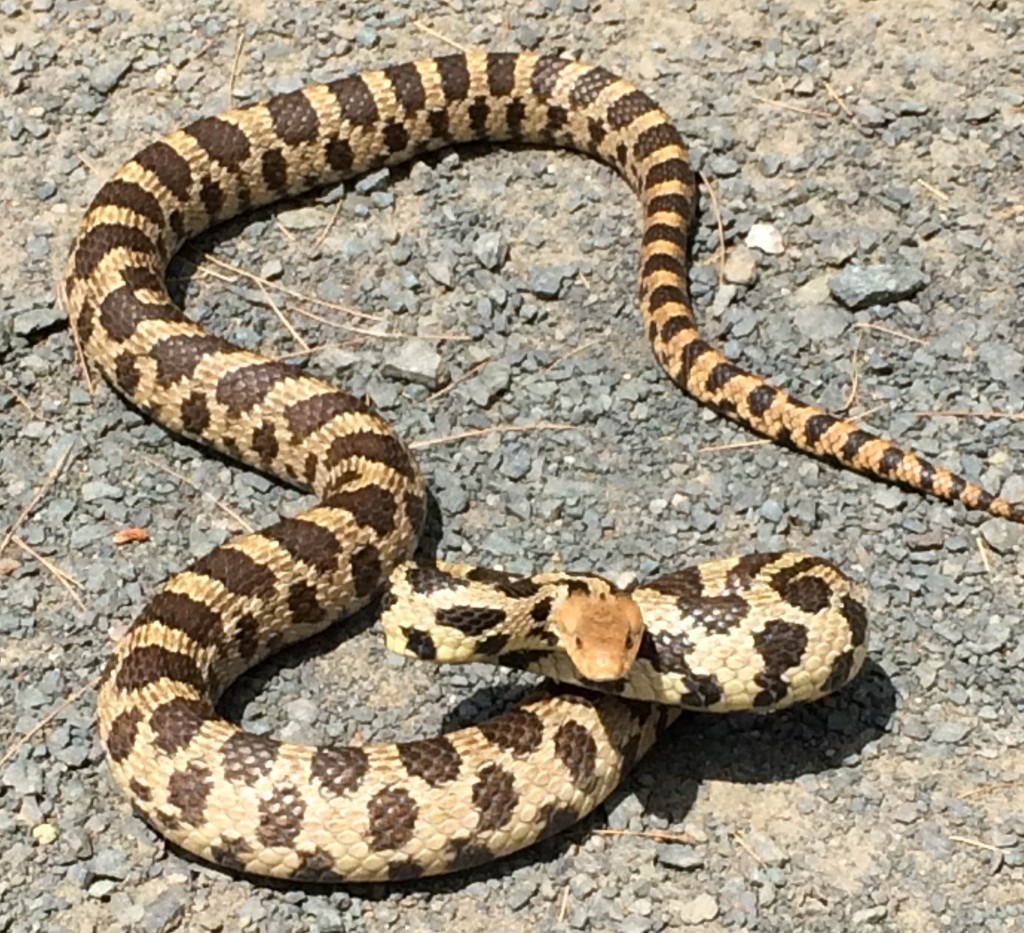 Coming up is one more Minnesota post with Tommy about a rare Warbler we went after for Tommy's life list.  And then we will cover our side trip to Wisconsin to search for two endangered species.  Stay tuned.