Long-time followers of this blog may recall in the early years how upset Evan would get if I got a life bird and he didn't.  Over time, though, his interest in birds has waned to a level that is healthy. Unlike Evan, my addiction has only continued to rage, and I have gone on many chases or birding outings in recent years without him.  And it doesn't bother him when I then add new birds.  There was one bird, however, I saw a couple years ago that Evan didn't that did kind of bug him.  I'm referring to the Long-eared Owl I saw in Arizona with Laurence Butler when Evan opted to go back to the car with Grandpa.  That's the kind of missed opportunity that can haunt a person.
But here's the good news: Evan got his Long-eared Owl lifer this winter, and–newsflash–it happened on the epic Tommy & Gordon Owl Expedition!  Time and circumstances have not allowed me to share until now.  We made a stop to look for Long-eareds…somewhere in Minnesota…on our way south that last day.  And Tommy, who was responsible for originally finding the AZ Long-eared, delivered for us here in Minnesota by spotting Evan's lifer and my state LEOW.  That gave us an incredible SIX Owl species for that trip (Great Gray, Snowy, Northern Hawk, Barred, Great Horned, and Long-eared).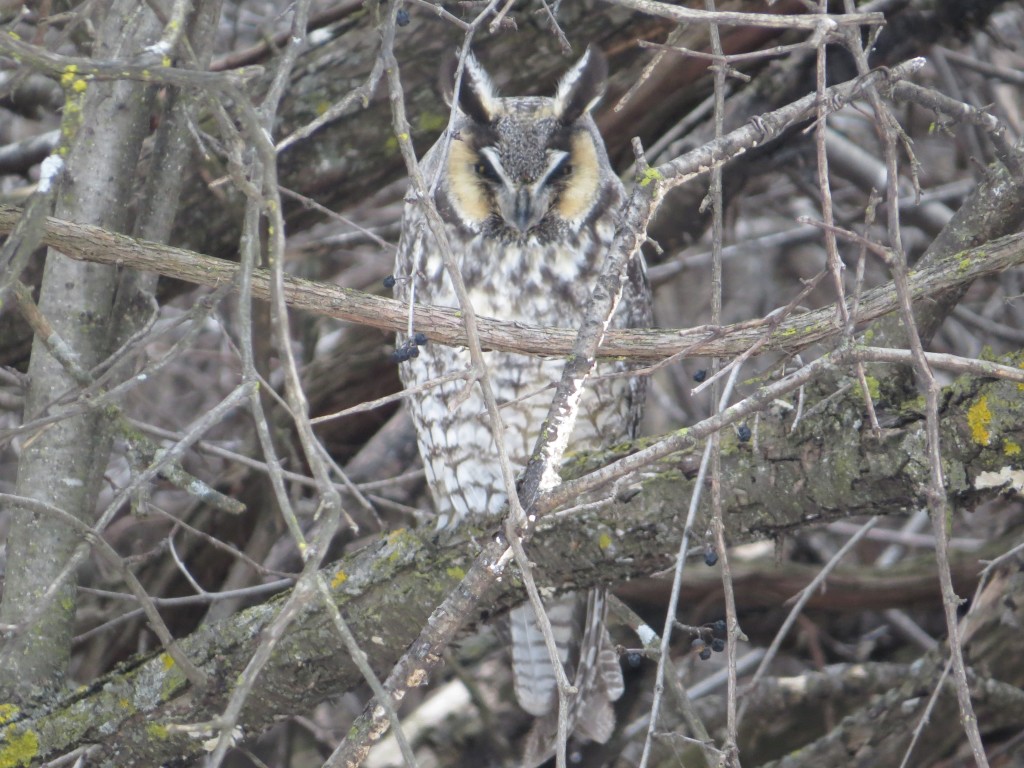 So the Long-eared got Evan caught up with me on Owls at 14 Species. Then there was that Northern Saw-whet I went to see, which for reasons I still cannot figure out, Evan opted out of that easy, guaranteed, short chase and instead went to his sister's dance practice. Once again the Owl numbers were askew.  However, our whole family recently made a stop at the Saw-whet location so my coworker, Brad, could collect the pellets for some science students to dissect.  Evan got his lifer and tied me once again.  A bonus was that we saw it with an un-pelletized deer mouse.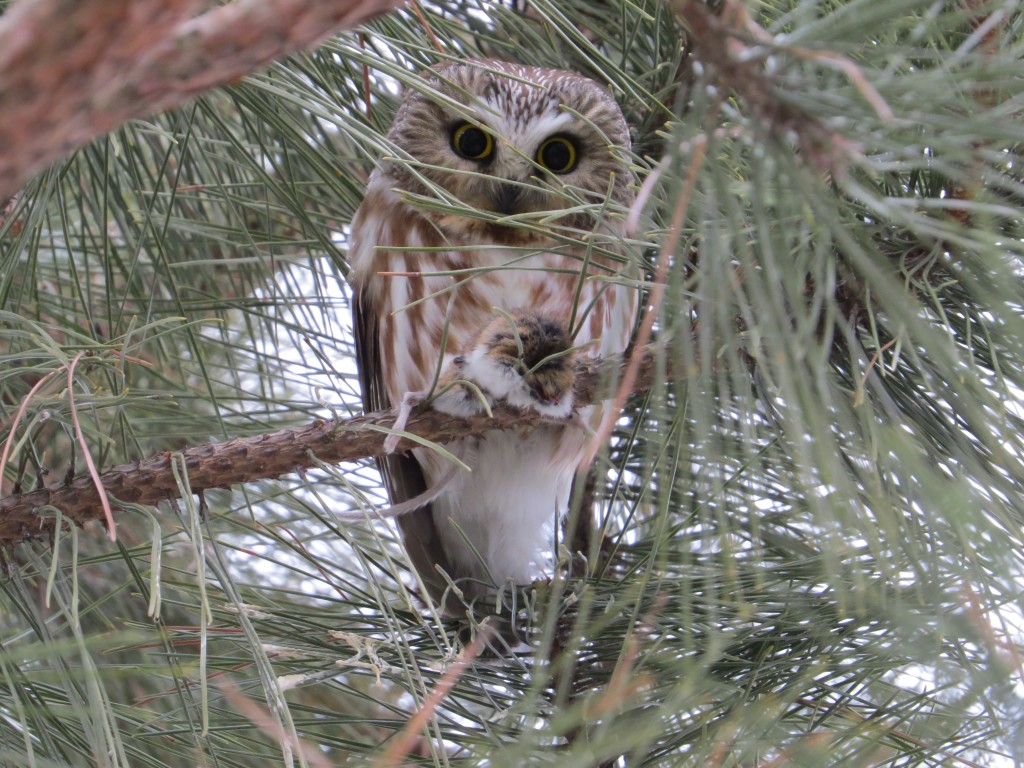 Evan and I both now stand at 15 Owl species apiece.  Here are the species we have seen listed in the order that Evan saw them:
Great Horned Owl (MN)
Great Gray Owl (MN)
Barred Owl (MN)
Snowy Owl (MN)
Northern Hawk Owl (MN)
Eastern Screech-Owl (MN)
Burrowing Owl (AZ)
Elf Owl (AZ)
Western-Screech Owl (AZ)
Northern Pygmy-Owl (AZ)
Spotted Owl (AZ)
Barn Owl (AZ)
Short-eared Owl (MN)
Long-eared Owl (MN)
Northern Saw-whet Owl (MN)
There are 19 species of Owls that occur regularly in North America.  The four that we have not seen are Boreal Owl, Ferruginous Pygmy-Owl, Flammulated Owl, and Whiskered Screech-Owl.  As our good friend, Tommy DeBardeleben, pointed out, all 19 can be seen by visiting just Arizona and Minnesota. That's a pretty fun fact for a couple of MN birders that go to AZ annually. The Boreal is the only one of the four remaining Owls that can be found in Minnesota, making it the number-one most wanted bird here.  Next year is supposed to be an irruption year.  Boreal Owls irrupt every four years, and the winter of 2012-2013 was incredible for them. Hopefully by this time next year we will have secured that bird.  Regarding the other AZ Owls, I'm sure it's just a matter of a couple more trips…