No birding trip to northern Minnesota in the winter is complete without spending a significant amount of time in Duluth, MN and Superior, WI.  Not only is it the most reliable place in this part of the state to find the Snowy Owls that Gordon Karre and Tommy DeBardelben craved, but it is also a place where one can rack up a sweet suite of winter Gulls and see some oddball vagrants such as the Golden-crowned Sparrow, Townsend's Solitaire, and the impressive Gyrfalcon–or two or three this year.  In short, Tommy, Gordon, and I had a lot of work to do in this urban birding environment, and we scheduled no less than a full day from dawn to dusk on our second day of the Tour de Nord.
Our day started with a search for the most reliable Snowy Owl in Superior, Wisconsin, the one that had been hanging out around the Richard Bong Airport and nearby parking lots of Menards and Aldi.  The truth is, I wanted to secure this main target early in the day rather than waiting until the day was almost over.  Alleviating the stress early and getting home earlier for a hot shower and a hot meal sounded dreamy.  But I really wasn't stressed about the Snowy Owl since we had success with the Great Gray the previous day and since I knew this species of Owl would be the easiest to get for Tommy and Gordon.  Anyhow, we gave up our morning Snowy search after a couple hours to pursue some other targets.  We would just have to get that SNOW in the evening.  No biggie.
The thing about finding the really good birds in Duluth/Superior is that they are in some of the most sketchy places–industrial complexes, oil refineries, rail yards, landfills, etc.  But we birders go where the birds go.  Then a funny thing happens–we grow to like those places and even dream about them. A pristine, quiet stand of Red Pine next to an untouched, snow-covered northern lake? Forget about it. Bring on the garbage trucks, train cars, and smoke stacks!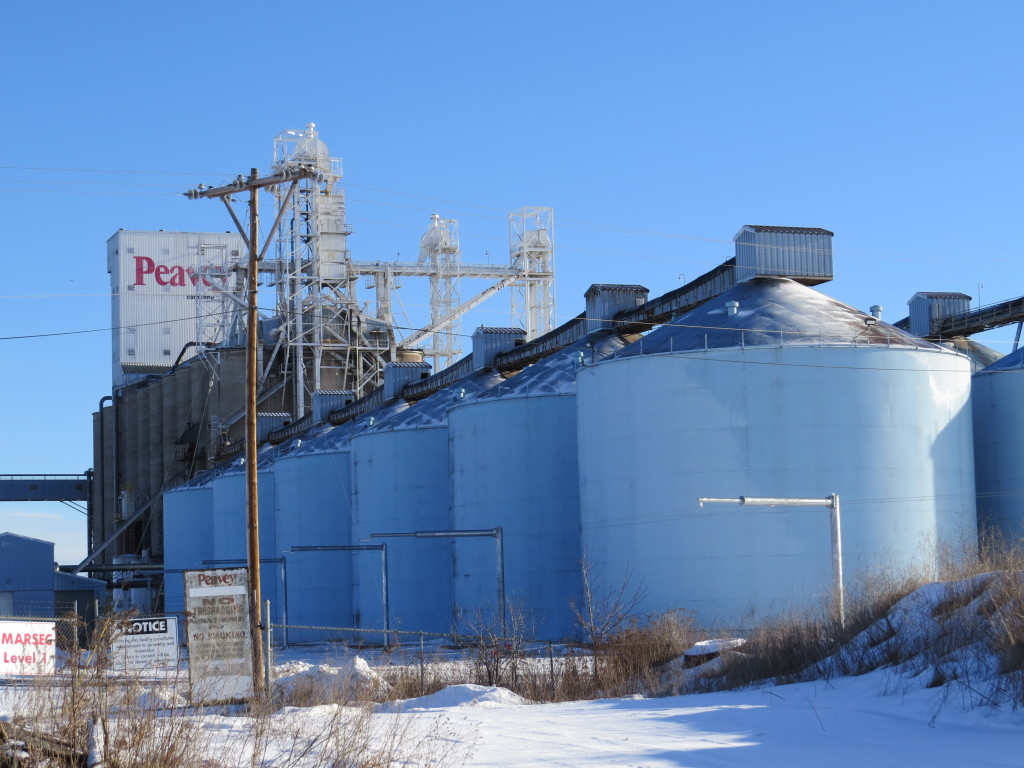 Tommy, Gordon, and I made a stop at the Peavey grain elevators to look for its most impressive avian residents.  After a short time, we finally spied Tommy and Gordon's lifer Gyrfalcon fly in.  Then it perched the closest to the road I've ever seen this bird perch.  Normally it hangs out on the huge superstructure furthest from the road, but this time it split that distance in half and even flew across the road on which we stood.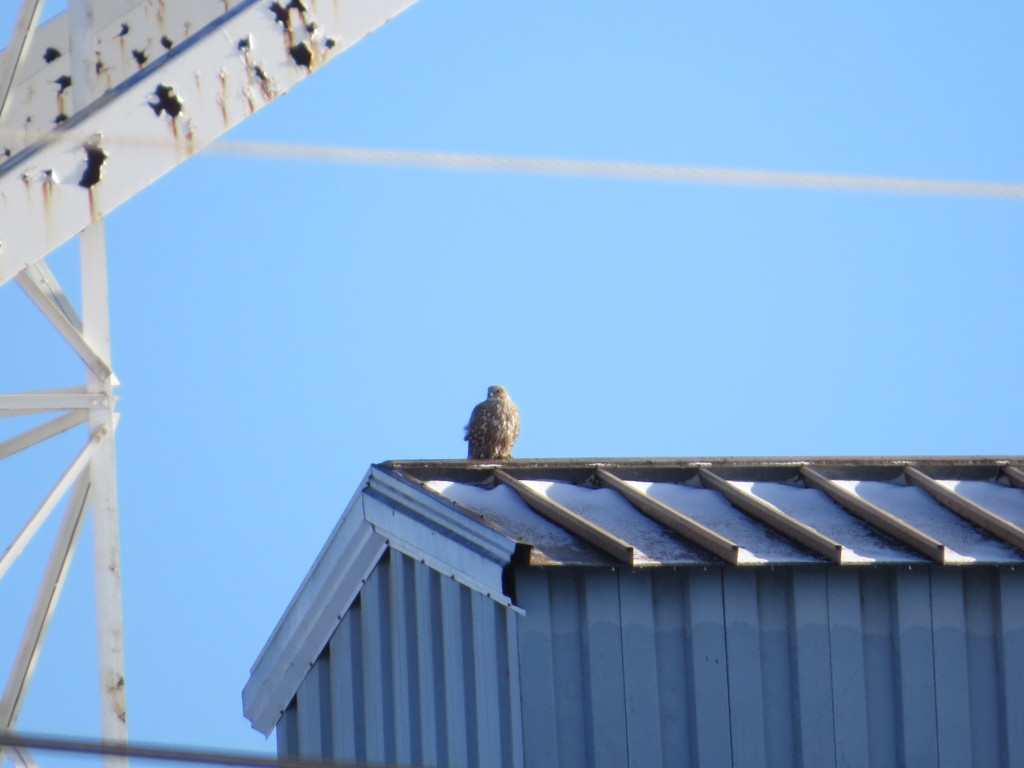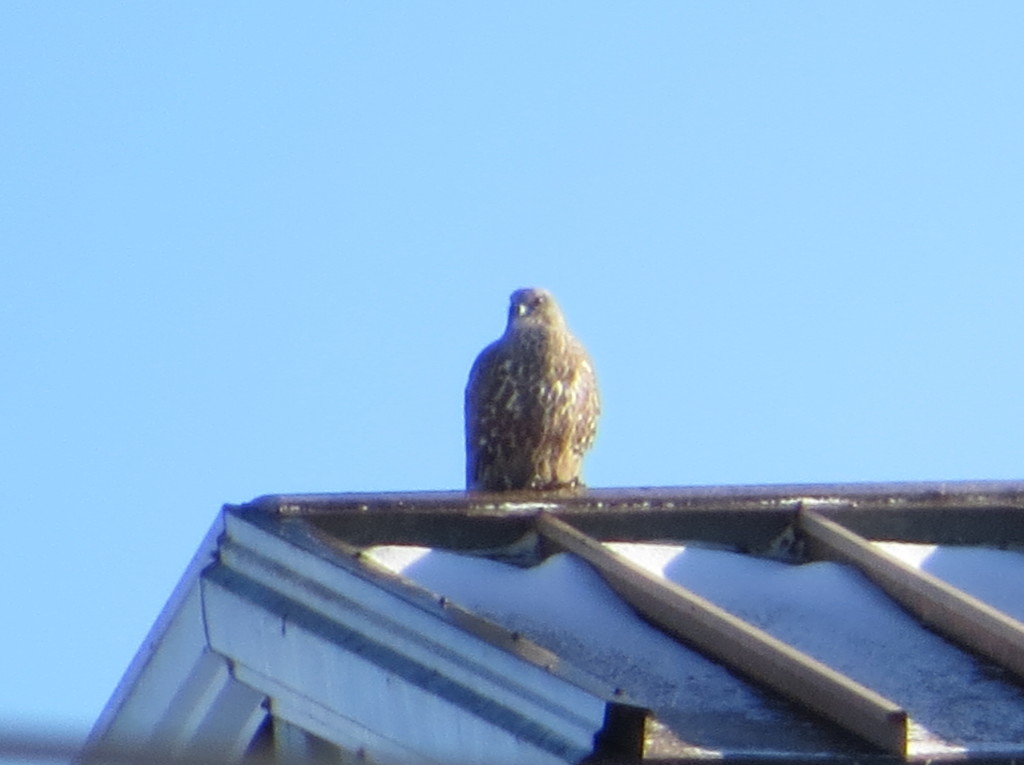 After this, we made a stop at Canal Park in Duluth to see what was going on Gull-wise.  The guys picked up a handsome Thayer's Gull lifer, but that was about it.  I couldn't even muster up a Black Duck for the guys. I did, however, do my Minnesota duty and made Tommy and Gordon skip rocks in Lake Superior.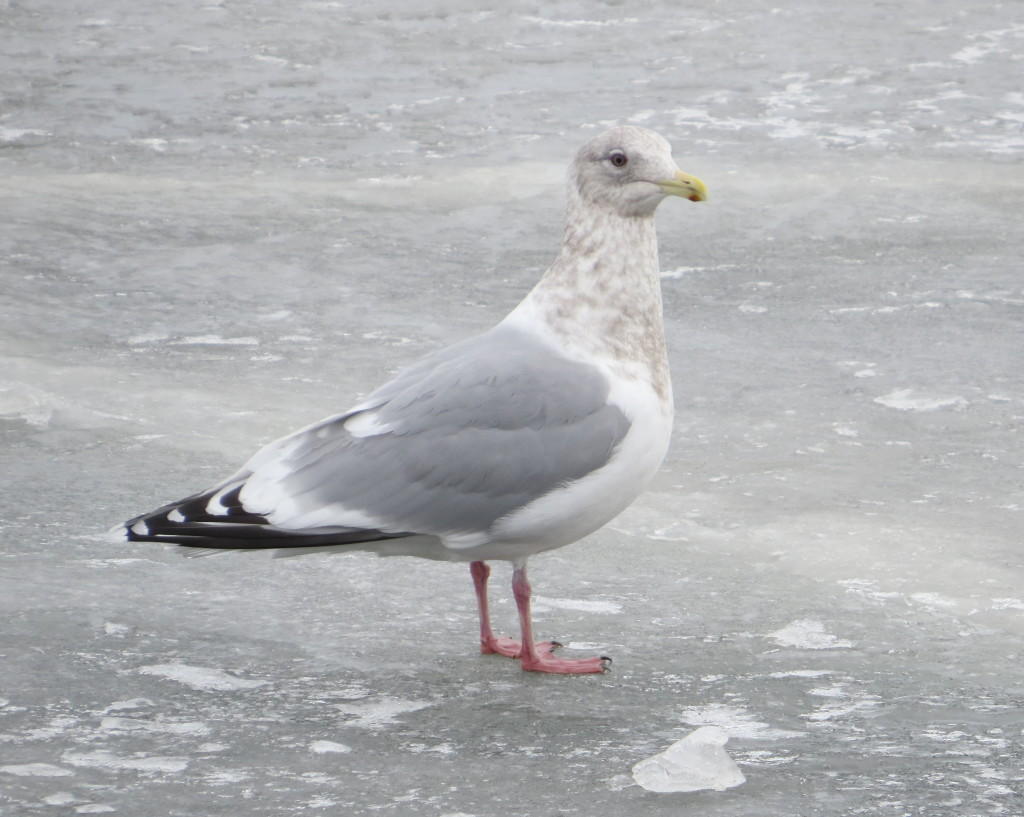 Now, there are still blog posts to be written, but Tommy and Gordon truly hit the jackpot with all their birds on this trip.  They also hit the jackpot with the weather as it was unseasonably warm their entire trip–it was nearly 40 degrees ABOVE zero and SUNNY in Duluth this day.  I don't know if they can fully appreciate that. This dude gets it.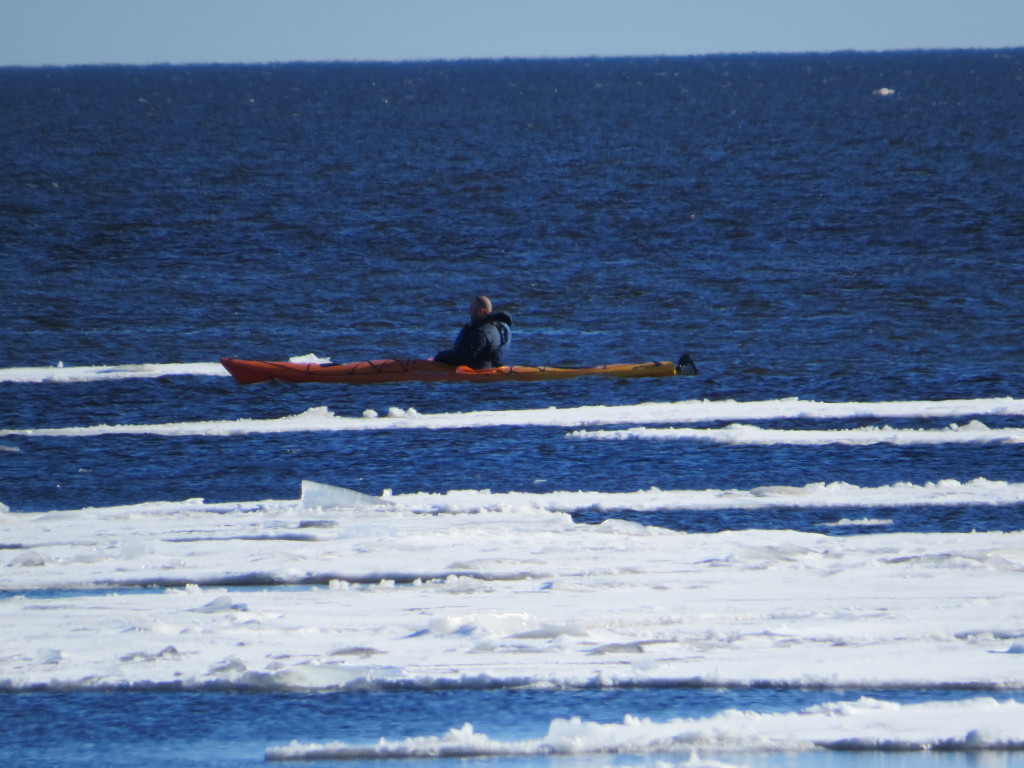 After Canal Park we went up the North Shore of Lake Superior 20 miles to the town of Two Harbors to look for some nomadic Bohemian Waxwings and see what was happening seaduck-wise on the lakefront.  We struck out on those Bohemians, but once we got to Agate Bay we met Jim Lind, compiler of the Duluth RBA, who had his scope zeroed in on a handsome male Long-tailed Duck.  It was way too far for photos, but the scope views were incredible. This was definitely my bird highlight of our Duluth Day.
By this time in the afternoon it was time to head back to Superior to begin our Snowy search in earnest.  We had a little time to check out Canal Park for Gulls and Black Ducks.  On the way, I got a text from Randy Frederickson that they had an Iceland Gull; Randy is a birding friend from where I live, but I had found out he was in town to study Thayer's Gulls intently in the hopes of finally seeing one in our Kandiyohi County.  I got a second text from Randy as we literally just parked the car at Canal Park: the Great Black-backed Gull had just come in! Score!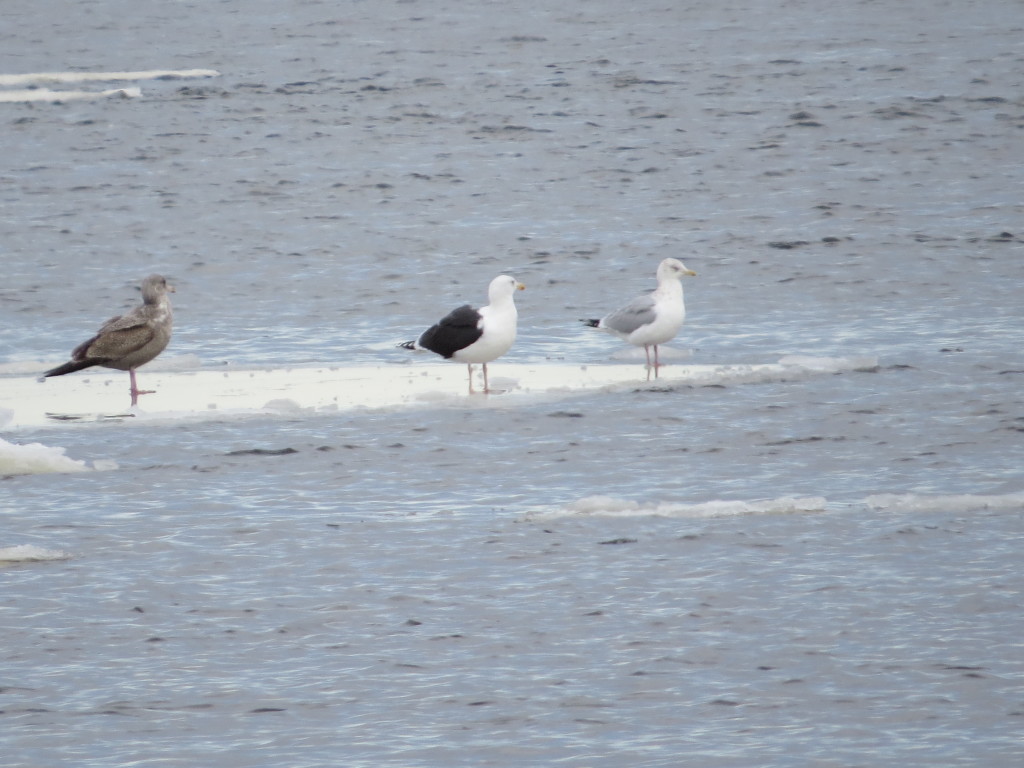 Tommy and Gordon quickly tallied this lifer as well as the Iceland Gull lifer.  They also got to witness the spontaneous birder parties that happen at Canal Park as the who's who of Duluth birders show up to enjoy the Gulls, look for the really wacko stuff (Ivory Gull, Black-legged Kittiwake), toss bread out to bring the Gulls closer, take orders for what Gulls everybody is still looking for, and generally be friendly tutors to those of us still illiterate in Gull identification.  Peder Svingen, Clinton Nienhaus, and John Richardson were all on hand this particular afternoon to confirm species ID and point out the cool Gulls from the Herring herd.  Even when some of us were distracted with trying to get a THGU/Lighthouse combo pic…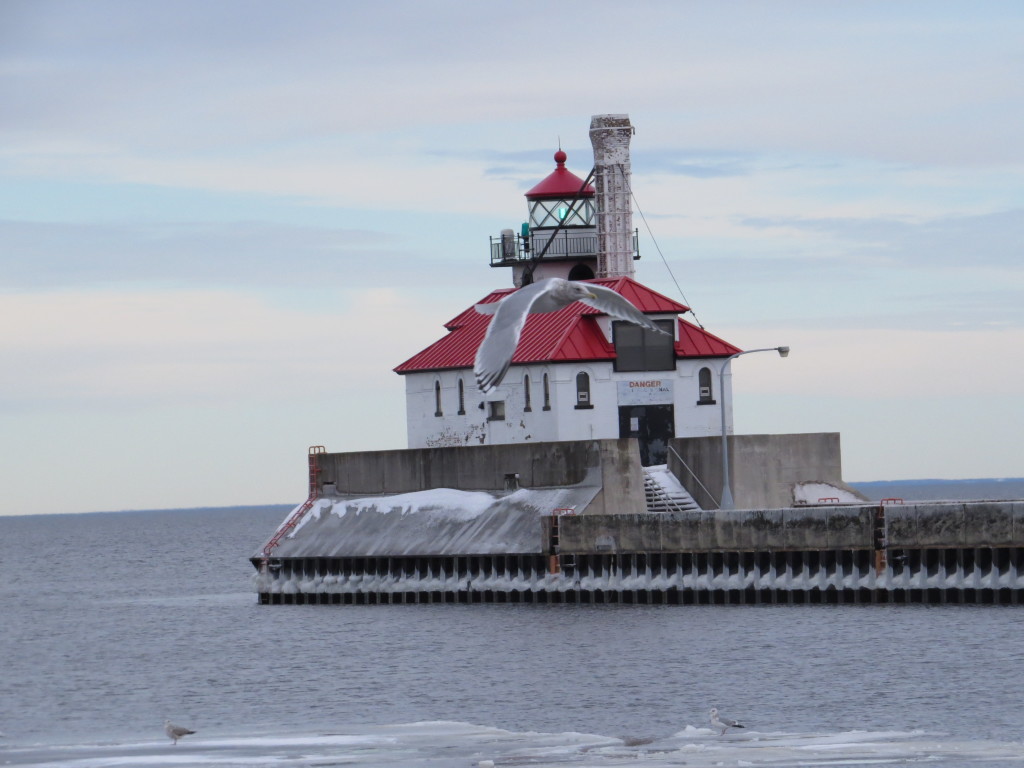 …Clinton was still keeping an eye to the horizon. All of the sudden, Clinton made a cheerful announcement to the three of us, "Gu-uys! Glaucous coming in!" It was a lifer for Gordon and gave the AZ guys the Winter Gull Grand Slam.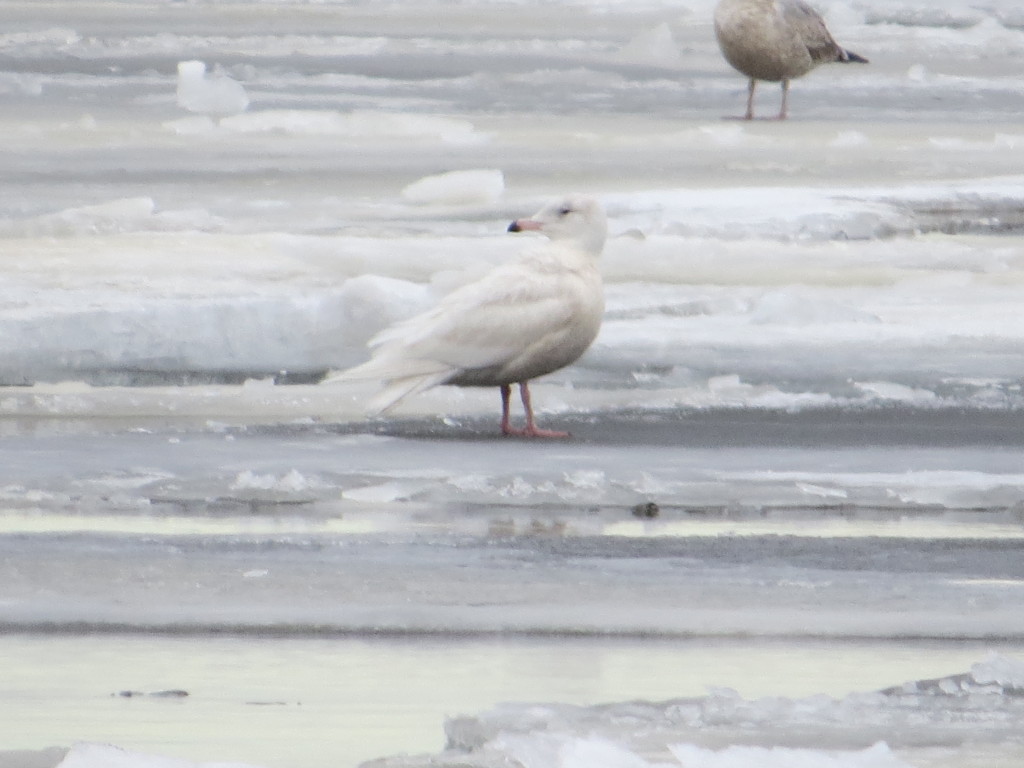 Finally, though, it was time to get back to priority one for this day: Snowy Owl searching.  Peder Svingen gave me some great last-minute tips on a couple of birds in Superior.  He was spot-on.  Tommy quickly found one of those Snowies perched up giving them one of their most-wanted lifers and giving me another huge wave of relief.  While viewing it, birding guide Kim Risen stopped to talk, and he pointed us in the direction of a second bird in the area and asked what else we were still looking for.  The generosity of MN birders continues to impress me even though I've seen it over and over.  Here's the bird Kim had for us.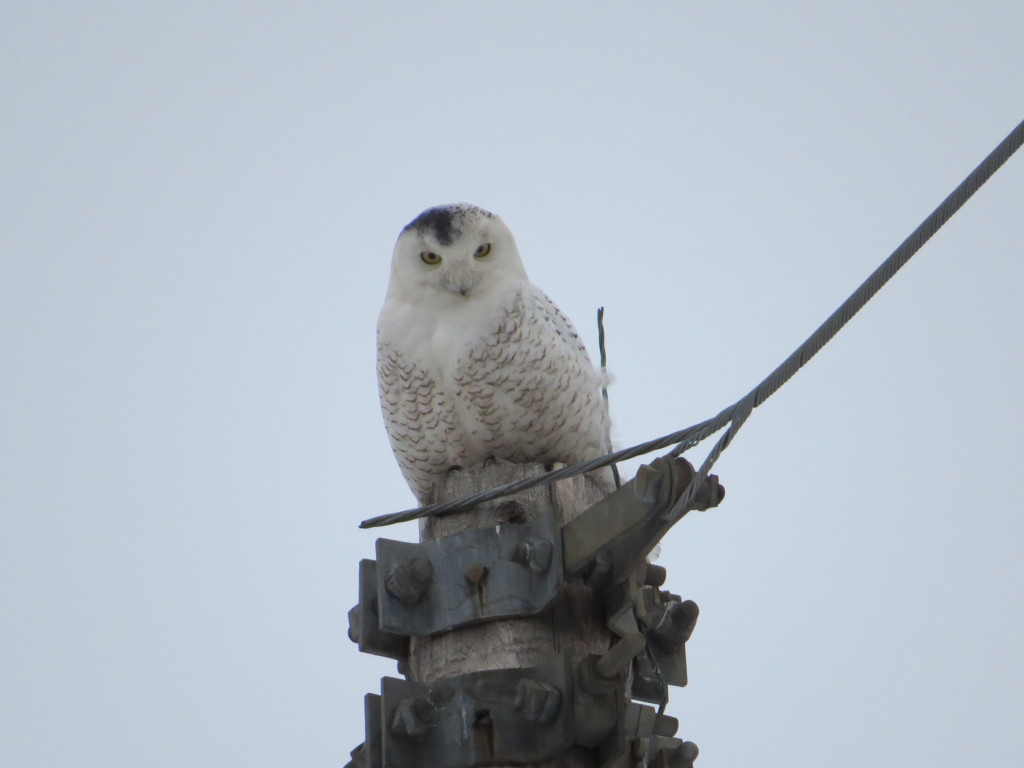 Can you spy Tommy, Gordon, and the Snowy Owl in this photo?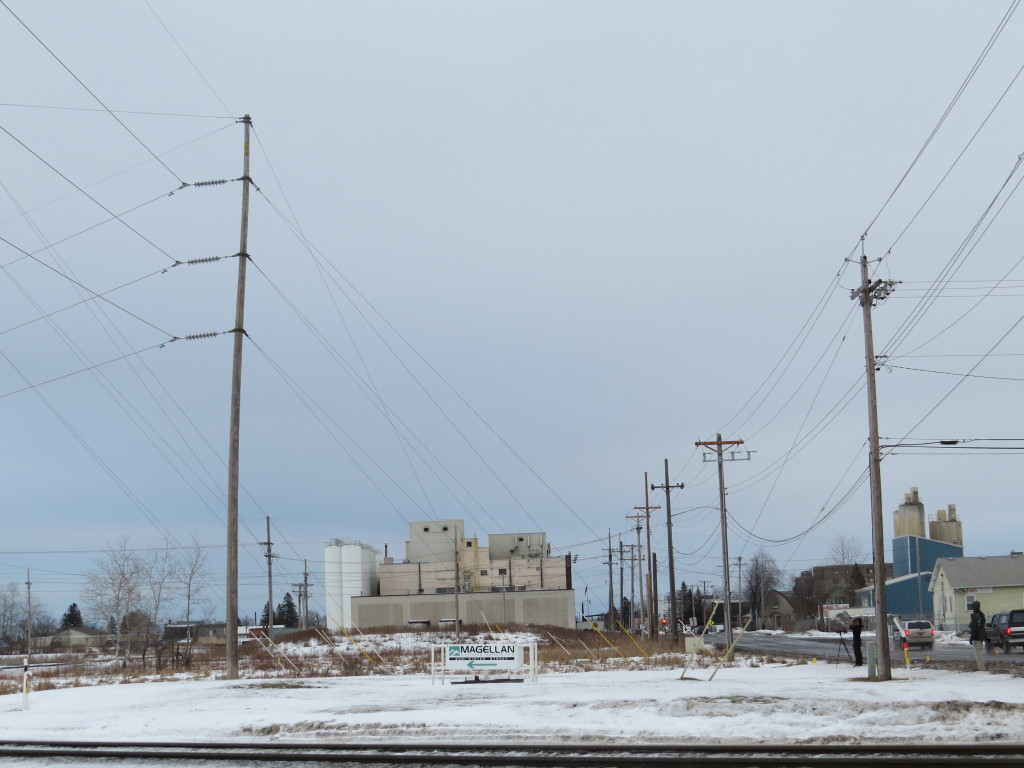 The good thing about Snowy Owls in the Twin Ports is that they are fairly easy to come by.  The bad thing is that most all of them have been caught, tagged with a number, and marked with shoe polish on their heads by bird bander Dave Evans who has been studying them for 40 years.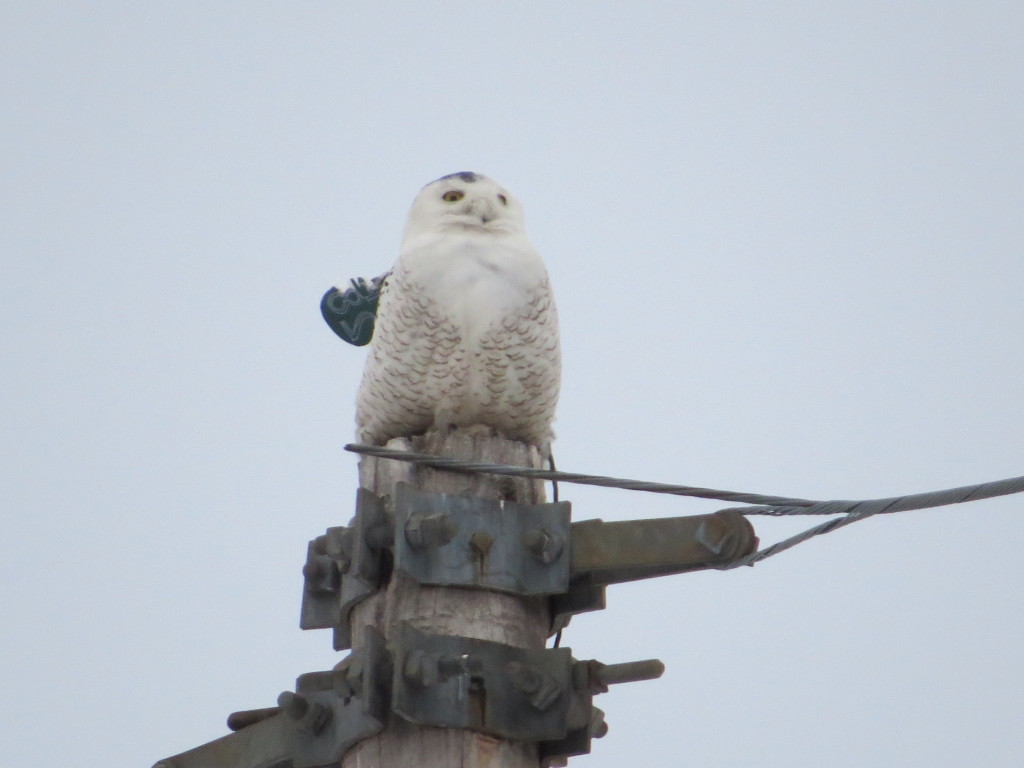 The wing tags help Dave monitor and identify the Owls from afar without having to stress them with recapture.  Here is the first Snowy Owl we saw just before #28 above.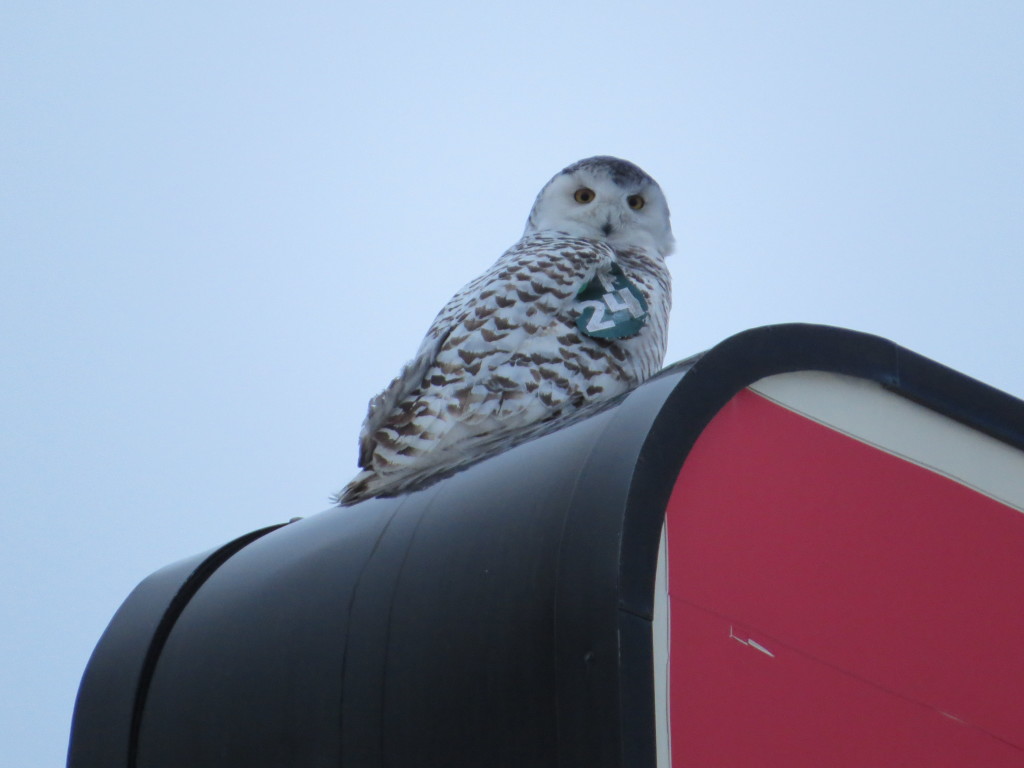 I wish Tommy and Gordon could have seen unmarked Snowy Owls, but a marked Snowy seen is better than an unmarked Snowy not seen!  Ironically, these were the first marked Snowy Owls I had ever seen in real life.  Tommy and Gordon did get to gain an appreciation for the types of urban habitats these birds often winter in.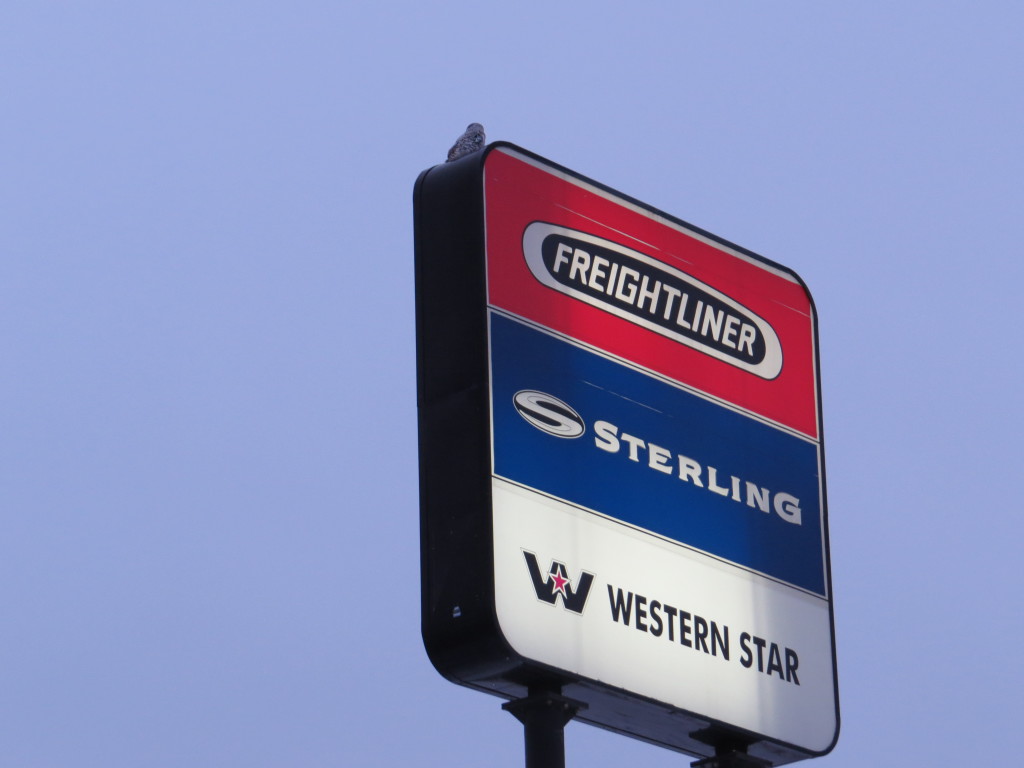 It was another rocking day of birding in the north that met or even exceeded expectations.  Notable misses included American Black Duck and Bohemian Waxwing.  On a sad, personal note, my Kittiwake lifer did not make an appearance.  Here is a run-down of the second day's lifers:
Gyrfalcon – Tommy, Gordon
Thayer's Gull – Tommy, Gordon
Iceland Gull – Tommy, Gordon
Great Black-backed Gull – Tommy, Gordon
Glaucous Gull – Gordon
Snowy Owl – Tommy, Gordon
Once again, a great team of Minnesota birders helped Tommy and Gordon have a memorable day.  I'd like to thank Jim Lind for pointing out the Long-tailed Duck, Peder Svingen for his Snowy Owl tips and his Gull identification tutorials, Randy Frederickson for his heads-up texts on the Iceland and Great Black-backed Gulls, Clinton Nienhaus for alerting us to the Glaucous Gull, John Richardson for being another set of eyes at Canal Park, and Kim Risen for the bonus Snowy Owl. This birding community is the best!
Coming up is a post about the day of northern birding I was looking forward to the most.  I myself was going into new birding territory as we would have to venture way up into Northwest Minnesota in our pursuit of the guys' Northern Hawk Owl lifer.