Northern Minnesota is my favorite place to bird.  The unique collection of hardy birds that call this place home in the winter is truly spectacular. Getting out for a little birding while home for the holidays is always a must.
I spent a lot of my birding time in the nearby town of Cook.  Local birder, Julie, had found some White-winged Crossbills which would be a lifer for me.  So I made several trips into town to try for this bird.  I came up short that first evening, but came away with a great prize–spotting my own vagrant Townsend's Solitaire.  Such a good bird and to find one myself here at home made it all the more special. In fact–spoiler alert–look for it in my year-end Top 10 post.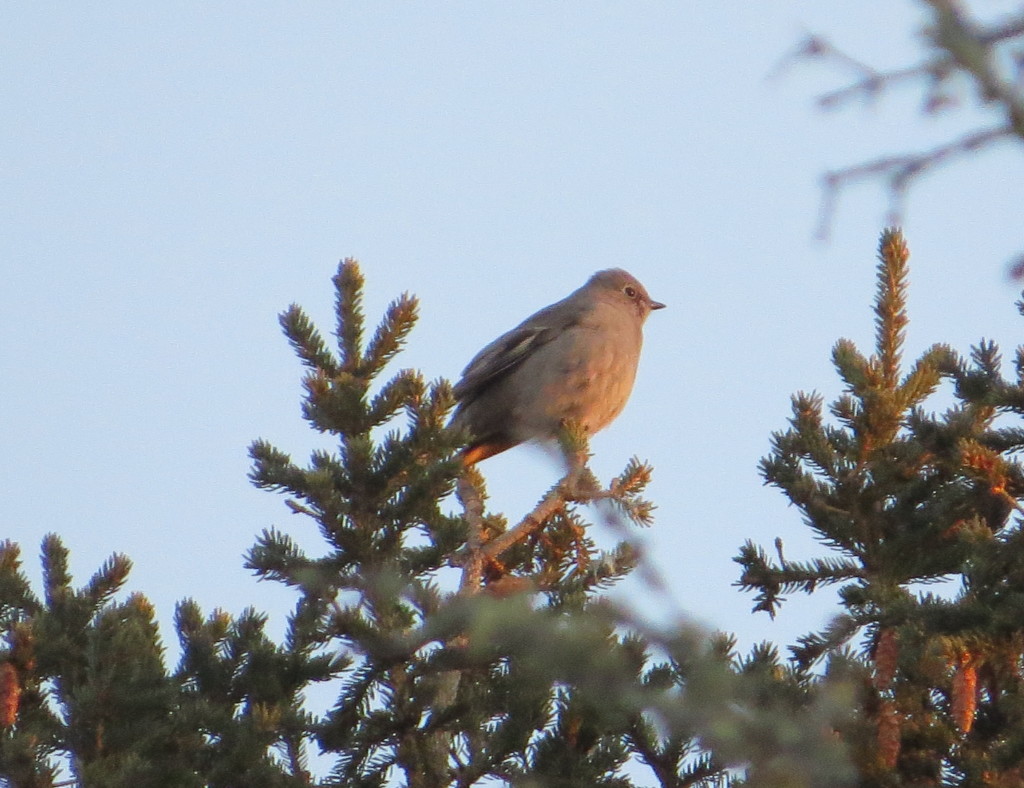 One morning I decided to canvas the heck out of Cook, cruising up and down all the streets looking for those Crossbills.  Honestly, it is just as much fun driving around Cook as it is the Sax-Zim Bog, especially when there are great birds, like an overabundance of Evening Grosbeaks.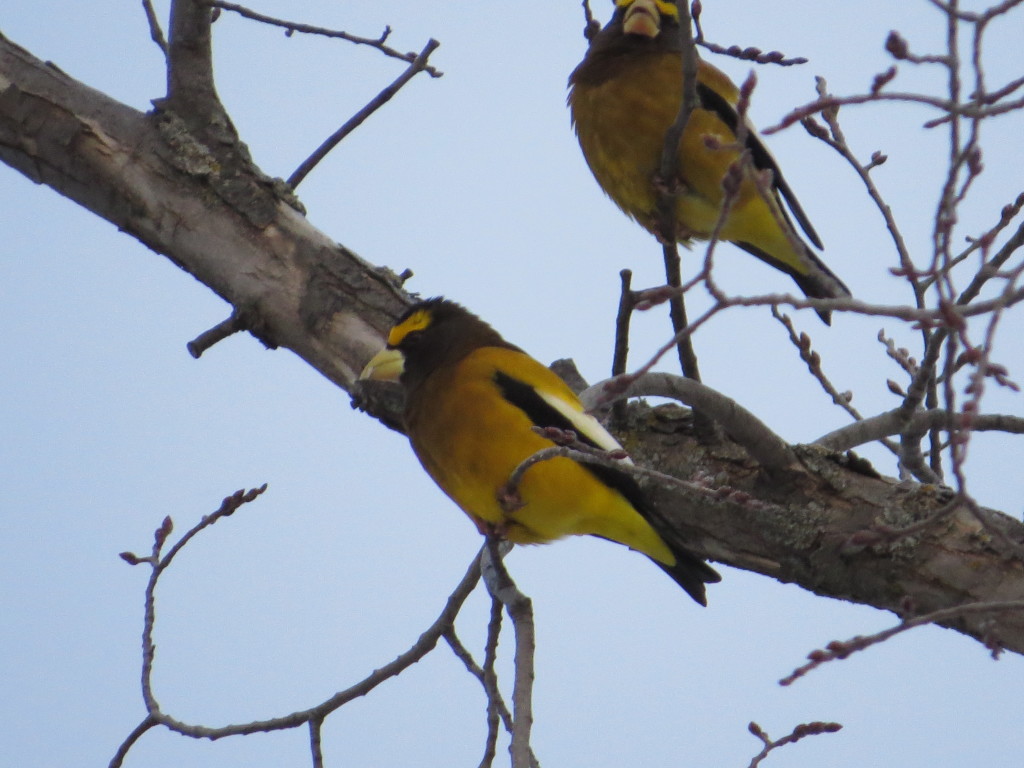 Or Pine Grosbeaks, a bird I finally got a chance to photograph. Despite the large flock I found, I never saw more than two or three adult males.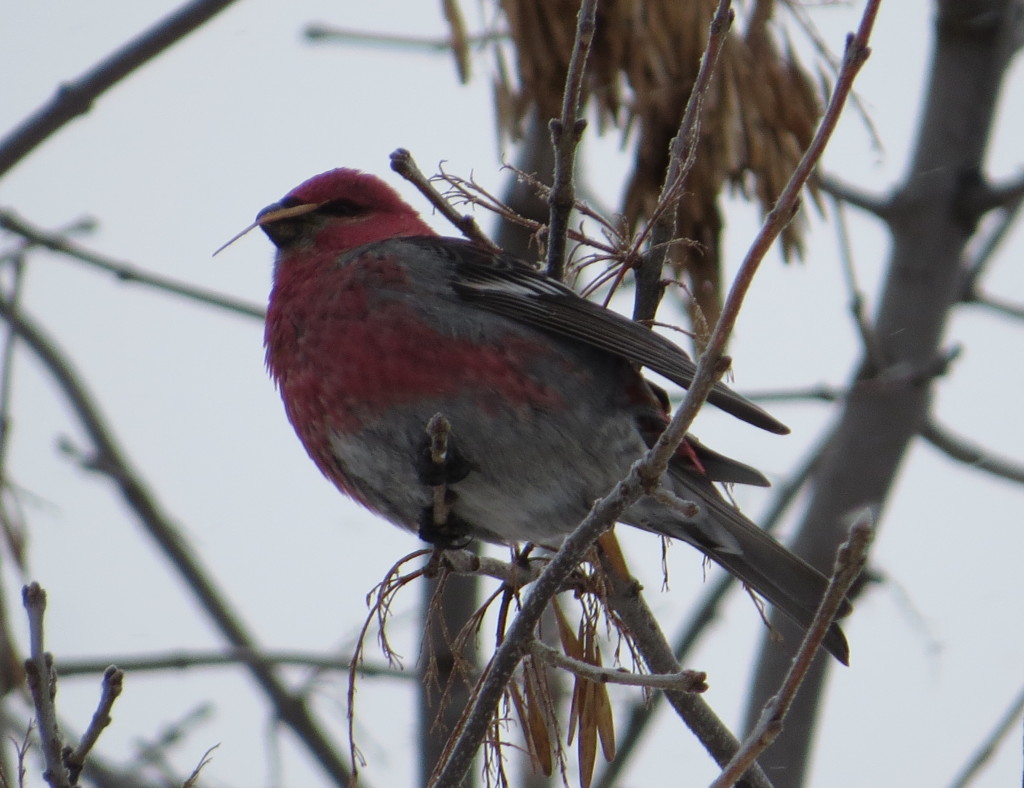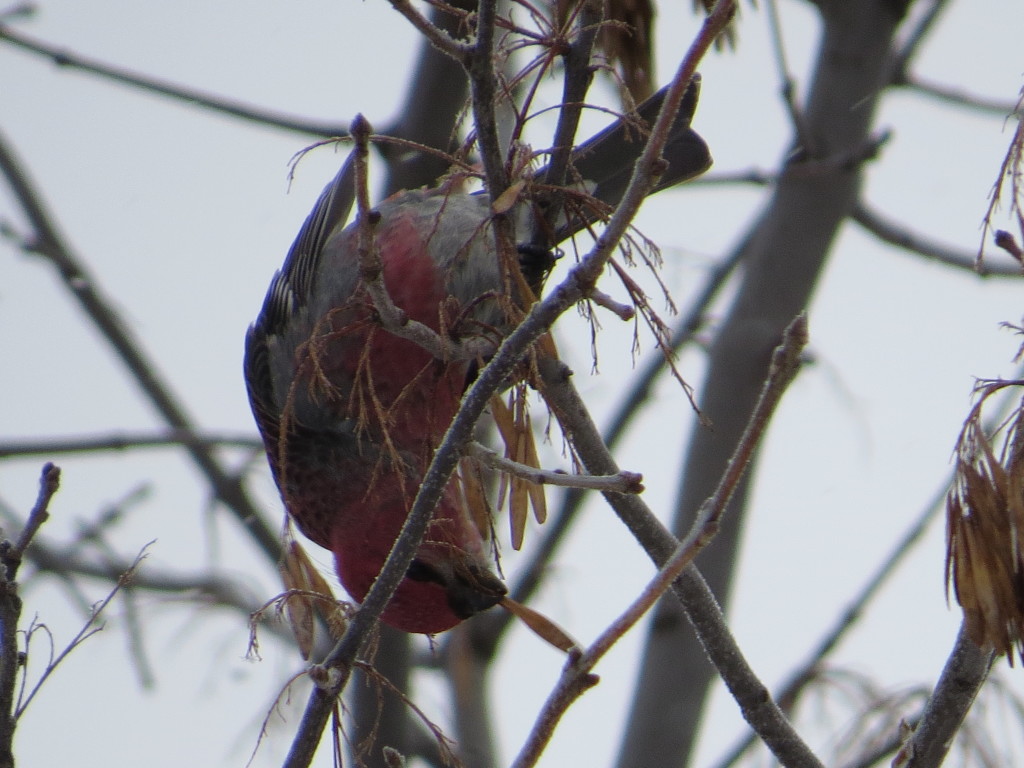 Some were so incredibly tame.  I think I could have pet this one.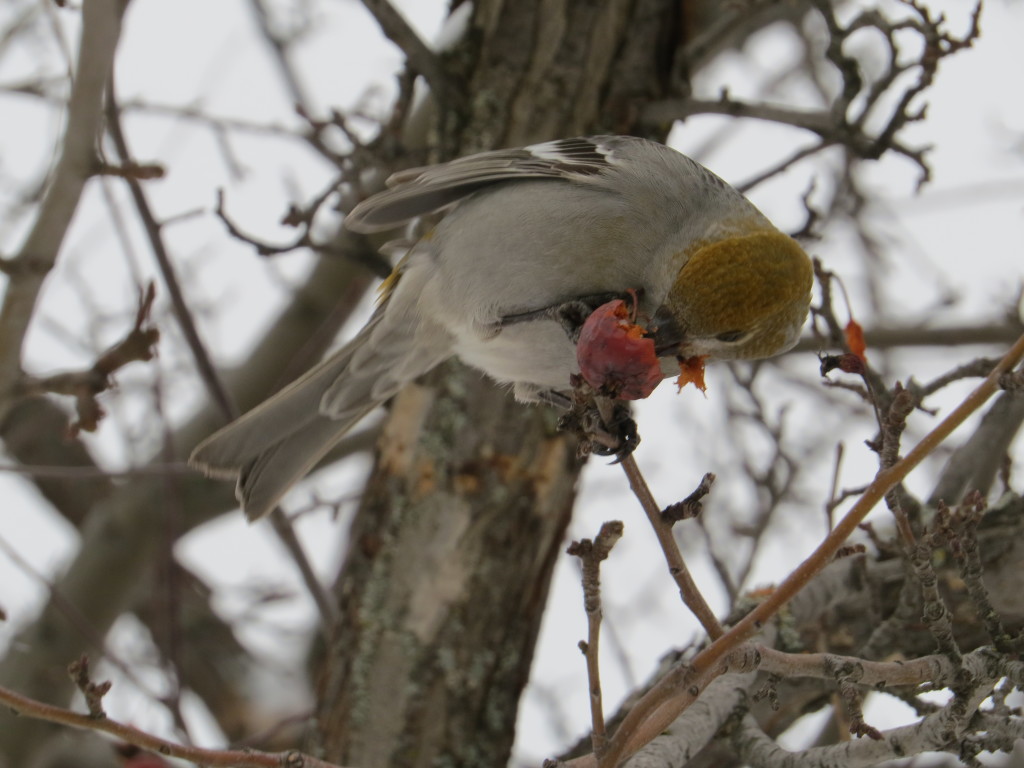 Birding a small town like this is a lot of fun because the birds are easy to spot as there are not many of them, and they stick out like sore thumbs in leafless trees.  And nearly every bird you pull up the binoculars on in this area is a fun bird.  In addition to the Grosbeaks, I saw Redpolls, Red-breasted Nuthatches, Gray Jays, and even a quick sighting of my White-winged Crossbill lifer.  Additionally I found a very late Common Grackle, which is the only way a Grackle ever becomes exciting.
One morning while home I took Melissa on a scouting trip to the Sax-Zim Bog for Tommy DeBardeleben and Gordon Karre's upcoming trip.  Melissa is normally the one who spots the Owls, but today was my lucky day as I spied this guy first when it flew out from the tamarack bog and landed right in front of us.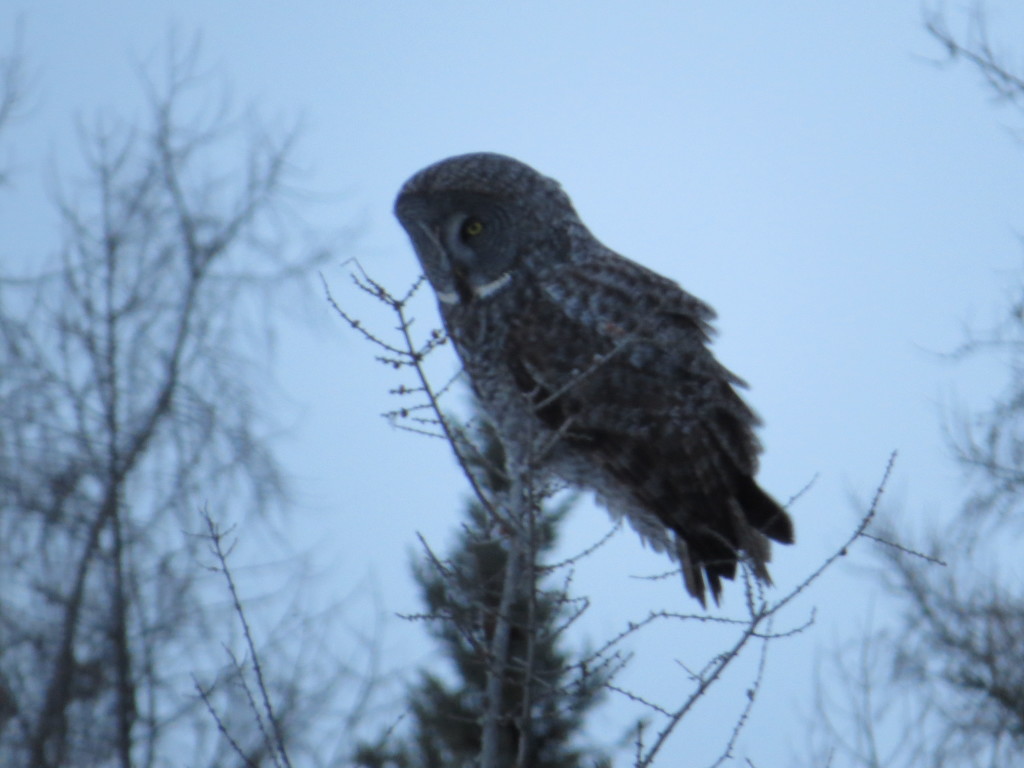 Since I was in the pole position for this Great Gray in the traffic jam that had developed on Admiral Road, I planned to stay put until there was enough light to properly photograph the Owl.  This one had other plans as it hopped from perch to perch and went out of sight almost as soon as it had appeared.  Many other birders/photographers stayed in the area for a reappearance (which many got over and over), but this was a scouting trip and I had more places and birds to check on.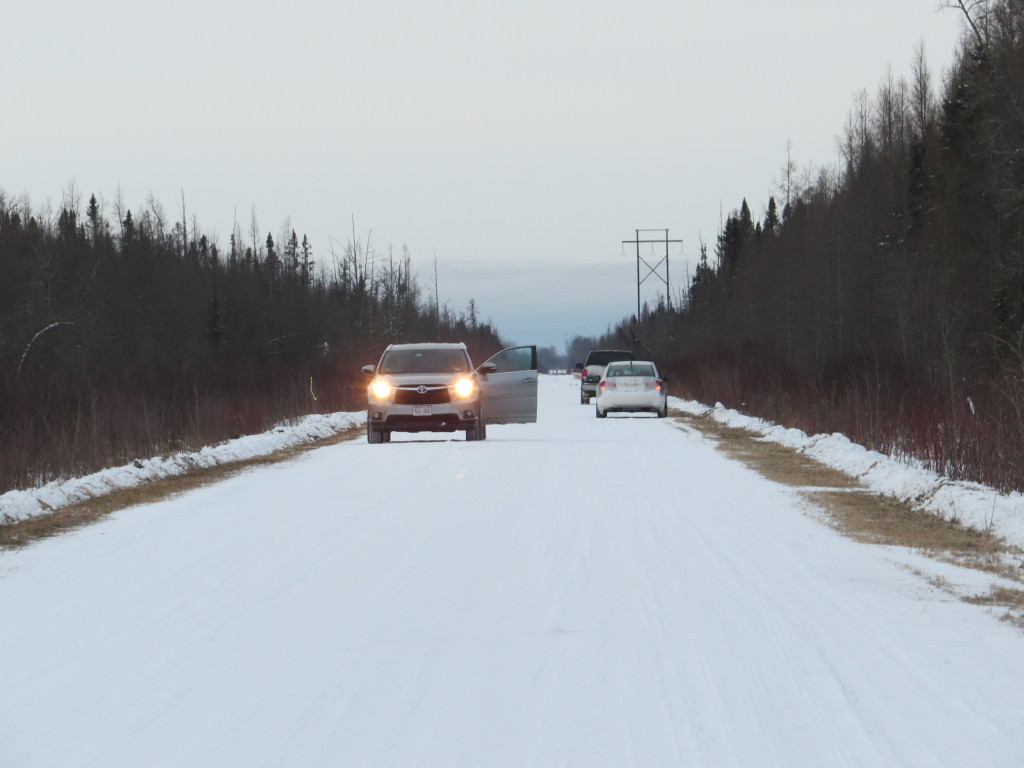 I tried hard to turn up another Great Gray or two but just couldn't do it.  I was happy to find a small group of Sharp-tailed Grouse near Meadowlands.  I know this sounds strange, but from a scouting perspective, this was the most exciting find of the morning.  The Great Gray is obviously the better bird, but one only needs to look for the parked cars to spot one of those in the Sax-Zim Bog.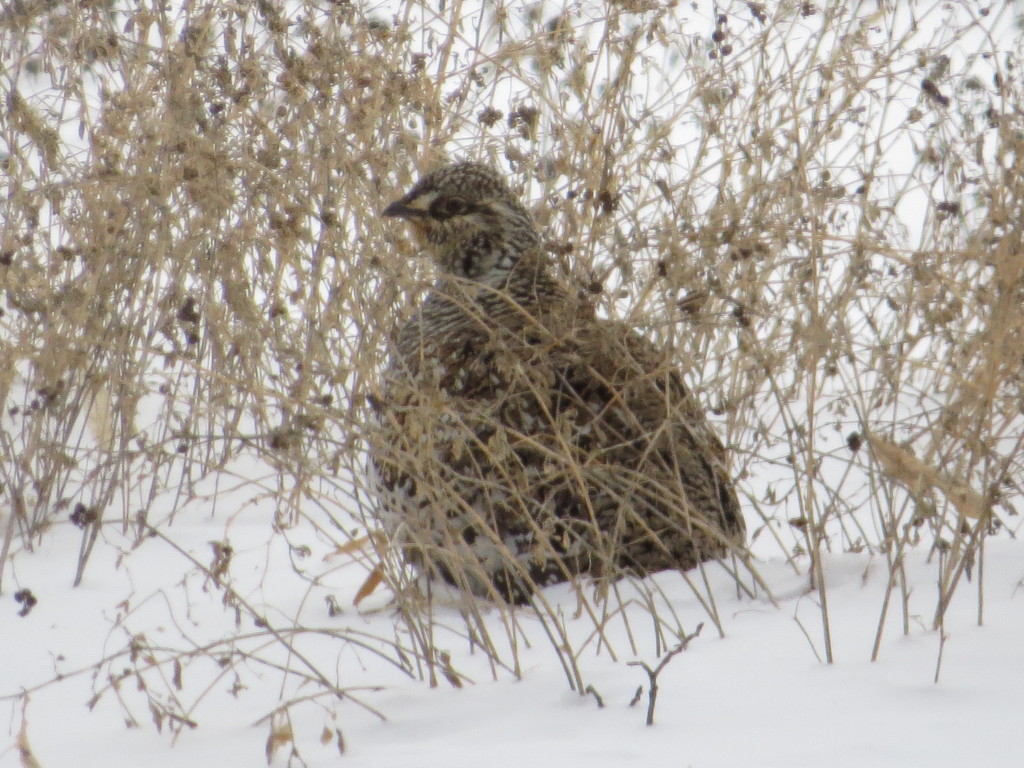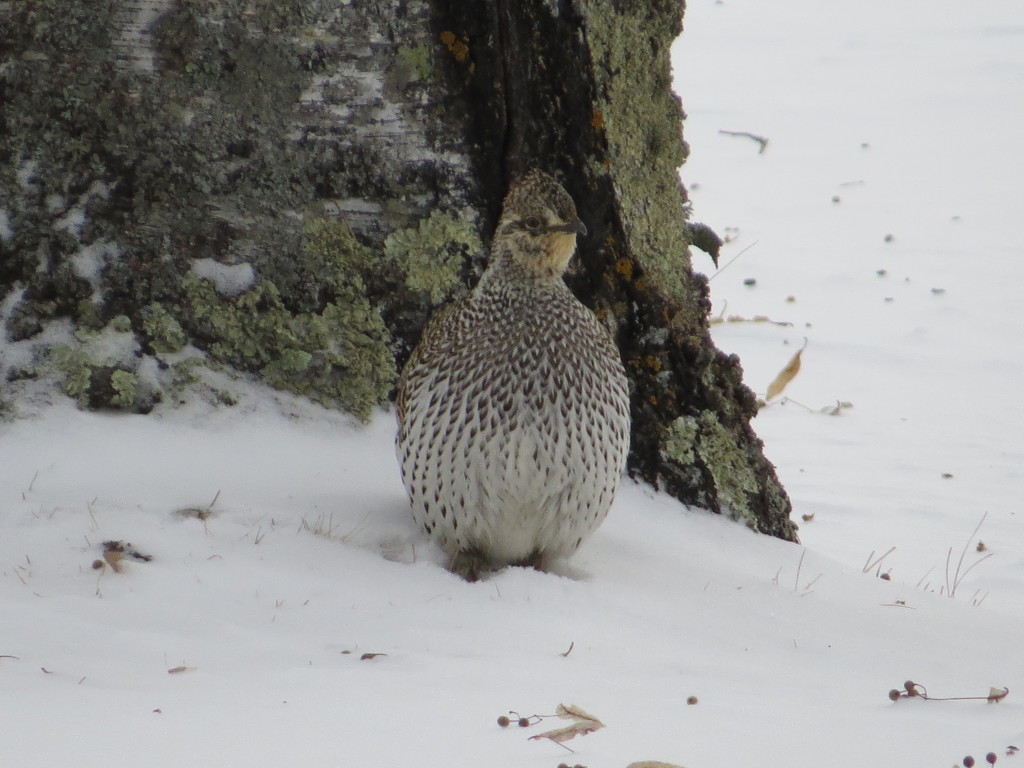 In just three weeks time, Tommy, Gordon, and myself will be hitting the Sax-Zim Bog and NE MN harder than I've ever hit these areas before.  I am looking forward to this trip just as much as any of my out-of-state trips.