Birds are a constant distraction.  Even as I was packing up the car at my parents' house on June 28th after a weekend Up North, I saw some blackbirds that I suspected were Brewer's, a bird I just discovered to be in the area, but I wanted to be sure.  I heard a vocalization and went to fetch my iPod from the car to listen.  Before I could even look it up, though, I heard "Kip-kip-kip-kip" coming from the small stand of Red Pines in my parents' yard.  I knew that sound–I had been studying it in the hopes of finding a life bird some day–Red Crossbills!! I was just about to walk in that direction to find them when the nomadic flock flew in and landed in the Spruce right next to my car!
Many of the birds were juveniles.  Still, this was my first time looking at a crossed beak on anything, so it was pretty cool. I grabbed my camera out of the car and started shooting immediately.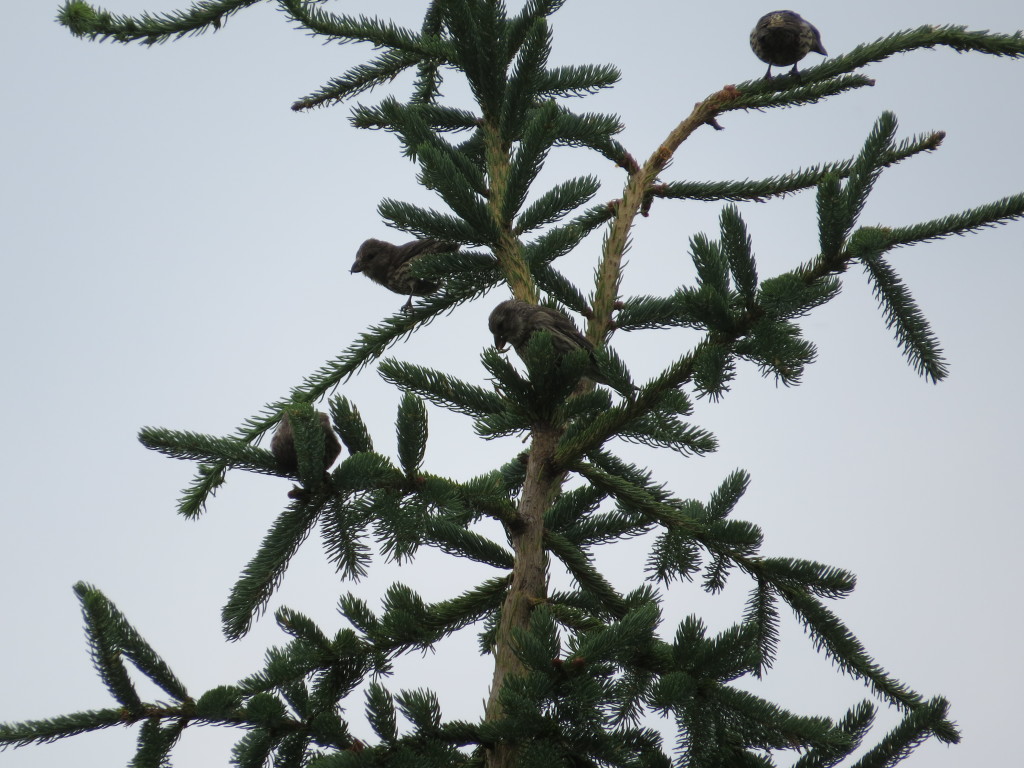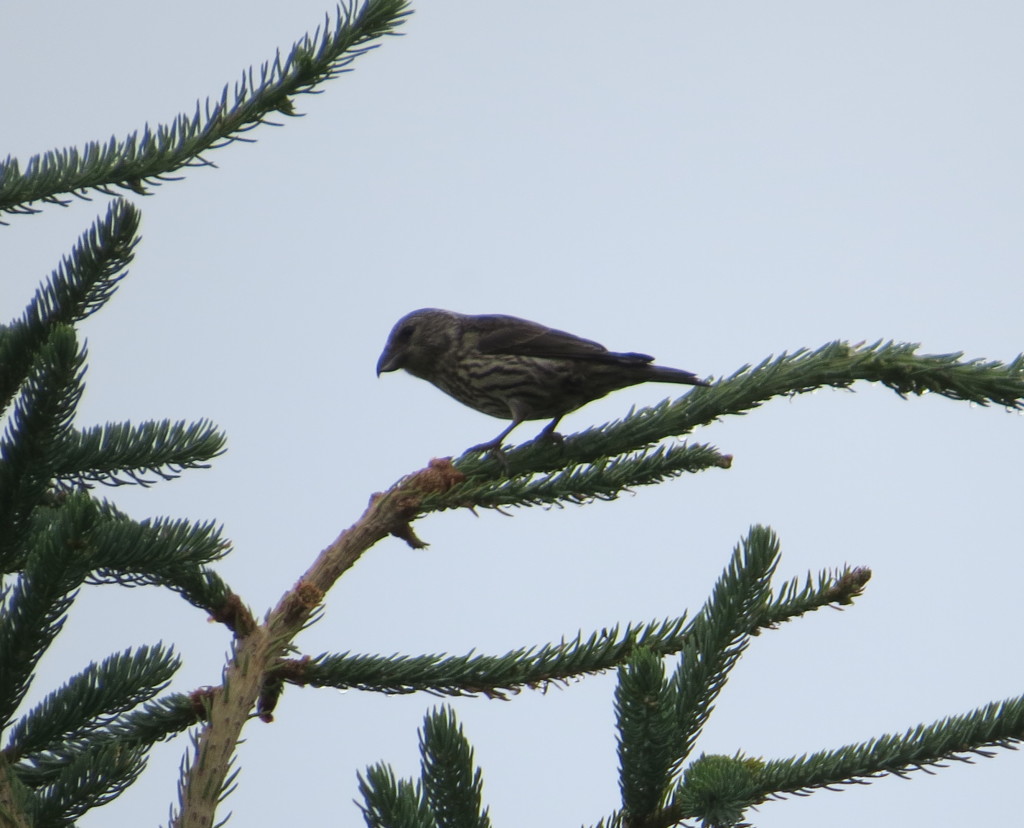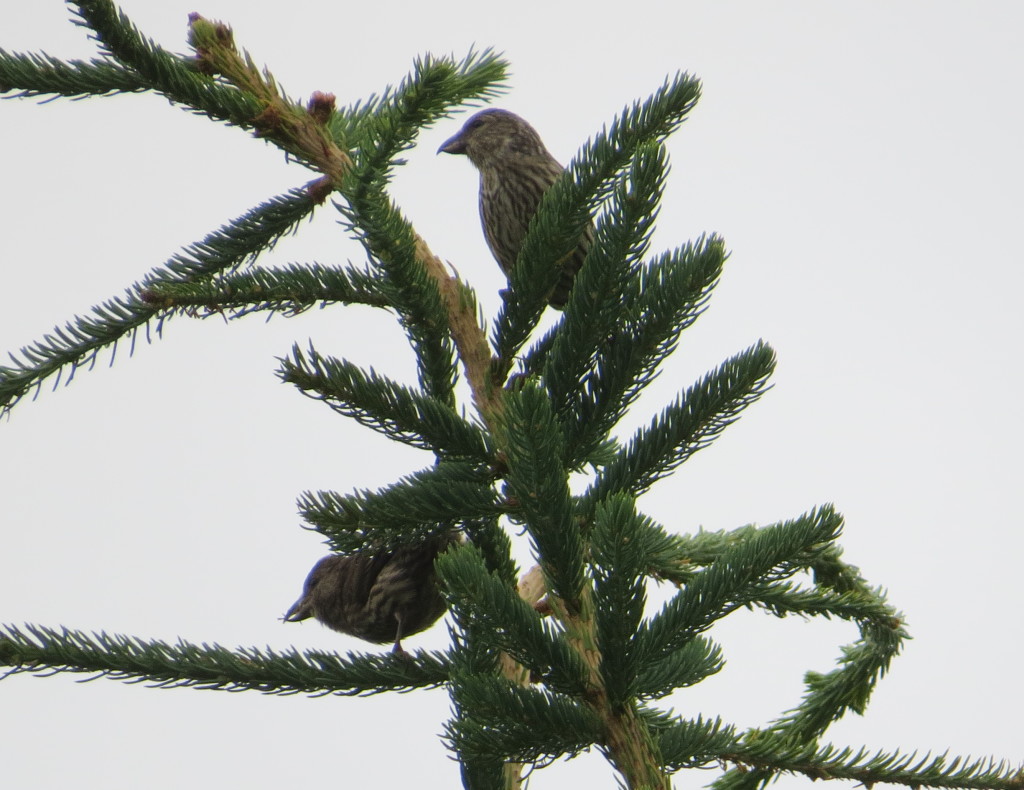 They were such a swarm and so hard to see as it was cloudy and the dozen or so birds moved in and out of Spruce boughs at the top of the tree.  I started scanning the birds with binoculars while hollering to Dad and Evan who were inside the house to come see these birds.  Finally, I found a bird I would focus my camera on, a nice brick-red male.  It was the only one in the flock I observed.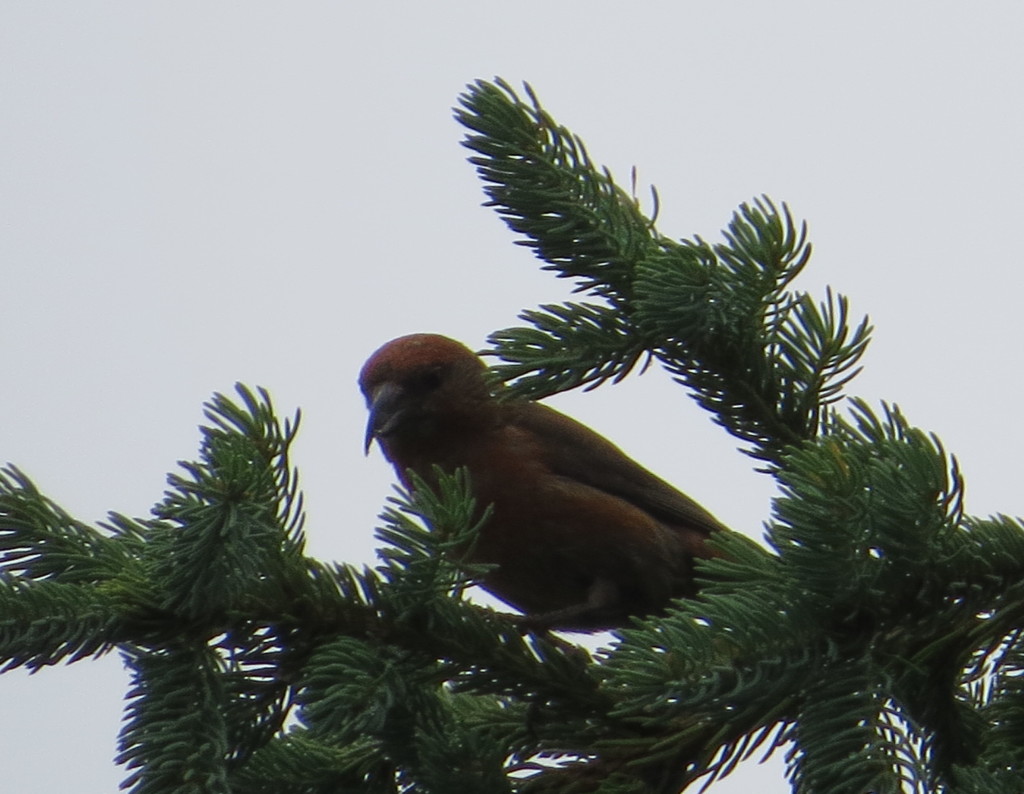 Check out this sequence. Looks tasty…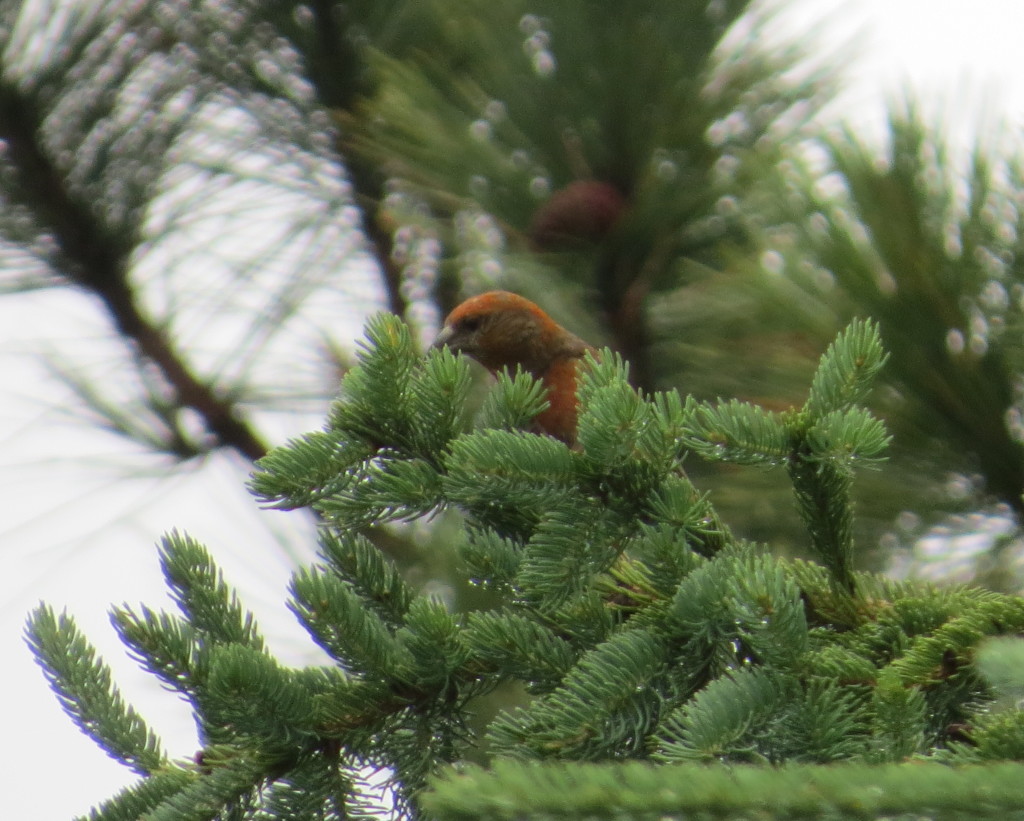 A little snip and…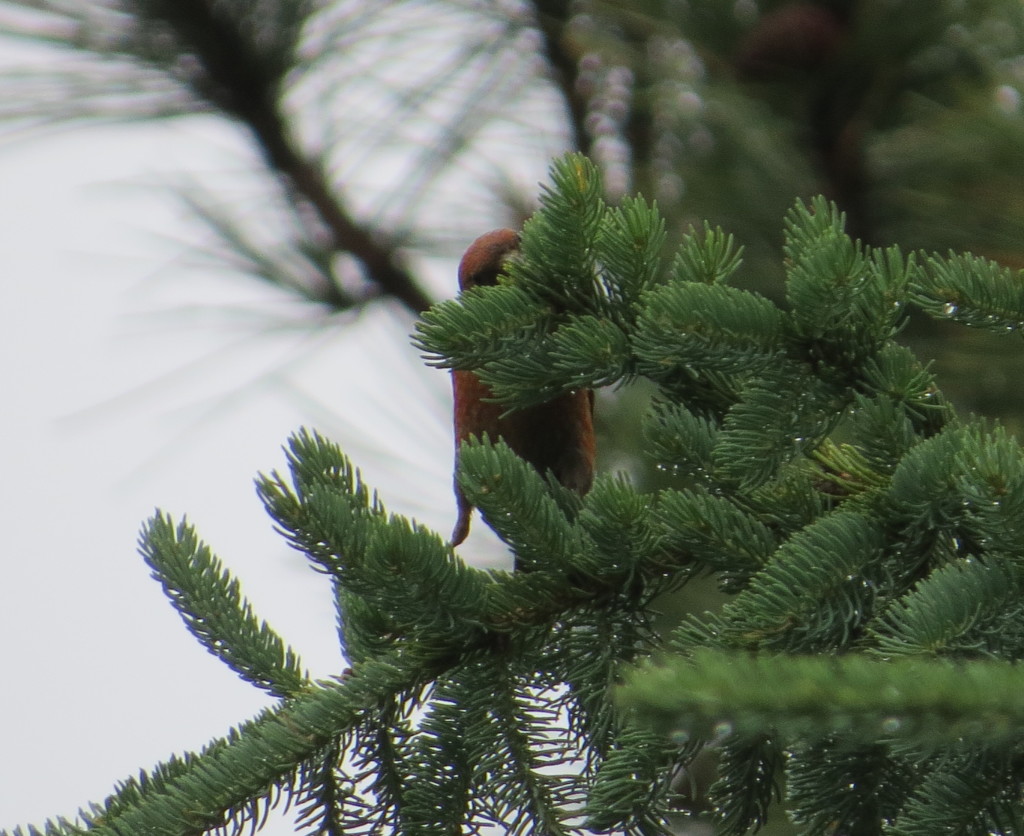 Voilà!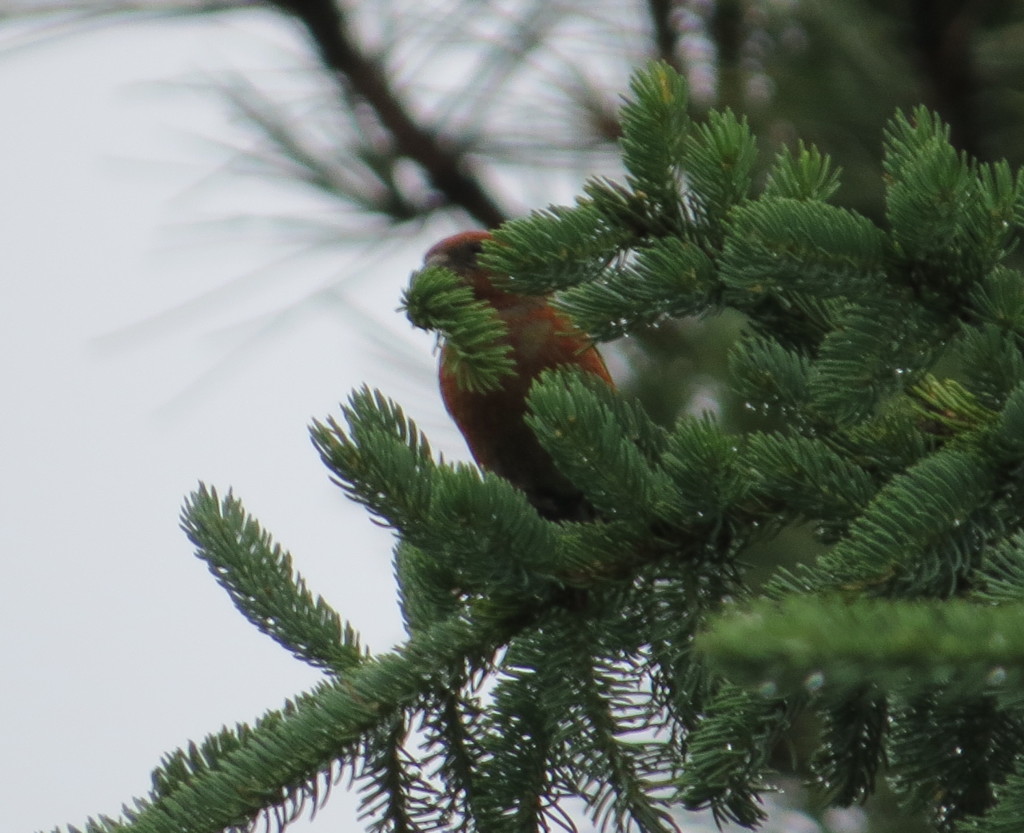 Dad and Evan did get out to see the birds. Evan saw the flock and said, "Yep, I see them," and then went back into the house.  As usual, I wanted good looks and good photographs.  I was planning to keep working until I got some I was happy with, but poof! The nomads took off for their next stop on their life's journey never to be seen by us again.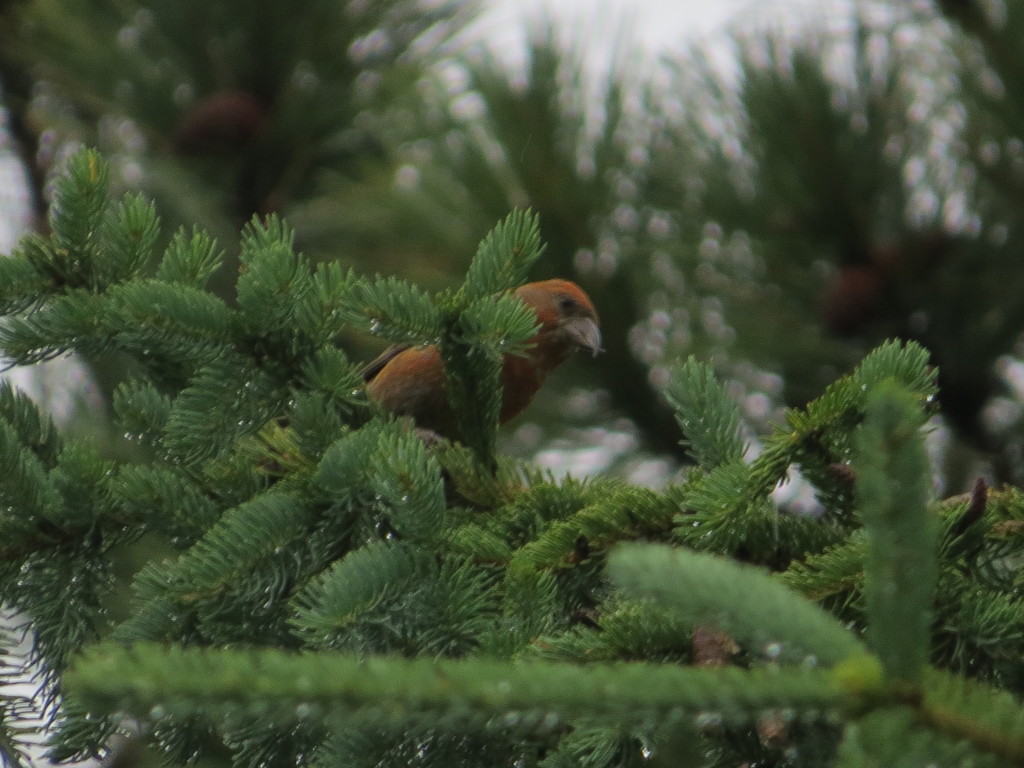 What a thrill it was to get this life bird. Each new life bird now is especially fun because they are such good birds at this point proven by the fact that we still haven't seen some of them after several years of birding.  Red Crossbills in particular are tough birds to get in Minnesota  even though they are year-round residents here. Not only was it a treat to finally see a Red Crossbill, but a three-generation lifer in the YARD is completely unheard of at this stage in the game.  I still can't believe the serendipity of this encounter. Absolutely awesome, absolutely hands-down the best bird of this trip North. A Red Crossbill lifer and a Black-backed Woodpecker lifer seen within the same week at this time of year–unbelievable.  I thought I was going to have to wait for next winter to take another crack at those two.
The lifer train hasn't stopped either. Two days later we'd be seeing a bird that is scarce even in its tiny, normal ranges in Arizona and Texas. What a week!