Two-and-a-half years ago the birding stories were welling up inside me and bursting to get out–stories of a passion for birds shared between my dad and Evan, stories of Evan's remarkable eye and identification skills as a then 5-year-old, and the story of how a Chestnut-sided Warbler instantly transformed me into a birder and completed the three-generation team of birders.  Thus the blog was born.  At the time I had no idea that bird blogging was even a thing, let alone a popular and prolific thing at that; I simply wanted a platform on which I could share these stories.  A blog made sense. I never could have imagined the adventures and people that this hobby would bring into my life.  Those initial stories gave way to more and more and more stories.  Many of those old posts I cherish; some I regret as I look back.  One story, though, that has and will stand the test of time is one that I did very early on well before my life list cracked 100.  It is an interview piece I did with my dad, the eldest of this generational birding team, who has long had a fascination with birds and wildlife as he was a research biologist for the Montana Department of Fish and Game in the 1970s.  The interview focused largely on my dad's extensive research of the Greater Sage Grouse.
The impact of the piece was profound.  First, I learned a lot about my dad's work which is something I wanted to preserve for myself and my kids by doing the blog post.  Second, it was one of the most popular posts ever on this blog as people from every stage of my dad's life connected with the piece, expressing their sentiments via comments, email, etc.  I was shocked by the outpouring of peoples' memories and feelings.  In fact, one person that reached out became instrumental in setting up our biggest adventure.  Finally, the interview gave me an epiphany.  As an emerging birder I realized that someday, I, too, would want to see this bird my dad worked with so closely, this Greater Sage Grouse.  Instantly I had a vision of myself making it out west some day far in the future to see this bird, perhaps long after my dad's days are done.  It was an unbearable thought.
I knew what I had to do–I had to see the Greater Sage Grouse with my dad.  Moreover, I had to see the males doing their mating display on the lek, something my dad has talked about and described for years. Plans were initially set to do so that very spring, in April of 2013.  Unfortunately (or fortunately), the plan was postponed a year because a frenetic, last-minute, cross-state trip to get our Great Gray Owl lifer usurped the Sage Grouse plans.  Plans for 2014 were put off because my parents had recently transitioned to the snowbird life, wintering in Arizona, and we just weren't able to squeeze it in with their new migration schedule.  Finally, though, we were deliberate for the spring of 2015 and made it happen this year.  Coming up will be what I am billing as the pinnacle post of the blog detailing the story of the recent trip Evan and I took to central Montana to watch displaying Greater Sage Grouse with my dad.  It is an exciting post that gets back to the heart and soul of this blog. Until that post comes out, here is the very interview that generated the idea for the adventure of a lifetime.  Many new readers have joined the fold since the inception of ABWCH, so this will be a fresh read.  But even if it's not, I'm sure you'll find the re-read just as entertaining as the first time, especially knowing what is to come…
Meet My Dad-The Biologist and Birder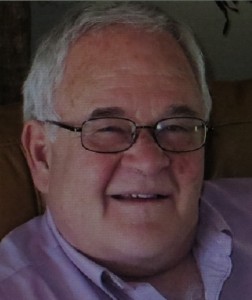 In this blog post I have interviewed my dad, Rick Wallestad, about his history with birds – both official work as a wildlife biologist for the Montana Department of Fish and Game in the 1970s and his unofficial work as an emerging birder like Evan and me. Whether you know him or he's a complete stranger to you, I think you will find the following interview with my dad to be a fascinating read. If you are a pure birder and have no connection to us personally, there is some great "bird stuff" in here. If you've known him in any capacity, then you will now have a more in-depth knowledge of his story. I was familiar with several of his answers, but I also learned a lot of new things in doing this project. It was important for me to document and preserve this information for Evan's sake. A secondary goal would be that you would find this to be an enjoyable read.
How did your interest in birds begin?
As a young boy in Rolette, North Dakota, my buddy Joey Fox and I would scout out any nest we found to see what kind of eggs were there, and how many. It's just something we did often.
What are the facts of your education and employment history with the Montana Department of Fish and Game? Editor's Note: This state department is now called the Montana Department of Fish, Wildlife and Parks.
I got my B.S. in Wildlife Management from the University of Minnesota in 1966. While there I worked one year for the Fisheries Department, reading fish scales to determine the age of the fish. Then I spent one quarter at the Cloquet Research Center assisting a research student trapping and radio-tagging snowshoe hares. I spent another summer at Cloquet assisting a PhD student researching Ruffed Grouse broods using radio telemetry, also. These telemetry projects were some of the first in the country. My adviser, Dr. William Marshall, was a pioneer in the development of radio telemetry. As a result of this experience in telemetry, it paved the way to get a job in Montana studying the effects of DDT on Blue Grouse in western Montana.
I attended graduate school at Montana State University, studying habitat requirements and movements of Sage Grouse hens and their broods. Upon completion of my M.S. degree in Wildlife Management in 1970, I went to work for the Montana Fish and Game Department as a research biologist studying effects of sagebrush removal on the Sage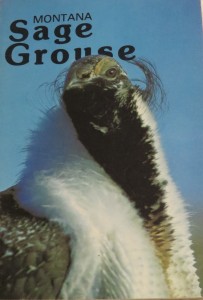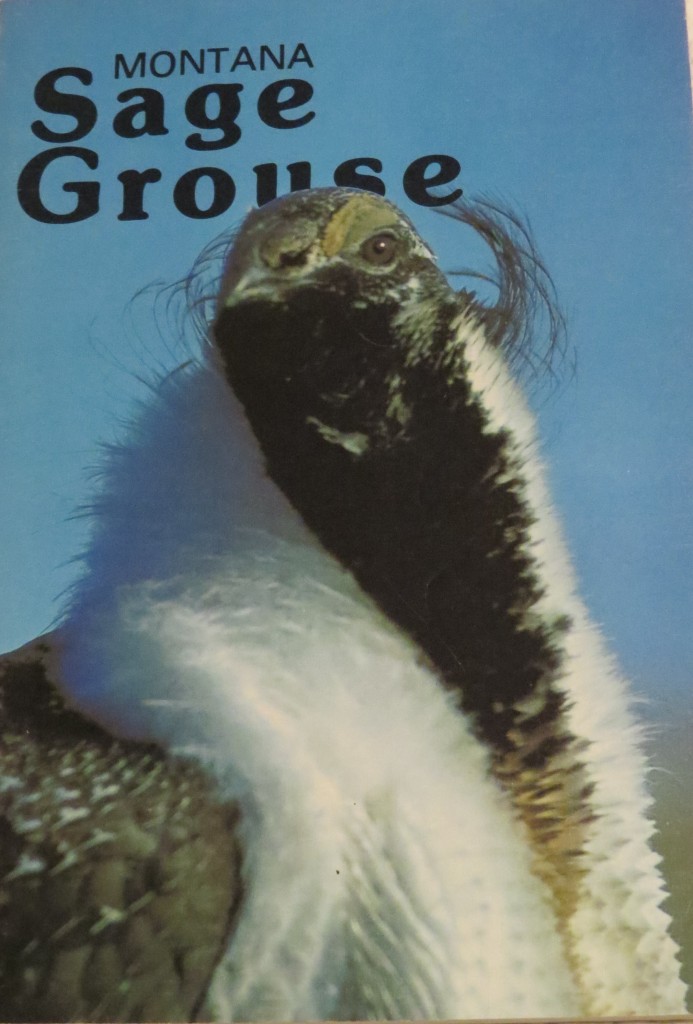 Grouse. Editor's Note: "Sage Grouse" in Rick's responses refer to the Greater Sage Grouse. In the 1990s it was determined that sage grouse found in the Gunnison Basin of southwest Colorado were a distinct species. Nearly identical looking but 2/3 the size of the Greater, it is called the Gunnison Sage Grouse. During that three-year period that I was a research biologist, I published five articles on Sage Grouse in the Journal of Wildlife Management and one technical bulletin titled "Life History and Habitat Requirements of Sage Grouse in Central Montana" published in 1975 (pictured at right). I also worked as a management biologist in Broadus, Montana for three years and managed four Wildlife Management Areas around Sidney, Montana for three years.
You mentioned working in Cloquet, Minnesota studying the Ruffed Grouse. Did you work with Gordon Gullion, arguably the foremost authority on the Ruffed Grouse?
He was there and I visited with him a lot, but I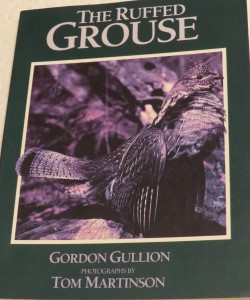 was working for Geoff Godfrey who was a graduate student of Bill Marshall. Gordy was permanent staff and also worked under Bill Marshall because Cloquet was a year-round research station for the University.
How did you capture Ruffed Grouse?
We captured them with a clover-leaf trap. It was chicken wire arranged like a 4-leaf clover. Each circle of the clover was about 4-feet in diameter. There were two leads of 18-inch high chicken wire, each 100-feet long stretched out into the swamps. Since Ruffed Grouse broods travel by walking, the hen would walk up to the this 100-foot section of chicken wire and being blocked, would lead her brood along it until they walked right around one of the clover circles at the end and were then funneled into the trap.
What are some fun or interesting facts you can tell us about the Greater Sage Grouse?
It's one of the few birds that is totally dependent on sage brush for survival. Without sage brush there would be no Sage Grouse. The entire overall 10-year study, a cooperative study with the Bureau of Land Management, was instrumental in stopping the practice of spraying sage brush.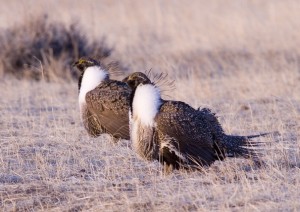 On the strutting ground (breeding ground) with 20 or more males, only one or two males will do the breeding. The average clutch size for a yearling bird is 5-6 eggs, and for 2+ years is 7-8 eggs. Most Sage Grouse hens nest within 1-2 miles of the strutting ground.
Editor's Note: All photos of Greater Sage-Grouse and Sharp-Tailed Grouse on this post, with the exception of the photo of the radio-tagged Greater Sage Grouse taken from Rick's aforementioned technical bulletin, are courtesy of Bob Martinka, a former colleague of Rick at the Montana Department of Fish and Game. Bob has graciously allowed me to use these photos. He has his own bird blog at BirdManBob, and his amazing bird photography can be viewed at his Flickr Photo Site. Thanks, Bob!
Describe how you captured Greater Sage Grouse.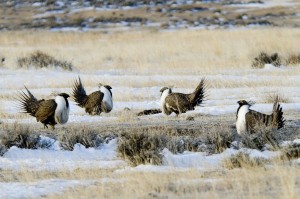 We would catch them on the strutting ground using cannon nets which were set with explosive charges. The two 100-foot cannon nets running parallel were set about 40 feet apart. These would cover the main part of the strutting ground, which was identified by the droppings and feathers. When a big group of males assembled and were strutting, a cluster of hens would come onto the ground. The net charges would be deployed and the nets would spread out overlapping each other, floating down on the grouse, holding them to the ground. (Google cannon nets to see some pictures. You can also Google clover-leaf traps to get an idea, even though the ones we found were fish traps.)
Another method of catching Sage Grouse hens was to drive through sage brush areas. When we saw a hen with a brood, Dr. Bob Eng would get out and whistle like a chick which would draw the hen in. Then with a telescoping noose pole, which would extend from 6 feet to 20 feet with a noose on the end, the noose would be slipped over the hen's head and tightened just enough to bring the hen in so it could be fixed with a leg band and a radio tracking device.
What kind of expert advice do you have in locating and viewing Greater Sage Grouse?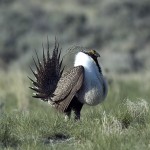 They can be located by driving through sagebrush country, but they are hard to see because they are brown and blend in to the surroundings. Bob Eng would spot them by looking for the eye. They can also be found by listening for the sound of the birds as they are strutting in the early morning, often for a distance of about a half mile.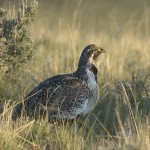 The distribution of Sage Grouse is found only where there is sage brush. It would be in the west…Montana, Idaho, eastern Washington, eastern Oregon, Wyoming, eastern Colorado, parts of Nevada and New Mexico.
How do you locate a strutting ground for Sage Grouse?
Contact a biologist in any of those states' fish and wildlife departments to ask the location of a strutting ground.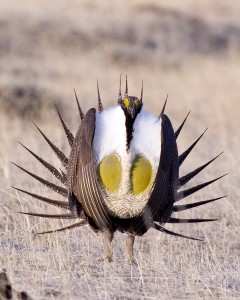 Besides your extensive studies of the Greater Sage Grouse, what other official duties did you have to perform regarding birds?
We did roadside crowing counts for Ring-Necked Pheasants, strutting ground surveys for Sage Grouse, and dancing ground surveys for Sharp-Tailed Grouse.
What fun or interesting facts can you tell us about the Sharp-Tailed Grouse?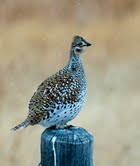 I've had very little experience with "sharptails." Their grounds are called "dancing grounds" compared to "strutting grounds" for Sage Grouse. They are usually located on the top of a hill. I experienced seeing some of these in grassland areas like Kenny Simonsen's ranch near Sidney, Montana. There are generally not as many males on the dancing grounds, maybe 6 to 15 per ground.
Do you have any fun or interesting bird stories you can share from your days with the Montana Department of Fish and Game?
I was contacted by some birders one spring who had never seen Sage Grouse, and I took them out to a strutting ground. I was able to drive into the middle of the strutting ground with Sage Grouse strutting on all sides of the truck. They were very thrilled because it was another bird on their life list.
We referred to birds in two ways: game birds and "dickie" birds – small songbirds.
What is your favorite bird of all time? Why?
The Western Meadowlark because of the beautiful song, and it reminds me of the prairie where I grew up.
What is the "best" bird you have ever seen? Why?
The Trumpeter Swan because of the rarity of it. As I recall, the only place I've ever seen one is in Saunders Bay on Pelican Lake near Orr, Minnesota.
What are your target birds in 2013 that you want to add to your life list?
I'd like to identify all the warblers on our farm in northern Minnesota.
Give us an update on your birding in Arizona. Seeing other snowbirds does not count.
We saw a Red-Tailed Hawk near Maricopa and Common Egrets near Gila Bend. In Oak Creek we saw a large blue bird that we haven't identified yet. We also saw a bird high up in a tree that had an incredibly beautiful song, but we also haven't identified it.
What are your impressions of Evan's birding abilities, and what lasting birding advice can you give him?
Evan's abilities are amazing in the way he can pick out minor differences in birds. It has been impressive to see his powers of observation. His enthusiasm is contagious. As far as giving him advice, I'd say I've learned a lot from this 5-year-old, and it has encouraged my interest in birding.
To see what Rick is talking about regarding Evan's "powers of observation" read More Than Just a Name.
If you want to see an amazing Ruffed Grouse video that I shot that includes male grouse on display and Evan as a 2-year old birder with Grandpa Rick, click here. I couldn't believe this video that I shot six years ago and how it foretells the adventures we're having today!
The story of our Montana Greater Sage-Grouse Lifer with Rick Wallestad is made up of four parts: 1) The Prologue–The Impetus, 2) Part 1, 3) Part 2, and 4) The Epilogue–Bonus Lifers.