Nemesis Bird.  All serious birders are familiar with this concept, which is a bird, uncommon yet not rare, that eludes, evades, and generally thwarts all of a birder's attempts to see it.  Another qualification is that the bird in question seemingly mocks the pursuer by flaunting itself in front of anybody and everybody but the one person who wants to see it.  Adding to this aggravation is that it often disappears at just the last minute after many repeated trips of many miles. Such former nemesis birds of mine have included the Golden-crowned Kinglet and Blue-headed Vireo.  Nothing is more frustrating than hunting a nemesis; nothing is sweeter than finally laying waste to that bird.
So what is Evan's nemesis bird? It is none other than the same nemesis of Wiley E. Coyote–the Roadrunner.  No bird is more iconic of Arizona to outsiders, birders and otherwise, than the Greater Roadrunner.  It's on postcards, t-shirts, and on all kinds of overpriced and dust-collecting shlock.  Who knows how this bird rose to such fame.  Perhaps it's because of Looney Tunes.  Perhaps it's because it is so readily identifiable. Perhaps it's because EVERYONE who goes to Arizona sees one.
When we traveled to Arizona in 2014, we expected this bird. We counted on it like the Republicans count on Arizona to be a red state. It was a sure thing.  Well, in this case, Arizona turned blue and so did we because we left the state that year completely missing on the Roadrunner.  Like a typical nemesis bird, it did show itself to at least one person in our birding party.  Laurence Butler was leading our single-file procession through the desert and called out that he spotted one.  Though we were just a few yards behind Laurence, it gave all of us the slip.  The loss was all the more agonizing because Laurence told us it had a lizard in its bill.
Anyhow, we were in a new year and on a new trip back to Arizona.  In between trips, my parents would tell us here and there about how they'd see a Roadrunner in their yard or neighborhood. Figures. Our first day in Arizona this year, Evan and I decided to go looking for this bird.  I was literally walking into the back yard to get Evan for this jaunt when I spied the Roadrunner for a second on top of the fence!  We hustled up and over the fence to look for it, but it was gone.  My parents' back fence as well as the back fence of the entire neighborhood is bordered by a dike.  In between the dike and the wall is ditch that is landscaped in a desert fashion–perfect habitat for a roadrunner.  On the other side of the dike is a large run-off basin on the edge of an agricultural field.  Evan and I took several walks along the dike to look for the Roadrunner.  Success continued to elude us.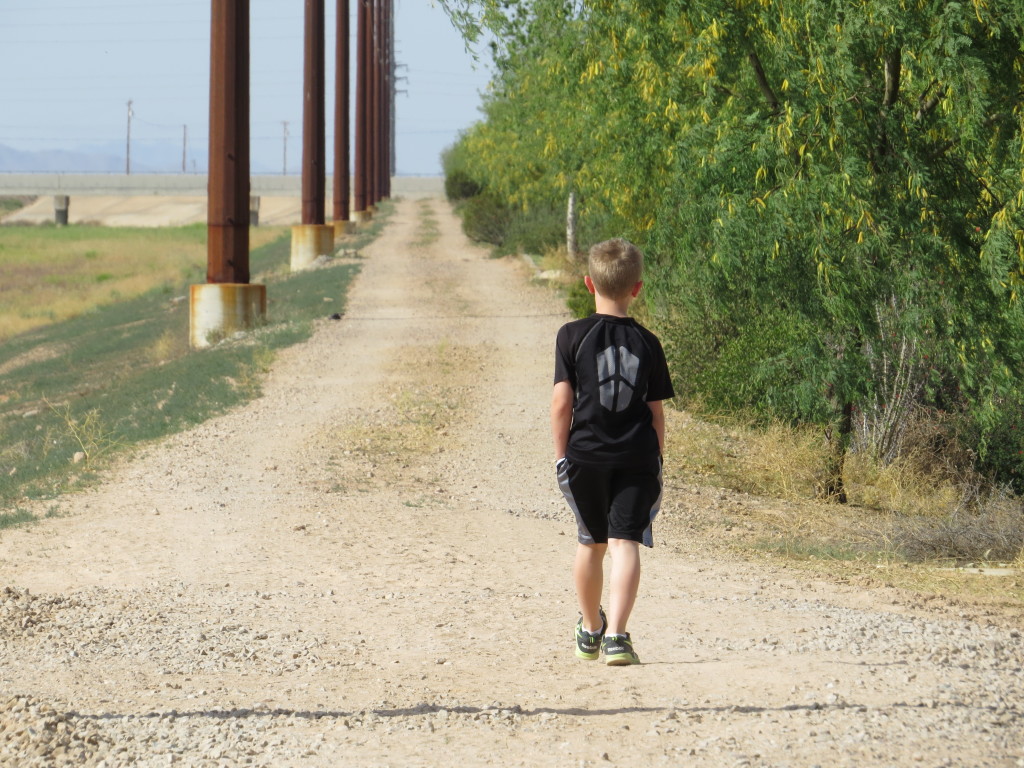 During the SE AZ odyssey, the Roadrunner's nemesis-status rose to new heights.  While I was birding up on Mt. Lemmon, Evan was back at Grandma and Grandpa's. My died spied the neighborhood Roadrunner out the window in the front yard, but it disappeared before Evan could get on it.  Then, while traveling home from our getaway to Green Valley, my dad was driving and hollered that a Roadrunner crossed the highway right in front of the van! After many, many times of calling out wildlife sightings while driving and sending Evan into a frantic state to see the wildlife and then have him burst into tears when he missed his split-second opportunity, I have learned to keep my mouth shut.  My wife has helped me learn this lesson.  My dad has not learned this lesson.  The waterworks started up.  I had to remind Evan how super lucky he has been to see a Great Gray, a Garganey, and an Elegant Trogon–three highly coveted birds that not many grown birders have seen; I told him it really was okay if other people saw the Roadrunner and he didn't.
We had one last chance to find a Greater Roadrunner.  Nothing was scheduled for our last day of vacation on April 2nd, so it was a day to hang out around the house.  Evan and I took one more walk.  Almost immediately, I saw the bugger squirt across the dike and disappear into…nothing.  Evan again missed.  I didn't understand where it could have gone. Then, at the same time we both saw it as it popped up again across the street and hopped up on top of a wall! Evan finally got his bird.  And I got my photo of a Roadrunner classically posed on a fence with a lizard!!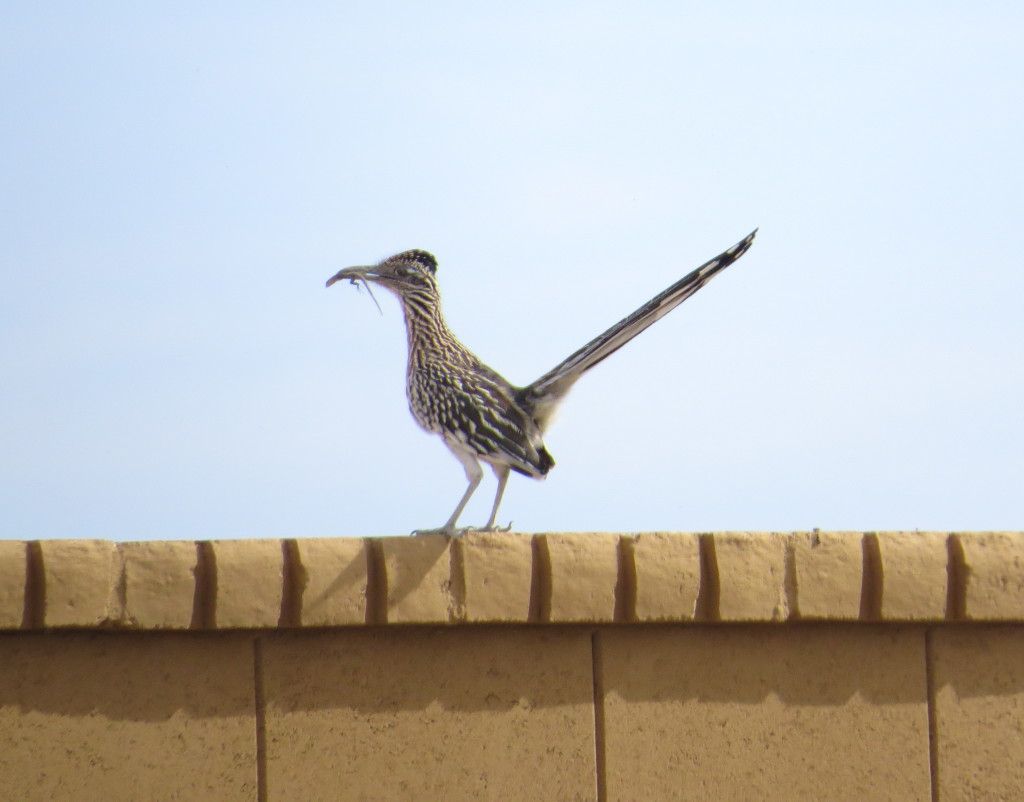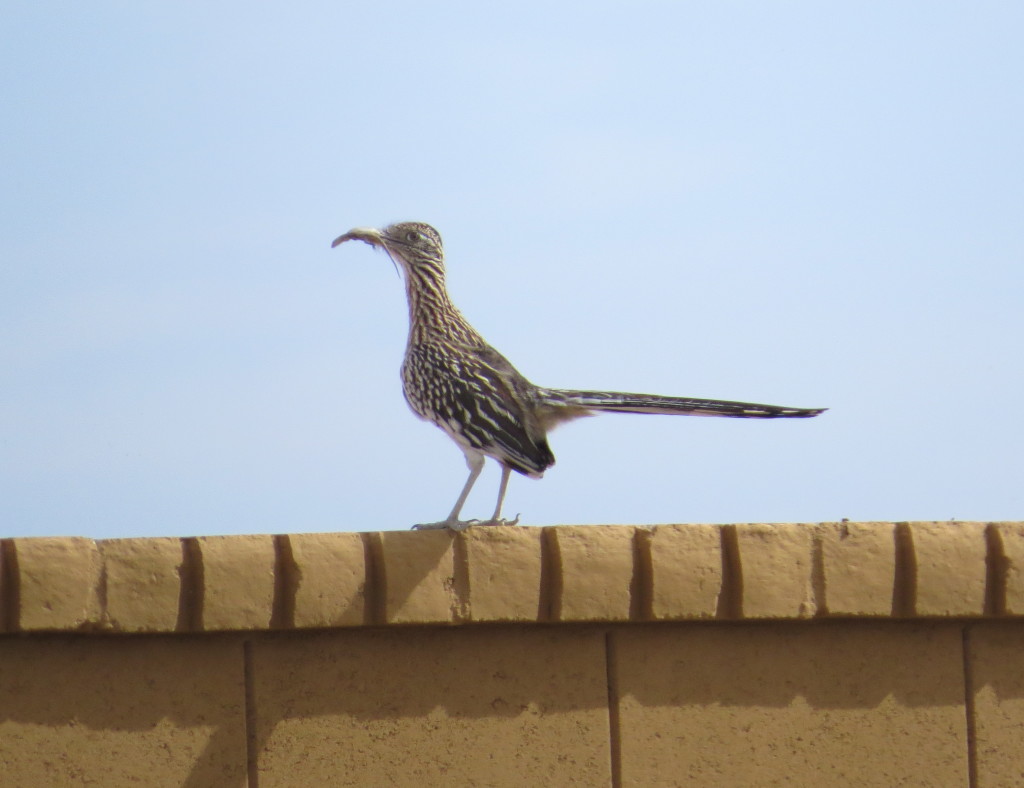 Then, as is the case with all nemesis birds, once they are finally found, they become easy, showing themselves often and/or in great numbers.  Evan had more fun hunting this bird and spotting it after it would disappear over walls, across empty lots, in the landscaping, etc.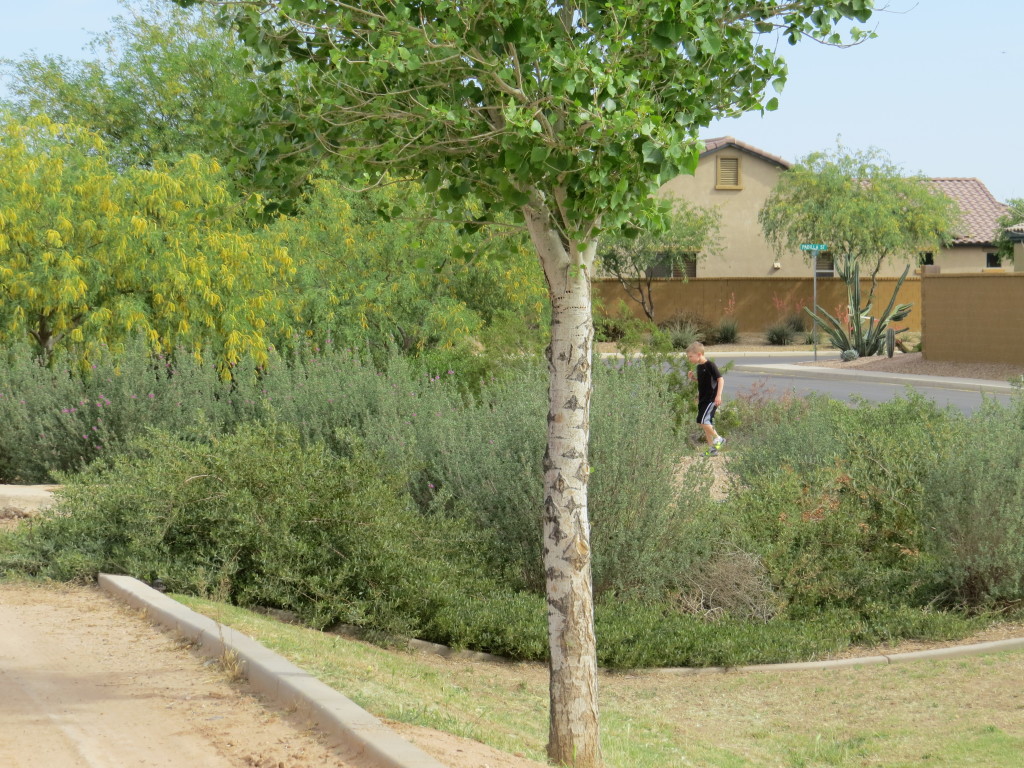 I was content to let the Roadrunner find me.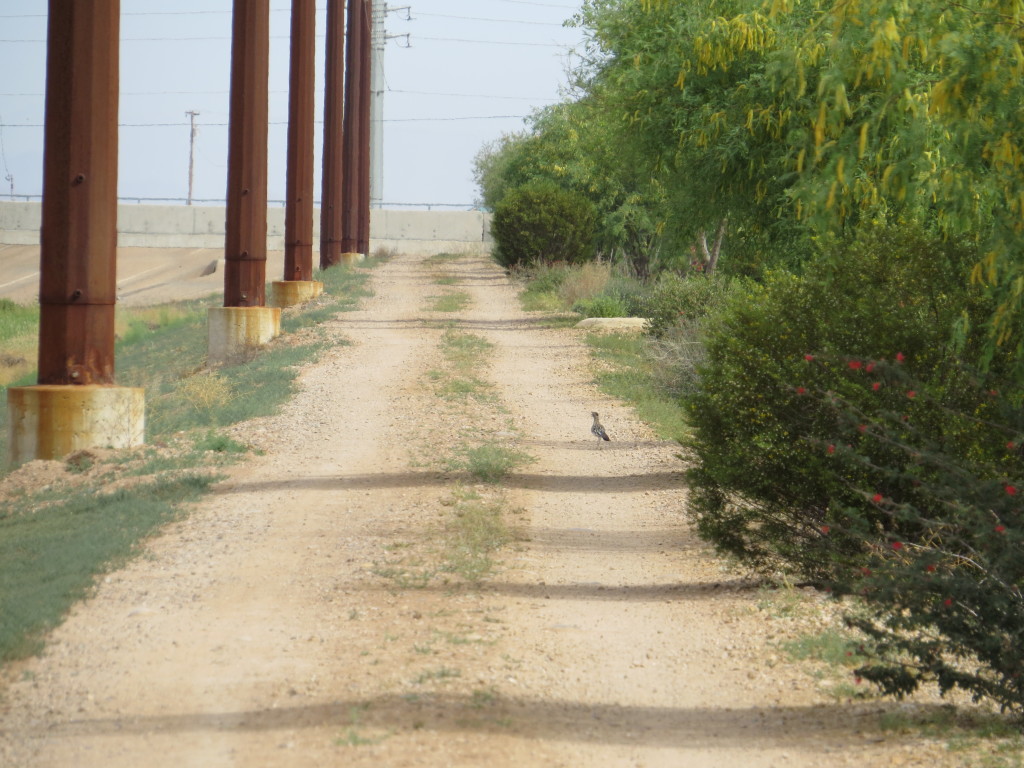 Evan loved the Roadrunner, even calling it his favorite bird of the trip if you can believe that.  A couple hours after the outing above, he begged me to go looking for it again. I obliged. And, according to the law of former nemesis birds, we had no problem finding it (it's on the very right edge of the dike in front of the white tree trunk). Note the erect, confident posture of the man-child who has now seen the Trogon and the Roadrunner.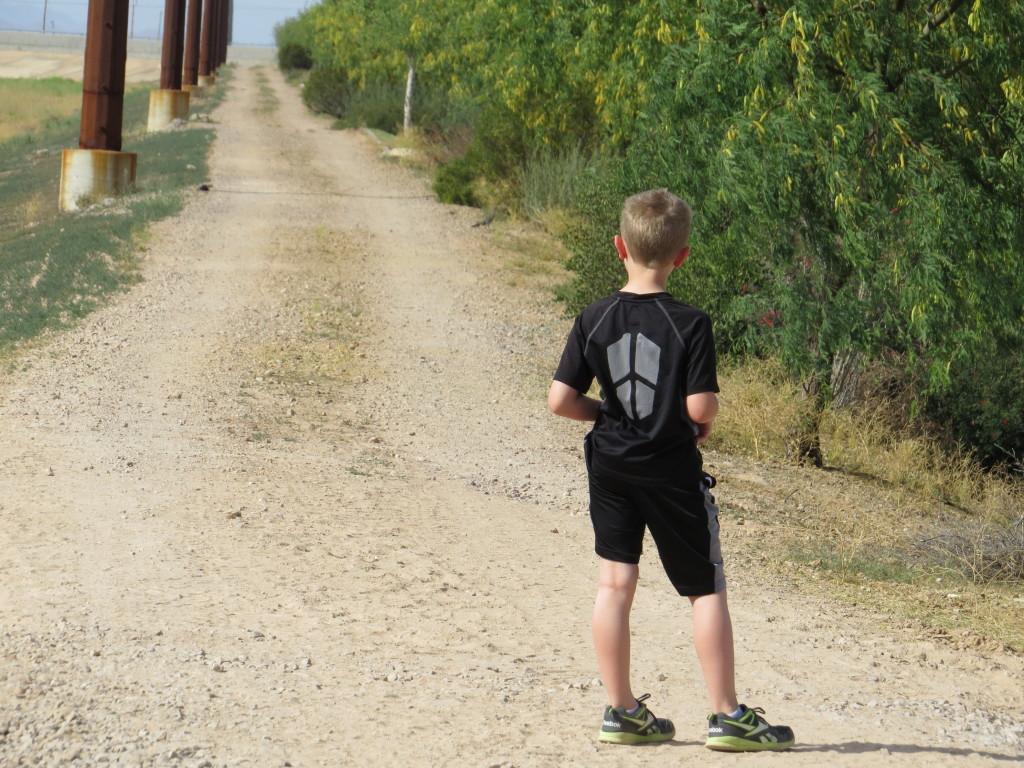 Evan's excitement came from literally chasing after this bird as he would try to continually refind it after it would do its Houdini thing.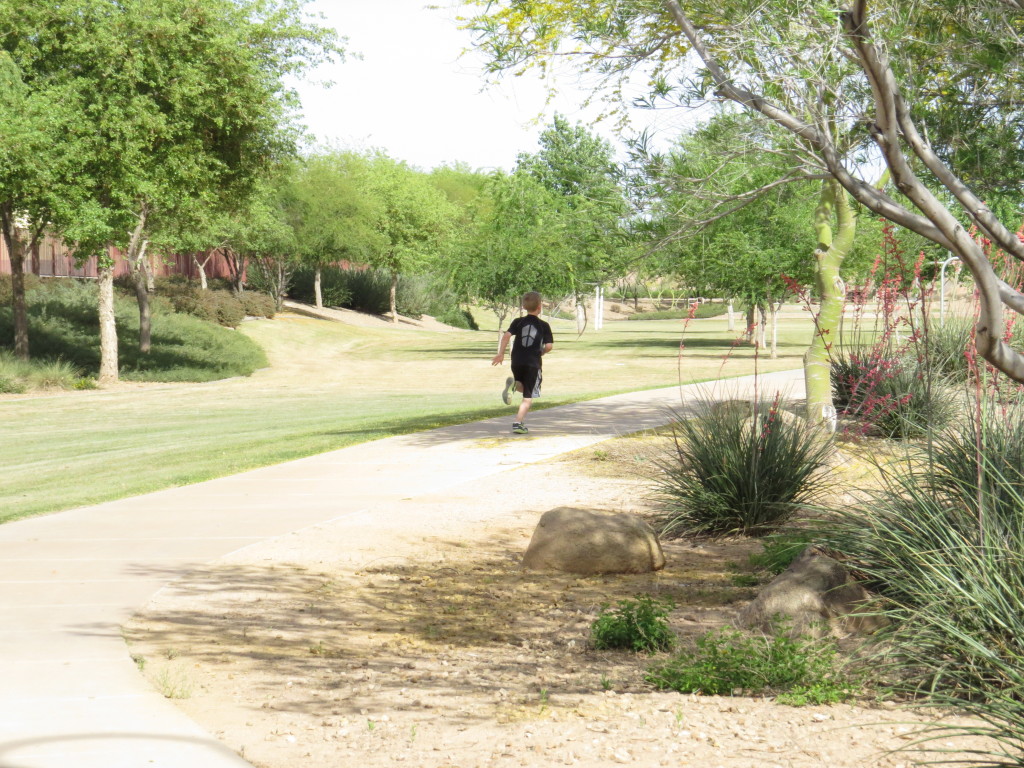 Evan was remarkable at spotting it and helping me get more opportunities to photograph it.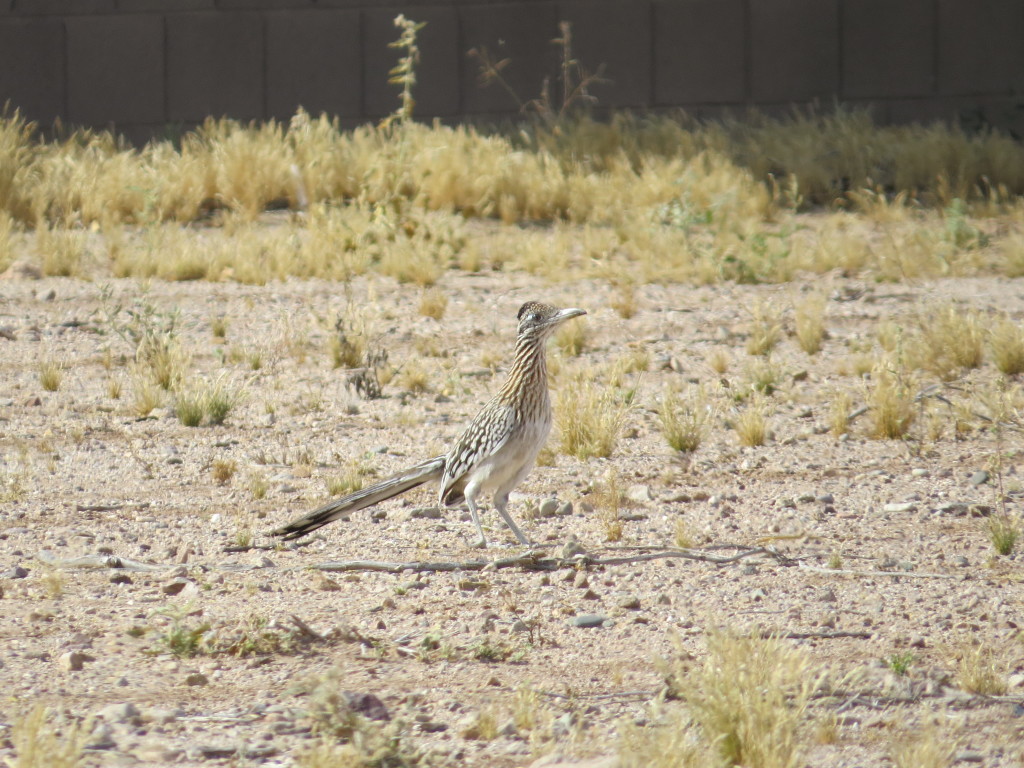 Conquering this nemesis and seeing Evan have so much fun and excitement with a bird was the best possible way to close our 2015 Arizona trip.  It was a back-to-origins outing where I caught a glimpse of the same excitement he showed so many years ago when he would see our feeder filled with American Goldfinches. You are right Evan, this was your best bird of the trip.
The 2015 Arizona series has eight chapters: 1) Maricopa Birds, 2) Mt. Lemmon, 3) Florida Canyon, 4) Madera Canyon Part 1, 5) Madera Canyon Part 2, 6) Evan's Big Discovery, 7) Owling at Coon Bluff on the Salt River, and 8) Evan's Nemesis.