Buoyed by low gas prices and spurred on by Caleb Strand (this post is dedicated to you, buddy!), I have yet to take a direct drive anywhere this winter as hordes of Snowy Owls are on the loose, causing me to have dust-caked vehicles from all that backroads travelin'.  On January 2nd, I found a Snowy Owl right outside Willmar.  Since then I have driven around that general area numerous times while running errands in the hopes of relocating it. Tiring of that routine, I changed things up a bit this weekend and began hiking some unbirded wildlife management areas in an effort to get some exercise and contribute some data to eBird.  On one outing at Kandi WMA, I saw a raptor land in a tree over 200 yards away.  I used my camera to zoom in so I could make the ID.  I was pleasantly surprised to look at my picture and see a Great Horned Owl, which is always a fun find.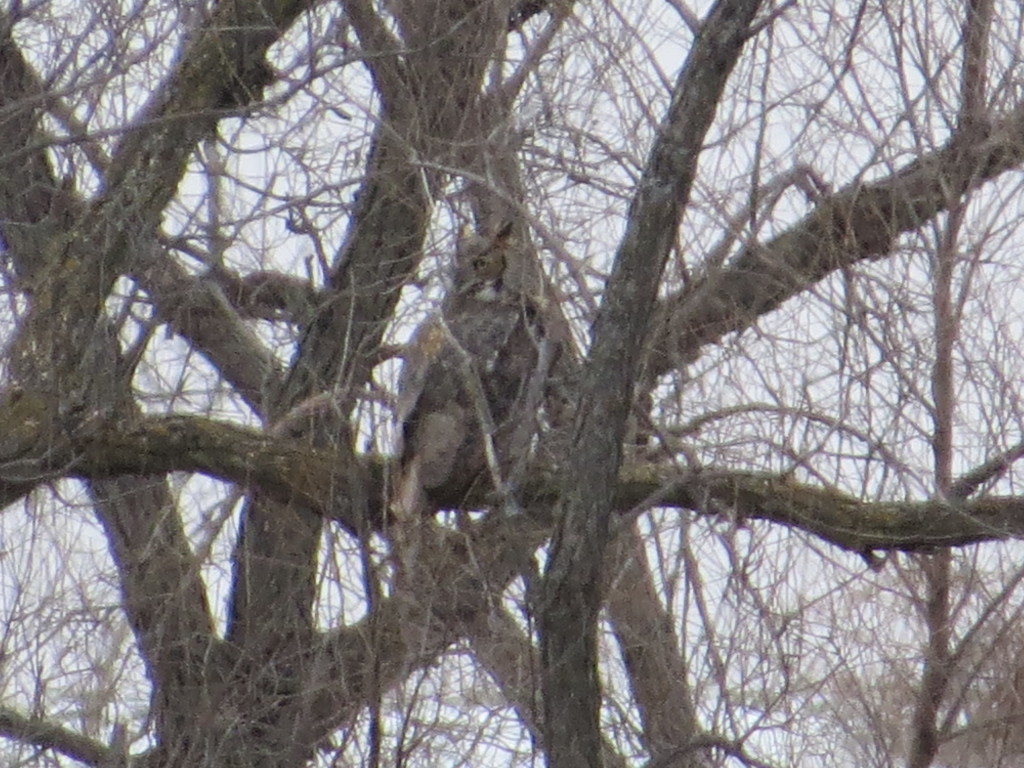 But this morning after I dropped Evan off at school, I was again tempted to take the long way home in the hopes of refinding that Willmar Snowy. So I did take the long way, and this time I finally refound the all-white, male Snowy again since I last saw it over a week ago.  With no camera on me at the time, I vowed to return later in the day to get some photos. After all, it was a beautiful sunny day with clear blue skies – a great day to photograph a white bird.
So Marin and I went back this afternoon and found the Snowy in short order.  I got out and took a couple photos.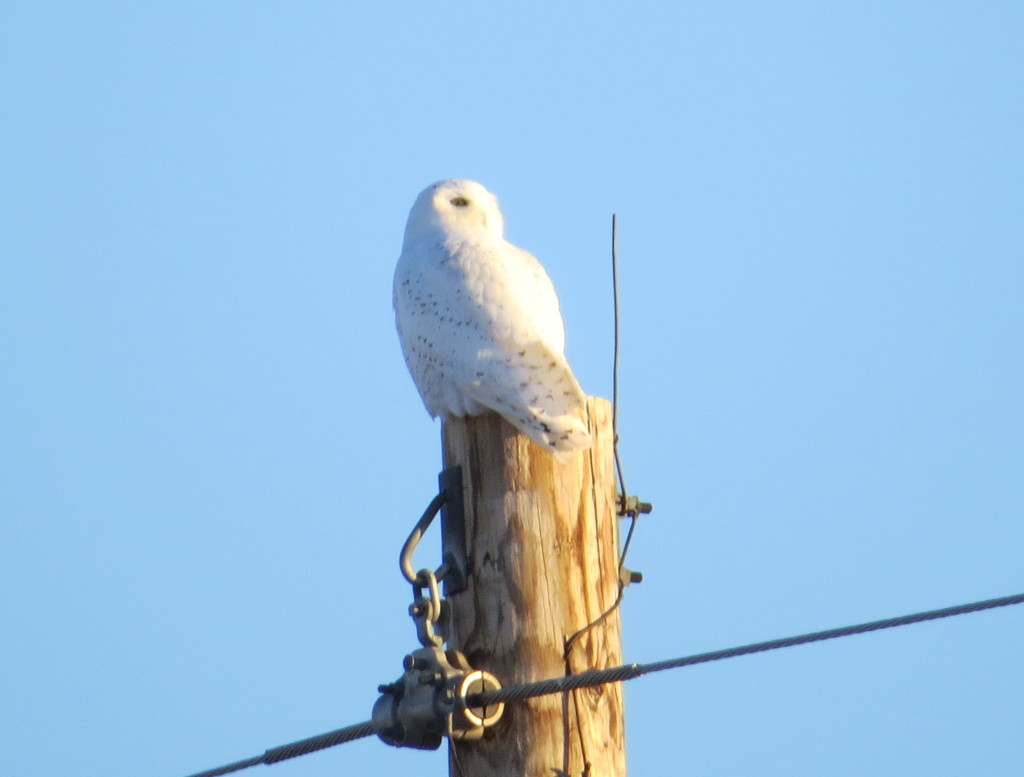 Despite the fact that I was on the ground, he didn't mind me and appeared a bit distracted as he gazed west, even alarmed…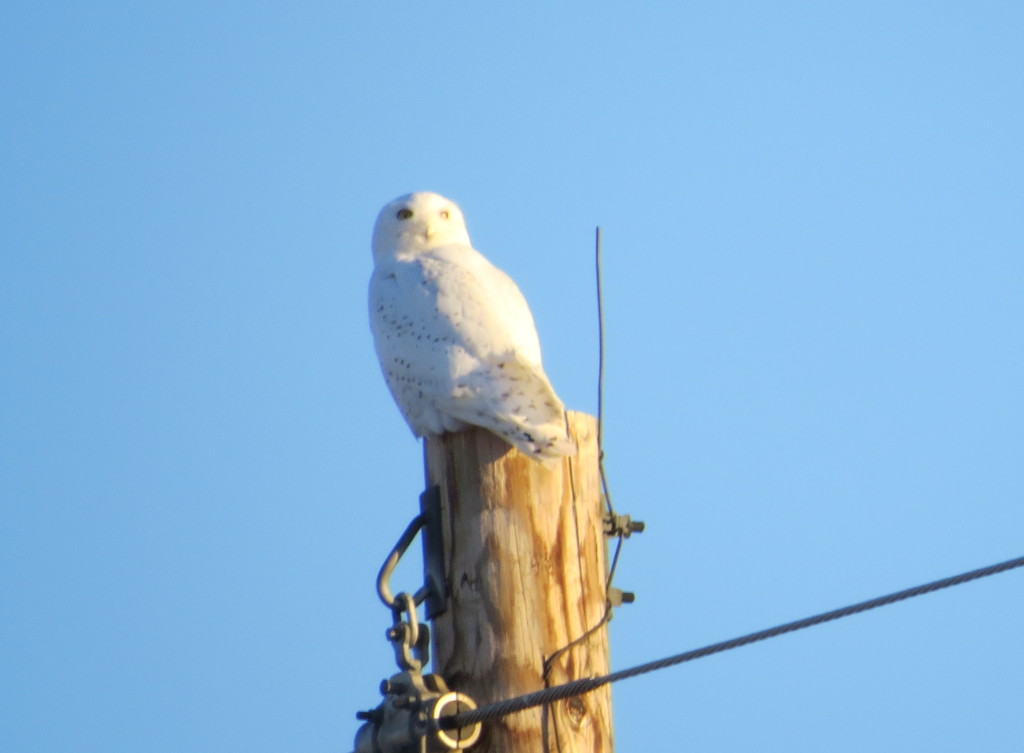 The owl flushed just after I took this photo.  I was cursing myself because I assumed I had flushed it.  The owl was flying east right along MN Hwy 23, going far, far away.  I had to go that direction anyway, so I hopped back in the car and began driving, following it to see where it would finally land.
And then this happened – a second Snowy Owl flew over my vehicle from behind!  All of the sudden I was tracking two flying Snowy Owls!  I decided to focus my attention on this new bird which was much closer.  It perched on a pole on the minimum maintenance road, 30th St. SW, so I pulled up close to it so I could take some pictures.  As I did so, I spotted the first Snowy Owl about a half mile further east on another pole.  Amazing.  Two Snowy Owls in Willmar, together, and both all-white males.  Since I was currently by Snowy #2,  I began snapping away.  These two birds could have been identical twins; the only difference I found in my pictures is that Snowy #1 had very light barring on his belly, indicating a younger bird.  Snowy #2 had a pure white belly.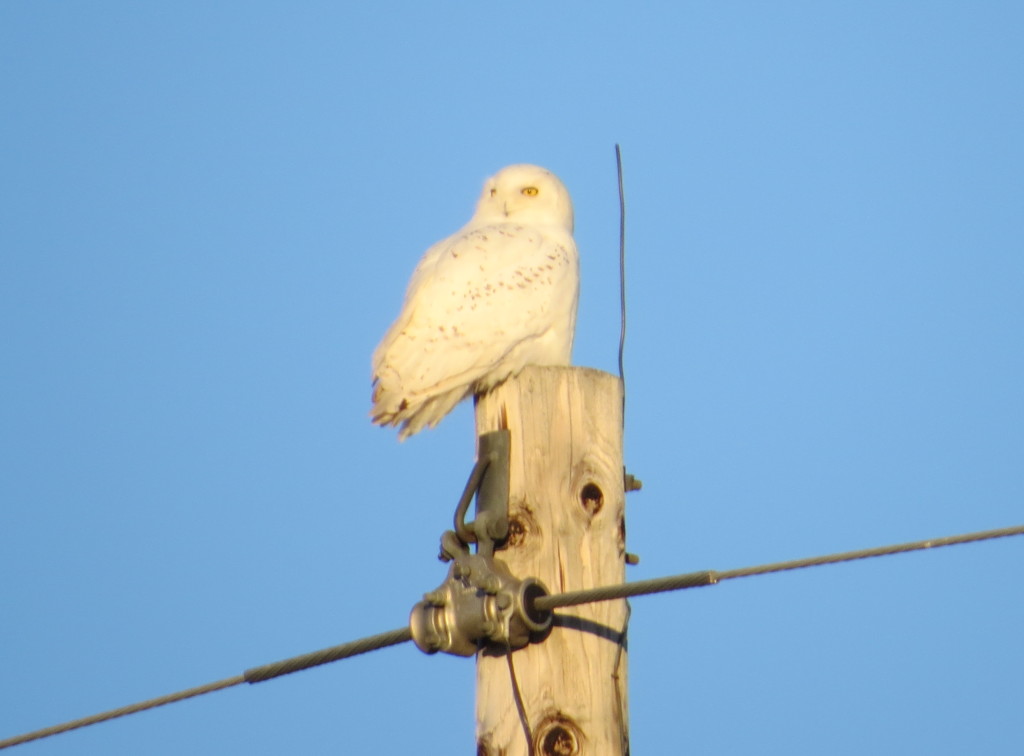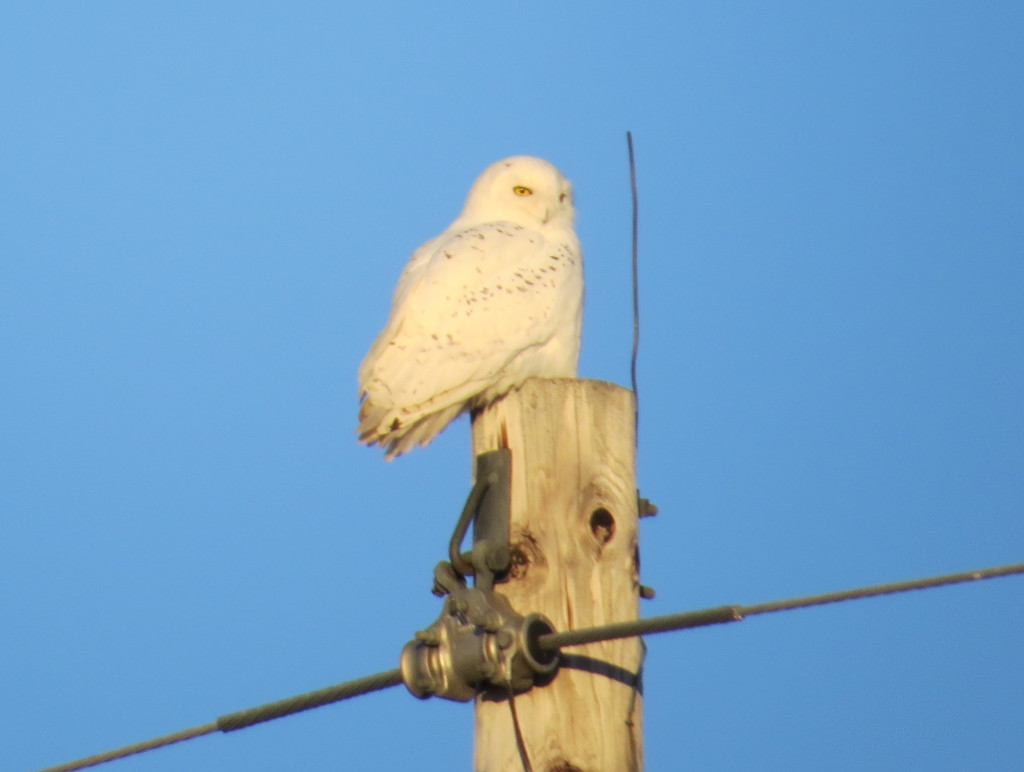 But this guy appeared distracted too, looking in the direction of the other Snowy Owl a half mile to the east.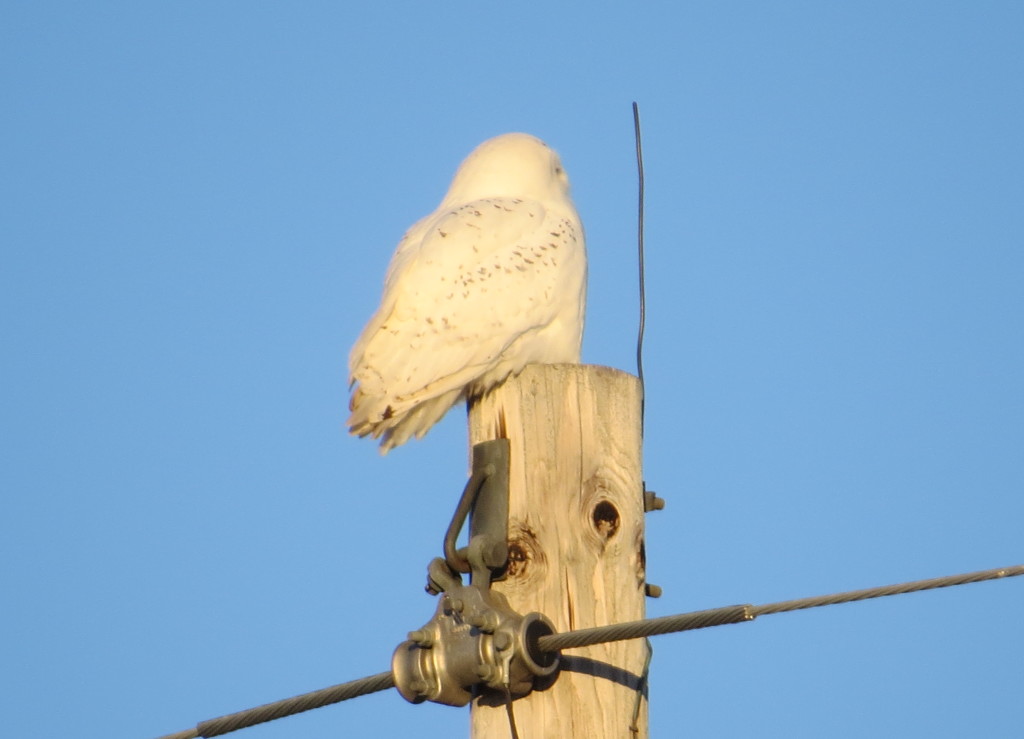 Then he took off.  Again I cursed myself, thinking my presence caused him to scram.  As I watched, though, he was flying right toward Snowy #1.  I started driving again so I could get closer to the action.  As I was watching through the windshield, it looked like he was going to pull up on the next pole to Snowy #1! Then some SNOW drama unfolded before my very eyes.  No, Snowy #2 was not, in fact, going to the next pole; he was instead going straight for Snowy #1's pole!  Sensing a potential butt-whooping, Snowy #1 hopped off the pole and landed briefly on the wire.  Not good enough for Snowy #2.  Talons out, Snowy #2 came screeching in and made contact in the air with an alarmed Snowy #1, sending him packing to the east in a hurry.  Snowy #2 promptly then landed on the pole that Snowy #1 had just warmed up for him and began surveying his turf.
I never did see Snowy #1 set down – he was over a mile away before I lost sight of him.  I could not believe what I had just witnessed. Birding continually surprises me.  Looking at photos, it appears that Snowy #2 is the same owl I had found on January 2nd. Here's a photo from that day.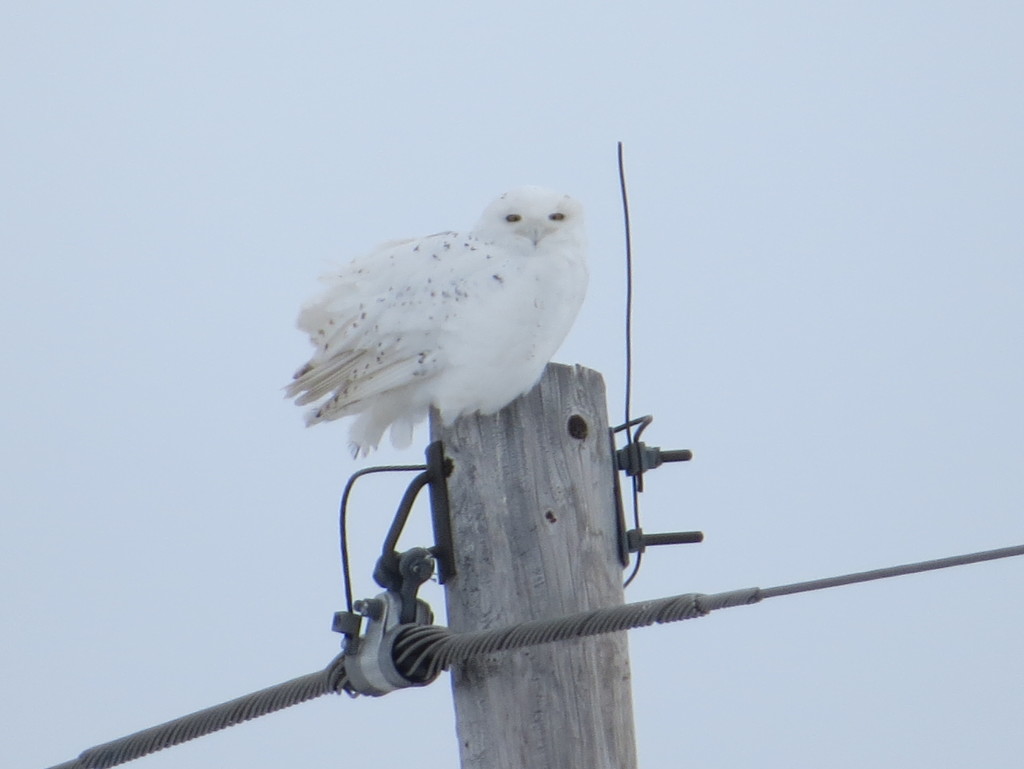 If that's the case, his behavior today made sense in that he has probably staked out a winter territory and was having nothing to do with a younger male owl encroaching on his territory.  Whatever the case, these are exciting times which may call for a Kandiyohi County Snowy Owl roundup to see just how many birds are wintering here.  Stay tuned!