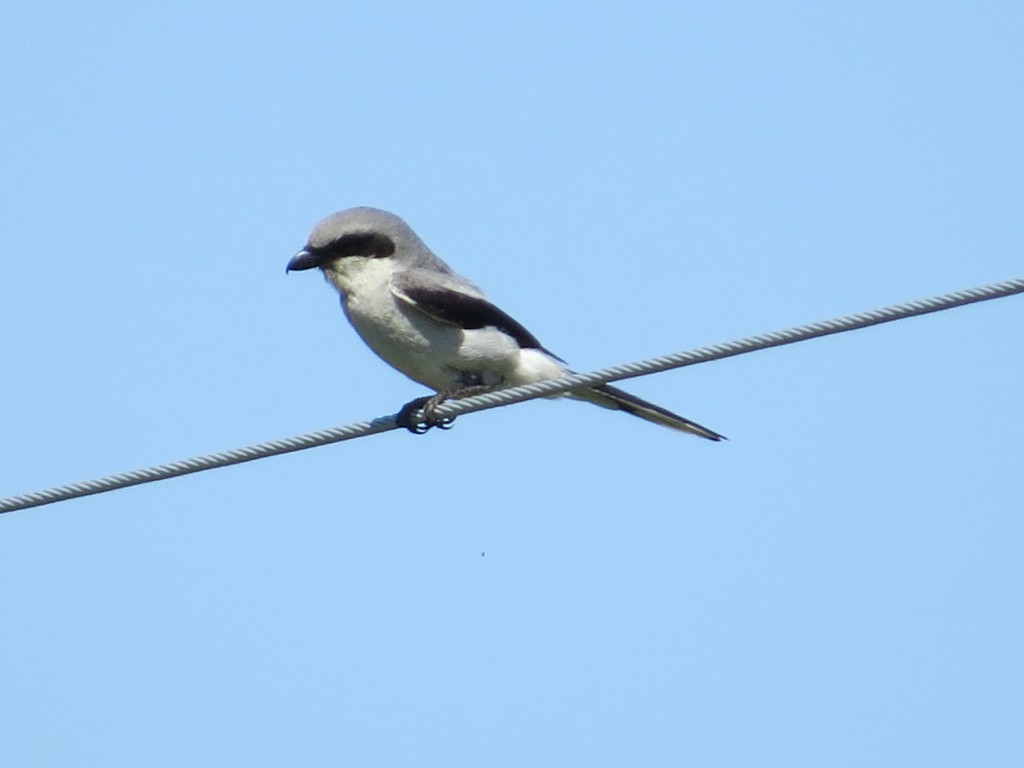 Though it looks a lot like its Northern Shrike cousin which can be found pretty regularly in the winter months all over Minnesota (they've even been in my yard couple times), the Loggerhead Shrike is a summertime bird that is tough to find in Minnesota.  Really tough. Other birders in the county often recall Loggerhead sightings in the county as a rate in birds seen per decade.  It's a rare event indeed.  In fact, the Loggerhead Shrike is scarce throughout the state and was deemed a Minnesota threatened species by the DNR in 1984 and is now being considered as a Minnesota endangered species.  Recent surveys by the DNR have found fewer than 30 nests in the state.  This species used to be more common.  Its decline in population has been attributed to grassland habitat loss through more rural development, more intensive row-crop farming, and the encroachment of brush and shrubs on grasslands.  Additionally the increased use of pesticides may be cutting down on the shrikes' food supply since they prey on insects.
I have had the good fortune of seeing Loggerhead Shrikes a couple times in Minnesota – twice at Felton Prairie in Clay County and once along a roadside near Herman in Grant County.  But I had been wanting to see one in Kandiyohi County.  Joel Schmidt found one earlier this spring, but it was probably just passing through because I was never able to get on it.
Jeff Weitzel also had seen one in the county by Willmar High School this spring.  I chased after that one a couple times but could never locate it.  Then, a couple weeks ago I got a text from Jeff that he saw one again at the high school and I later found out that he'd seen a shrike off and on there throughout the summer.  I went out that day several hours after I got the text and was able to get my Kandiyohi County Loggerhead.  A great bird to see anywhere in the state, but especially fun to see one just a few miles from home.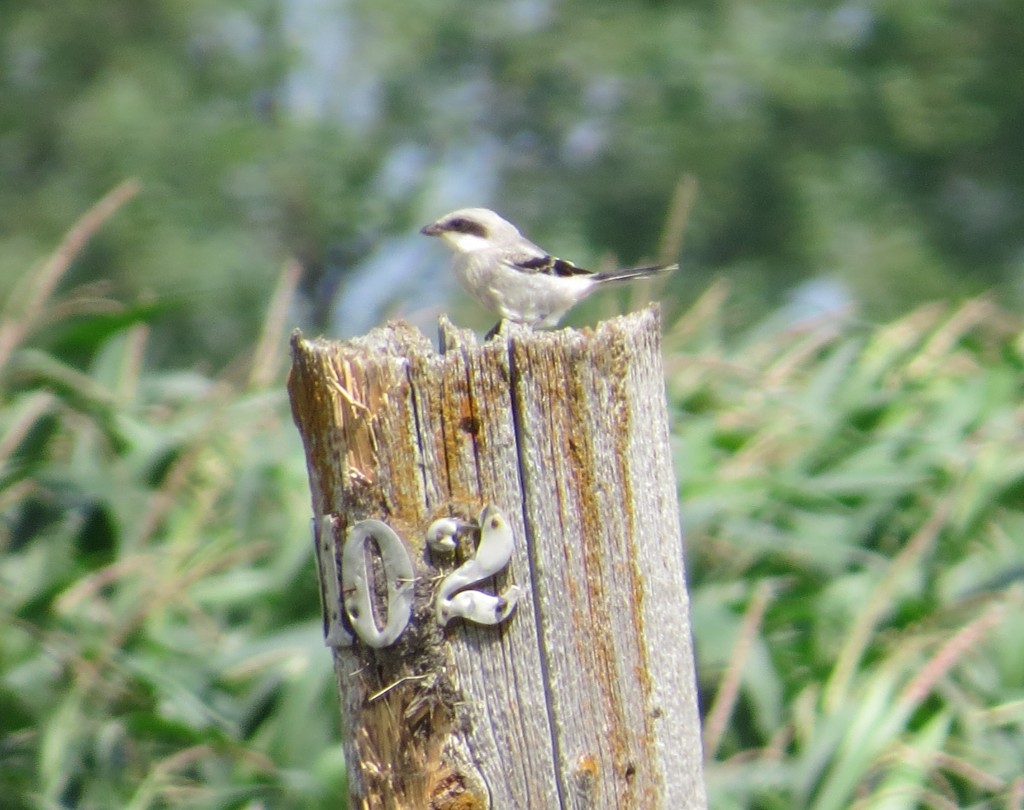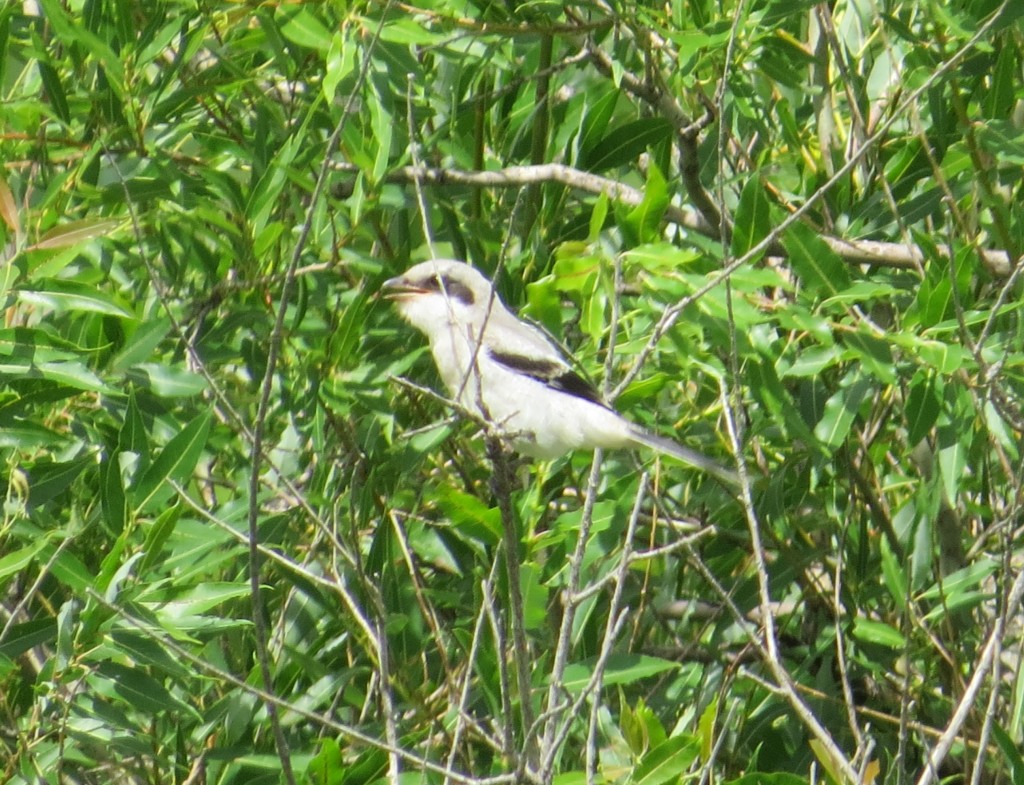 Joel Schmidt went to see the bird the next day and amazingly he found three shikes! Better yet was that two of them were juveniles.  This was an historic find because the Loggerhead Shrike has never been known to nest in Kandiyohi County before.  It was a banner day.
I went out the following day to hopefully see all these birds to document this finding for eBird.  I lucked out.  Not only did I see Joel's three, but I found one more for a total of four birds!  The three juveniles obliged me by posing together briefly in the same tree.  How do you like that photo documentation, eBird?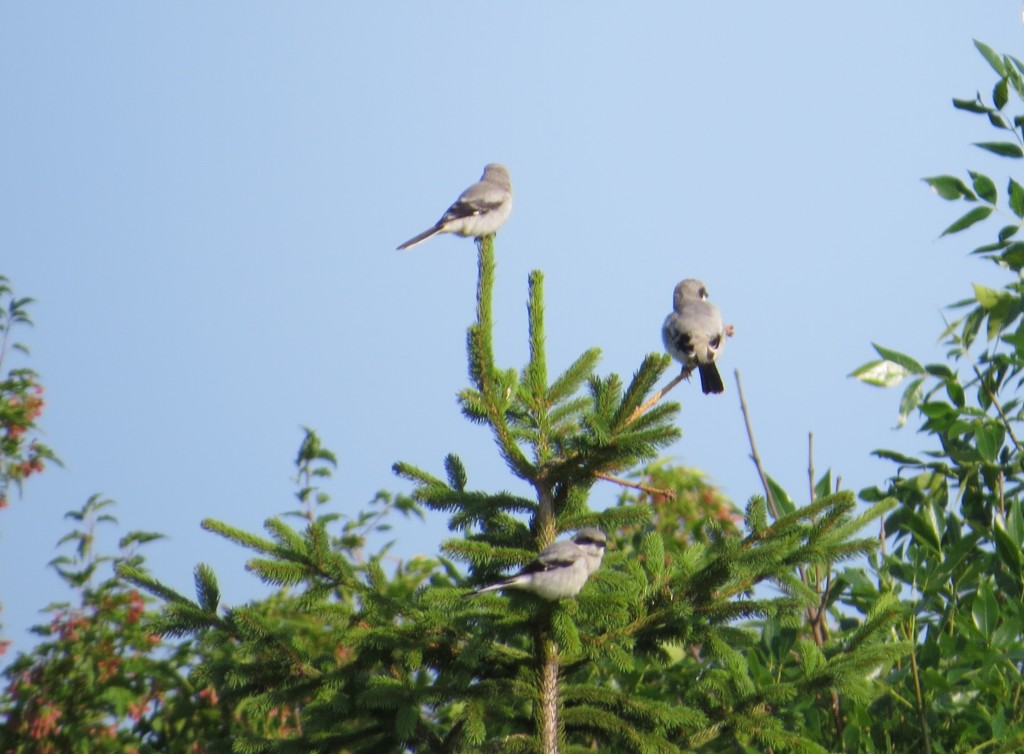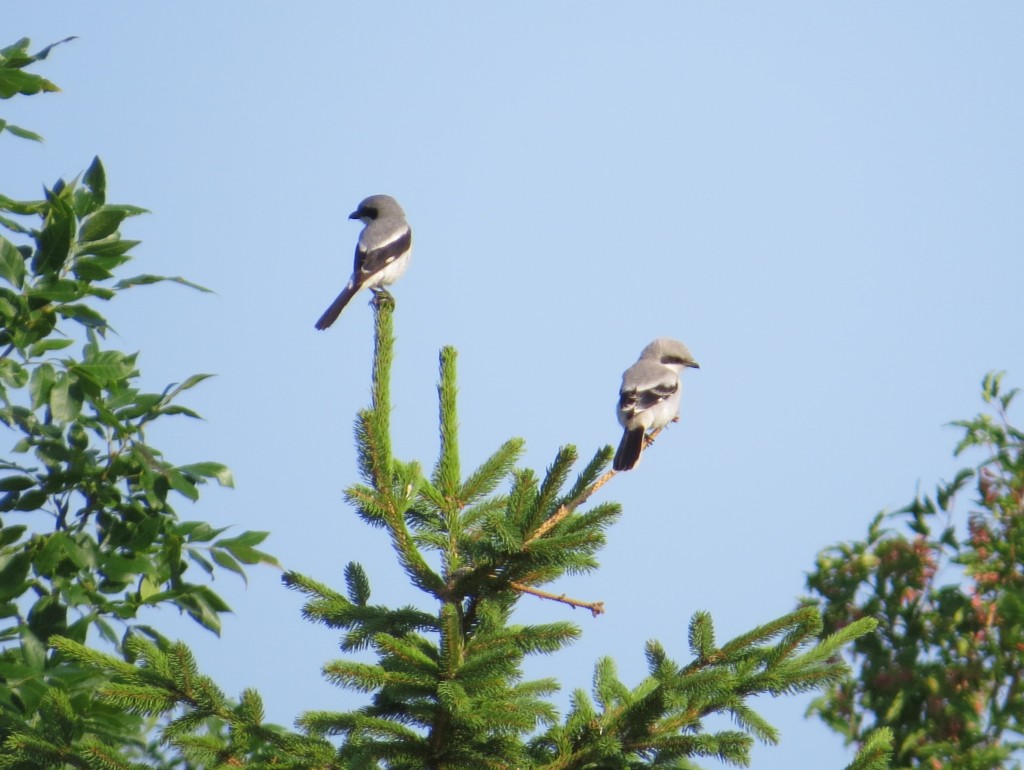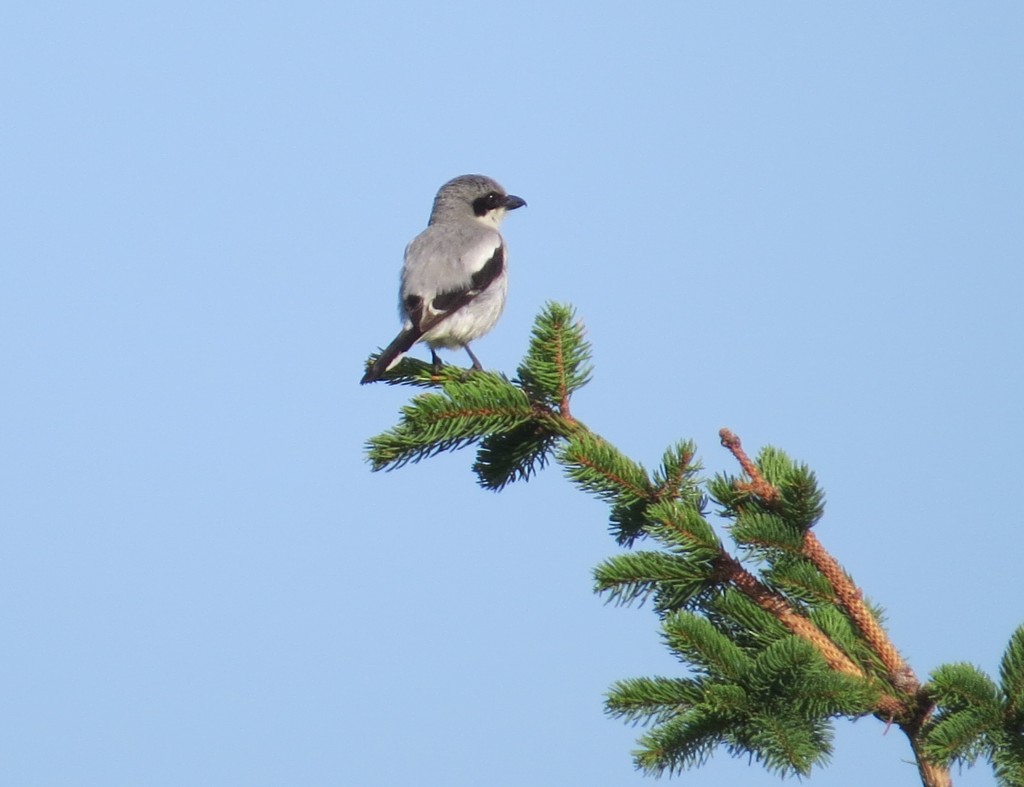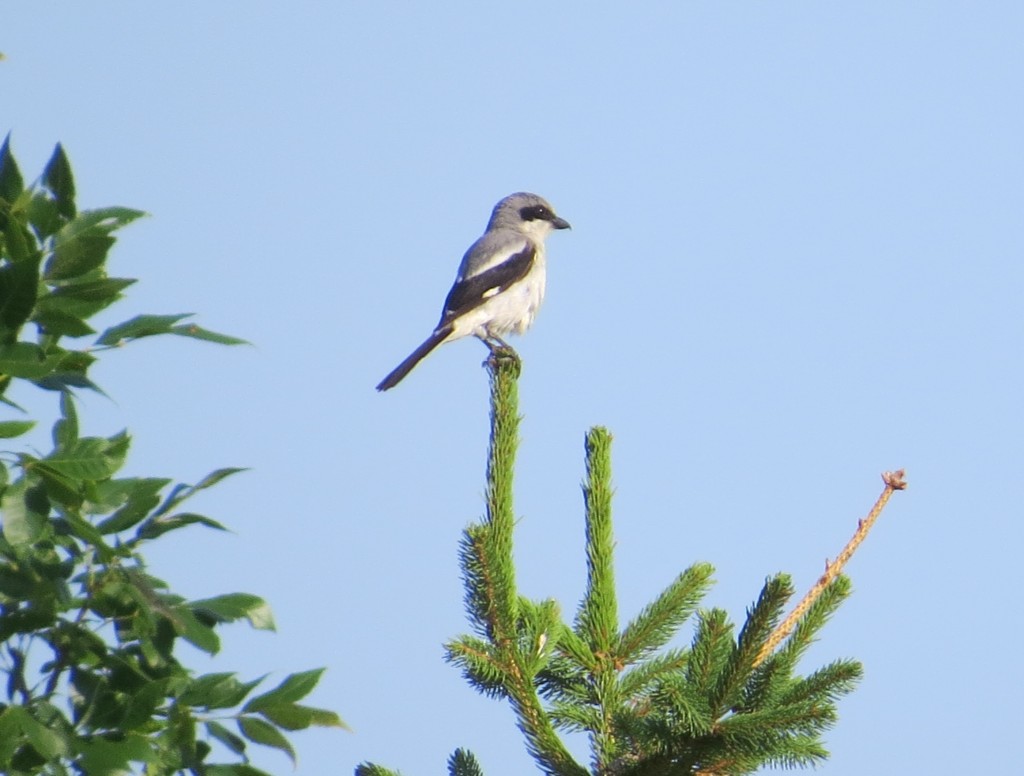 I enjoy this bird a lot. To not only see one close so to home but also to know there is a little Loggerhead factory going on is quite special.  The habitat at the high school is ideal because there is nearly a half square mile of undeveloped prairie land interspersed with tree rows and sporadic shrubs.  Much of this land is owned by the school or is part of the Willmar Wildlife Management Area.  Because Loggerhead Shrikes have strong site fidelity when it comes to nesting and because this land will remain undeveloped, I am hoping that we will have many Loggerhead Shrikes for years to come.  The more I bird the more I have come to understand how fragile certain species are and how important conservation is for the maintenance and revival of such species.  This little success story is encouraging for future birds and birders.