Fair warning: you will not see a single bird photo in this post. Yet, a great bird was involved.  No, a phenomenal bird was involved.  Even still, the story is not even that riveting; it is filled with angst, confusion and regret.  However, it is a story that needs to be documented since a life bird(s) was had.  Well, sort of.  For you bird lovers, I promise to make up the lack of bird photos to you in the next post which will be very easy on the eyes as they say.
But regarding the current post, I have a love/hate relationship with county listers, those birders who strive to tally as many species as they can in all 87 Minnesota counties. Love 'em because in their quest to find some ordinary bird in some remote county, they explore the nooks, crannies, and nether regions of that county and end up finding dynamo birds that rock the larger birding community.  Hate 'em because they find those dynamo birds forcing me to make a decision to chase those birds.
Last Saturday, on June 7th, one of these county listers was driving on a remote minimum maintenance road in Yellow Medicine County going over a one-lane bridge when he spotted a Eurasian Tree Sparrow sitting on the railing of the bridge.  Now this may not sound exciting, but you have to understand that Eurasian Tree Sparrows are typically only found in St. Louis and its suburbs.  Their range has not expanded from there, and they rarely stray anywhere else.  It was a big deal.  This location was only an hour-and-a-half away, so we simply had to check it out.  It was better than taking a long drive to St. Louis for this bird.  And it was certainly better than taking a chance at missing a turn to see the Gateway Arch and ending up in East St. Louis like Melissa and I did a decade ago.
Steve joined Evan and I for the trip.  We had an uneventful ride down other than sighting a gorgeous Red-headed Woodpecker on a telephone pole.  It's just one of those birds you can't not take a photo of even if you have 500 pictures of it in your archives already.  Well, when I pulled over to get some shots, it flew into a grove never to be seen again.  It was a precursor of things to come.
We found the bridge no problem and began to make sense of the report we had: the Eurasian Tree Sparrow had been associating with two male House Sparrows, and the trio had been known to be on the bridge and fly underneath the bridge.  So we got out and we looked and waited. And looked. And paced.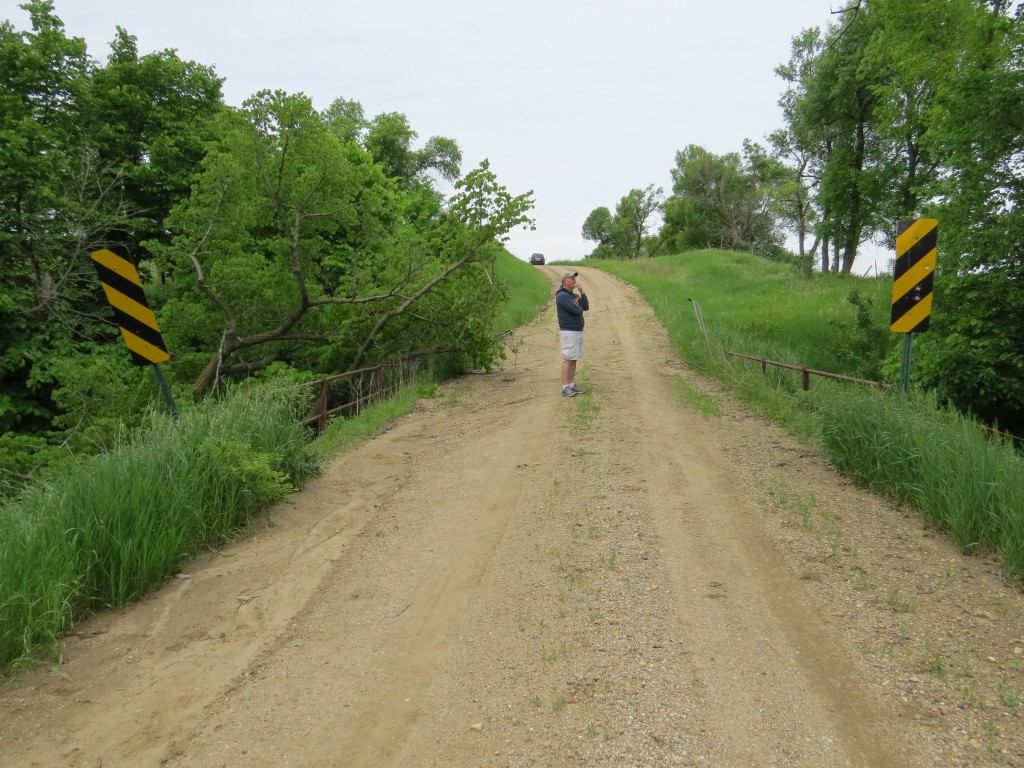 And played in the dirt.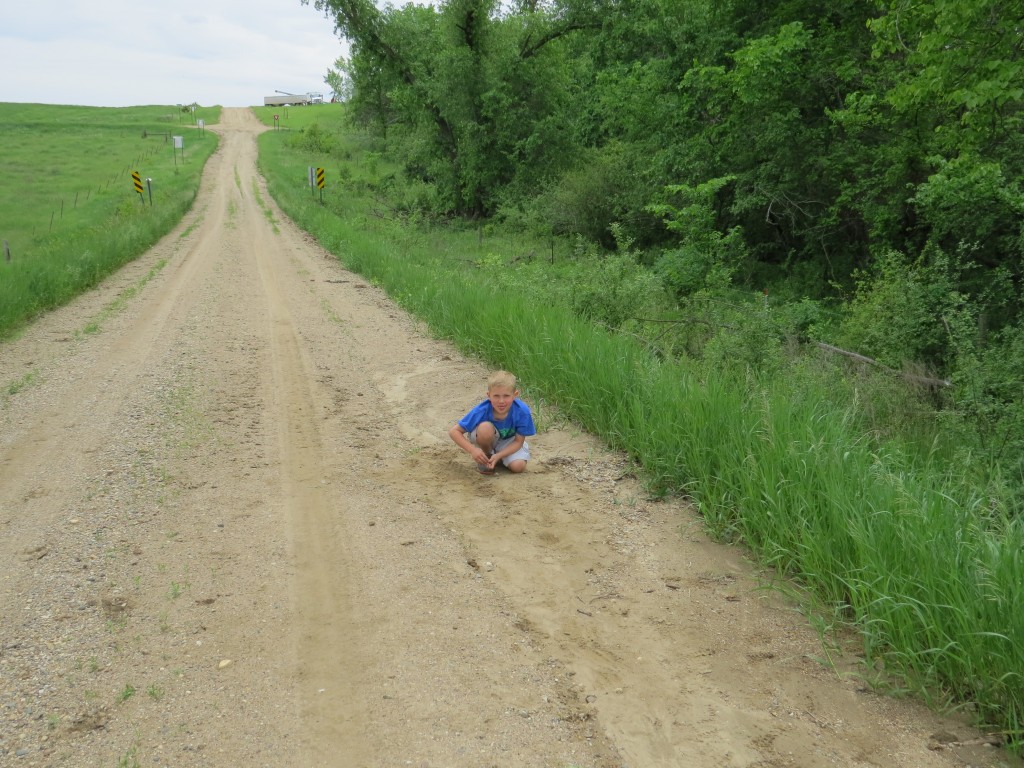 For the better part of an hour Steve and I were both trying to turn every House Sparrow we saw into our target bird.  But we failed.  The highlight was maybe seeing an Alder Flycatcher, a life bird.  I say 'maybe' because it's a bird that can only be safely identified by voice, and Steve and I were convinced it was giving the Alder's call of, "Free beer!"  This bird, too, flew off before we could analyze it further.
As exciting as free beer and a new life bird would be, we really wanted to see that Eurasian Tree Sparrow.  Several times I went down the steep embankment to look underneath the bridge.  My hopes were buoyed by finding a couple House Sparrows hanging out and chirping in the girders. But my excitement was limited to some Cliff Swallows flying at my face.  On one of these trips down the embankment Evan decided to join me.  I think he was attracted to the little river and the mysteries associated with the undersides of bridges. After all, that's where trolls live. Then Evan had a strange request: he asked for my huge, clunky binoculars that I bought at my own Grandma's garage sale about 25 years ago.  You read that right.  I loved my Grandma and may she rest in peace, but she was a frugal lady who couldn't let something go for nothing.  She was also very fair – if I got free binoculars, then all the grandkids would have to get free binoculars.  But I digress.  Evan's request was strange considering he has trouble making small binoculars work, let alone ones the size of his head.  Still, he put the strap around his neck and was trying to look at this or that.
Then it happened. "I've got it," Steve said from up on the road.  In an instant, in what could be considered justified or stupid, I grabbed the behemoth binoculars and lifted them off Evan's head. I reasoned that he couldn't see anything with them anyway, but the selfish move was exacerbated when in the process of removing them I bonked him in the forehead causing him to say, "Ouch!"  Right then I should have turned in my dad card.
But I didn't and instead srambled to get up the near-vertical embankment.  Evan was right on my heels.  Steve pointed to a fallen tree leaning against the bridge.  I saw the bird and caught a glimpse of the brown-capped sparrow through the reposessed binoculars.  Evan was asking where the bird was.  I tried to redeem my previous actions by trying to point out the bird before I whipped out my camera.  Evan could not locate the bird that was hopping in the branches not that far away.  And then the bird vanished never to make a second appearance for the duration of our visit.
As much as Steve and I would have liked to wait it out for a chance to get some good, solid looks and photos of this bird, I was on a time crunch.  Evan had gotten a free ticket to the Stingers baseball game, and it was free jersey night for the first 250 kids.  This was a big deal.  Not only could we not be late, but we had to be there plenty early to ensure getting a jersey.  So, in an effort to earn back my dad status, we left this remote, country site on time in order to get back for the game.
Maybe I'll have to go to St. Louis after all to really see this bird well and for Evan to see it for the first time if he wants to.  And with some planning and good luck, we might be able to do that AND avoid a misadventure in East St. Louis.