I am fortunate to teach at a school with a four-day school week, which means that I have several Mondays off.  These days are often a chance for me to catch up on some projects and just hang out with Marin.  Today was no different as Marin and I got not one, but two oil changes done, and we shopped for the groceries too.  Marin was an absolute trooper always keeping herself entertained wherever we went.  At the car dealership she and I played with toy cars in the their playroom, and at the store she "helped" me shop.
I also like Mondays because I'm able to drive Evan to and from school.  It's nice for him to be able to sleep in a little longer on these days.  After Marin and I picked up Evan from school, we went to Evan's piano lesson.  Again Marin was a trooper as she was dragged along to something else. This time she played her Kindle and danced to the live band that was playing at the coffee shop where we waited.
After piano I decided to take advantage of the increasing amount of daylight to go look for our resident Snowy Owl with the kids.  I've made several checks on this owl in the last month to keep tabs on it, and I have seen it and reported it a number of times.  Most of the time, though, I'm by myself or with other birders so I don't write about it on this blog.  It has been fun to have a Snowy Owl so close to home – just 12 miles away.  Every time I go out looking for it, it's like a big game of "Where's Waldo?" since it's never in the same place and it blends in with the white landscape.  Sometimes I find it perched on the ground in fields, sitting on irrigators, or perched up nicely on a powerline pole.  Today was a pole day as we found it right away in beautiful light with clear blue skies, no less. Unfortunately, it flushed from the pole as soon as I pulled safely onto the shoulder, and it landed on a nearby Morton building.  My photos were taken from nearly 75 yards, but I managed to get some fun ones without disturbing the owl.  While these owls frequently perch on buildings and houses, this was the first time I'd witnessed it.
This owl has been significant for many birders. A couple of my friends finally saw their Kandiyohi County Snowy Owl with this one.  In fact, Joel had been waiting for over a decade to see one in our county. For many others, this was simply a Snowy Owl life bird.  And other, hard-core birders known as county listers – those who keep a list of birds for each of Minnesota's 87 counties – have made the trip to see this owl because Kandiyohi has been a tough county in which to tally a Snowy. This owl has been very photogenic and has stuck around for well over a month now.  It definitely spices up the mundane winter birding around here.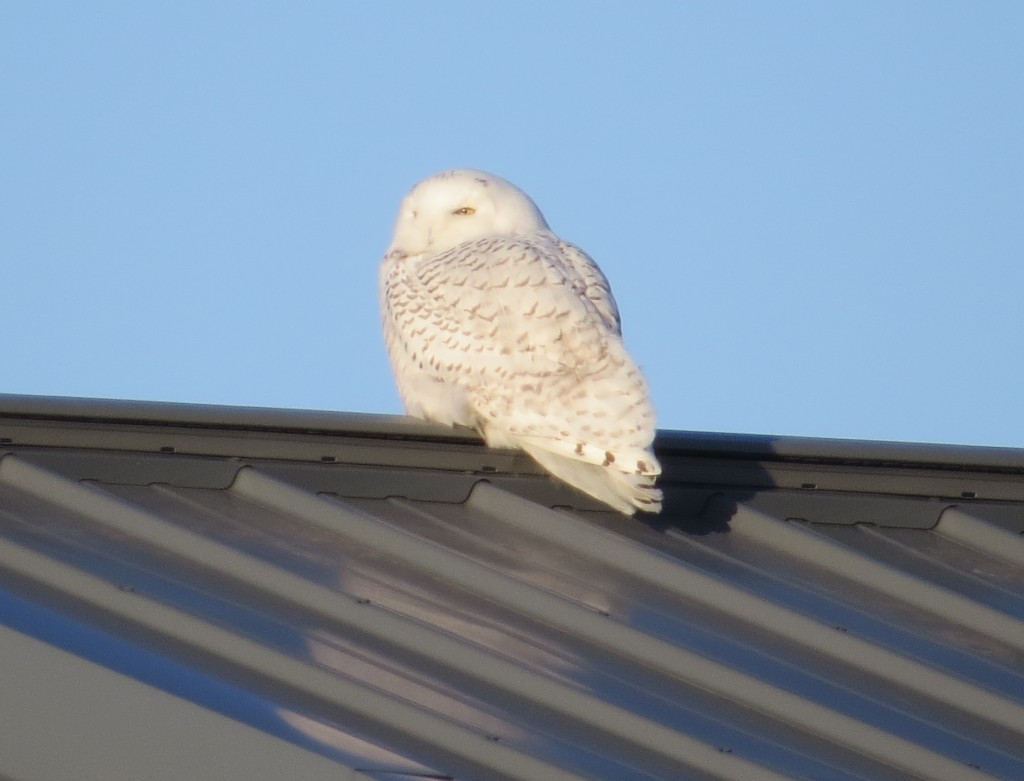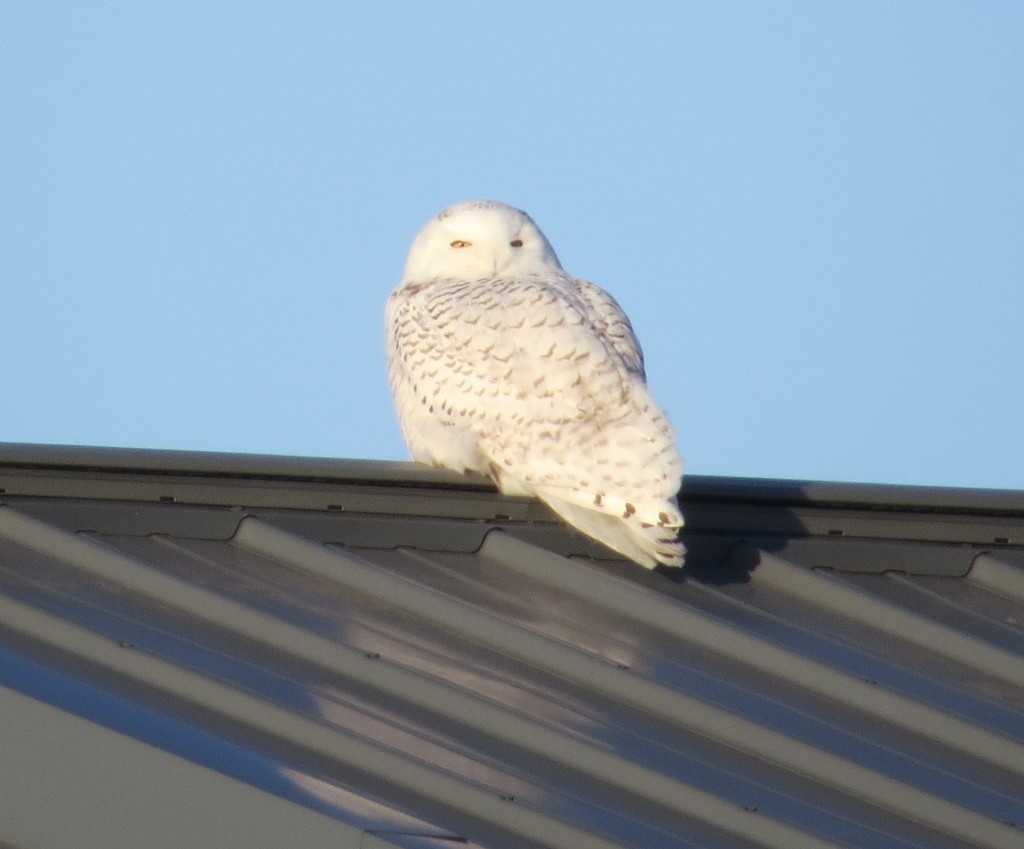 I don't know how long we will get to enjoy the company of this magnificent owl.  This has been an historic year for Snowy Owls across the country as they have invaded the northern states in droves.  Who knows when we will ever see another winter like this one.  Therefore I'm going to soak up the experience of our resident Snowy by visiting it often and doing my part as a citizen scientist to document its continued presence on eBird.org.  As fun as it's been for the kids to see these owls (numerous times), I don't think they fully appreciate or understand the significance of this phenomenon.  Maybe someday they can look back at these posts and see just how cool of a time this was.