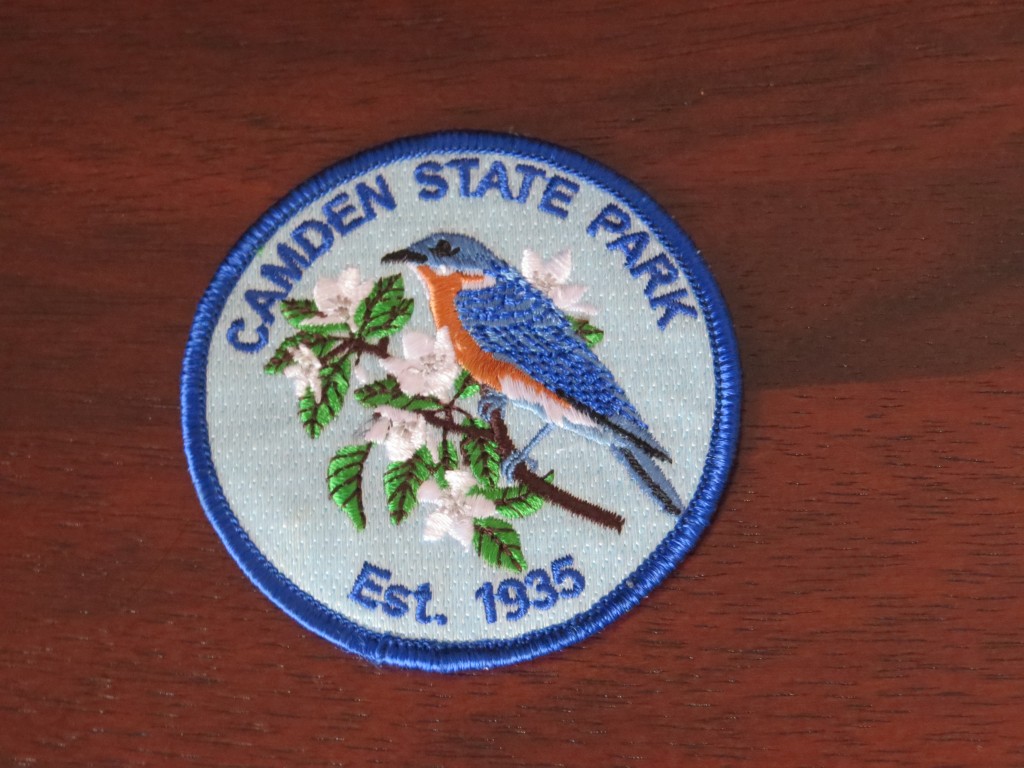 I am fascinated with the warbler family of birds.  They are birds that burst with color, and there are over four dozen species in the United States.  We have well over half of those in Minnesota.  One warbler that's been on my wish list is the Cerulean Warbler.  The Cerulean is a pretty blue-backed bird with a white belly and throat and a black necklace.  Besides being visually stunning, this bird is scarce in its known range and is said to be DECLINING.  Sadly, as I read through descriptions in the field guide, there are many species of birds that are in decline, threatened, or endangered.  Needless to say, seeing a Cerulean Warbler would be an outstanding find. Interestingly enough, as I wrote this story, KARE 11 did a feature news story on the decline of another warbler who resides in Minnesota – the Golden-winged Warbler – and how conservation of this and other species can be best be achieved through international partnerships because of the distances that these birds migrate.  To see this story which features one of my photographs, click here.  Through birding I am beginning to understand how delicate our ecosystem can be and that international activity can help or harm bird populations.
While we were on vacation in northern Minnesota, a Cerulean was found and reported on MOU-net in Lyon County which is a mere hour-and-a-half drive from home.  That's an easy distance compared to some others we've traveled for birds.  My mind was made up.  Once we got back from Up North, Evan and I would make a quick trip to look for this bird.  After all, I was willing to blindly search for one at a different location of similar distance, and now there was a confirmed Cerulean in a known location on multiple days.
As my interest in birds could be modeled with an exponential growth chart, Evan's would look more like a roller coaster.  Since he can identify well over 200 species of birds, I sometimes forget he is six and likes to do kid things too, like play with friends, ride bike, go swimming, and so on.  Lately he doesn't have the same zeal as his dad, and his patience for going on long searches is nil.  Knowing this, I wanted to make this adventure something fun for him that wasn't all about birds.  One thing I knew that would entice him would be a stay at Camden State Park.  Evan loves state parks, even more so now that we buy him the signature patch for each park we stay at.  These patches are then sewn on a nice canvas backpack that Melissa got him.  He loves collecting patches depicting his adventures.  Our rule is that we have to spend a night at a park to get the patch; we can't just pull into a park office, buy a patch, and leave.  Evan knew what Camden's patch was since we checked out this park on the way home from our Blue Mounds State Park trip.  It was the bluebird that you see above.  A bird + a patch = one happy kid.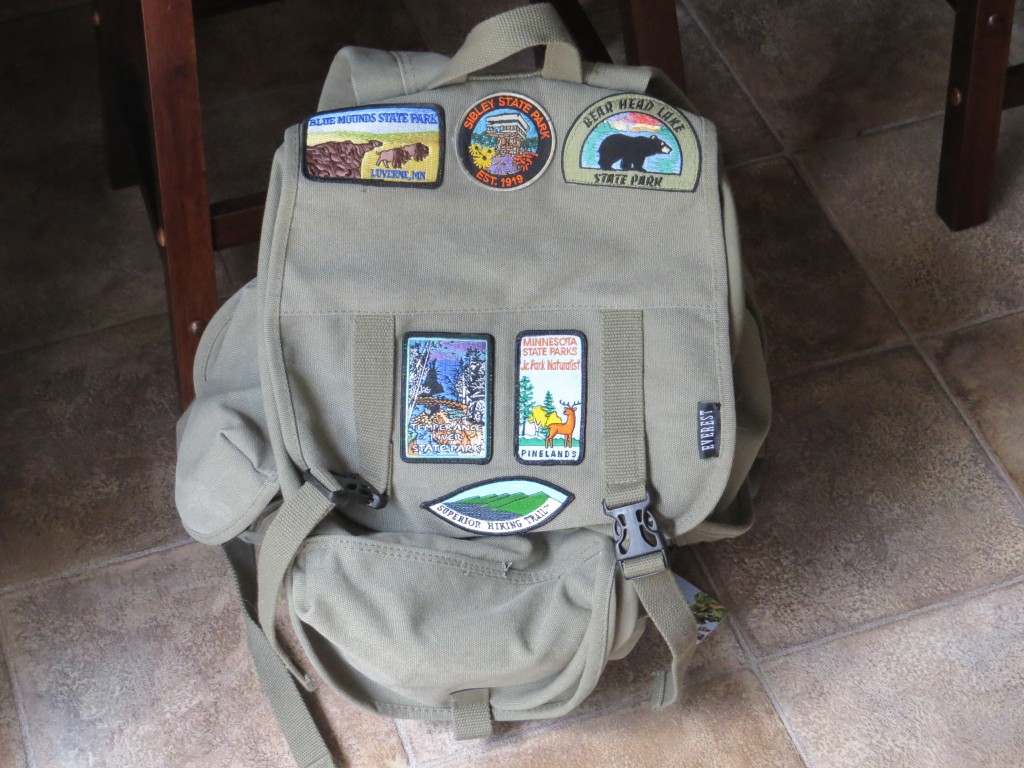 Besides dangling a new patch in front of him, I also told him that since it was just the two of us, we'd tent it.  Evan got really excited about this.  He's stayed in the two-man tent just once in the back yard, so it was a big deal.
The other day we left our women around 4:00 and were headed southwest to Camden State Park.  We stopped at Subway in Granite Falls to redeem a certificate for a free sub that Evan earned for completing a reading program.  That was a perk for him since he's wanted to do it for a long time.  We also stopped by a marsh near Cottonwood to check out the birds.  This American White Pelican was begging to have his photo taken.  I was excited about this photo since I finally got to make use of reflection in a photo of a bird on water.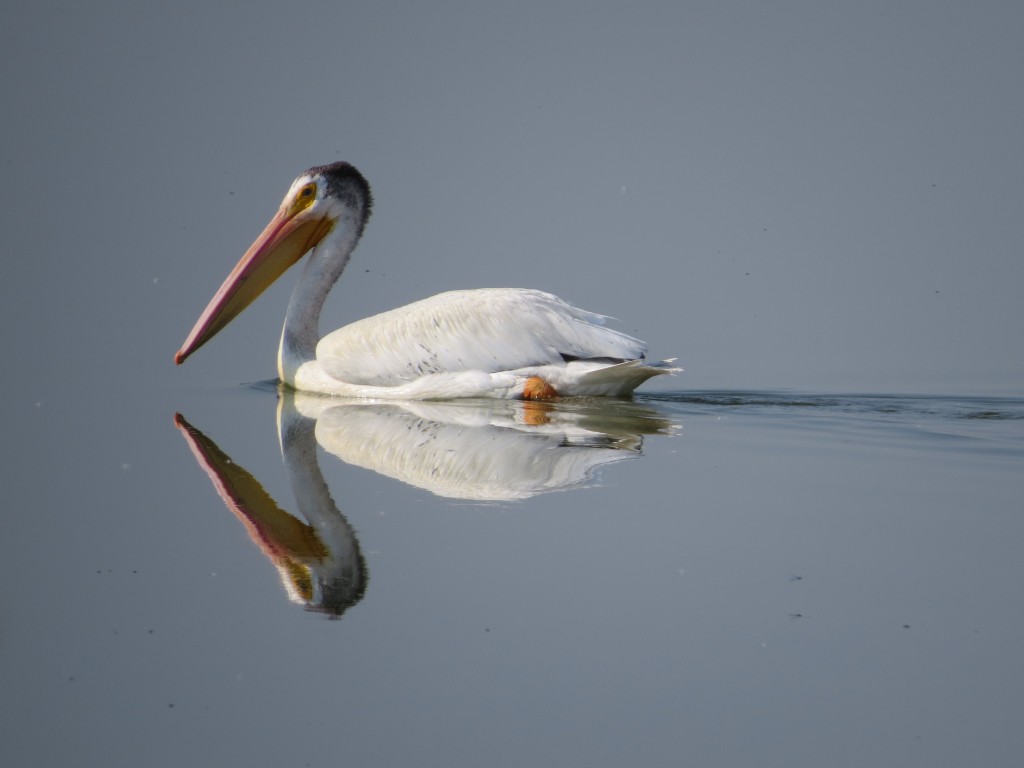 We made it to Camden State Park in short order and stopped at the park office.  I went to talk to the ranger and Evan went straight for the patch.  We then picked out a site in the nearly vacant campground and set up camp.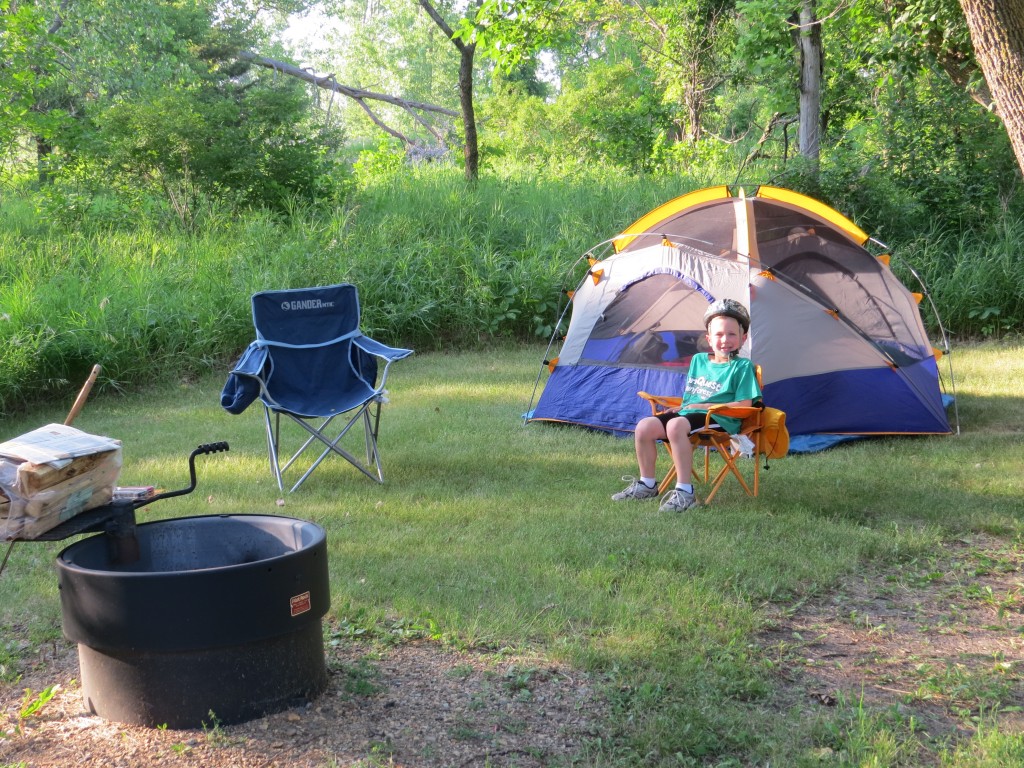 I always bring Evan's bike to campgrounds, but this time I drove the van so I could bring mine too.  Being just the two of us, it would be a good opportunity to go for an over-due bike ride.  In fact, that was the first thing we did after setting up camp.  As we drove our bikes down the campground road, I realized how much fun it was to ride a bike and do some non-birding stuff with my son.  I remembered how much fun I had going on bike rides with my family as a kid.  Nevertheless, I still carried my camera.  Just in case. Don't tell my wife, but I took this next photo while riding my bike.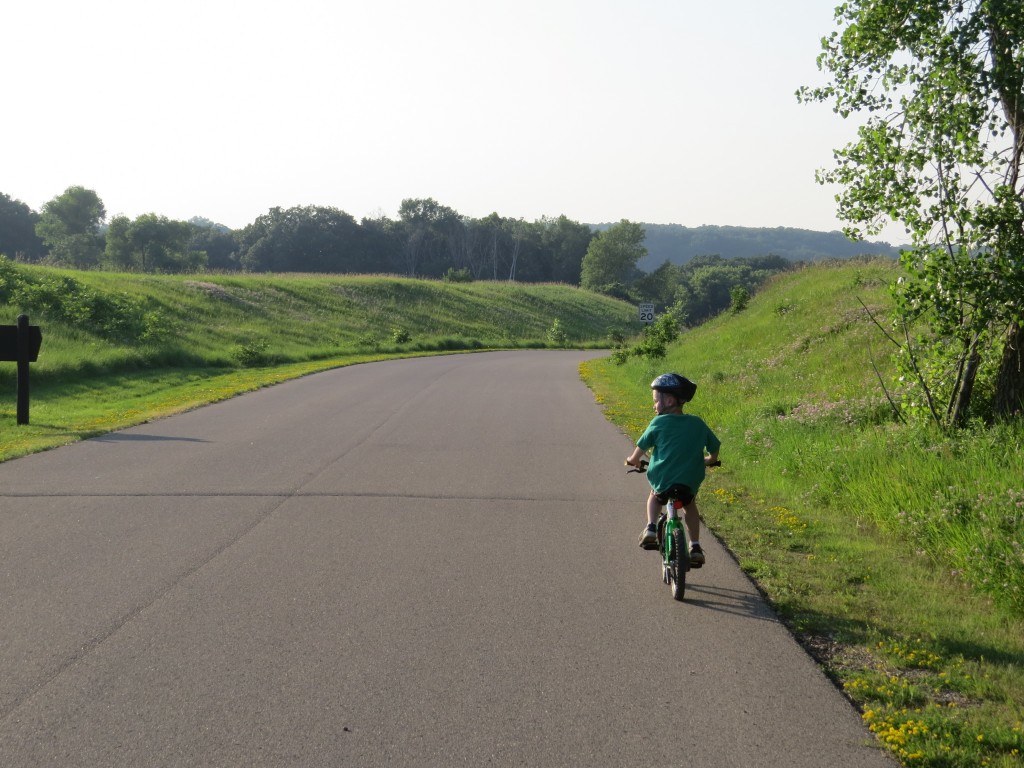 Doesn't the cruise down this hill look fun?  It was for a lonnnggg time. But every revolution of the wheels made me realize how stupid this decision was.  I kept asking Evan if he wanted to keep going down since we'd have to come back up.  He said it was fine.  So I listened.  Dumb.  When we finally got to the bottom to turn around, he made it all of twenty feet before hopping off to walk the bike up.  So we had a nice bike ride and walk.  Oh well, it gave us a chance to do some birding, like observing this Indigo Bunting pecking around the railroad tracks.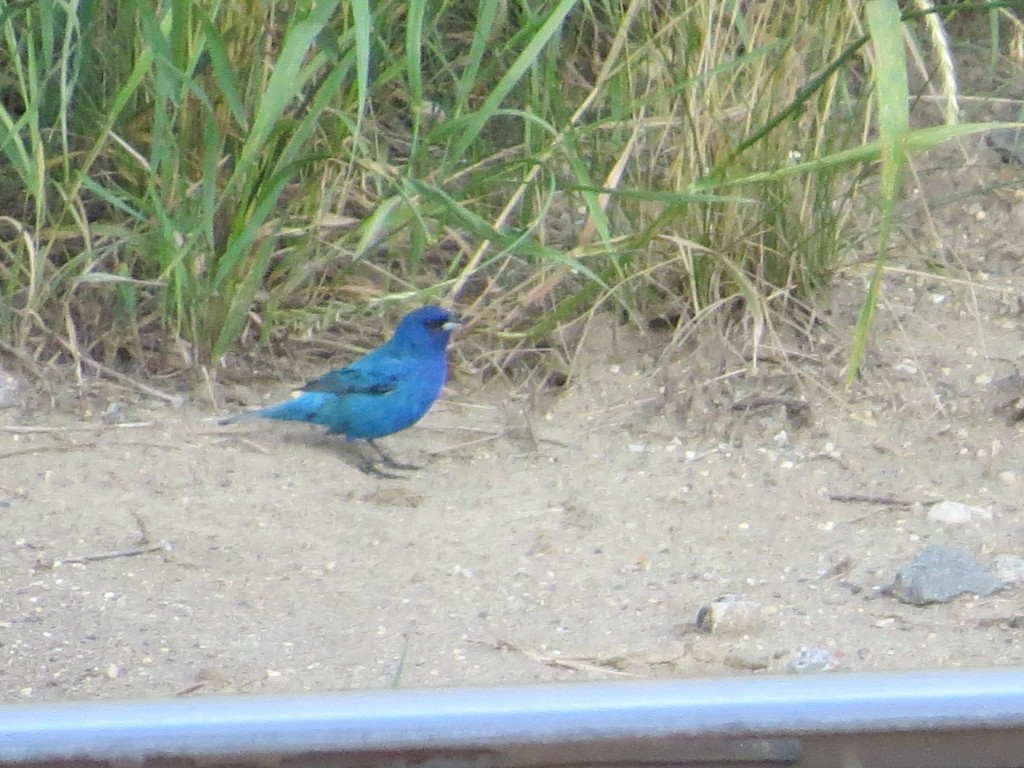 The reported location of the Cerulean Warbler was not at Camden State Park.  Rather, it was at Garvin Park, a county park and campground about 15 miles away.  It would have been cheaper and more convenient to stay there, but they don't have a patch.  It is a cool place regardless.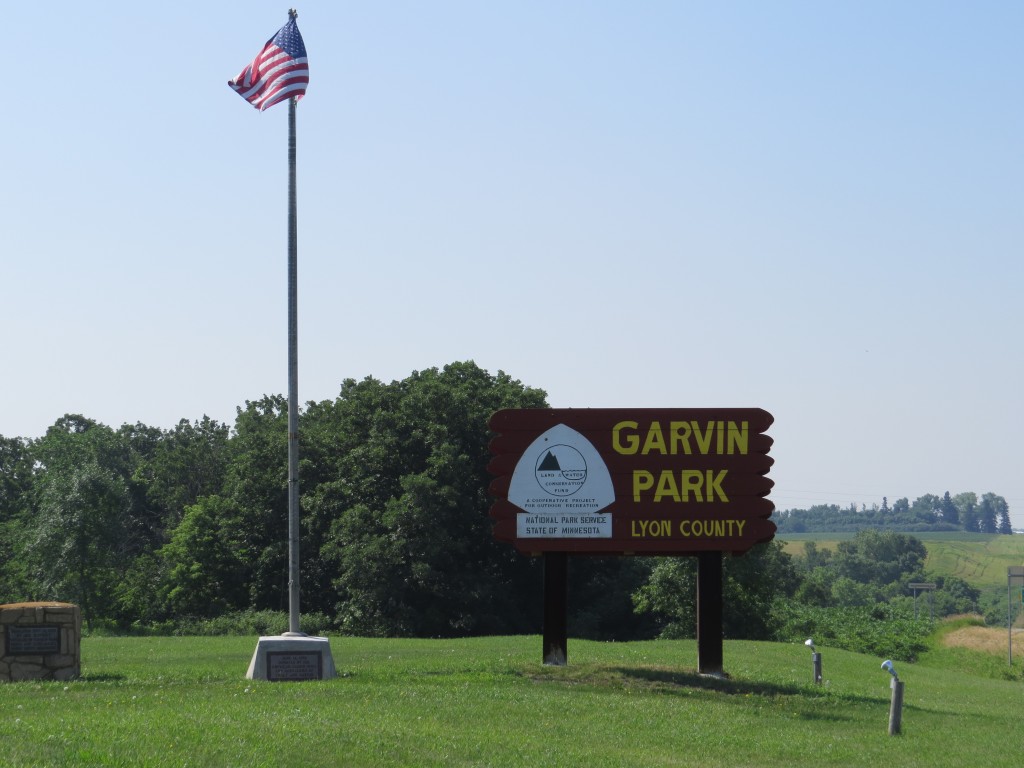 Our plan was to get up at 6:00 AM, head over to Garvin, and then come back later to pack up.  Birds are active early.  That is why I wanted to spend the night so we could be out there right away.
The alarm went off.  I got up.  Evan didn't.  I figured we probably didn't have to go that early, so I let him sleep while I went about getting packed up.  I tried Evan again later. Nothing. Then a little later after that.  Nothing.  Finally it was 6:45, and I was practically dragging him from bed.  We got completely packed and loaded and were to Garvin by 7:45.
Once on site, we were looking for the campground host's campsite because that is where our target had been hanging out.  But we couldn't find it, so I parked the van and we were just going to walk the campground loop.  I knew I couldn't expect much birding stamina out of Evan, but the van door literally had just closed when he said he wanted to go.  You've got to be kidding.  But after all, he was tired, and we had just driven by this: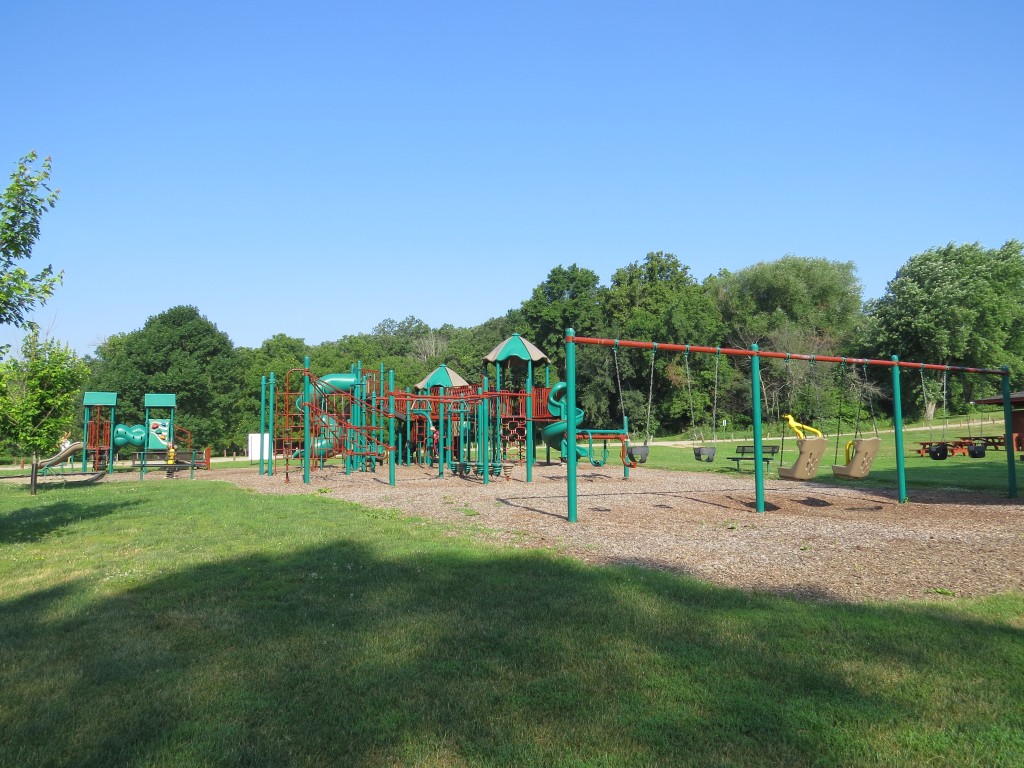 I was frustrated that he couldn't even put in a little bit of time.  Just then a campground worker came by who pointed out where the host's site was, which had no host.  We walked straight there.  I stared at trees, and Evan wandered to the much smaller playground nearby.  Within minutes I heard the Cerulean Warbler, but I couldn't locate it.  This didn't even hold Evan's attention.  Before long we walked back to the van to get his bike so he could ride around the loop.  Okay, good, he is occupied having fun.  That didn't last more than one loop, though.  I realized he was tired, so I drove the van to where we were searching, parked it in the shade, reclined the seat, and had him rest.  I continued to stare at treetops in vain since that's where Ceruleans hang out.  Evan became restless again and wanted to go to the big park pictured above.  I knew it was important to do this, so I agreed to take him there at 9:00.  It was currently 8:40.
So there I was, crunched for time, making my search all the more desperate.  I occupied my time by looking at every moving bird.  I was treated to a Great-crested Flycatcher, numerous Cedar Waxwings, and an Indigo Bunting.  One time I pulled up the binoculars on a bird that looked black-and-white and was hanging out halfway up to the tops of the trees.  A woodpecker? A Black-and-White Warbler perhaps?  Then I saw a faint hint of blue on this bird as it moved about the leaves in the shadows! It was the Cerulean Warbler! I hollered at Evan, who quickly ran out of the van to stand next to me. The best I could do was point out the clump of leaves where I saw it.  He wasn't able to see it. After that I had to try to get my camera on it which was tough to do.  I spied the bird again for just a flash, which was enough for this quick shot.  The quality isn't good, but considering the distance and this bird's rarity and propensity for disappearing, I was very thankful for this one and only photo.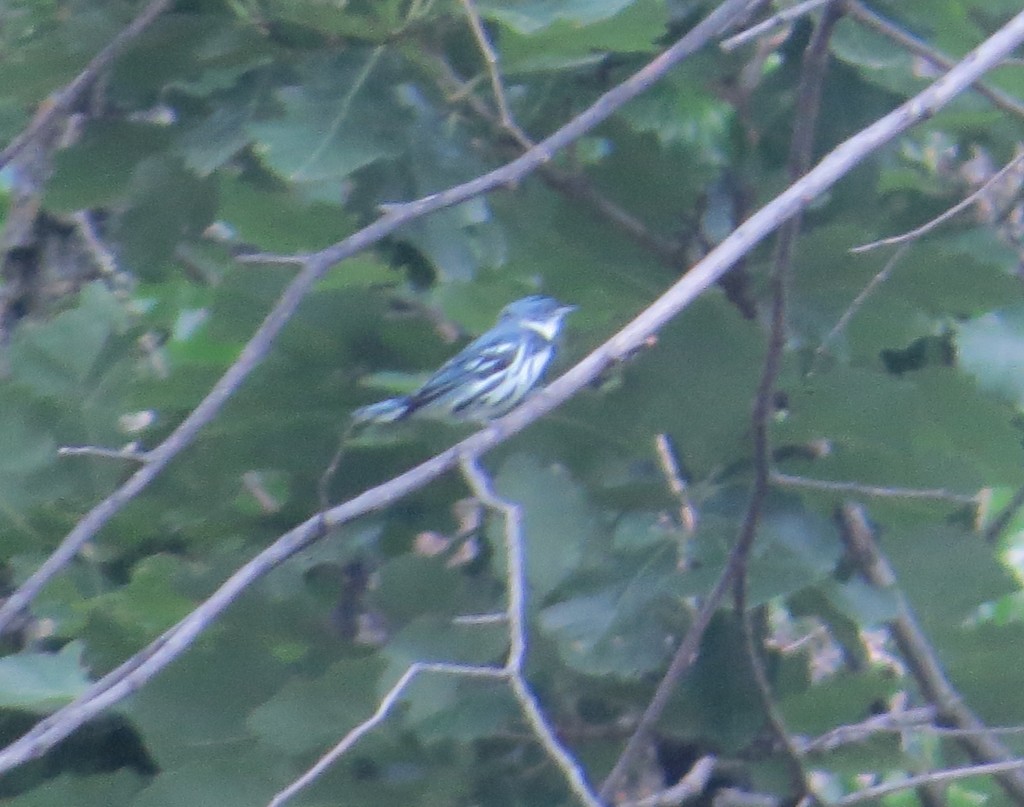 We watched for a little longer and listened to its distinctive buzzy song.  Though I could tell where he was, I never saw it again after the photo above.  Evan agreed to let me look until our previously agreed time of 9:00.  Whether we found it again or not, I was thrilled. I thought it would take me years to find this bird.  It seems we've already found most of the birds we've dreamed about in just our first year of birding.  Maybe my friend Patrick is right – it won't be long until we'll have to head to someplace exotic like Costa Rica to find a new, interesting bird.
9:00 came – time to be six again.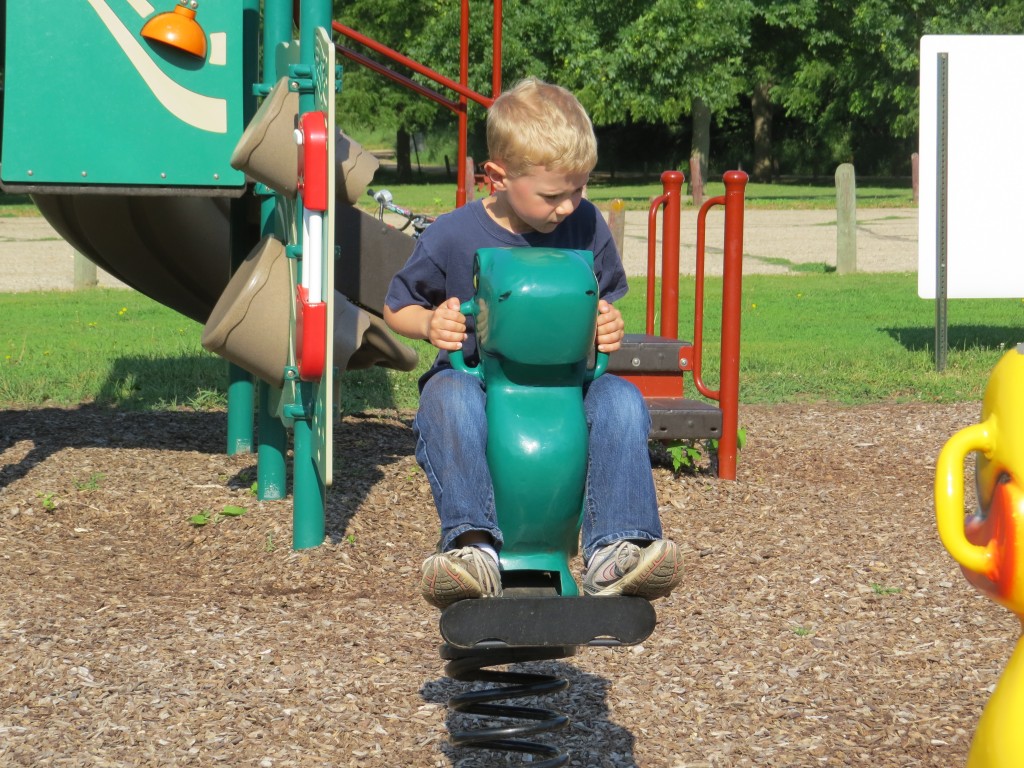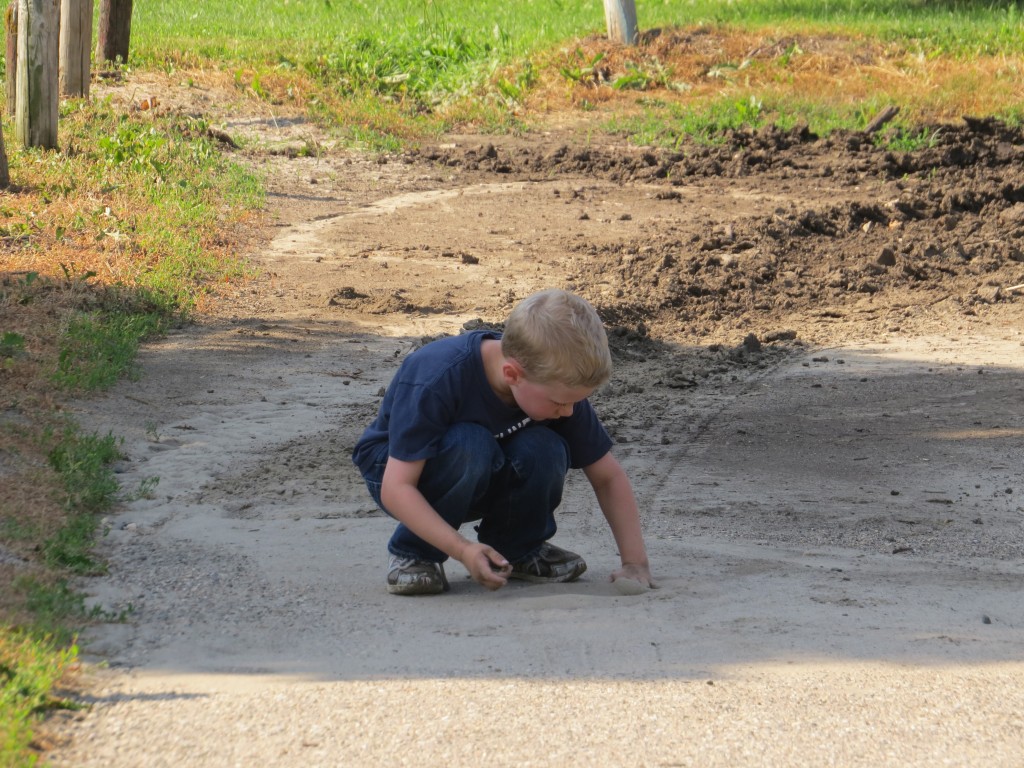 I played on the playground too (it was super cool, after all), but a birder is always birding…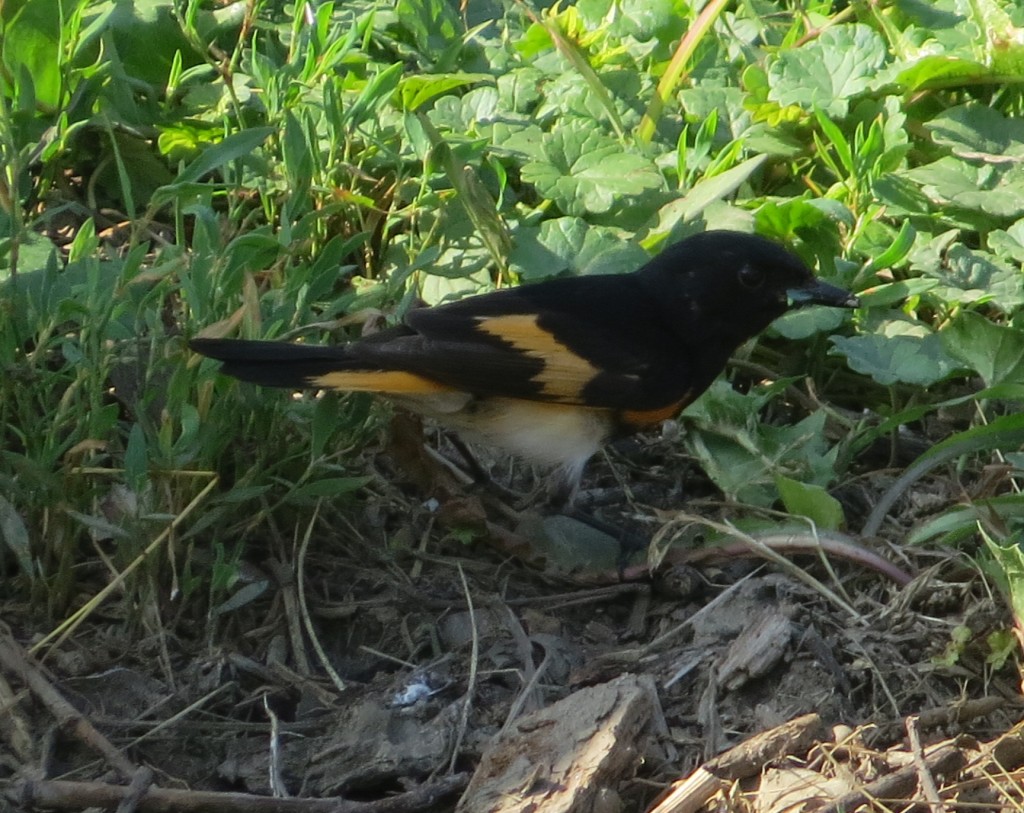 I could have gone back to keep searching for hours for the Cerulean to help Evan see it and to try to get that ever-elusive perfect photograph.  But when your birding partner is six, you have to fit the birding into his attention span.  Today it was more than good enough to see this incredible target and get a photo that is very recognizable but not remarkable.  So we left the home of this cool bird to get back to our home where there were more important things for Evan to do, like swimming in the back yard with the neighborhood children.