Today the floodgates opened.  As I sit down to write this post and reflect back on this day, I still can hardly believe all the life birds we saw.  Words can hardly do this day justice.  The pictures will tell the story better than I can.  Some are good and others will just have to do.  As you read our story and see our pictures, I hope you will be in awe of what's out in creation.
Before I tell the story of today, I want to back up to last night.  While we were at our small group Bible study, Steve had called and texted.  I didn't see this until we got home. When I did see he'd been trying to get ahold of me, I knew something was going on.  I finally connected with him and got the scoop.  Warblers.  Everywhere.  He spent two hours at the small patch where we've been birding, known as Bergquist Wildlife Area.  I could not wait until morning.  The alarm was set for 5:30 so Evan and I could do some birding before we had to come back in to take care of Marin at 8:30 while Melissa had a girls' event today.  I woke up this morning but not to my alarm.  It was 7:10!  I hustled and got Evan out of bed, and we were at Bergquist within a half hour.  Not much time to bird before we had to head back.
Right away we found a life bird for Evan – the Gray Catbird.  I actually saw this one on the feeder at home this morning, but Evan didn't hear me call to him.  When I took the picture, I got the message on my camera screen that there was no SD card!  I quickly remembered I had a spare.  Whew.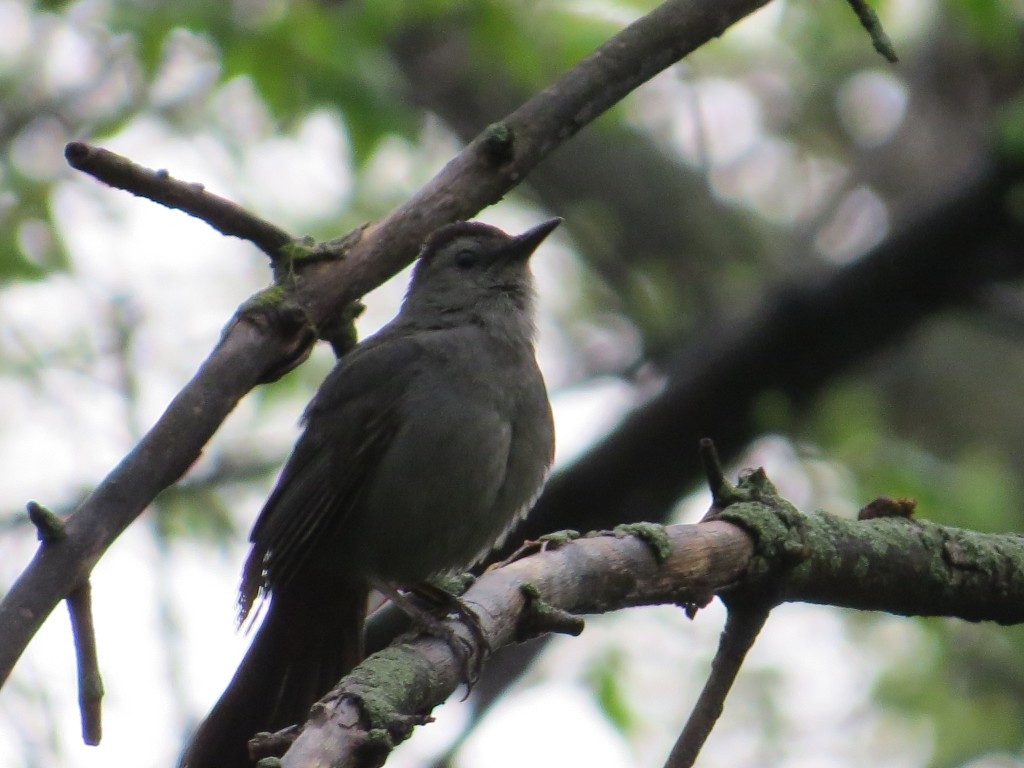 Shortly after this we found this plain, but pretty bird.  We identified it later as the female Scarlet Tanager – a definite lifer for both of us.  How I wish it had been the male.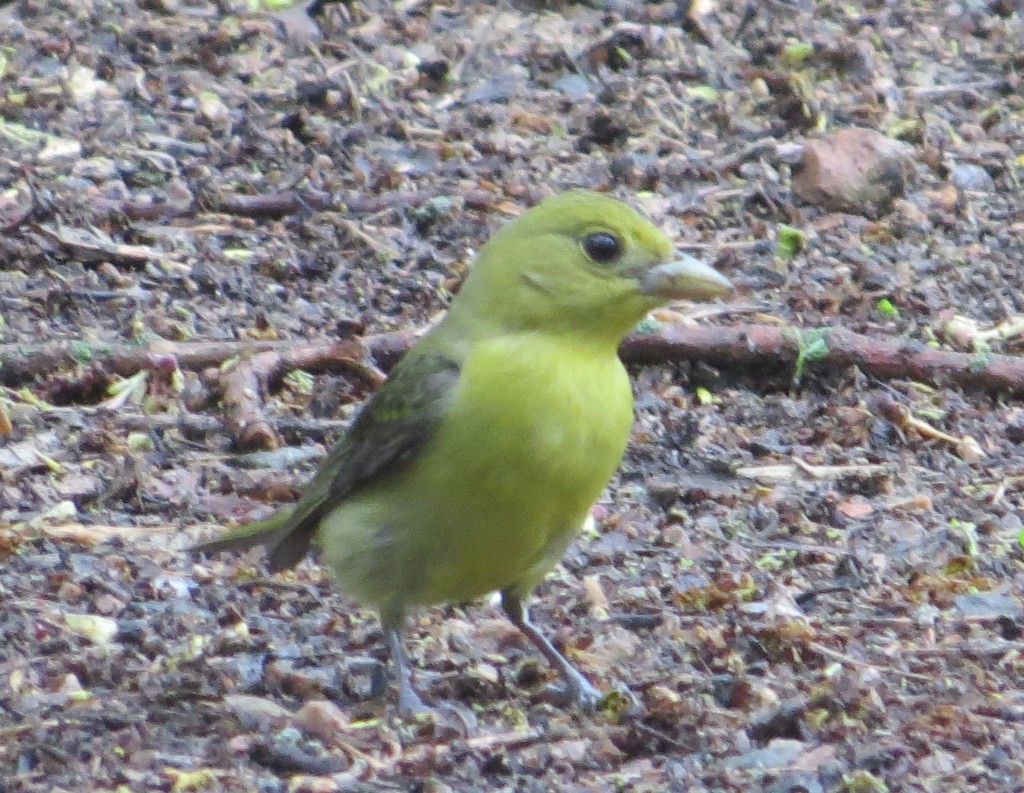 The warblers were all around.  We quickly found our lifer, the American Redstart.  These were very abundant this morning.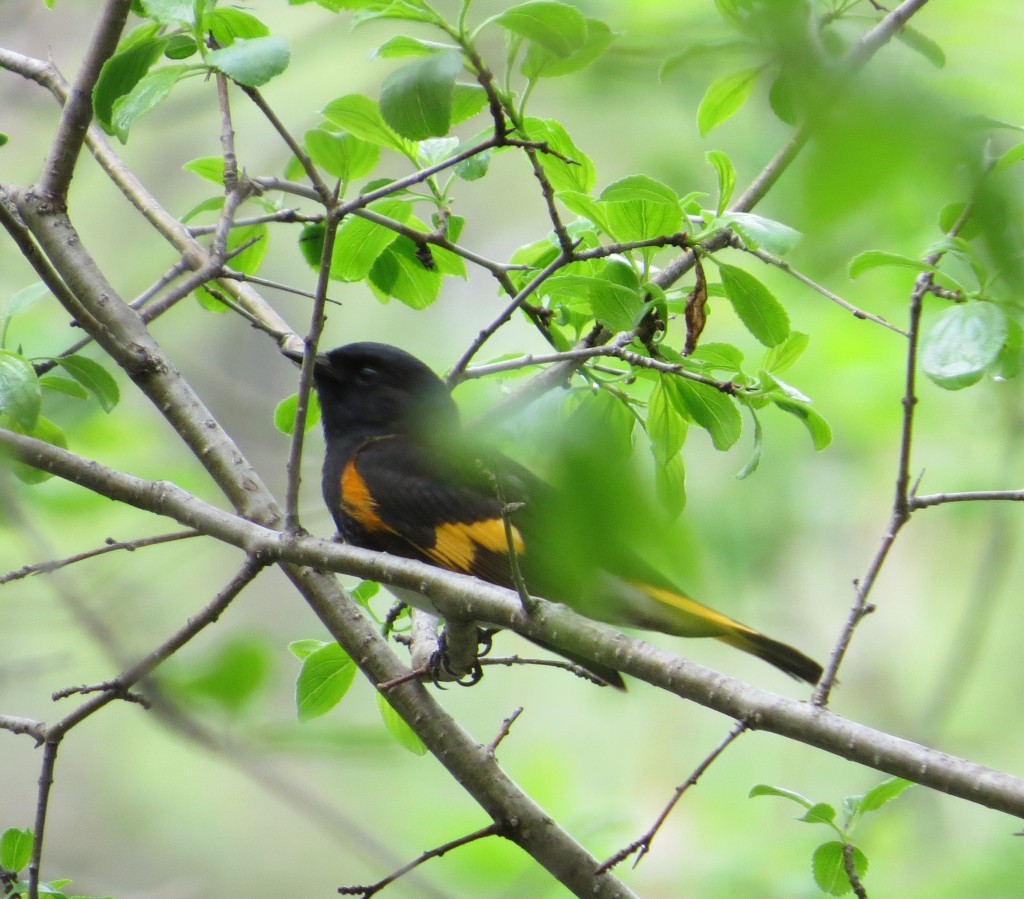 Then we found the Blackpoll Warbler – another lifer.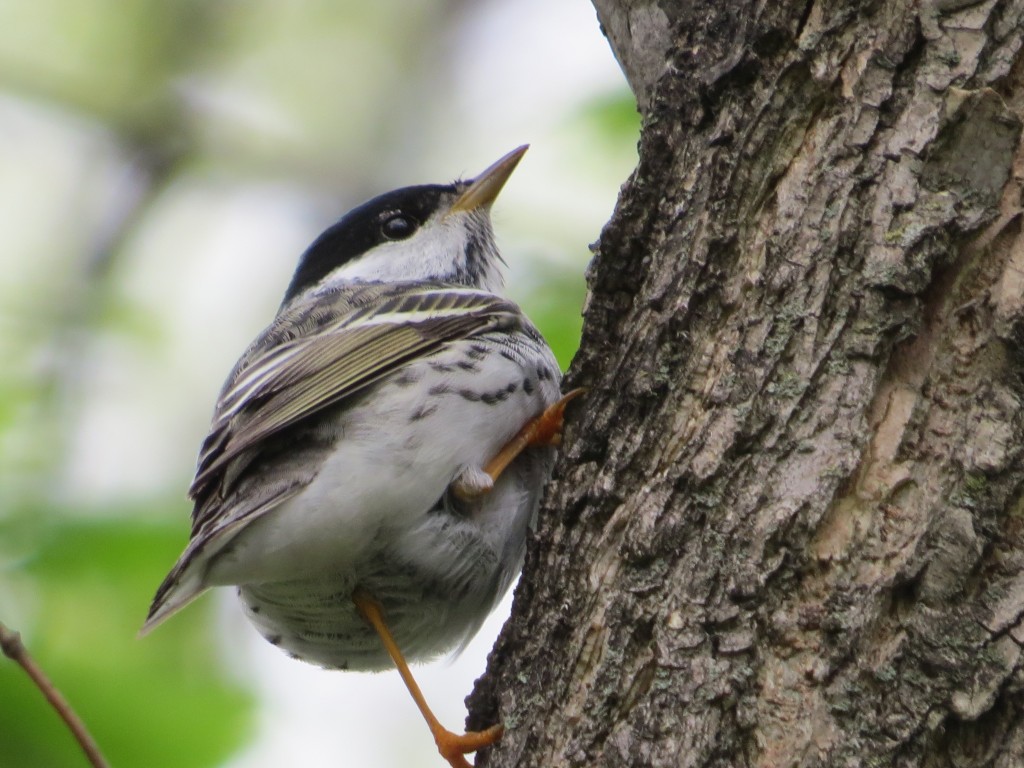 There were so many birds in every direction.  We stayed motionless and had new birds coming to us all the time.  Another lifer – a beautiful male Bay-breasted Warbler dropped to a branch 5 feet in front of me, but I wasn't able to get a picture.  By this time we had to go home, but not before picking up another lifer – the gorgeous Magnolia Warbler!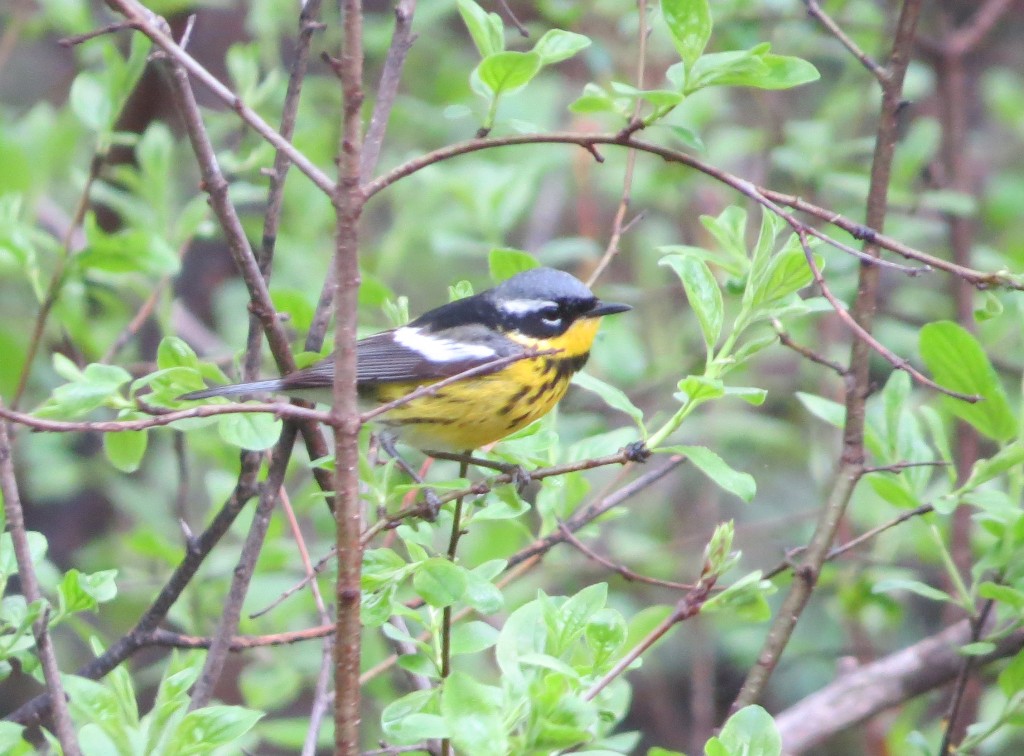 We went home and decided we'd grab Marin and come right back.  This was an incredible day, and there were more birds to be had.  Steve joined us for round 2.  It was definitely distracting to bird while managing Marin and settling fights between these siblings, but we managed.  It was nice to have Steve along to help point out new birds and ones I was still trying to photograph.  Here is a lifer he found for us – the Wilson's Warbler.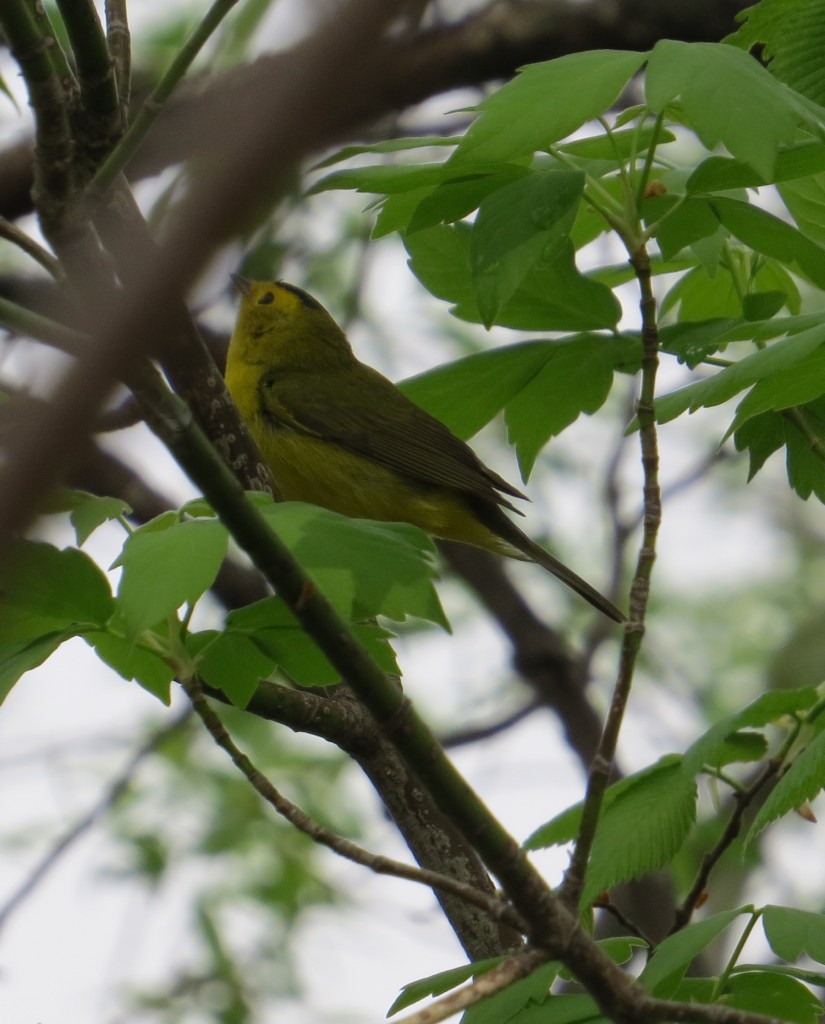 And then the Golden-winged Warbler.  Excuse the bad photo, but it's hard to photograph these small, ADD birds!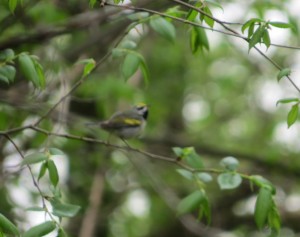 We found an Eastern Kingbird – another lifer.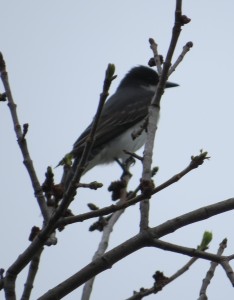 Then we found a Flycatcher that remains unidentified.  There are several Flycatchers, and the best way to tell them apart is by voice.  I guess we'll have to study our sounds before we can add them to the life list.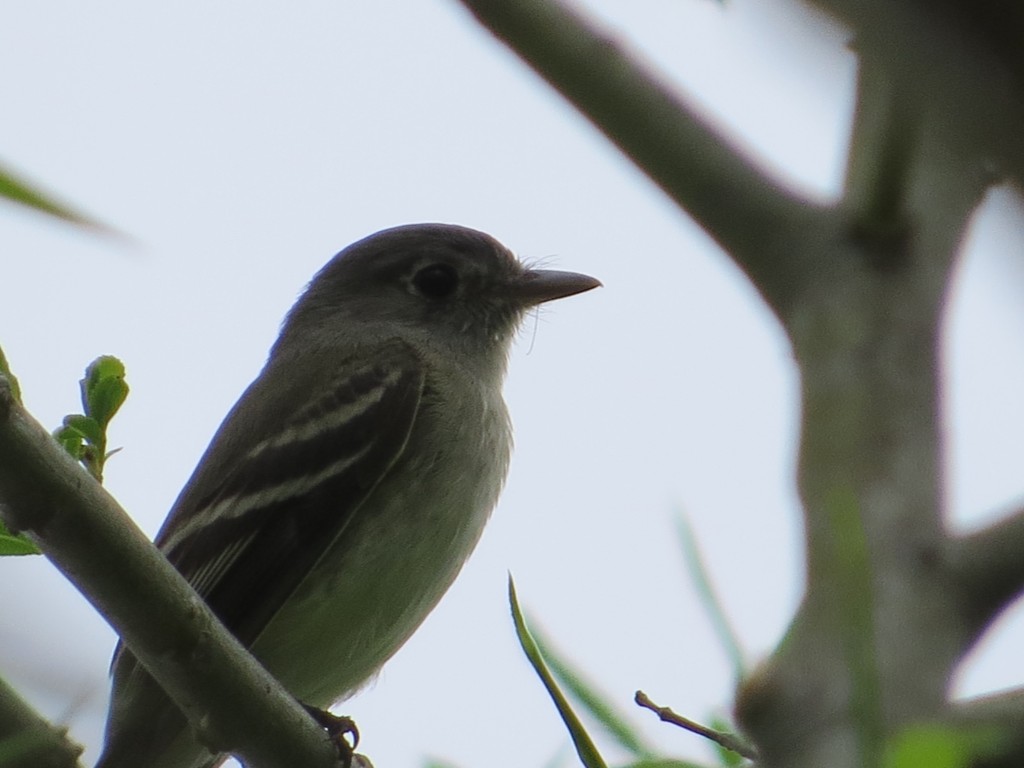 Steve picked up a life bird today that is one of my favorite birds of all time.  The Blackburnian Warbler.  I was later able to find one that was close, and we got some good looks at this male.  This wasn't a life bird for Evan and me, but we never tire of seeing them.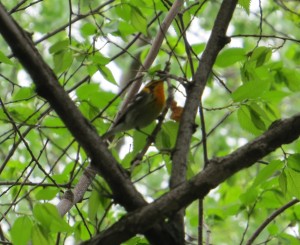 I also spotted but was not able to photograph the beautiful Northern Parula.  This sky-blue bird with a yellow underside was a lifer as well.  How I wish I could have photographed it.
Another non-lifer that we saw several times was the bird that hooked me into this sport – the Chestnut-sided Warbler.   His call is the "Pleased to, pleased to, pleased to meetchya!"  We were pleased to meet him again too.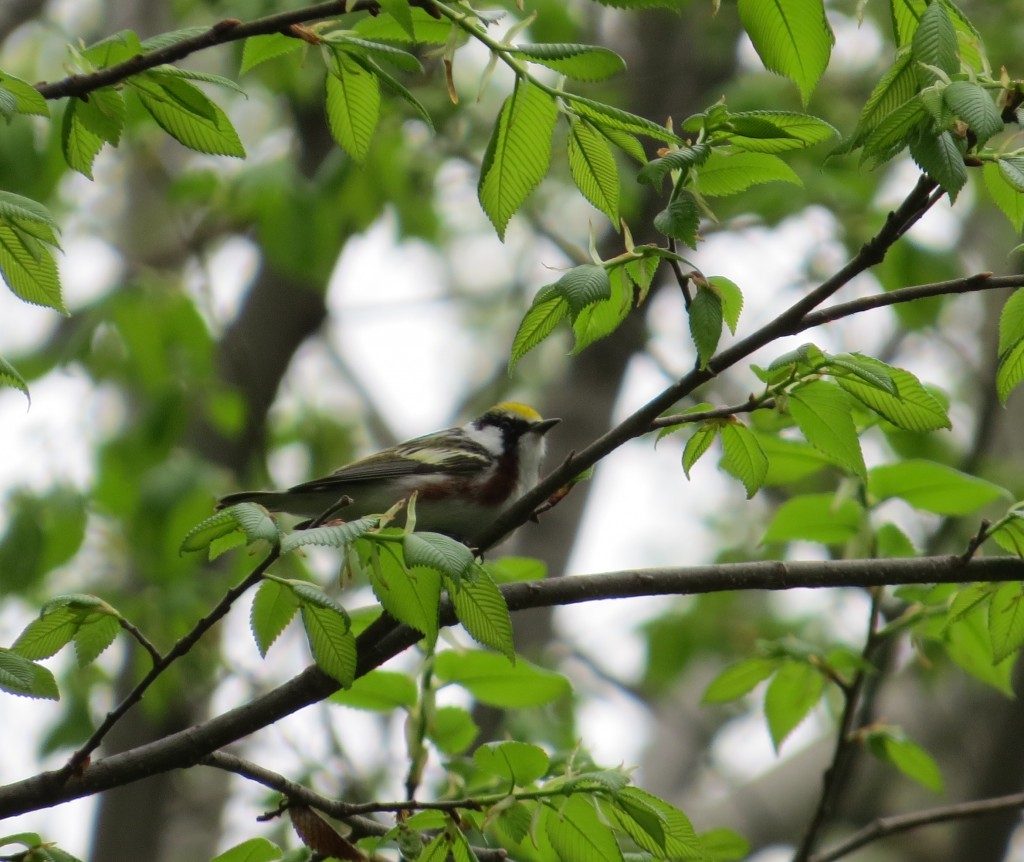 It was absolutely crazy how many birds there were.  Every direction, every level you looked, you'd find birds.  The diversity was mind-boggling.  If you've ever seen the movie, The Big Year, today was reminiscent of that scene where the birders go to Texas to experience the fallout of birds from a massive storm.
Here is another lifer we picked up – the Tennessee Warbler.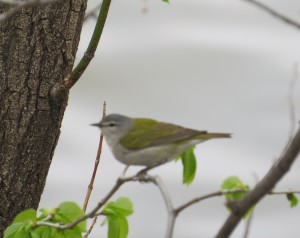 Here's an LBB lifer that we got – the House Wren.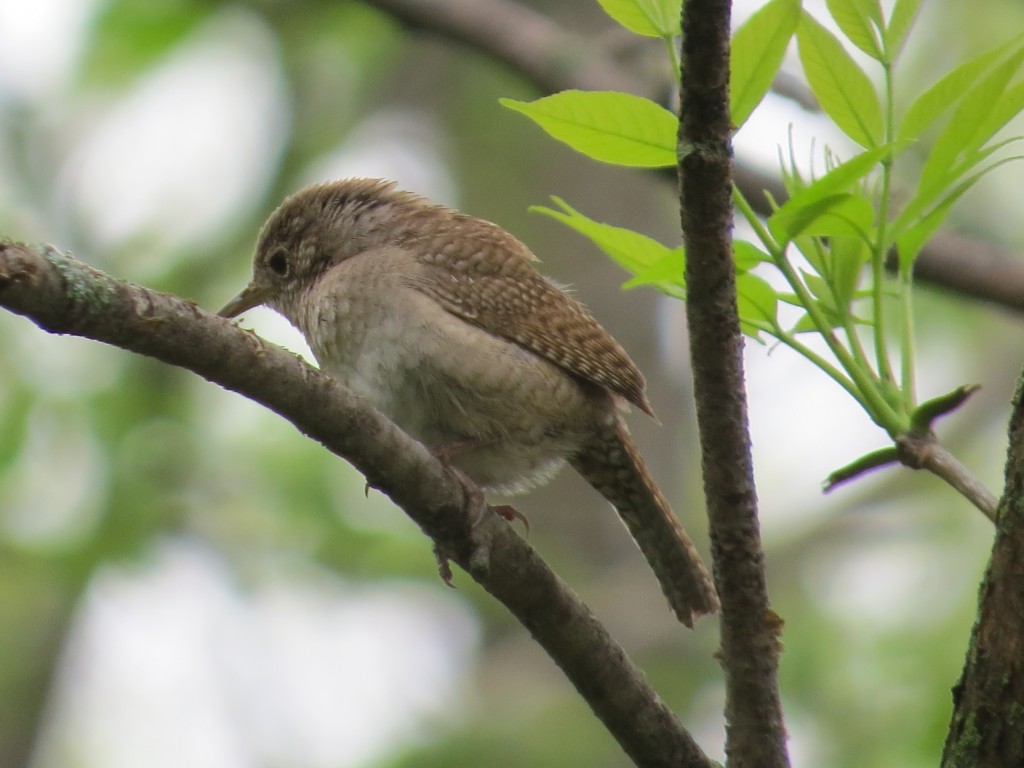 After spending two hours at Bergquist, the kids had to go to the bathroom.  Evan – no problem.  Marin – problem. We're potty-training her, so she has difficulty to begin with. Combine that with trying to have a little girl go in the woods, and you have major problems!  Pee filled her water boots, soaked her pants, and sprayed all over my hand. Birding was over.  We hustled home.
We changed clothes, had a bite to eat, and decided to head back to the patch for trip #3.  There was so much going on there that we couldn't stop.  Earlier when I asked my little birders who wanted to go back, both shouted, "Meeeeeee!"  Look at them making lists already.  I taught Evan the short code for bird names.  He learned quickly and was marking down everything.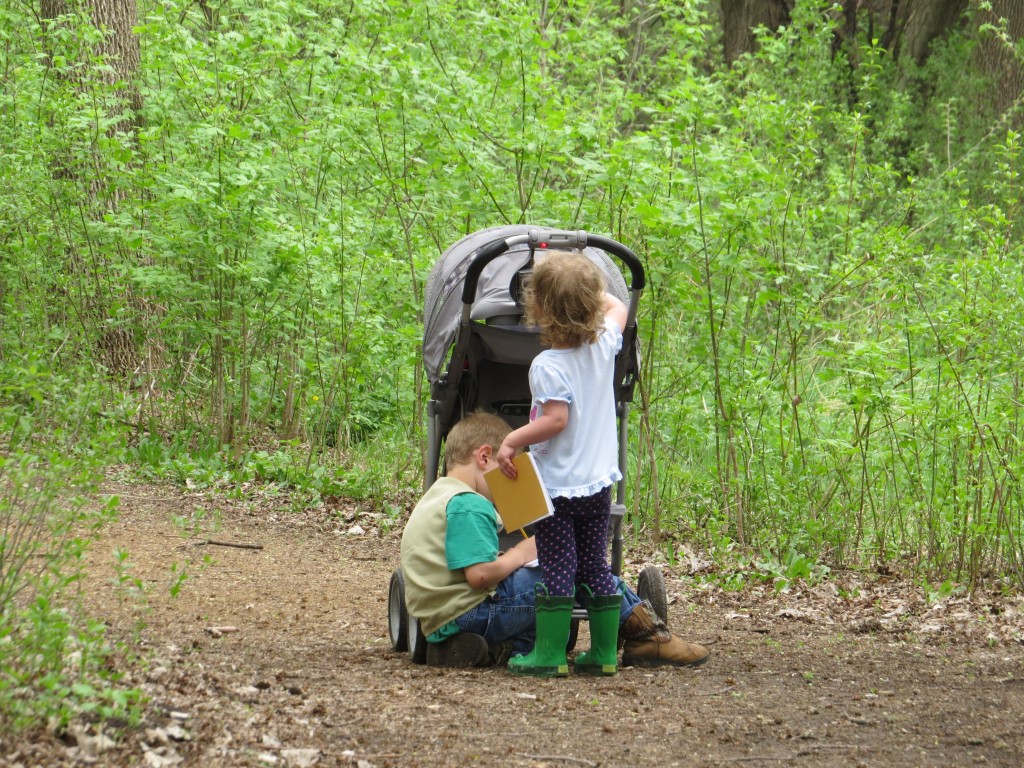 On this third trip we encountered our lifer from Thursday – the Northern Waterthrush.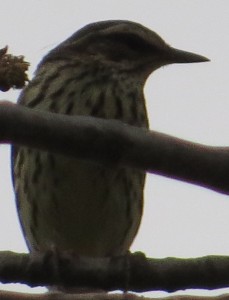 We also got a chance to photograph another lifer from Thursday – the Broad-winged Hawk.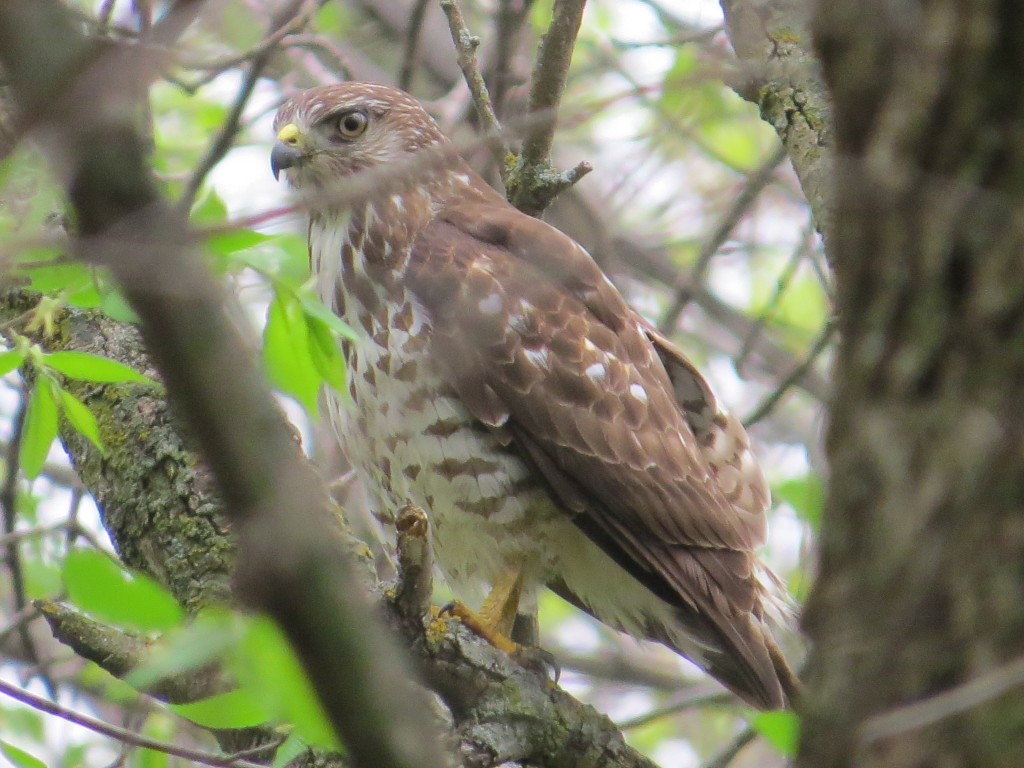 During this outing, Melissa finished up her girls' outing and stopped by to pick up Marin. Now it was time to do some serious birding.  Here's my buddy investigating birds? Nope, turtles again.  See the notebook and pencil, though?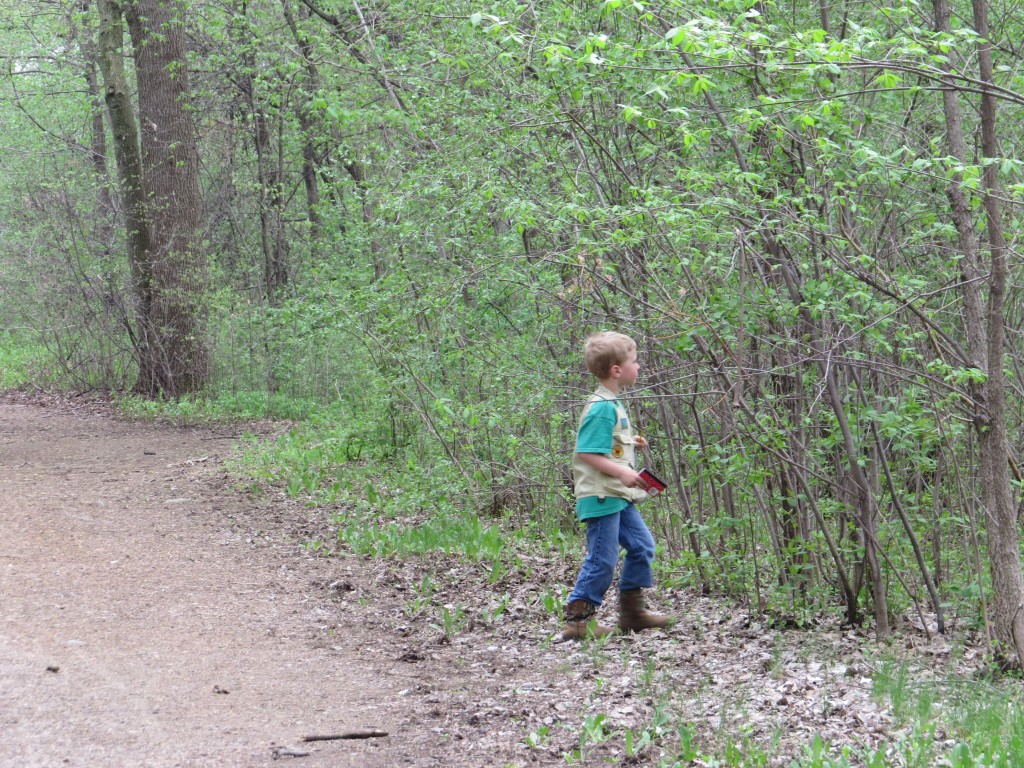 We didn't see much more after Marin left.  We found another lifer – the Eastern Wood-Pewee.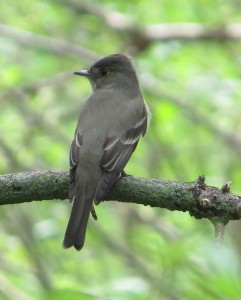 After this bird, we decided to head home.  Then I remembered a tip from one of our readers and decided to check out the fairgrounds.  Wow, were there birds there too! I was able to photograph a lifer for Evan – the Common Yellowthroat.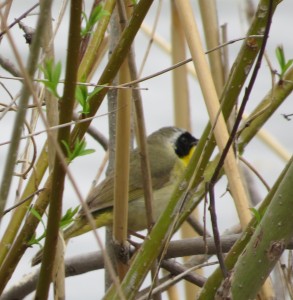 We picked up more life birds here that I wasn't able to photograph – my camera battery died after nearly 8 hours of work today!  Those lifers included the Canada Warbler, Nashville Warbler, Yellow-throated Vireo, and Palm Warbler.  We also saw the non-lifer Mourning Warbler.
It was an epic day.  How do you top something like that?  Well, you come home to find the male Scarlet Tanager in your own yard!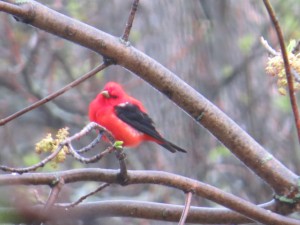 It was also fun to see both the front yard and back yard feeders loaded with American Goldfinches.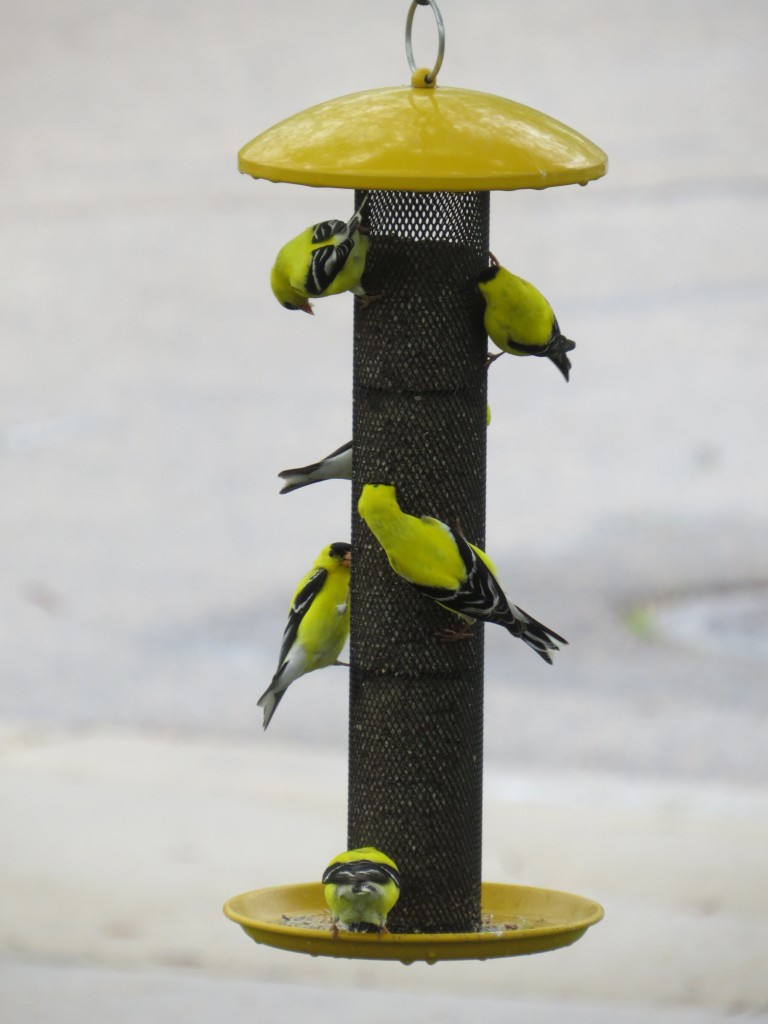 This was an incredible, exhausting birding day. Here is the re-cap of lifers.  I'm doing this mostly for myself to help me count them:
Gray Catbird (Evan)
American Redstart
Scarlet Tanager
Bay-breasted Warbler
Blackpoll Warbler
Magnolia Warbler
Northern Parula
House Wren
Golden-winged Warbler
Wilson's Warbler
Eastern Kingbird
Common Yellowthroat (Evan)
Northern Waterthrush (Thursday and today)
Broad-winged Hawk (Thursday and today)
Eastern Wood Pewee
Tennessee Warbler
Nashville Warbler
Canada Warbler
Yellow-throated Vireo
Palm Warbler
Evan added 18 life birds today (2 of the 20 above were on Thursday).  I added 16 just today.  We saw a total of 20 warblers today (not mentioned were the Yellow, Ovenbird, Orange-crowned, and Black-and-White).  Amazingly we did not see a Yellow-rumped Warbler, and we missed on the Blue-winged and Black-throated Green which were present last night.
What a day.  I don't know if we'll ever have another life bird day like this again.  This was absolutely incredible.