Our daycare provider decided to take a week-long vacation, so that meant we called for reinforcements – Grandma and Grandpa.  The kids have been anxiously awaiting their arrival for days.  In fact, we knew about when they would pull in the driveway tonight, so Evan and Marin watched out the window for a good ten minutes.  As the familiar van rolled down our street, there were two sets of legs jumping up and down on my couch.
My parents came just as we were trying to sit down to eat.  After we finally got the kids back to the table and settled down, we finished supper and let the kids excitedly show and tell their grandparents about anything and everything that's been happening in their lives. Grandpa had a surprise for Evan – a huge bird book from his college days that has beautifully and correctly painted images of all the birds.  It was pretty cool.
Then it dawned on me – we still had over an hour until dark and Evan's bedtime.  I asked Evan and Dad if they wanted to go out for a little drive.  It didn't take much to convince them.  Within minutes we were on a gravel road just seeing what we could see.  We saw a lot of regulars, but one bird held our attention for quite awhile.  We came across this Pied-billed Grebe working so hard to eat this enormous Leopard Frog.  It was quite a scene!  We never did see if it got it down.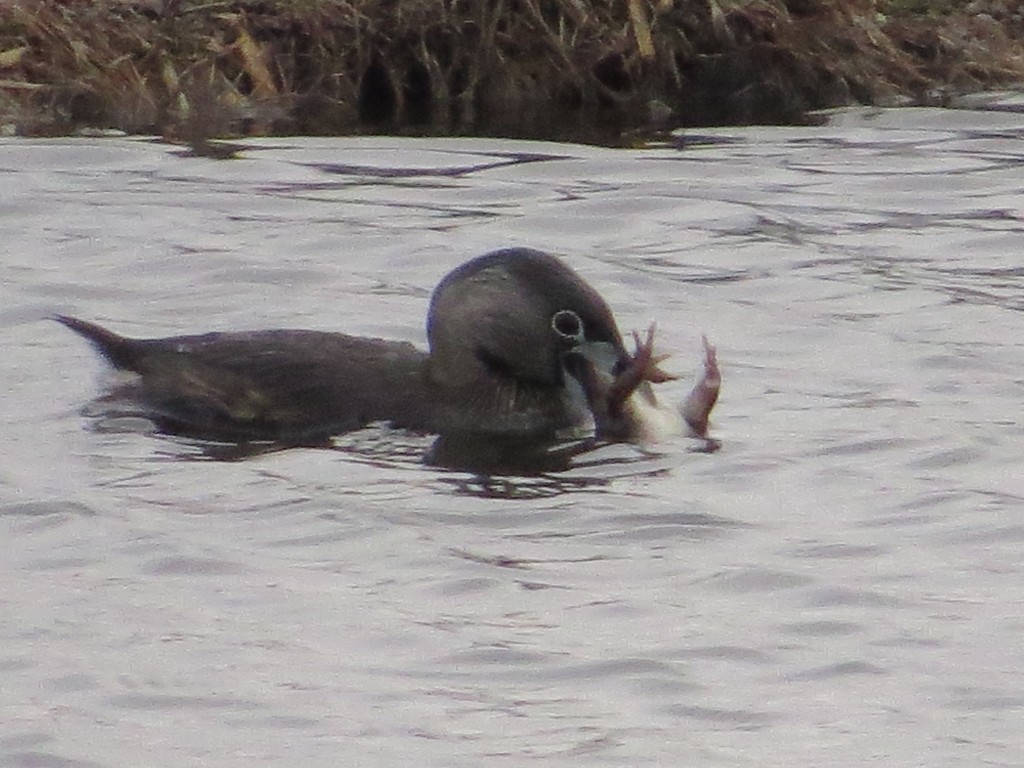 As we traveled out toward our familiar field lake, which dried up about a week ago, we stopped to look at a little puddle in a field because there was a pair of mallards on it.  Then we saw that there was a shore bird.  Evan and I are new to the whole shorebird branch of birds, so we have no idea what we are looking at most of the time.  However, I did recognize this to be a Yellowlegs, but there are two Yellowlegs – the Lesser and Greater.  Basically the only difference between them is about 4 inches in size.  It's easy to tell the difference when they are next to each other.  When they are isolated, it is almost impossible to tell size.  We were able to determine from the photos that this bird had a slight upward turn in the bill – a field mark of a Greater Yellowlegs.  This was good news.  The Greater Yellowlegs was a life bird that I got by myself when I photographed waterfowl the other day.  Evan was  crushed when I got a new one that he didn't.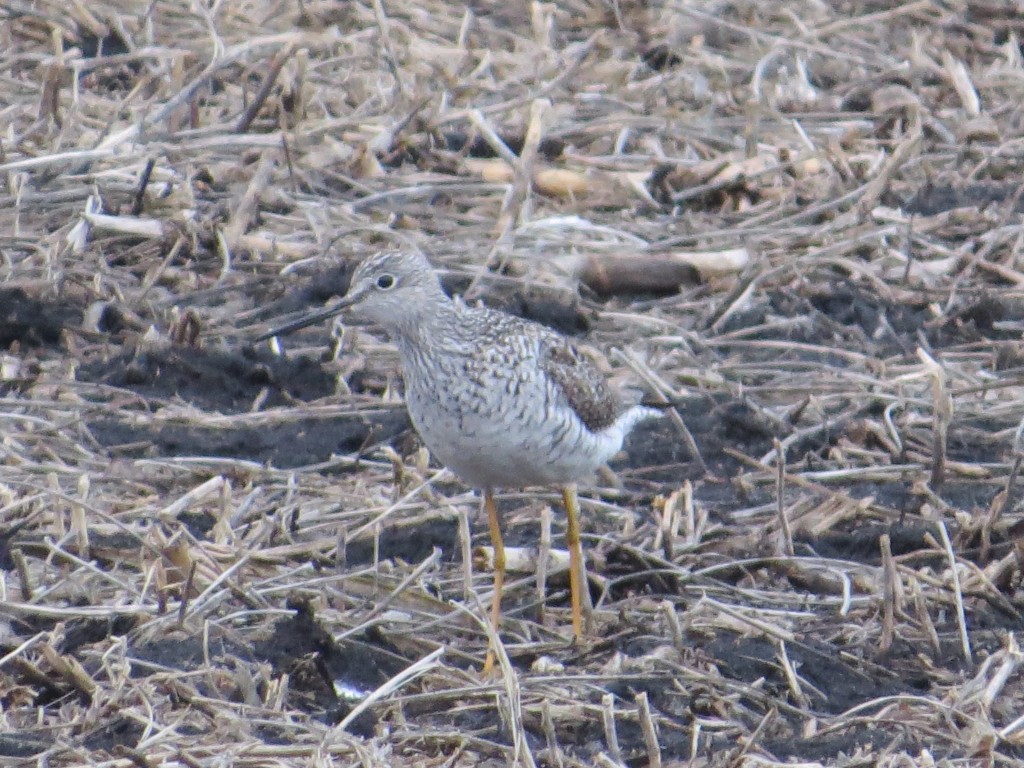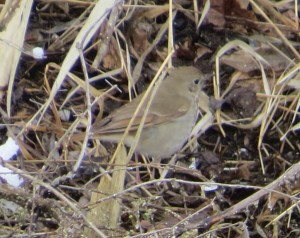 The other life bird I got the other day was the Hermit Thrush.  Yesterday Evan went with me to scout my turkey hunting spot, and he picked up the Hermit Thrush (several times) as we walked around.  Whew!  He was all caught up to me.  Another bonus of yesterday's outing was that he got to see the American Woodcock and add it to his life list.  I already had that one, so now the difference between our life numbers continues to shrink.  I wouldn't have it any other way.