Like volunteer firemen, sometimes we birders never know when the next call will come.  I was in the midst of frying bacon tonight for our BLTs when I saw I had a missed call from Steve and two text messages from him: "Grebes on Foot Lake." "Greater Scaup as well."  Greater Scaup!  We still needed some species of grebes, but it was the Greater Scaup that really got me excited.  It is one of our last ducks to add to our life lists.  Apparently they are not easy to get, and it can be tough to make a positive ID when they are around because of the look-alike, but smaller Lesser Scaup. After I texted him back asking for more information, Steve called me.  It turns out his information was second-hand from a well-respected birder in our county, Ron Erpelding.  If Ron said there were Greater Scaup, then there were Greater Scaup.  (I ran into Ron a couple weeks back at the lake, and he kindly introduced himself and pointed out the American Wigeon I photographed.)  Steve said Ron saw both Horned and Eared Grebes – two birds that needed to get checked off our life lists as well.  If the Greater Scaup and two more life birds weren't enough to get us moving quicker, Steve added that he had never seen the Eared Grebe before.  He was on his way to check it out.  I told Evan everything I had just learned, to which he replied with a rising voice, "Are we going?!"
As badly as I wanted to take off, I couldn't abandon the bacon.  That's just wrong.  Actually I wanted to make sure we ate together before we flew out of the house.  So I finished up my frying duties, we assembled our sandwiches, we wolfed them down, and then we scrambled for the exit.  I gave Steve a call en route – he found all three species.  Excellent.  The weather was rapidly deteriorating on our way to the lake as the next April blizzard approaches.  Yes, I did just combine the words "next" "April" and "blizzard" in the same sentence.  Hopefully we would be able to make some positive IDs in this fat rain/snow.
We got to Foot Lake and saw that the hole in the ice had grown a lot.  I guess it had been awhile since we were last there.  The front ice was loaded with birds.  It was mostly American Coots and Redheads.  If I weren't trying to find the three new life birds, I would have spent more time photographing these Redheads.  They were gorgeous.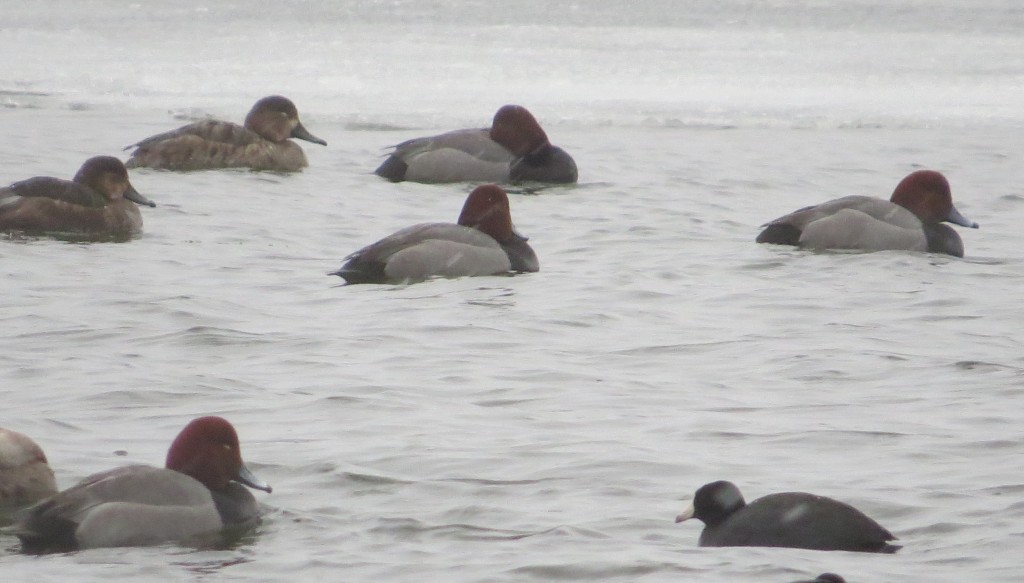 I finally located a large raft of duck-like birds in the center of the water.  The combination of falling snow/rain and the distance made for a difficult time identifying or photographing.  Not only that, but these birds had their heads down sleeping.  I knew they were not any of our duck species and that they had to be the grebes we were after.  As I said before, I'm not up on my grebe knowledge, so I took a bunch of pictures to bring back and examine on the computer.  Using a camera for identification has been nice.  Evan loves to look at the images on the big screen with me and discuss the field marks and offer his opinions. We believe this first image shows the Horned Grebe.

Then on the very right side of this next picture, we think we caught proof of the Eared Grebe.

After taking a couple warm-up breaks in the car and rechecking all the birds on the water, I finally found the small group of Scaup.  I did my best to wait to take a picture until these ducks were next to other species of known size like the Canvasback and the Redheads.    Based on the size comparison, the brighter white, and Ron and Steve's reports, we are convinced that we found the Greater Scaup!  It was now a three-life bird night! There are two Greater Scaup males in the center of the back row of ducks – look for the black, white, and gray ducks.

I never thought we'd be going after waterfowl tonight. Birding is full of spontaneity and surprises.  I can't wait for the next "Go time." Thanks for the tip, Steve!