We woke up this morning to find that each of our schools were closed for the day because of this strange massive April blizzard.  It was a western Minnesota white-out.  Even though we could hardly see our bird feeders because of the falling snow and the snow-plastered to the windows, Evan and I had our noses pressed to the glass trying to sort through all the birds that came for a handout.  At just six feet, we were working with silhouettes and behavior only.  But we know our usual suspects and a couple did not match…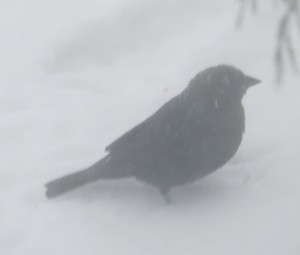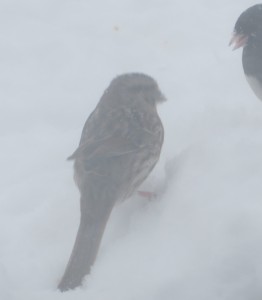 We did recognize this visitor from yesterday.  No, that's not all snow on his head.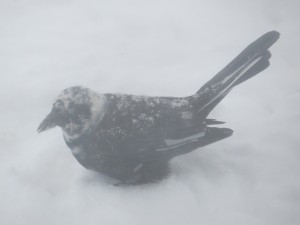 We had a good idea of what our two mystery birds were.  Thankfully the snow stopped and we got a good look.  Mystery Bird #1 was a lifer and a new bird for the yard list – the Brown-headed Cowbird!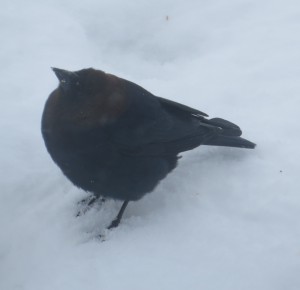 This is not a good photo, but it shows off the contrasting brown head a little better.  He wasn't around very much, so I did not get many opportunities to photograph it.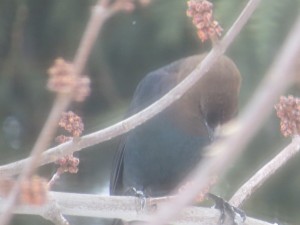 Mystery Bird #2 was also a lifer and a new bird for the yard list – the handsome Song Sparrow.  I think I actually saw this bird yesterday on my way home from work, but I wasn't sure.  It was nice to make a definite ID today and claim it for the life list with Evan.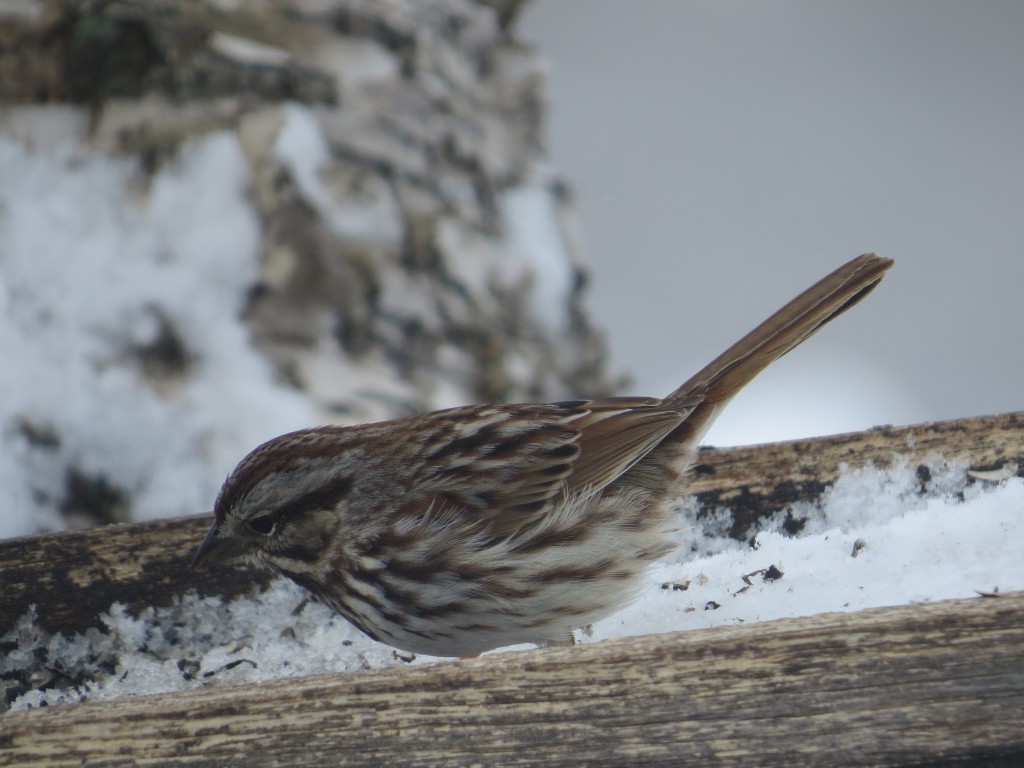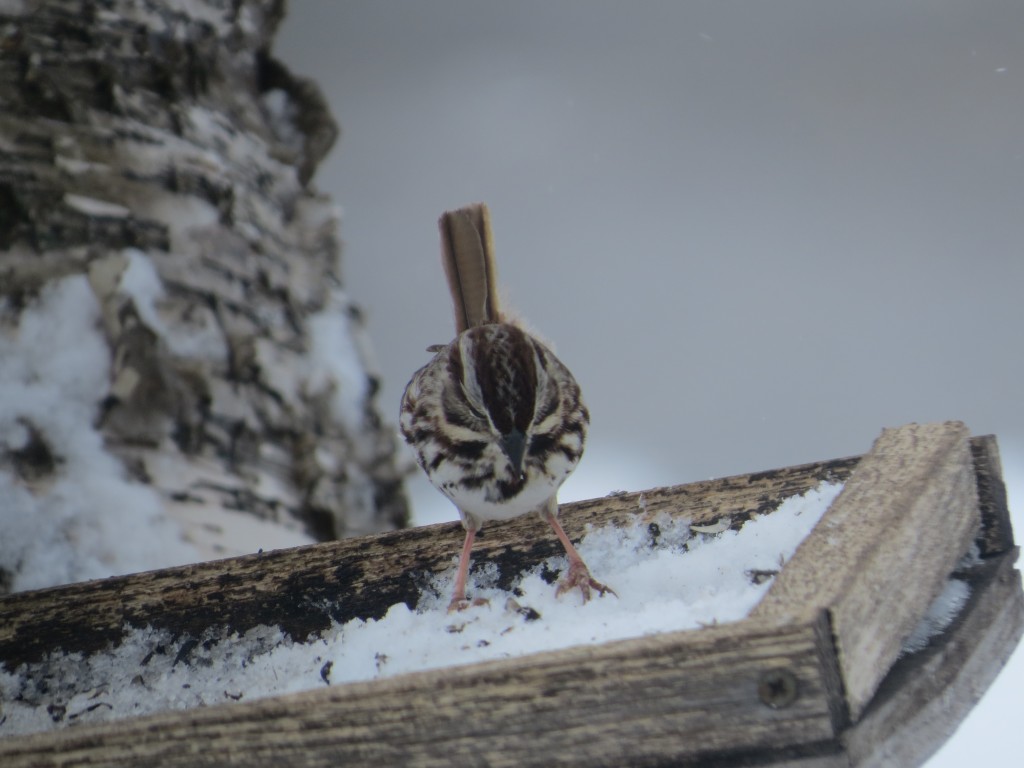 As I got into birding less than a year ago, I wrote off sparrows.  There were too many. They all looked alike.  LBBs (little brown birds).  Now I find them intriguing.  There really are some cool looking sparrows, like this Song Sparrow and the Fox Sparrow.  After watching the yard birds, it is almost a game or a challenge to find one that is different.  It's like trying to find Waldo.  Below is the Song Sparrow with the female House Sparrow.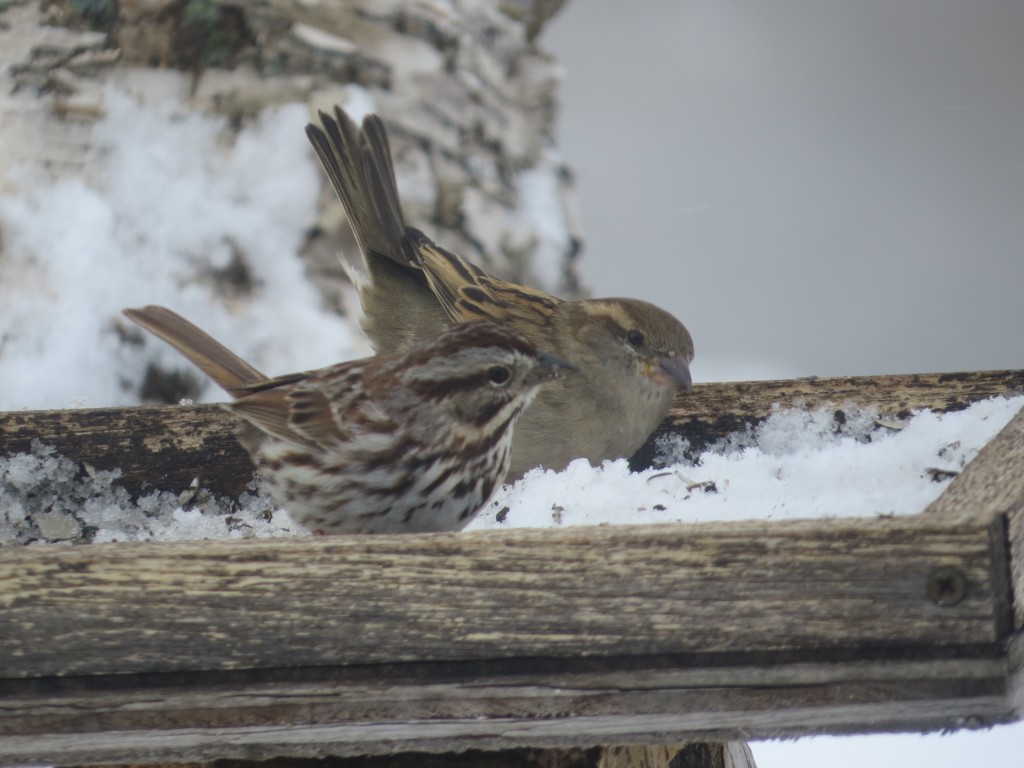 With the snow stopping for quite awhile, we got the driveway cleared out with some help.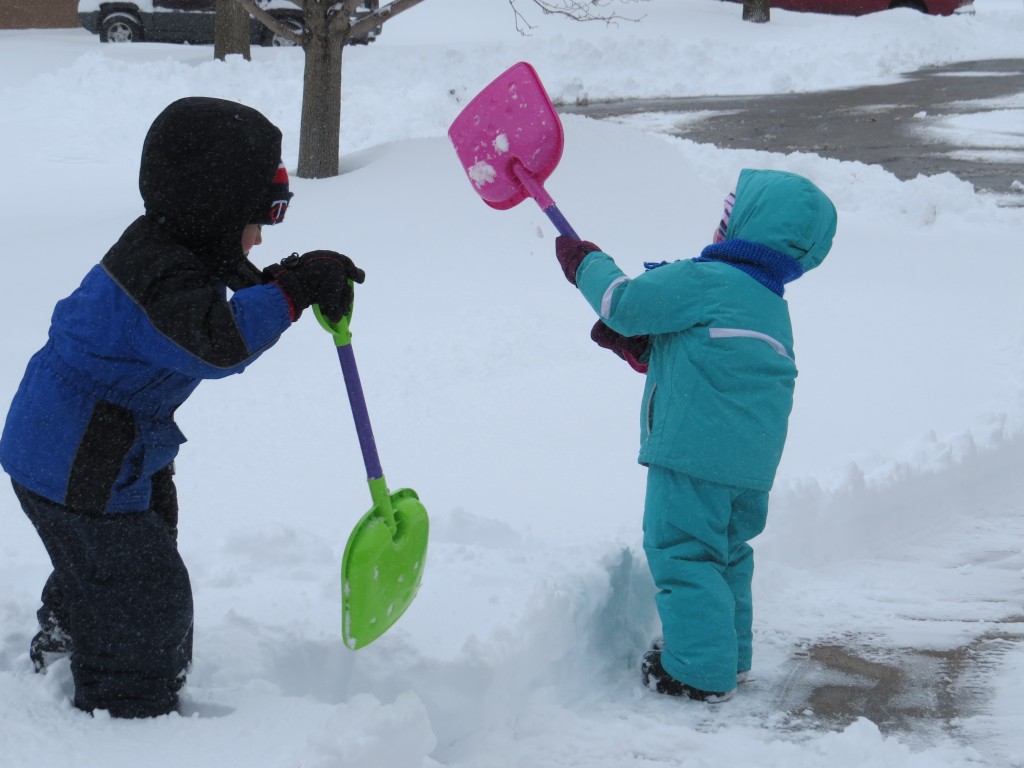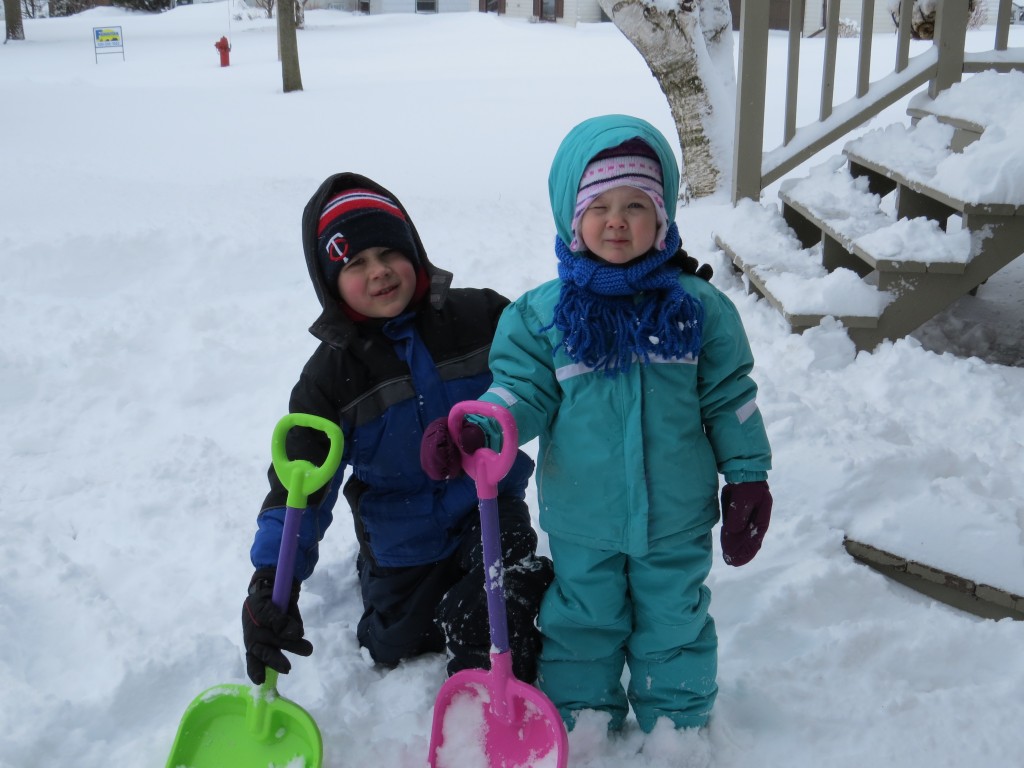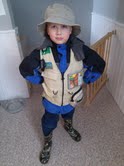 We did some inside work too, but eventually cabin-fever got to us, so it was time to go out birding.  Who knows what feathered treasures awaited us.  After all, migration is underway, and this was one heck of a storm.  Plus, dark-bodied birds would be easy to spot today.  Evan and I headed out to our usual patch to check on the waterfowl and see if there was anything interesting on the way.  We ran into many American Tree Sparrows, but they are so shy that we couldn't get a nice photo.  These birds should be on their way north by now.  While driving it was fun to see this belly shot of the Western Meadowlark.  I think we even heard part of its song today.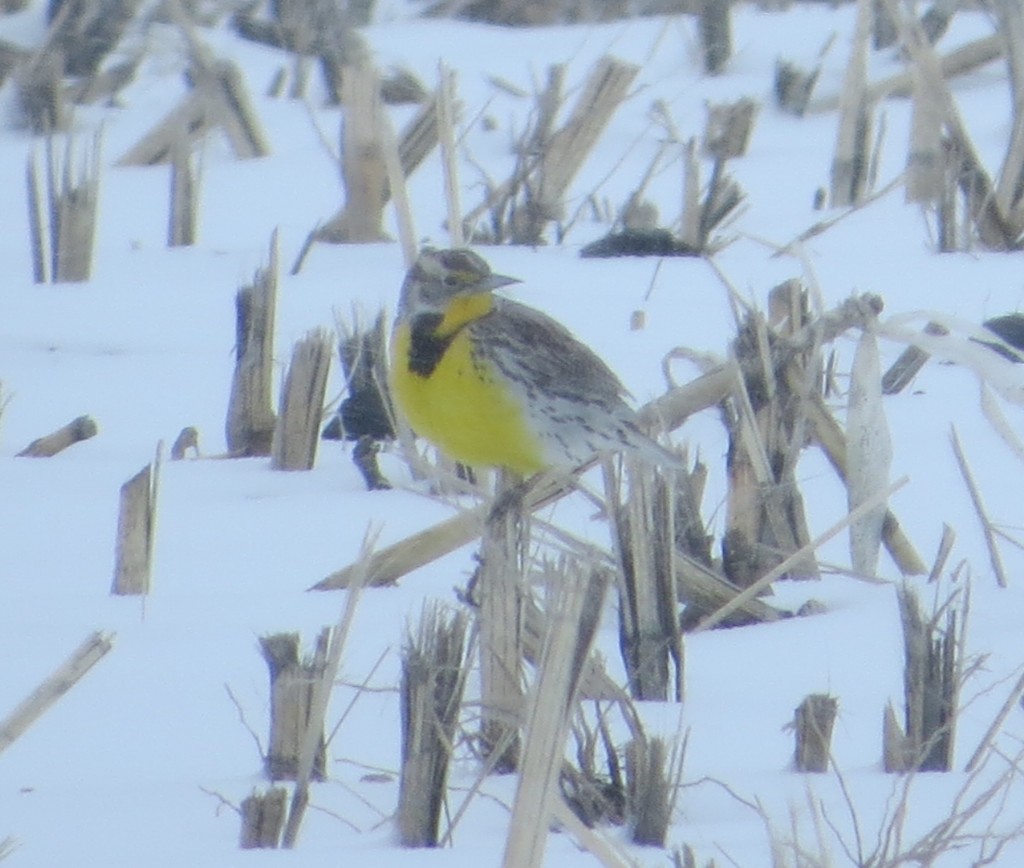 On our way home we checked out a huge flock of small darkish birds on a county road.  We were pleased to see they were Lapland Longspurs.  It was fun to find another flock of these just a couple weeks from our first sighting.  Again, these birds should be winging their way north.  It was cool to see nearly 200 of them and get a chance to photograph a nice male.  These birds are always on the go.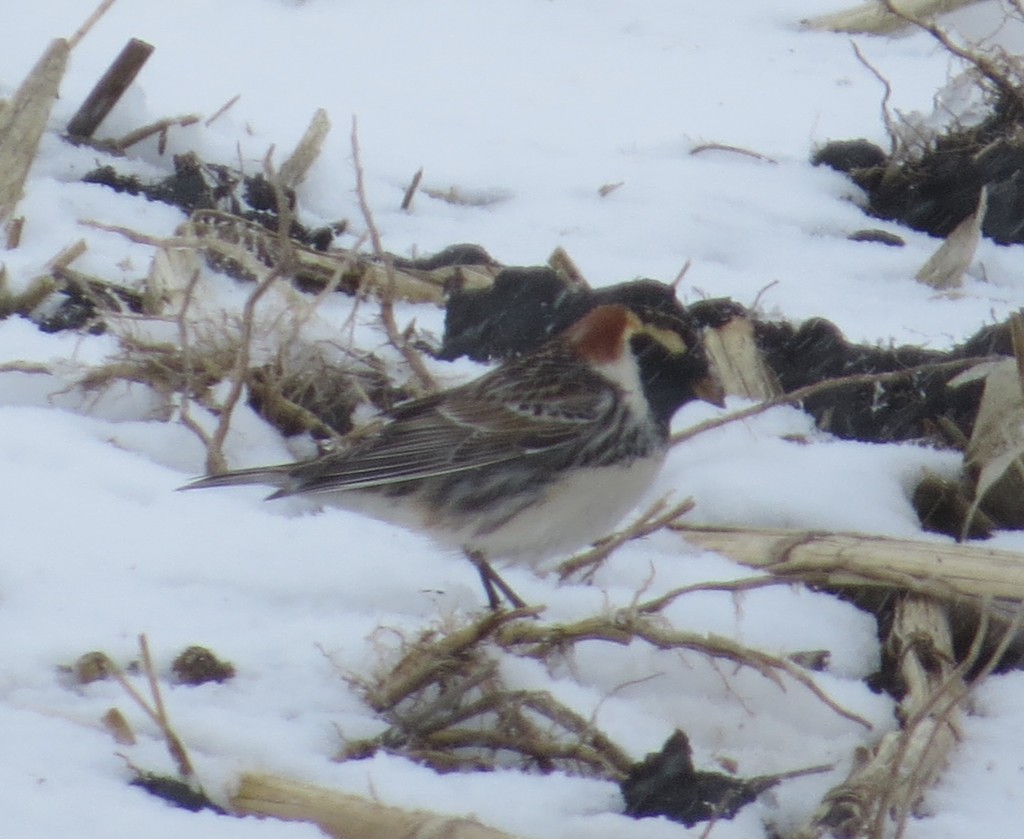 When we pulled off the road to observe/photograph these birds, we were shocked to see a pair of Northern Shovelers scuttle out of the way of our vehicle.  We were nowhere near any water.  These spoonbills are handsome ducks up close.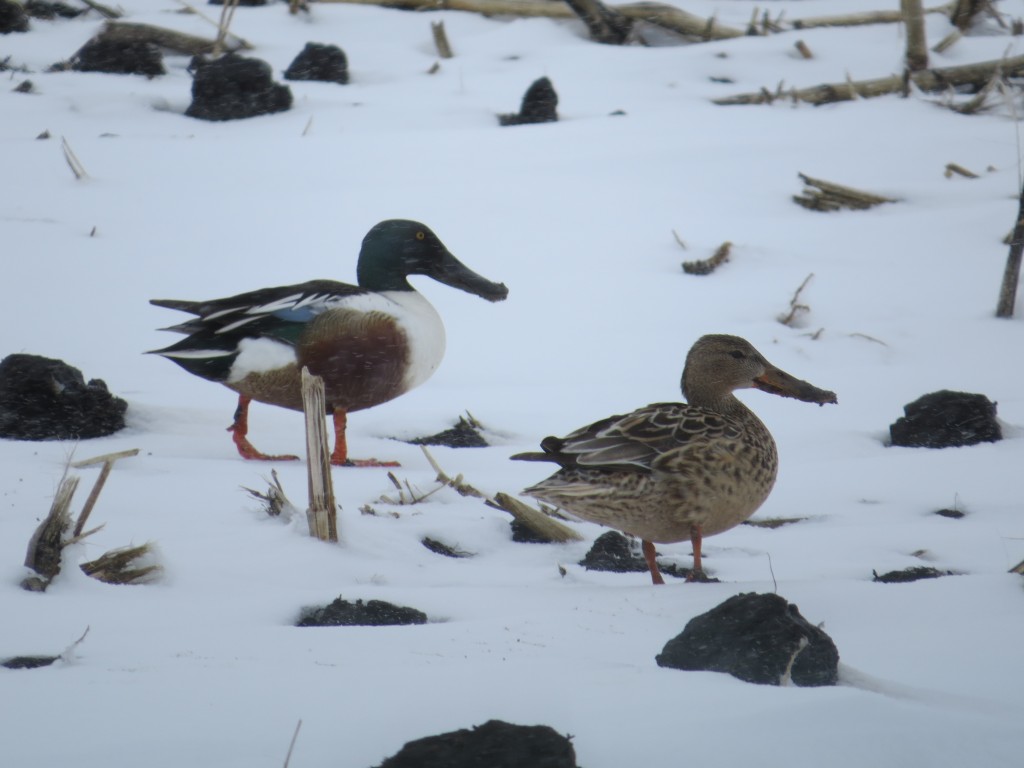 It was time to head home.  As we pulled into our neighborhood we got a photo-op in a neighbor's yard of the Northern Flicker (Yellow-Shafted).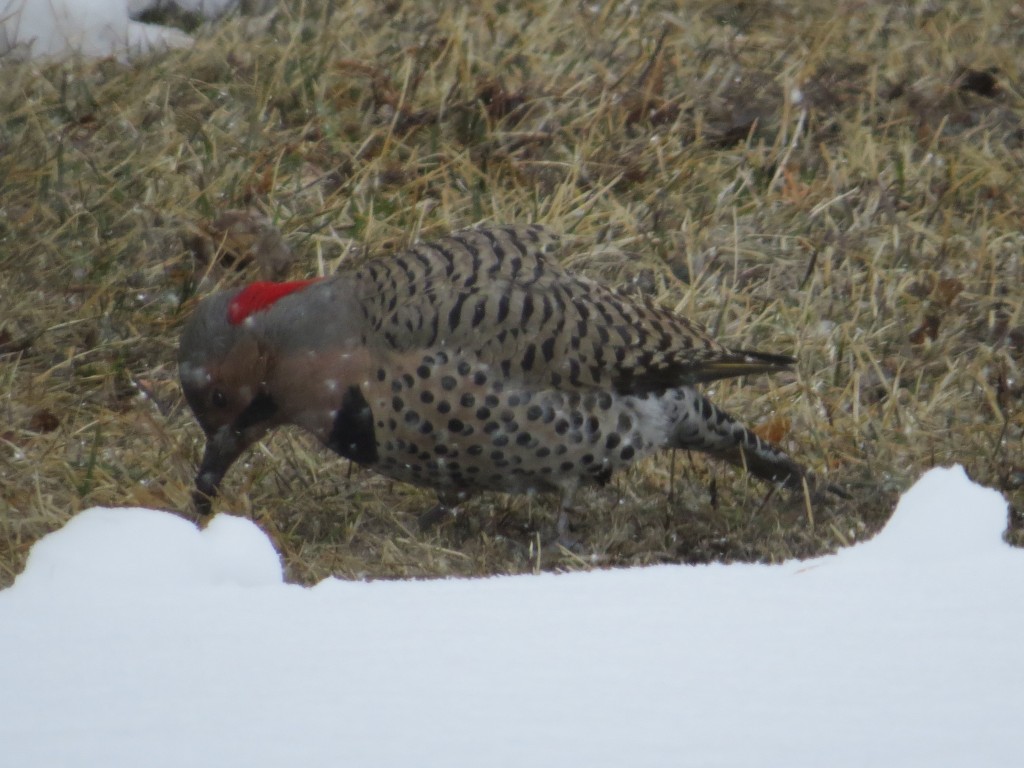 This little outing didn't produce any new lifers.  But, with the two yard lifers and seeing lots of other cool birds, we couldn't complain.  I think we would have been pretty depressed with this weather if we weren't birders.  Who am I kidding, it's still depressing weather but the birds and good family time took the edge off.