We got confirmation on our gull.  It was, in fact, the Franklin's Gull.  This gull is a lifebird for  both of us, and it may be my turning point for taking an interest in seagulls.  It was a very cool find yesterday.
Evan is approaching the century mark on his life list tally.  It could happen any day.  This afternoon he and I went out birding while Marin napped and Melissa hid Easter eggs and prepared our Easter dinner.  As we drove along, Evan suddenly remembered that when he was at his friend Soren's house yesterday, he found the Cedar Waxwing –  a life bird for him.  I have learned to trust Evan's abilities as he is super observant about habitats, bird behavior, and bird identification marks.  However, I still have some doubts, so I quizzed him.  He told me the bird was in a berry tree (makes sense for the waxwing) and was with some American Robbins (that, too, makes sense).  I asked him if it could have been the female Northern Cardinal to which he replied, "No, Dad, I saw the yellow tip on its tail.  I was right under it!"  That detail clinched it.  Why do I doubt him?
There wasn't much for ducks today.  I imagine with the increase in field "lakes" from the melting snow that our little hole on Foot Lake isn't the only happening place anymore.  The few ducks around were taking their afternoon naps on this sunny, but cold day.  Like yesterday's lifer, the Bufflehead: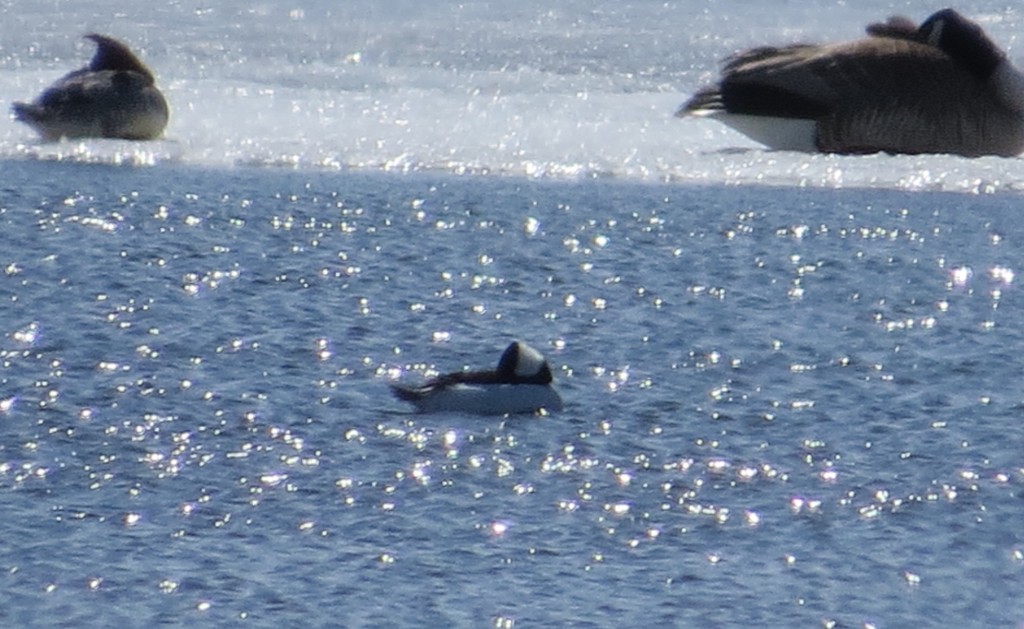 We drove along and encountered a Killdeer hunting for worms.  Killdeer are a sure sign of spring.  Look how it listens for its prey.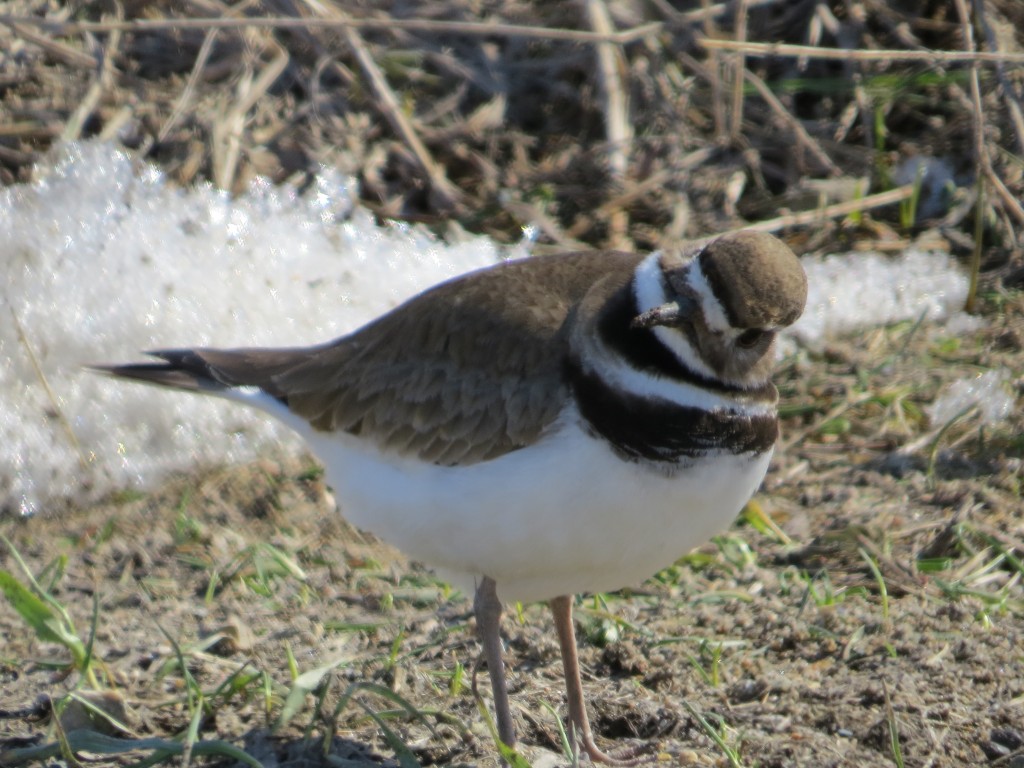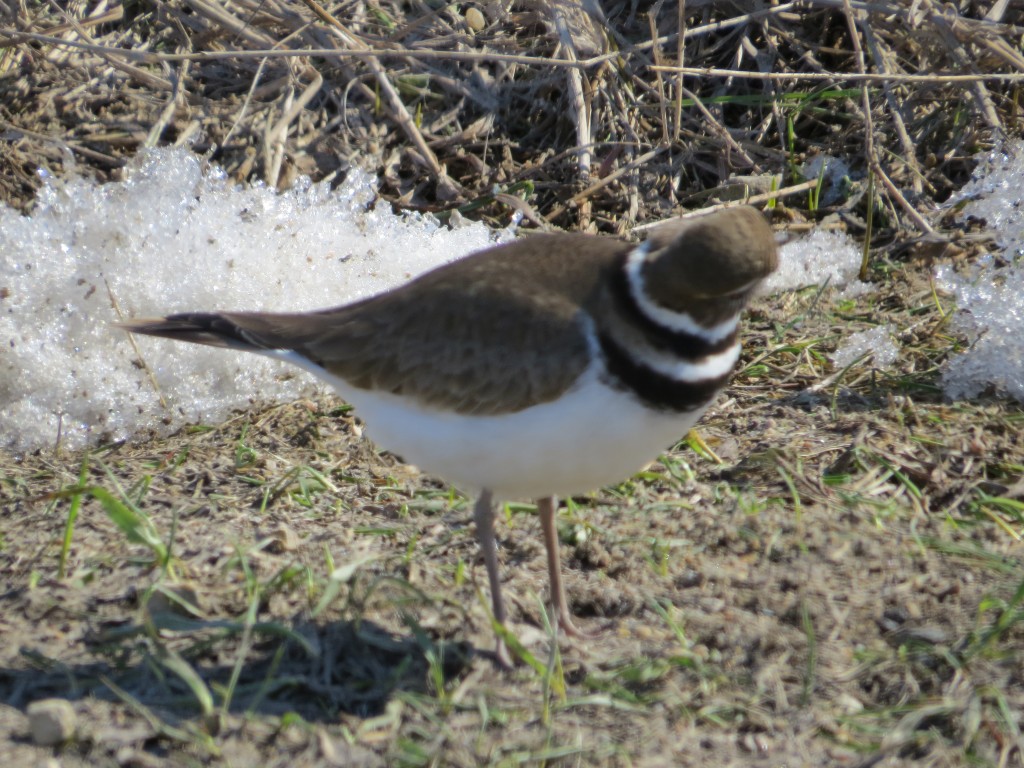 Its hard work paid off!  I was pretty excited to see a nightcrawler today.  That has to mean to mean winter is finally over.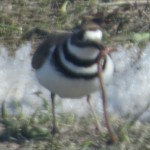 We were headed home when we spied not one, but two American Kestrels hunting from a wire on the opposing side of traffic of the four-lane we were on.  So we did some driving around and found ourselves on that side of the road to get a better look.  Evan claims this is a life bird even though I know I've pointed it out to him last summer.  I've been seeing one during my commute to work, and he has wanted to see it badly, so this was a good find today.  It was so much fun to watch this bird hunt.  It would dive down to about 10 feet above the ground and hover like a helicopter for about 10 seconds on rapidly beating wings before pouncing on the ground!  We never saw it come up with anything, but it was pretty cool to see a bird hover like that.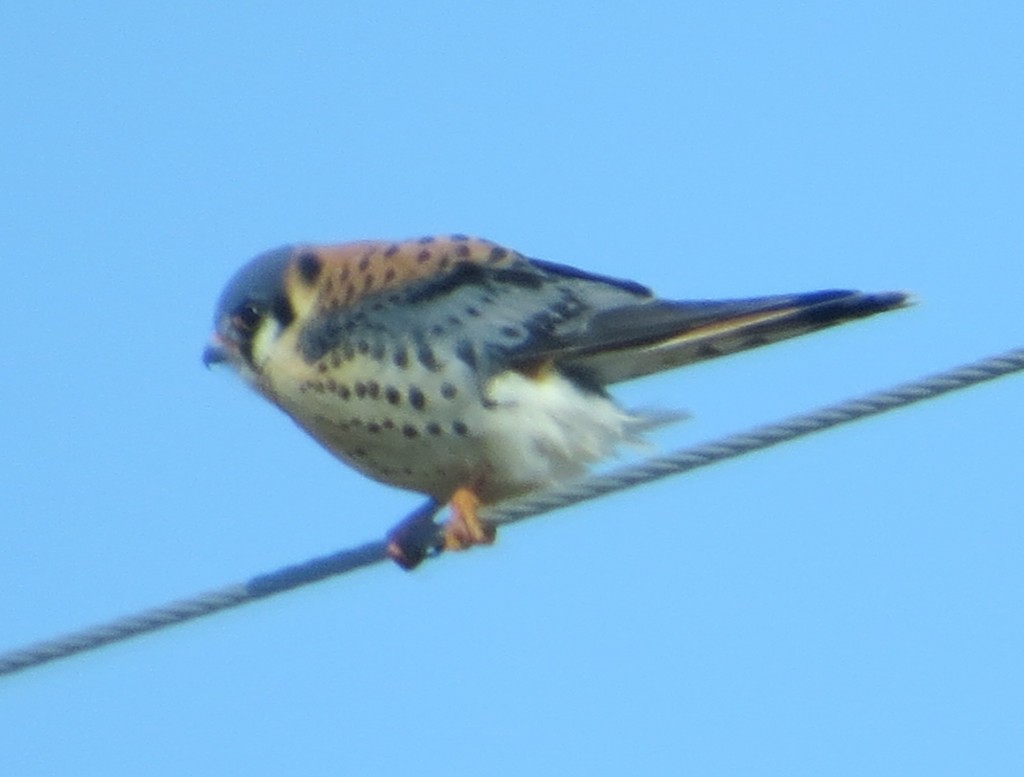 What will Evan's 100th bird be?  Hopefully it's something really cool.  I would bet it will happen by next weekend.