I had trouble falling asleep the last night – the mixture of excitement and 21st century birding kept me up until midnight.  I had some work to get done before I hit the pillow.  I needed to put probability on our side, so I emailed Steve Wilson with my phone number asking him to alert me to any sightings of the Great Gray Owl in the Tower/Ely area.  I only had until 2:00 to search because I was under strict orders to get Evan back by bed time, so it was critical that I get real-time information.   I also had to follow up on the Boreal Owl posting that said a Boreal Owl had been in someone's yard all day in Cook.  After I saw that post, I fired off a quick email the day before asking for the location or the phone number of the property owner.  I monitored my phone periodically along the trip and never saw a response.  I was getting frustrated.  Were they unwilling to share?  Why then would they post on MOU?  When I checked my phone before I went to bed I was relieved to see that an email came in from the author of the post.  She wrote that the property owner would call me the next day if it was still there.  Whew.  Okay, time for bed.
I woke up the next morning at the time I usually wake for work and took care of my dogs.  My dad was busy cooking us breakfast in the kitchen.  It was a relaxing morning.  I didn't have to struggle with Marin to get just the right outfit on and out the door; I didn't have to shower or shave – I was in the northwoods, hunting for an owl.  I was letting Evan sleep until the very last minute.  He's never been a breakfast eater, and he desperately needed all the sleep he could get.  After a quiet breakfast and cup of coffee with my dad, I went to get Evan.  I nudged his shoulder and whispered, "Evan, it's time to go."  His eyes opened wide, and he quickly popped out of bed.  That never happens at home when it's time to get up for school.  It usually takes both Melissa and me going into his room multiple times, turning on lights and literally dragging him out of bed.  This was Game Day for us birders, and Evan knew it.  In a matter of minutes, his clothes, bird vest, and winter gear were on.  It was go time.
We pulled out of the driveway as it was barely getting light.  We wanted to make it to Tower by sun-up.  This time we were driving in my vehicle – the one that has good windshield wipers.  Even though it was a beautiful sunny day, we were taking no chances. Plus the heated seats really helped on this ultra-cold morning.
The plan was to head to Tower on MN Hwy. 1, and we decided that if the Boreal Owl call came in before the halfway point, we'd race back to Cook for that bird and then go back to Tower to hunt the Great Gray.  As we drove in the early light, no call came in.  We looked for birds but did not take the search seriously until we got within a couple miles of Hwy. 169 near the Pikes River Flowage, an area of previous sightings.  Nothing.  We pushed on to where Hwy. 1 and Hwy. 169 meet, the location of the Y-Store, a convenience store out in the country.  The Great Gray had been spotted around this store, so we drove slowly and scanned the woods for this enormous bird.  It was 5 miles from the Y-Store into Tower, and the Phantom of the North had been spotted in numerous locations on this route.  Still nothing as we crept toward Tower.  Every mile that went by increased a sickening feeling that we wouldn't get the bird.  That thought was tempered by the amount of time and unchecked locations still on our side.
Once we got into Tower, we went down the new Hwy. 135 that shot off 169, looking at the woods the whole time.  Not knowing the geography real well, the locations described in the MOU post did not make sense until we were actually there.  Once on 135, you could take an immediate left on old Hwy. 135 back into Tower.  With 169, these two sections of road formed a small triangular section of woods that had been the site of regular Great Gray sightings.  As we inched along the second side of this triangle and watched the woods, we were getting nothing.  I noticed a driveway into a private business called Powerain.  I had read that an owl had been seen here, so I turned left into the driveway to look at the woods around this business.  For some reason I looked left into eastern sky along the woods we had just come by before turning, and I saw the most enormous silhouette of a bird I'd ever seen pop against the open sky – the Ghost!  It was sitting on large aspen limb extending toward the road.  I couldn't believe it.  It was too fast, too easy to be true.  Excitedly but in a mellow voice I said, "Guys, we got him!"  It was an incredible feeling.  The agony of defeat from last weekend was erased.  I didn't know what to do first – take a picture with my phone or with my camera.  How long did I have?  My birding friend, Steve, from Willmar wanted updates.  Melissa was curious. Do I text them first?  I snapped a picture with my phone, got a couple with my camera and then positioned the vehicle back on 135 to shoot photos with the sun at our backs.  Here was our first sight.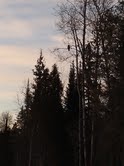 A quick photo was then taken with the real camera in case he flew away.  Note his white mustache.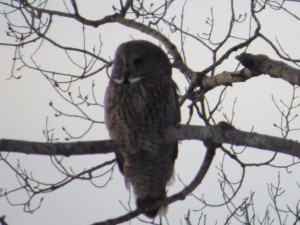 There was beautiful sunlight streaming in from the east, so I changed positions.  Warning: this is a bit of a photo bomb.  But, it's kind of a big deal.  This was a lifer of a lifetime.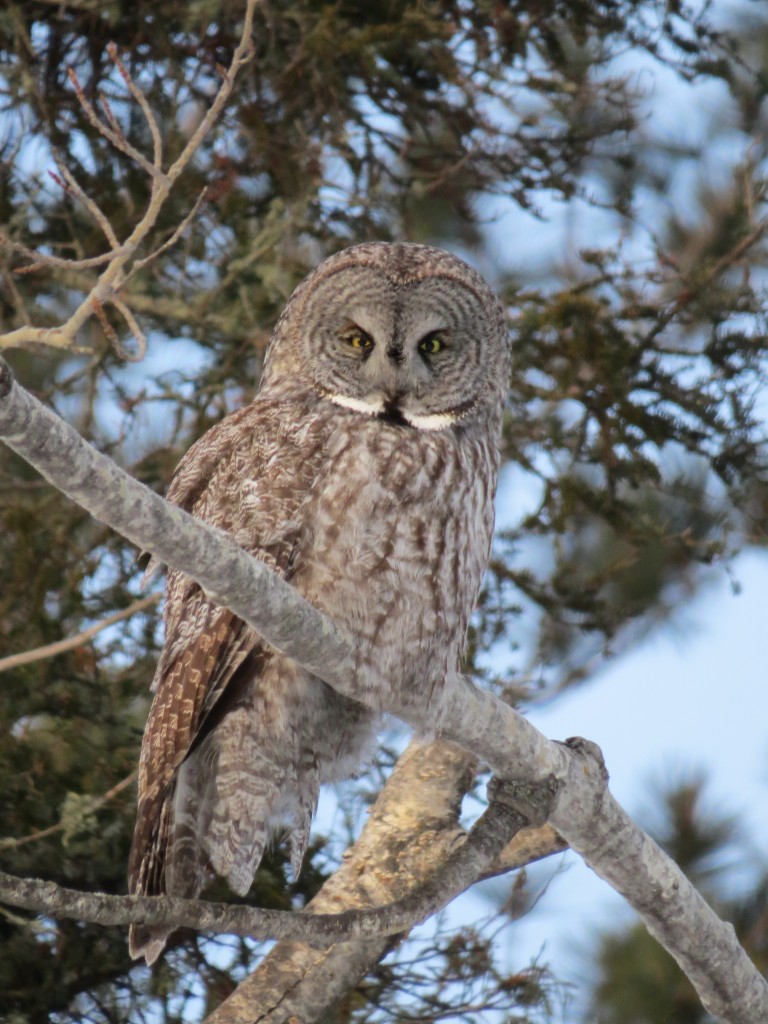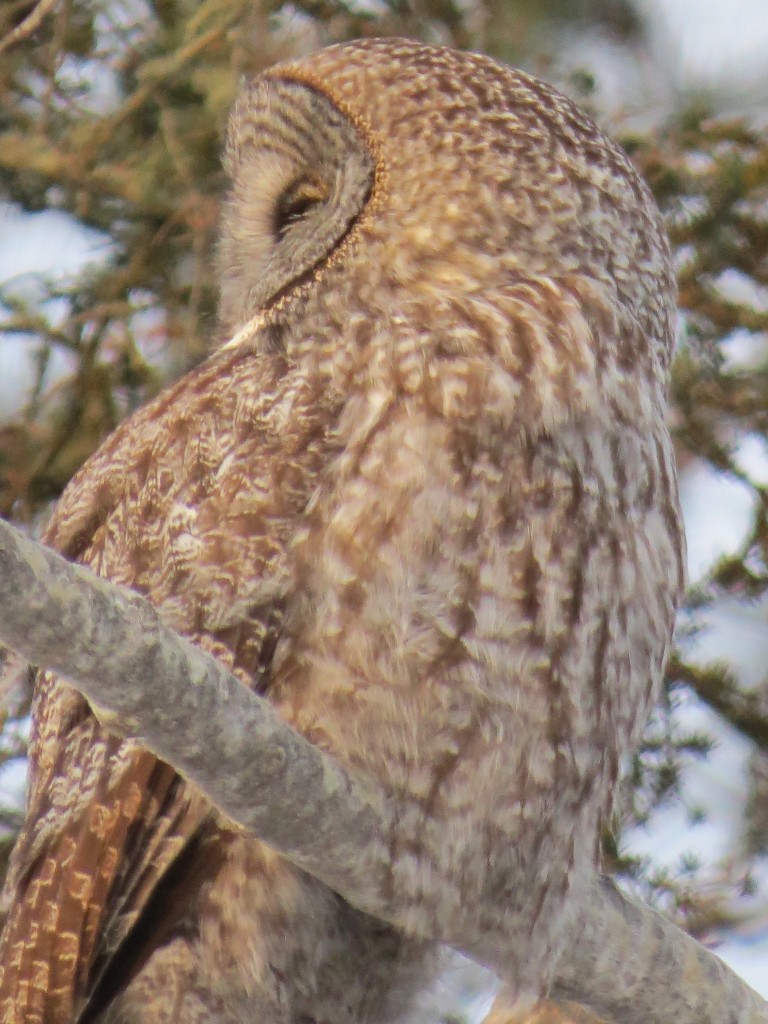 It was fascinating to watch the owl's head pivot without moving its body.  It seemed the head was in constant motion.  I wish I had been ready with the camera when two crows dive-bombed the owl.  He was moving his head back and forth rapidly to face each one of them above him.  After enough harassment, he flew from his perch about a hundred yards over to the Powerain driveway.  We were able to drive within 30 ft of it to get these next shots.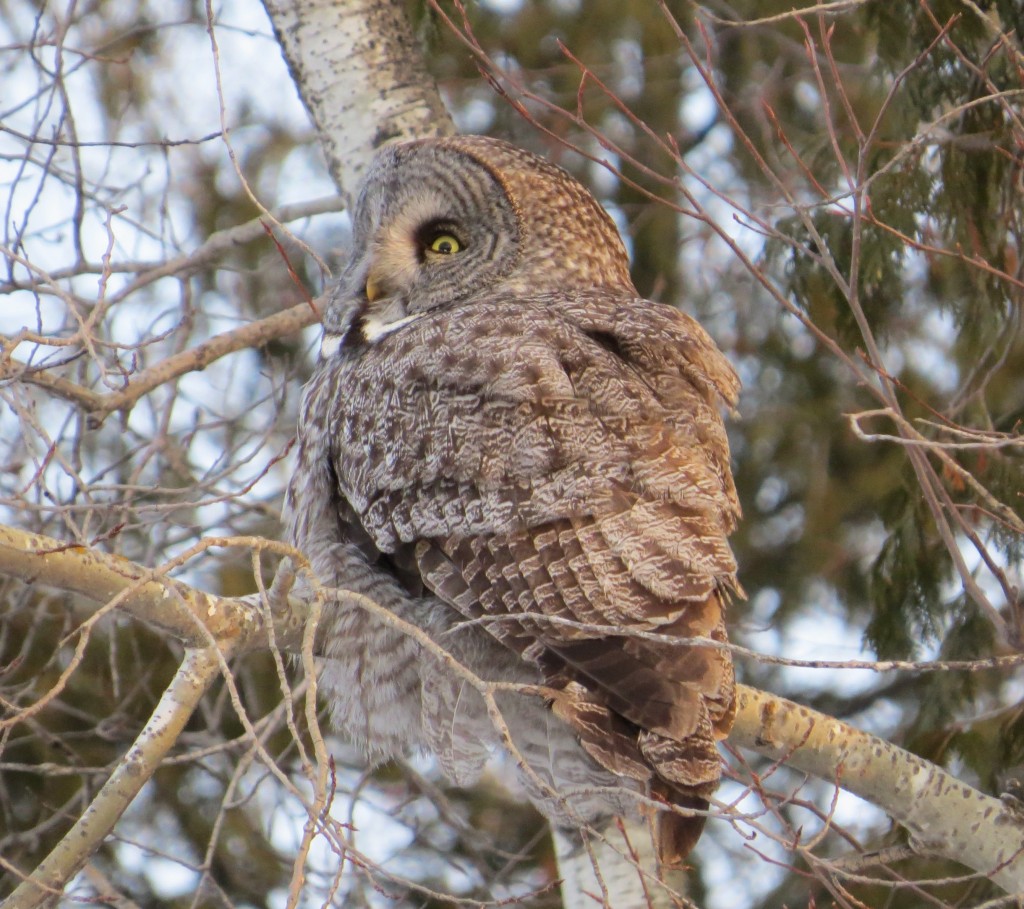 I was absolutely captivated by the eyes of this bird as it stared back at me.  The photos really don't convey just how piercing its look can be.  I felt he was looking deep into my soul and saying, "Just who do you think you are?"  Seeing it live through the viewfinder was a fascinating, unnerving experience.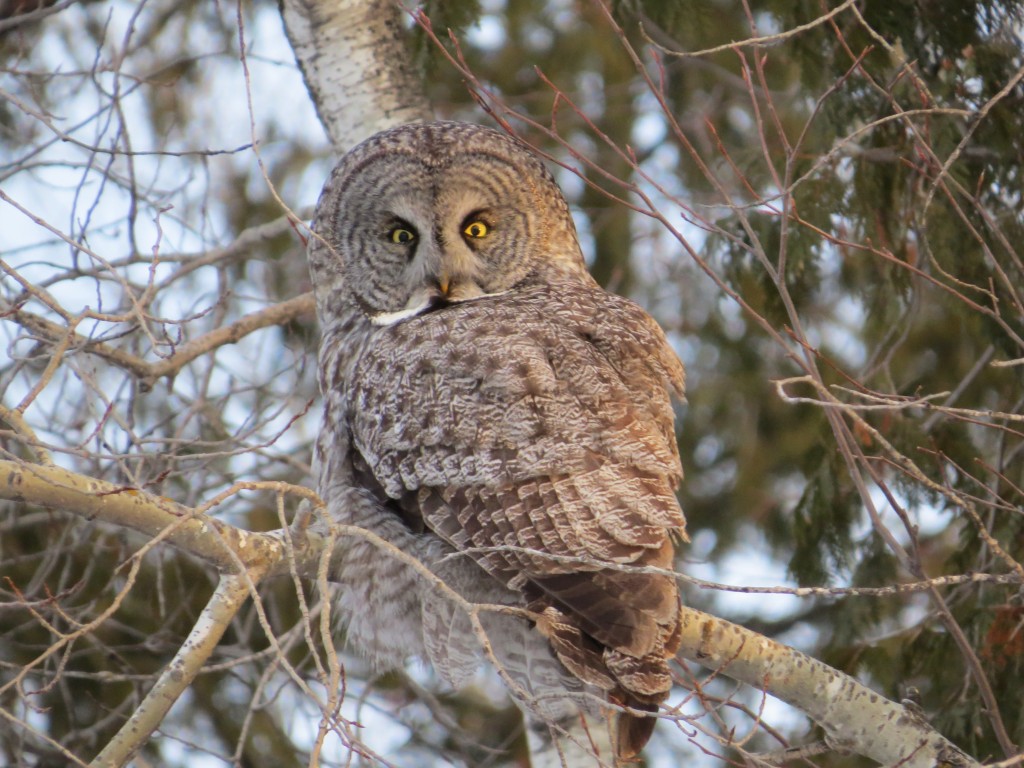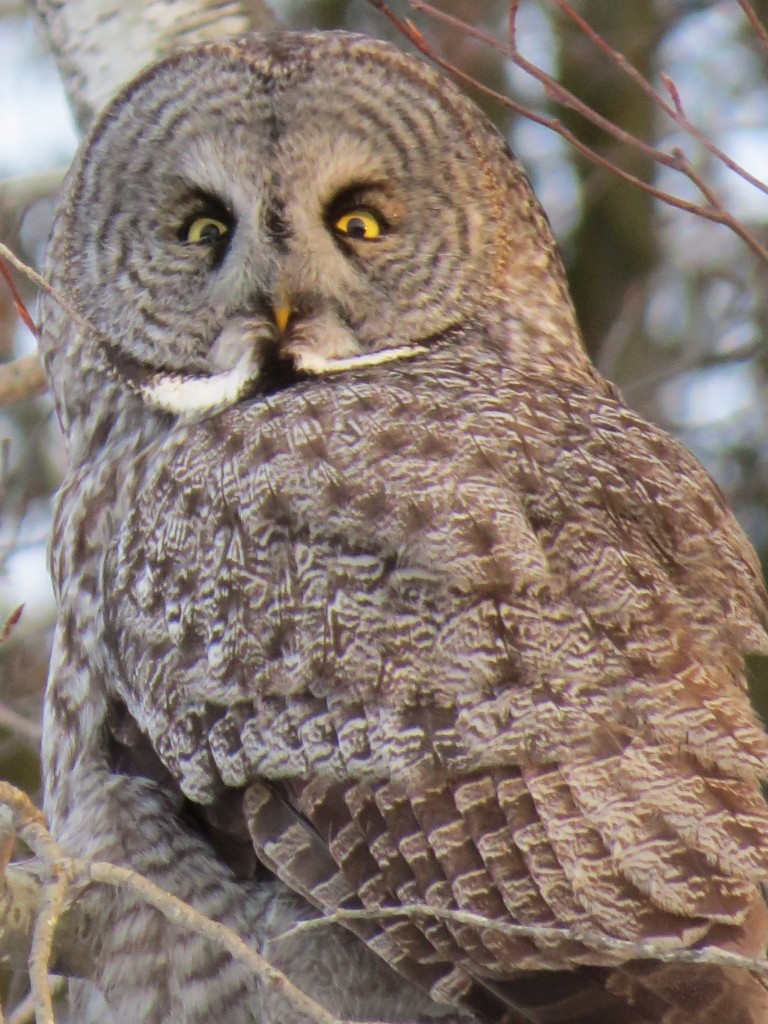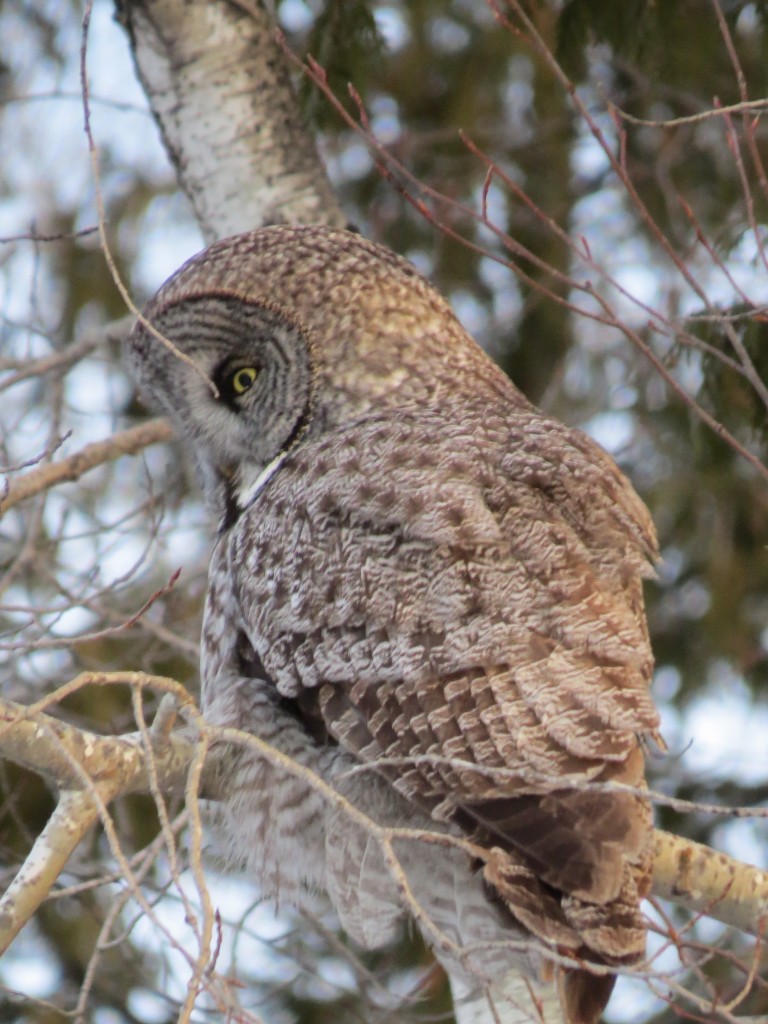 It was hard to stop taking pictures.  Apparently this owl was fed up with my obsession of him, so he decided to leave.  How I wish I'd been ready on sports mode.  He flushed from his perch and flew right over me coming within just 6 feet!  He was absolutely massive.  I just kind of stood there in awe as he flew into the woods of the triangle.
That was enough bothering this owl.  We now had a surplus of time on our hands to bird it up however we liked.  Since we were in Tower, we thought we'd keep investigating other sites.  How cool would it be to see multiple Great Grays in one day? We didn't see anything more, but on our way back through Tower, we drove around the triangle one last time.  This time, on the other side, was a Great Gray perched atop a dead birch tree about 10 feet high!  I believe this is the same bird, but it is possible it was a different one.  Again I shot some more photos and caught some fun behavior.  Another car of gawkers stopped to take pictures as well.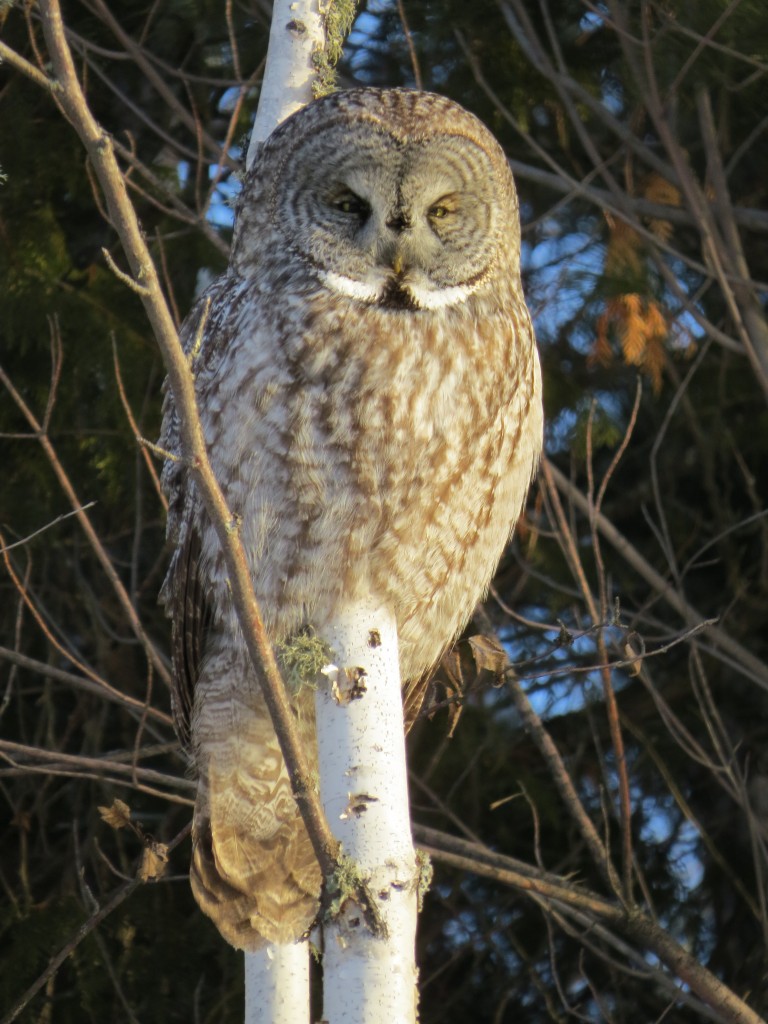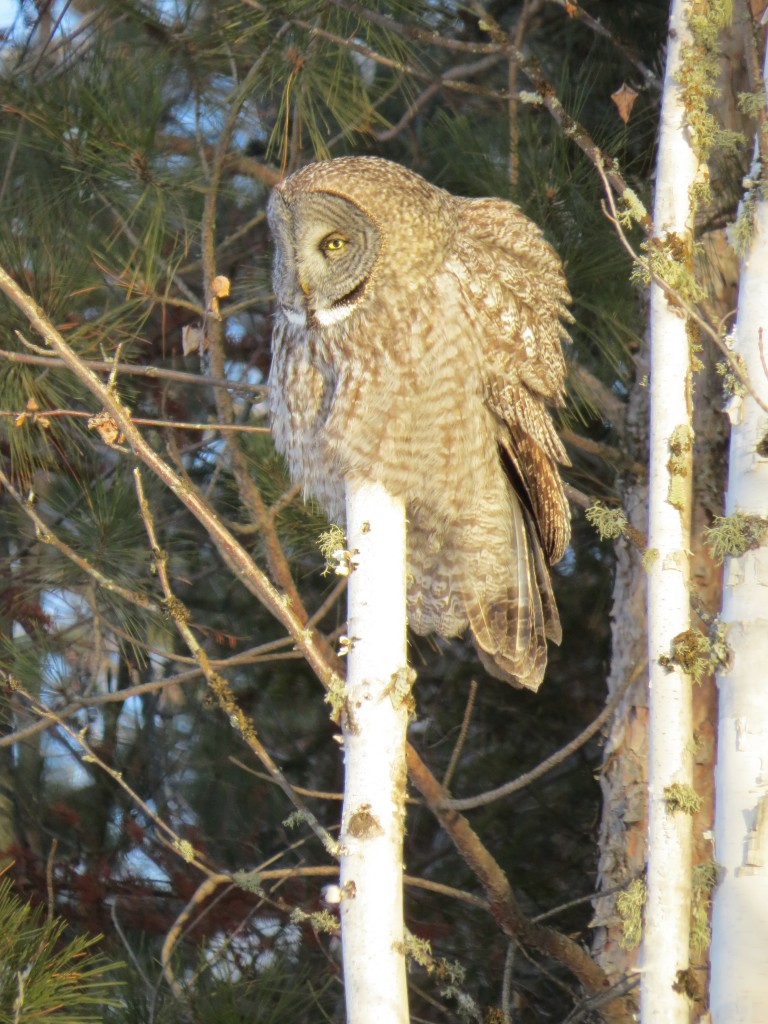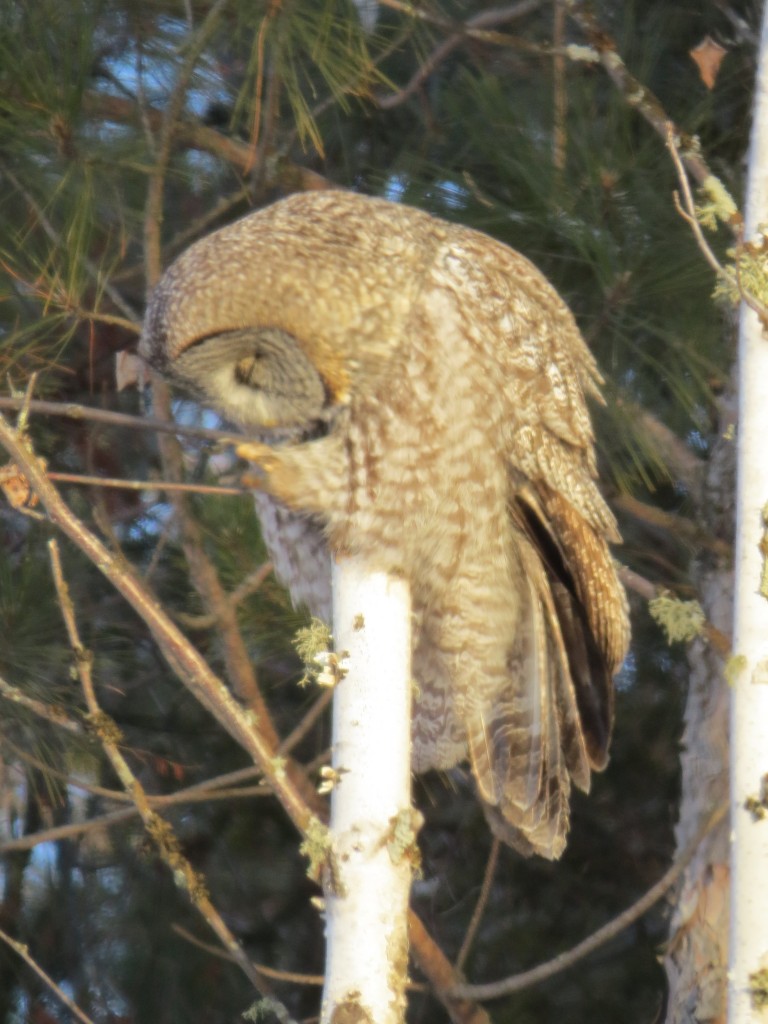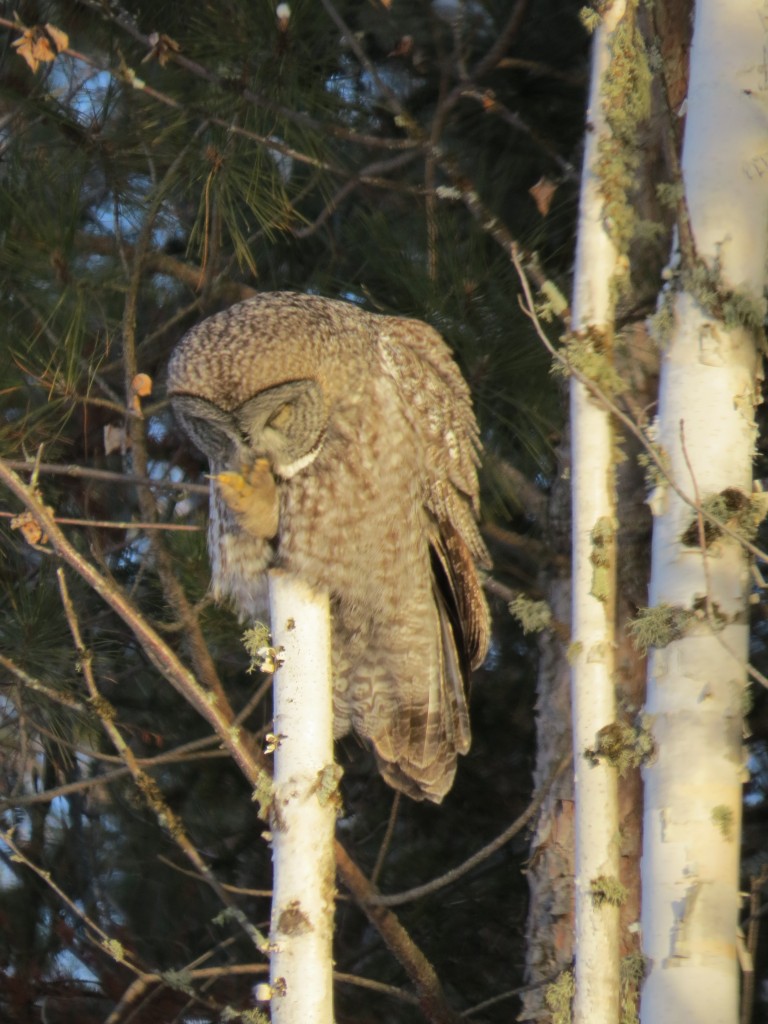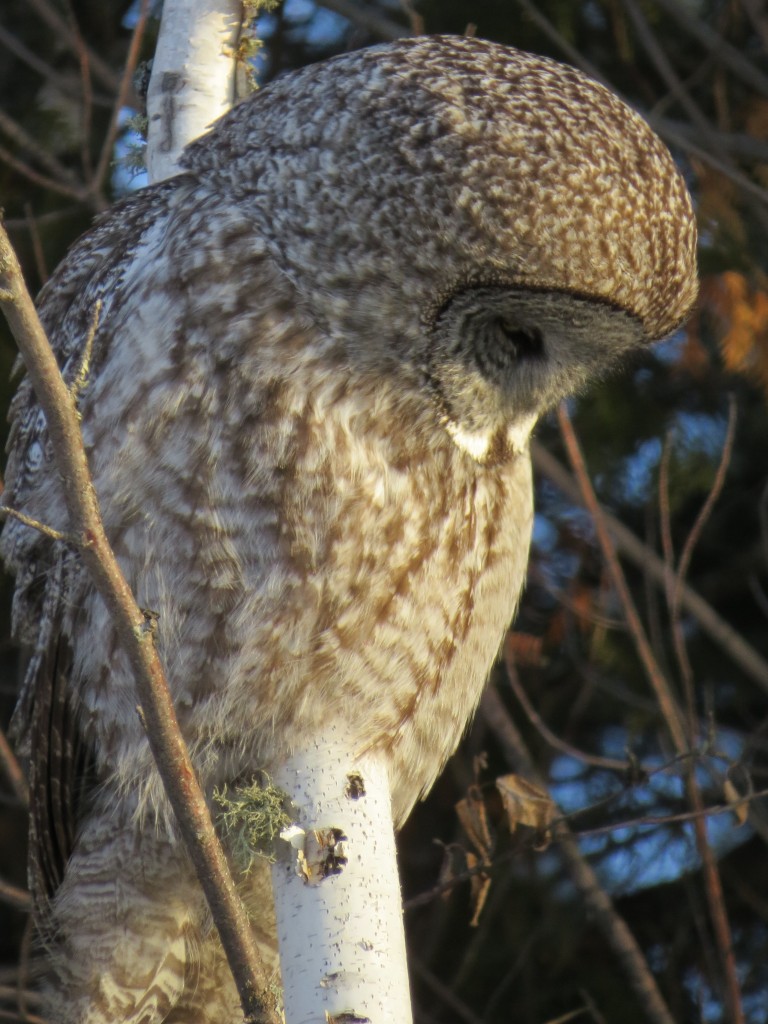 Here is a 1-minute video I shot to show just how cool this bird's movements were.  Disregard the sideways image below – the video will be vertical once you hit play.
This was an obvious life bird for Evan and me.  It was my dad's second time seeing one.  It was a neat moment to have a three generation viewing of this incredible bird.  The feeling in the car was a mixture of excitement and relief. It was only around 8:00 in the morning, and we had got what we came for.  With the sun at our backs we made a leisurely drive back to Cook, pulling over every now and then to let faster cars full of non-birders go by us.  Once we got to Cook, the first stop was Zup's grocery store to visit Evan's Grandma Brenda at work.  We got to hang out with her for a good 15 minutes or so, and Evan left with some treats from his Grandma as he always does when we visit her at the store.  24 hours earlier, none of us could have envisioned this meeting.
We left Grandma's store to go to the Cook water plant where Grandpa Don was working.  It was now a four-grandparent day!  Even if we hadn't seen the Ghost, that alone made the trip.  Don gave my dad and me a lesson on the workings of the water tower which was fascinating for us.  Evan wasn't too interested in this science lesson, though.  While visiting with Don, he mentioned that one of Brenda's coworkers had an owl in her yard all day just the day before.  Could this be the property owner or near the property owner?  Was it the Boreal?  As we were discussing this, Brenda had been thinking along the same wavelength and had even called this coworker and then called me.  Apparently there was no owl in the yard today, but we had a location to go search.  We went out that way and did not see anything.  Brenda had also suggested going to the U.S. Forest Service office to see if there were any owl sightings.  So we did.  The worker at the visitor's center said that she had seen some Great Grays that day and a Barred Owl, but nothing else.  The Barred Owl was intriguing, so I asked her where.  She said that it was on Hwy. 169 near Ely – the very area we'd just come from.  Barred Owls can be found throughout the year all over the state, so we weren't going back.
We did get to check out the cool display of mounted birds at the Forest Service's visitor center.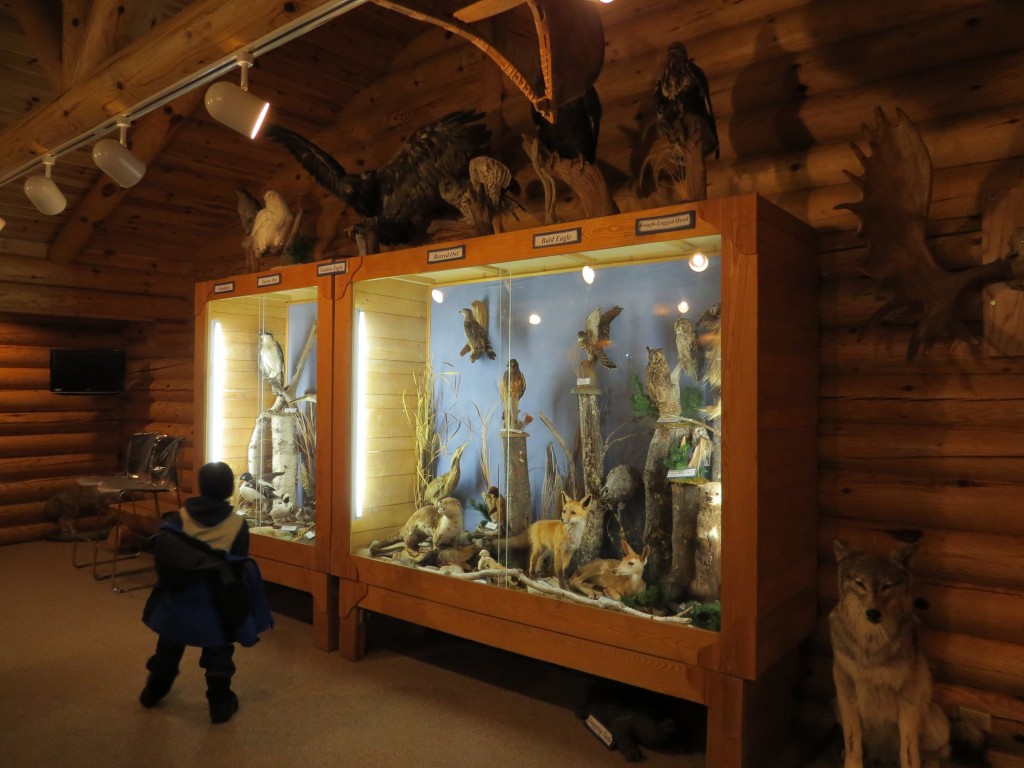 Look! The Boreal Owl!  I know, it's just not the same as the real thing.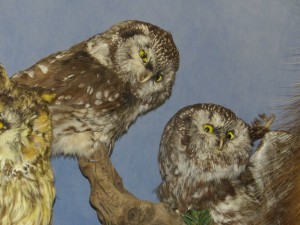 No call had come in.  We were okay with it.  Seeing the Ghost was more than enough to make it a good birding trip.  It was time to go back to Grandma's house for some lunch.  And with so much time left on our hands, Evan and I were going to hit the Sax-Zim Bog on the way home!  How cool would it be to get the Northern Hawk Owl and possibly a Snowy, Boreal, or another Great Gray?  A classmate of mine who lives near the Bog had seen one of my Facebook posts the night before and told me of where he'd seen a Great Gray the other day on his way to work.  It was something worth checking.
We pulled into Grandma's driveway and started walking to the door.  Just as I was almost to the door, my phone rang.  It was a Cook phone number that I didn't recognize – were we about to hop back into the vehicle and race back into town for the Boreal?
To read Part 1 of Wild Ghost Chase, click herehere.
To read Part 3 of Wild Ghost Chase – Two Big Lifers, click