These days I am nearly a single dad as Melissa is busy putting the finishing touches on her school's musical production of the Little Mermaid.  So I put a lot of miles on the vehicle as I race around dropping kids off and picking them up.  Today was no different except that when I was heading home after picking up both kids from daycare/school I was driving extra fast because one of my pint-sized passengers was desperate to relieve a full bladder.  Wouldn't you know that this was the time that I caught sight off a huge hawk perched in a lone, bare tree.  I think Evan briefly forgot about his biological predicament as he shouted, "I see it! I see it!"  Only two miles from home, we hatched a plan that we would hurry to the house and I would grab the camera while Evan did what he needed to do.  Then we'd hop back in the car and race back to the hawk.  The dogs would have to wait just a little longer to get their relief.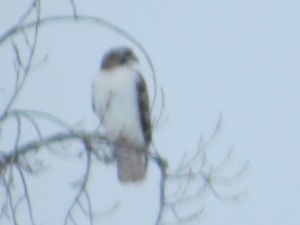 The hawk was still there, and I snapped some pics.  I had to do a full zoom and the windshield and falling snow were interfering with the camera's ability to focus automatically.  Needless to say I was frustrated and only got the blurry photo you see.
Once we were home again, I combed the field guide to ID this raptor.  Nothing matched what we saw.  I had an idea.  Last night I had just "liked" the Minnesota Ornithologists' Union Facebook page.  People can upload their bird photos to share good sightings and get ID help, so I uploaded my blurry shot with a plea for help.  As I impatiently waited for a reply, a couple of my friends saw my post, unbeknownst to me, and commented on it.  One of my wise guy friends, Allen, commented, "This hawk is male."  Another friend, Jeff, said it appeared to be a yearling Red-tailed Hawk. I thought that seemed like very specific knowledge.  Knowing the guy, I figured he either really knew his stuff or he was just making up a BS answer.  I was leaning toward the latter because I didn't know him to be a bird guy.  A couple hours later the moderator of the MOU FB page commented that he/she agreed with Jeff!
Jeff was ecstatic and called me up to celebrate his official Facebook confirmation.  It turns out that he's always had a love of raptors and that he used to go birding with his family.  I learned from Jeff that Red-tailed Hawks have white feathers in their first year. I learned something new about a friend (and Red-tailed Hawks) because of this blurry photograph. It seems that there are secret birders everywhere.  That's what I love about birding.  Finding cool birds is half the fun; the other, perhaps better half is sharing that joy with others.