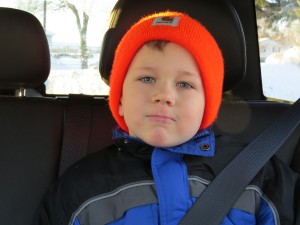 I love Mondays.  There, I said it.  The truth is, though, that I do not work most Mondays as my school is on a 4-day week.  It is on these Mondays that Evan can sleep in a little longer since I can drive him to school, and he does not have to wait at his school's childcare.  Not only that, but Marin and I then usually have a "Daddy Day."  Basically we just hang out, play some games, read books, watch movies, run errands, and so on.  Today we have a lunch date planned with Mom.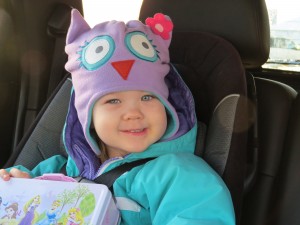 The added bonus of driving Evan to school is that we get a chance to do a little birding, which just means we look for birds on our short 5 mile trip to town.  This morning the sky was a vivid blue and the sun made the snow sparkle and everything dazzle with color.  It was the perfect morning for Ring-Necked Pheasants.  We kept an eye out, especially at "Pheasant Corner" – a nickname we've given to an intersection near our house that is a favorite haunt for pheasants.  Sure enough, we found some.
Do you see the pheasants in the picture below?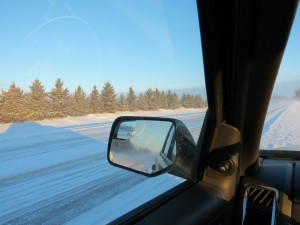 No? How about now?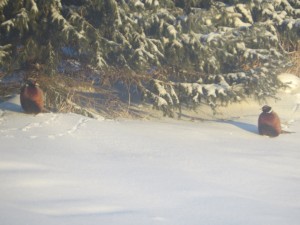 Or now? These shots were taken through a dirty car window when I had the camera almost fully zoomed, so excuse the quality.  The temp was -3°.  Can you tell looking at these footballs?
Editor's Note: The same camera, the Canon SX50, took both the photos of the kids in the car and these zoomed-in photos of pheasants with the same lense.  By the way, Marin's owl hat was given to her before we became birders.  It fits her personality to a T.